Journey to Jungfraujoch, Switzerland: Things to Do at the Top of Europe
Read Parts 1 and 2 before continuing.
=
Standing at a sheer 3, 454 metres above sea level, a visit to Jungfraujoch is definitely one for the bucket list. Known as the 'Top of Europe', Jungfraujoch offers a whirlwind of activities, snow and adventure.
There are a few ways to get to Jungfraujoch: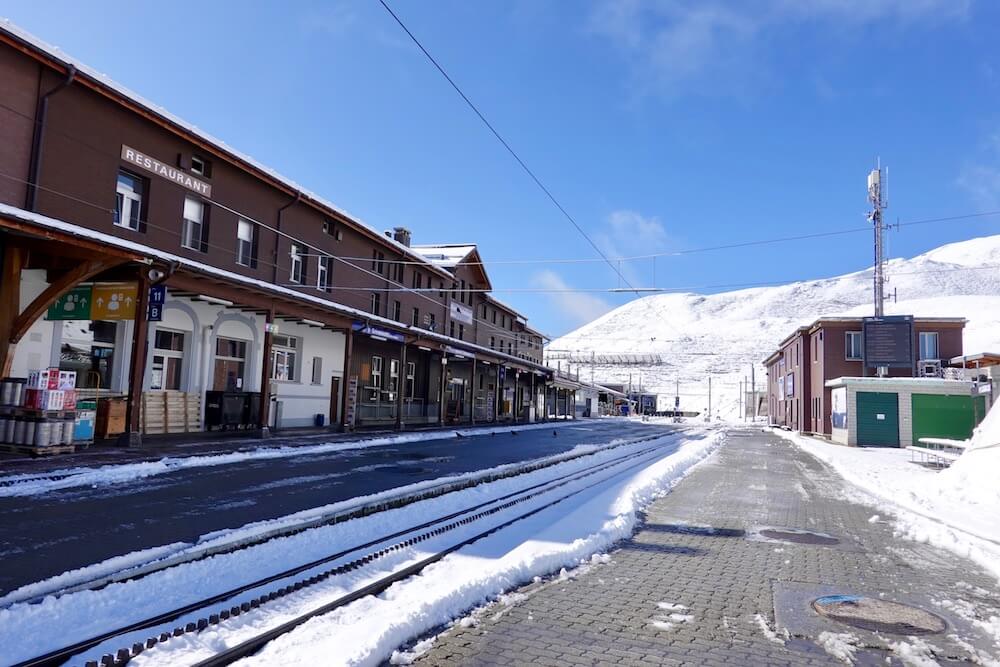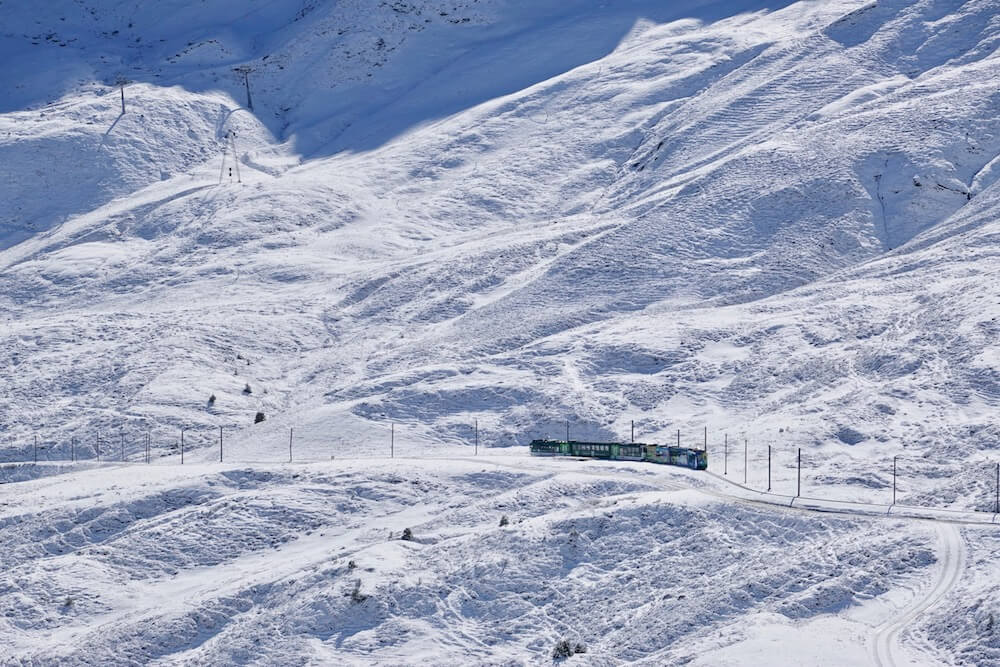 You can choose to take a train from Grindelwald or Lauterbrunnen to Wengen (~15 minutes), followed by a cable car to Mannlichen (~10 minutes). Embark on the Mannlichen Royal Walk (~ 1 hour) and the Mannlichen-Kleine Scheidegg Panorama Trail (~1.5 hours). Finally, take a train from Kleine Scheidegg to Jungfraujoch (~40 minutes).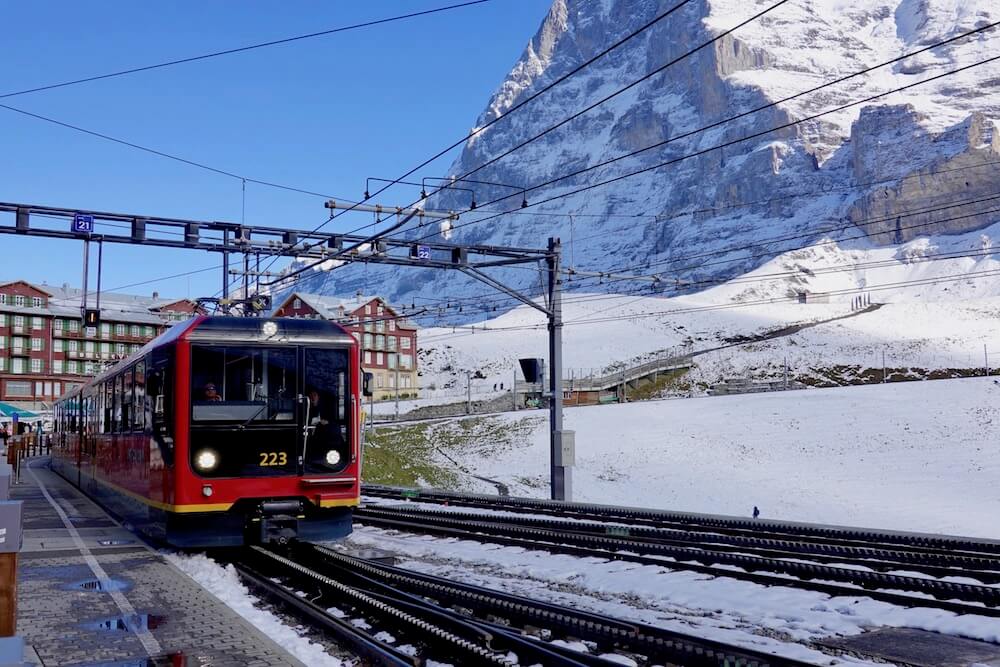 Alternatively, you can take a train from Grindelwald (~30 minutes) or Lauterbrunnen (~50 minutes to Kleine Scheidegg. From Kleine Scheidegg, take a train to Jungfraujoch (~40 minutes).
The former includes two extra hikes – so pick this if you're a fan of the outdoors. Otherwise, the latter option is more straightforward and only involves two different train journeys if you're coming from Lauterbrunnen or Grindelwald.
Tip: Check Jungfraujoch's live webcam before you decide to make the trip up! There's no use going up on utterly foggy days; it's best to keep your Switzerland itinerary possible and save Jungfraujoch for a clear sunny day.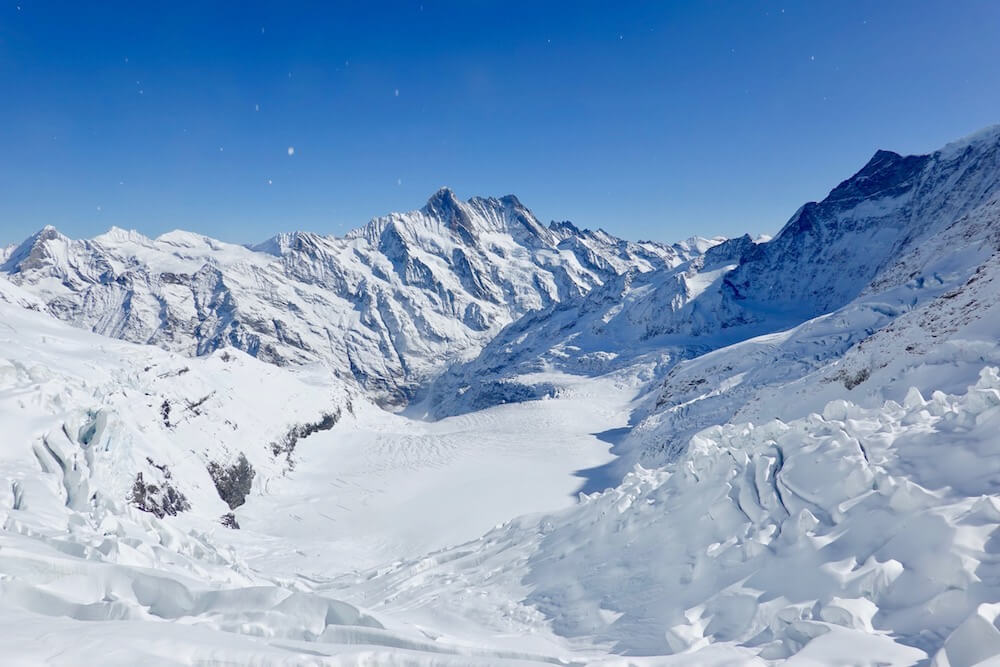 The train from Kleine Scheidegg to Jungfraujoch will have 2 stops at Eigerwand and Eismeer for 5 minutes each, where travellers can get off the train for some sightseeing. After these 2 stops, the train will go non-stop all the way up to Jungfraujoch!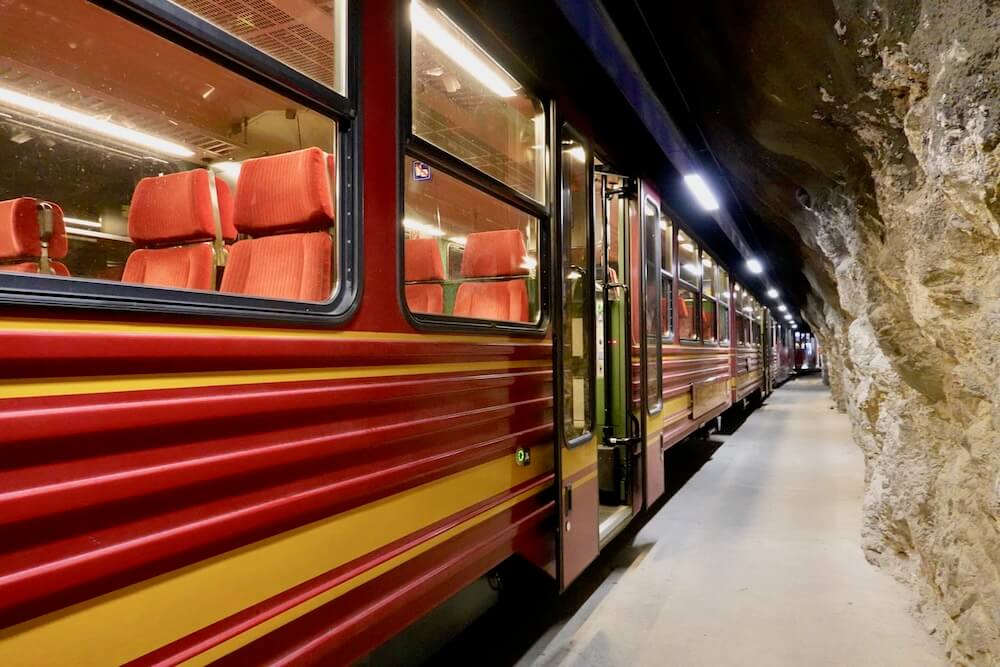 Some history about the construction of the Jungfraujoch railway:
Adolf Guyer-Zeller, a Swiss industrial magnate, had a grand idea to "blast a tunnel" through the middle of the Eiger and Monch mountains. This would allow him to construct a cogwheel railway to the Jungfrau summit. Construction began in 1896 and wasn't without any tragedies – an accident with explosives unfortunately claimed the lives of 6 men in 1899. However, the workers persevered and managed to break through to the final station on Jungfraujoch in 1912! Jungfraujoch finally opened after an arduous 16-year construction period, comprising Europe's highest-altitude railway.
Once you're at Jungfraujoch, there's no lack of things to do! You can choose to follow a 'tour', which will bring you through Jungfraujoch's main sights along a specific route. The tour starts from the main complex, which is located directly next to the railway station – simply follow the blue sign that says "TOUR"!
Here are a few highlights of the 'tour':
Sphinx Terrace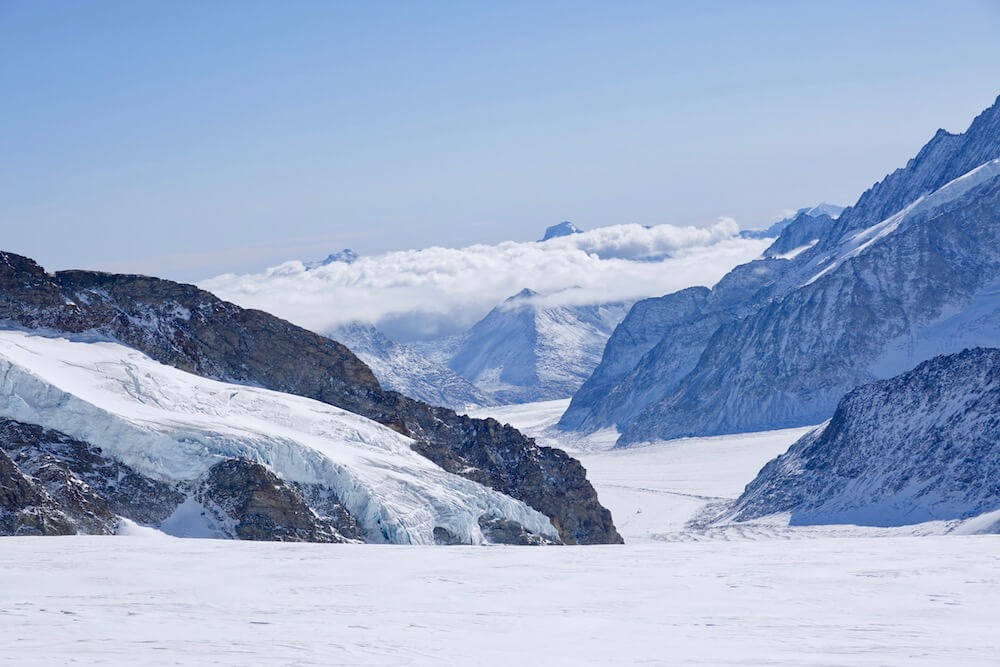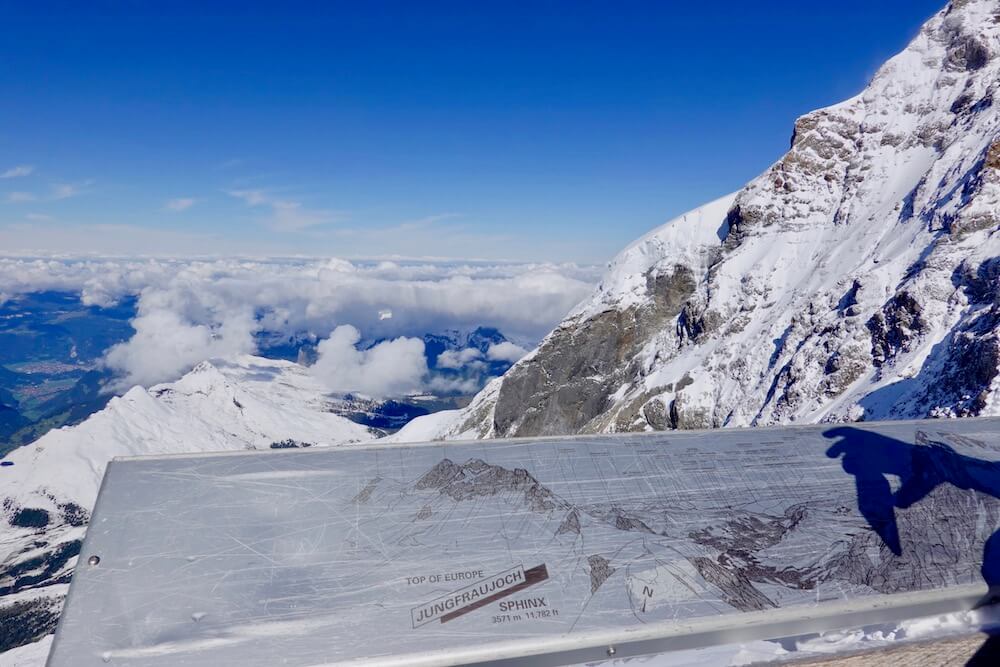 Take Switzerland's fastest lift up to the Sphinx observatory – the journey will only take you about 27 seconds. Enjoy magnificent views over the Aletsch glacier from the vantage Glacier. It's said that on clear days, you might even be able to see the Black Forest in Germany from here!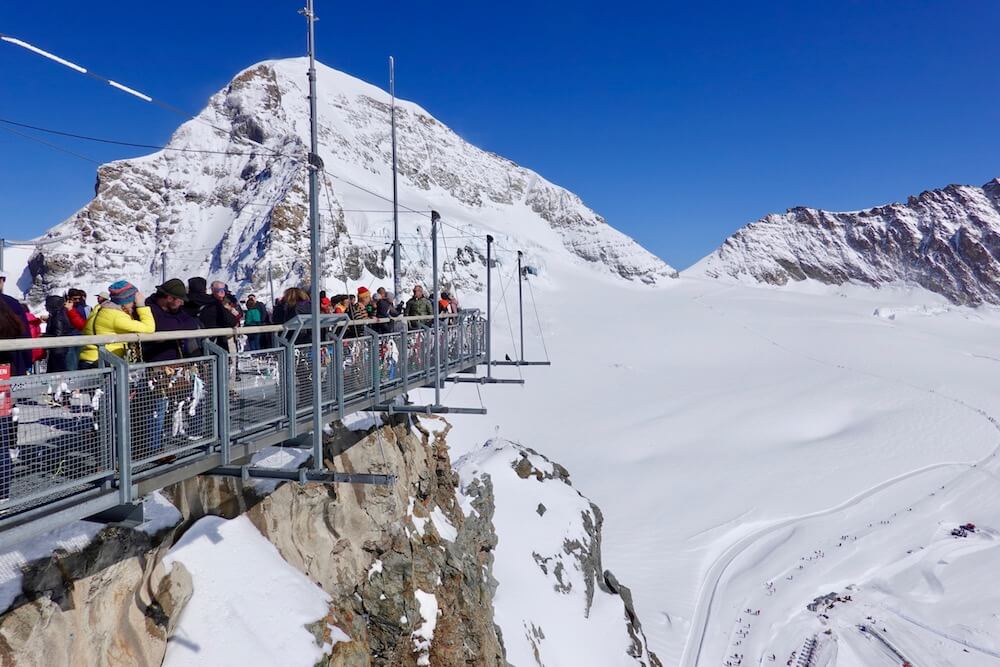 Do be warned that Jungfraujoch is a tourist hotspot, so be prepared for crowds at select times of the day.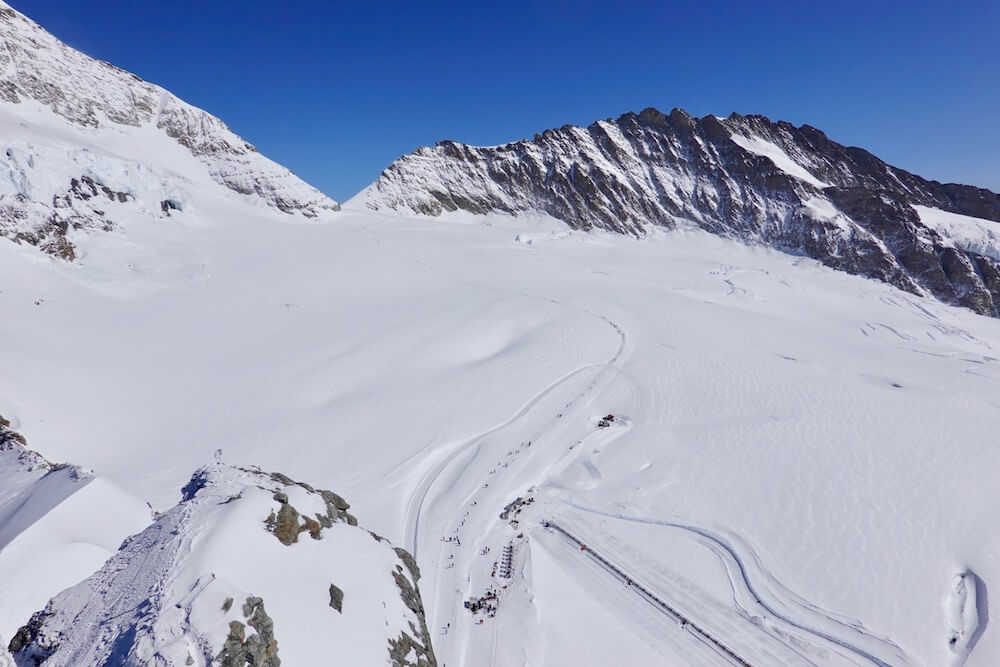 Can you see the tiny trail of ants (read: people)? More on this in the next point.
Aletsch Glacier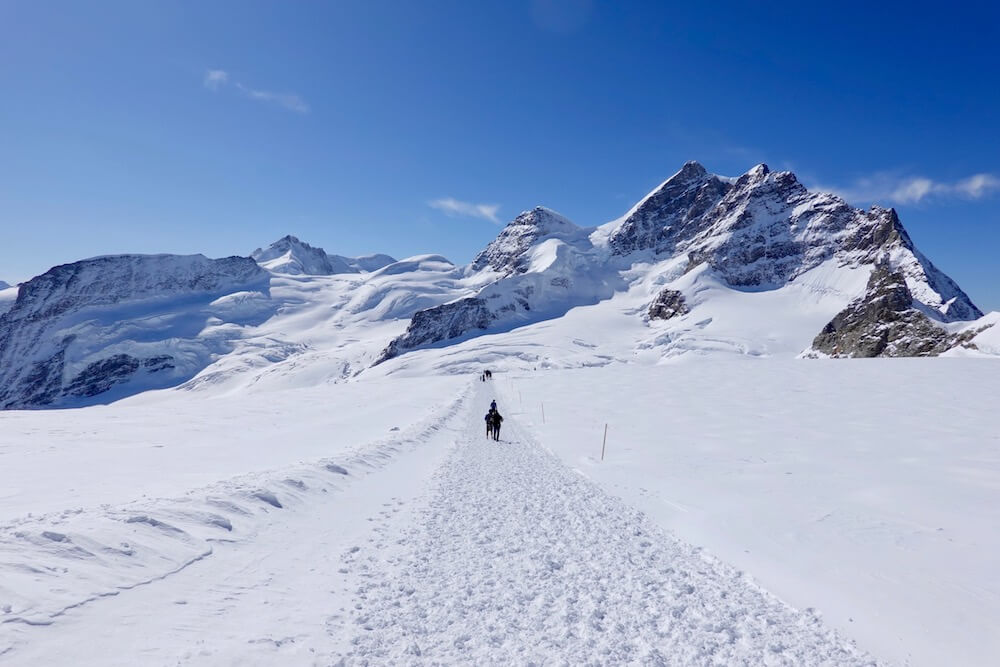 If the weather is good, you can choose to hike across the Aletsch Glacier! This will take you about 1.5 hours in total.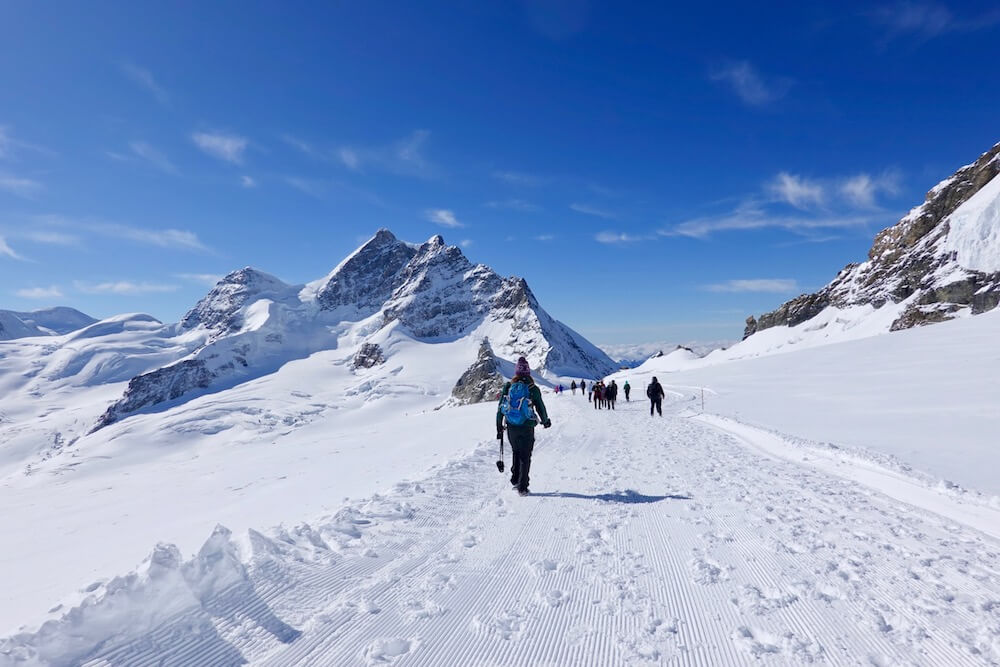 You might feel winded or short of breath at certain points of the hike – don't worry, this is perfectly normal! Don't forget that you're hiking at an elevated point of over 3, 500 metres above sea level. Do take it slow and hydrate yourself to avoid falling prey to altitude sickness.
Tip: Do check the weather forecast before your trip! It was -6 degrees in October when I visited; do dress appropriately to ensure your comfort.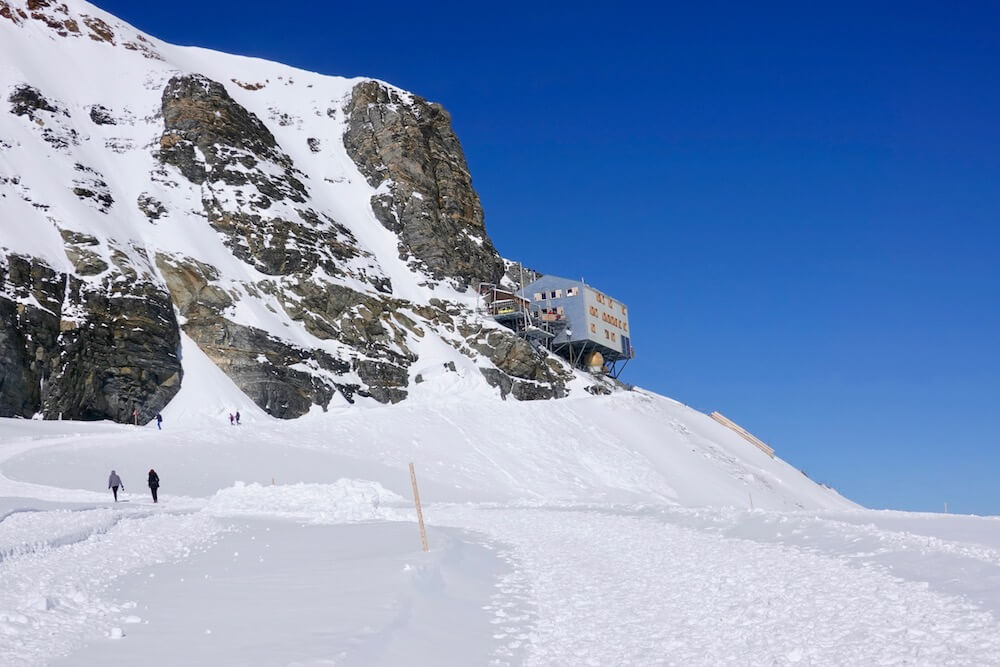 This restaurant marks the end of the hike – grab a bite or simply head back the way you came.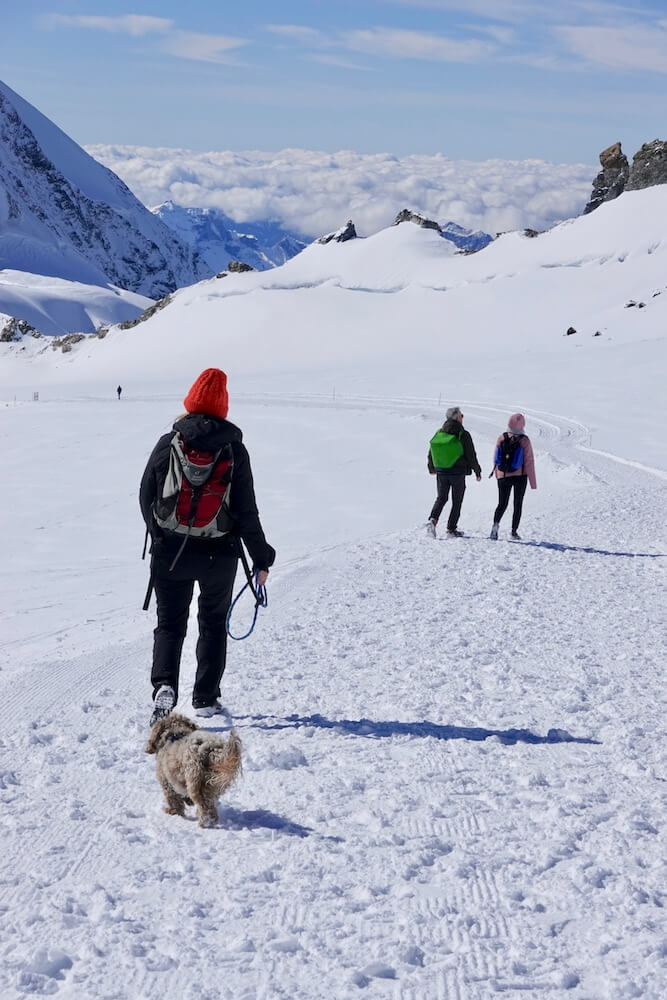 Who knows, you might even meet some furry friends along the way!

From May to October, you can also indulge in some snow fun at the Sledge Park or Zipline. You can also go skiing or snowboarding – whichever you prefer!
Ice Palace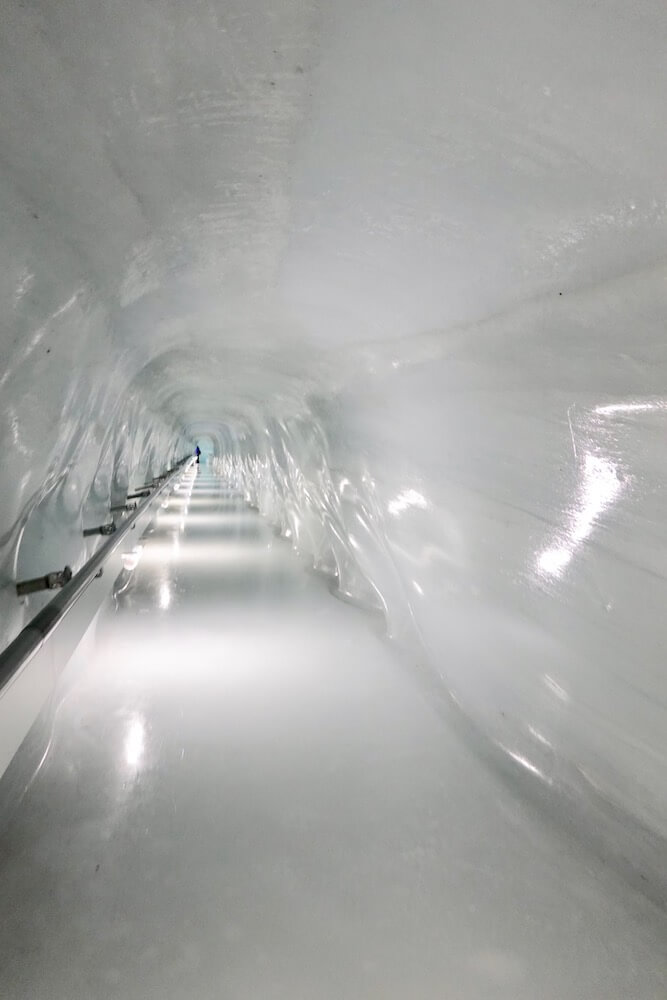 Covering an area of over 1000 square metres, the Ice Palace is a delightful maze of shimmering ice walls and intricate ice sculptures. Kept at a temperature of -3 degrees to compensate for the warmth of visitors, the Ice Palace has to go through constant maintenance to maintain its structure.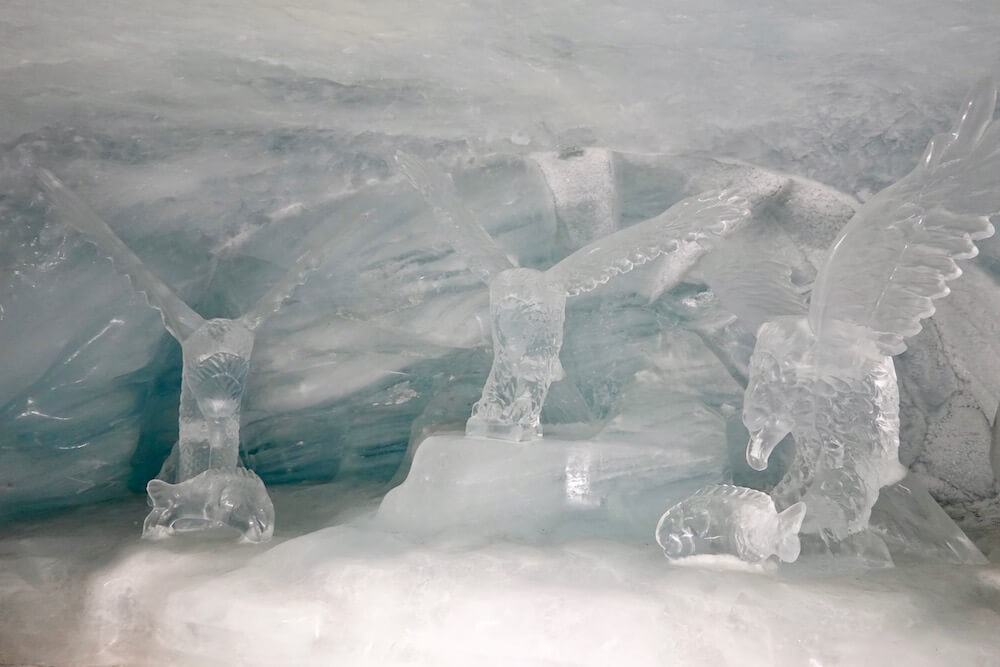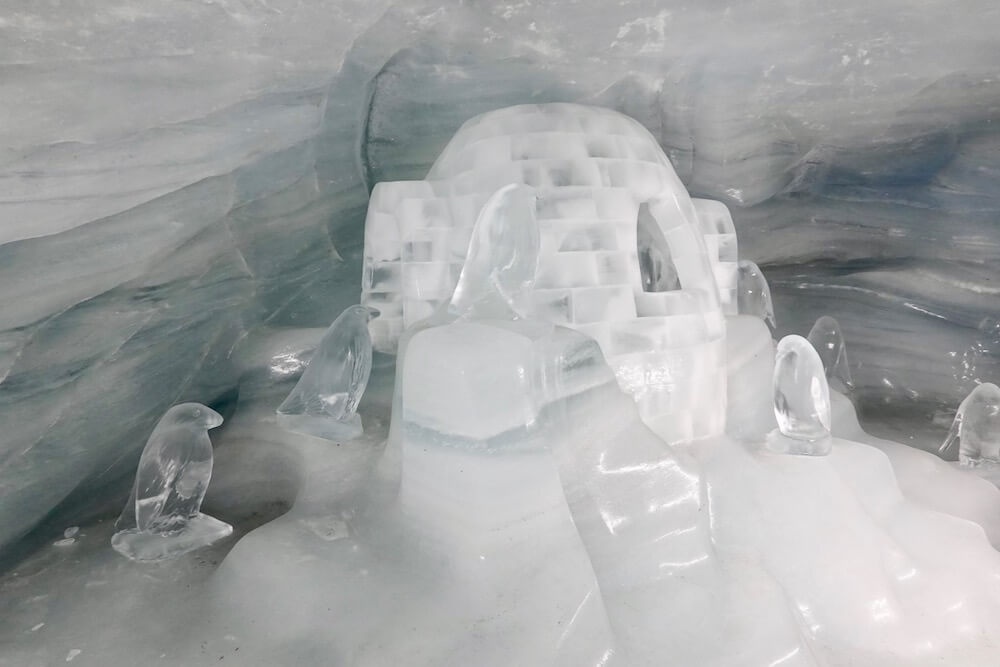 Wander through the area to discover sculptures in all shapes and sizes.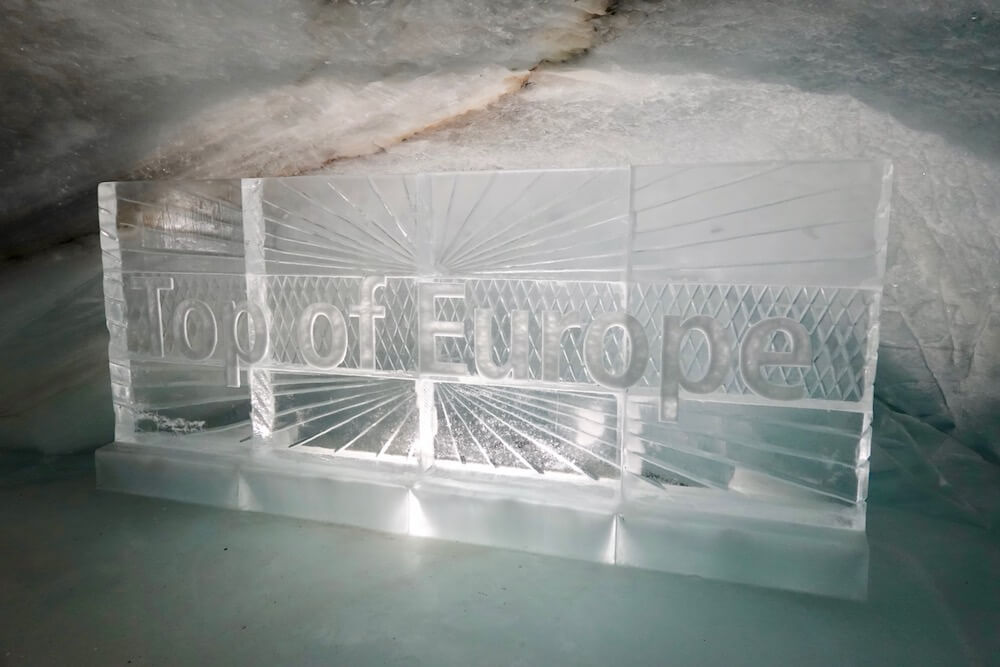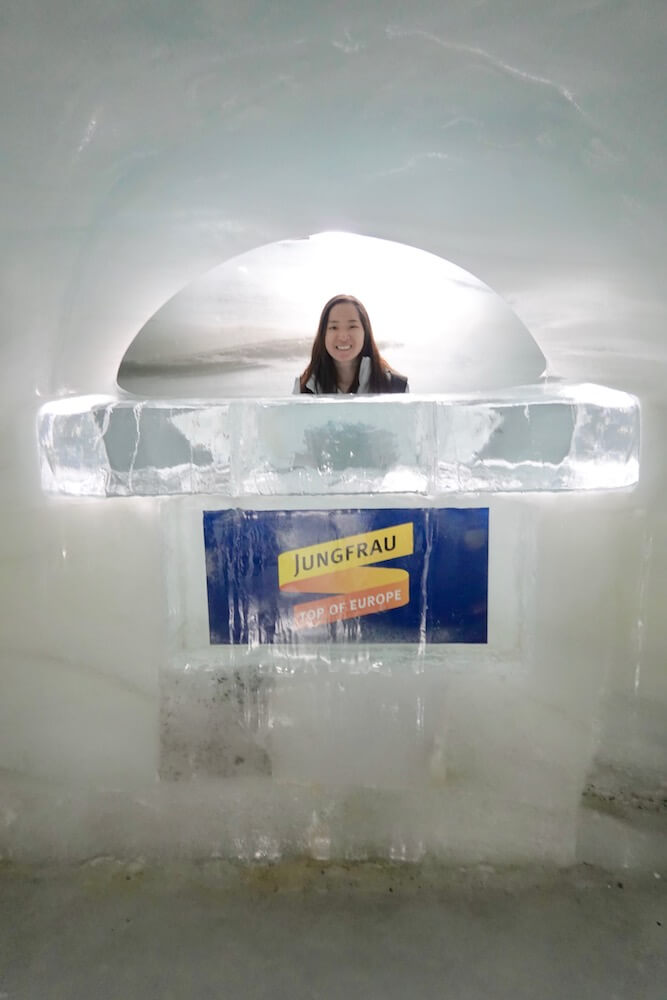 Don't forget to take a commemorative photo here!
Alpine Sensation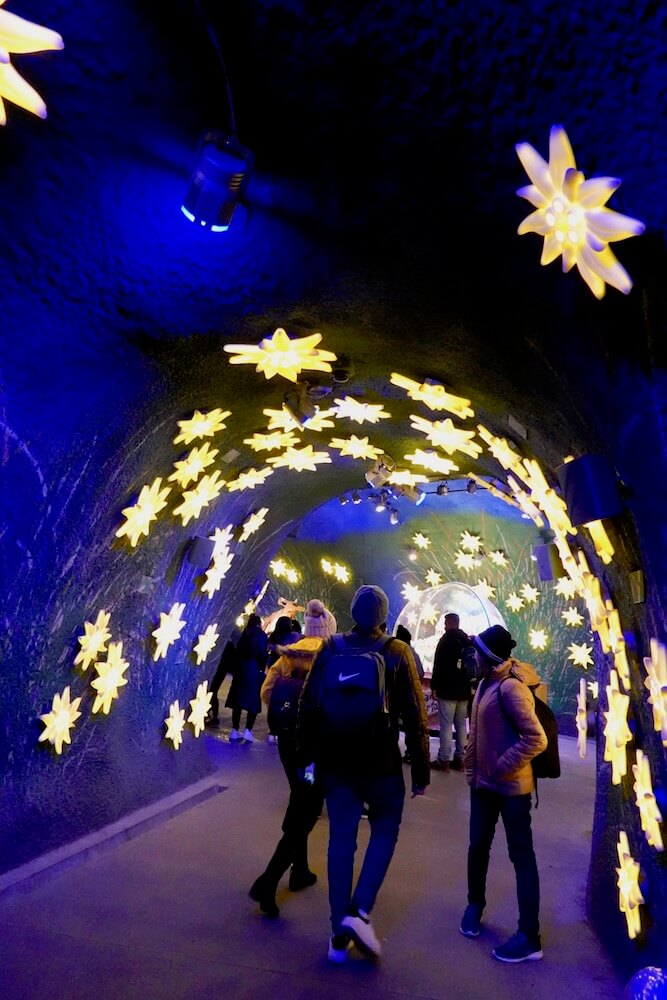 Presenting the past and present of tourism in the Jungfrau Region, the Alpine Sensation exhibit showcases the process of how Jungfraujoch came to be.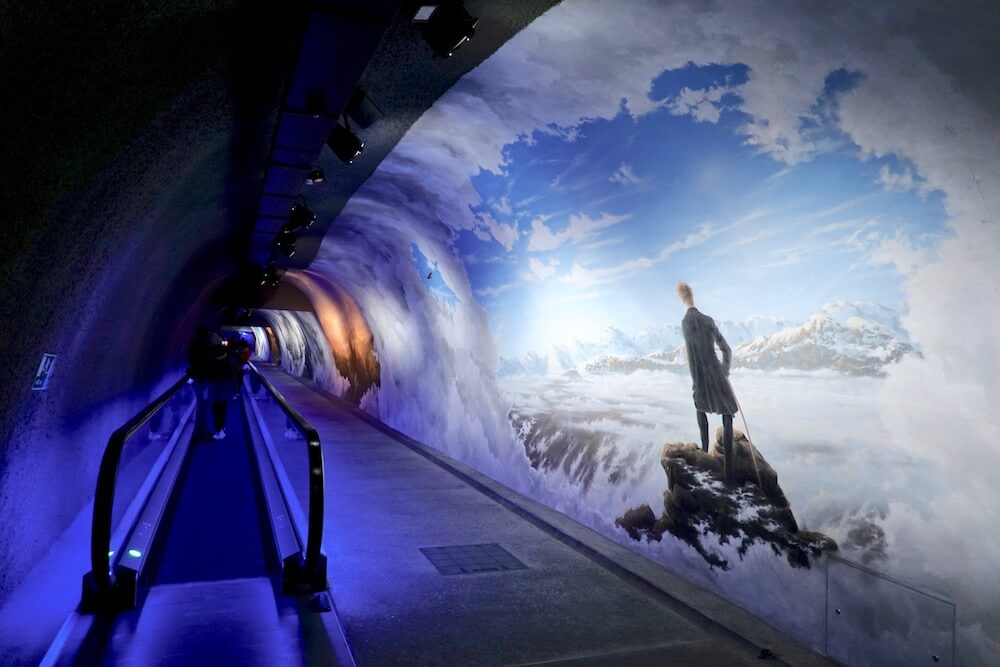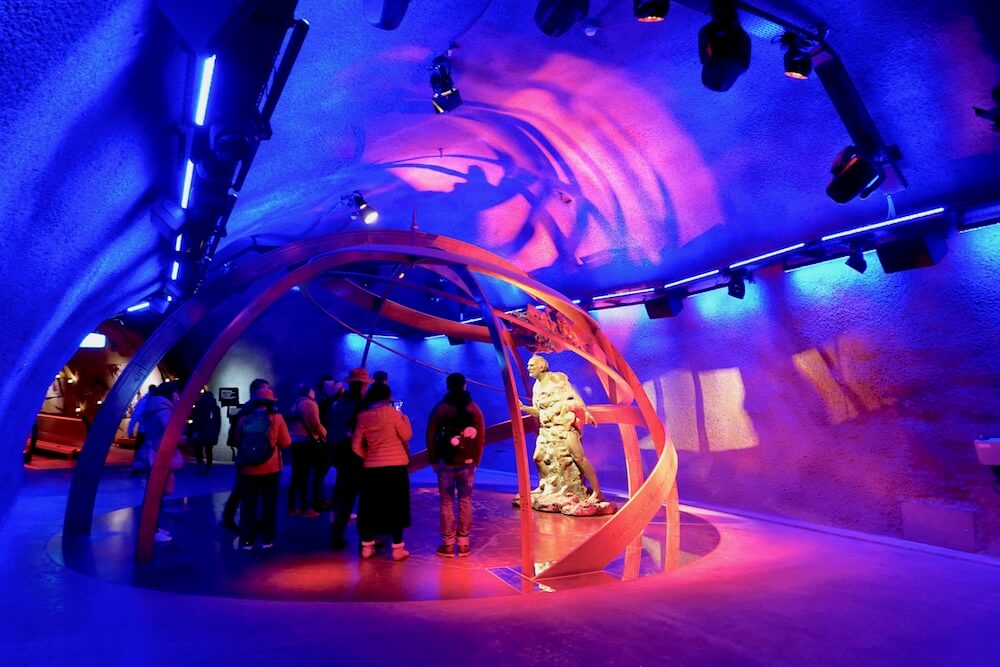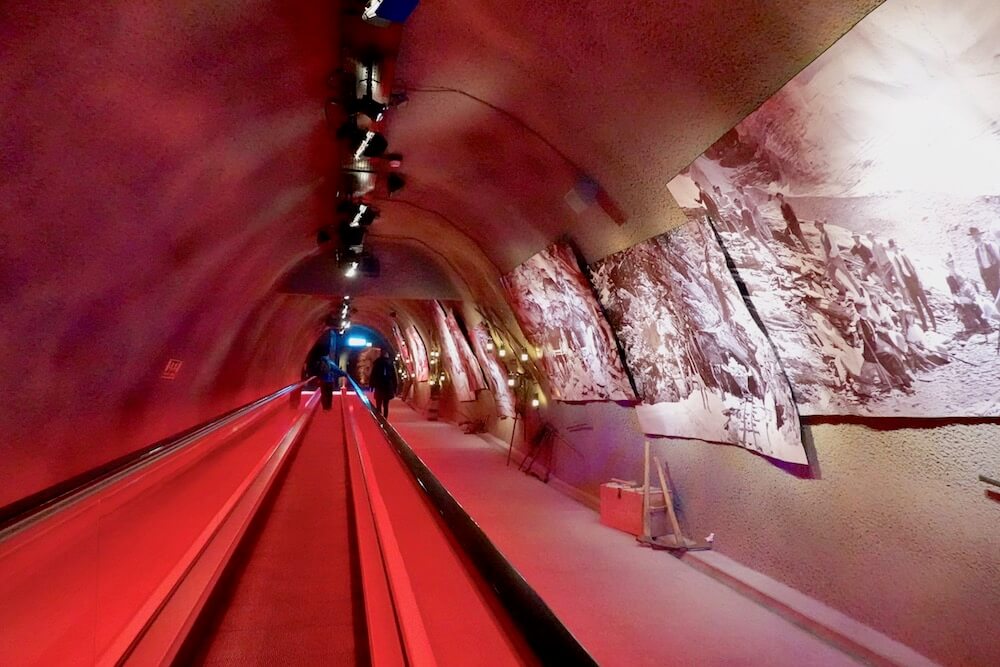 Venture through the history of the Jungfrau Railway and pay tribute to the individuals who made this entire experience possible!
Lindt Swiss Chocolate Heaven
End your tour at the Lindt Swiss Chocolate Heaven, where you can discover the history of Lindt and discover the key moment where Lindt was created. It's said that it was created by accident – Rodolphe Lindt had accidentally left his self-made stirring machine switched on over the weekend, returning on Monday to discover his surprise creation!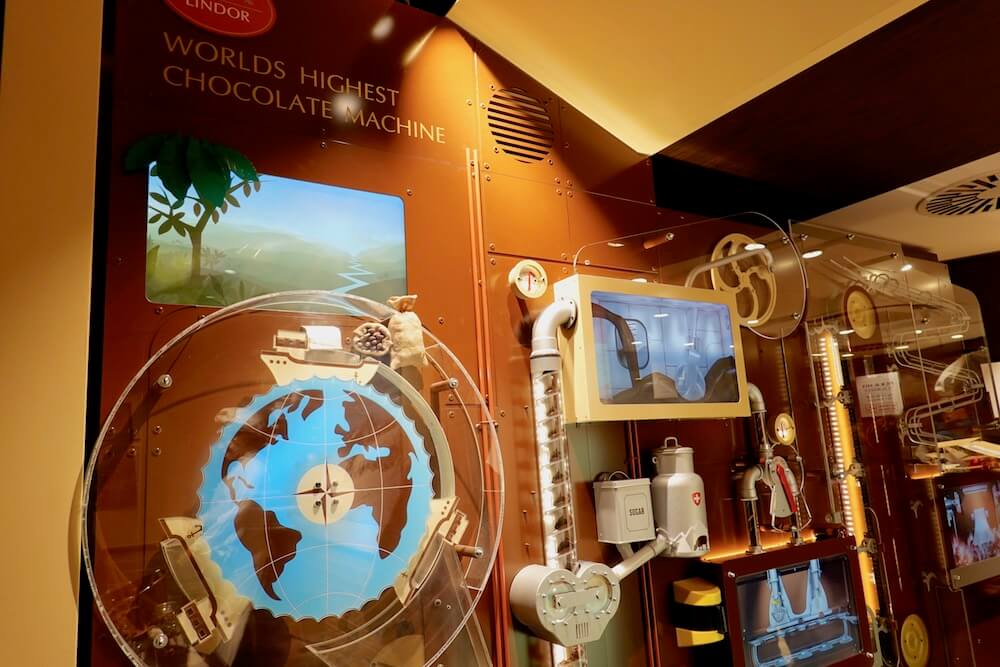 The Lindt Swiss Chocolate Heaven allows visitors to experience what Rodolphe Lindt felt – by turning his mixing machine and going through a virtual Lindt chocolatier journey. This is also a great place to buy some chocolates back home for your friends and family.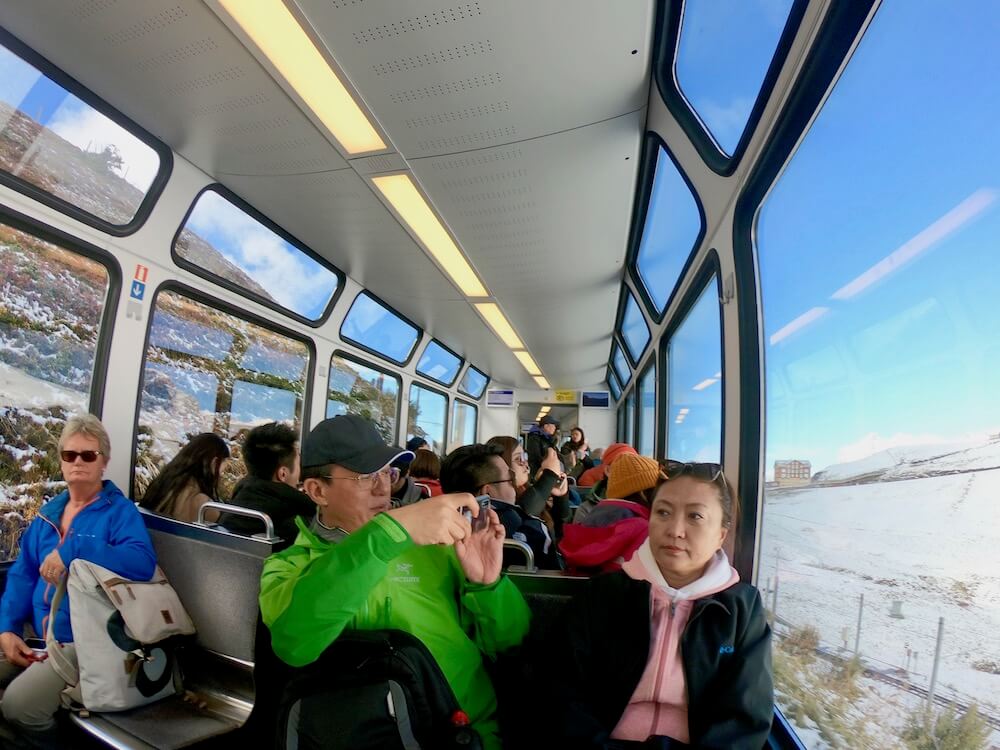 Once you're done experiencing all that Jungfraujoch has to offer, simply hop on a train back to Kleine Scheidegg. I took a train back to Lauterbrunnen from Kleine Scheidegg, and was pleasantly surprised by the train's panoramic windows – which was another experience in itself!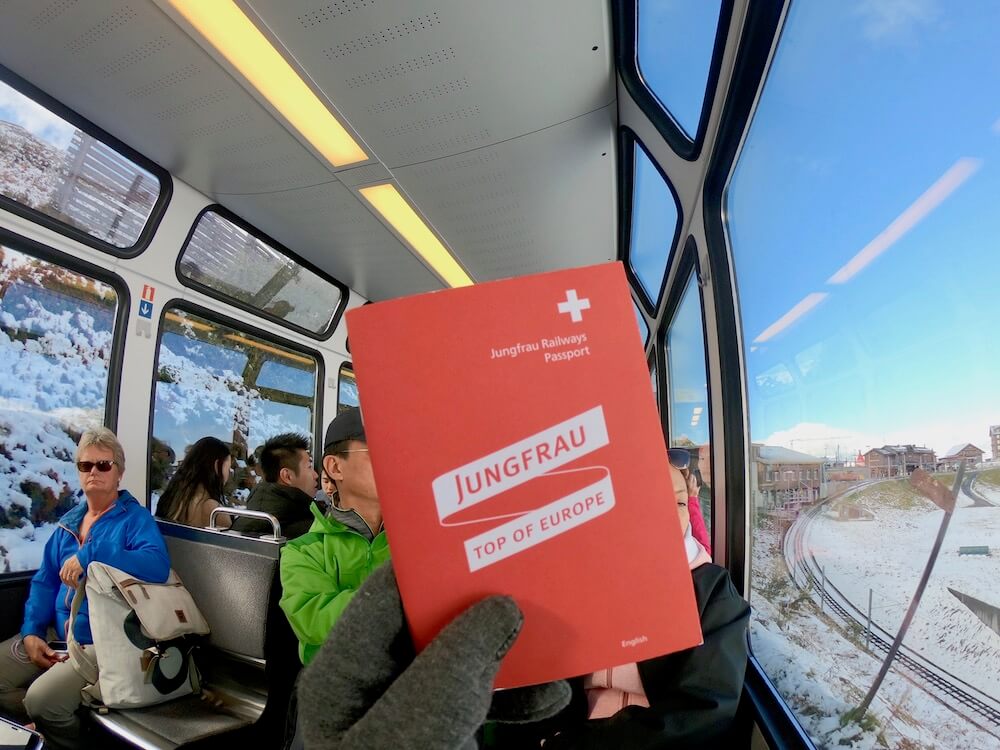 Before you leave Jungfraujoch, don't forget to stamp your 'Jungfrau passport' with a commemorative stamp. This passport also contains information on Jungfraujoch's various attractions, which will come in handy for your trip.
So to sum up a trip to Jungfraujoch – it's crowded, yes; you might get altitude sickness, possibly; but is it all worth it? Absolutely. After all, it's not every day you can say that you've been to the Top of Europe!