Soaring High in a Hot Air Balloon Ride in Cappadocia, Turkey
First published on TripZilla.
First, you wake up at 4am. The sky outside is dark and all is quiet, you feel a little chill in your bones. The bus comes within the next hour; you settle in beside people you don't know, a hint of a smile behind the sleep still in their eyes. You trundle along the roads, and breakfast will be served upon arrival – or so you've been told. True enough, there's coffee (thankfully), as well as a couple of pastries and biscuits. There's a few sofas and chairs, one of which you quickly seize.
As you wait for the other buses to arrive, the room slowly starts filling up with people. People of all ages arrive – young exuberant kids (you wonder how they get their energy at such an ungodly hour), their (slightly) wearier parents, teenagers and young adults with their faces shining with anticipation, and the older ones all geared up for adventure. Finally it's announced that the weather is favourable (your heart does a silent skip and a little shiver goes down your spine) – at long last the moment everyone has been waiting for.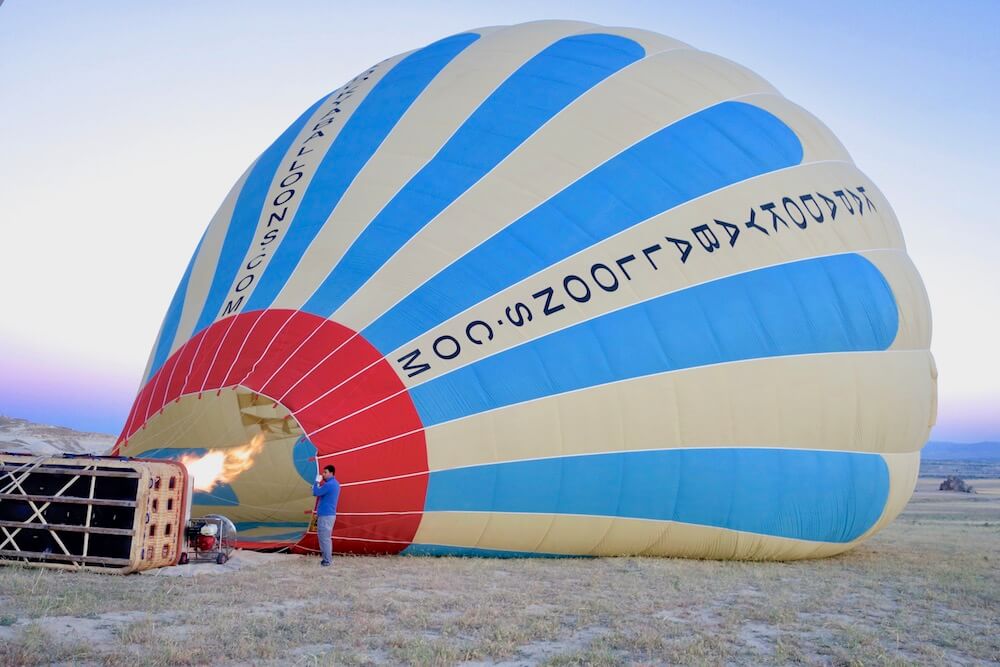 You get in another van, but this time the journey is short. You pull up to a large field, and you see the balloon getting puffed up right before your very eyes, the fire burning hot and bright.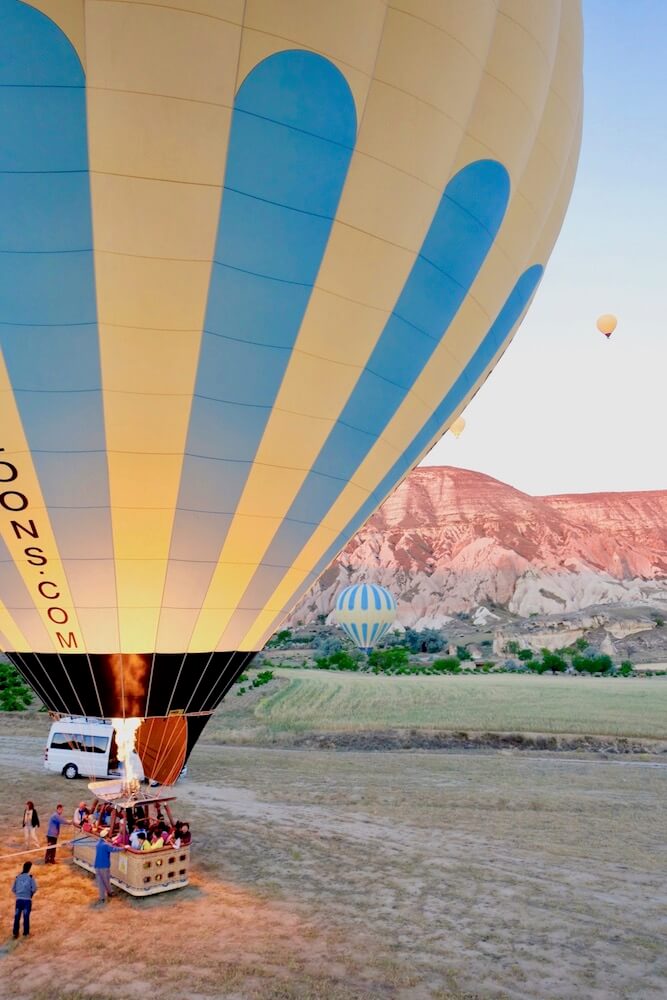 You hope that you manage to get a good spot because while the hot air balloon is huge, the basket looks pretty small. You climb into the basket; there are 7 other people with you but the basket is structured to let all 8 be by the edge. The fire above you burns bright orange, a welcome warmth on the back of your neck. You heave a sigh of relief, the basket shudders a little as it rises off the ground. And off you go.
Up, up and away!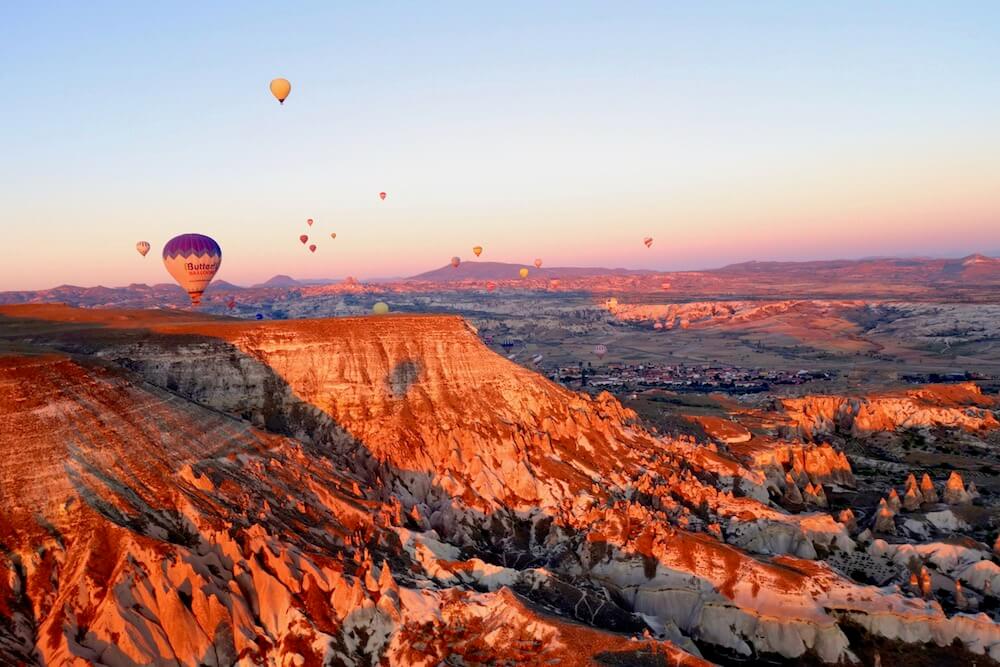 The sun is just coming up, casting an iridescent orange glow over the horizon. The earth seems to come alive as the glow slowly creeps its way across the land; the air smells crisp and fresh, there's nothing compared to a lungful of fresh morning air.
You fly over magnificent rock formations, nothing quite like anything you've ever seen. The hues of pink, orange and purple streak across the sky, and you watch as so many other balloons, just like yours, take to the skies.
Sometimes your balloon dips, and you come rather close to the valley floor; but just as your breath catches, the hot air balloon elegantly rises into the air once more, and you quietly unclench your whitening knuckles from the handrail.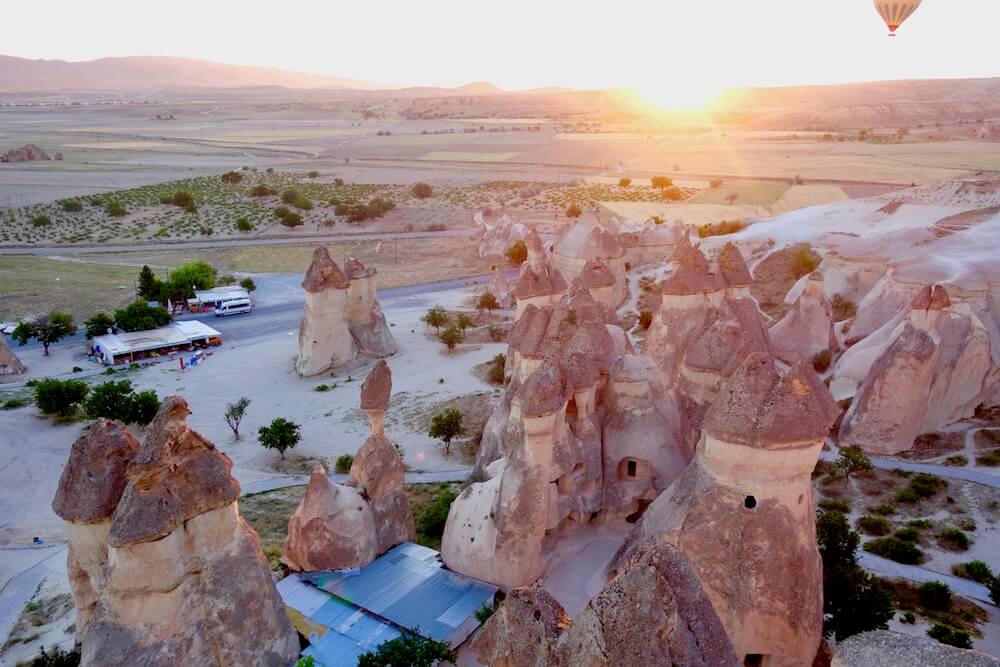 You fly over fairy chimneys, and you imagine little fairies skipping in between what looks strangely like mushrooms.
You gaze at the rock structures and just can't believe how truly amazing nature can be.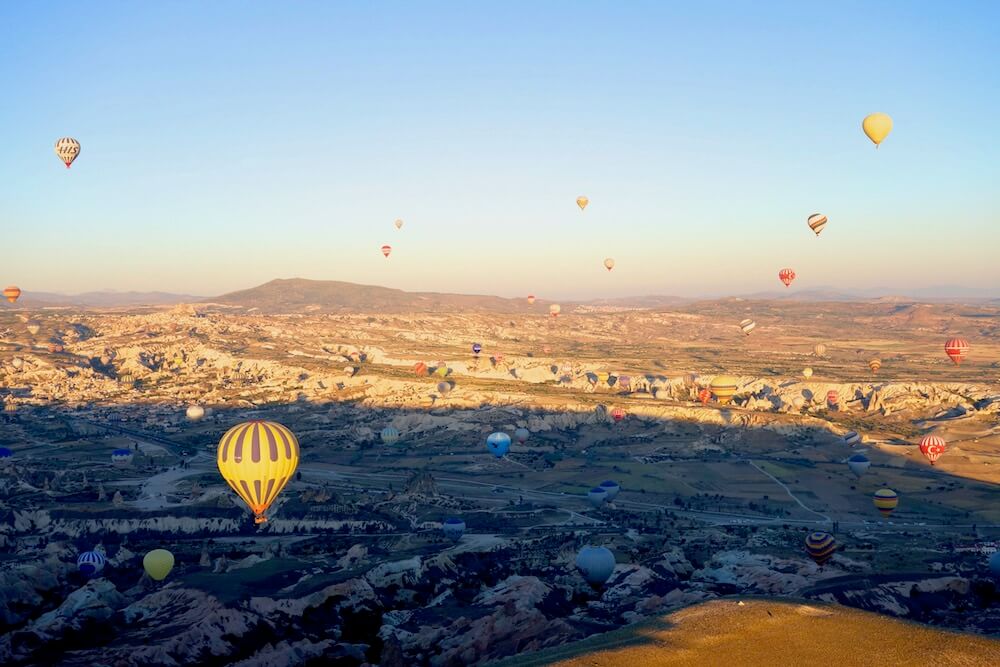 You gaze out towards the horizon and you see what must be hundreds of brightly coloured little balloons, starkly contrasted against the azure blue skies. There's so many others, just like you, bearing witness to this remarkable sight. You smile, for beauty must be shared, and you're glad that this sight isn't wasted on you alone.
You look down and you see houses nestled between the undulating valleys and plains, and you wonder, perhaps out loud, what it would feel like to live in such a wondrous place. Do the locals know how lucky they are to live in such a breathtaking, beautiful place? Or have they gotten used to such magnificence, grown accustomed to such beauty?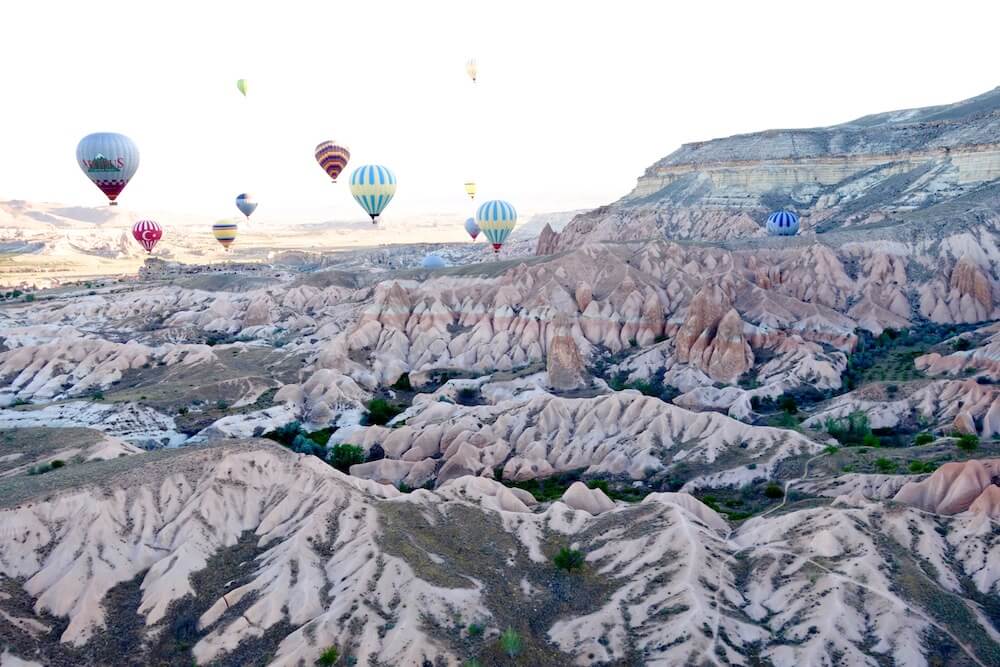 You fly over valleys tinted in all shades of pink,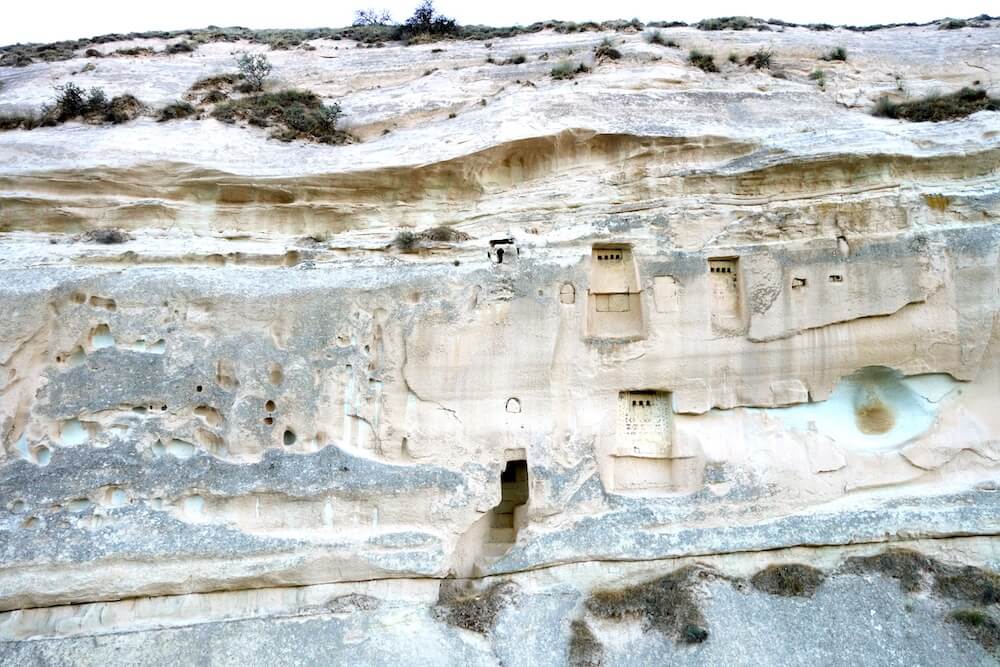 as well as pigeon houses carved into the sheer rock faces.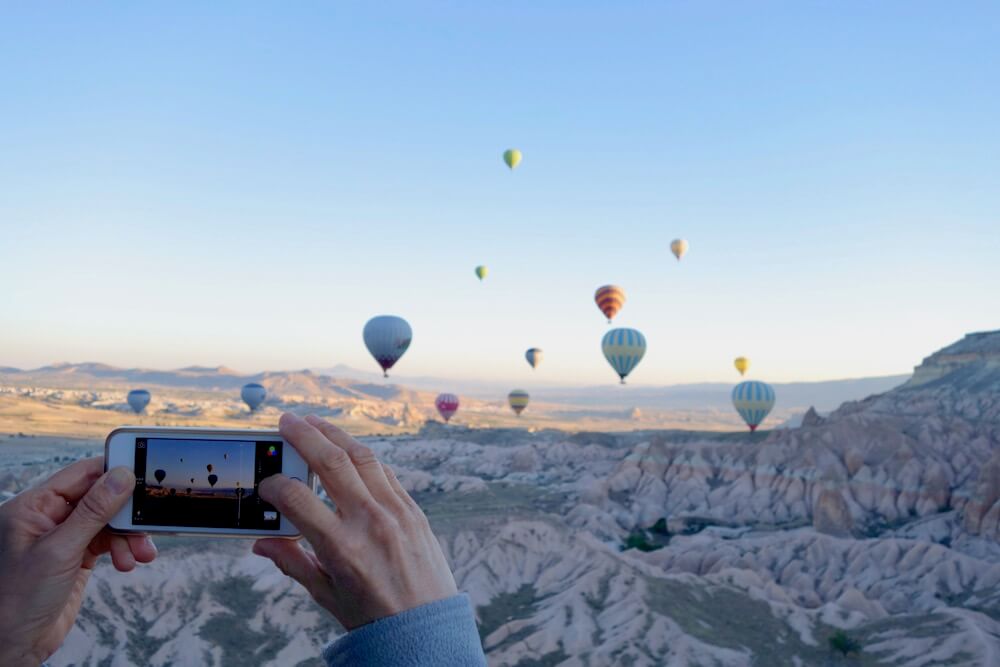 You attempt to capture the moment. Somehow no picture will ever do it justice, but you try anyway.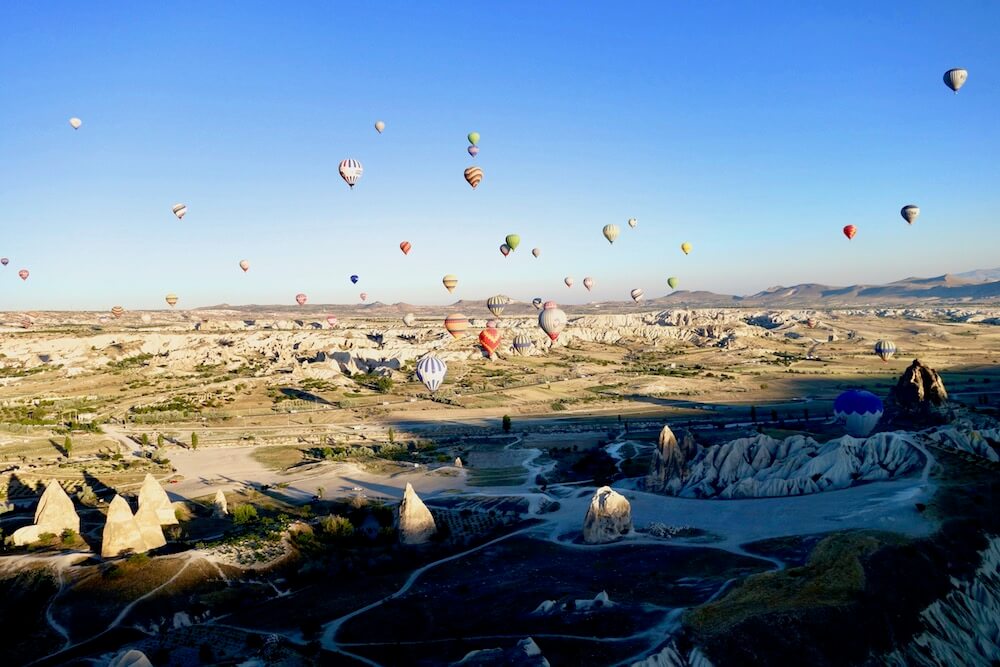 The sky has become a brilliant blue, and more and more balloons start coming into view, dotting the horizon with brightly coloured shapes. You look down in wonder, feeling truly on top of the world. In that moment you feel infinite; you also feel minuscule, a tiny part in the grand scheme of things.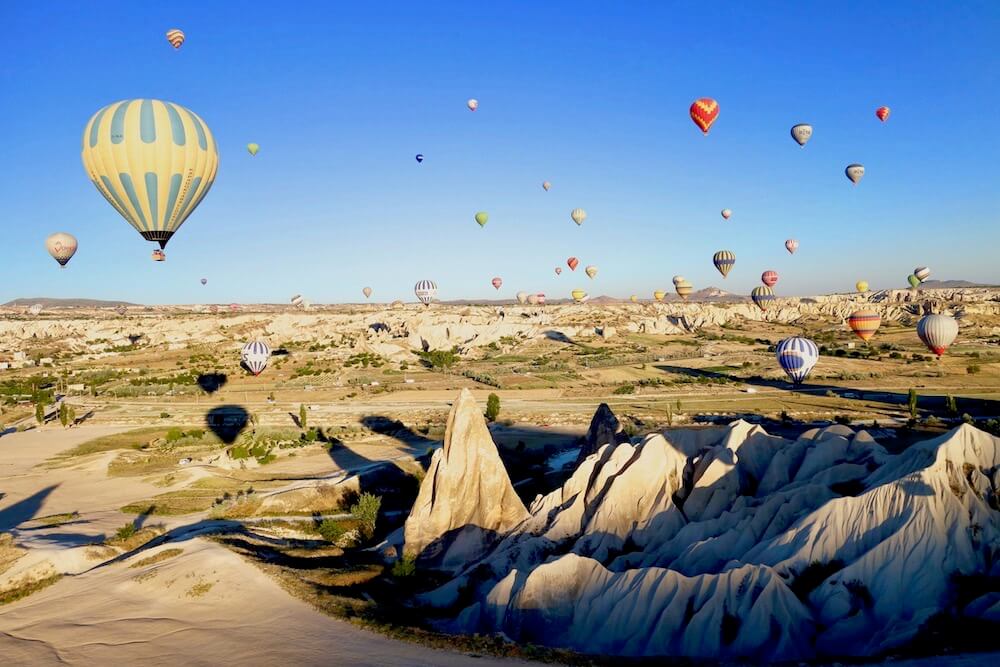 You continue to fly over spectacularly surreal rock formations, and try to take in as much detail as you can.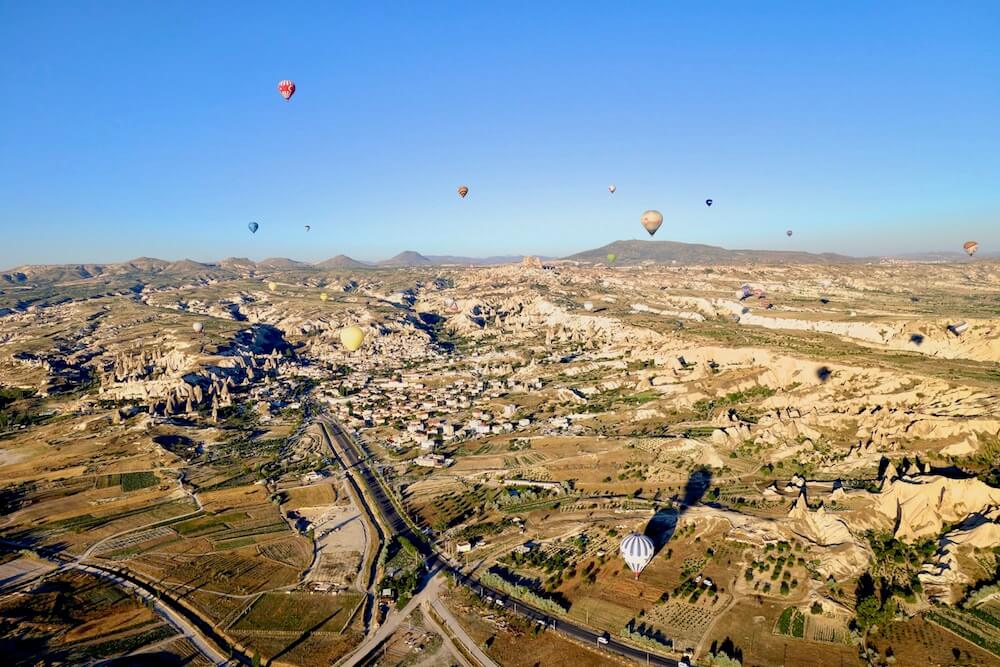 You take a deep breath and realise you've got the best vantage point of all – a panoramic bird's eye view away from tourist crowds.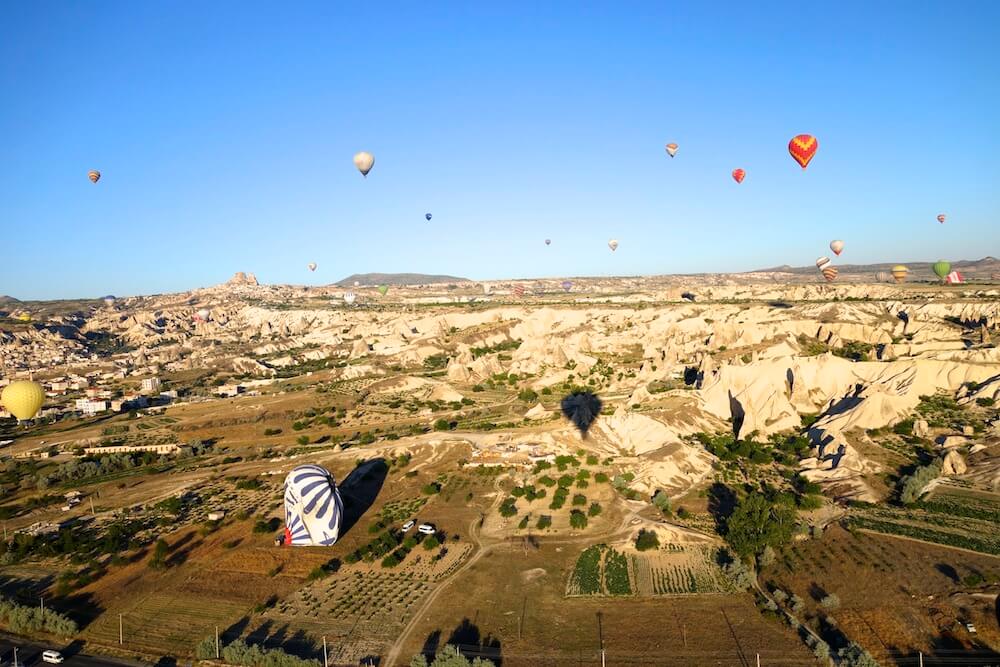 You take one last look as the hour draws to a close, and you start seeing the balloons around you embarking on their descent, getting lower and lower with each passing minute. Other balloons start deflating, and you watch your balloon drift closer and closer to the ground.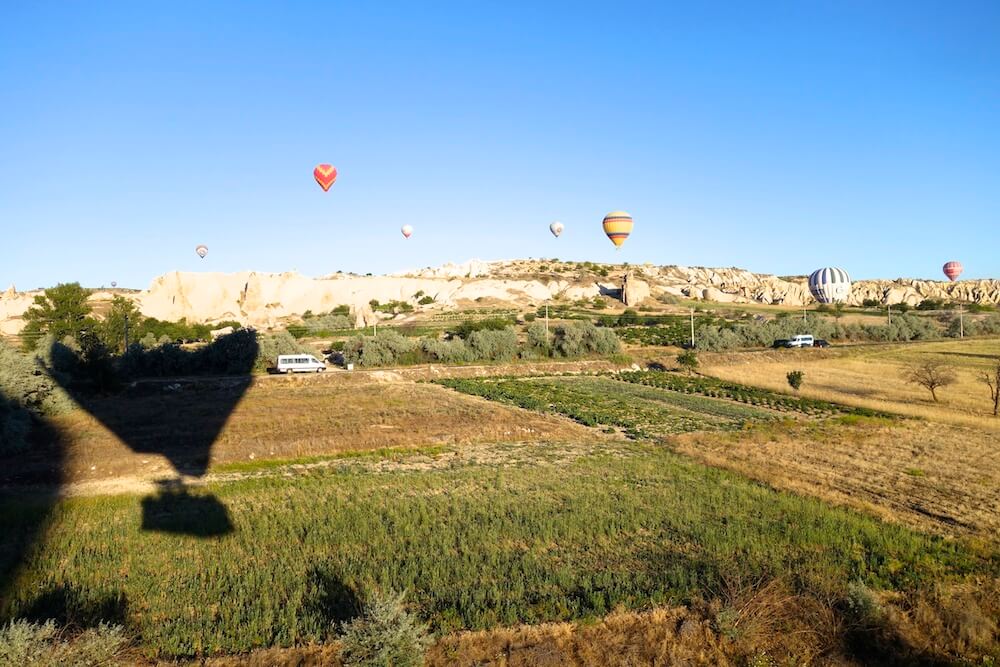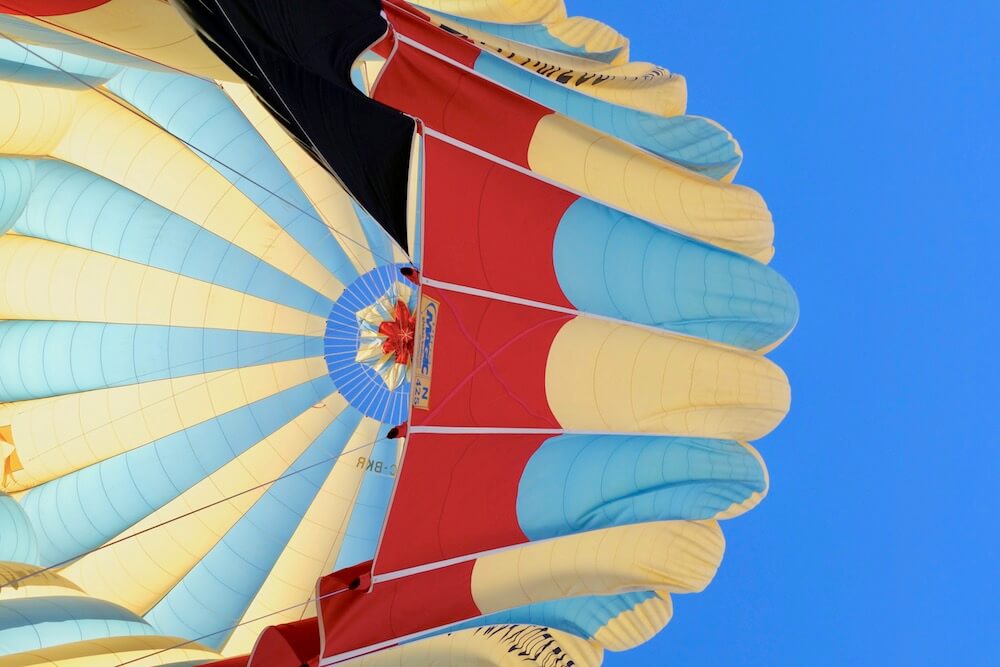 Some baskets land on their side, but yours landed perfectly. You applaud the guide, who takes a humble bow. You watch the balloon deflate above you; it bows gracefully like a dancer at the end of a ballet performance.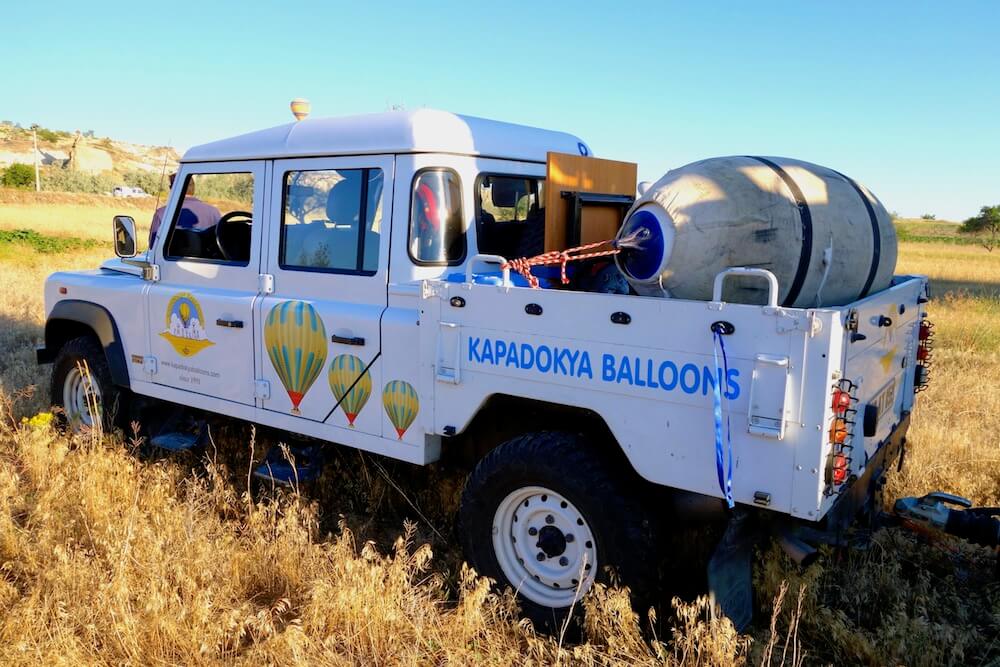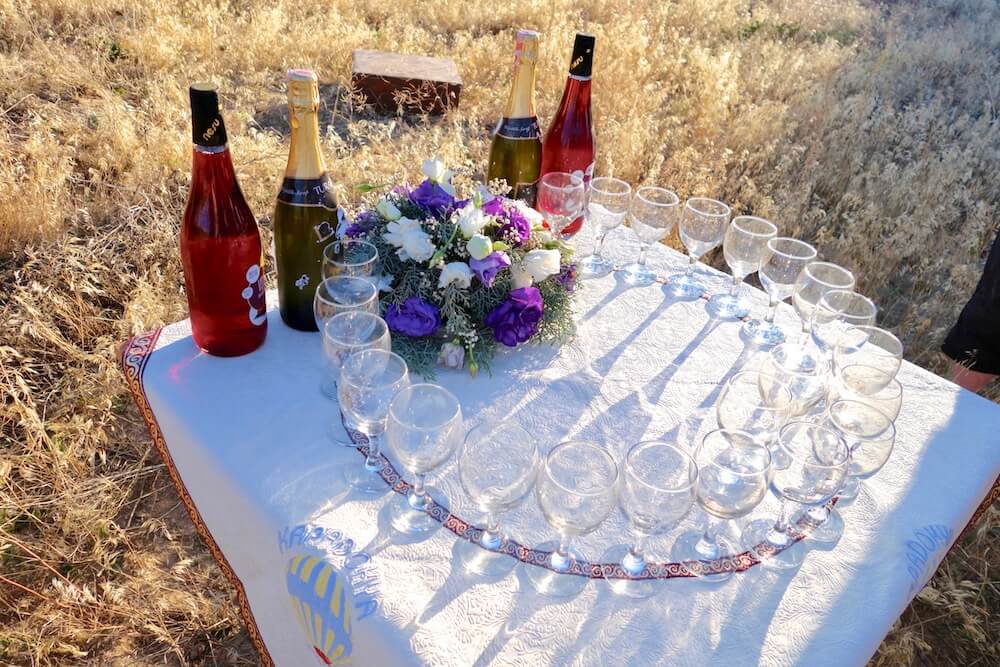 A truck is waiting and as you wait your turn to clamber out of the basket, a table is set up with wine glasses to celebrate yet another successful flight!
The glasses are arranged in an immaculate circle; wine bottles all ready to be popped. "Bottoms up!" – the cries ring out through the air, glasses clink and people laugh.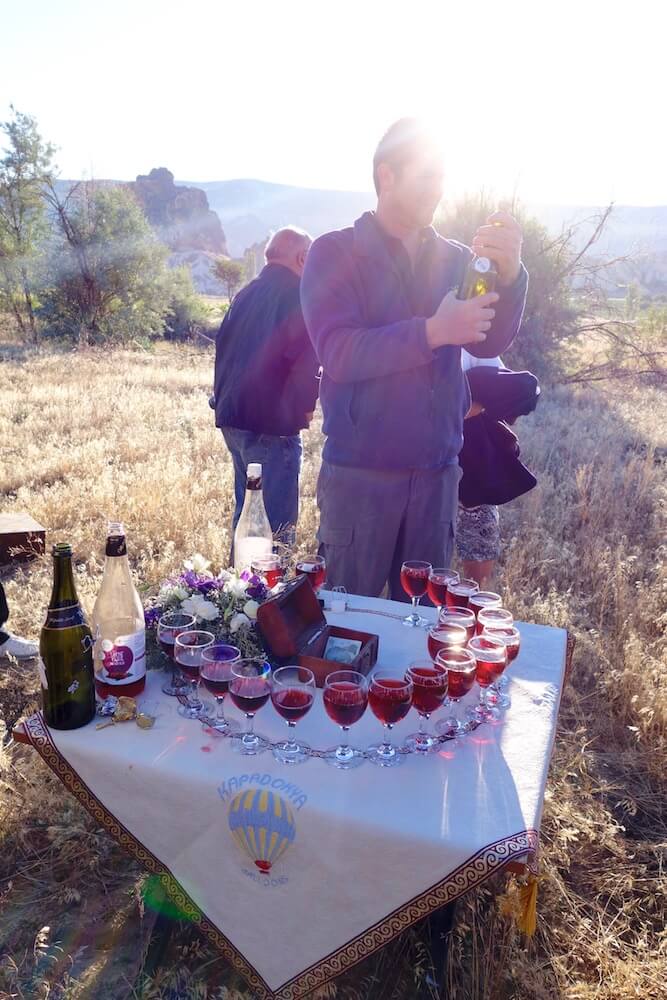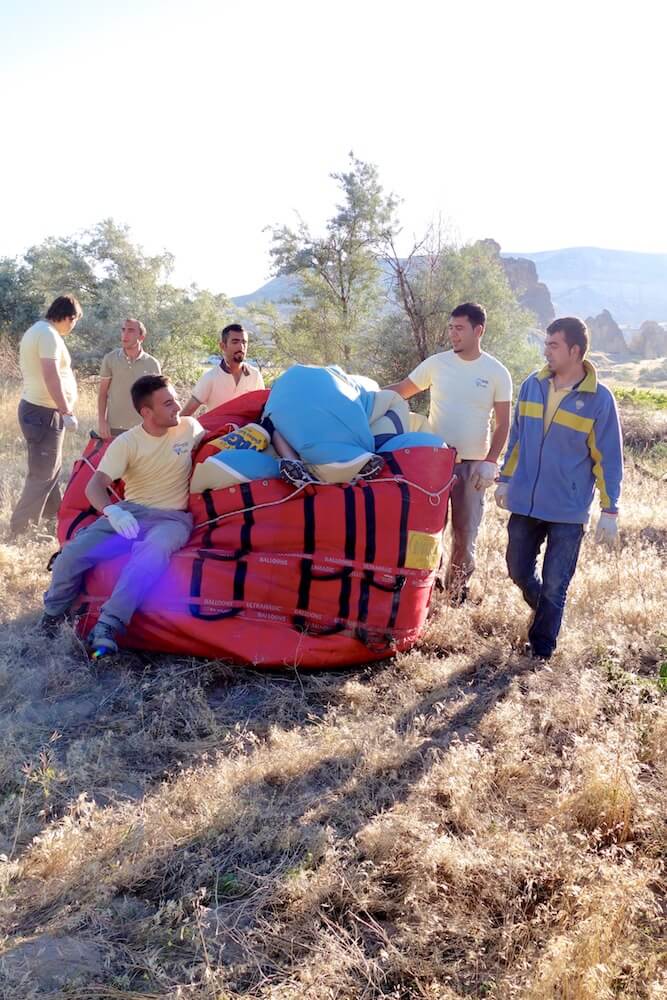 Suddenly you're lifted off the ground and thrown onto a fluffy ball of rubber and air. The guides managed to compress the balloon, forming a soft landing pad.
You sink down in delight, soaking in the atmosphere and the sun on your face.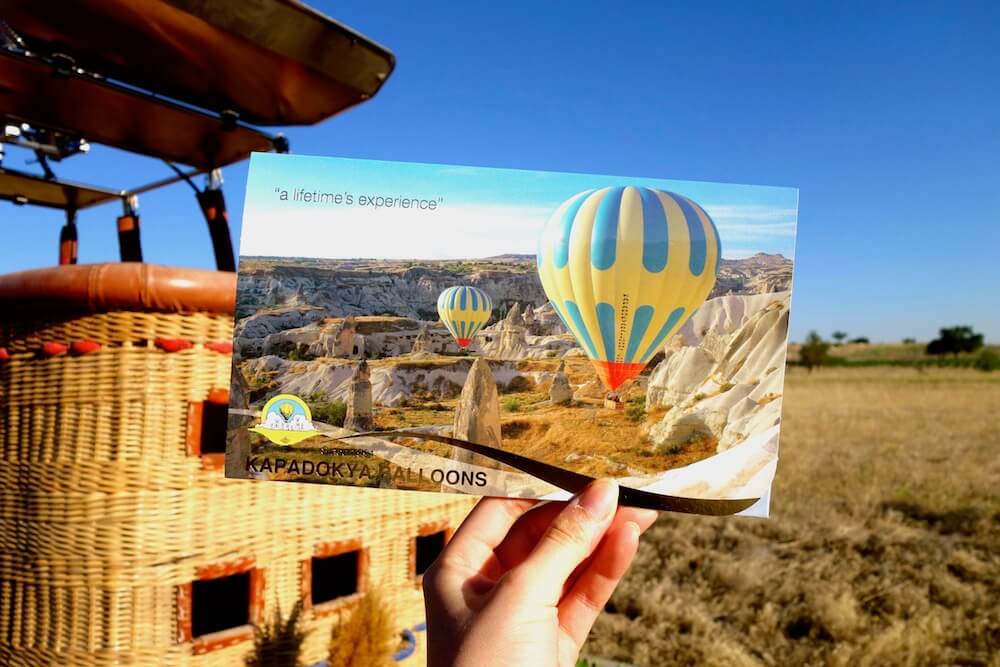 But the guides slowly start packing up; it's almost time to go. You file into the bus, a completely different person from your earlier weary morning self. You reach back to your accommodation by 8.30am, early enough for another day tour.
Should you decide to take a well-deserved nap, you climb back into bed with a smile of content on your face; so this is what taking a hot air balloon ride in Cappadocia feels like.
About Cappadocia
Cappadocia is a region in Turkey known for its spectacular rock formations and out-of-this-world landscape. Hot air ballooning is one of the region's most popular activities, and there are as many as 25 hot air balloon companies offering such a service. Some of the most reputable companies are Kapadokya Balloons, Voyager Balloons, and Butterfly Balloons. Each standard package includes return transfers, the hot air balloon flight, a flight certificate, flight insurance, snacks and beverage service before the flight, as well as a champagne party after the flight. There is an option of upgrading your package, which includes a longer flight time, and a smaller basket with less people.
Experience this for yourself - and take to the skies in a Cappadocian hot air balloon!