Swim With Penguins at Boulders Beach, South Africa
Let's start with some fun facts about African penguins. These adorable creatures waddle clumsily on land but in the water, they transform into swift torpedoes that swim up to speeds of 7 to 24 kilometres per hour. They have fantastic underwater vision and can remain submerged for around 2 and a half minutes.
Their vision on land, however, isn't as good – resulting in these penguins being somewhat near-sighted when out of water. 80% of their diet consists of fish and they drink saltwater, which is purified by saltwater glands in their heads. The penguins then sneeze out the remaining salt crystals.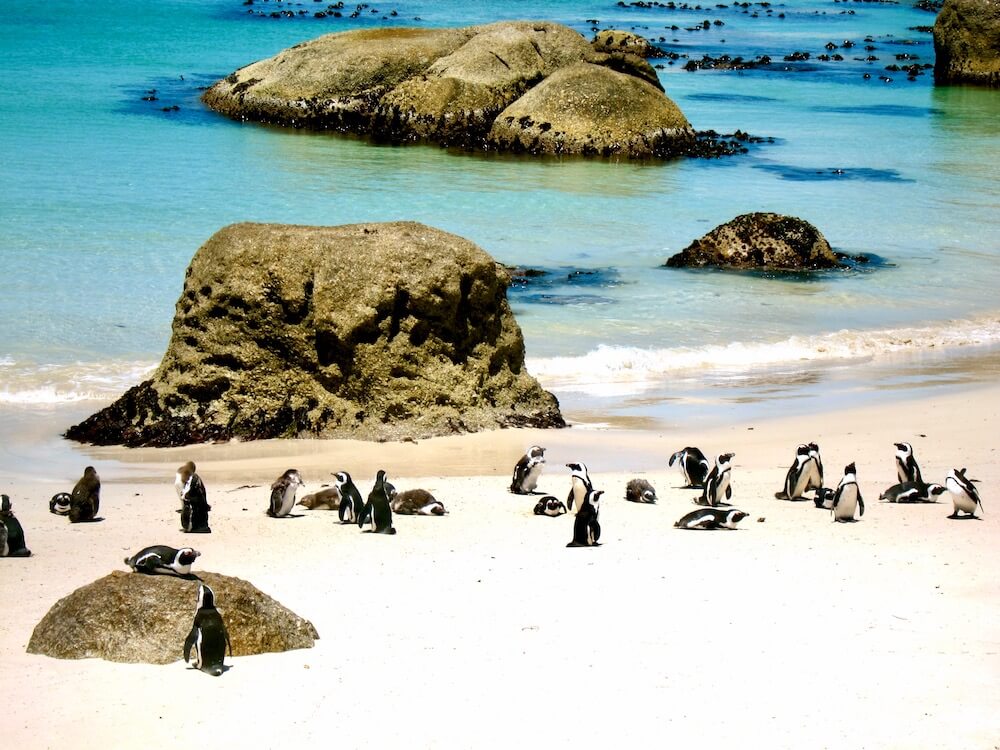 Reaching up to 70 centimetres in height, the African Penguins are a cute bunch to look at. And if you're looking for a place where you can observe these creatures in their natural habitat, look no further than Boulders Beach in South Africa!
Offering fine white sand and sparkling turquoise waters, Boulders Beach is located just 45 minutes from Cape Town.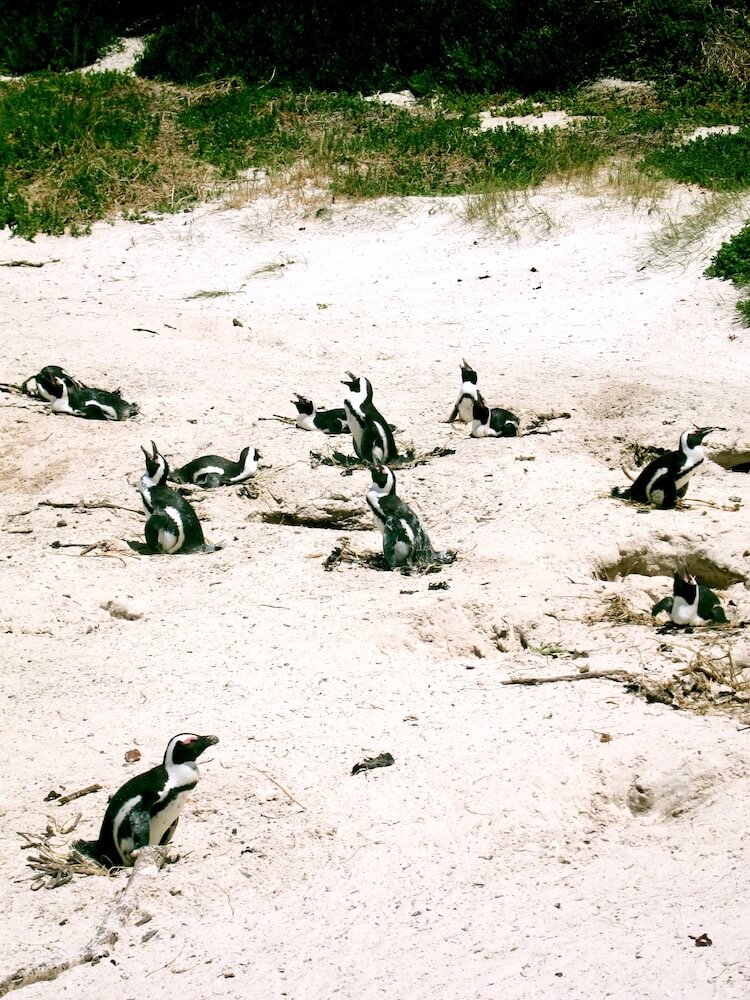 So, how did the penguins come to Boulders Beach? The beach was first visited by a pair of penguins in 1983. These lovebirds started laying their first eggs on the beach 2 years later. By 1997, this evolved to over 2, 000 penguins on the beach, inclusive of many that made their way over from Dyer Island. In 2005, there were almost 4, 000 penguins on the beach – imagine that!
However, this number has declined to about half today. This is due to a combination of global warming, overfishing, loss of habitat and high levels of pollution. Due to this, the African Penguin has been classified as an endangered species.
One particular destructive event occurred in 2000, when an iron ore tanker sank near Robben Island, causing 1, 300 tons of oil to be released in the ocean. This claimed the lives of many penguins; however, those that were saved were successfully rehabilitated and returned back to the wild.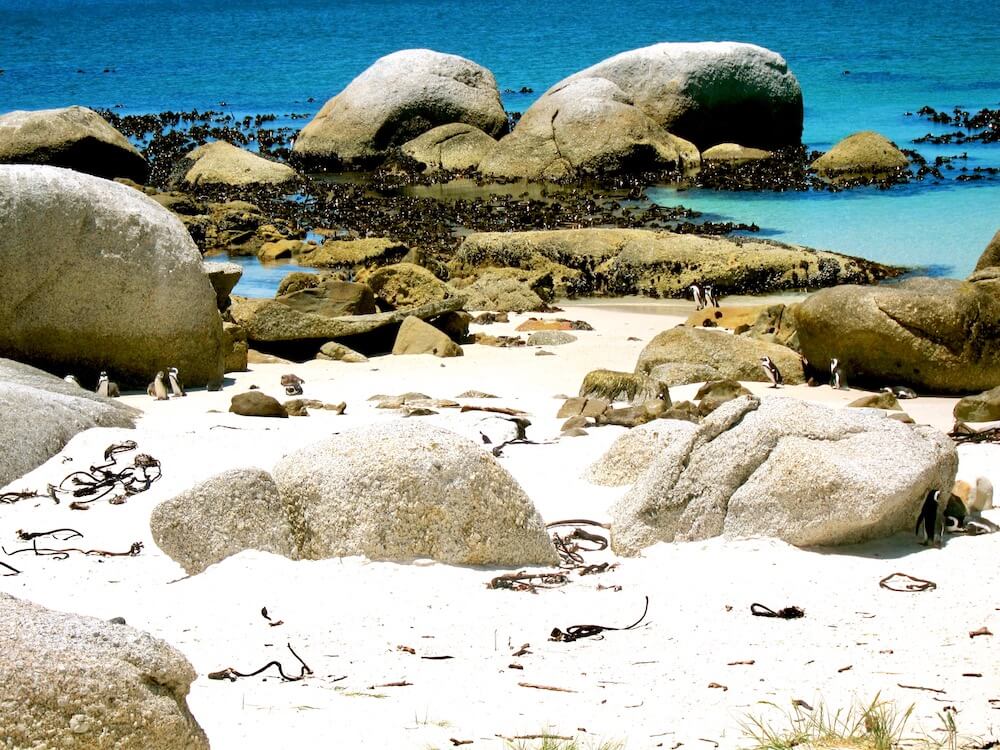 Luckily, the South African government has stepped in to protect Boulders Beach and its surrounding areas as part of the Table Mountain National Park Marine Protected Area. 3 wheel-chair friendly boardwalks were also constructed in a bid to protect nesting penguins and their little chicks. Special nesting stations – which look like igloos! – have also been built to protect the penguins' eggs.
As Boulders Beach is part of a Marine Protected Area, it's designated as a 'no-take zone' – this means that no fishing is allowed at the beach and removal of any sea-life (including shells) is also prohibited.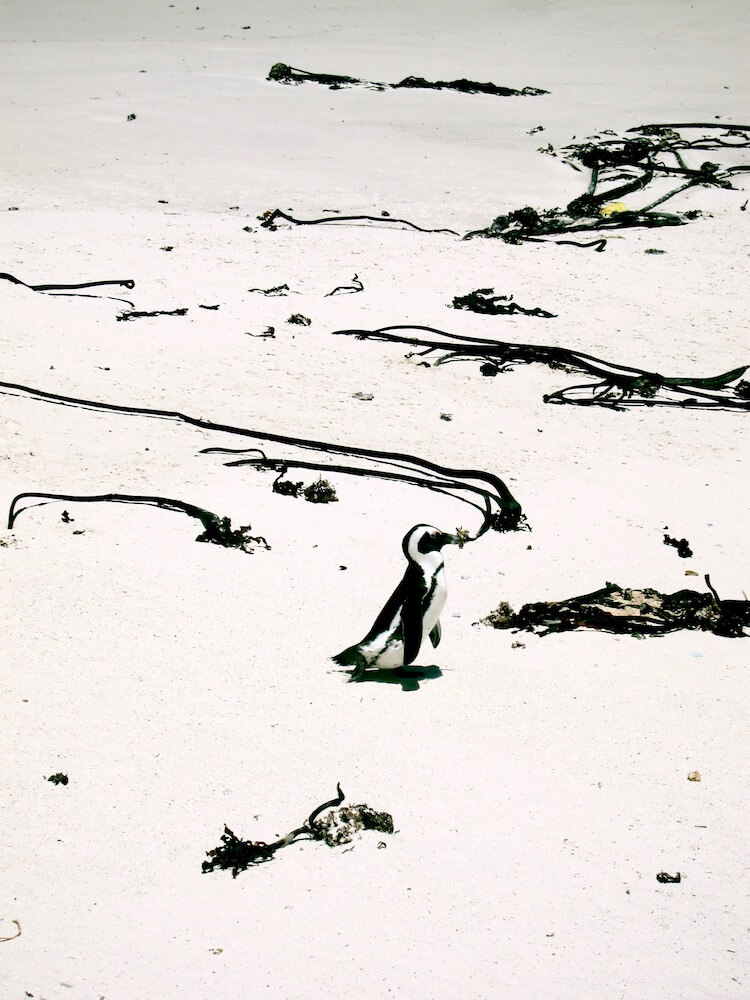 These African penguins are native to South Africa and Namibia. The penguin colony at Boulders Beach is one of the world's only land-based African penguin colonies, making it imperative to protect them at all costs!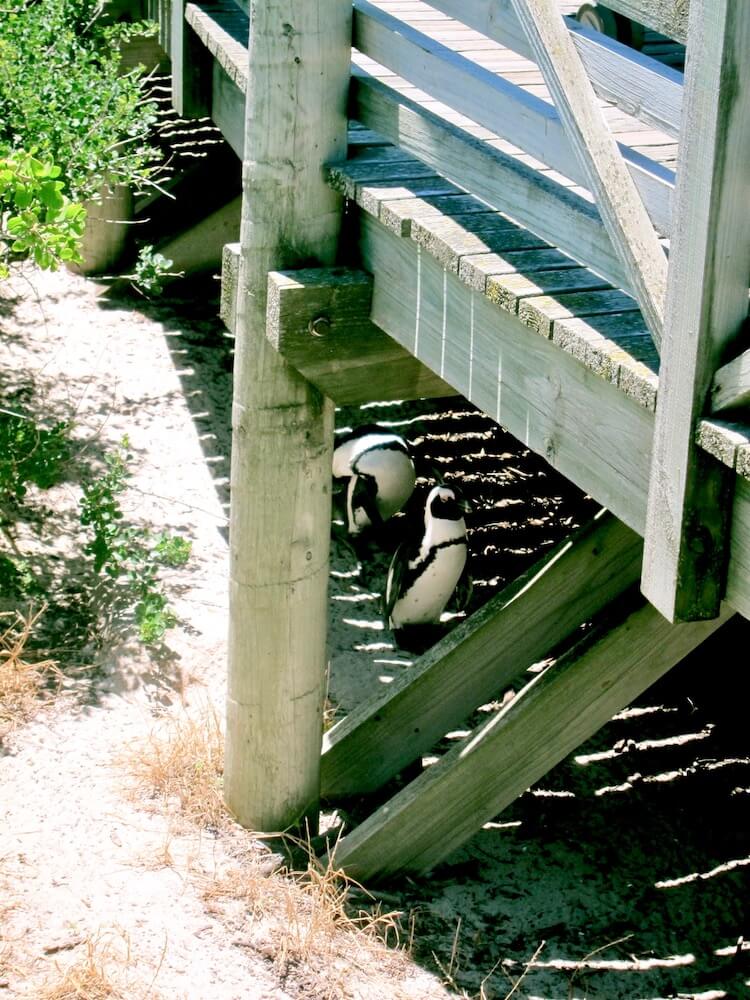 At Boulders Beach, you can take a 2-minute stroll along the boardwalk to Foxy Beach, where high numbers of penguins are known to congregate. You might even find a couple resting in the shade under the boardwalk.
The boardwalk will also take you within close proximity of the nesting sites. At Foxy Beach, a viewing platform also allows you to have an obstructed view of the little penguins. In the winter, you might even spot a migrating whale passing through the bay.
Swimming is permitted in the waters at the public beaches on either side of the main colony, where you'll most likely have the opportunity to swim alongside the penguins!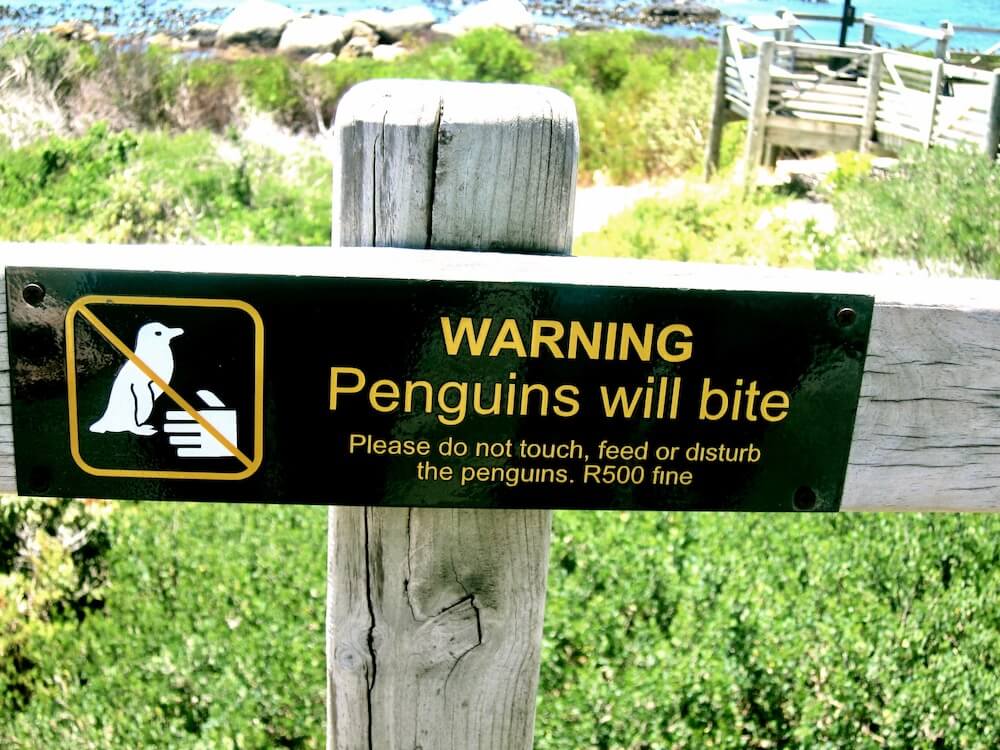 However, do note that no matter how cute the penguins seem, they are still wild animals and have sharp beaks. They are also known to bite – but only when provoked. You should hence never touch or feed them! Anyone who flouts this rule is subject to a R500 (~SGD40) fine.
An entrance fee of R160 (~SGD13) for adults and R60 (~SGD5) for children is required for Boulders Beach and the visitors centre. This fee goes towards the continued conservation of the penguin colony and surrounding area. The public beaches on either side are free to enter.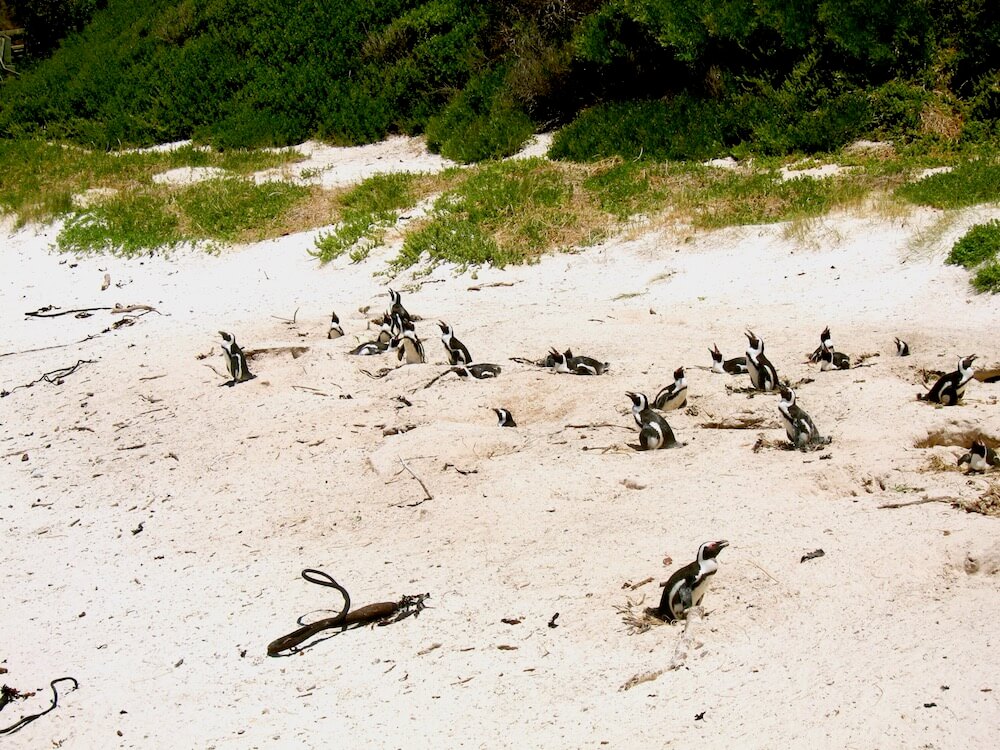 Opening times for Boulders Beach varies with the season:
December to January: 7am to 7.30pm
February to March: 8am to 6.30pm
April to September: 8am to 5pm
October to November: 8am to 6.30pm
The penguins are present at Boulders Beach all year round, no matter the season. The numbers are highest during breeding season, which lasts from February to August. Moulting season runs from November to January, which causes the penguins to look a little more dishevelled than usual.
Getting to Boulders Beach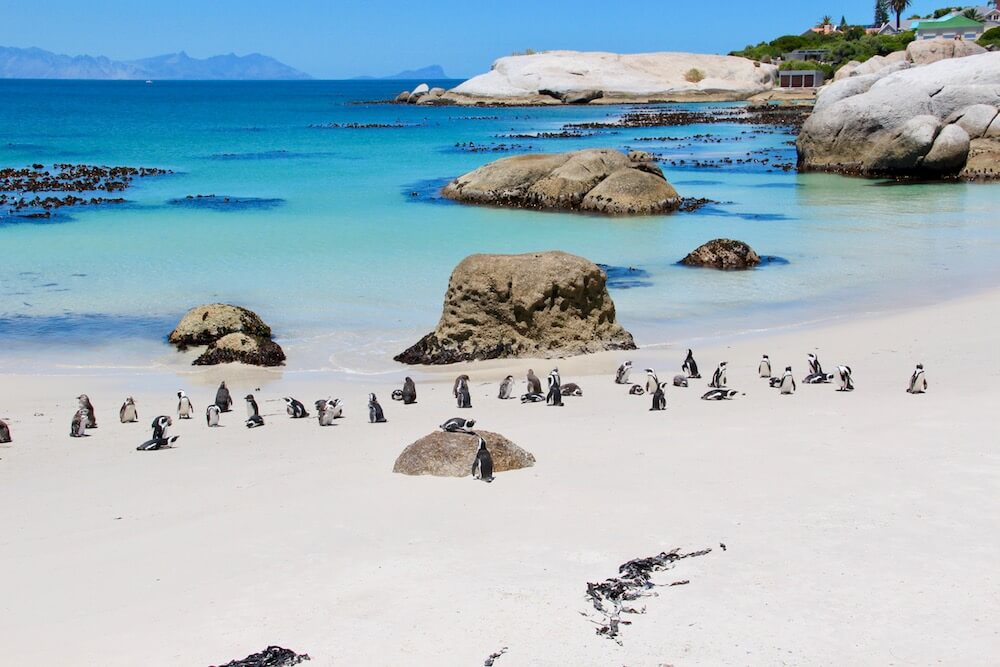 If you have your own rental car, Boulders Beach is an easy 45-minute drive from Cape Town. A recommended route is to drive around the Cape Peninsula via Chapman's Peak, where you can visit Cape Point and other seaside villages. Boulders Beach is located just a stone throw's away from Simon's Town, a quaint village filled with cafés and boutique shops.
Along the way, drop by Hout Bay to take a short 1-hour cruise to Duiker Island, an island dominated by thousands of Cape Fur Seals and 20 species of seabirds.
Read: Take a Boat Ride to Duiker Island, an Islet in South Africa Overrun With Cape Fur Seals
If you're driving to Boulders Beach, you can choose from two carparks, located at Seaforth Square and Bellevue Road respectively. Before you drive off from the carpark, do check underneath your car to ensure that no stray penguins are there!
If you're planning on taking public transport, you can hop on a train from Cape Town station to Simon's Town. The train will take you along the scenic Kalk Bay coastline, with the journey taking approximately 1 hour and 15 minutes. From Simon's Town, you can either hail a taxi or take a leisurely 30-minute walk through the town to Boulders Beach.