Things to do in Sarajevo, Bosnia & Herzegovina
At first glance, the streets of Sarajevo exude a magnetic charm, with history and culture deeply interwoven into every corner of the city. However, take a closer look and you'll find a city with numerous battle scars from its tumultuous history. If anything, the city of Sarajevo is a survivor; and that's exactly what makes any visit to this city so intriguing.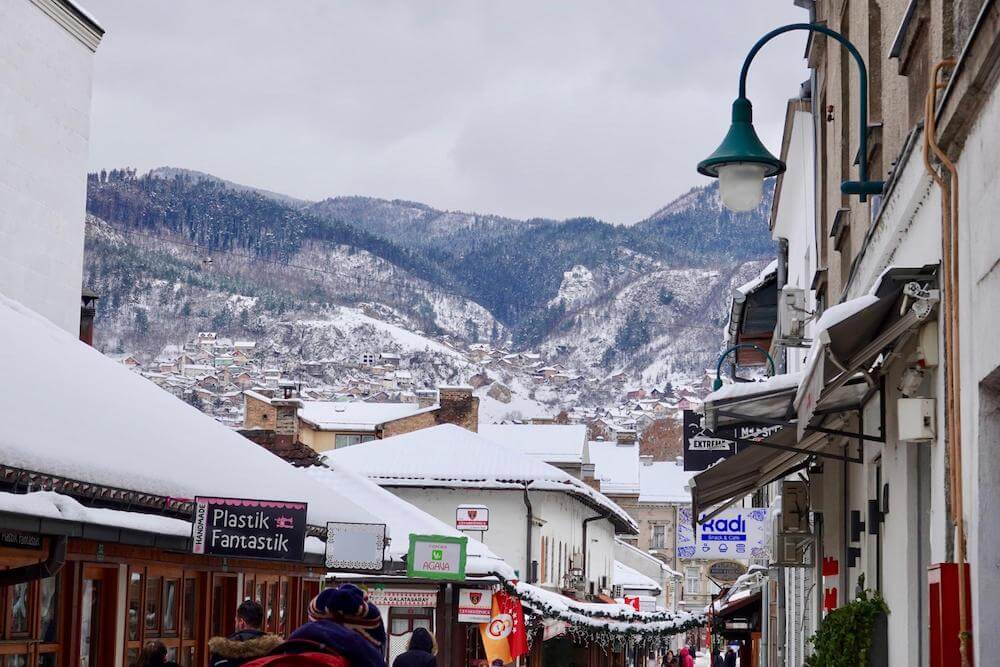 Sarajevo is the kind of place that reveals more with each day; it's a city that can truly be felt, and not just seen. For the uninitiated, here are some things to do on your first trip to Sarajevo:
Wander around the Old Town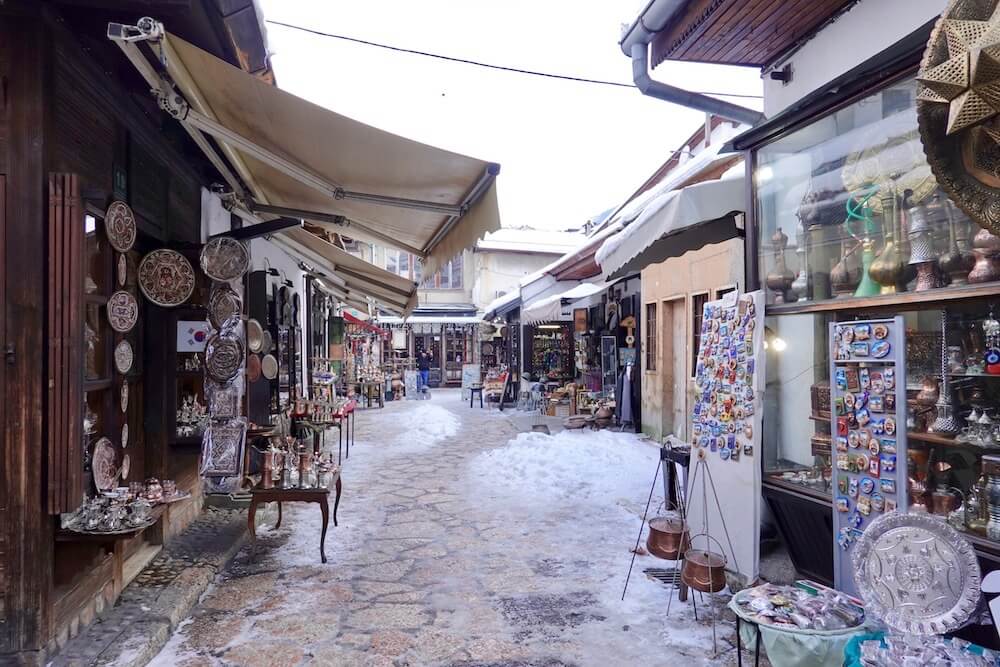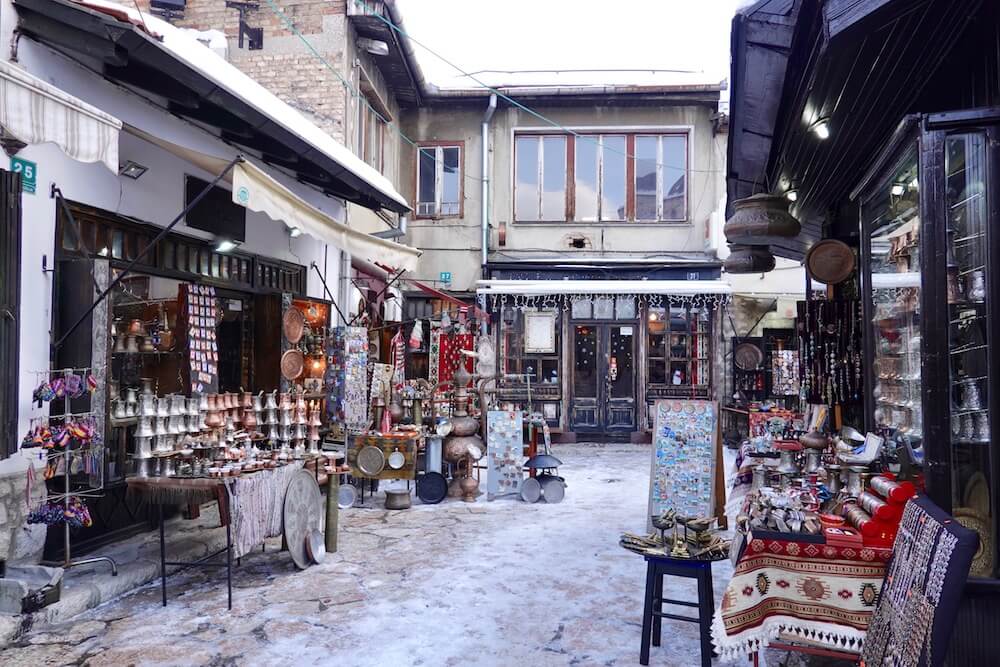 Also known as Bascarsija, the Old Town of Sarajevo is a delight to explore. A labyrinth of alleys awaits, its streets are peppered with wooden shophouses and sloping roofs. The marketplace was built in the 15th century by the Ottomans, which explains the nostalgia seeping through the laid back vibe permeating the air.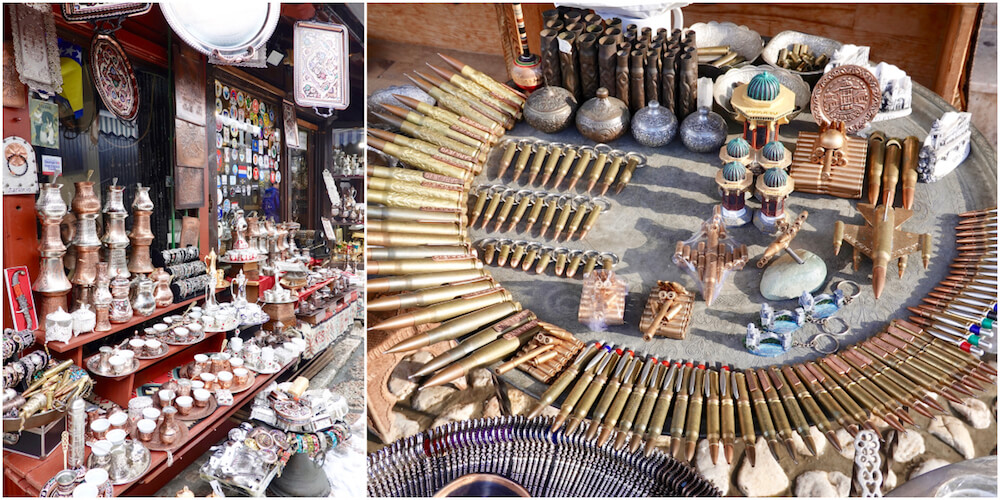 The Old Town is the heart and soul of Sarajevo, where you'll find numerous locals simply sitting and savouring a piping cup of Bosnian coffee. The bazaar is full of shops peddling all types of copperware, traditional handicrafts as well as Turkish carpets and lamps. You'll also find souvenirs made out of real bullet casings collected from the war which, admittedly, I'm not sure how to feel about.
Drink from the Sebilj Fountain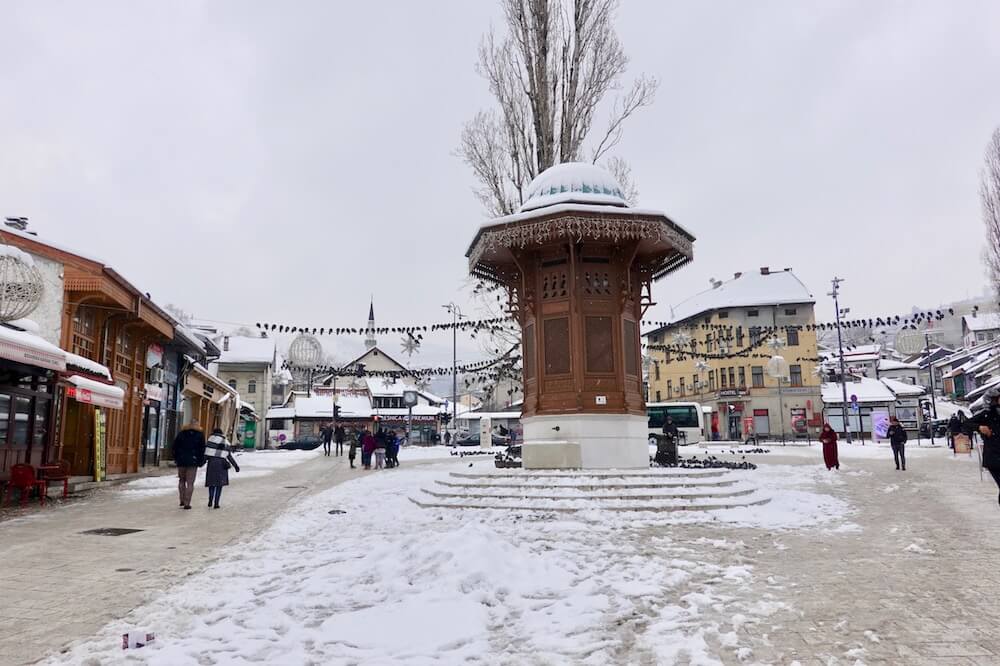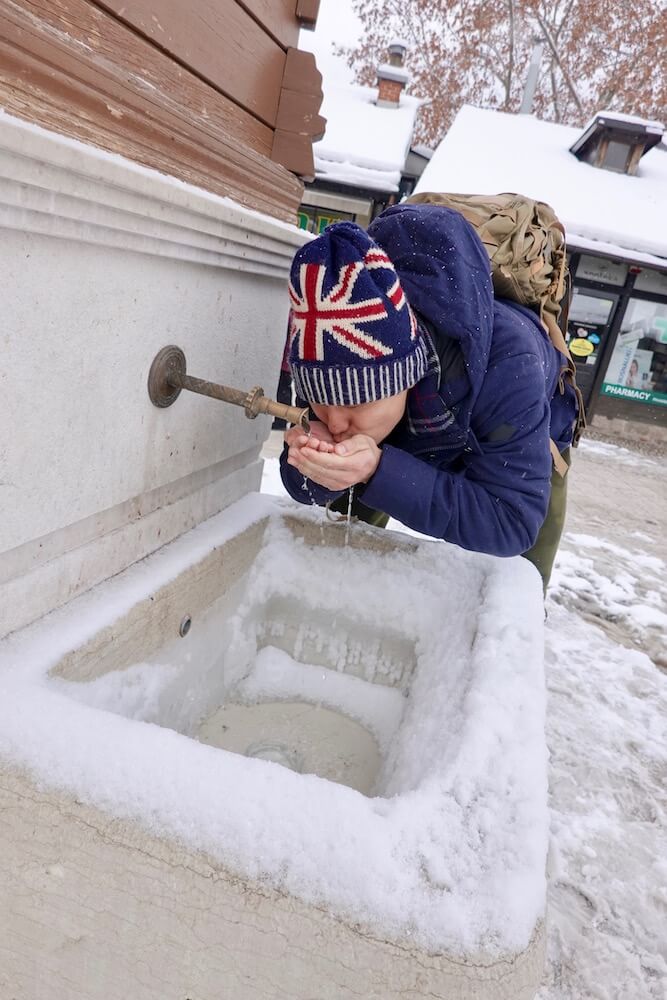 Ask a Sarajevan to meet, and they'll probably direct you to Pigeon Square. A tall wooden fountain stands sentinel in the middle of the square – legend has it that if you drink from this fountain, you'll be destined to return to Sarajevo soon!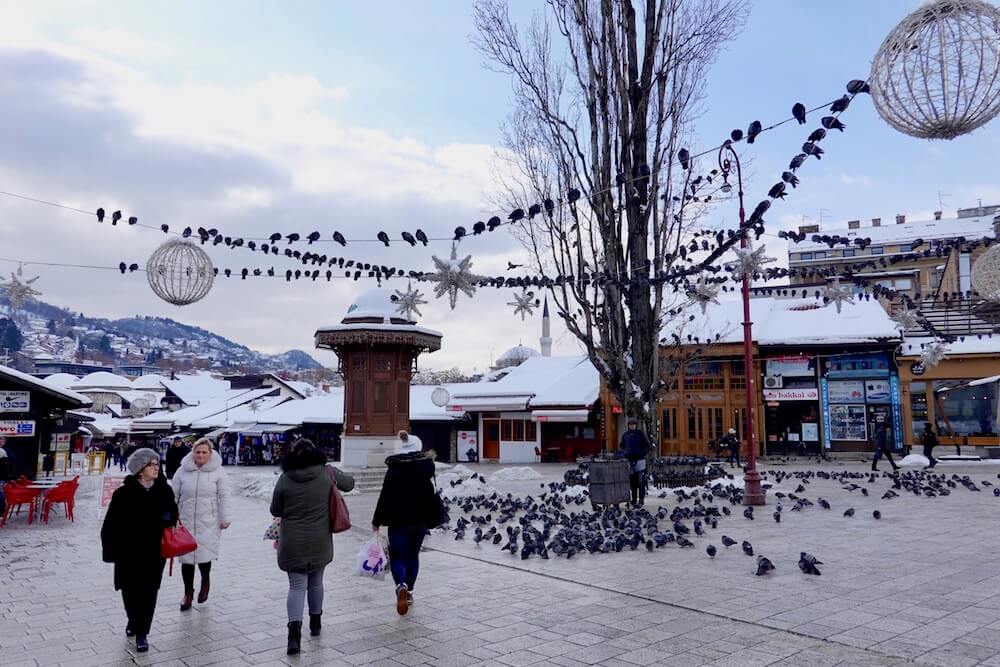 True to its namesake, Pigeon Square is often overrun by flocks of pigeons.
Drop by the Gazi Husrev-beg Mosque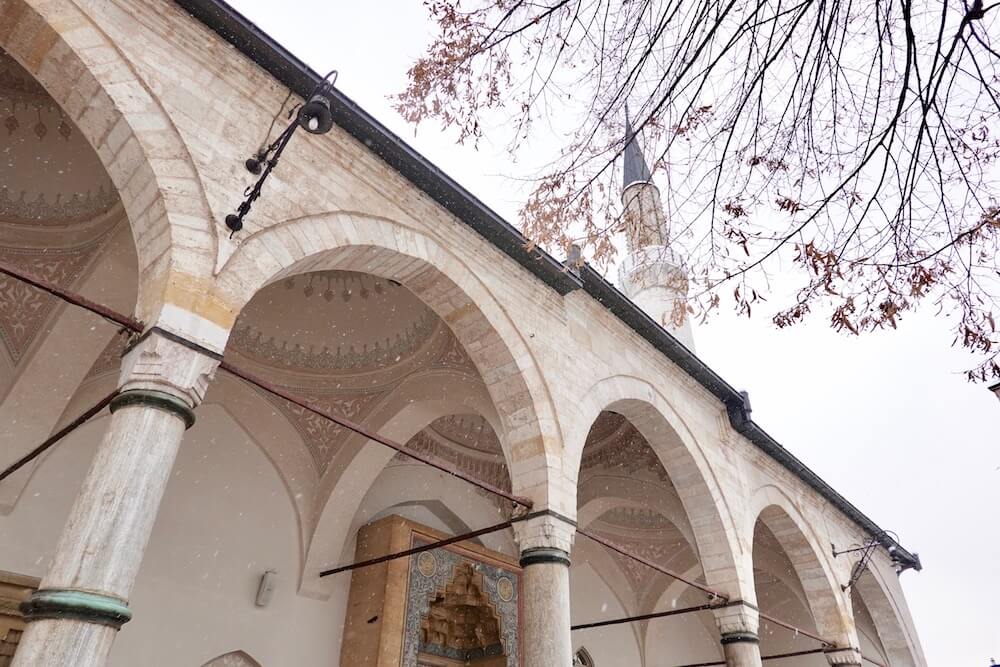 There are more than 200 mosques in Sarajevo, with the most famous being the Gazi Husrev-beg Mosque. In 1898, it was the first mosque in the world to receive electricity.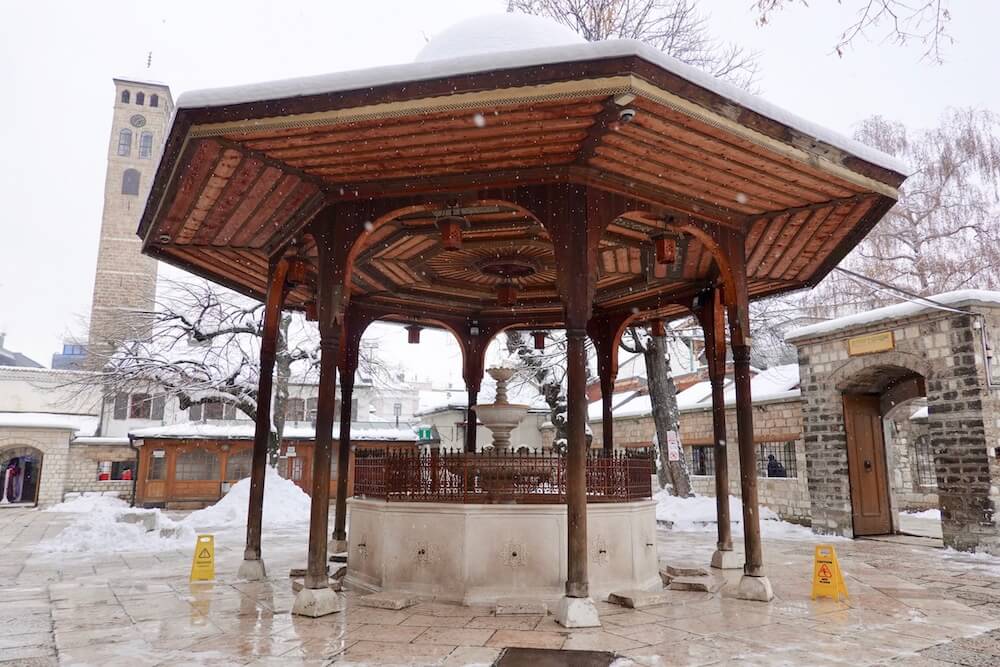 Listen out for the call of prayer from the mosque minaret five times a day; this has been repeated without fail since the year 1530. At times, you can hear this call to prayer alongside the bells of a nearby Catholic cathedral, which pays testament to the incredible intertwining of cultures here in Sarajevo.
Cross the 'Meeting of Cultures' line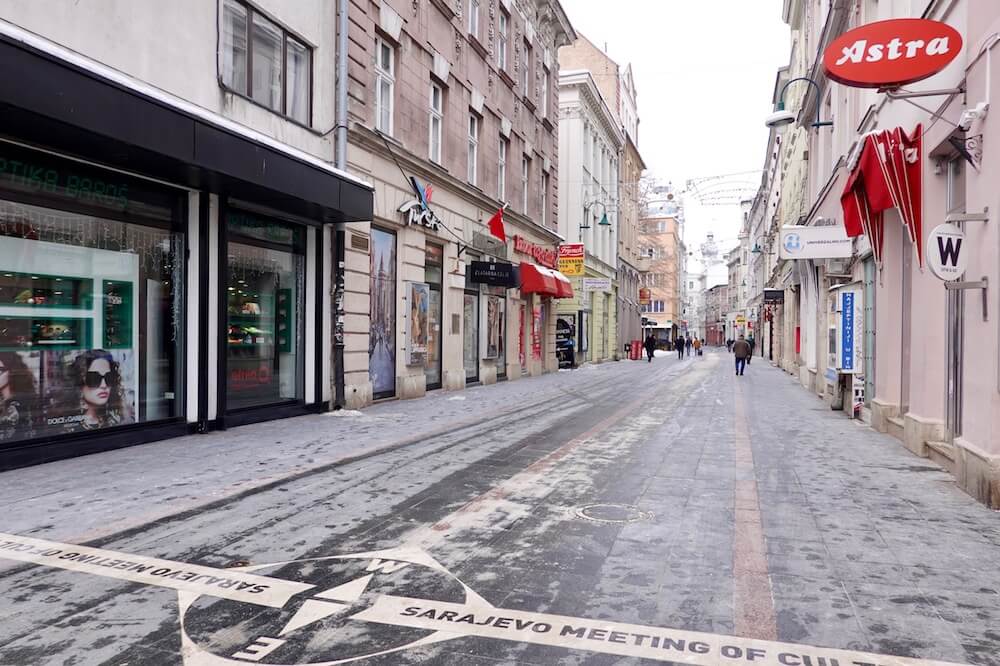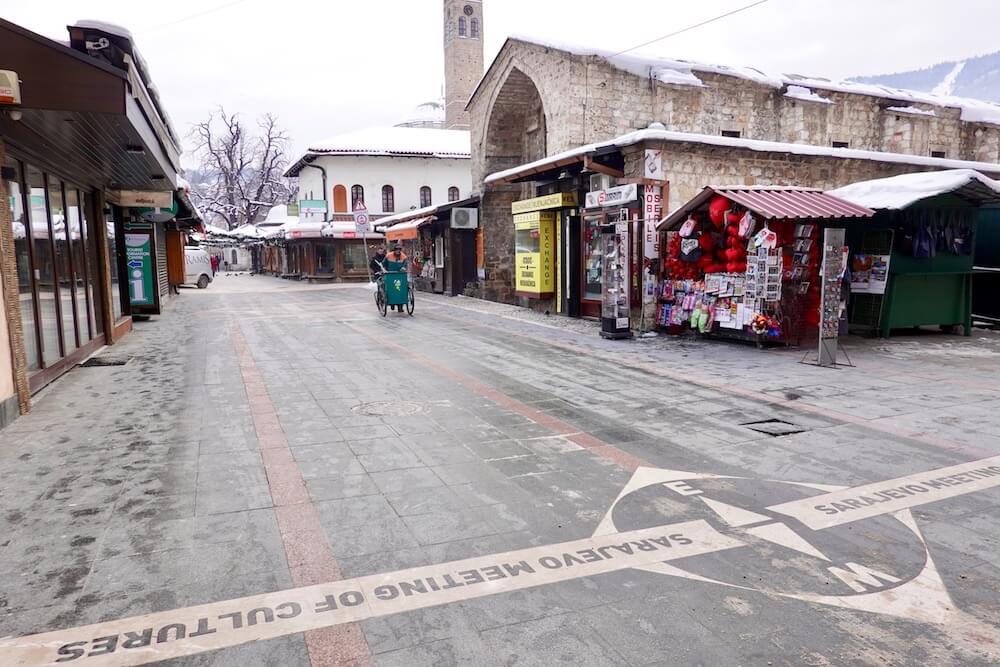 This convergence of cultures is demonstrated at this 'Sarajevo - Meeting of Cultures' line, where East meets West. It's where you can experience both cultures of the East – Ottoman and Islamic – and the West – Austro-Hungarian and Christian – in one place.
Indeed, on one 'eastern' end you have the old town of Bascarsija and its Gazi Husrev-beg Mosque; on the other 'western' end you have Ferhadija Street, which is lined with Western buildings. 
Visit the spot where World War I started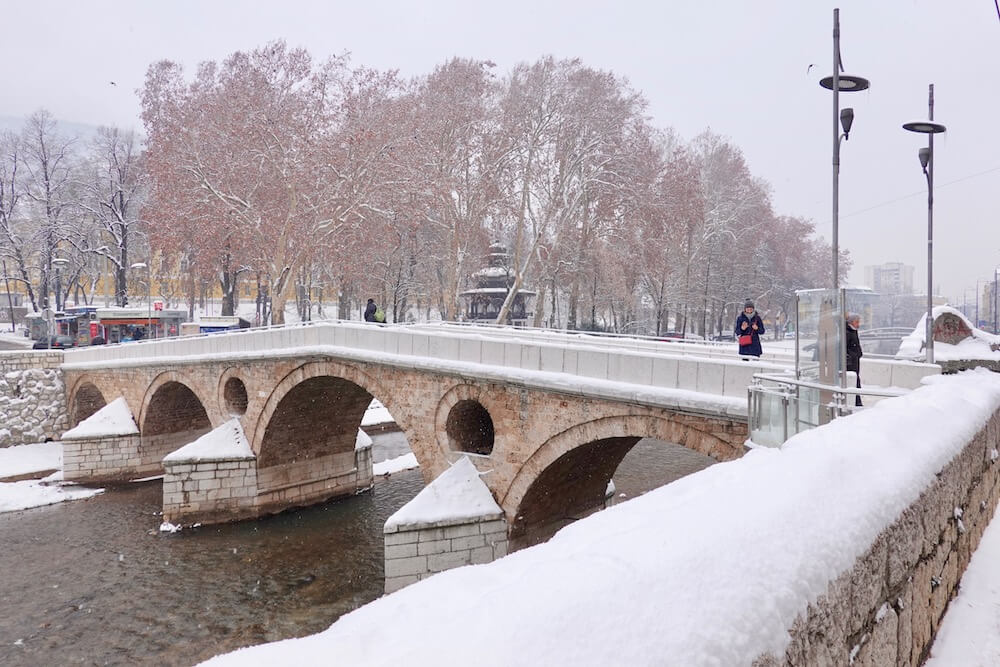 Sarajevo is a city that has been battered by historical turmoil. Apart from being besieged by the Yugoslav People's Army and then the Bosnian Serb forces during the horrific Bosnian War from 1992 to 1996, Sarajevo is also the place that kickstarted the first World war.
It all started with the assassination of Archduke Franz Ferdinand and his wife in 1914, the heirs to the Austrian-Hungarian throne, which took place at the northern end of the Latin Bridge in Sarajevo.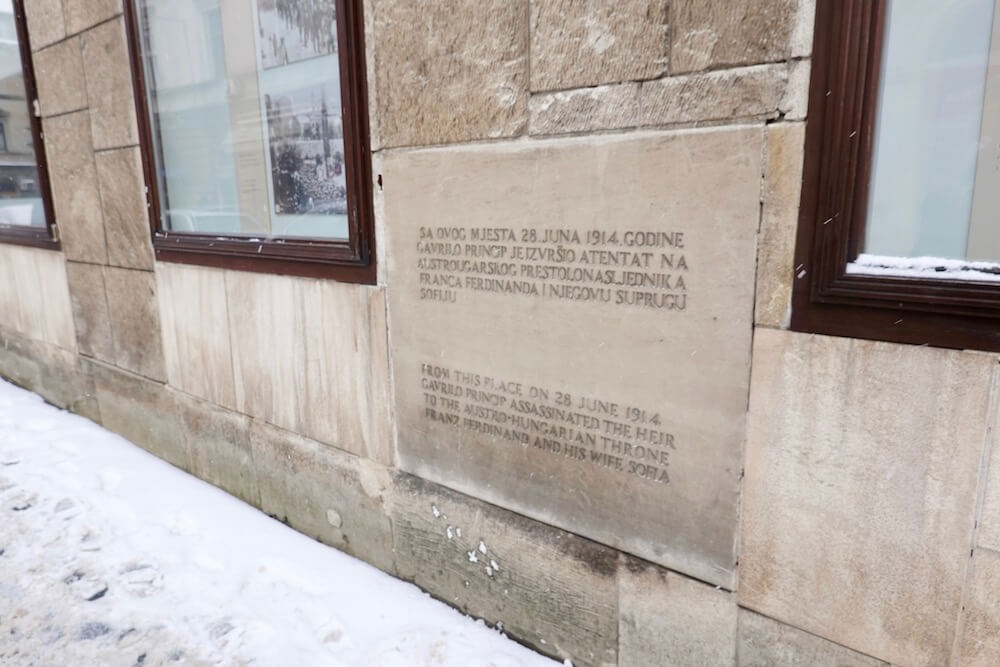 This was the first in a startling chain of events that eventually led to World War 1 – their deaths angered Austria-Hungary, who, with Germany's support, declared war on Serbia; Germany then proceeded to declare war on Russia, who was Serbia's ally at the time, and invaded France via Belgium; which led to Britain declaring war on Germany.
Spot the Sarajevo Roses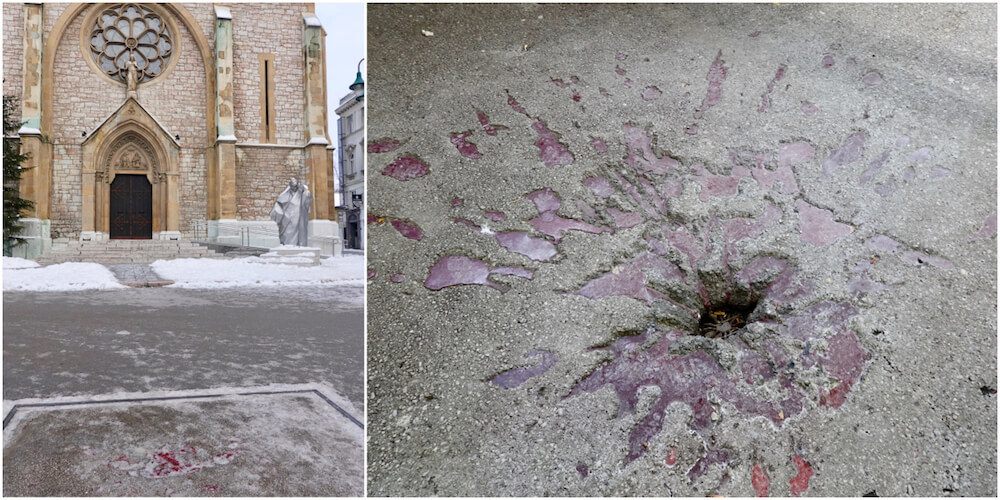 As romantic as they sound, the Sarajevo Roses are anything but. These refer to a memorial of sorts to the lives taken during the siege of Sarajevo, where red resin was used to fill up the dents caused by a mortar shell's explosion. Some of these take on a floral-like arrangement, resulting in them being called the Sarajevo Roses.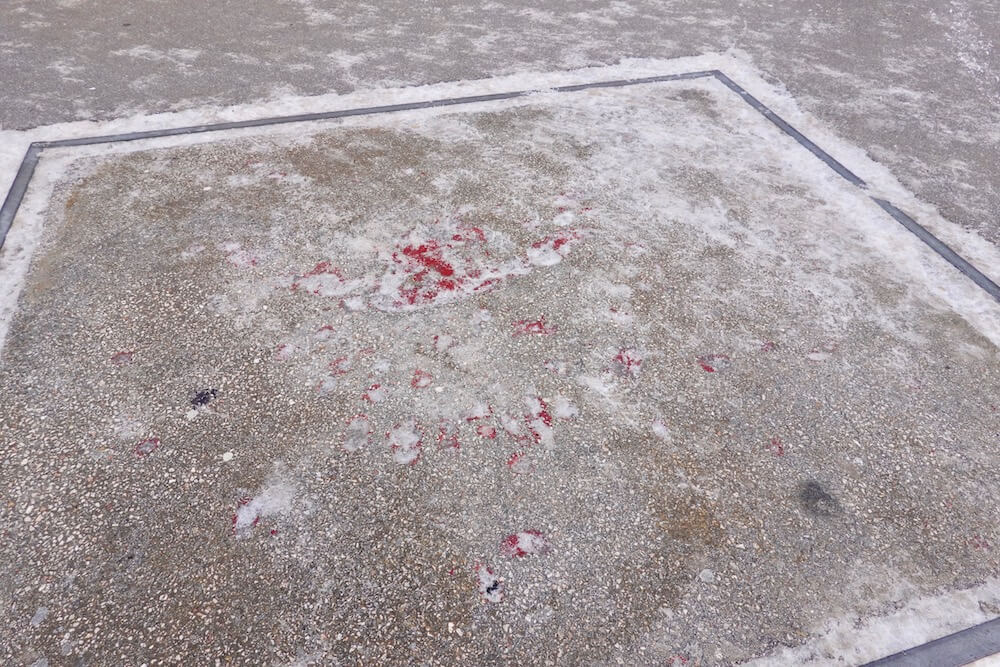 Each of these roses marks a place where at least 3 people were killed. You'll find around 200 of these roses in Sarajevo, which serve as a sombre reminder of what the city has gone through.
You can also take a look at Sniper Alley, which stretches over Zmaja od Bosne Street and Mesa Selimovic Boulevard. These were lined with snipers hiding in high-rise buildings, who regularly shot at anyone crossing the city's main boulevard.
Learn about Sarajevo's history at a museum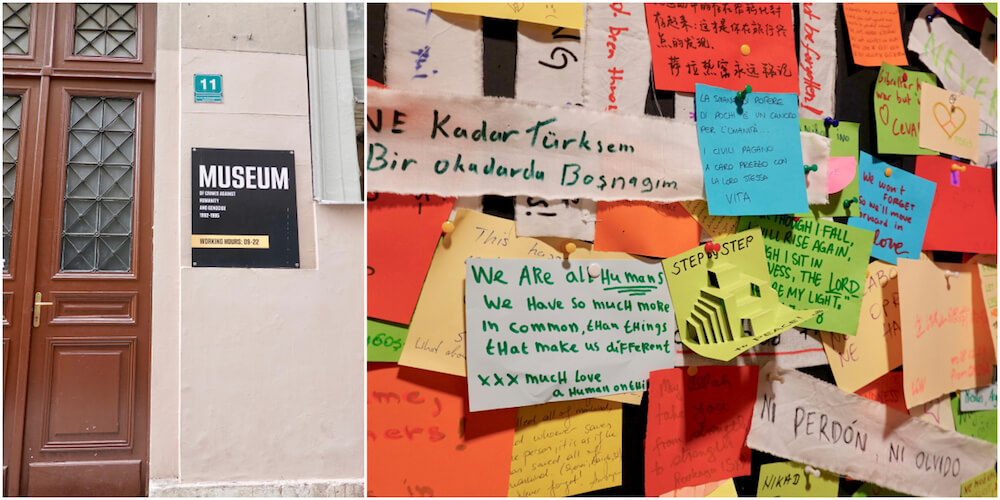 If you wish to learn more about the city's past, there's nothing better than choosing to while away an afternoon at one of the many museums. The Museum of Crimes Against Humanity and Genocide extensively covers the details of the Bosnian War, laying bare the brutal horrors experienced by Sarajevo in the 1990s. Trawl through hours of video footage, personal testimonials, photographs and more.
In some of its exhibits, you'll also find the personal belongings of the war victims themselves. Most of these were exhumed from mass graves before being put on display.
Address: Ferhadija 17, Sarajevo
Opening hours: 9am to 10pm, daily
Cost: KM10 (~SGD8)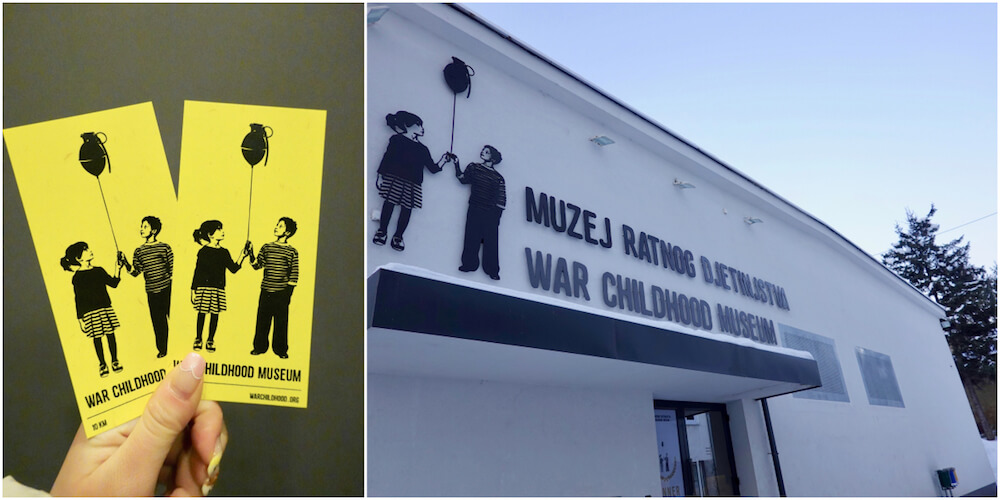 The War Childhood Museum documents the raw savagery of war through the eyes of then children, who are now adults. People who experienced the 1992-1996 war were asked to donate items from their childhood that were especially poignant to them during that time.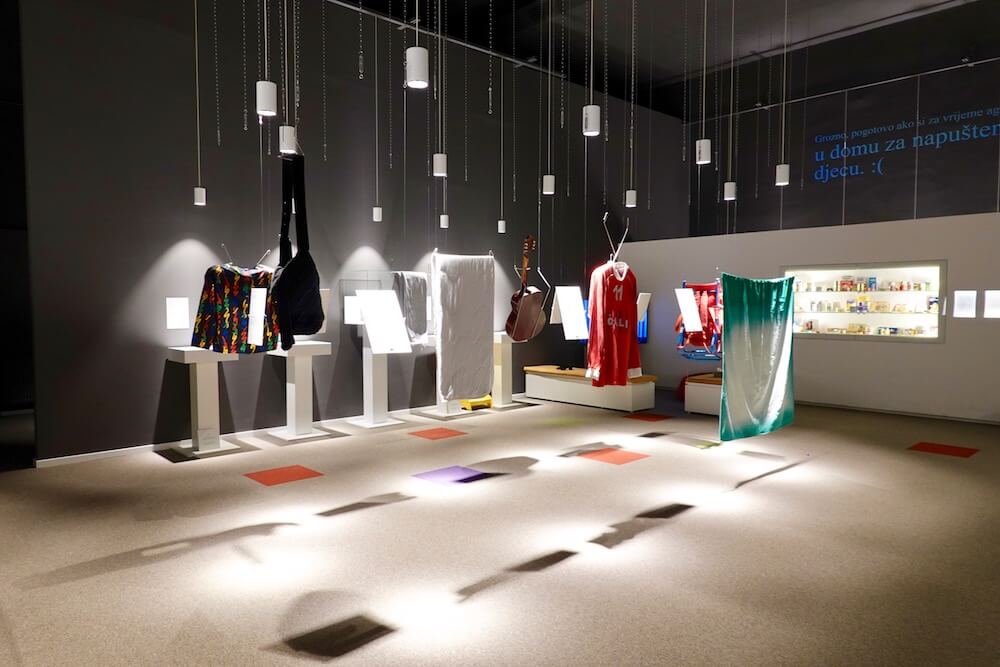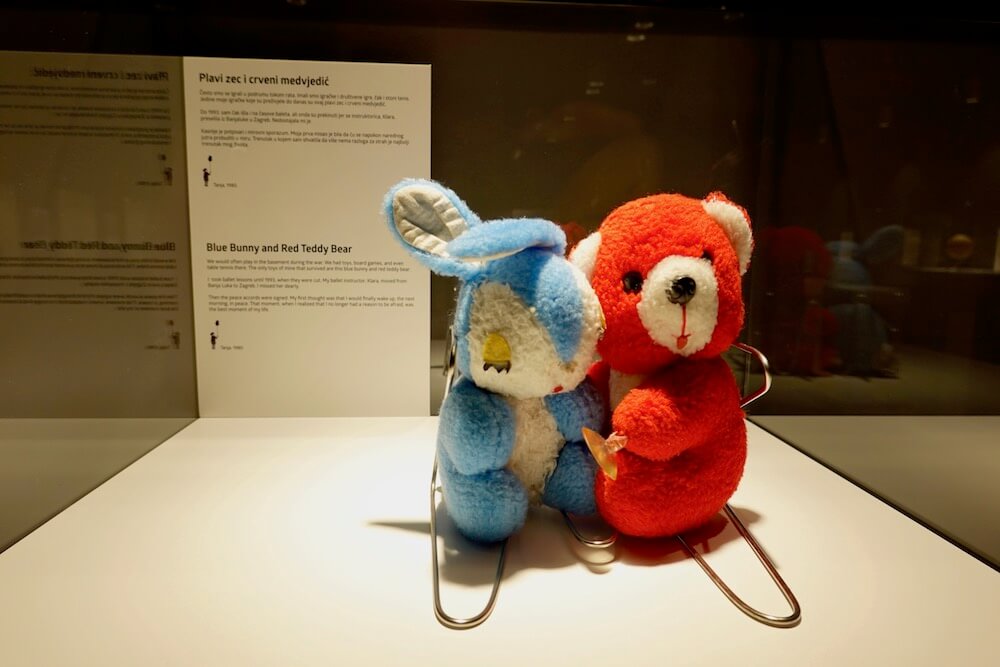 This collection of seemingly random and irrelevant items each hold a deep significance to these individuals. Among them were these blue rabbit and red bear soft toys locked in an embrace, which were the only toys of a victim's that survived. 
Address: 30-32, Logavina, Sarajevo, Bosnia & Herzegovina
Opening hours: 11am to 7pm, daily
Cost: KM10 (~SGD8)
Marvel at the Sarajevo Town Hall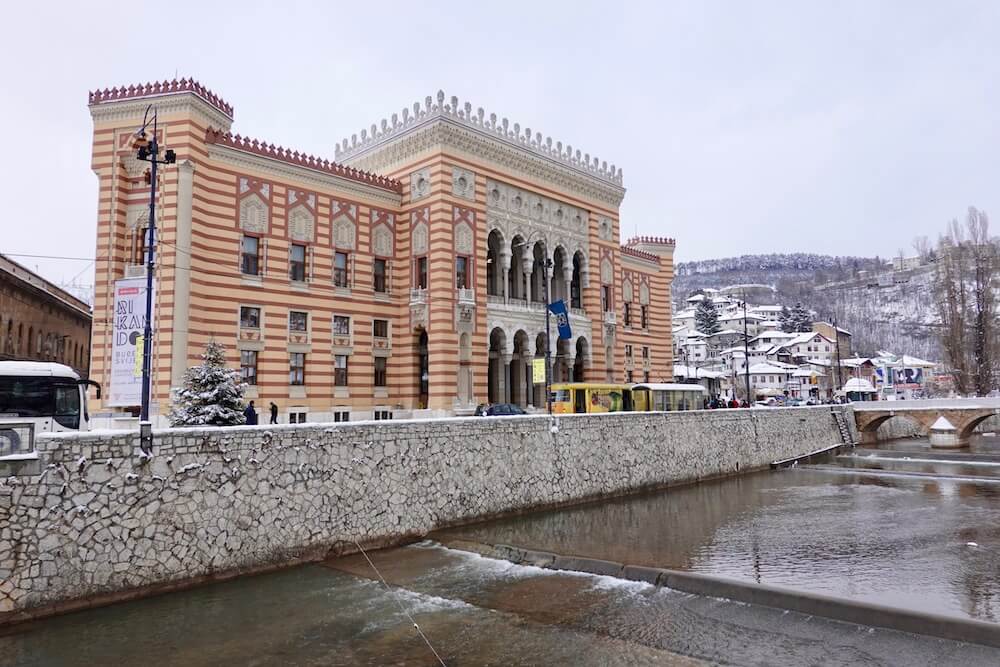 The Sarajevo Town Hall ("Vijecnica") houses the city council, the national and university libraries, as well as a museum. The building also marks the intersection of Sarajevo's three major streets. It suffered heavy artillery and bombings in 1992, causing the whole building to catch fire. Restoration works started in 1996, with the building finally re-opening in 2014.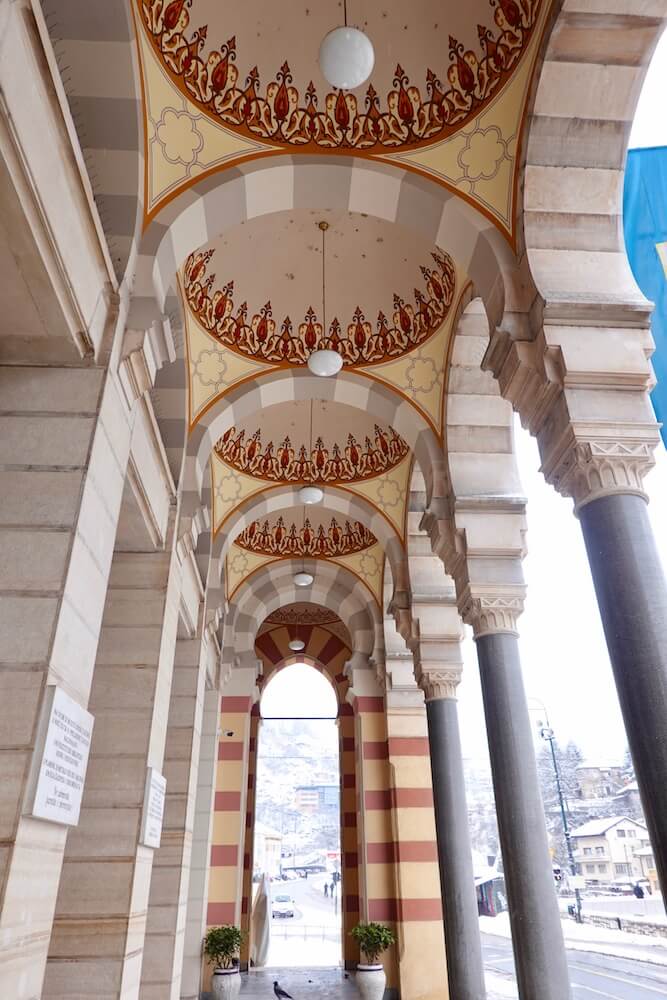 Marvel at the building's ornate facade; built between 1892 and 1894, the building was modelled after Muslim influences of the Austro-Hungarian territory.
Explore the abandoned Olympic Bobsled Track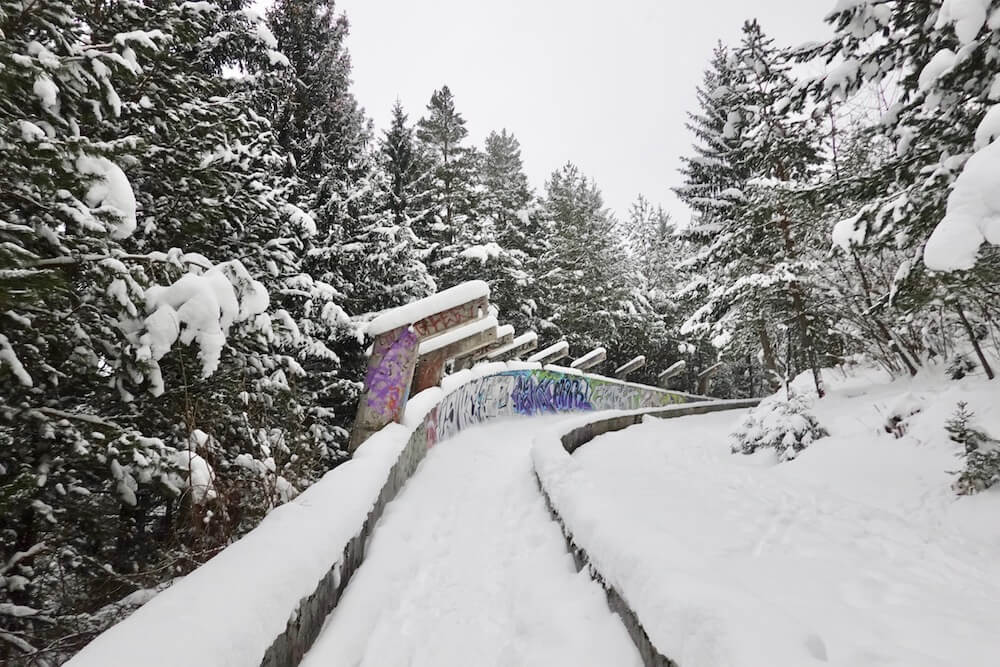 Sarajevo built a bobsled track to host the bobsleigh and luge segments during the 1984 Olympic Games, as well as various World Cup and national competitions from 1983 to 1992. Sadly, the track was also used as a strategic artillery position during the Bosnian War from 1992 to 1996.
Now, the track has been transformed into a grungy abandoned wonderland for those seeking a little dose of adventure.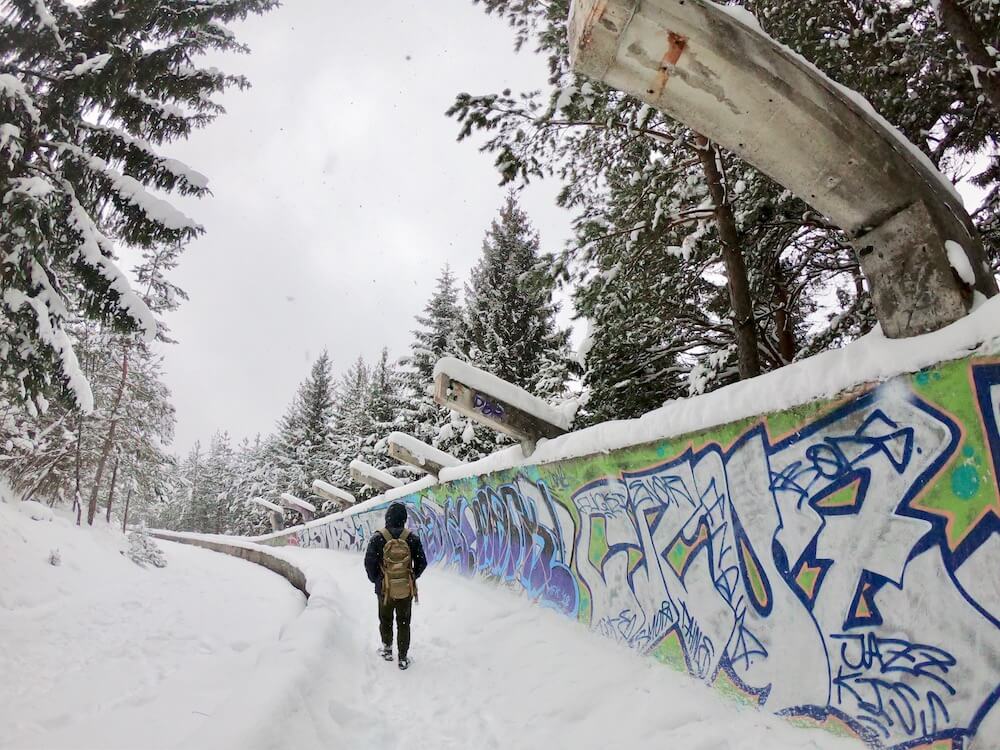 The track is 1.3km long and consists of 13 turns in total, allowing visitors to walk its entire length amidst a forest of towering trees.
Read: Explore this Abandoned Olympic Bobsled Track in Sarajevo, Bosnia & Herzegovina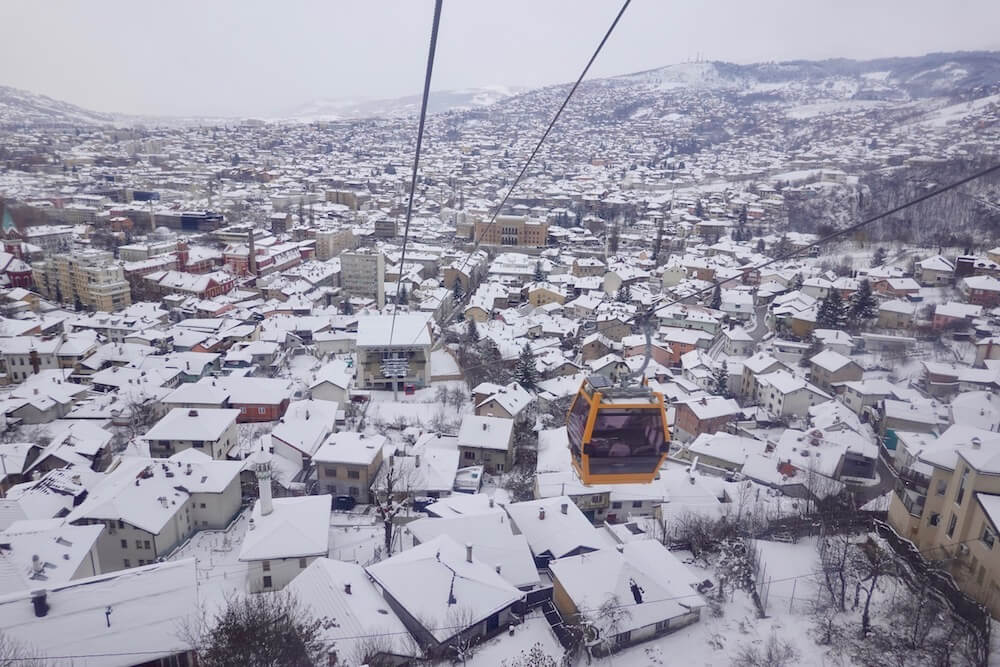 To get to the abandoned bobsled track, simply take a cable car up Mount Trebevic and enjoy magnificent views along the way. You can also choose to trek up to the track from Sarajevo.
Watch the sunset from the Yellow and White Fortresses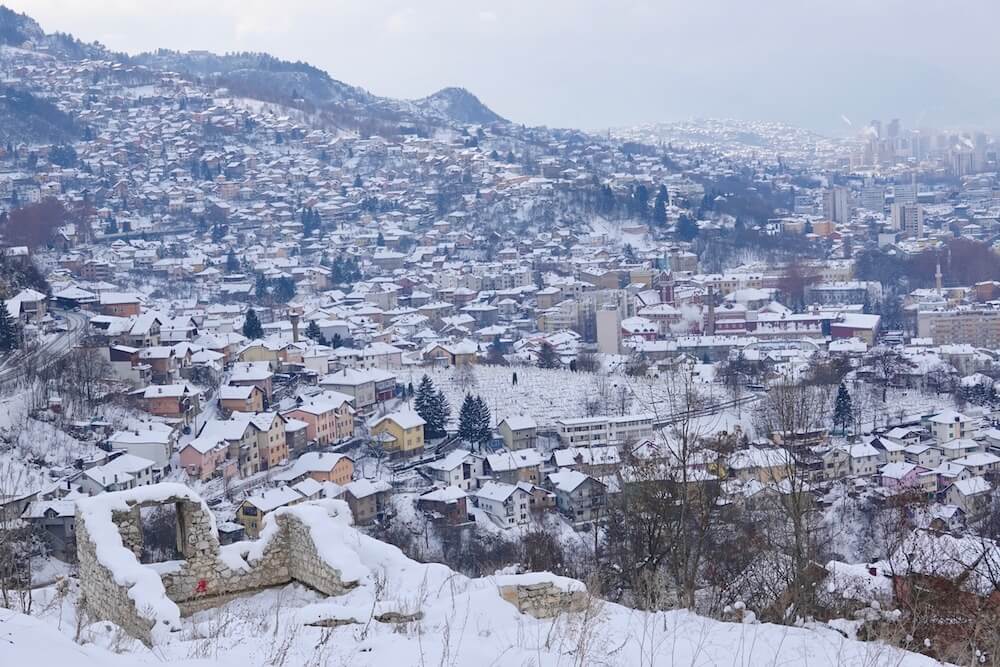 The Yellow and White Fortresses were part of the fortifications that were built to protect the old town of Vratnik. The Yellow Fortress can be reached via a short walk from the Old Town, with the White Fortress located a further 10 minutes uphill.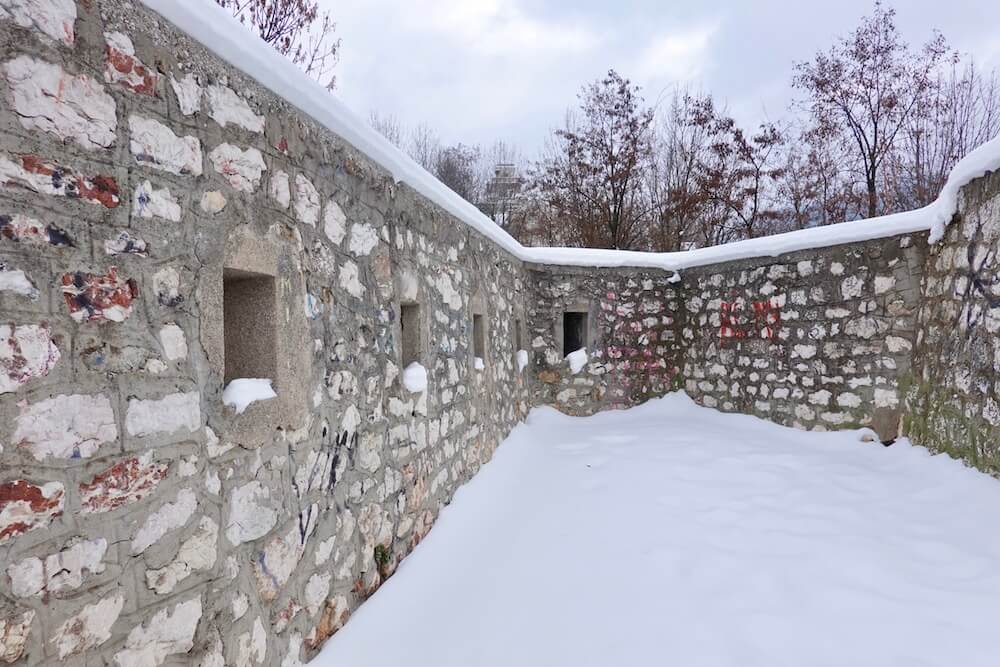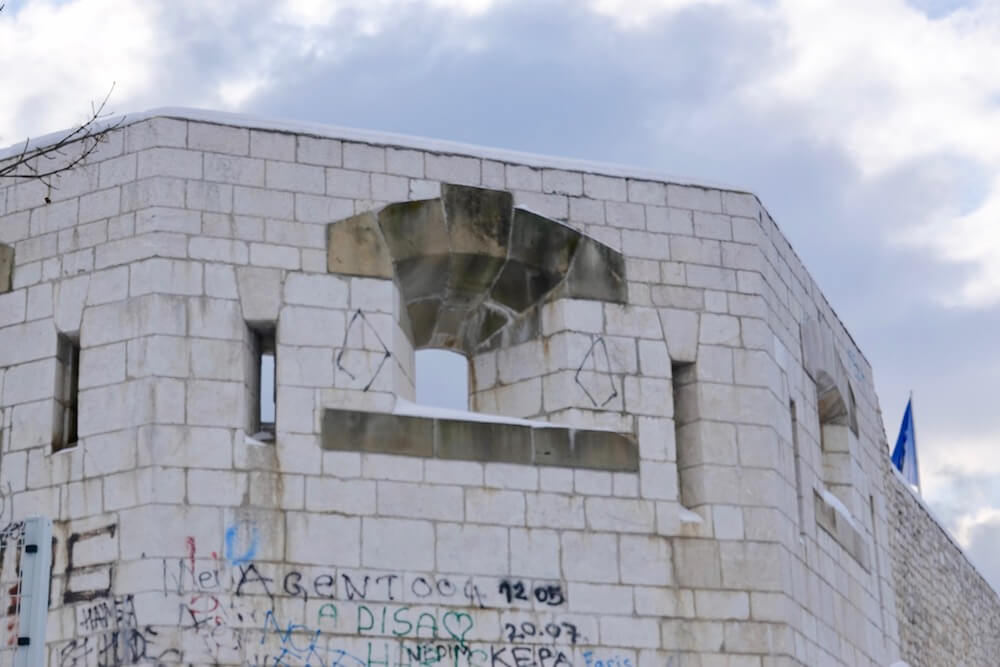 Take your time to explore both fortresses, which are now largely abandoned.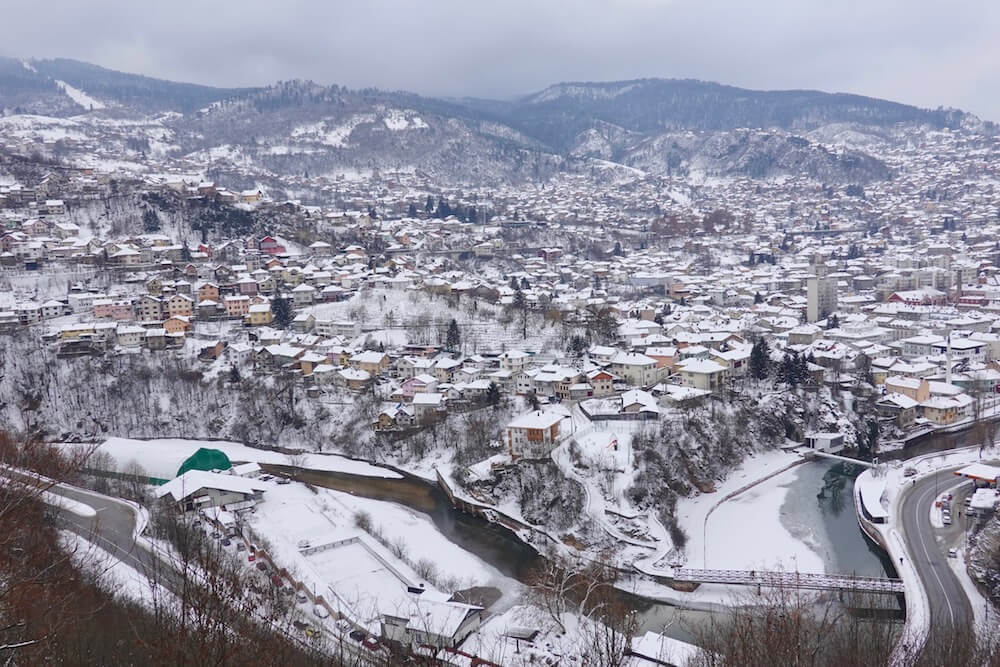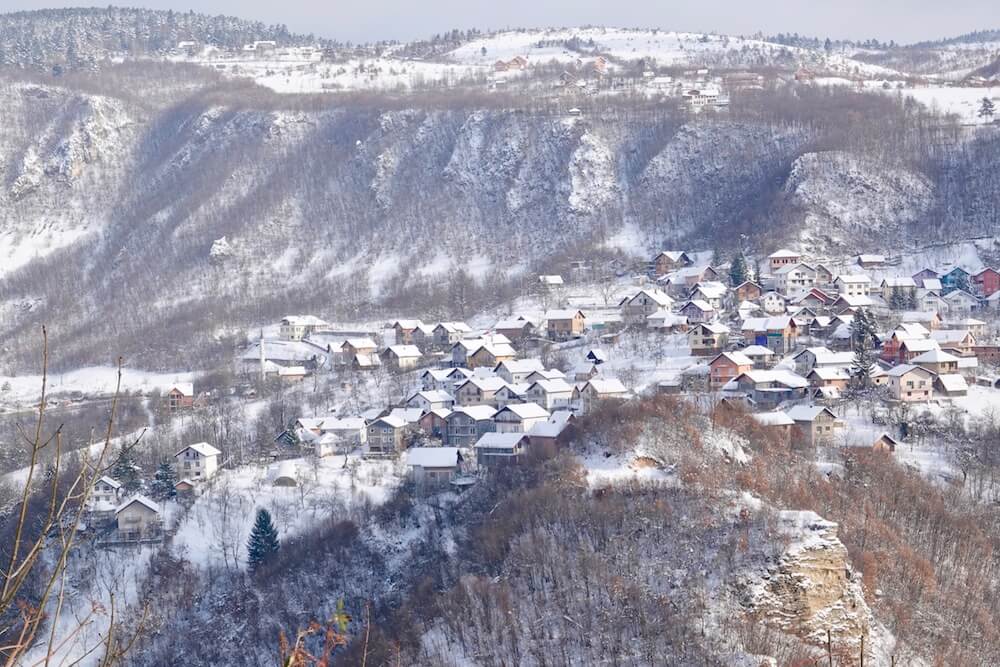 Located above Sarajevo, the fortresses offer sweeping views of Sarajevo from above and make for great sunset vantage points.   
Pick up a bargain from a local Market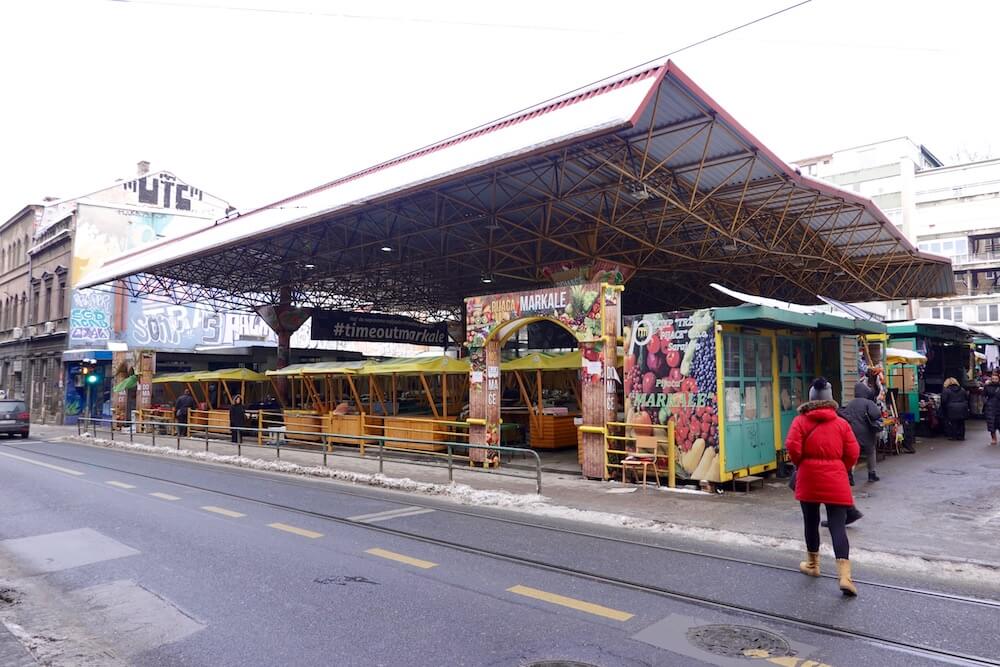 The Pijaca Markale is Sarajevo's largest local bazaar; you'll find everything and anything here! Unfortunately, the market was bombed twice during the Siege of Sarajevo – once in 1994 and once in 1995. These attacks killed more than 100 people and wounded many others.
Now, the market offers an insight into local life, alongside a wide variety of produce.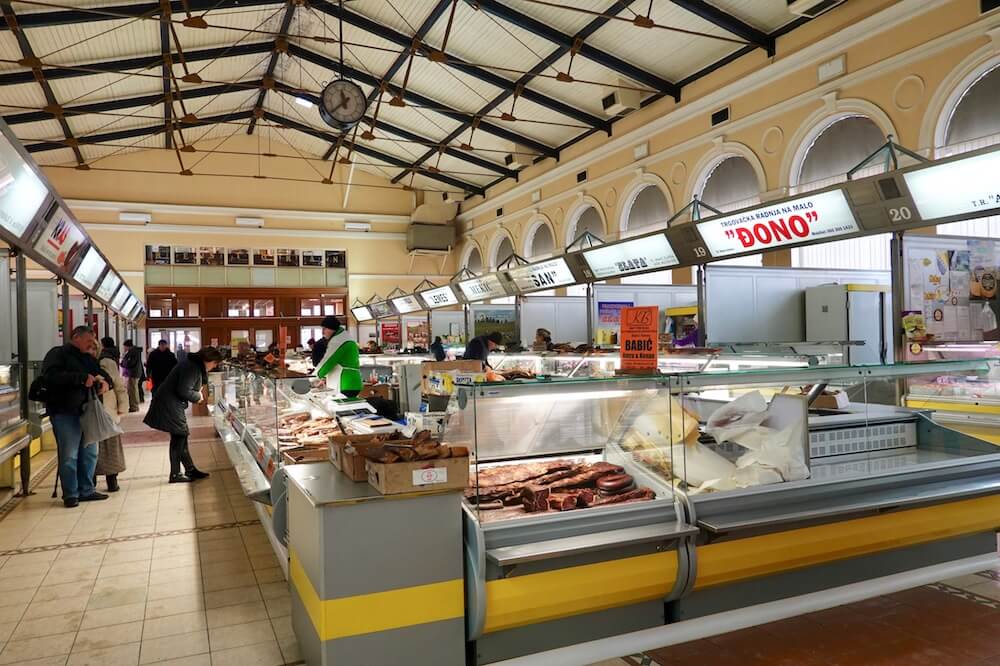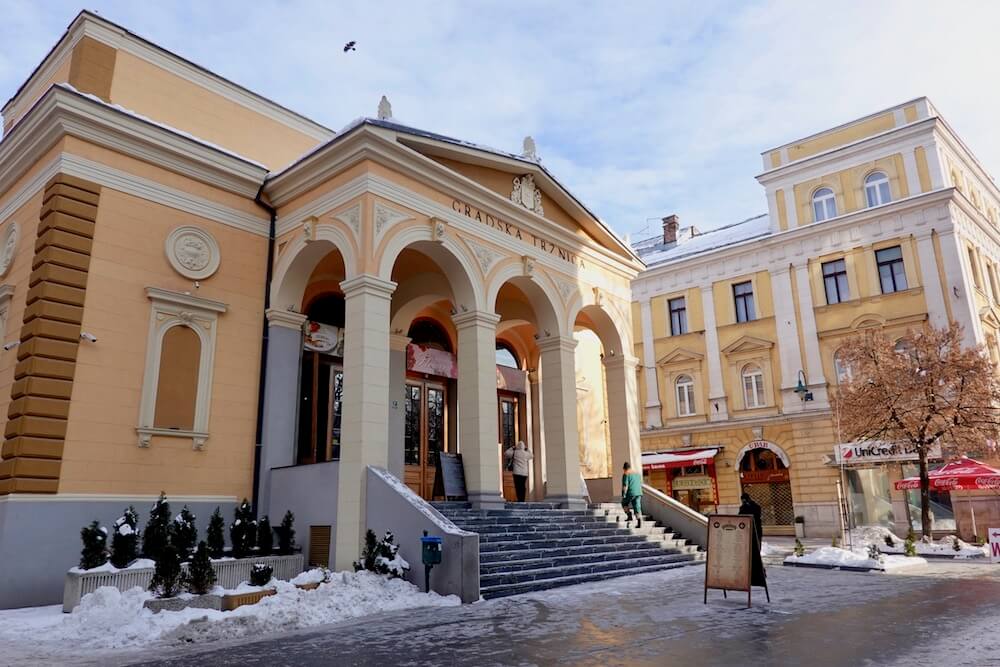 The City Market Sarajevo is located inside a bright yellow building, and is one of Sarajevo's oldest markets. In fact, it has been open since 1895! The stalls here are known for selling an array of cheese and smoked meat.
Try the local food specialities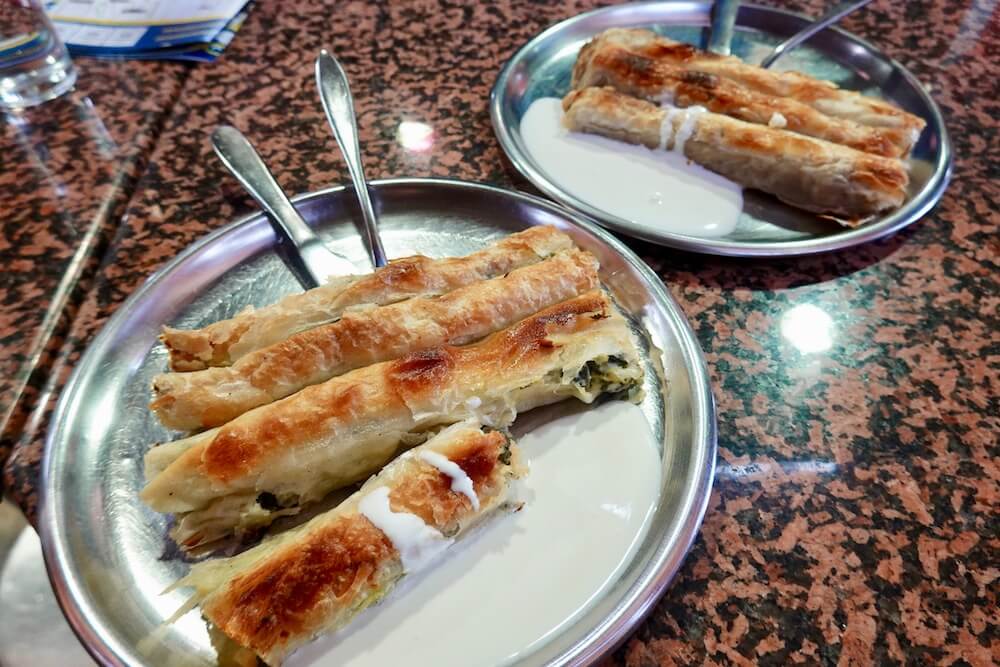 There's so much to eat in Sarajevo – for starters, dig into a plate of Cevapi, comprising grilled minced meat, or a few hearty rolls of Burek, which are baked pastries loaded with various fillings.
Read: What to Eat and Drink in Sarajevo, Bosnia and Herzegovina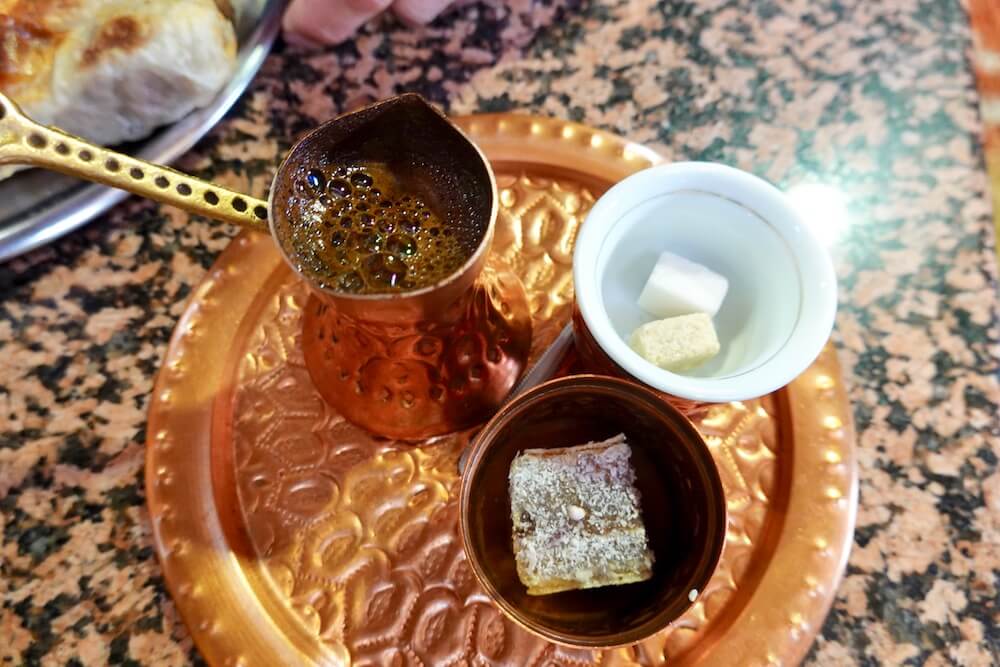 Wash it down with a cup of Bosnian coffee; wherein drinking the coffee is an art in itself. The people in Sarajevo take great pride in their coffee and it's not hard to see why!
Take a day trip to Mostar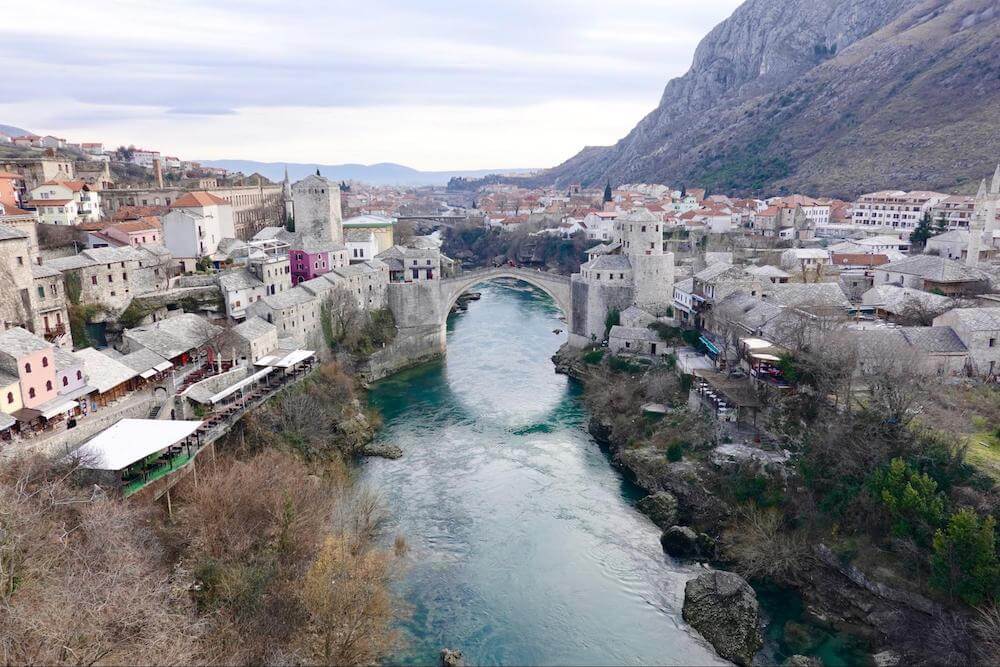 Located just a 2.5-hour train ride away, Mostar is a sleepy fairytale town that's just waiting to be discovered. Enjoy panoramic views of Stari Most, a medieval arched bridge, from the top of a minaret, cliff-dive off the bridge in summer, trawl the old bazaar and visit the various museums. Home to less than 20, 000 inhabitants, most of Mostar can be easily discovered on foot.
The ride from Sarajevo to Mostar is also said to be one of the world's most scenic train journeys!
Read: Things to Do in Mostar, Bosnia and Herzegovina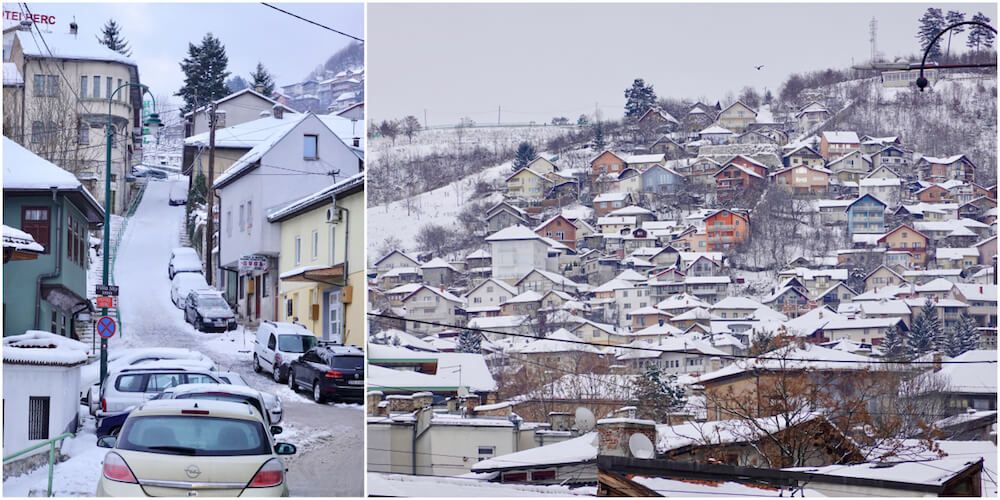 Otherwise, simply amble around Sarajevo's many streets and alleys – and soak in the splendid views all around you. Visit without any expectations and let this city take you completely by surprise, before it slowly but surely wins over your heart.