A 2-Day West Iceland Itinerary
Located just a 2-hour drive from Reykjavik, Snaefellsnes Peninsula is the perfect region to explore if you're strapped for time. Located in West Iceland, the Peninsula offers an enchanting blend of glaciers, looming mountains, lava fields, caves, volcanic craters, hot springs, dramatic cliffs, quaint fishing villages and black sand beaches. 
This has earned the region the nickname of "Iceland in Miniature", as the sheer diversity of its landscapes offers a little of almost everything Iceland has to offer!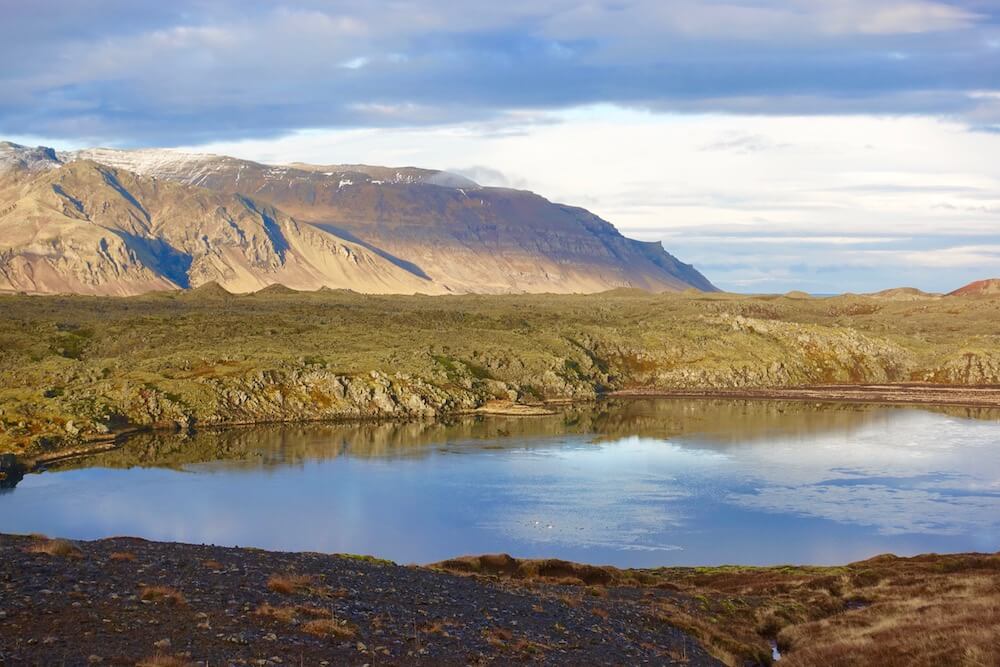 Stretching over 90 kilometres, the Peninsula can be explored on a day trip but I recommend spacing it out over 2 days. The Snaefellsnes Peninsula isn't as touristy as the Golden Circle for example, and 2 days will allow you to explore the different sights at a leisurely pace – sans the crowd.
Read: How to Navigate the Golden Circle Route in Iceland
Mt. Kirkjufell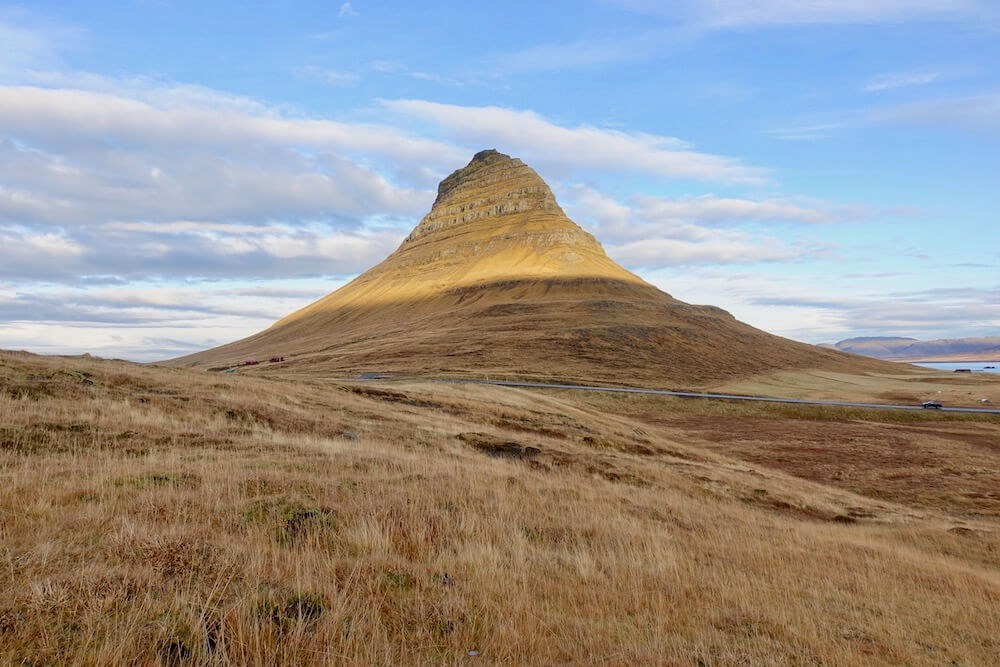 Standing at a height at 463 metres, Mt. Kirkjufell is arguably the most photographed mountain in Iceland. 
Also known as 'Church Mountain' due to its resemblance to a church steeple, Mt Kirkjufell is made out of multiple layers of rocks. This is due to a unique natural process called "nunatak", where the layers are formed as a result of many volcanic eruptions. Kirkjufell is, in fact, an exposed peak that's protruding out of a glacier!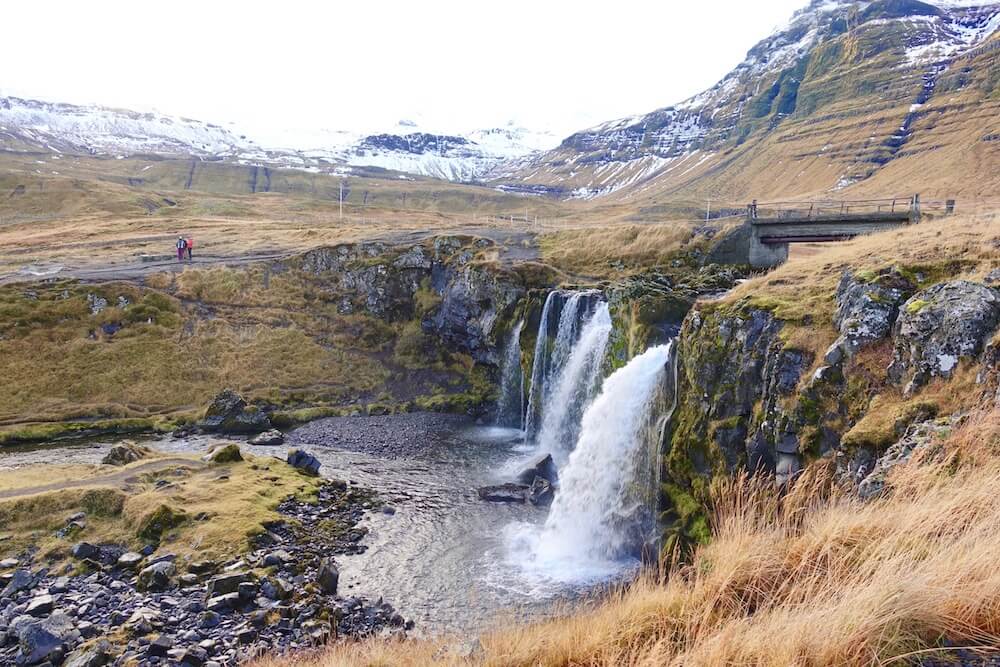 One famous photo angle would be to capture the Kirkjufellsfoss Waterfall in the same shot as Mt. Kirkjufell. This waterfall has a drop of 16.4 metres and flows down in 3 different spouts. 
This also transforms into a popular swimming hole in the summer, with the area becoming a prime Northern Lights location during the winter.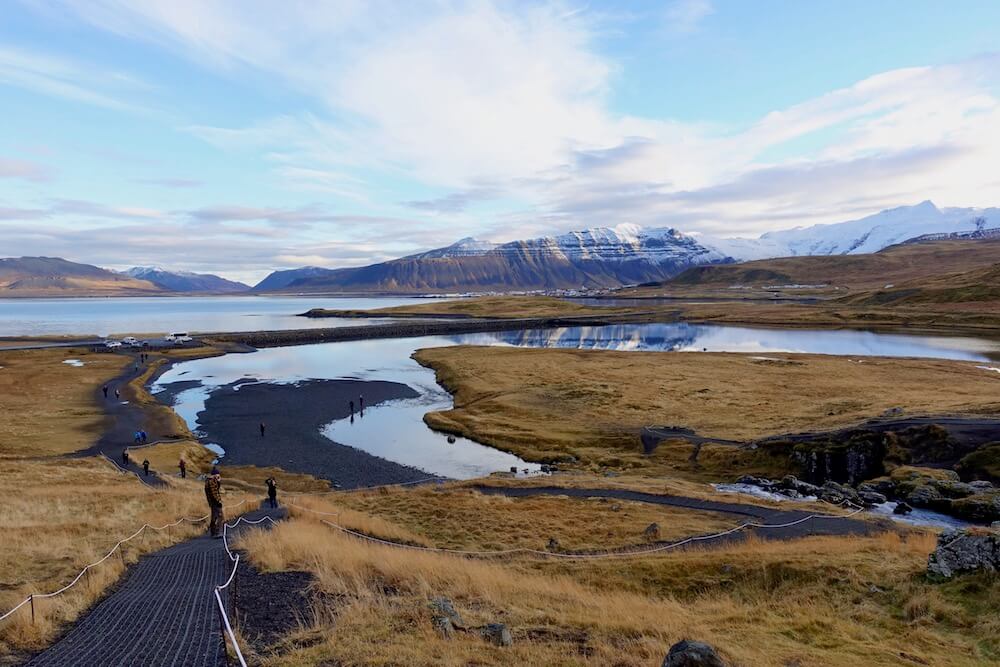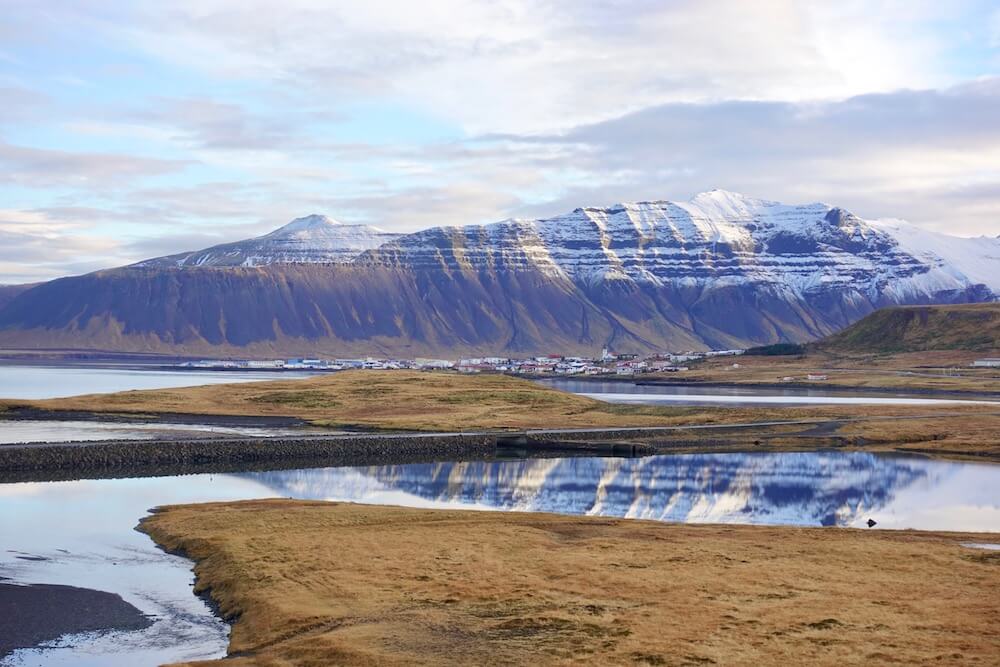 With the surrounding area as an indication of the Peninsula's beauty – you know you're in for a treat. Fans of 'Games of Thrones' will also recognise Mt Kirkjufell as a shooting location for season 7 of the television series.
Djupalonssandur Beach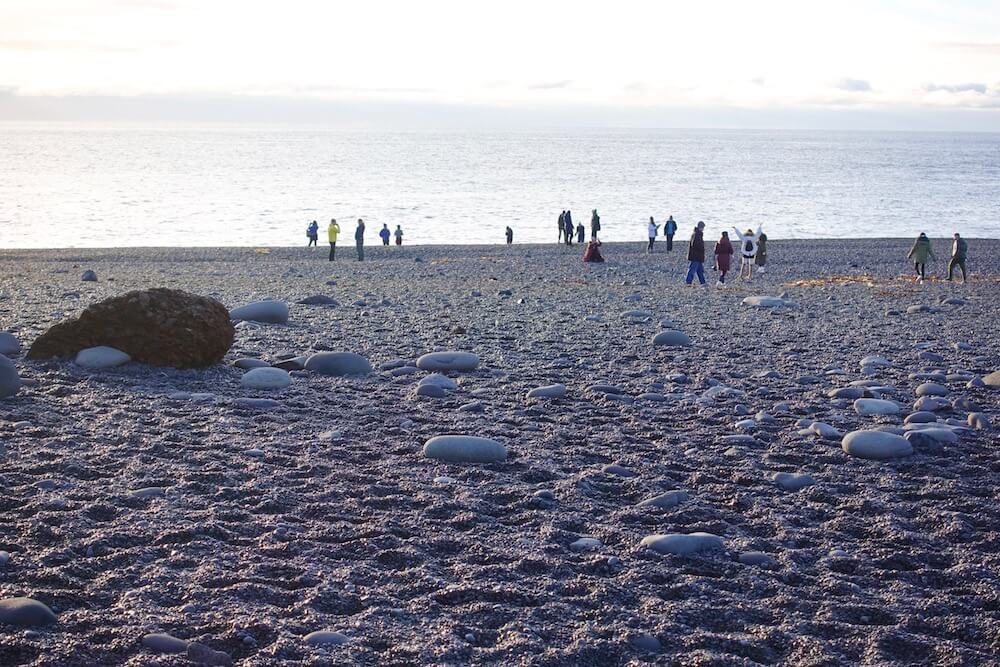 Djupalonssandur Beach is a charming black pebble beach once home to one of Snaefellsnes Peninsula's main fishing villages.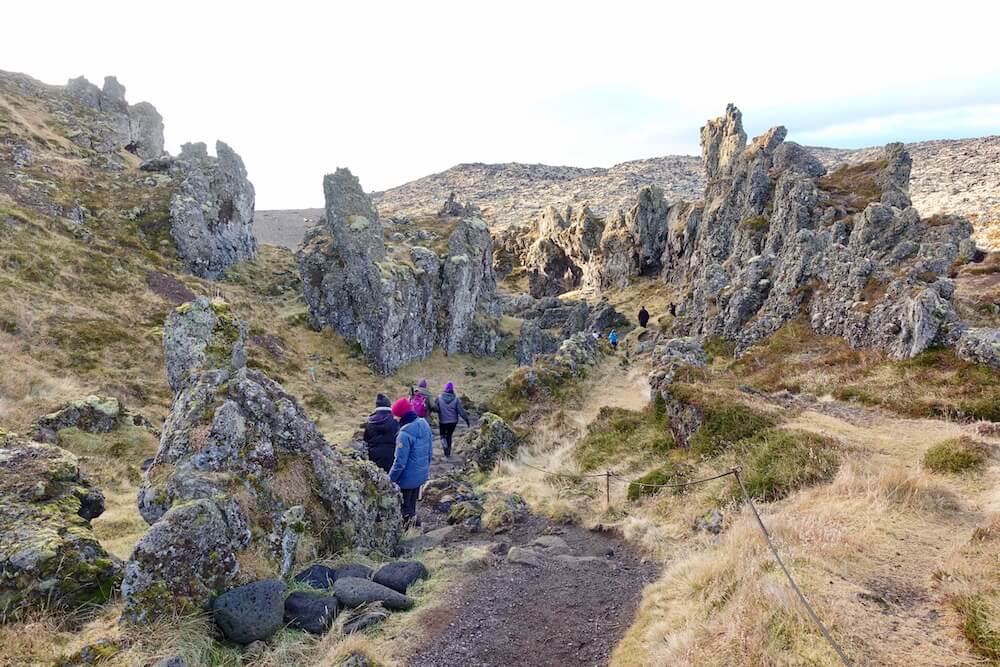 The mystique of the beach doesn't lie in its shores, but rather in the path leading up to it. The Nautrastigur path – also known as the 'Path of the Bull' – leading from the carpark to the beach is a wonderland filled with intriguing lava formations that tower over you.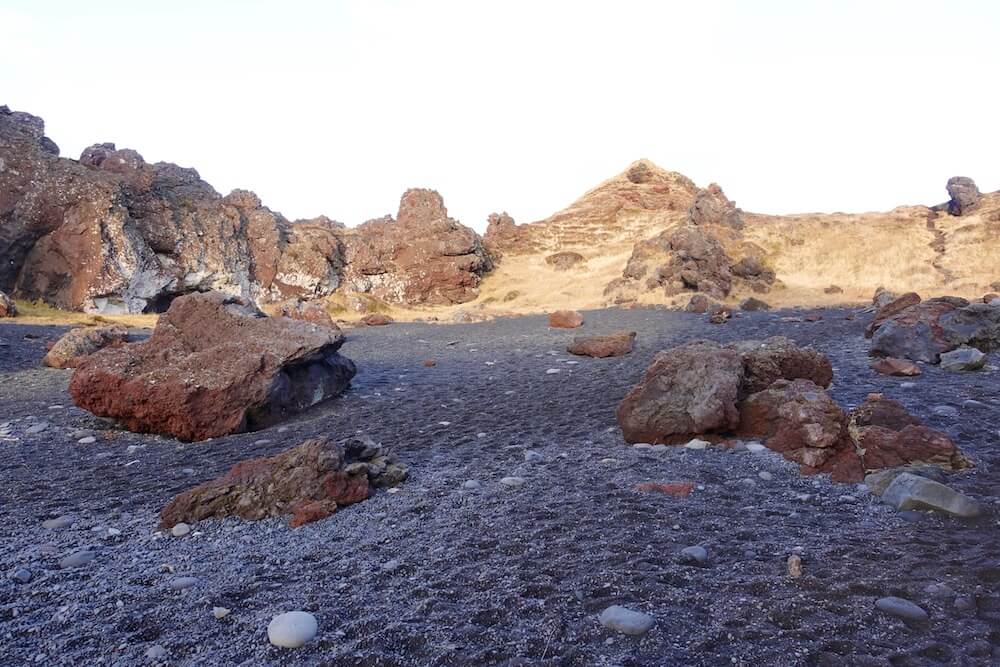 There are numerous pieces of metal wreckage strewn over the beach; these are the remains of the 'Epine GY 7', a British trawler that was wrecked at sea in 1948. Only five men survived the tragedy, with fourteen men losing their lives at sea.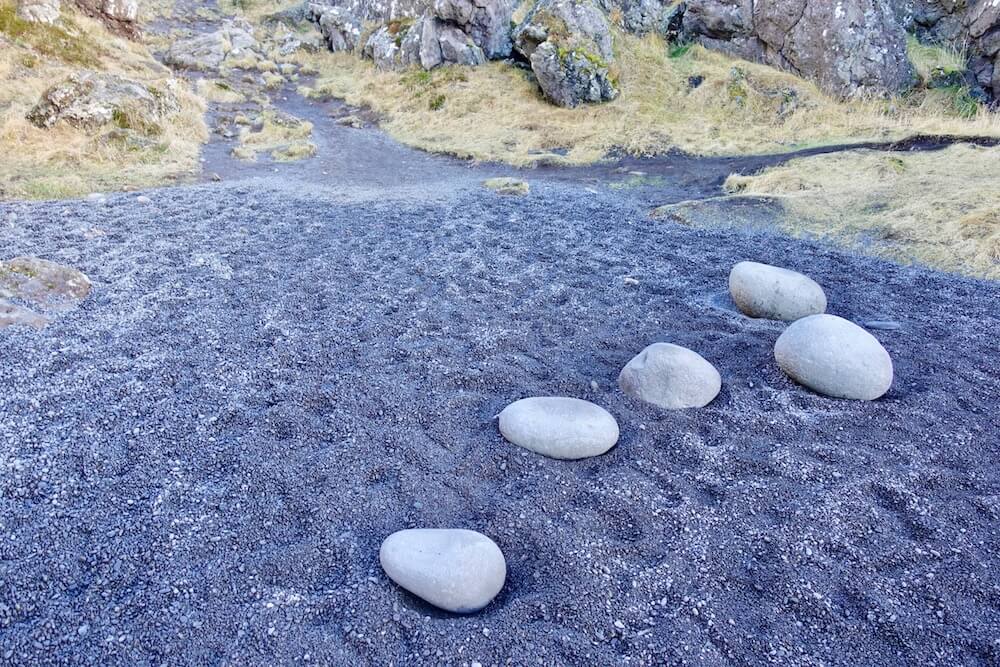 You'll also find four ancient 'Lifting Stones', the weight of which range from 23 to 154 kg. These were used to test the strength of sailors that rowed out from Dritvik to fish. To be deemed suitable for sea, one had to lift the heaviest stone onto a platform that came up to hip level. Give it a try and see which stone you can lift!
Read: Visit Djupalonssandur Beach Along Western Iceland's Snaefellsnes Peninsula
Snaefellsjokull National Park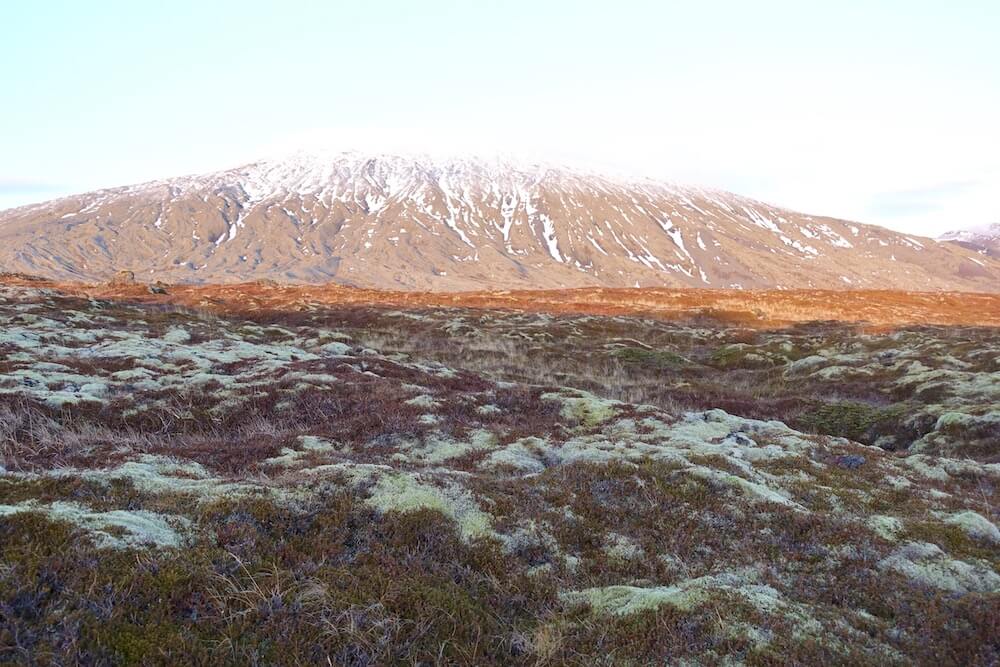 The Snaefellsjokull National Park is home to Snaefellsjokull Glacier, which is one of the most iconic landmarks along the Snaefellsnes Peninsula. The glacier is more than 70, 000 years old and is interestingly both a glacier and a volcano. Standing at 1, 446 metres, it's thought to be the highest mountain in the country. It's also an active volcano, last erupting over 1, 800 years ago.
The glacier is surrounded by the Buoahraun lave field, which adds a certain air of mystery to the area.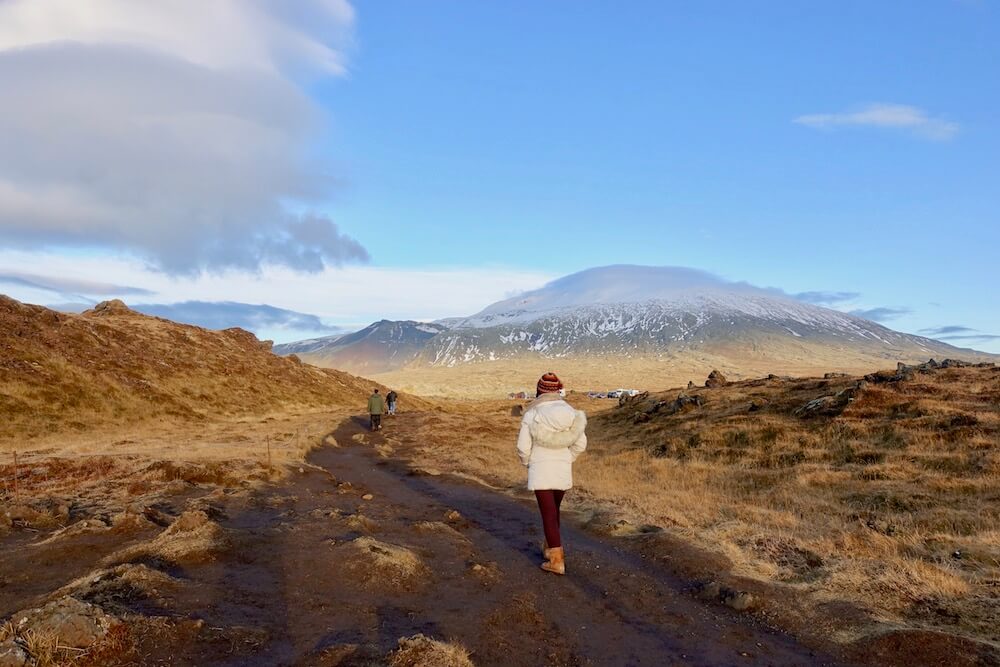 The Snaefellsjokull Glacier was also the primary setting for Jules Verne's 'Journey to the Centre of the Earth' novel. The National Park is the only Icelandic national park that stretches to the sea.
Vatnshellir Cave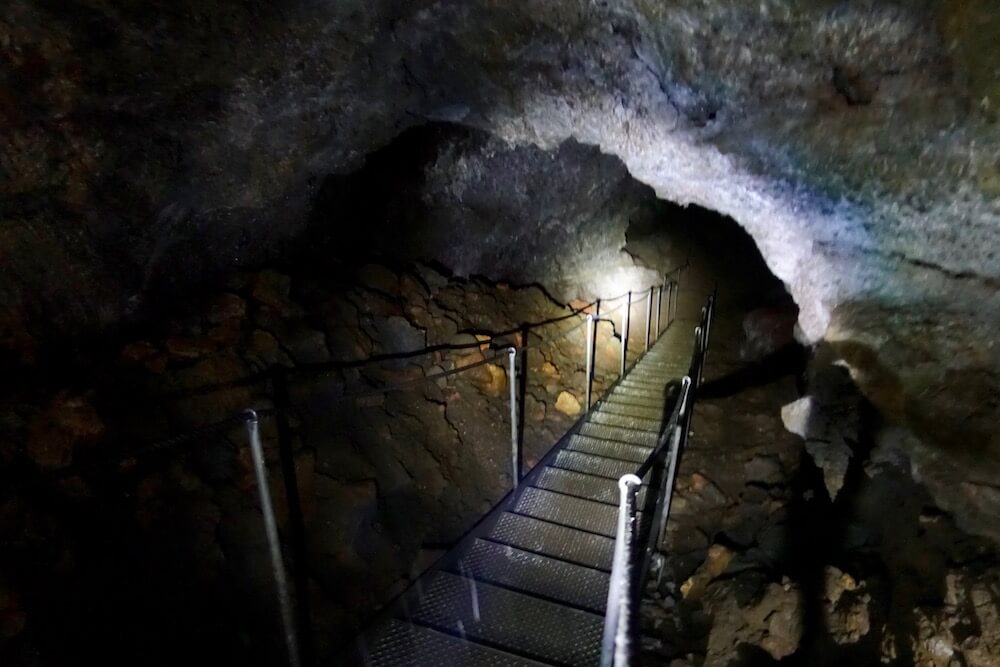 Located within Snaefellsjokull National Park, Vatnshellir Cave is an 8, 000-year-old lava tube that goes 35 metres below the Earth's surface.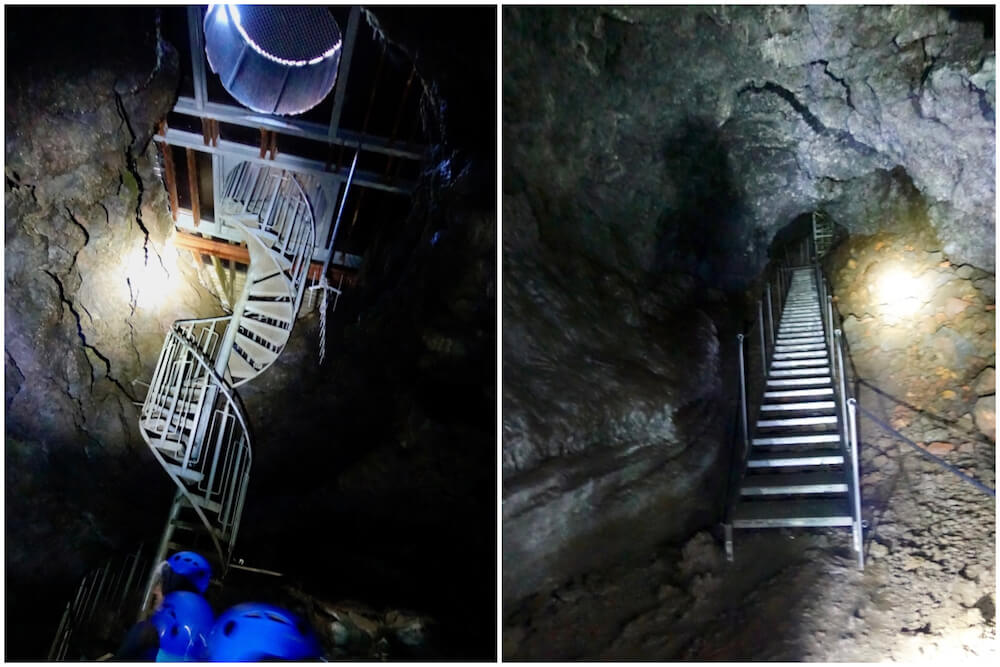 Visitors are only permitted to visit the cave as part of a tour group, which will bring you deep into the cave via a series of winding metal staircases and bridges. The tour company will also provide you with the necessary equipment, such as a helmet and headlight.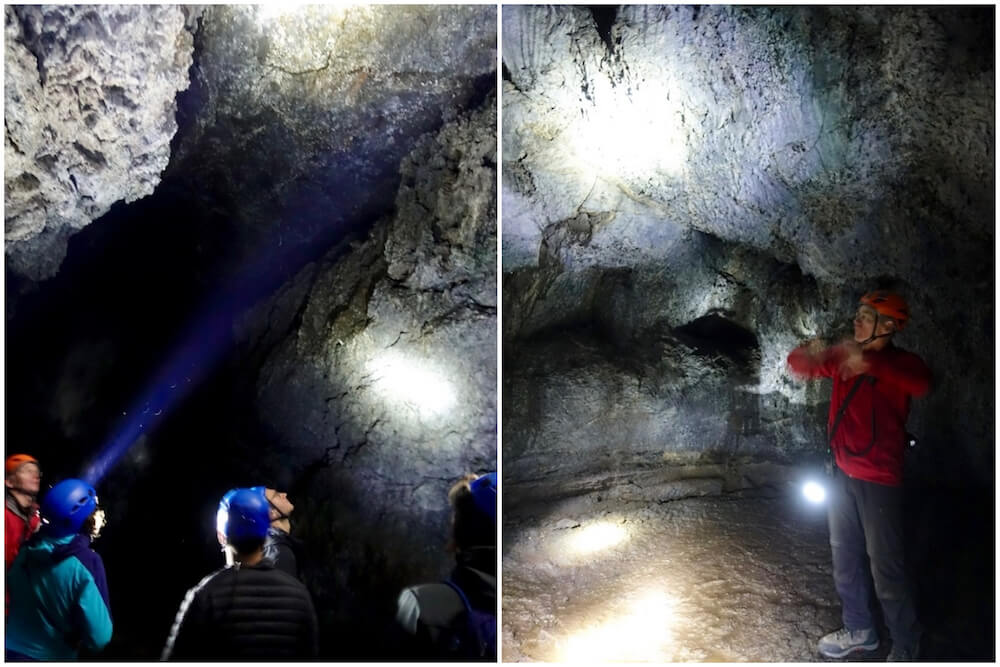 Feast your eyes on a variety of fascinating lava columns and formations.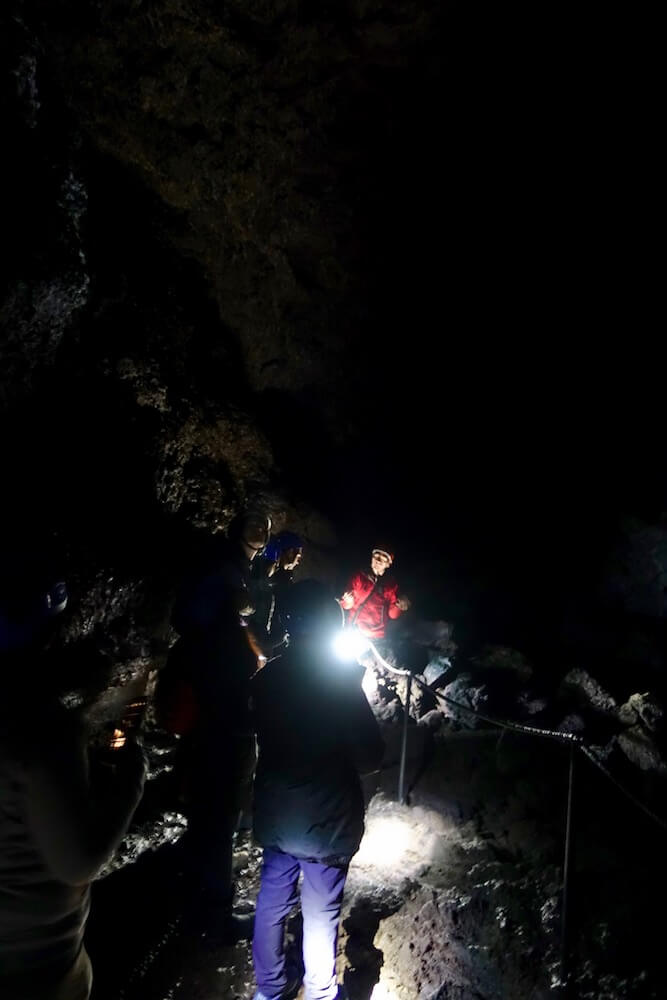 At the deepest point of the cave (35 metres below the surface and 200 metres in), we were asked to turn off our headlights to be enveloped by the sheer darkness and silence. After a few moments, our guide began to sing an Icelandic folk song in a deep lilting voice. It was nothing like I've ever experienced!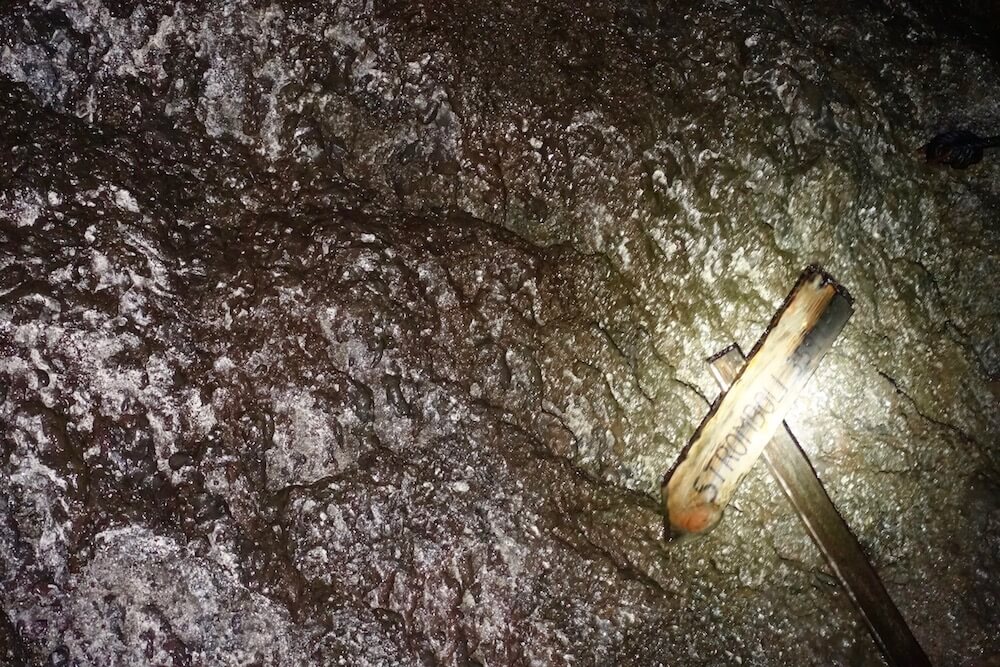 The Vatnshellir Cave was also featured in Jules Verne's 1864 novel, 'Journey to the Centre of the Earth', where the trio had many subterranean adventures before eventually surfacing again at Stromboli in Italy. You'll be able to spot a sign pointing in the direction of Stromboli, with the number of miles –3, 597 miles in total! – required to reach the destination!
Read: Descend into Vatnshellir Cave, an 8, 000-year-old Lava Tube in West Iceland
Gerduberg Basalt Columns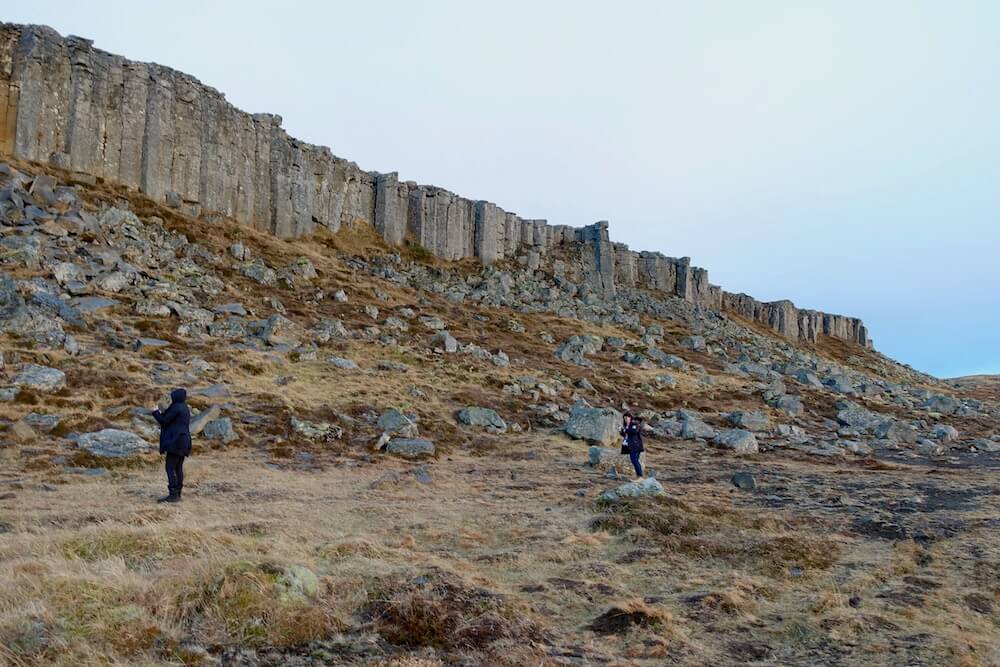 Comprising a 500-metre long stretch, Gerduberg Basalt Columns is an impressive line of perfectly shaped geometric structures. The columns are quite regular in size, mostly being 12 to 14 metres high and about 1.5 metres wide.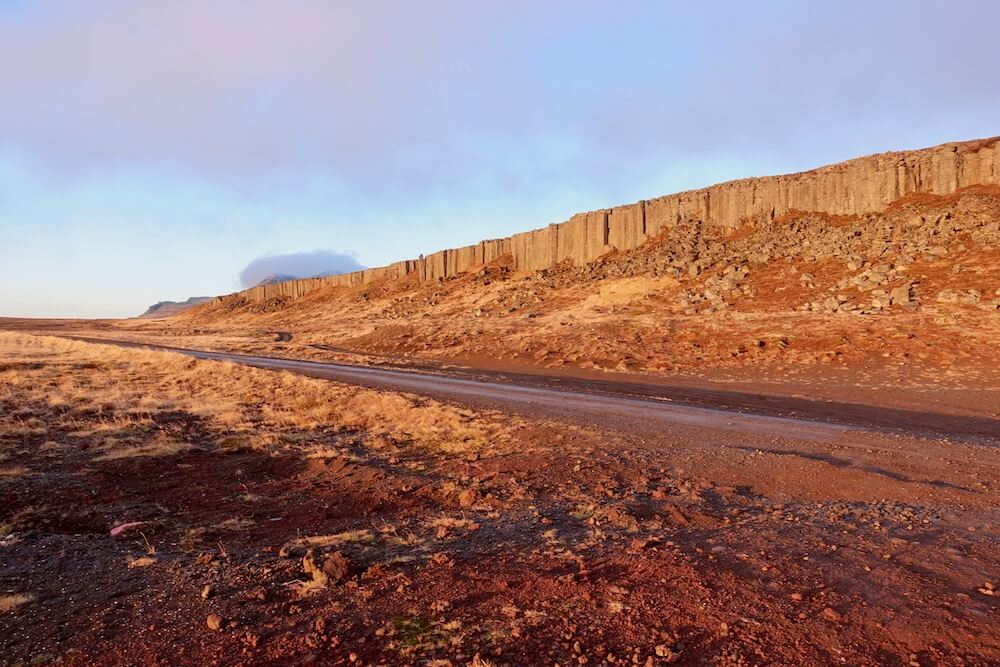 This regularity is something that's very unique to this site. During a volcanic eruption years ago, rivers of lava flowed off the cliffs in rather equal flows. The sea rapidly cooled these channels of lava, resulting in the wall of hexagonal basalt columns.
The basalt columns are located just off the road, making them easily accessible.
Arnarstapi and Hellnar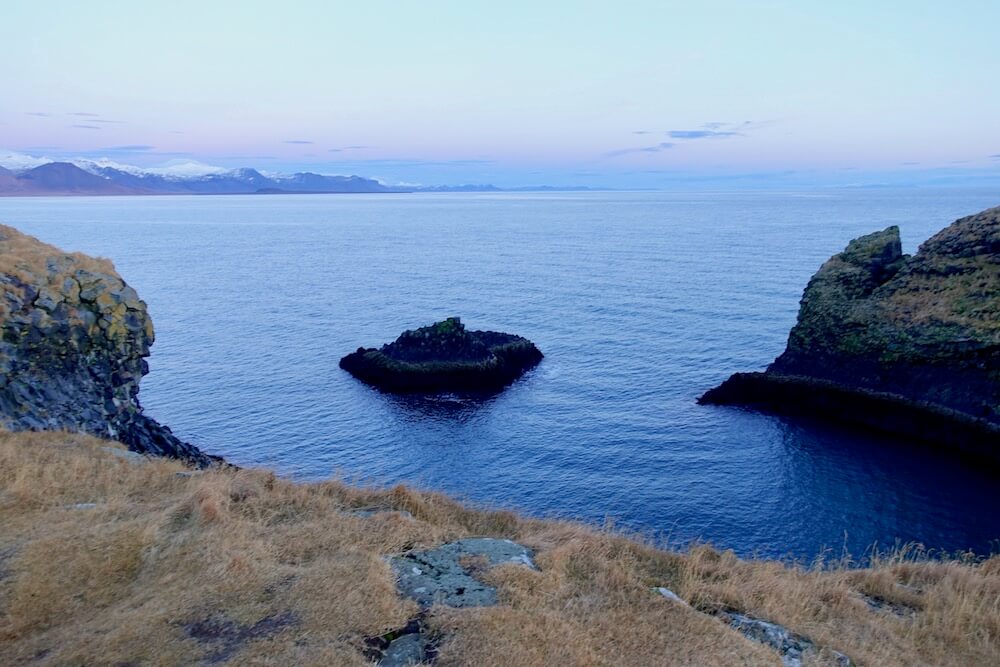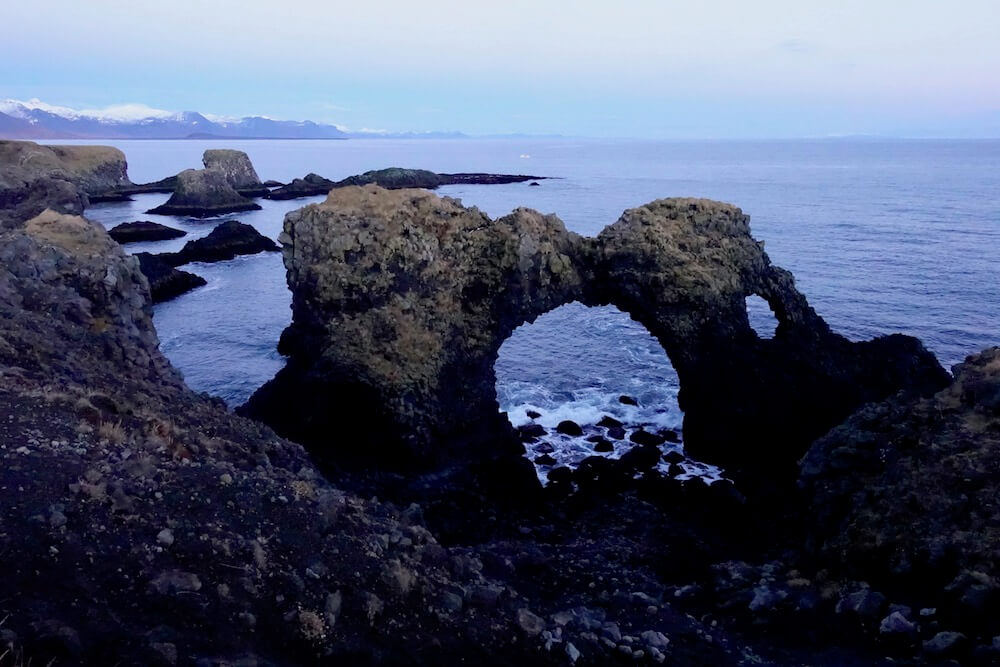 Arnarstapi and Hellnar are two small fishing villages located at one end of the Snaefellsnes Peninsula. All year round, a popular hiking trail stretches between the two villages, offering gorgeous views along the coast. Along the way, you'll see unique rock structures, rocky beaches, basalt caves, lava fields and more. One highlight is the Gatklettur arch.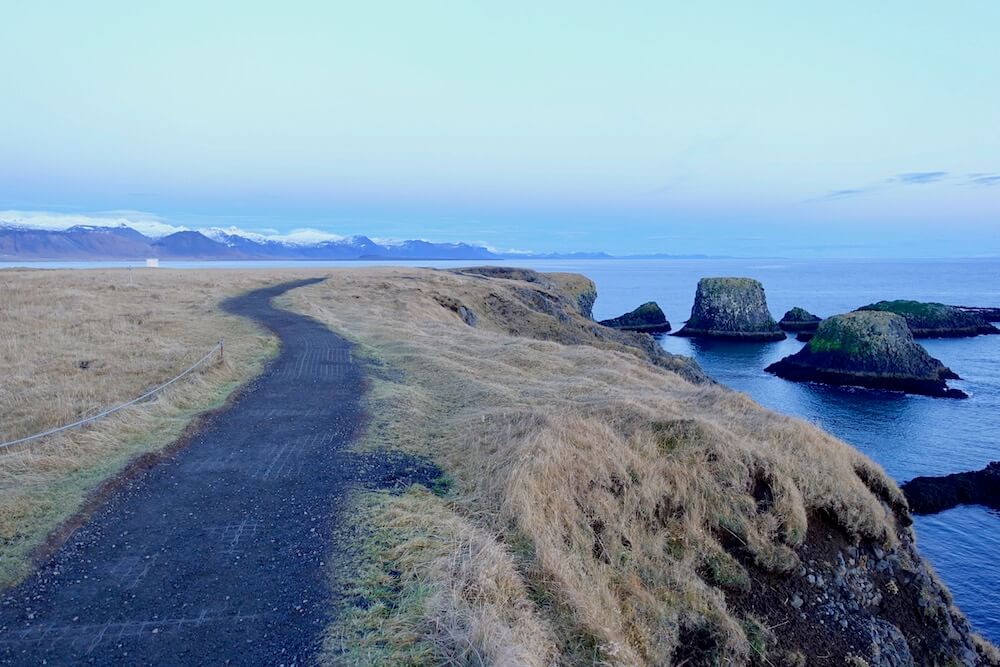 The lovely seaside hike is only 2.5 kilometres long, making it suitable for all ages. The route is also along even and flat terrain, and is well signposted as well.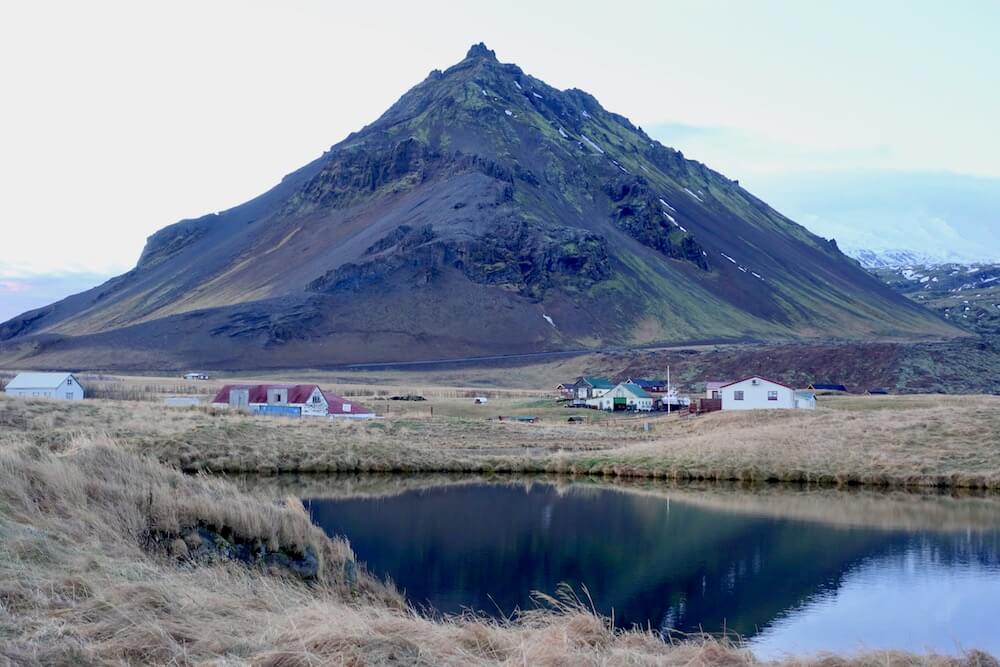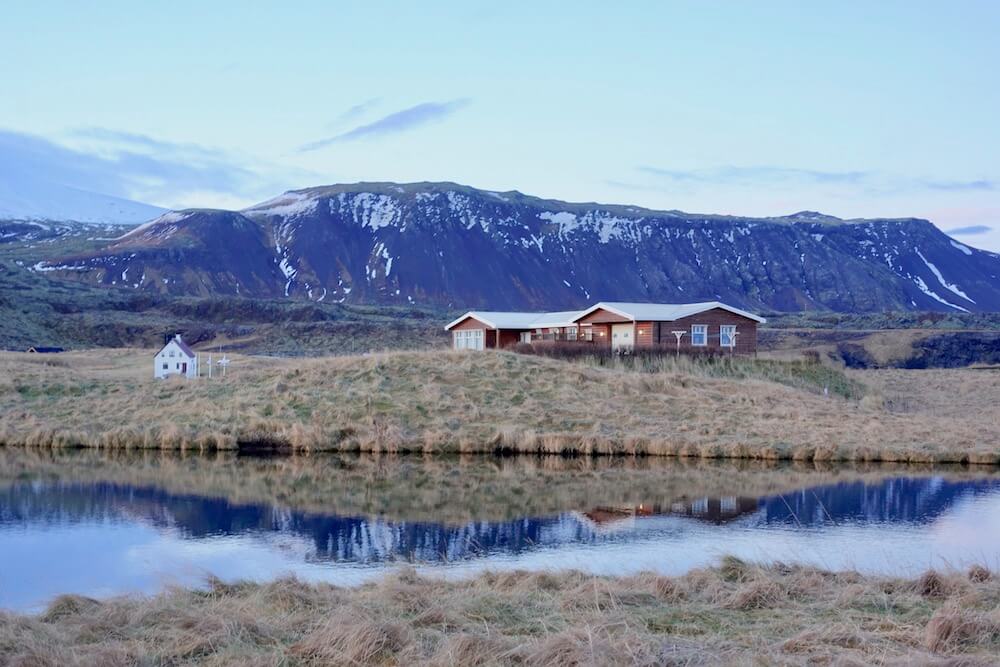 Mt Stapafell and the houses at its base make for an enchanting vista as well.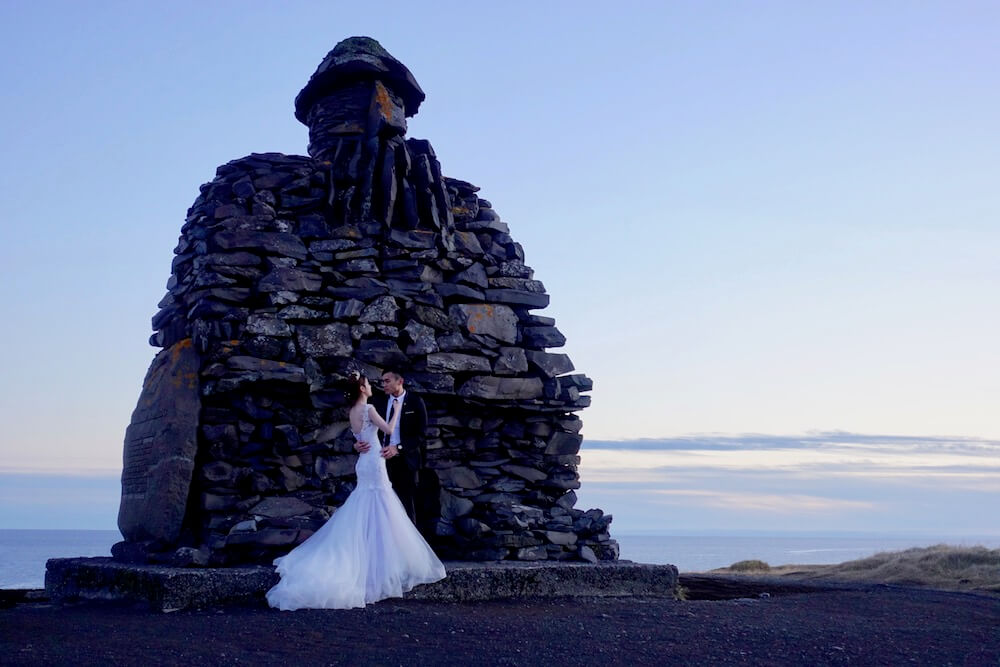 The starting point is just off the Baroar Snaefellsass Statue. The statue is modelled after Baroar Snaefellsass, whose father was said to be a troll. He helps to safeguard the Snaefellsness Peninsula and keeps the village of Arnarstapi safe. There are several tales about elves residing at Arnarstapi as well. 
Deildartunguhver Hot Spring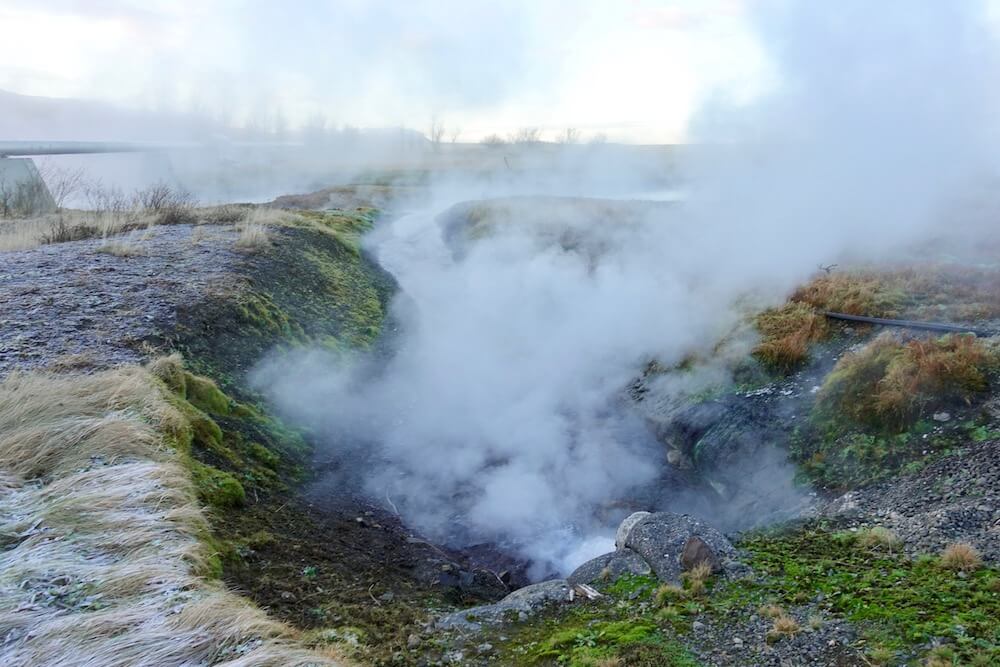 The Deildartunguhver Hot Spring is Europe's highest flowing hot spring, providing 180 litres of boiling water per second. It's also known as Europe's most powerful hot spring! It's responsible for powering any settlement within a 65 kilometres radius, such as the towns of Borgarnes and Akranes. It also supplies the Krauma Geothermal Baths with its water, which is mixed with pure glacial water before allowing guests to immerse themselves in it. In fact, it's fascinating how all the hot water in Iceland comes from hot springs such as this!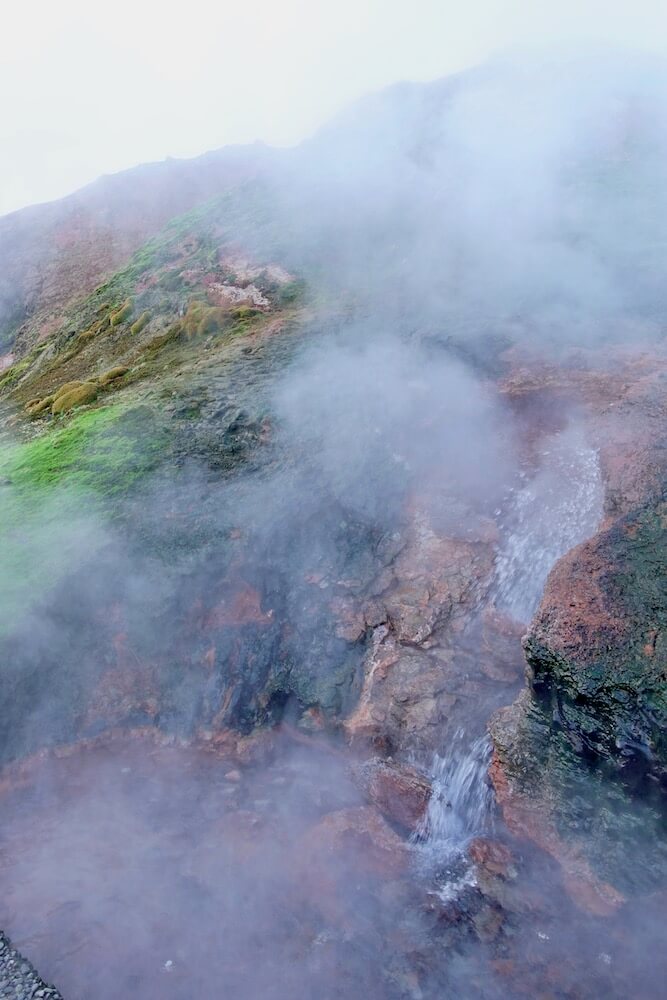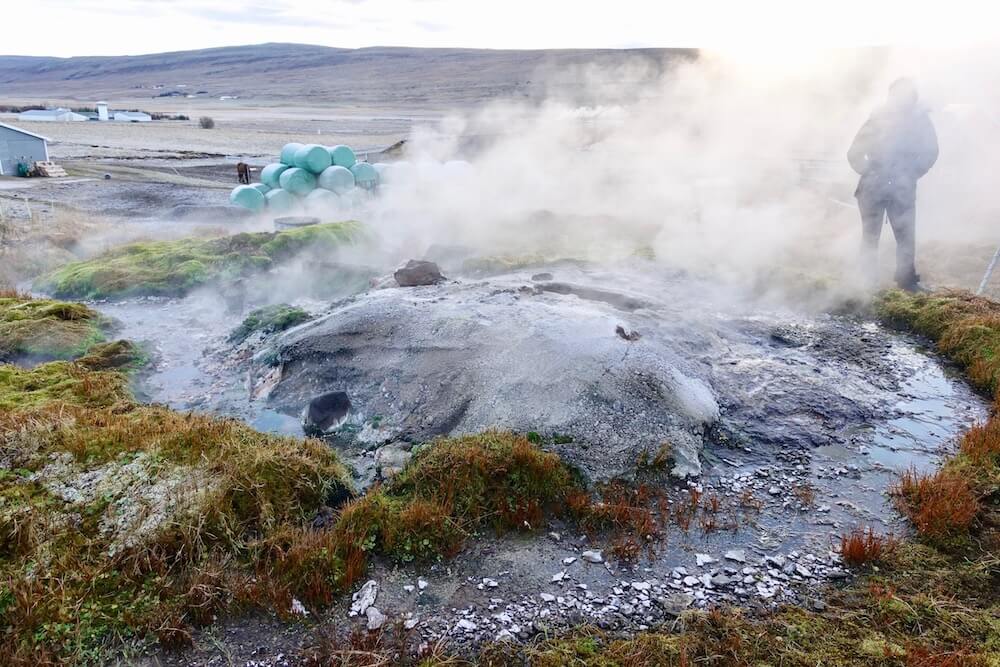 You'll be able to spot multiple steam pillars from miles away. Wander around the bubbling pools and witness the sheer power of Iceland's natural energy.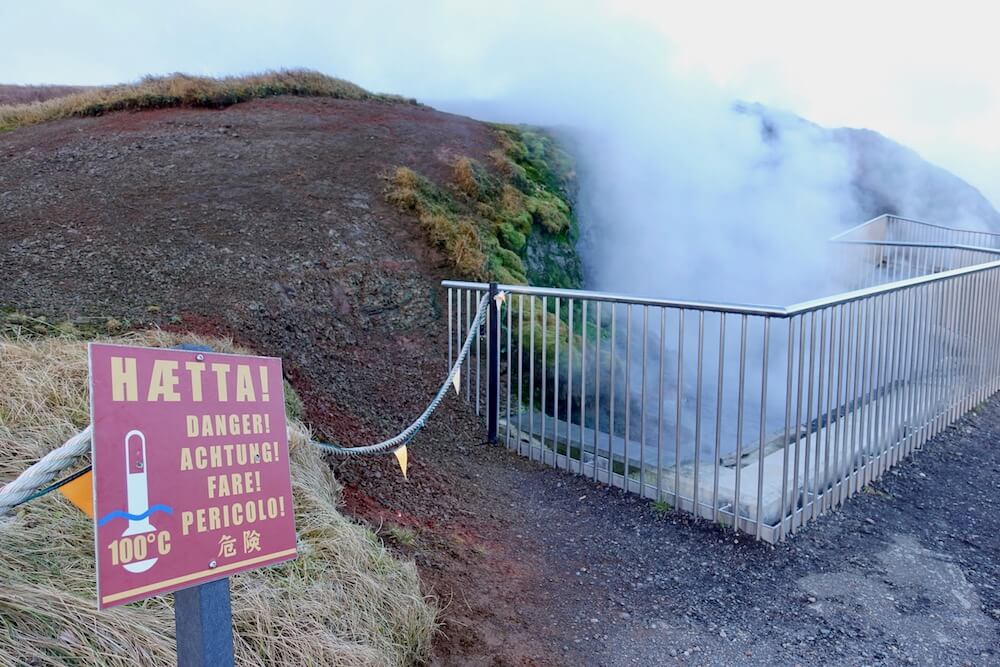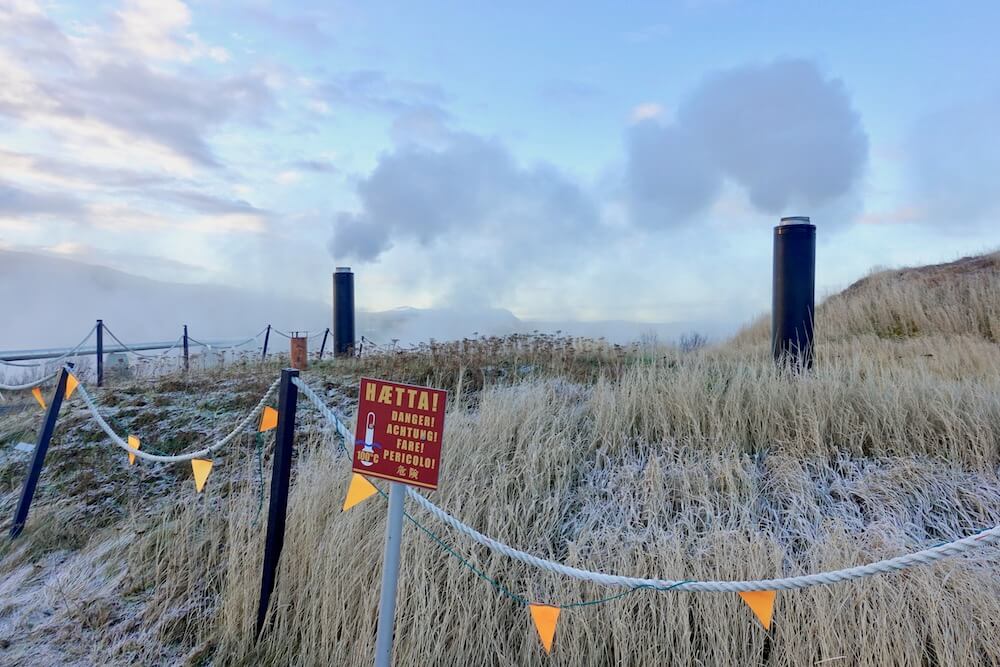 The water at the Deildartunguhver Hot Spring is at a constant 97 degrees celsius; a fence has hence been erected around the pools to prevent visitors from getting too close.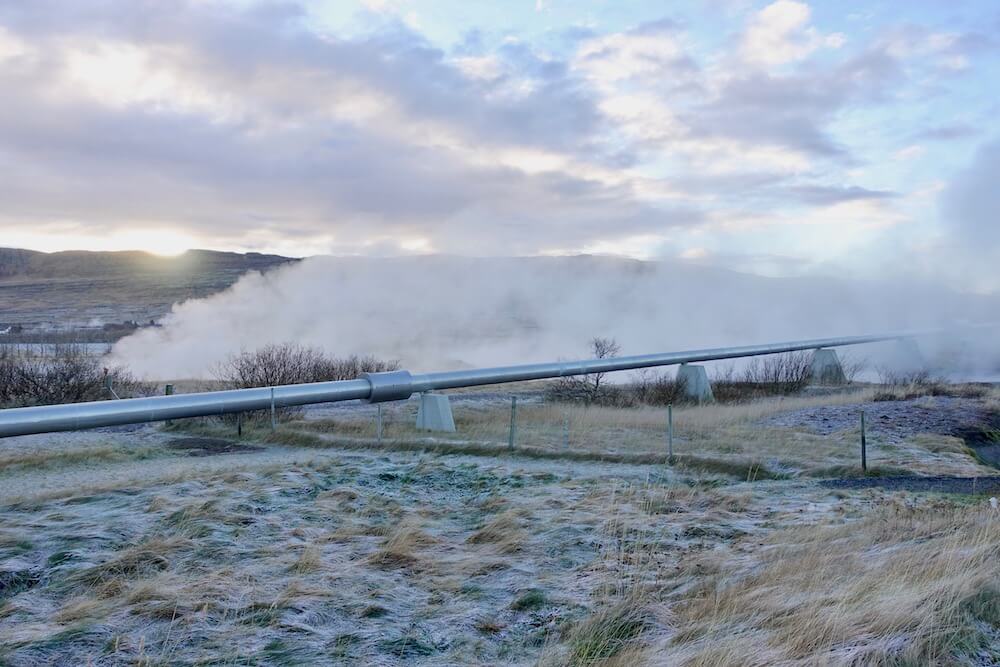 The water is pumped through distribution pipes. The pipe connecting Deildartunguhver to Akranes, Borgarnes and Hvanneyri runs a total of 74 kilometres and is considered to be the longest of its kind in the world! 
Hraunfossar & Barnafoss Waterfalls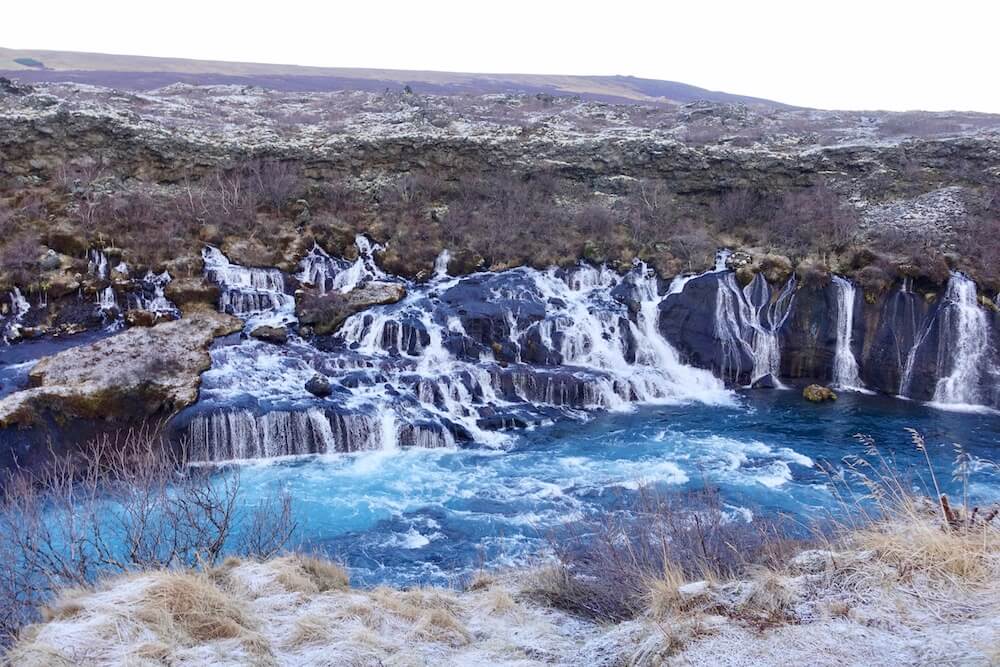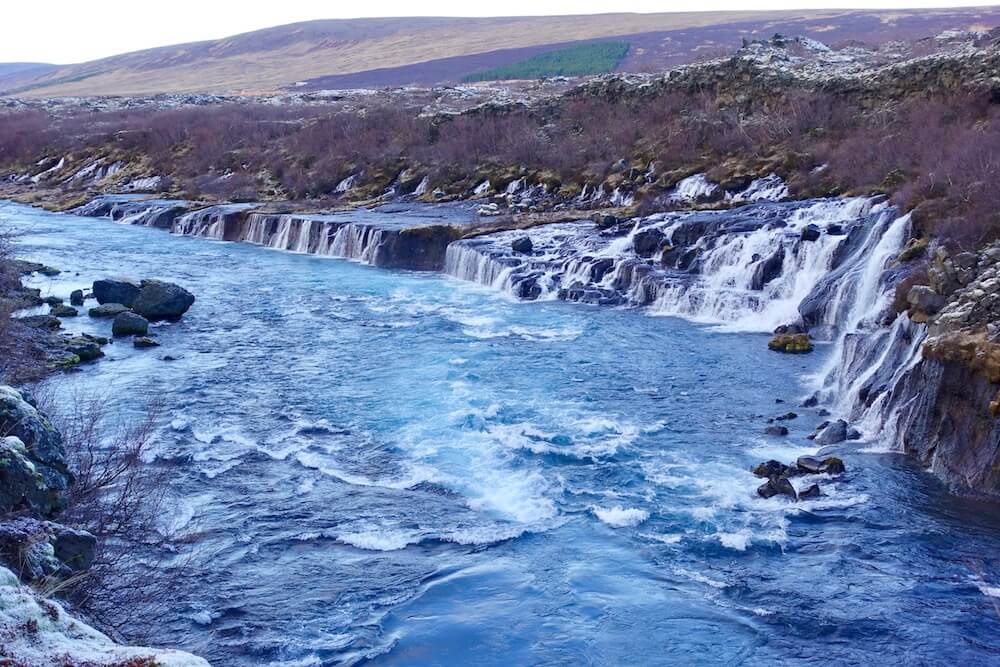 Also known as 'Lava Waterfalls', Hraunfossar consists of a 1-kilometre succession of water spouts that cascade gently over lava formations. The water lands in the Hvita River, which is coloured a striking shade of turquoise. The waterfall is located in the vast Hallmundarhraun Lava Field.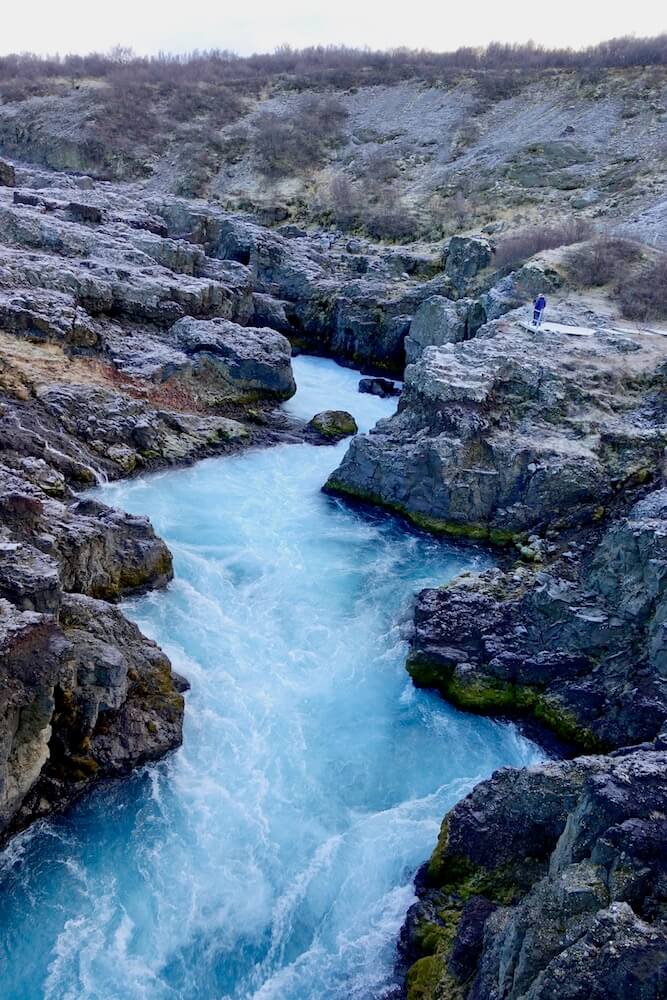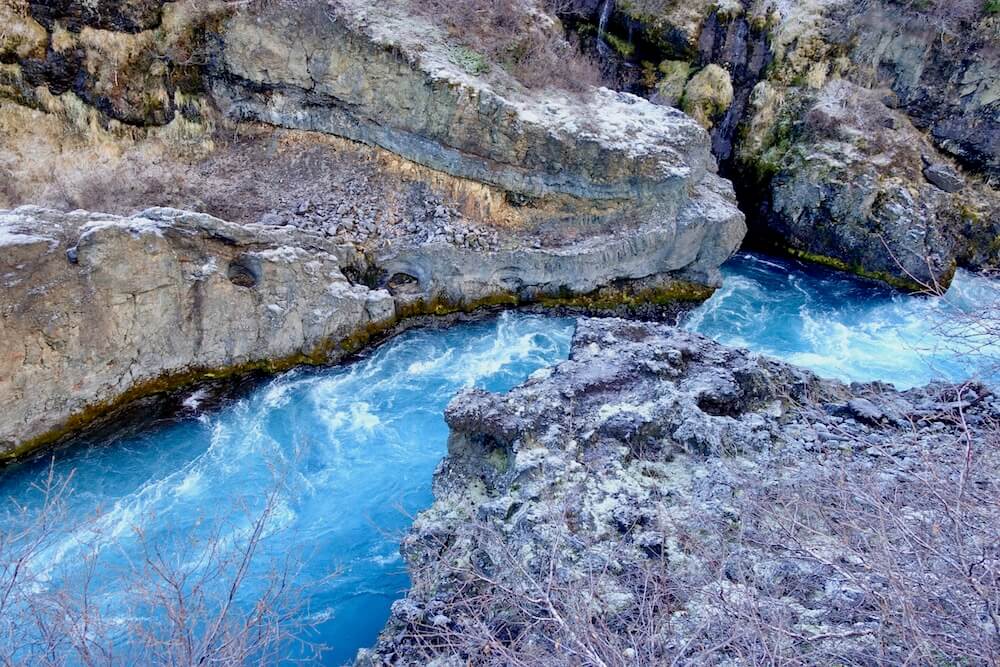 The Hraunfossar Waterfall is located next to Barnafoss, another waterfall that roughly translates to mean 'Children's Waterfall'. According to local folklore, there used to be a stone arch above the waterfall. One day when their mother wasn't home, two children went out to play. They went missing and were eventually thought to have fallen from the arch into the waterfall to their death Their mother was devastated at the news and had the stone arch over the falls destroyed, in a bid to prevent any further tragedies from happening. 
Read: Top Waterfalls in Iceland
Reykholt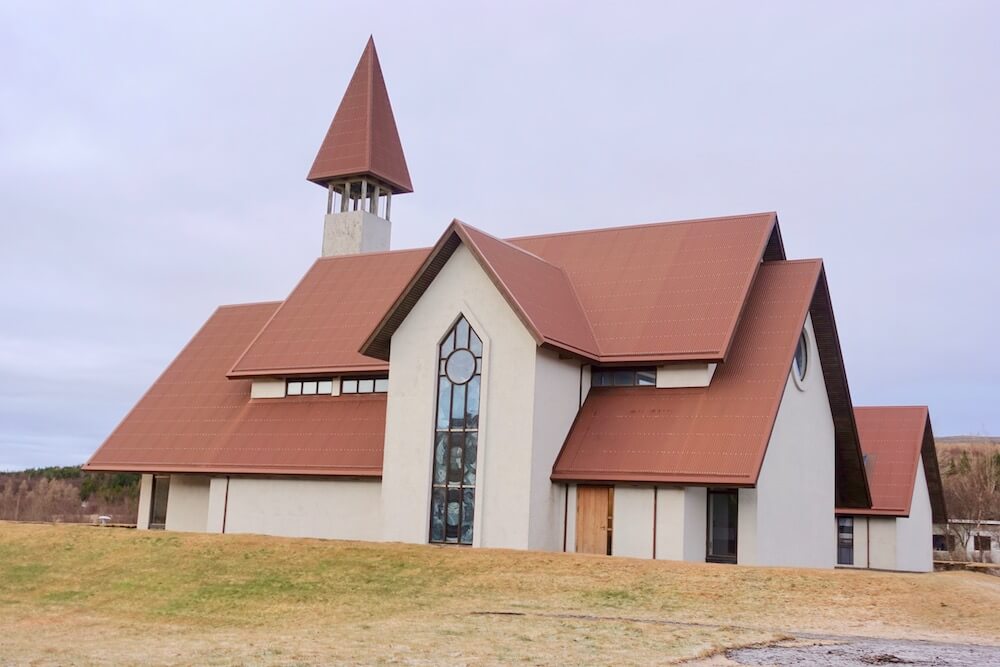 One of Iceland's most historic sites, Reyholt offers a trip down memory lane for many locals. One of the town's main landmarks is the iconic red-roofed church, which was consecrated in 1996.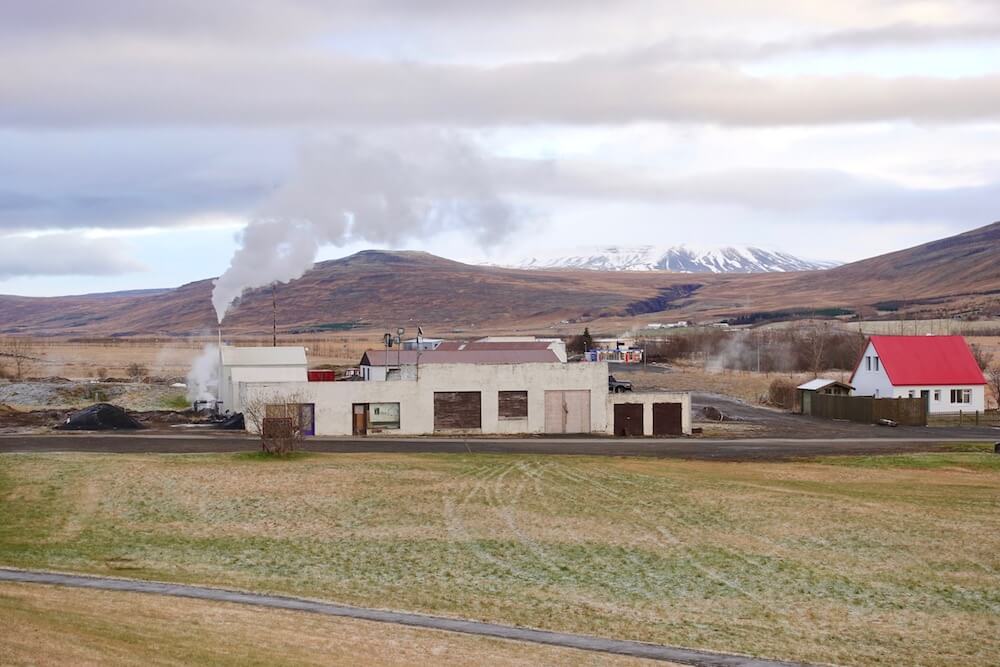 Reykholt is best known for being the home of Snorri Sturluson, a famous Icelandic medieval author, from 1206 to 1241. Don't miss out on Snorralaug, the geothermal pool of Snorri Sturluson, which has been preserved since the medieval period. The pool and the water conduit, which leads water from a nearby hot spring, are said to perhaps be the oldest preserved structures in Iceland and date back to the 10th century.
Before you leave, drop by Snorrastofa, a cultural centre and institute of medieval studies, where you can discover various historical exhibitions or sign up for a guided tour.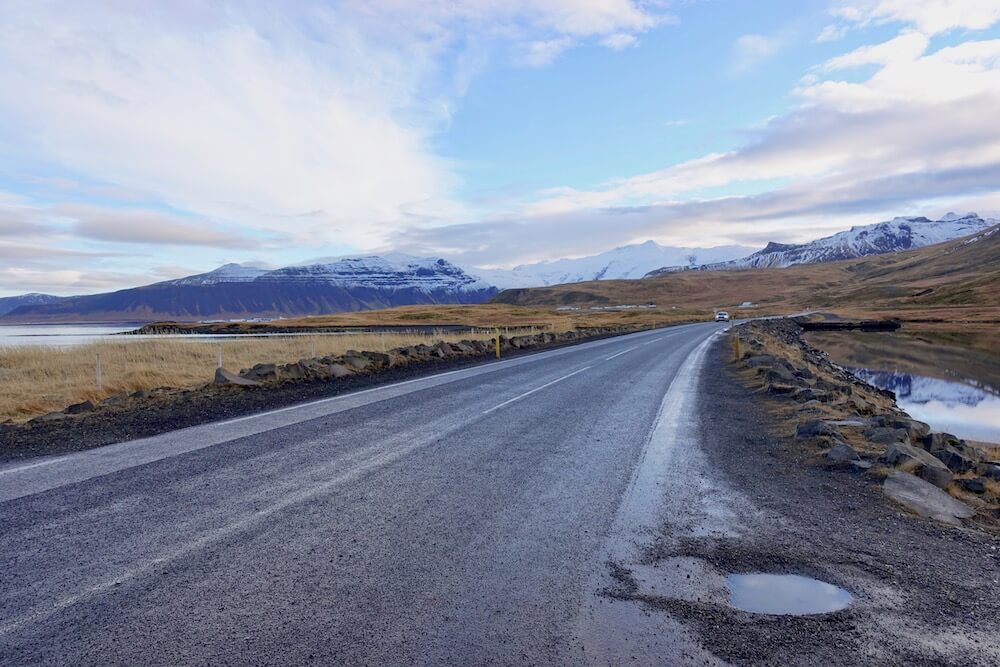 Are you intrigued yet? Here's a sample 2D1N Western Iceland road trip itinerary:
Day 1
Reykjavik to Mt Kirkjufell: 2.5 hours
Mt Kirkjufell to Djupalonssandur Beach: 50 minutes
Djupalonssandur Beach to Snaefellsjokull National Park (including Vatnshellir Cave): 8 minutes
Snaefellsjokull National Park to Arnarstapi: 11 minutes
Overnight at or near Arnarstapi
Day 2
Arnarstapi to Gerduberg Basalt Columns: 1 hour
Gerduberg Basalt Columns to Deildartunguhver Hot Spring: 1.5 hour drive
Deildartunguhver Hot Spring to Hraunfossar & Barnafoss Waterfalls: 21 minutes
Hraunfossar & Barnafoss Waterfalls to Reykholt: 15 minutes
Reykholt to Reykjavik: 1.5 hours
As you can see, most of the attractions or sights are located relatively close to each other, with the longest drive being 2.5 hours. What say you to exploring Iceland off the beaten path?