Top Waterfalls to Visit in Iceland
You're facing a thundering curtain of water, the ceaseless roaring causing a ring in your ears. Your face feels refreshed from the spray; perhaps your clothes are getting a little wetter than they should. But you stay rooted to the spot, for this sight is unlike anything you've ever seen. It's the beauty of Mother Nature at its very best.
Iceland is a land filled with natural wonders, each more beautiful than the next. There are countless waterfalls in particular, with more than a staggering 10, 000 scattered across the country! Here are my top 6 picks that can be found not too far from Reykjavik:
Skogafoss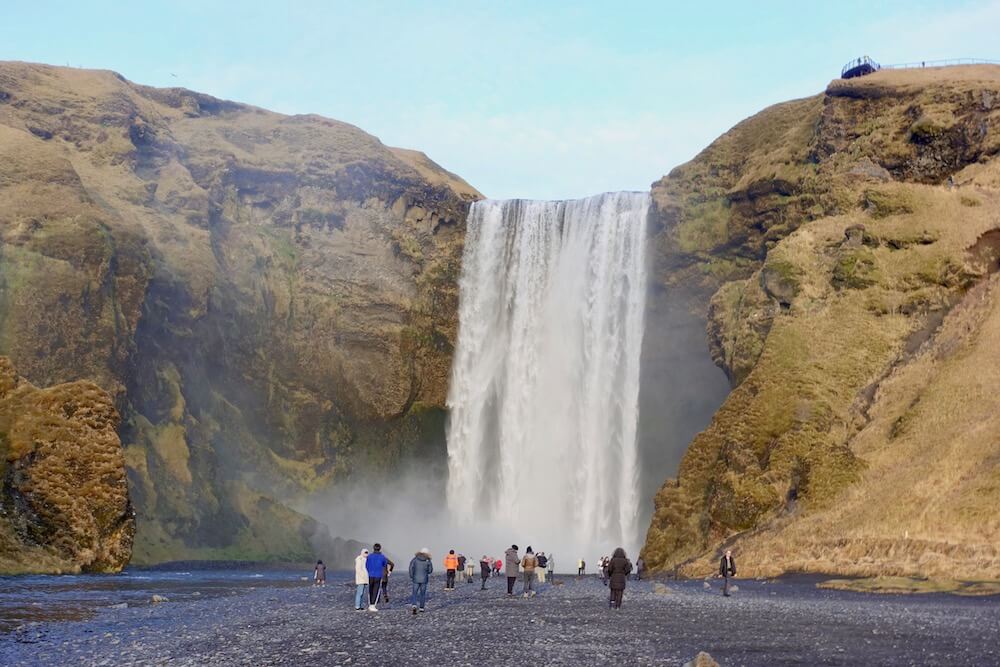 With a drop of 60 metres and a width of 25 metres, Skogafoss is one of Iceland's biggest waterfalls. The sight of the waterfall is impressive from afar; however, the gravel terrain leading up to the waterfall is flat and even, allowing visitors to walk right up to it!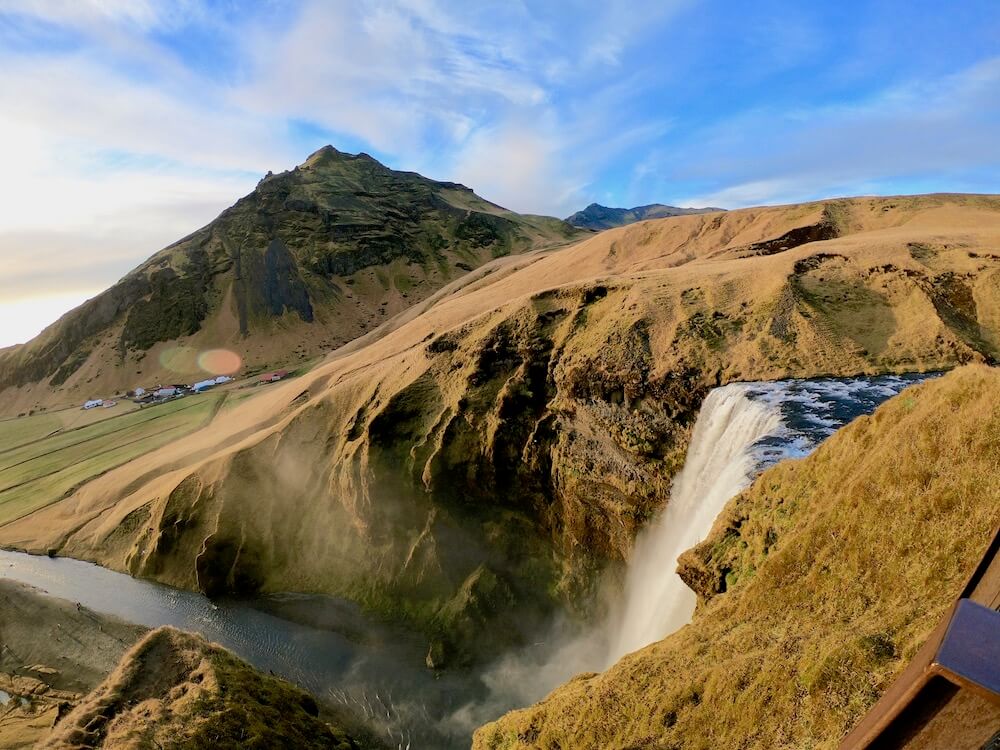 You can also choose to climb a long flight of stairs – comprising almost 500 steps! – to the top of the waterfall for an aerial view. In summer, this observation deck marks the starting point of the Fimmsorduhals pass, a popular 25-kilometre hiking route that passes between the Eyjafjallajokull and Myrdalsjokull glaciers.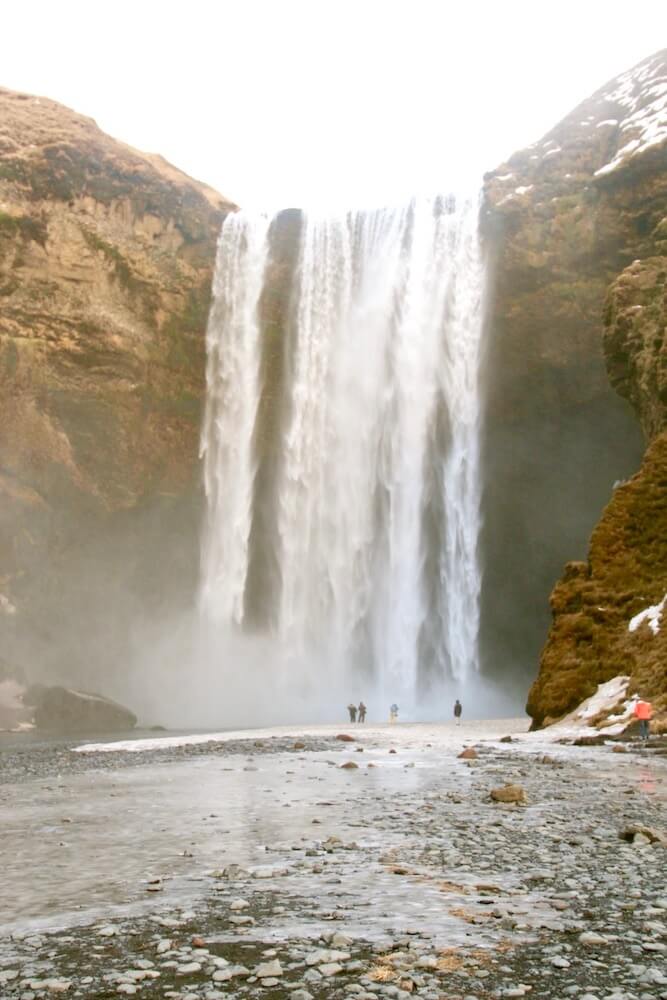 During winter, the area surrounding the waterfall gets frozen over, creating an icy wonderland.
Legend postulates that there is a chest filled with treasure hidden behind Skogafoss. Prasi Porolfsson, a Viking Settler, hid the chest around the year 900; it's said that the first man who discovers the chest will be blessed with great riches.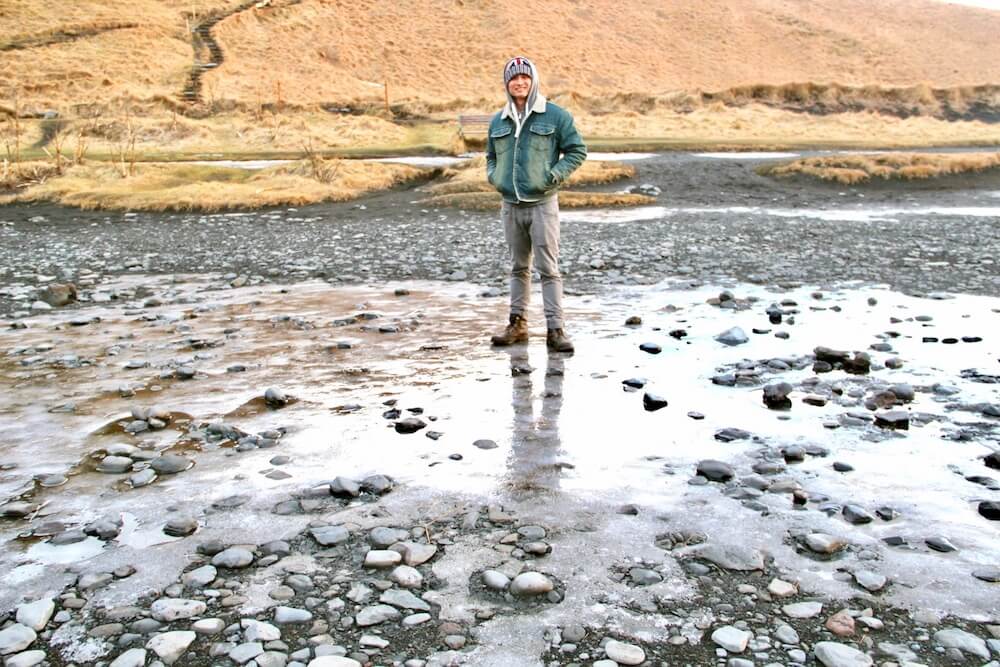 Whether this legend is true or not, the partially frozen terrain will make it look like you just stepped onto another planet altogether!
Approximate driving duration from Reykjavik: 2 hours
Seljalandsfoss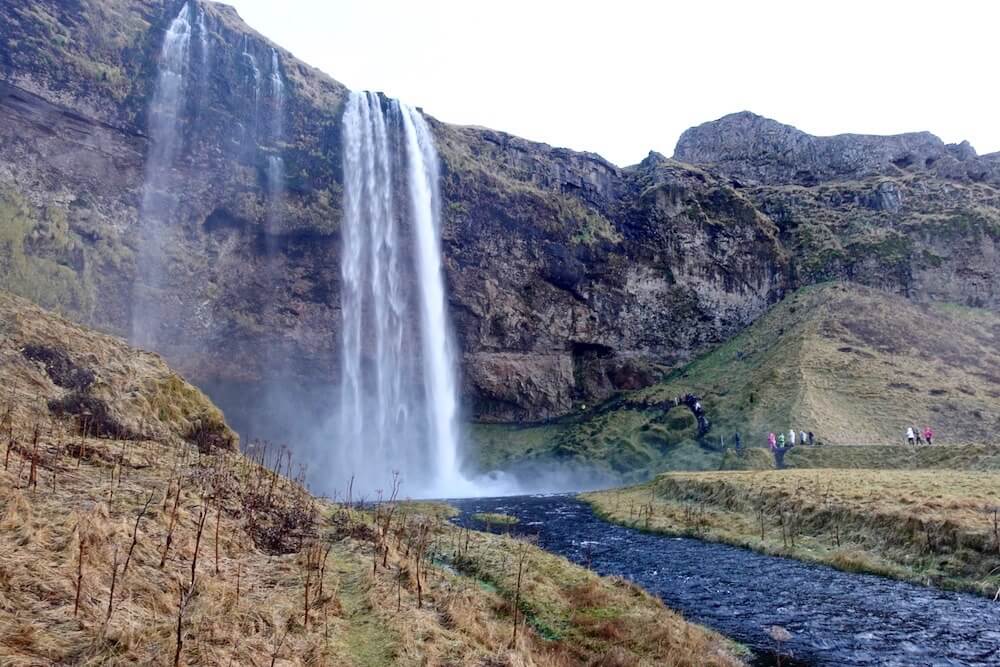 Located about a half-hour's drive from Skogafoss, Seljalandsfoss is 65 metres tall. Flowing down from the Eyjafjallajokull Volcano, the waterfall is lit up by floodlights in winter due to limited daylight hours.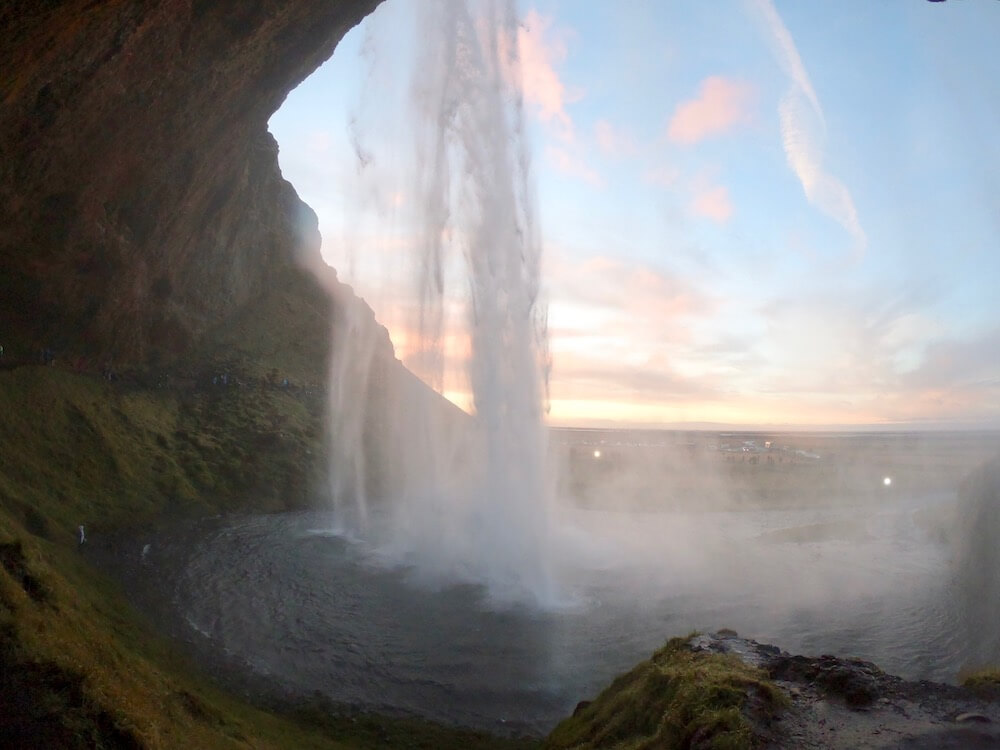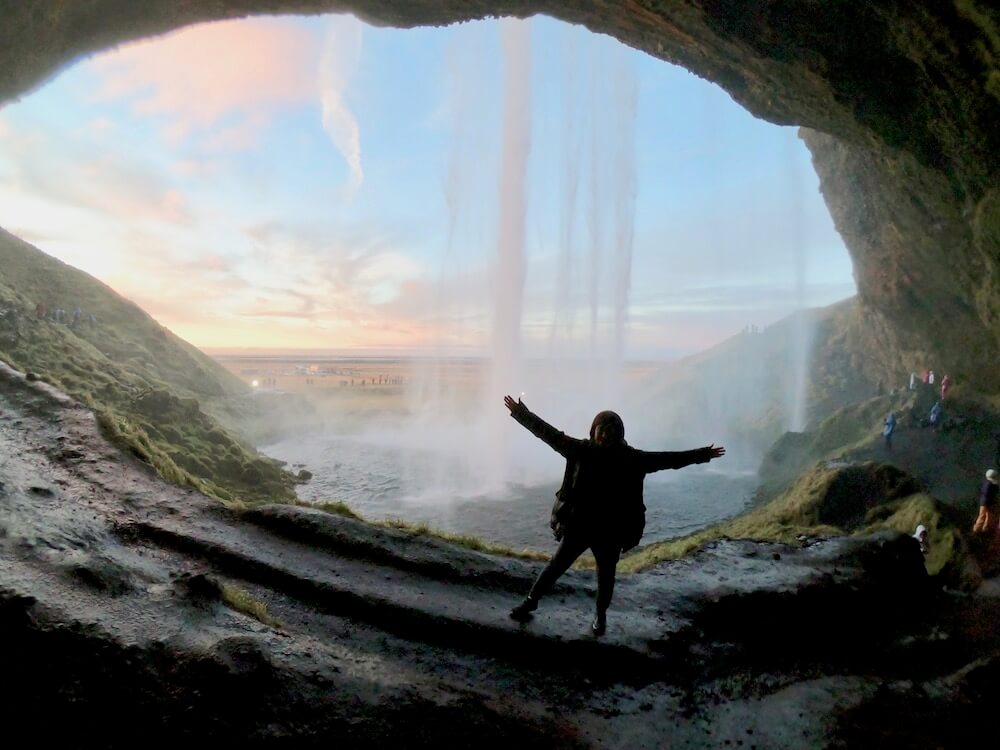 What's unique about Seljalandsfoss is that it can be fully encircled; there's a cave behind the waterfall, allowing you to walk one entire round around the waterfall itself! Do be careful as the rocks can get slippery; it's best to wear a raincoat as you will definitely get wet!
Note that this path is closed during wintertime.
Approximate driving duration from Reykjavik: 1 hour and 40 minutes
Gljufrafoss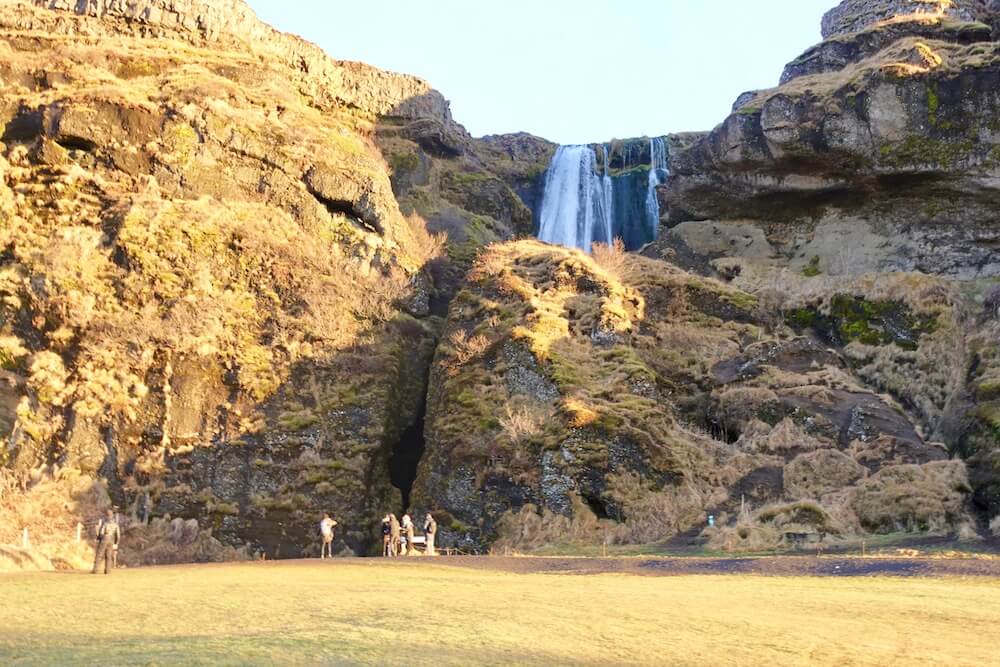 Often overshadowed by Seljalandsfoss, Gljufrafoss is one of Iceland's best hidden gems. Only partially visible from the outside, Gljufrafoss is nestled snugly inside a gorge. Its name roughly translates to mean "the inhabitant or dweller of the gorge", which couldn't be more apt!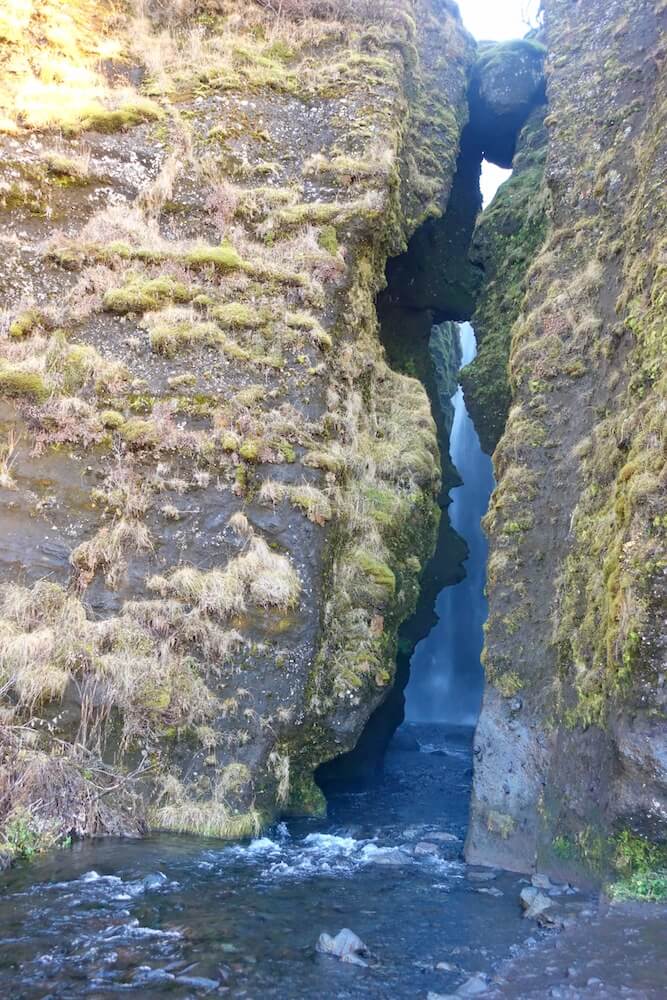 To reach this secret waterfall, you'd either have to a) balance on a path of partially-submerged rocks, or b) wade through a pool of shallow water that comes up to your shin. This serves as a deterrent for many visitors who don't wish to get wet; however, persevere and you'll reap the reward of having the waterfall all to yourself.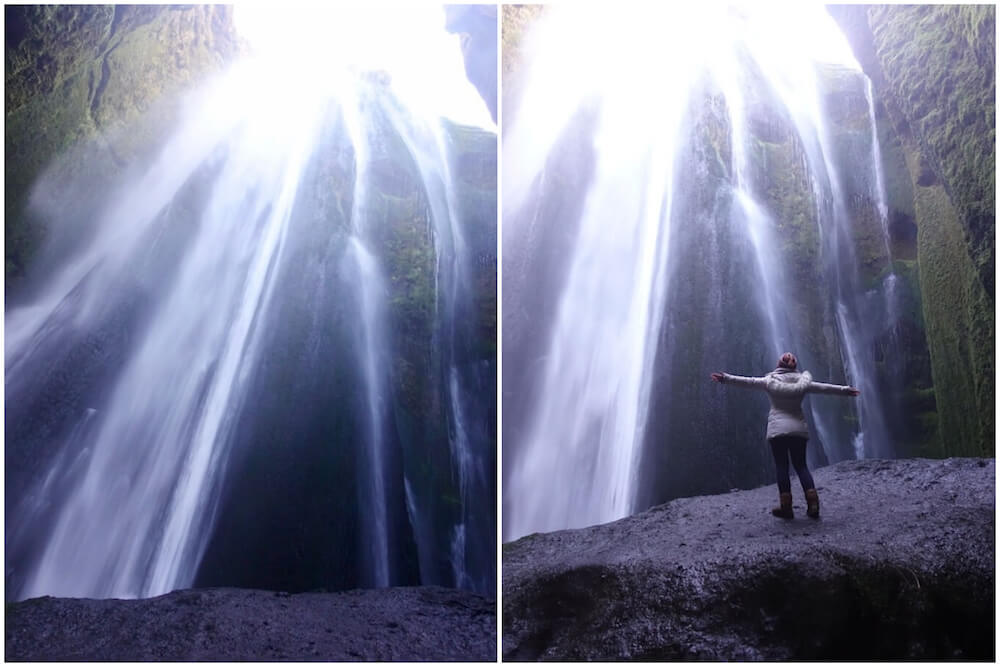 There's a hushed silence inside the cave, adding to the overall magic of the place. Stand right in front of the waterfall and enjoy the mist on your face; do be warned that you'll get wet, as the spray can get quite powerful at times.
Approximate driving duration from Reykjavik: 1 hour and 40 minutes
Skogafoss, Seljalandsfoss and Gljufrafoss can all be found along the South Coast.

Read: Iceland's South Coast – A 2-Day Itinerary
Gulfoss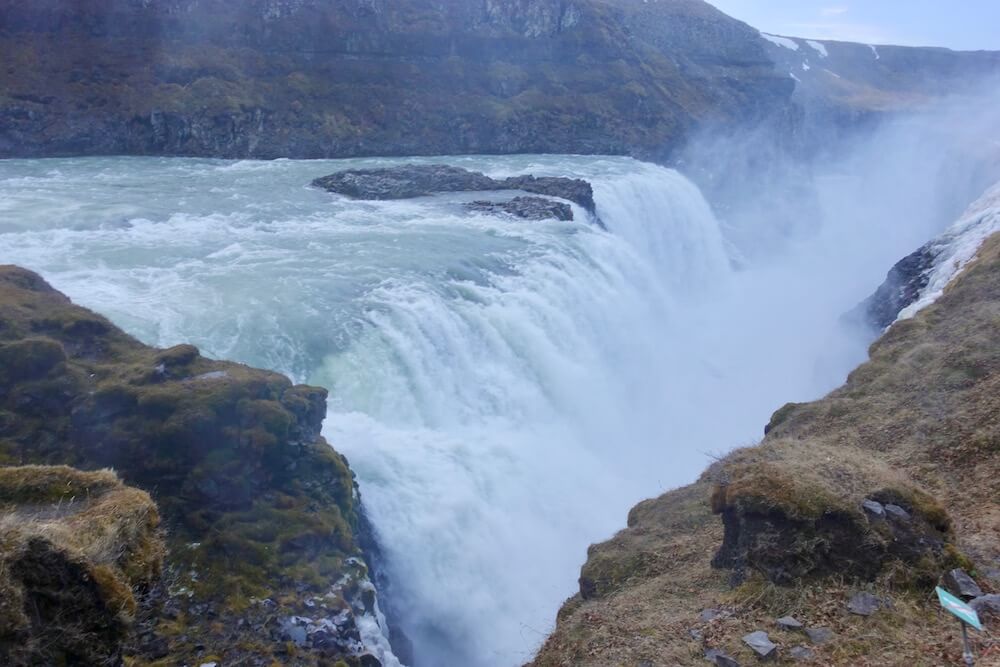 Known as the 'Golden Falls', Gulfoss is part of the popular Golden Circle route, resulting in it being one of the most visited waterfalls in Iceland. Gulfoss resembles a golden waterfall when the sun hits the water on a sunny day, hence its nickname! The thundering power of the waterfall originates from the Hvita River, which flows directly from the Langjokull Glacier.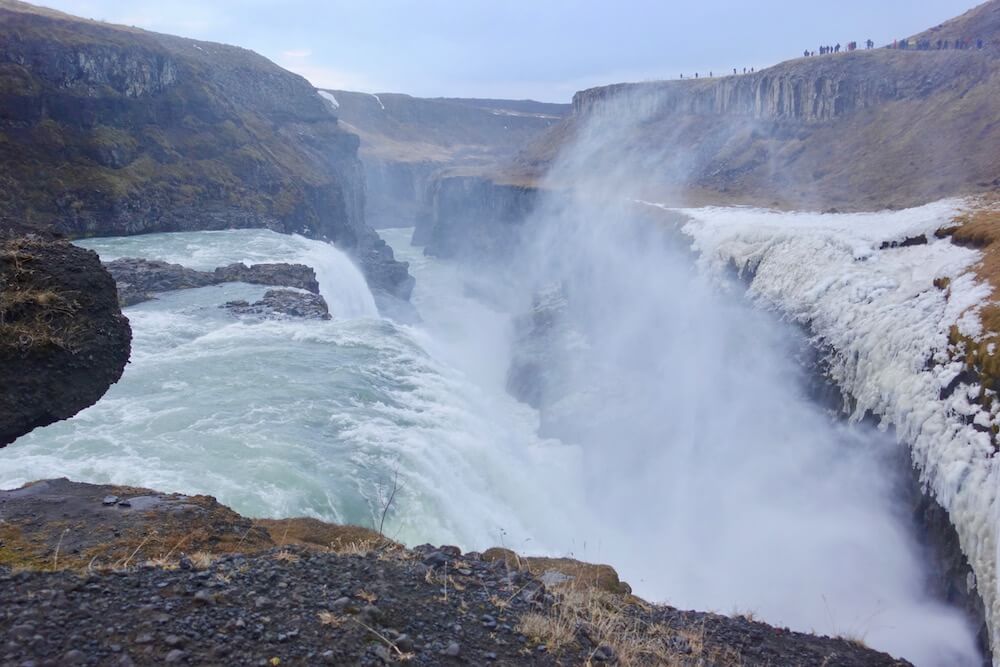 Legend has it that Tomas Tomasson, the landowner of Gulfoss, had the intention to sell the land. However, Sigirour Tomasdottir, his daughter, threatened to fling herself into the falls if a deal was made. As a result, the sale fell through and this led to the Gulfoss being converted into a natural reserve.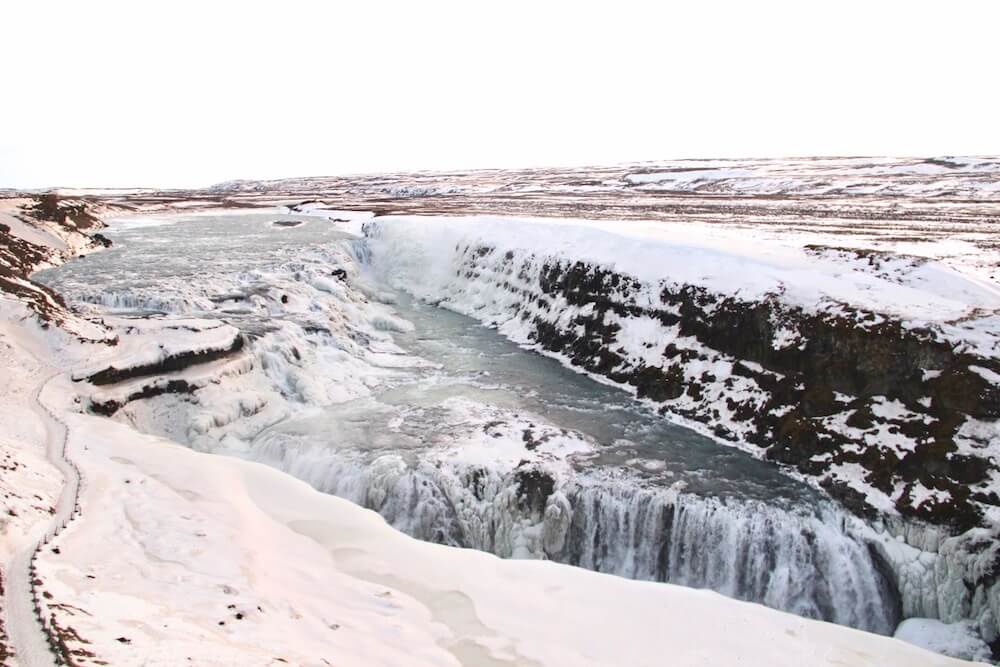 Comprising two distinct drops of 11 metres and 21 metres, the waterfall is even more stunning in winter when part of it is frozen over. In the summer, approximately 140 cubic metres of water thunder down every second, with this number dropping to around 109 cubic metres of water in the winter.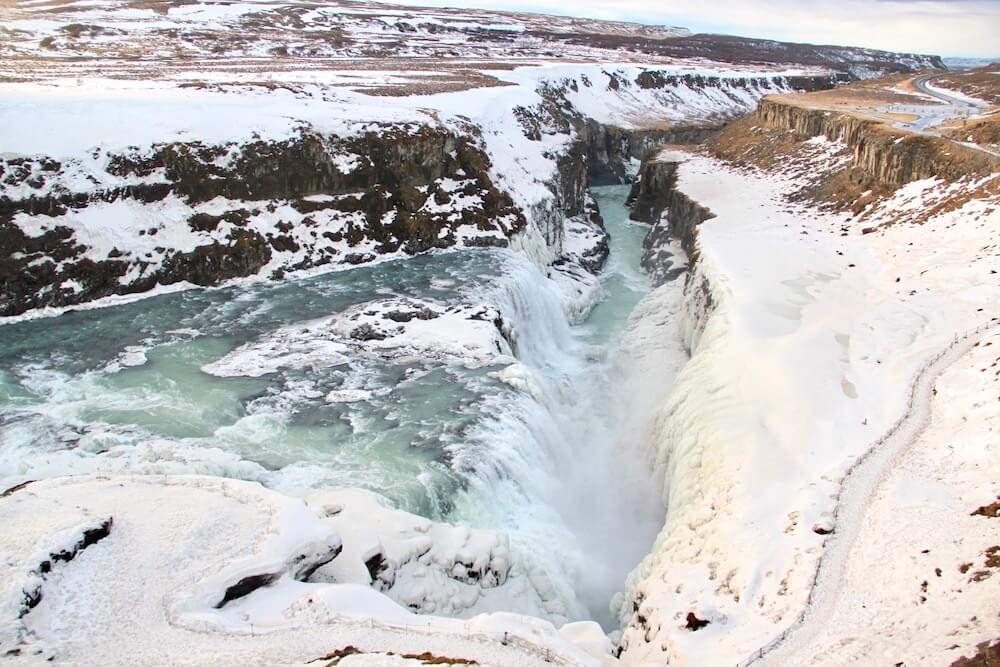 There are a few ways to experience Gulfoss – from the carpark, you can take a walk to a boardwalk that will bring you to an observation point to view the waterfall from above. You can also descend a flight of stairs to get closer to the falls itself.
Approximate driving duration from Reykjavik: 1 hour and 30 minutes
Gulfoss can be found along the Golden Circle, a popular sightseeing route.

Read: How to Navigate the Golden Circle Route in Iceland
Urridafoss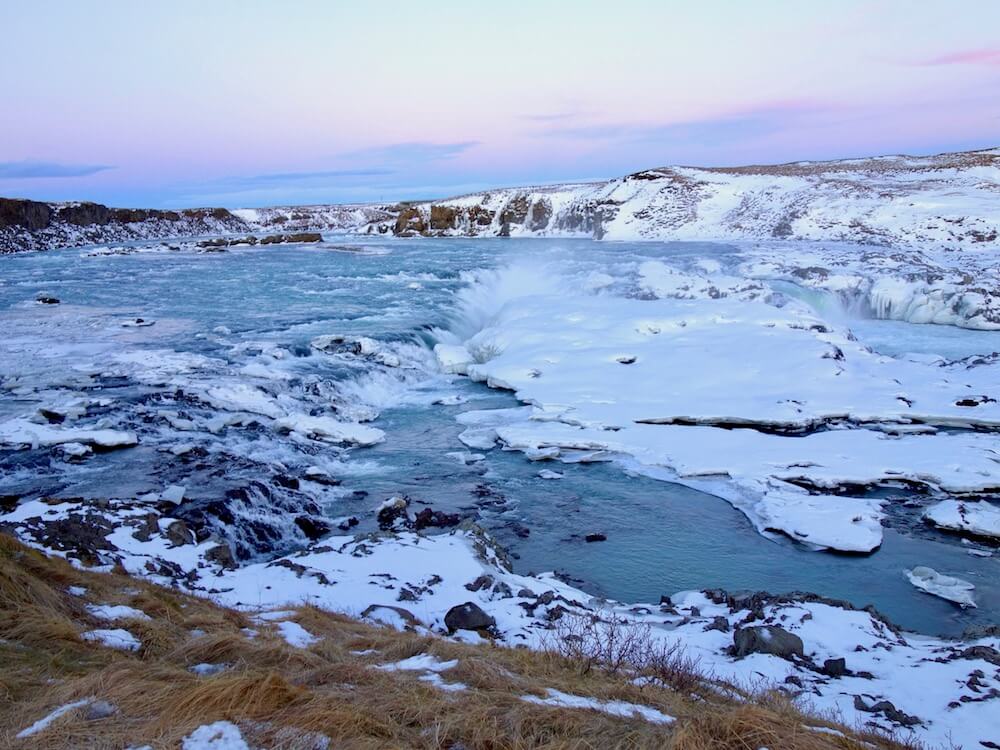 With a flow of 360 cubic metres of water per second, Urridafoss is reputed to be Iceland's most voluminous waterfall. In summer, the waters teem with wild salmon, making it a popular fishing spot – so much so that a 3-hour rotation and a quota of 5 salmon per fishing rod per day have been implemented.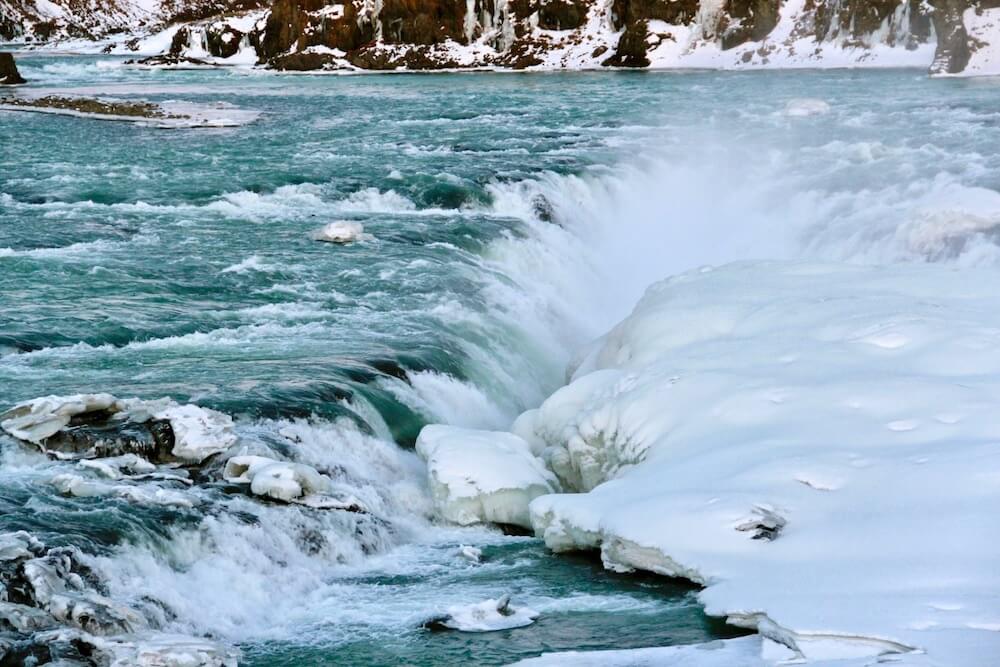 Watch the sheer force of water crashing into the depths below; it's said that Urridafoss offers a great surround sound! During winter, parts of the waterfall freeze over; when this happens, the depth of the ice can reach up to a whopping 20 metres.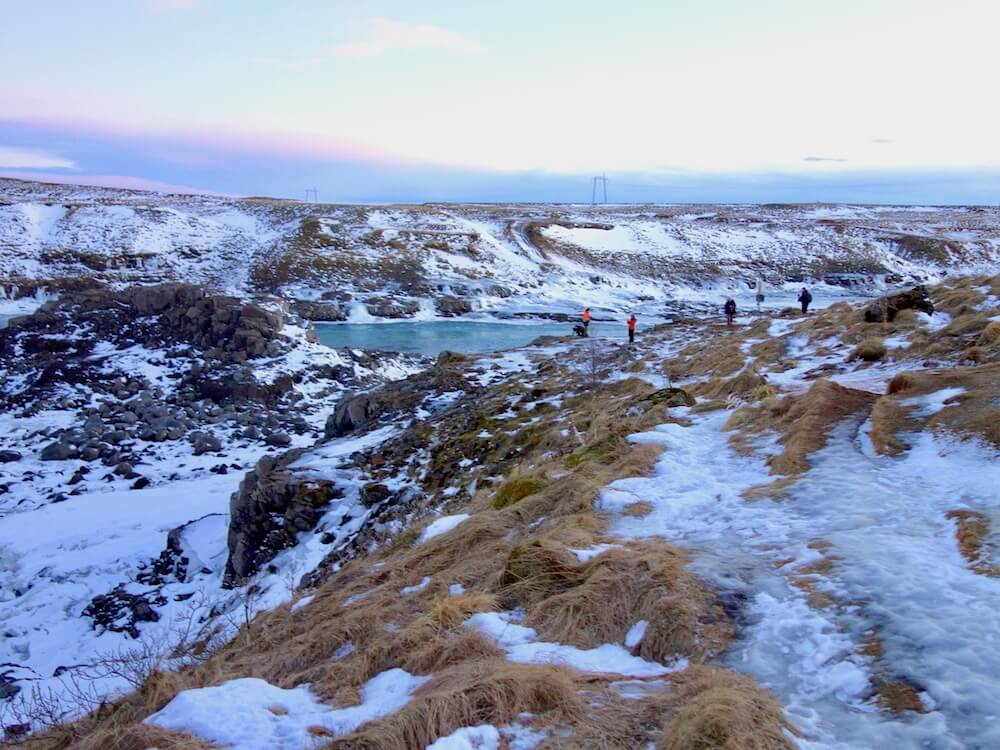 The waterfall is surrounded by a vast lava field. The best part? Urridafoss is not well-known among tourists, allowing you to enjoy it to its fullest.
Approximate driving duration from Reykjavik: 1 hour
Hraunfossar and Barnafoss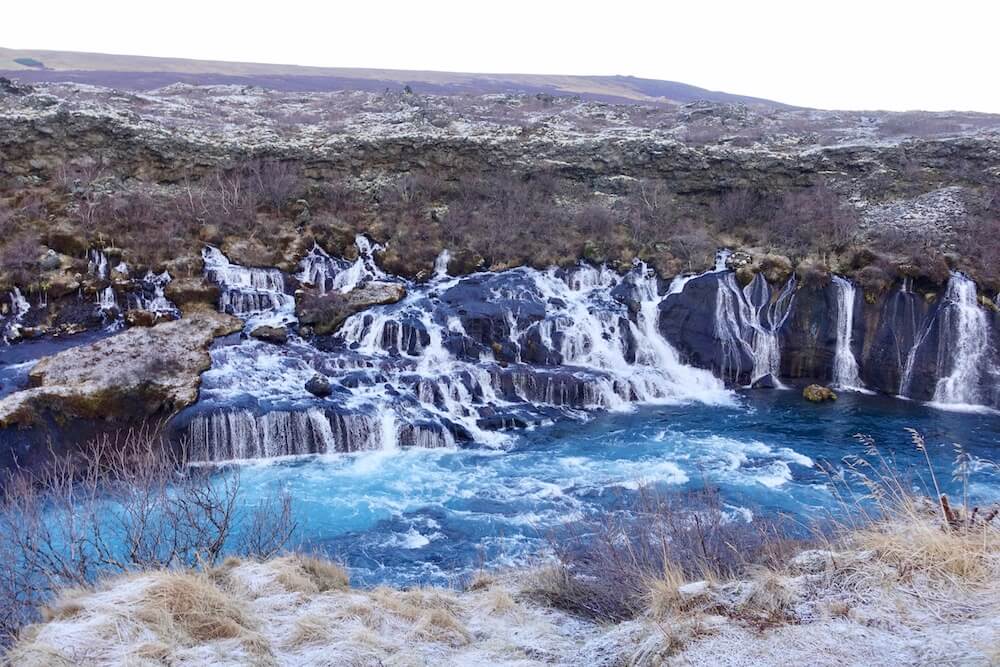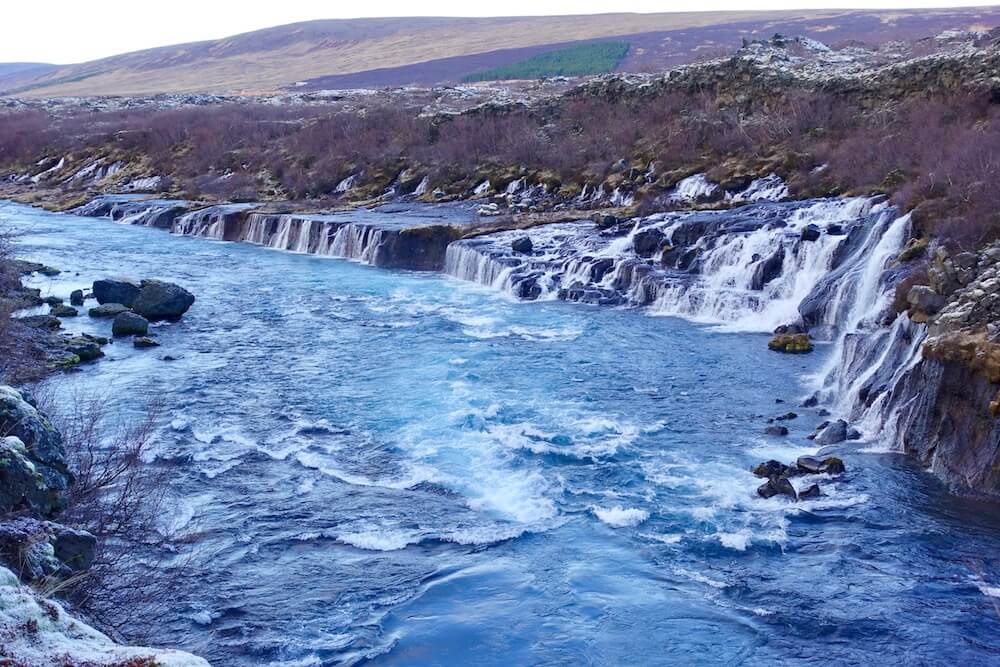 The Hraunfossar and Barnafoss waterfalls are two waterfalls that are located next to each other. Hraunfossar loosely translates to 'Lava Waterfalls' and rightly so; it comprises an impressive succession of water cascading over lava formations, stretching for approximately 1 kilometre. The water descends into the Hvita River, which is a brilliant turquoise in colour.
The waterfall is located in the Hallmundarhraun Lava Field, which is named after a giant rumoured to live in the lava field.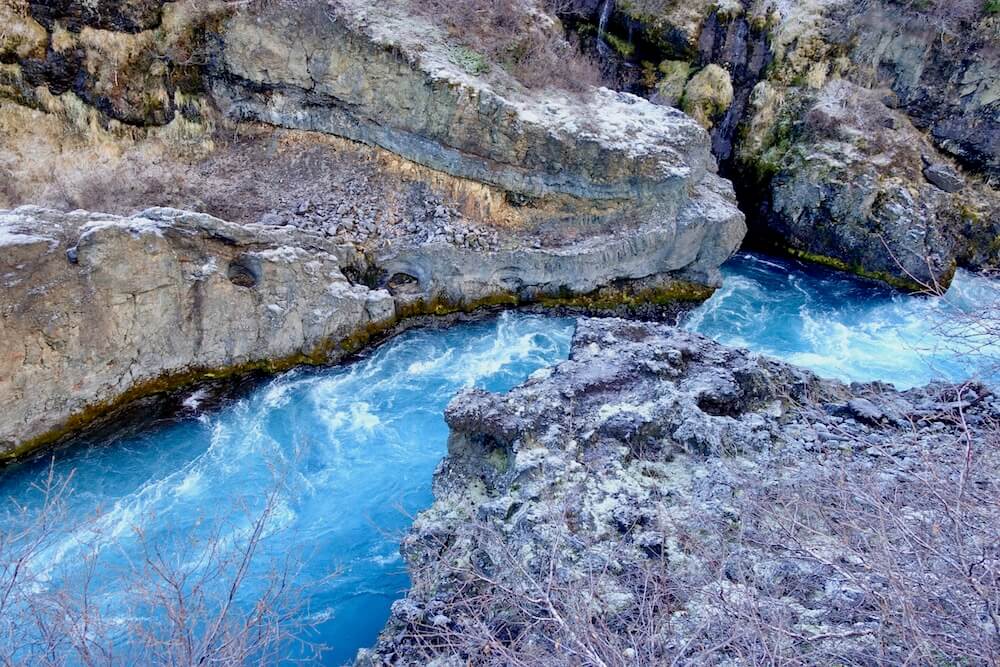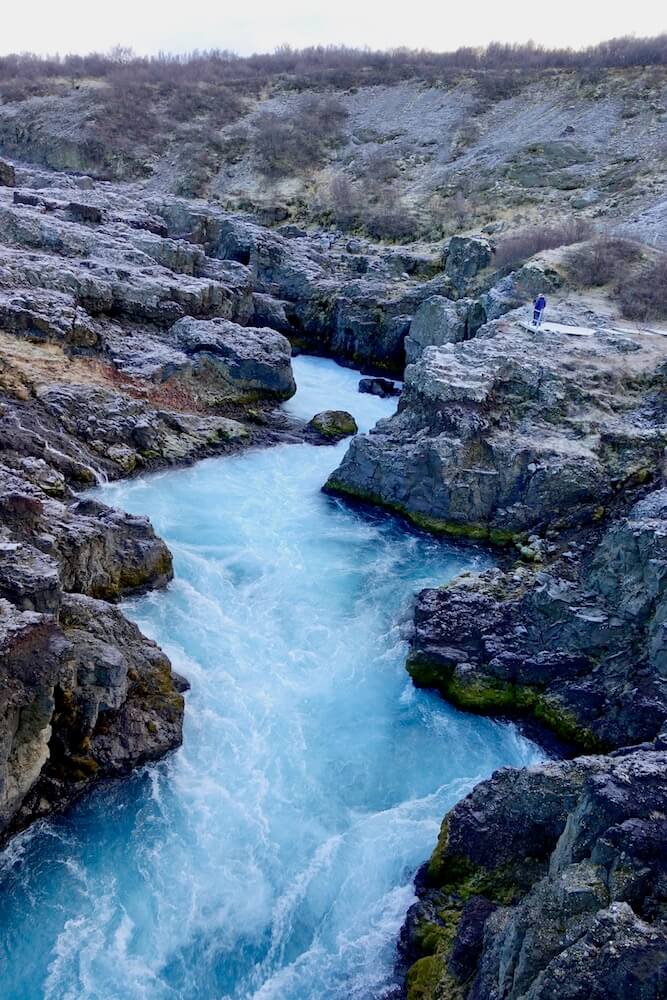 A well-marked path brings you to Barnafoss, which roughly translates to 'Children's Waterfall'. This has a rather sinister legend behind it: a widow lived with her two children on a nearby farm. One day, the mother went out and left the children at home, only to find them missing when she returned. The people searched desperately for the children to no avail; however, footsteps leading up to the stone arch over the river were found. The children were thought to have fallen to their death into the falls and utterly devastated, the mother had the stone arch destroyed to prevent any further tragedies.
Approximate driving duration from Reykjavik: 1 hour 40 minutes
Hraunfossar and Barnafoss can be found in West Iceland.

Read: A 2-Day West Iceland Itinerary

Coming in all shapes and sizes, the waterfalls in Iceland have a certain enigmatic quality that's bound to charm their way into your heart. Which is your favourite one?