← Back to portfolio
How to Spend 2 Days in Bagan
Tinged with a touch of old-world magic, the plains of Bagan are shrouded in mystery and intrigue. When the veil of fog lifts, the silhouettes of over 2, 000 temples and pagodas slowly blur into focus, forming a mesmerising skyline stretching out across the horizon.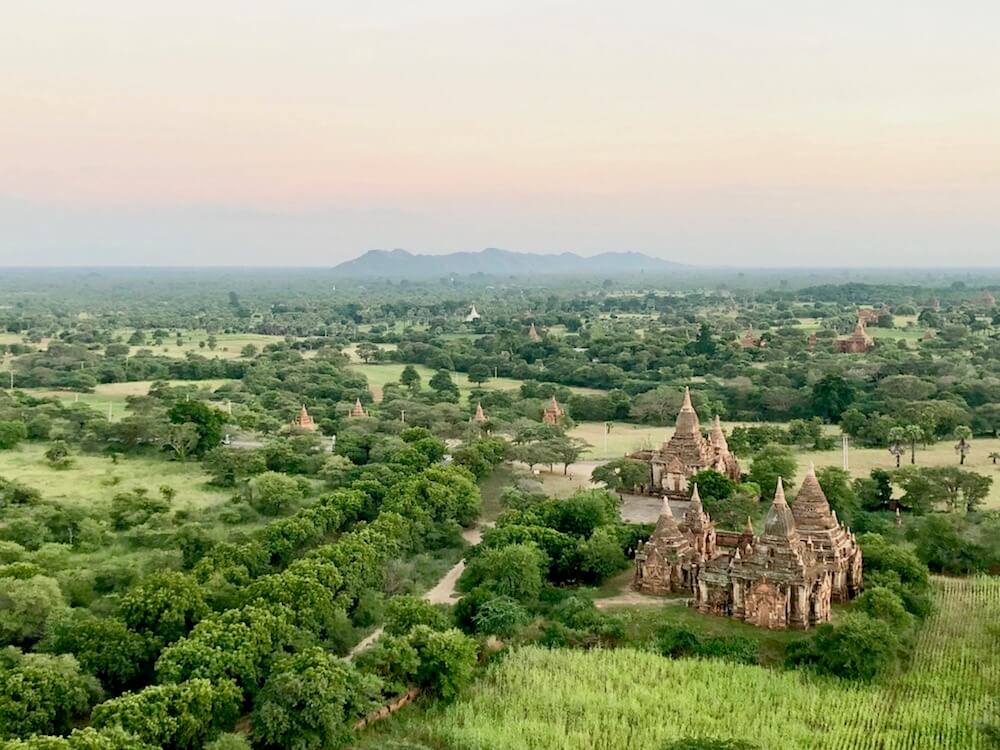 Starting out as a small settlement on the banks of the Irrawaddy River, Bagan was founded in the 9th century. By the 11th century, it flourished into the capital of the Pagan Kingdom and became a major religious centre.
Here's how you can spend 2 days exploring the ins and outs of Bagan:
What to Do
Go Temple-Hopping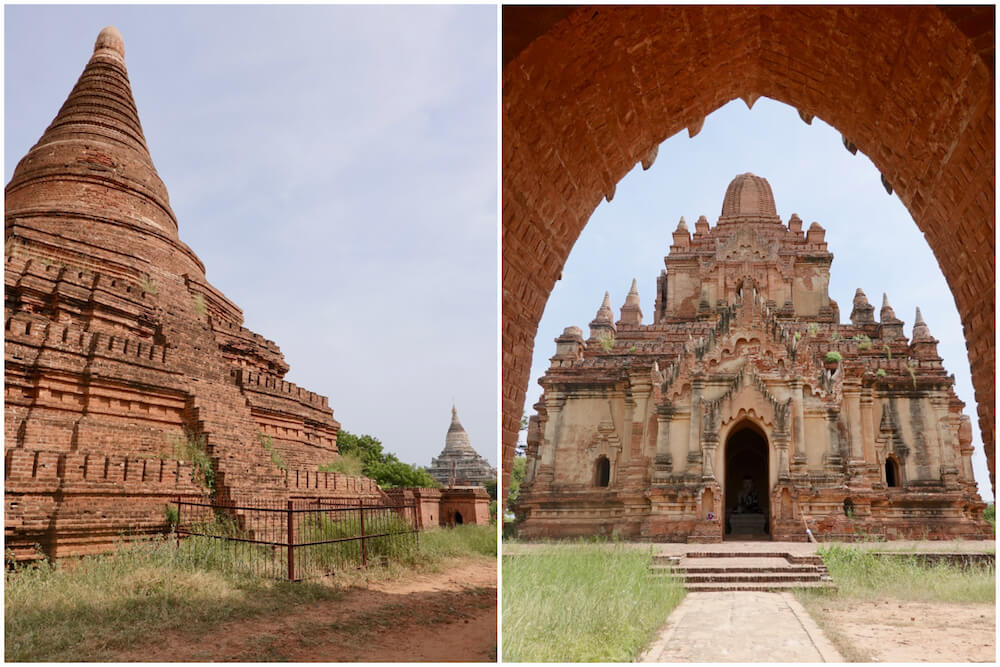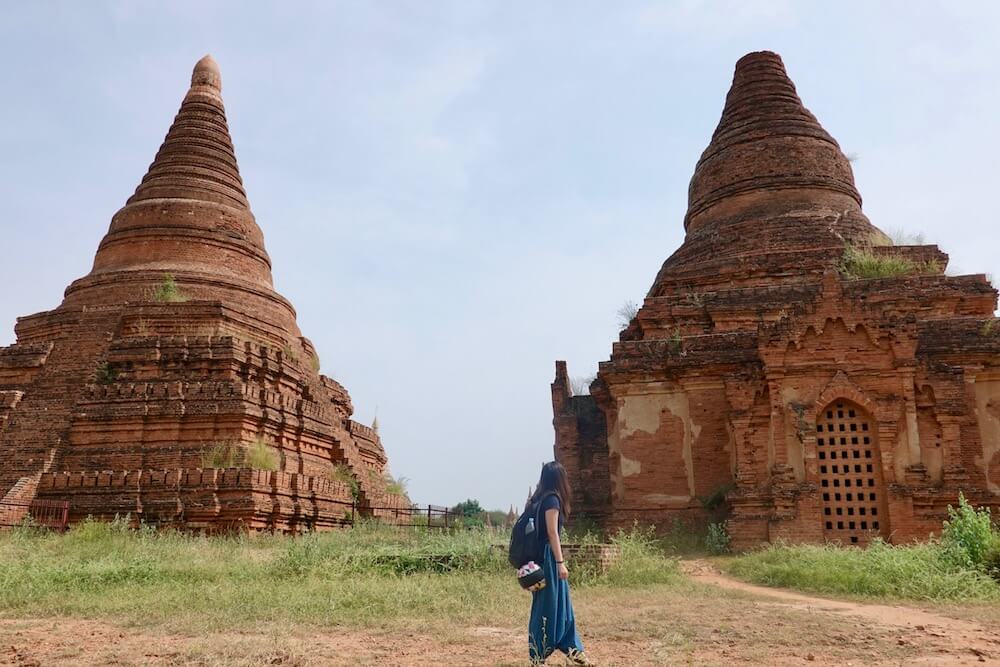 At its peak, Bagan housed over 10, 000 temples and pagodas. However, only 2, 000 of these remain today. Whispered tales of legend surround these structures that are condensed into a 67-square-kilometres compound, offering intrepid adventurers the chance to conduct their very own 'Tomb Raider' saga.
Read: Temple-Hopping in Bagan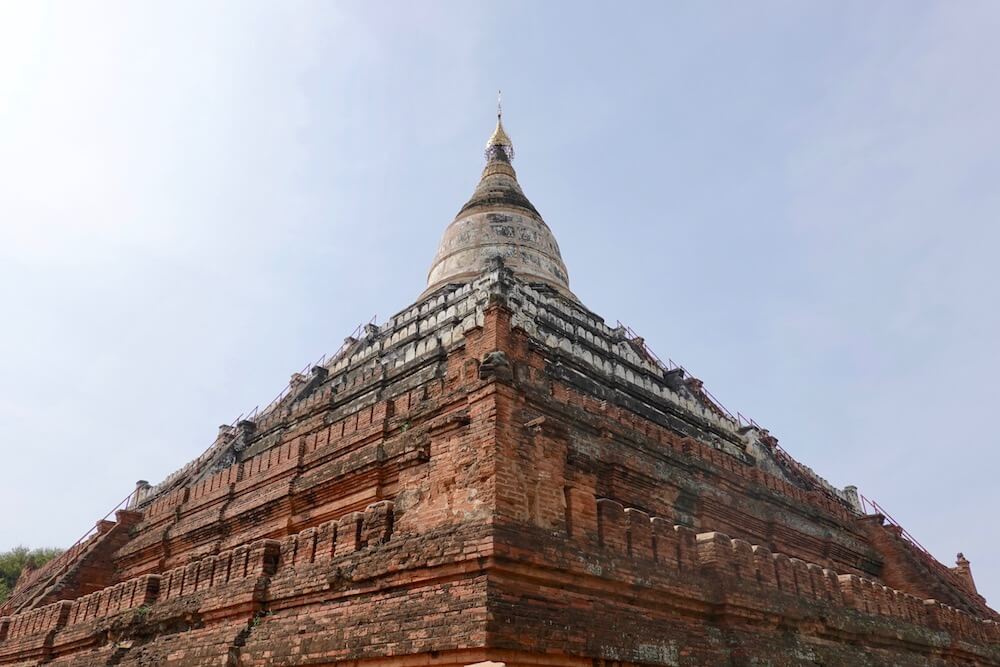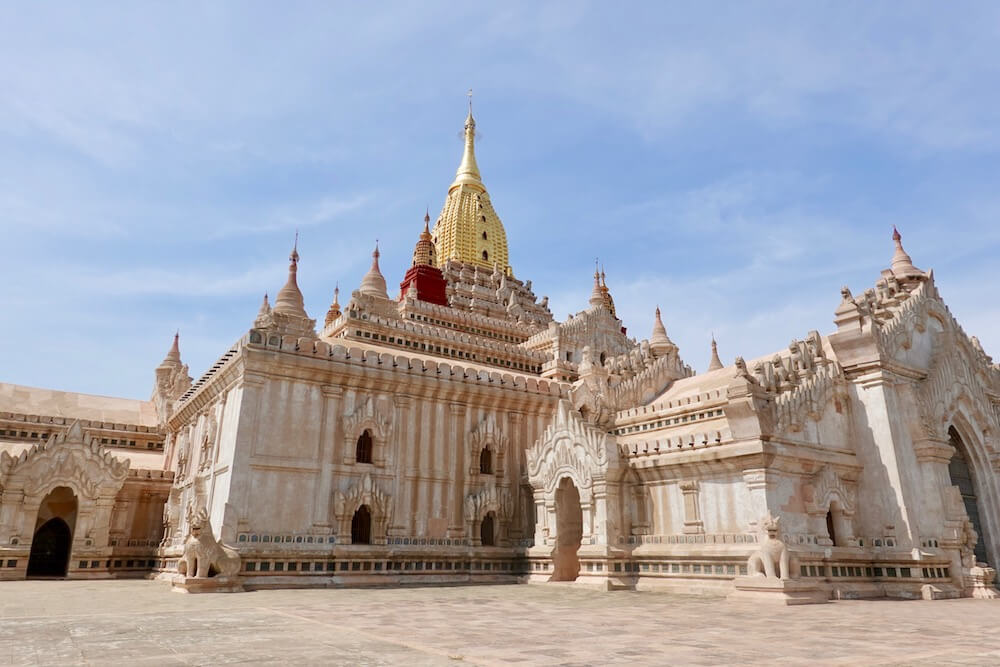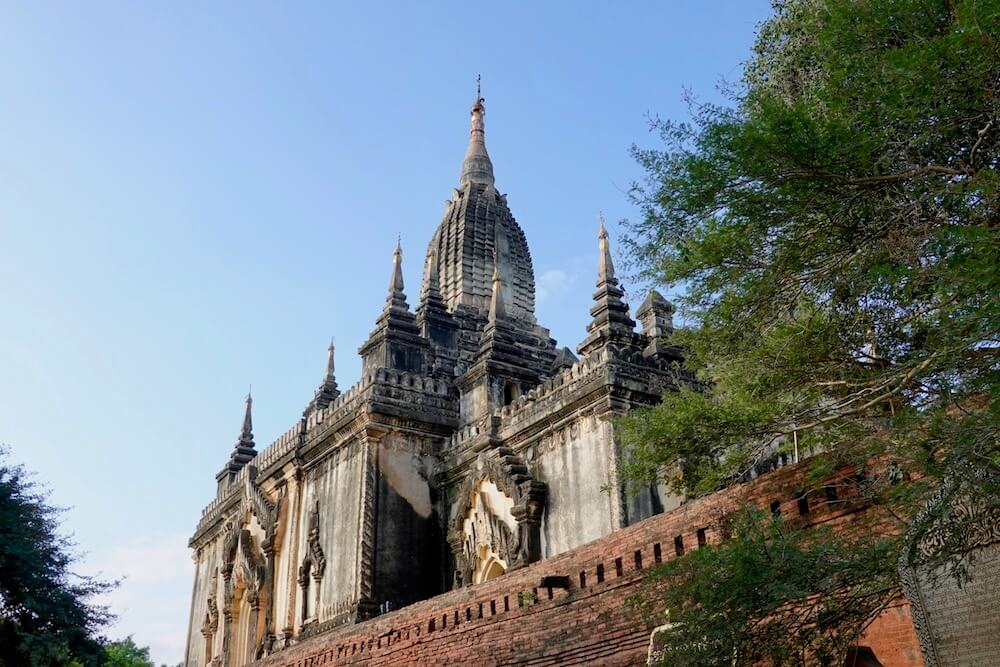 A few must-see stops include the Shwesandaw Pagoda, Shwezigon Pagoda, Htilominlo Temple, Thatbyinnyu Temple, Dhammayangyi and Ananda Temple.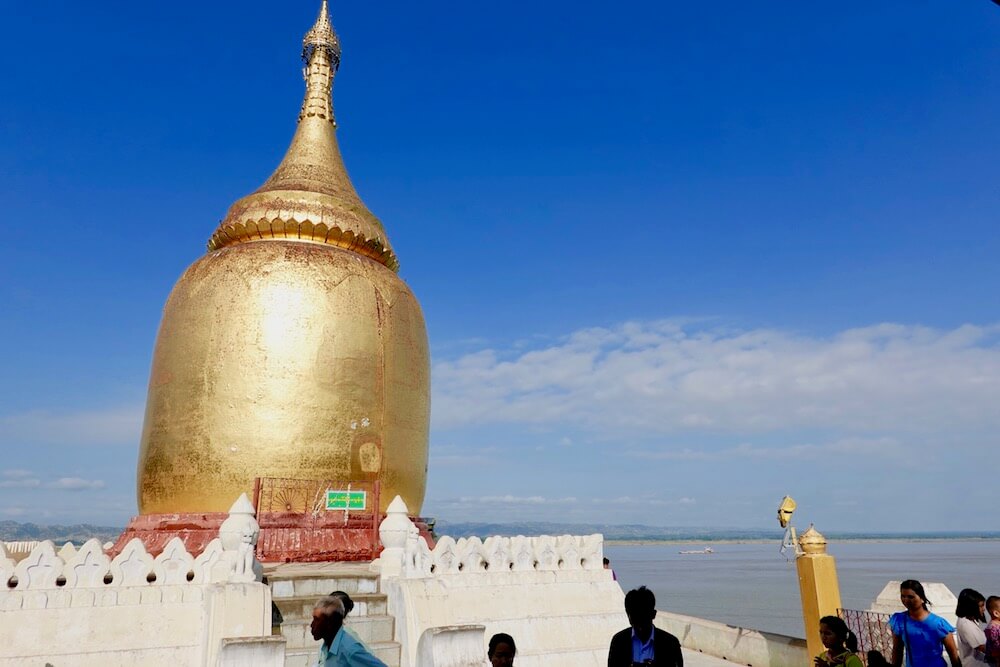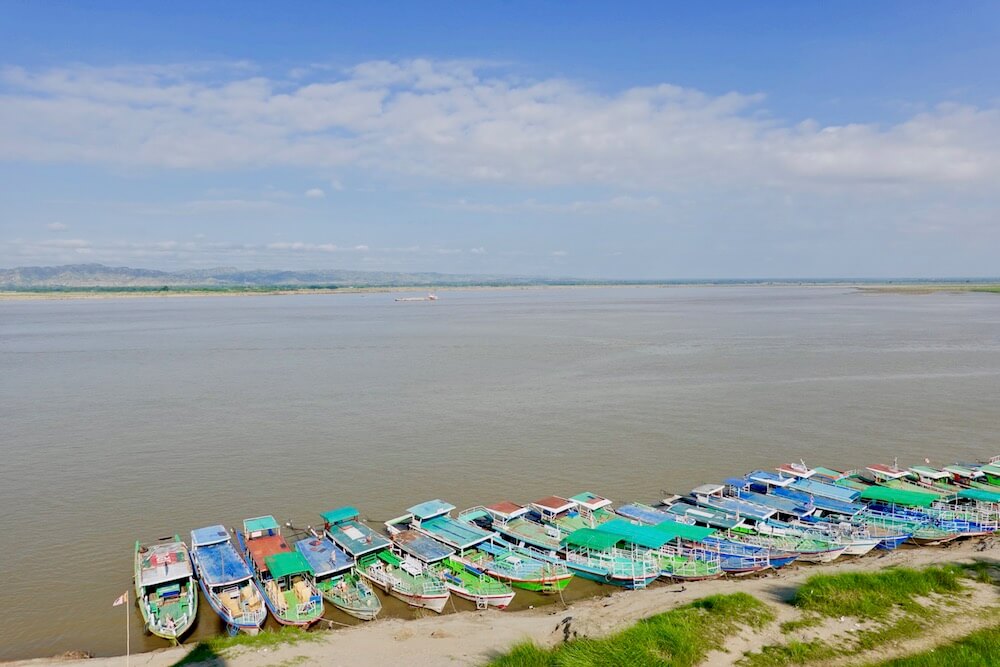 Don't miss out on the unique Bupaya Pagoda, which is situated next to the idyllic Irrawaddy River.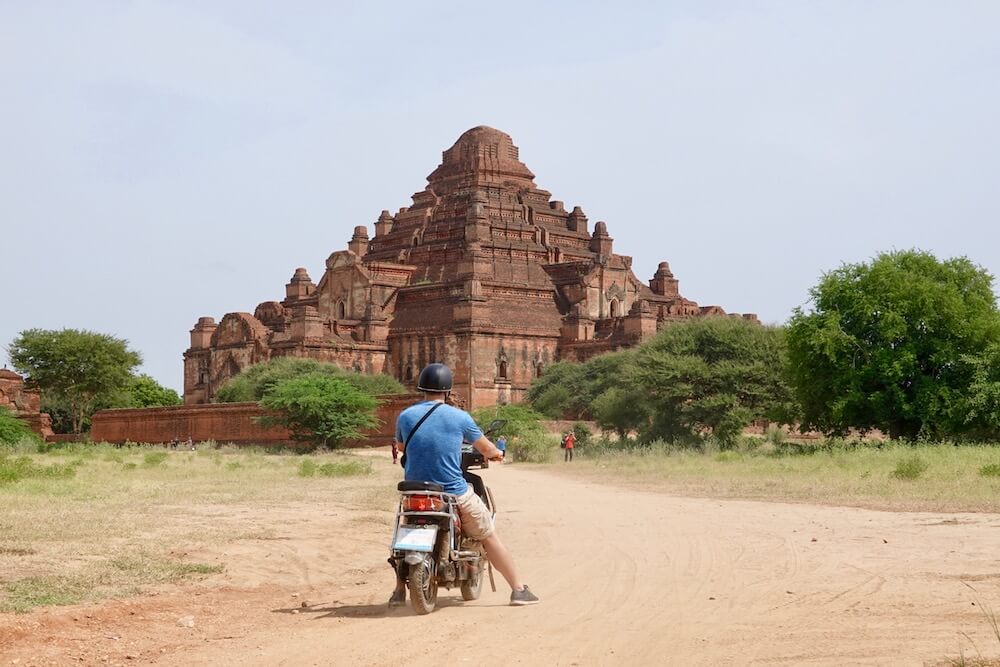 The best way to zip around the archaeological zone is via e-bike, which can be rented for approximately MMK6-8, 000 (~SGD6-8) for a full day.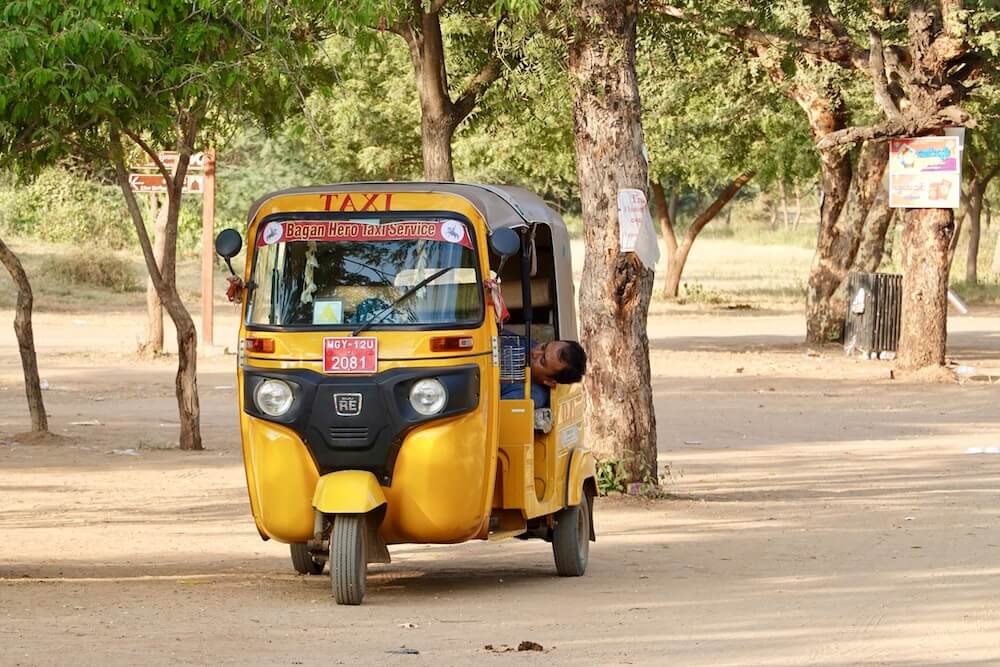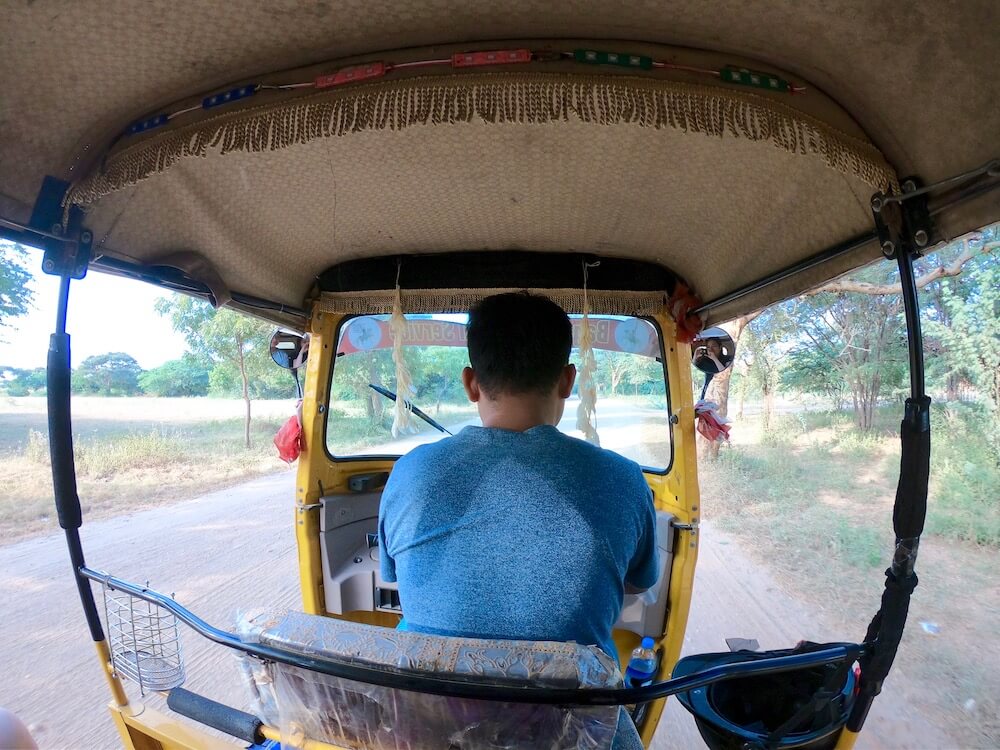 Alternatively, you can also choose to hire a tuk-tuk for the day, where the driver will bring you to the various sites and wait for you while you explore.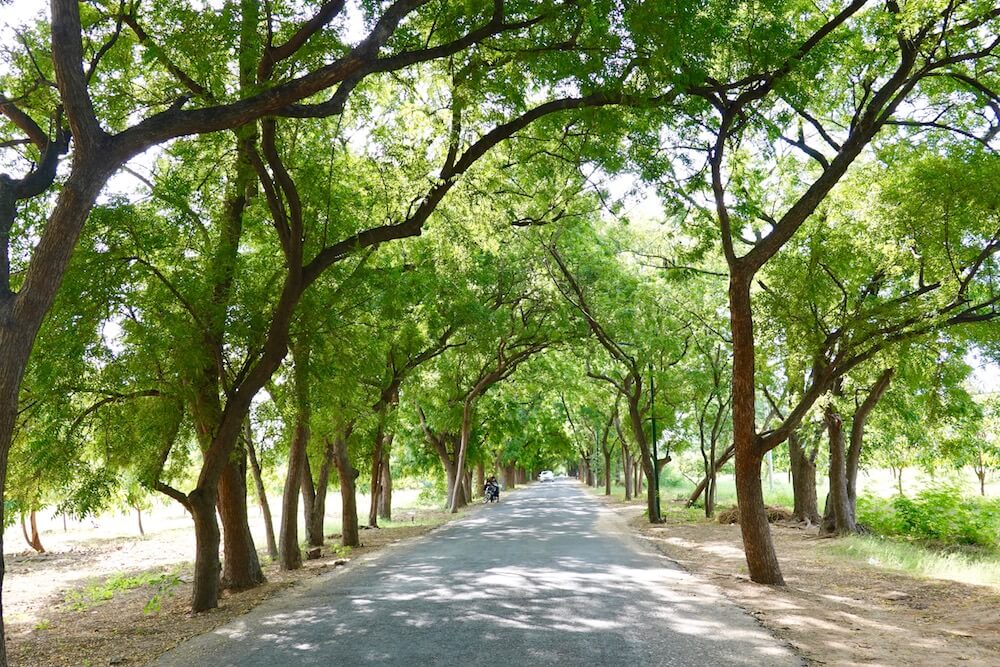 We decided to rent the e-bike for 1 day and hire a tuk-tuk for the other; one of the good things about having a local guide of sorts is being able to visit places that we wouldn't otherwise know of! One example is the gorgeous tree corridor that's pictured above.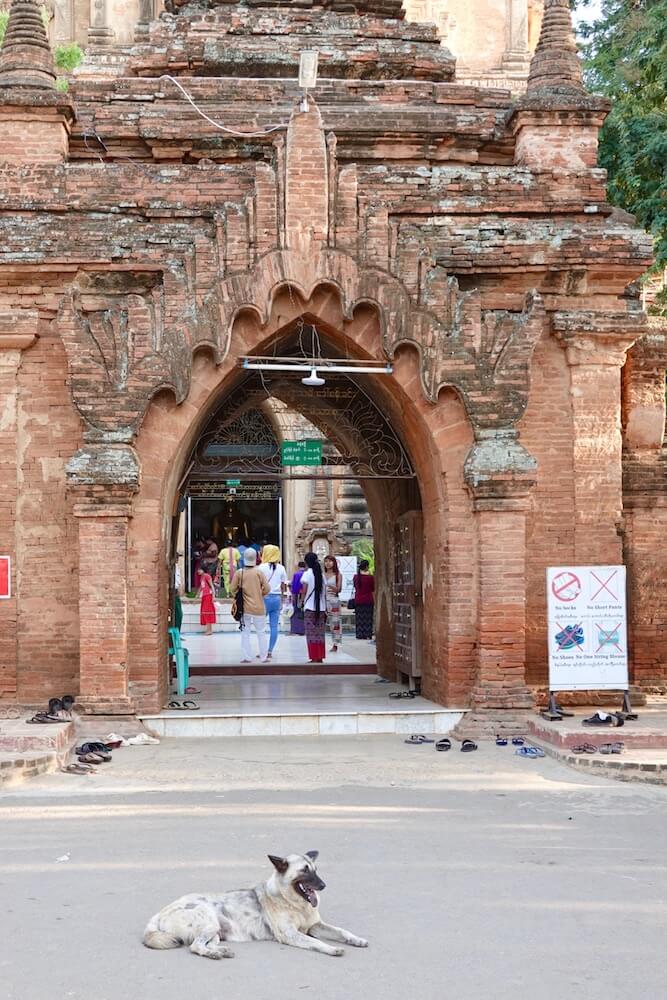 You'll also see plenty of stray dogs in the archaeological zone, some of which even serving as unofficial 'guardians' of the religious structures.
Catch the Sunrise and Sunset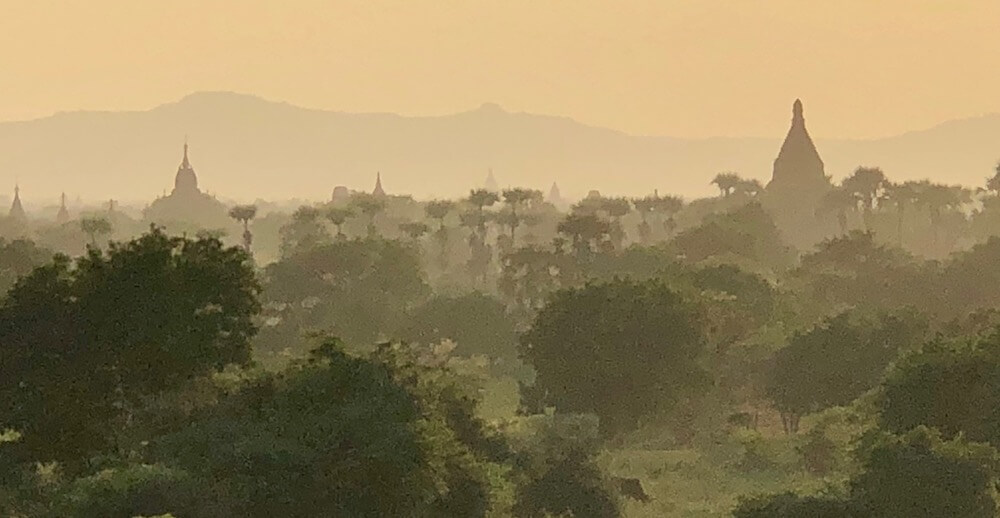 Bagan was designated a UNESCO World Heritage Site in 2019, meaning that all temple climbing – where the outdoor terraces of many temples were previously used as great sunset or sunrise vantage points! – has been prohibited.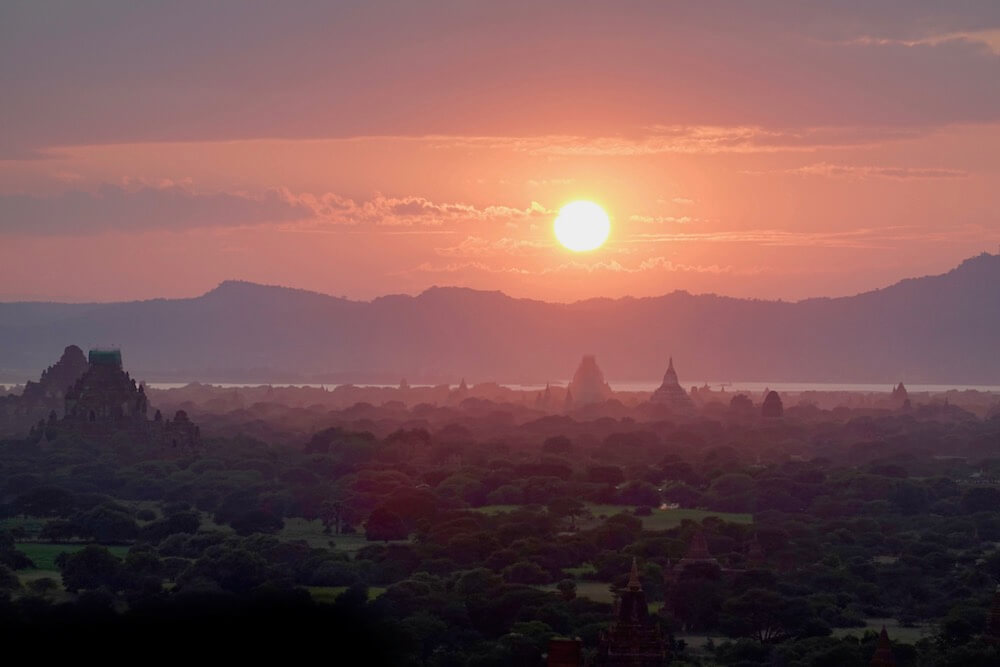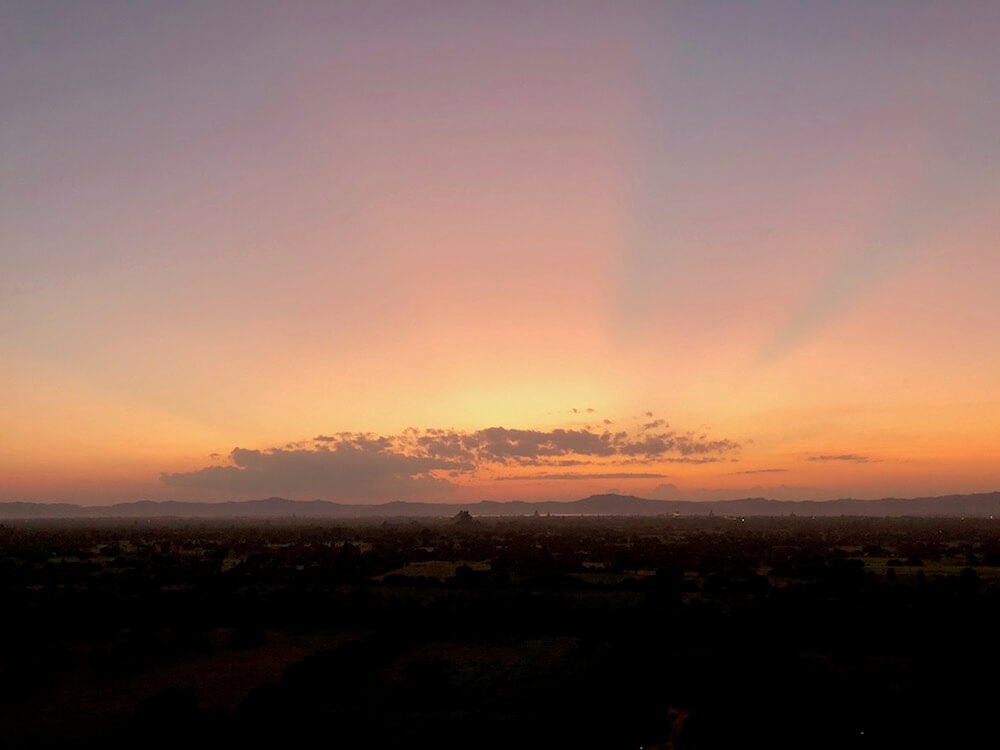 Now, you can either head to places like Sulamani Hill or the Bagan Viewing Tower to catch the sunrise or sunset. 
Read: Where to Watch the Sunrise or Sunset in Bagan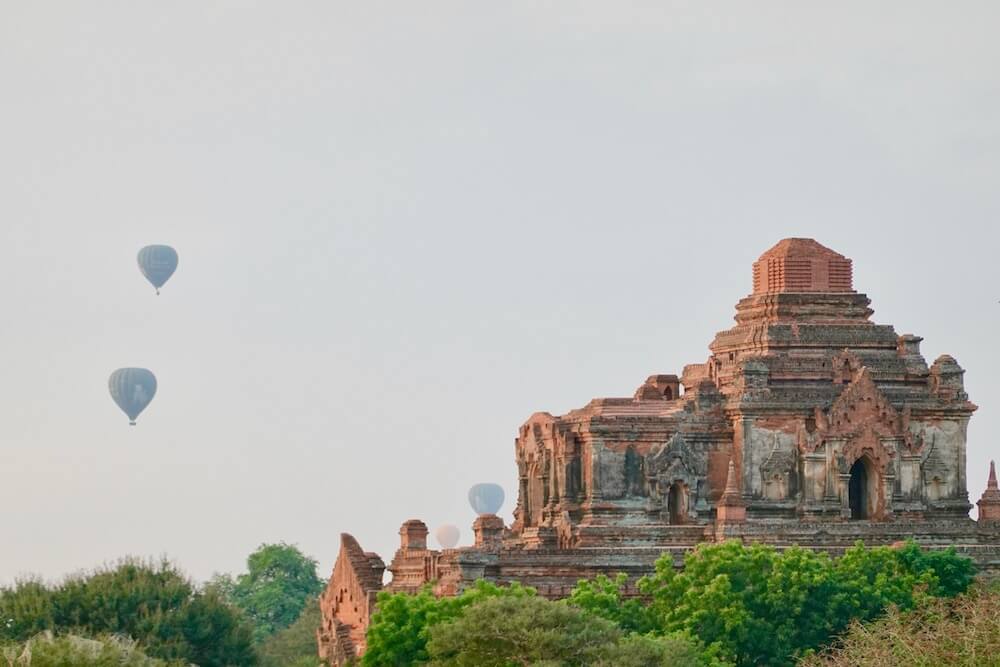 If you'd like, you can even embark on a hot air balloon to soar above the area. However, do note that this activity can be rather pricey!
Where to Eat
Weatherspoon's Restaurant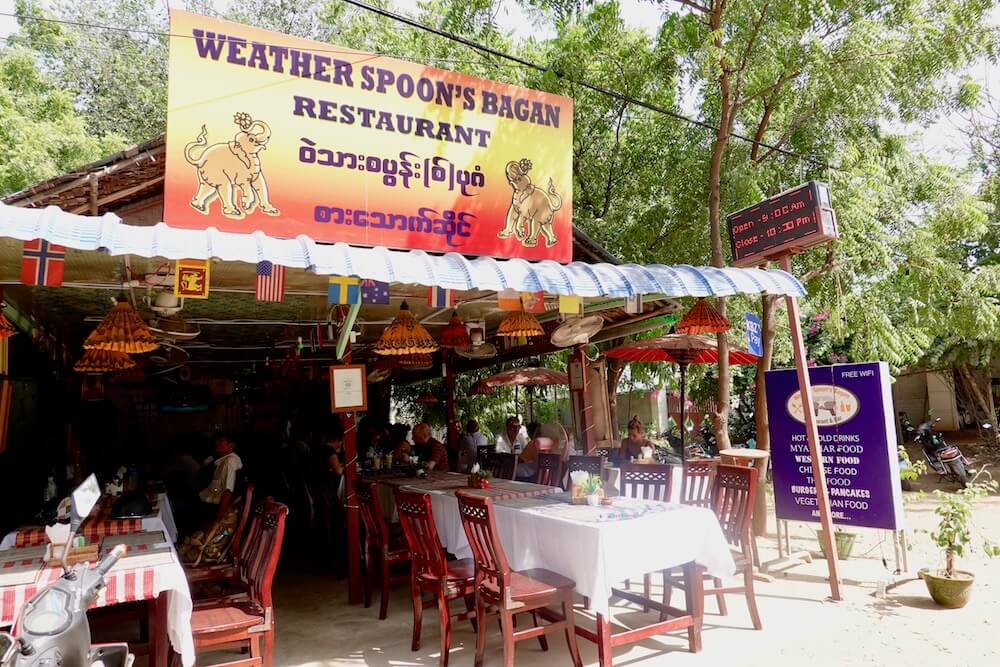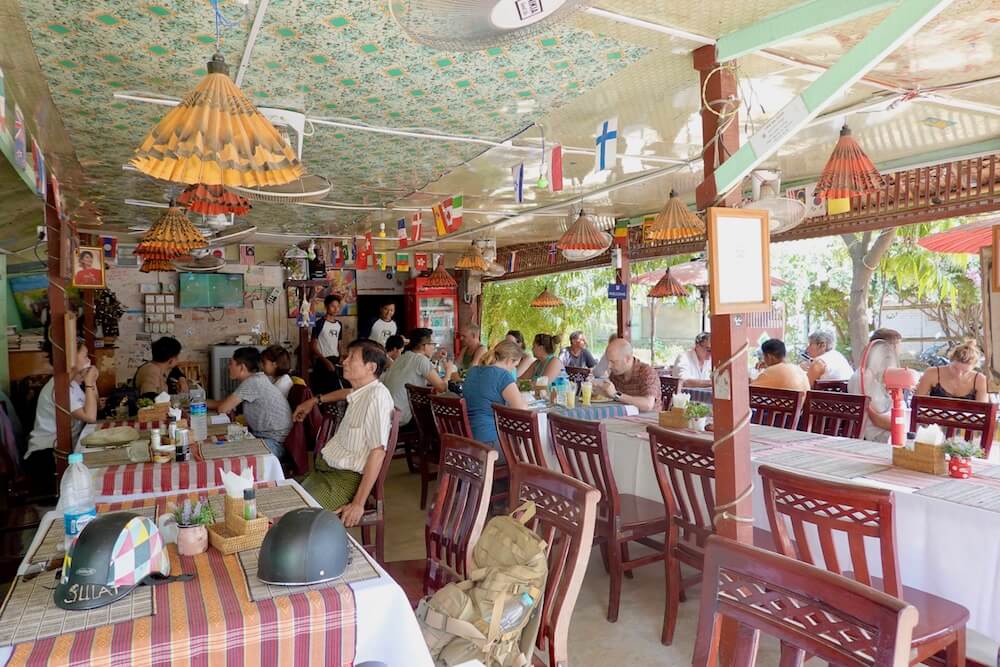 Located in Nyuang U, Weatherspoon's Restaurant is a basic establishment that's popular with backpackers.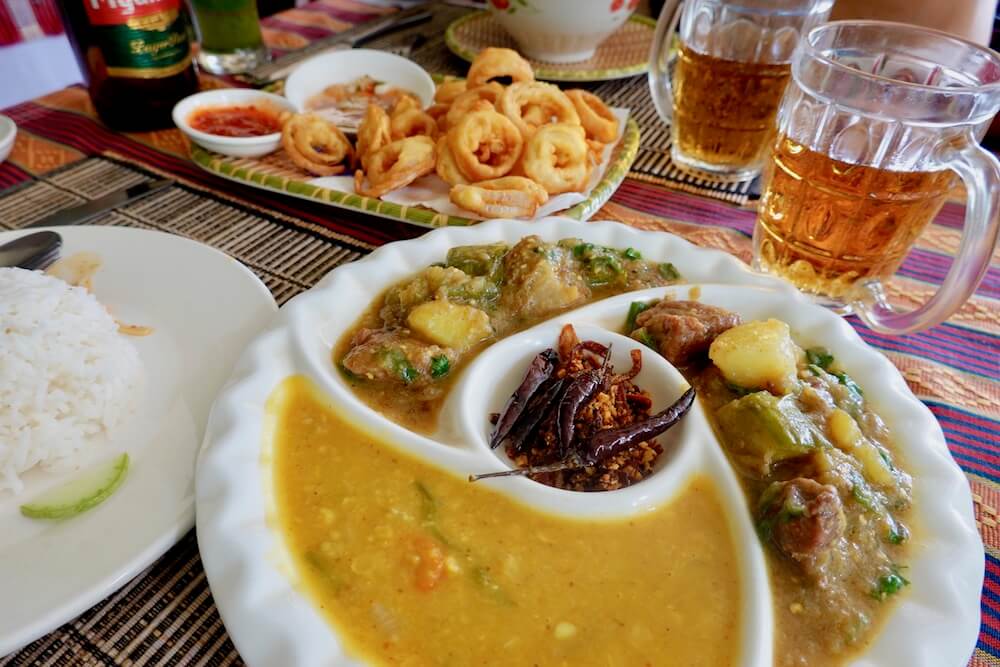 Ask anyone and they'd recommend the burger, which is said to be the best in Bagan. Other than the Western choices, you can also choose from an array of curries and salads.
Address: Restaurant Row, Yarkinthar St, Nyaung Oo, Bagan Myanmar
Opening hours: 9am to 10pm, daily
Delicious Restaurant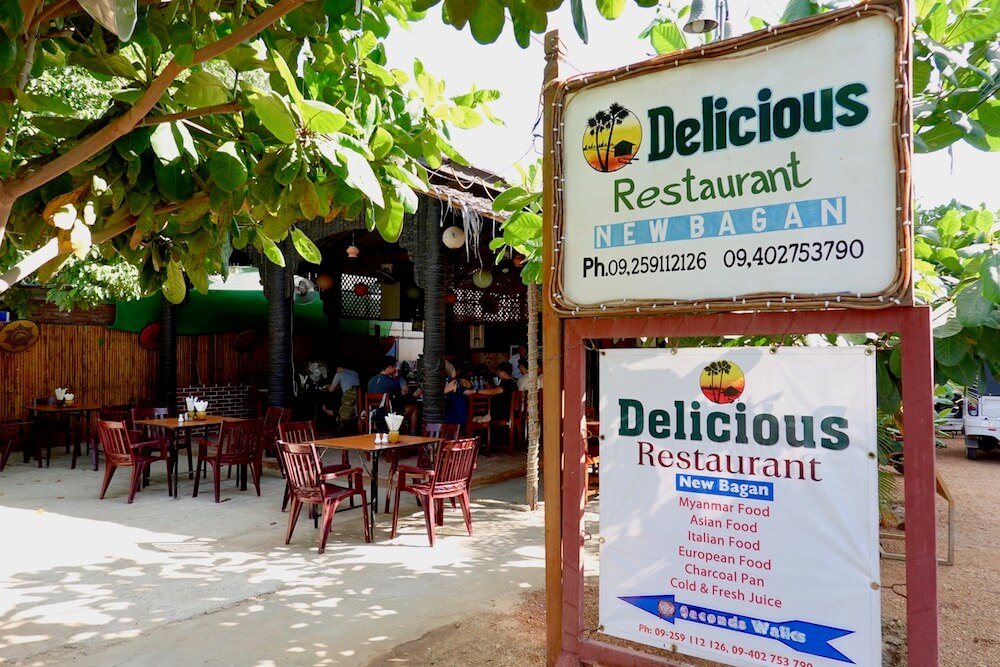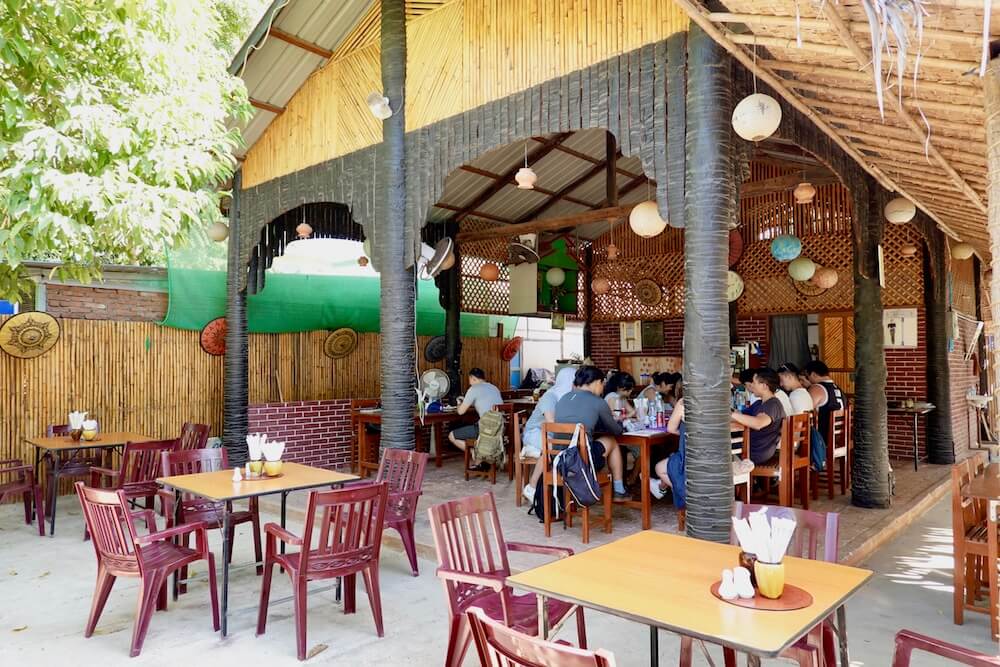 With the word 'Delicious' in its name, it's no wonder that this restaurant's food naturally tastes so good. This restaurant is situated a little further out in New Bagan, but the food is more than worth the trip.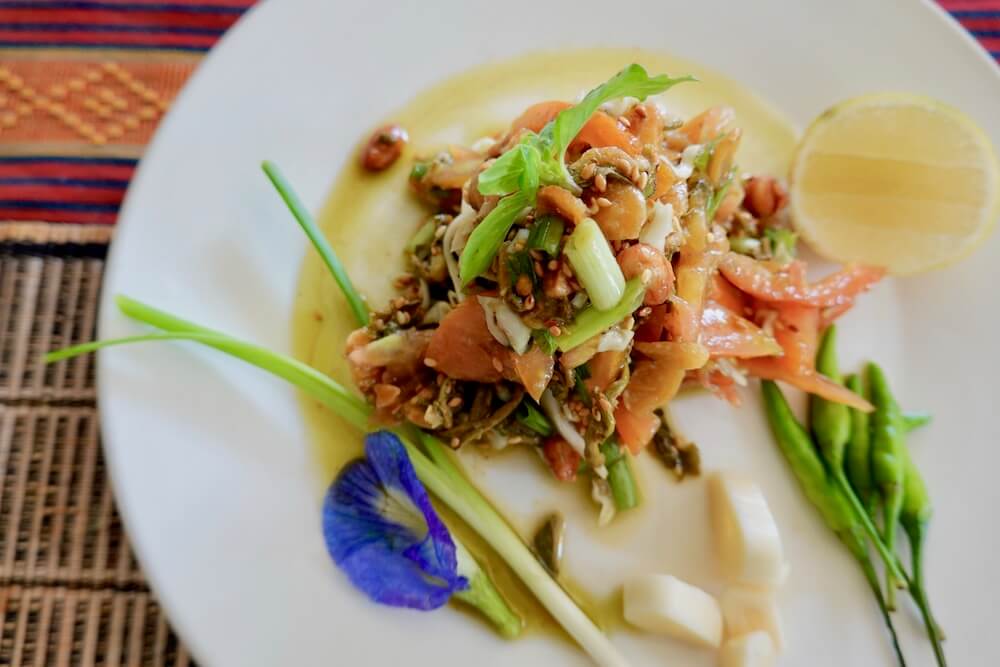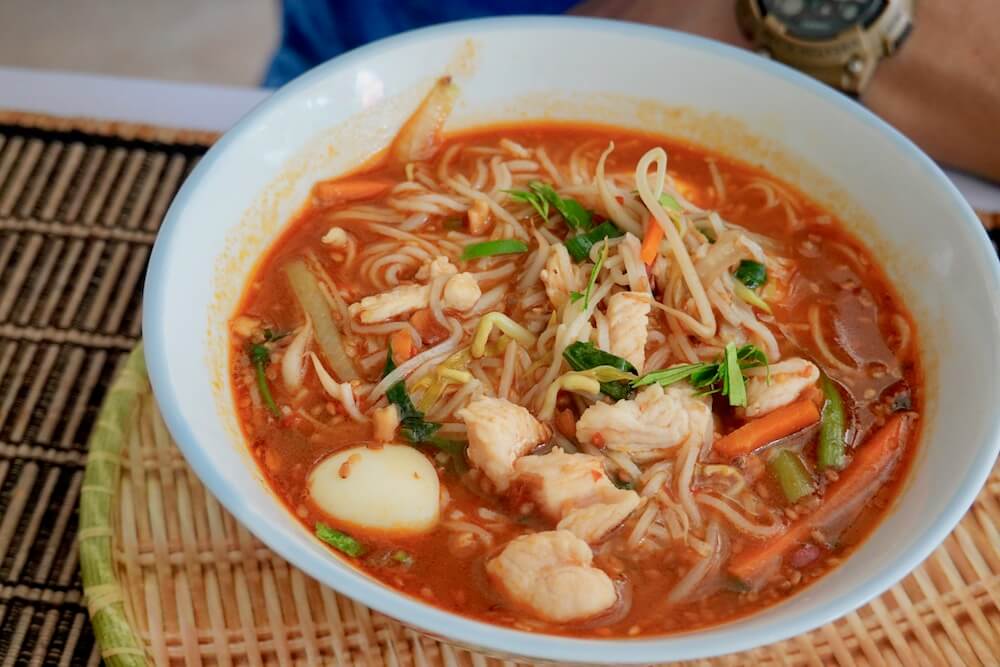 Dig into a crunchy tea leaf salad or slurp up a tasty bowl of Mohinga, a local noodle soup dish.
Address: 3rd Street Behind Ostello Bello Hotel, New Bagan, Bagan Myanmar
Opening hours: 9am to 10pm, daily
Sharky's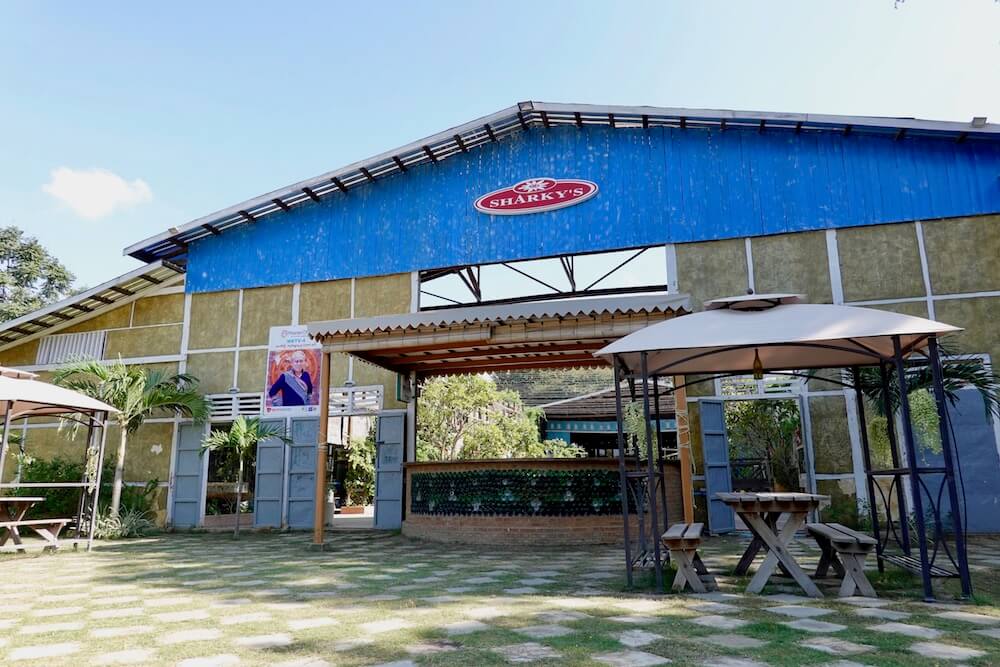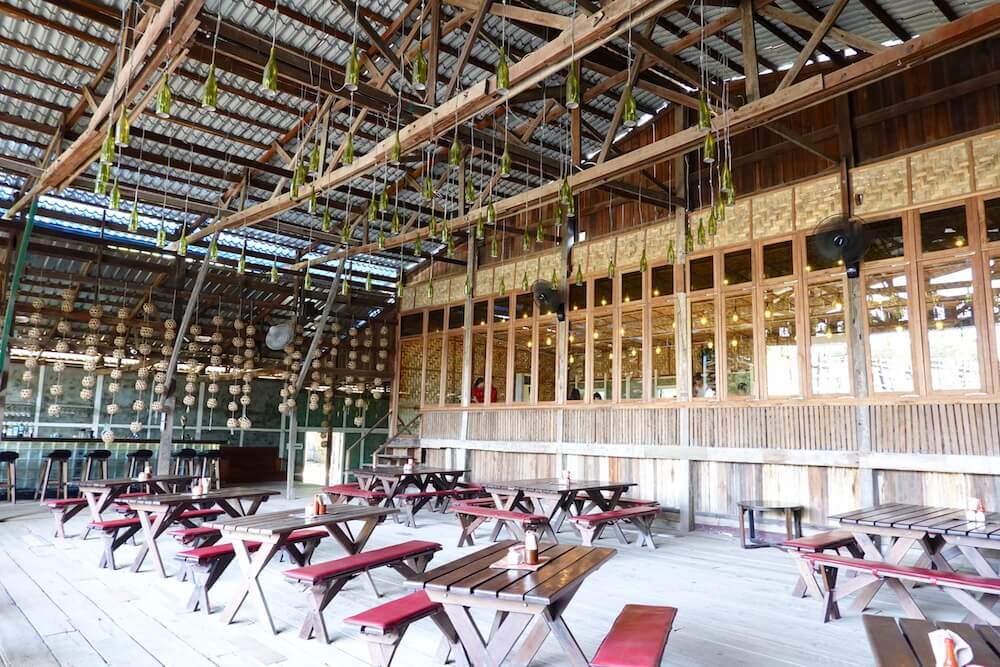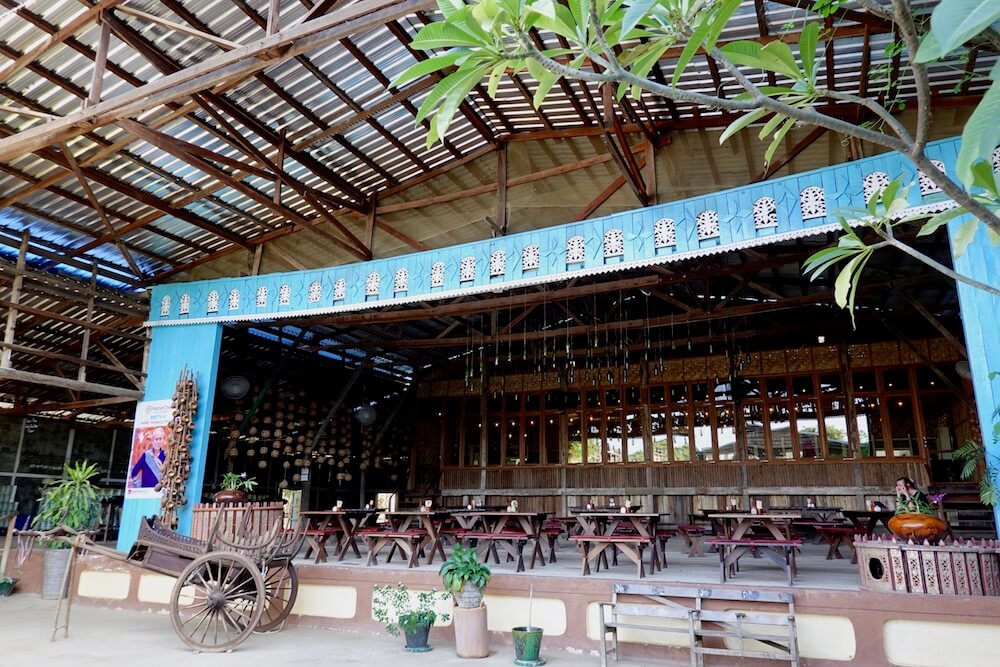 Located opposite the Shwezigon Pagoda, Sharky's is a restaurant uniquely located inside a space that once housed an old cinema. You'll first walk through a nice airy garden before reaching a giant stage, which has now been converted into a seating area for the restaurant.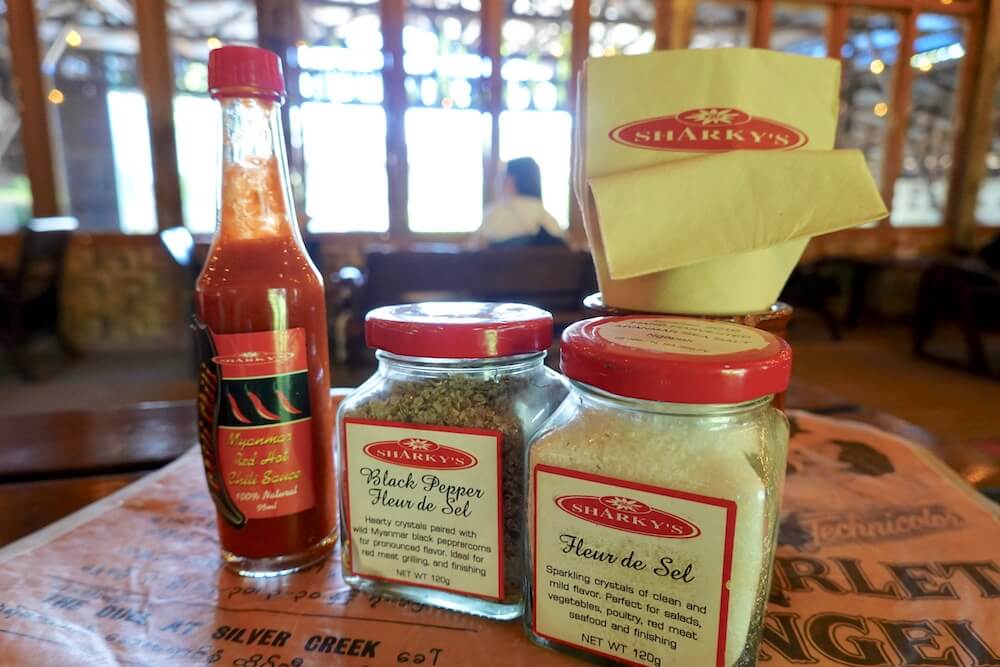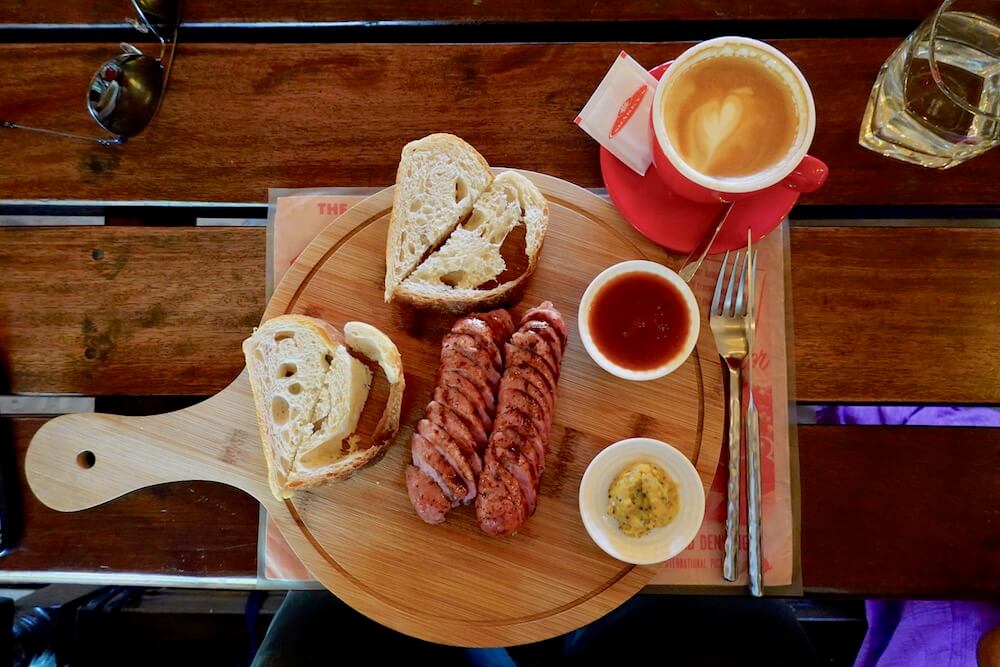 Much at Sharky's is organic and homegrown; for starters, they grow their own herbs, cultivate their own cheese and even make their own bread. Popular dishes include the pizzas, burgers and sausage platter.
Address: Near Shwezigon Pagoda, Nyaung U, Bagan Myanmar
Opening hours: 8am to 10pm, daily
Where to Stay

Bagan is split into 3 main areas: Nyaung-U, Old Bagan and New Bagan. Old Bagan comprises the archaeological zone containing all its ancient pagodas and temples, whilst New Bagan is where most of the locals reside.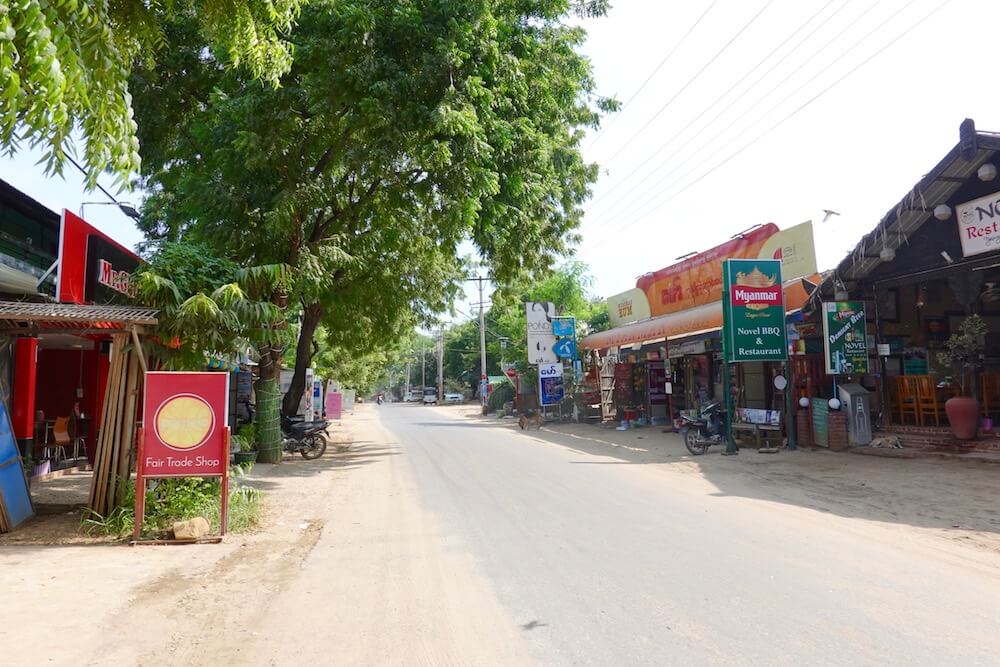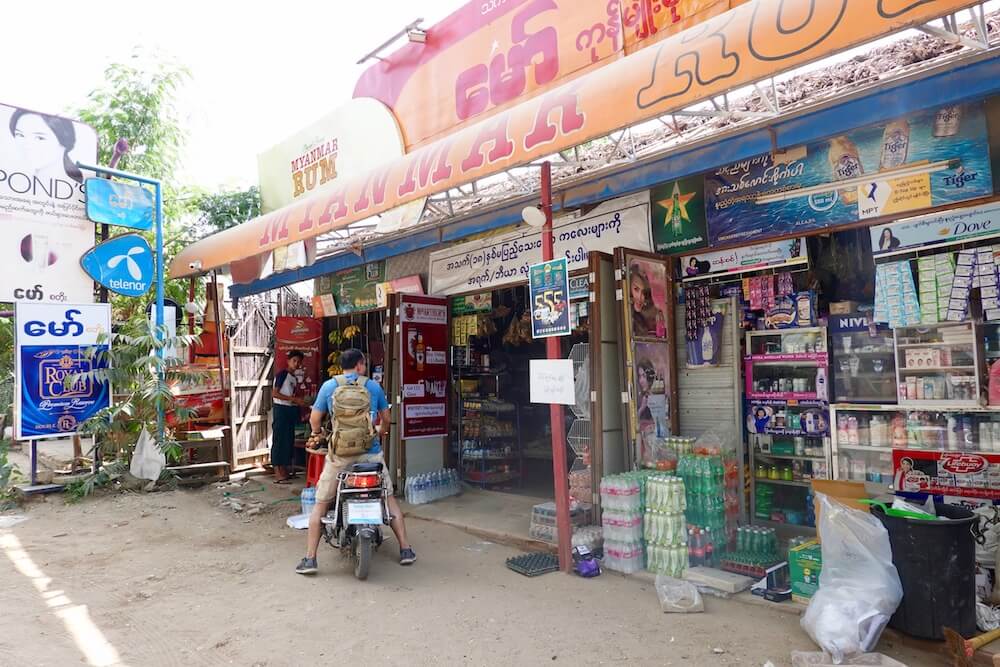 The above picture is of Nyuang U's 'Restaurant Row', home to various restaurants, hostels and convenience stores. Due to this, most people choose to stay in Nyuang-U, where the airport and bus station are also located.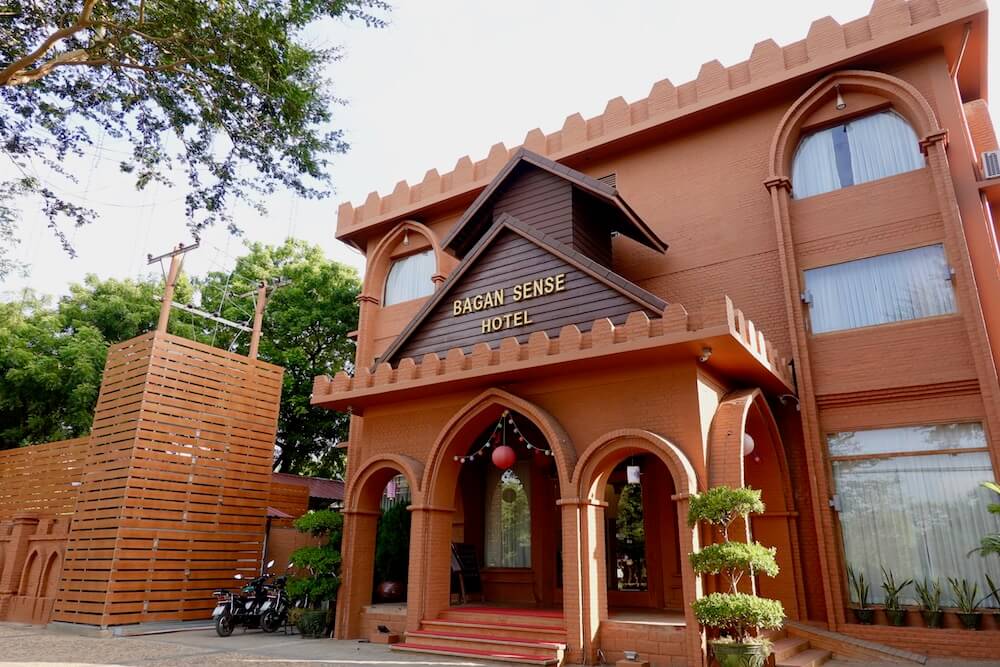 I stayed at the Bagan Sense Hotel, which was located a short drive from the bus station.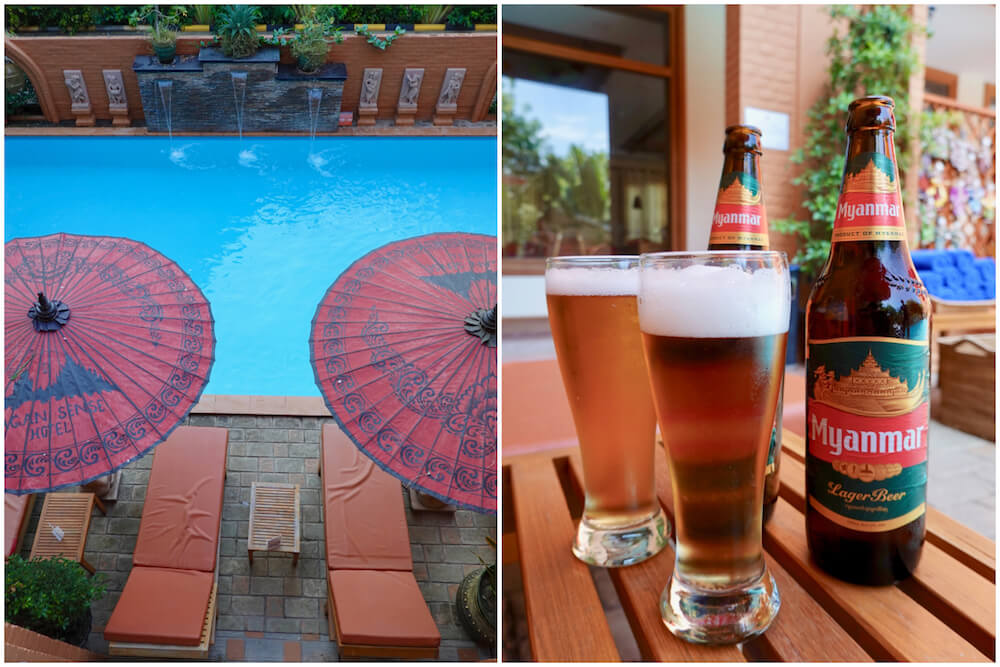 I chose this hotel partly for its pool, which offered some much-needed respite from the mid-day heat.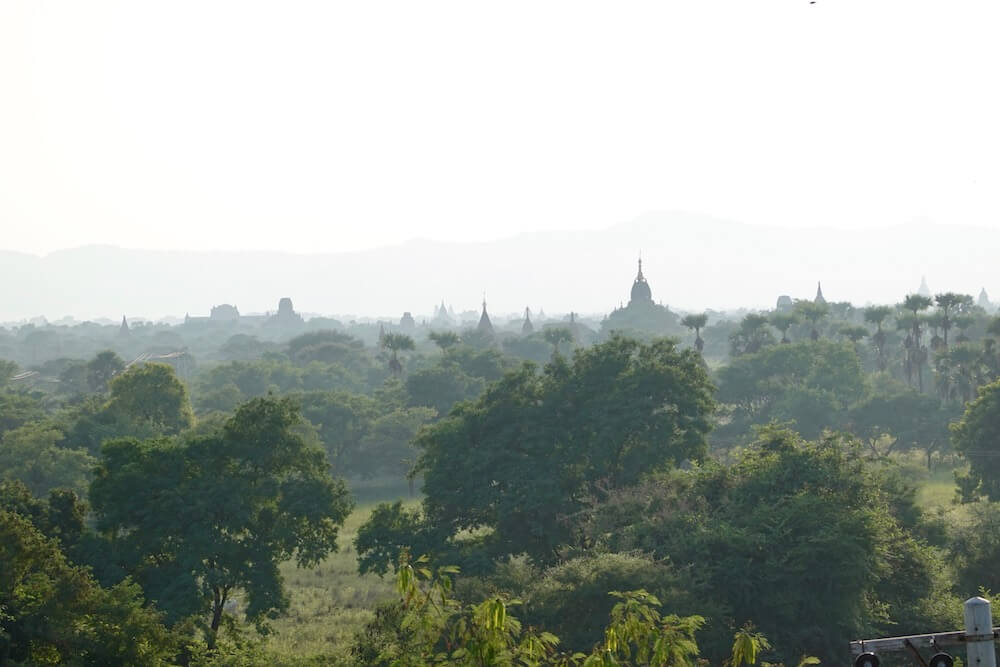 The main draw of the hotel for me, however, was its rooftop terrace – a magnificent sunrise or sunset spot that was just a stone throw's away from my bed!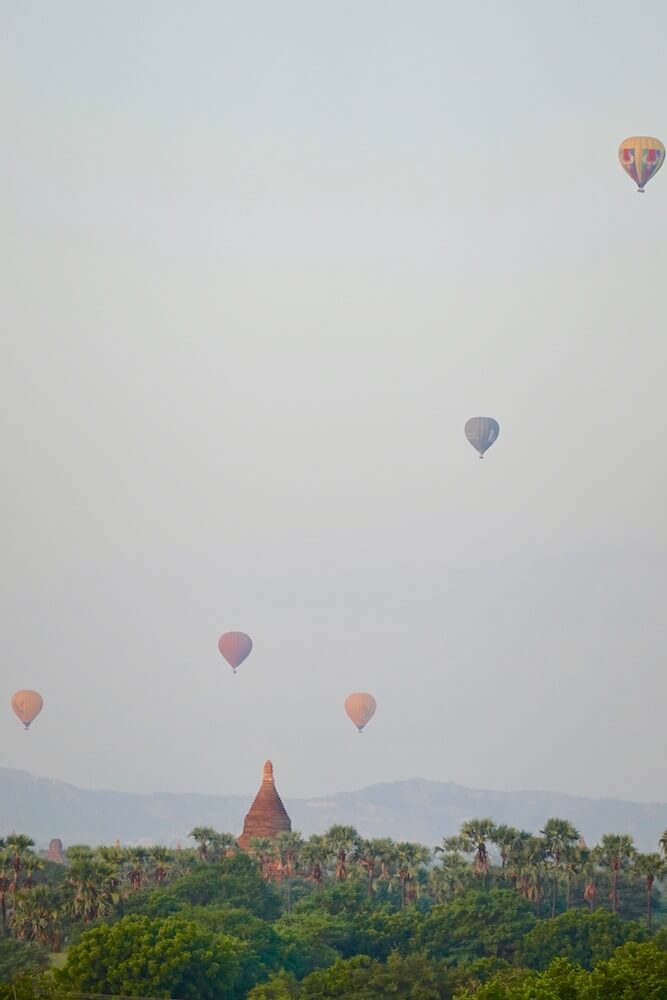 In the morning, you can also see the myriad of hot air balloons that take off every day at dawn.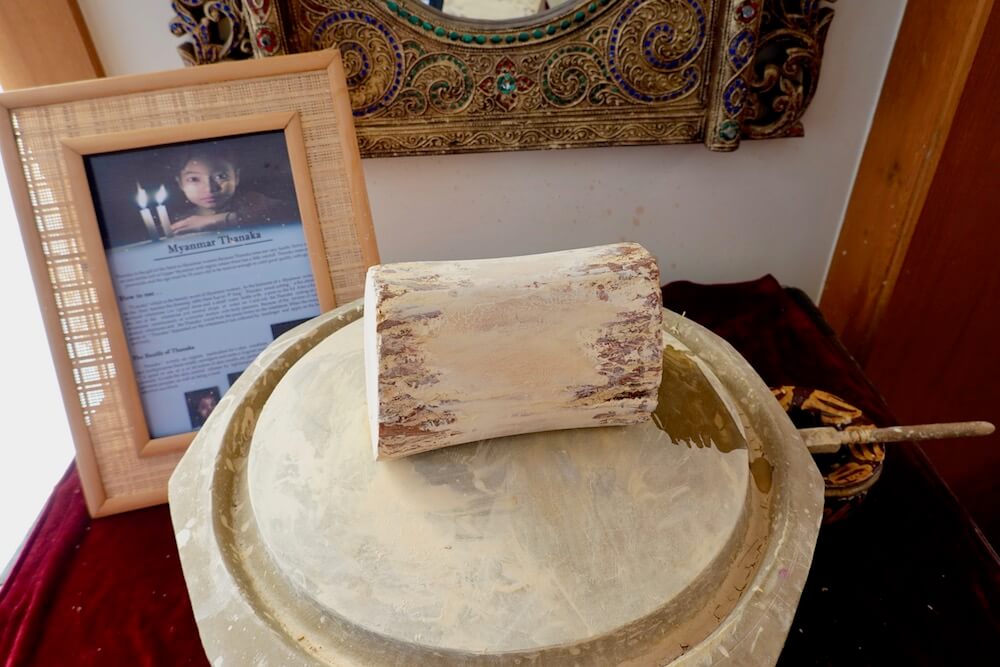 In the hotel lobby, you can also help yourself to some Thanaka for free. Thanka is a substance that's ground from the bark of a tree and mixed with water to form a milky paste, functioning somewhat like a natural sunscreen. Apply this paste generously onto your face, which turns a pale yellow once dry.
Thanaka is used regularly by locals on a daily basis; if you've always wondered what those yellow circles on their faces were, this is it! Filled with nutrients, Thanaka is known to be incredibly good for your skin. Try it and see for yourself!
From Bagan, you can choose to take a leisurely 4-hour boat ride along the Irrawaddy River to Mandalay. Otherwise, you can also take a 10-hour overnight bus ride from Bagan to Yangon.

Read: Taking an Overnight Bus from Yangon to Bagan

Add a comment