← Back to portfolio
Marvel at the Wonders of Pamukkale, Turkey
Pamukkale translates to 'cotton castle' in Turkish – and that's exactly what this marvellous site in Turkey looks like. Just imagine: a stunningly surreal scene of gleaming white terraces containing aquamarine pools of water, with long shreds of travertine cascading down from the shallow cliffs.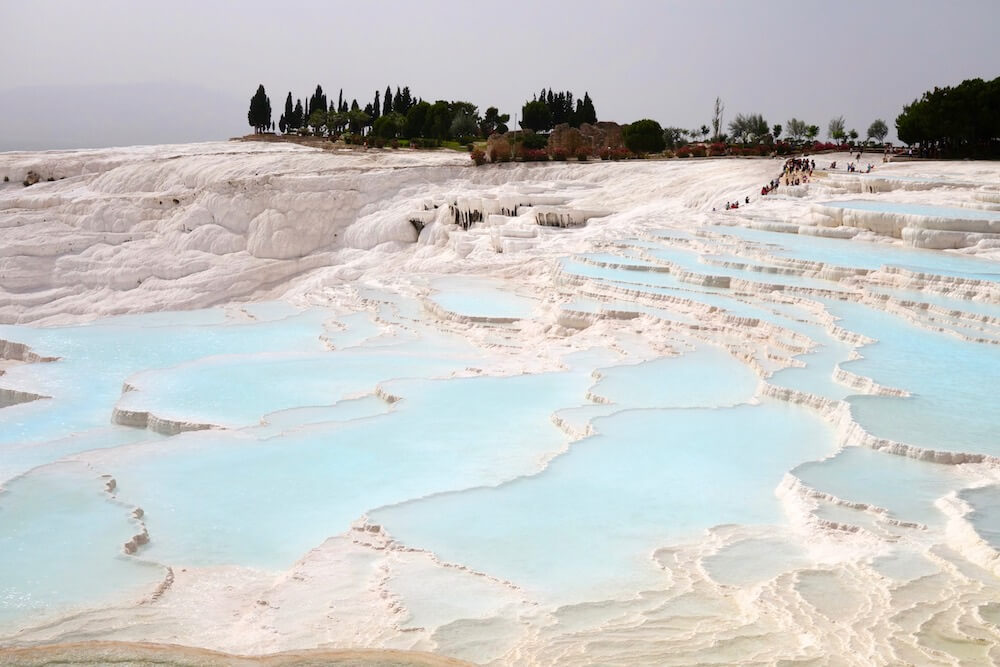 It's this travertine that gave rise to the 'Cotton Castle' nickname; travertine is a sedimentary rock that has been deposited by hot springs in the area, which contain water saturated with calcium carbonate. As the steaming pools emit heat and carbon dioxide, calcium carbonate deposits are left behind, eventually hardening into a white stone called travertine.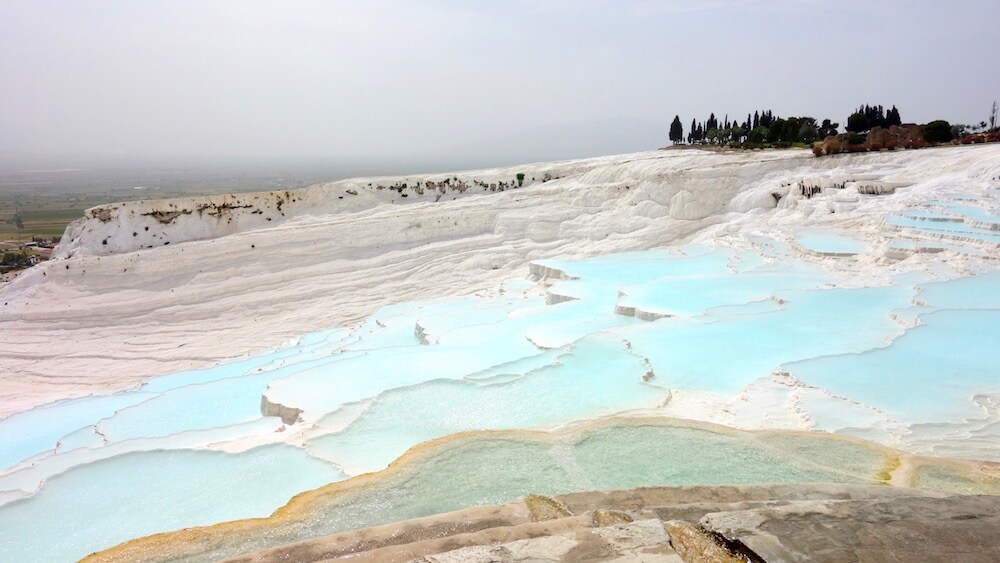 Welcoming up to 2 million visitors a year, Pamukkale is one of the world's natural phenomena that have unfortunately suffered the brunt of mass tourism.
In the 1960s, multiple hotels were built in the area. The hotels drained the pools' thermal water for their own use, causing the terraces to turn a murky brown. Thankfully, UNESCO put a stop to this in 1988 by declaring Pamukkale a UNESCO World Heritage Site. The hotels were demolished and moved to another site, with strict protocols for development in Pamukkale still in place today.
It might still be some time before the terraces are restored to their former glory but now, tourists are able to witness this marvellous sight for themselves without any external interference! To preserve the pools, visitors aren't allowed to wear footwear when stepping on the terraces. It's thus best to bring slippers or sandals that you can easily remove and carry around in a bag. Do tread with caution, however, as the travertine can make the floor rather slippery at times. You might also encounter running water in some places as well as sharp pieces of limestone.
There are also no lockers to store your belongings; do note that you'd have to carry whatever you have with you at all times. Don't forget to bring along a pair of sunglasses – the brilliant white terraces can be quite glaring in the sun!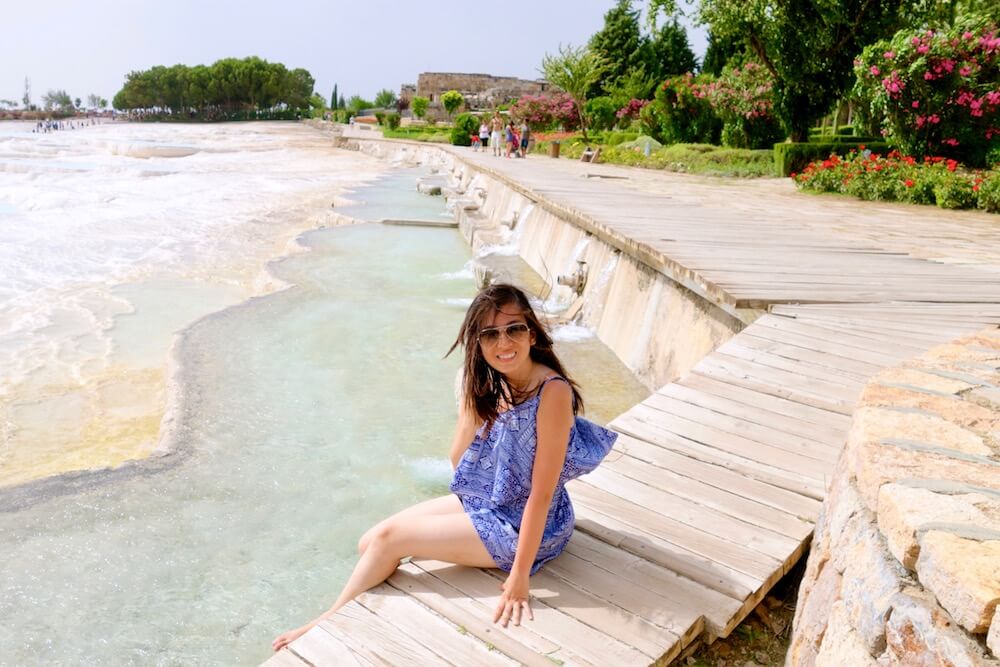 Visitors have to follow a set pathway, along which are a few shallow pools where dipping is permitted.
Locals wax lyrical about the healing properties of the pools; due to high mineral content, the water is reputed to cure all kinds of ailments, especially of the circulatory and digestive variety.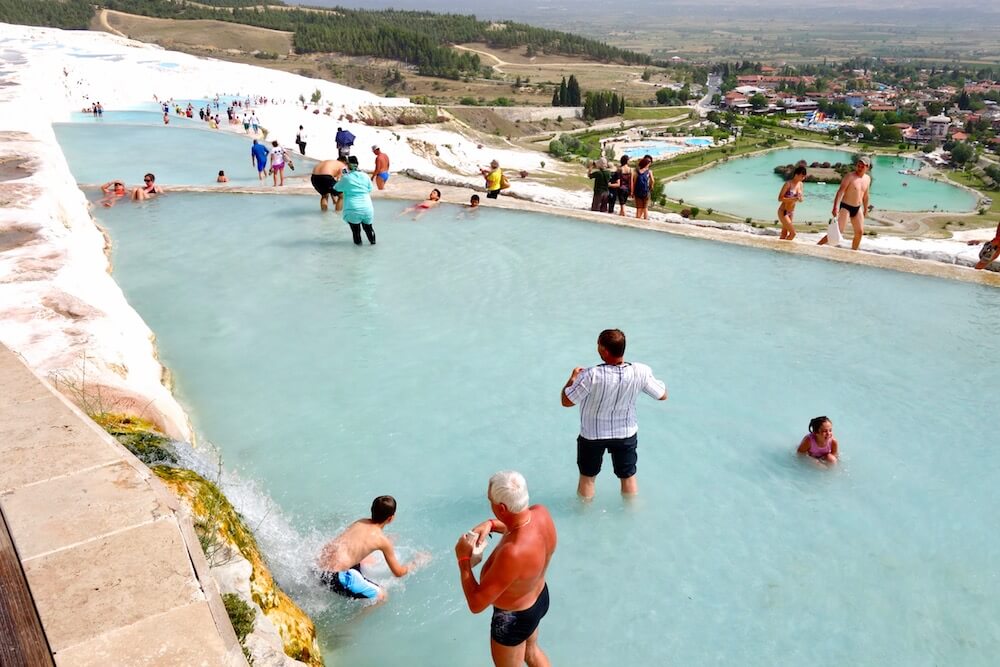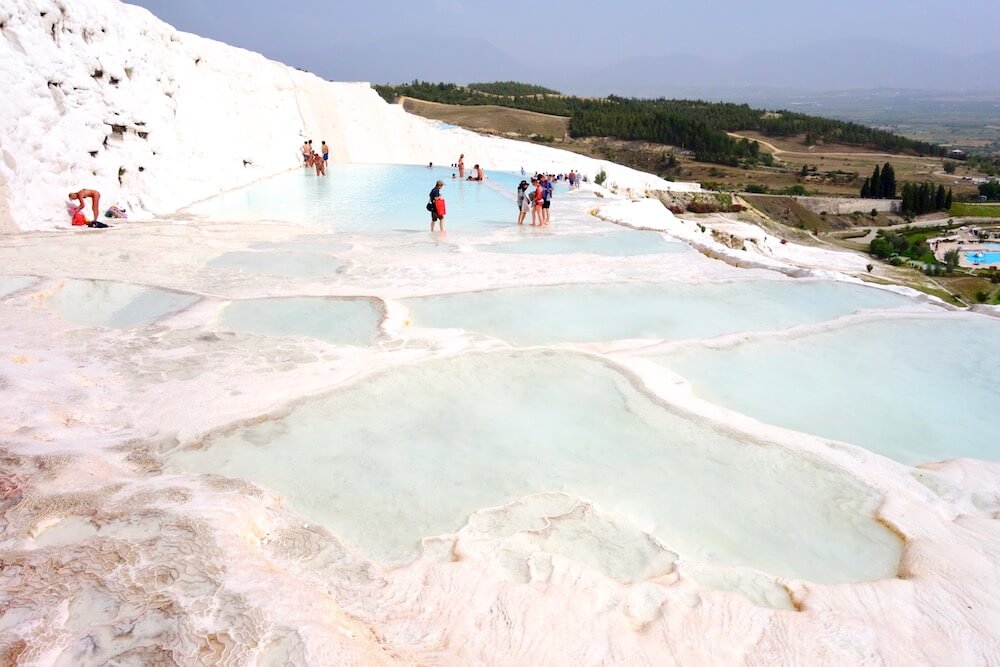 Pamukkale welcomes around 2 million visitors a year, causing the pools to get increasingly crowded throughout the day.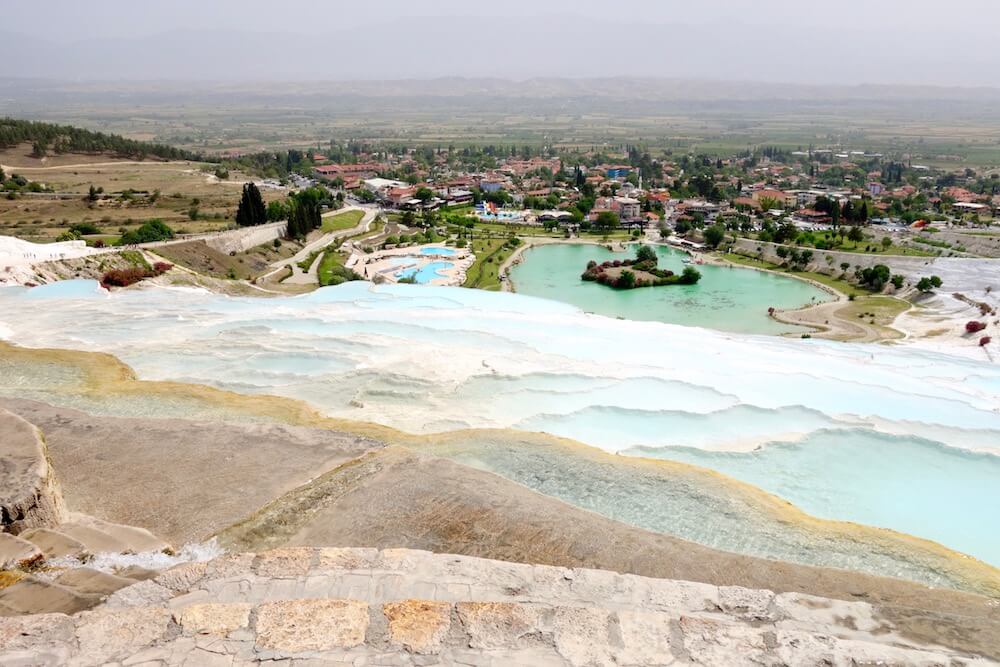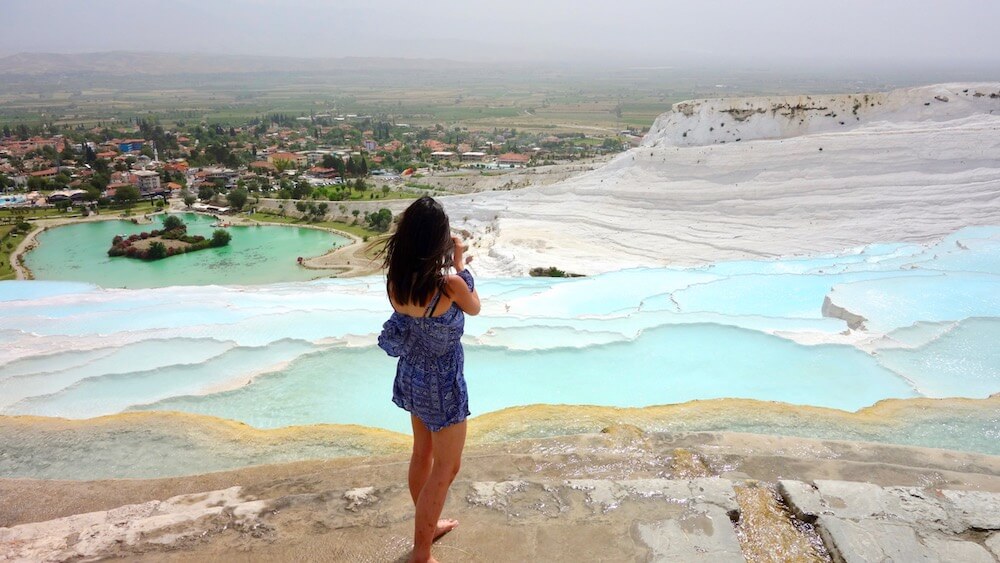 The pools offer sweeping vistas of the surrounding region; it's recommended to reach early if you wish to have the pools and the area (relatively) to yourself.
There are plenty of legends surrounding these mystical pools, the most famous of which revolving around a Turkish peasant. Due to her unappealing looks, the girl was unable to find a suitor even after years of searching. This caused her to become despondent, lonely and desperate; so much so that she wanted to end her life. She threw herself into one of the water pools of Pamukkale in an attempt to drown herself; however, the magical waters transformed her into a beautiful woman. A passing lord witnessed the transformation and was so taken by her beauty that he asked for her hand on the spot!
Another legend tells of giants who used Pamukkale as a place to do their laundry. One day, however, they mysteriously vanished, leaving their pieces of clothing behind. The clothing dried up in the sun over time and formed the cotton terraces that we see today.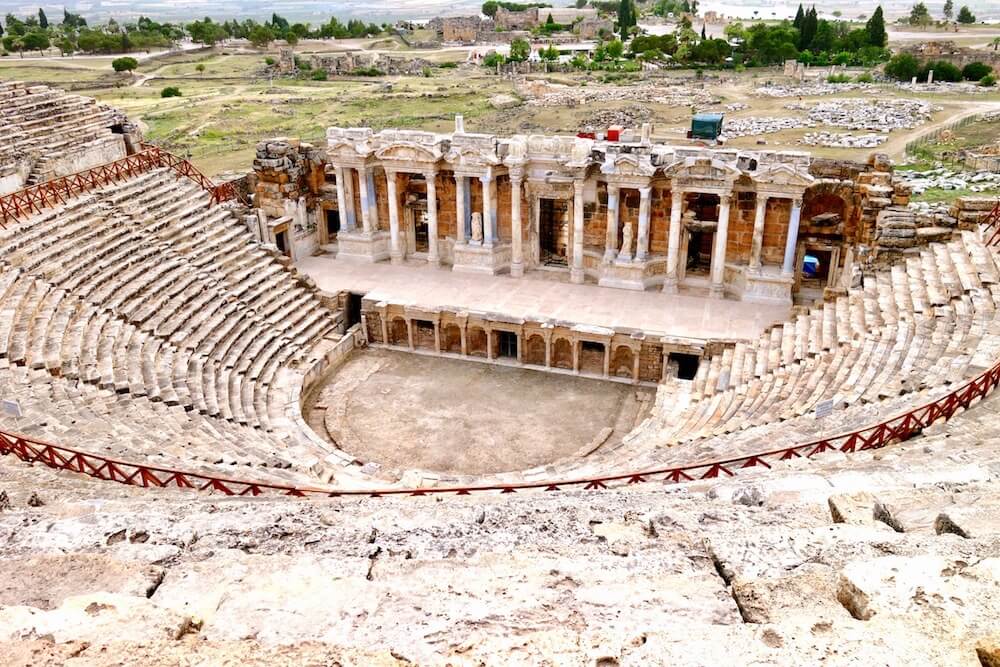 After visiting Pamukkale, don't miss out on the ancient city of Hierapolis, which was created by the kings of Pergamom at the end of the 2nd century BC. The fame of the Pamukkale pools reached so far and wide that they even attracted Roman Emperors, such as Hadrian in 129 CE, to visit. The great amphitheater of Hierapolis was built in honour of Hadrian's visit, comprising a staggering 15, 000 seats.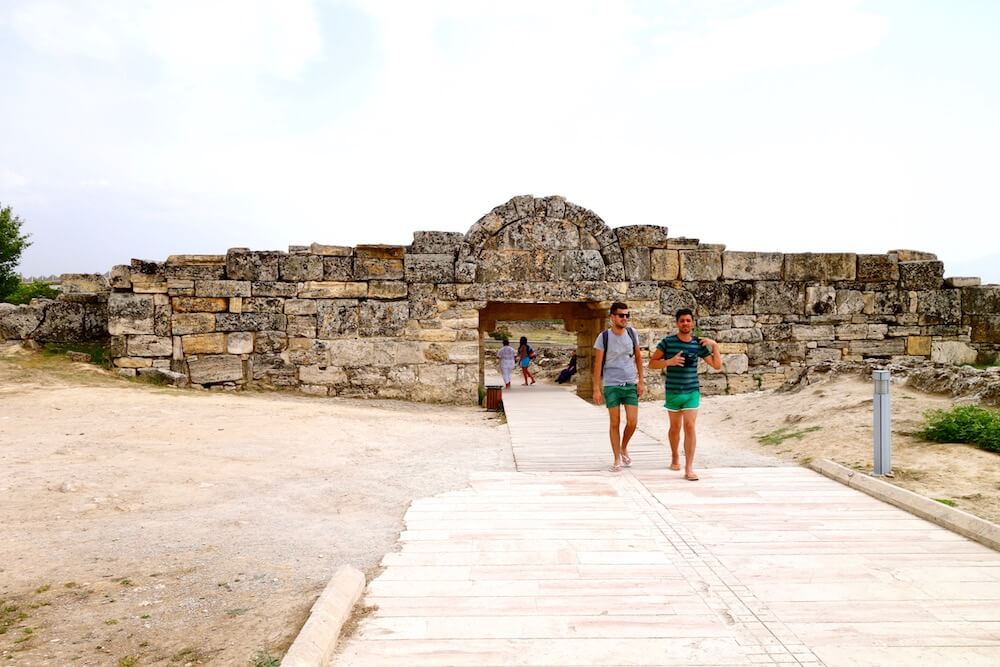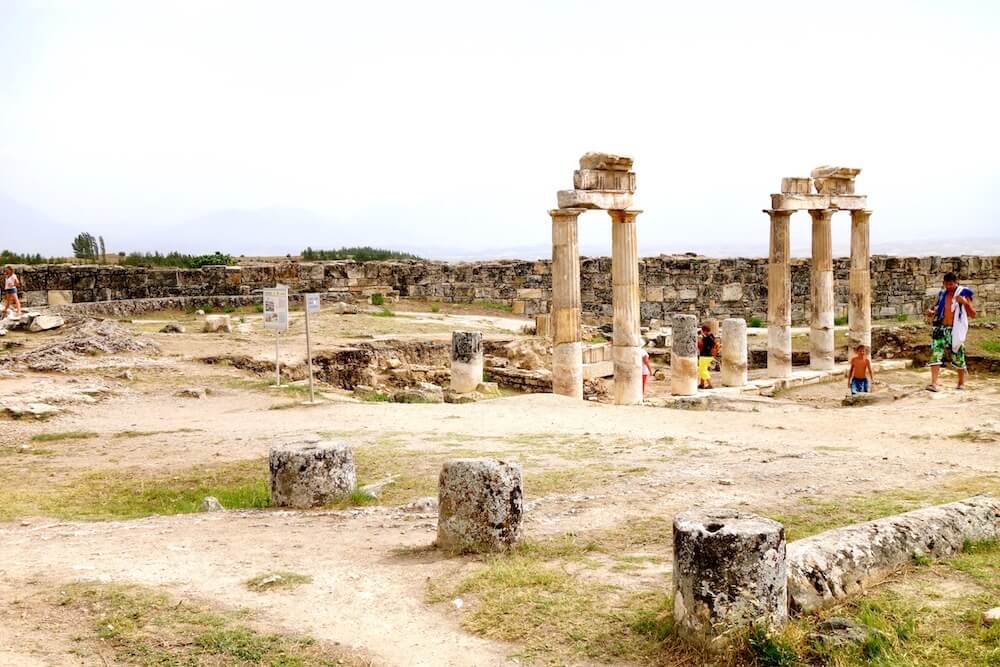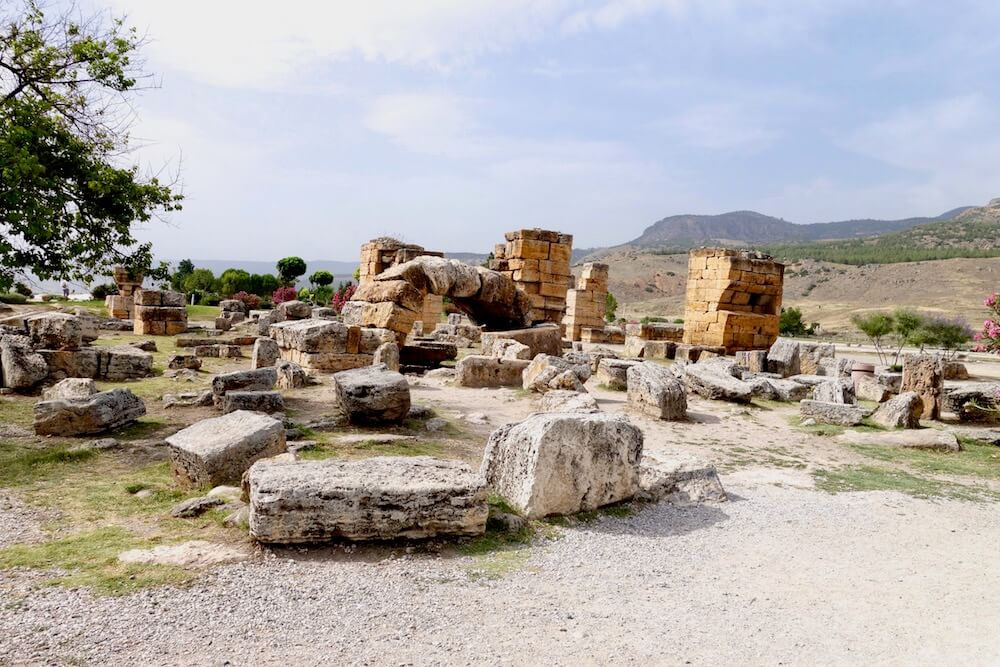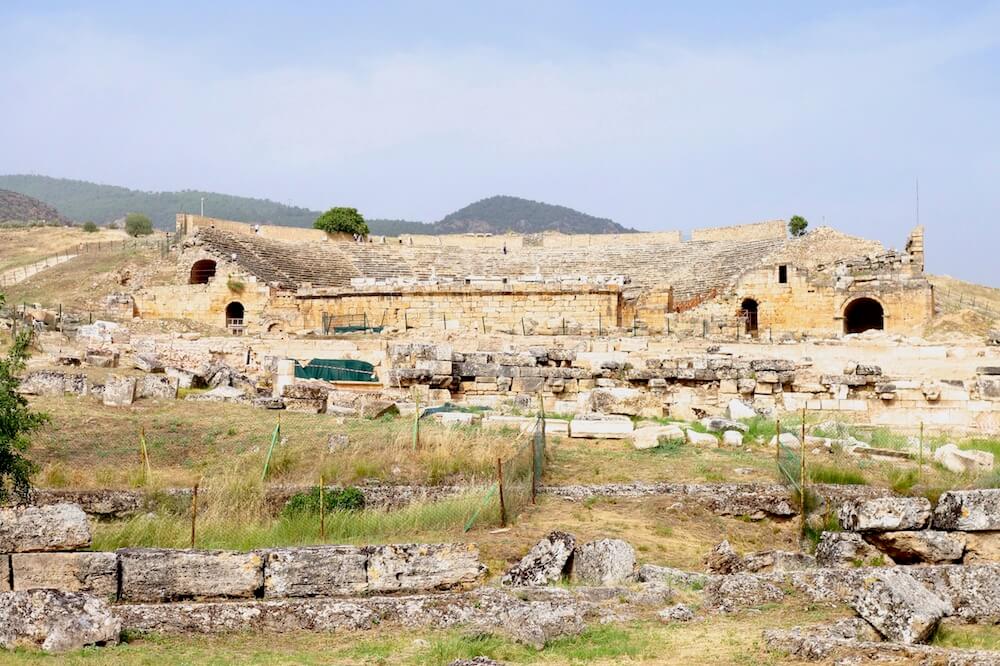 In 17 AD, Hierapolis was destroyed by an earthquake; following which, the Romans rebuilt the area and transformed it into a spa. Spend a couple of hours wandering around the ruins; you may also choose to visit the Byzantine Church or archaeological museum. Hierapolis also houses an extensive Necropolis with over 1, 200 tombs.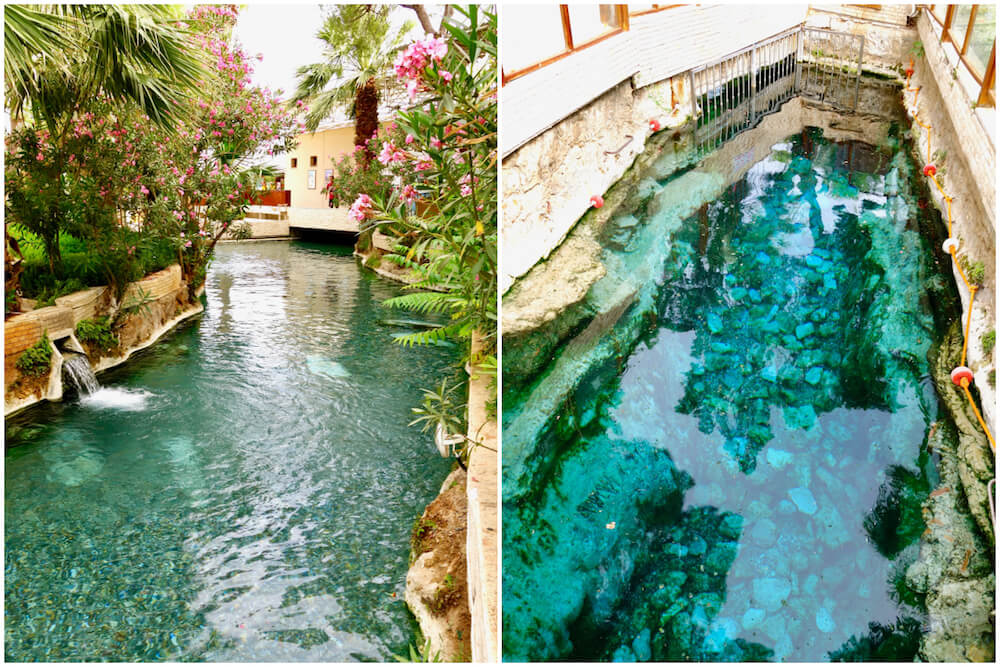 One of the highlights of Hierapolis is an ancient geothermal pool – which even Cleopatra is said to have swum in! The pool is filled with minerals and remains a toasty 36 degrees celsius all year round.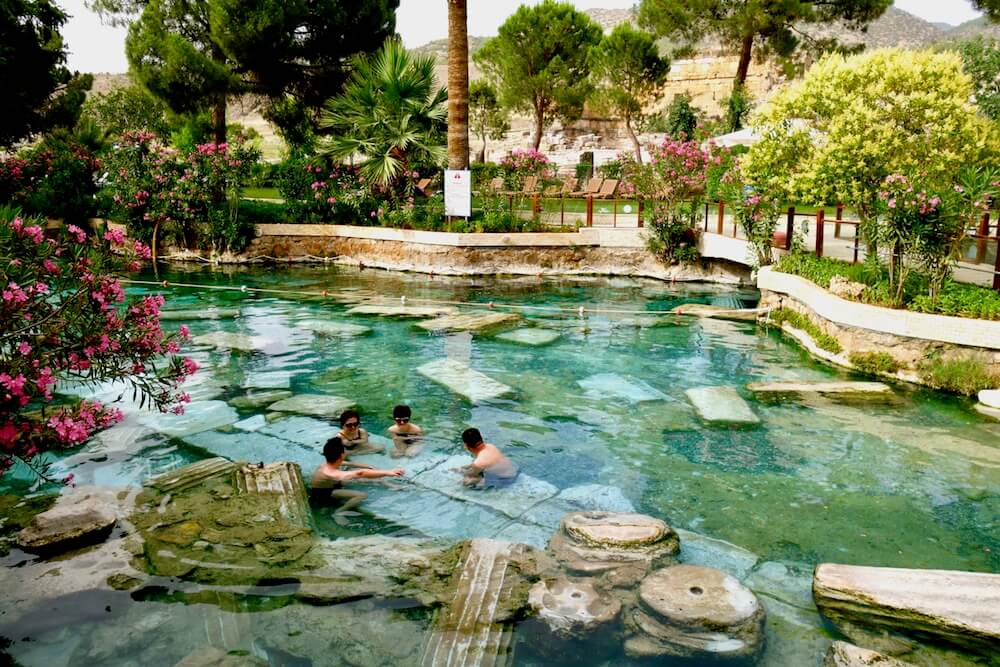 What's special about this pool isn't on its surface but the marble columns that litter the bottom. Over 2, 000 years ago, an earthquake destroyed the nearby Temple of Apollo and caused these columns to tip into the pool, where they have remained ever since.
The pool is also said to have been a gift from Marc Anthony to Cleopatra, earning it the name of 'Cleopatra's Pool'. The waters in the pool contain calcium bicarbonate, carbon dioxide, iron and sulfate; they're hence said to have great healing powers.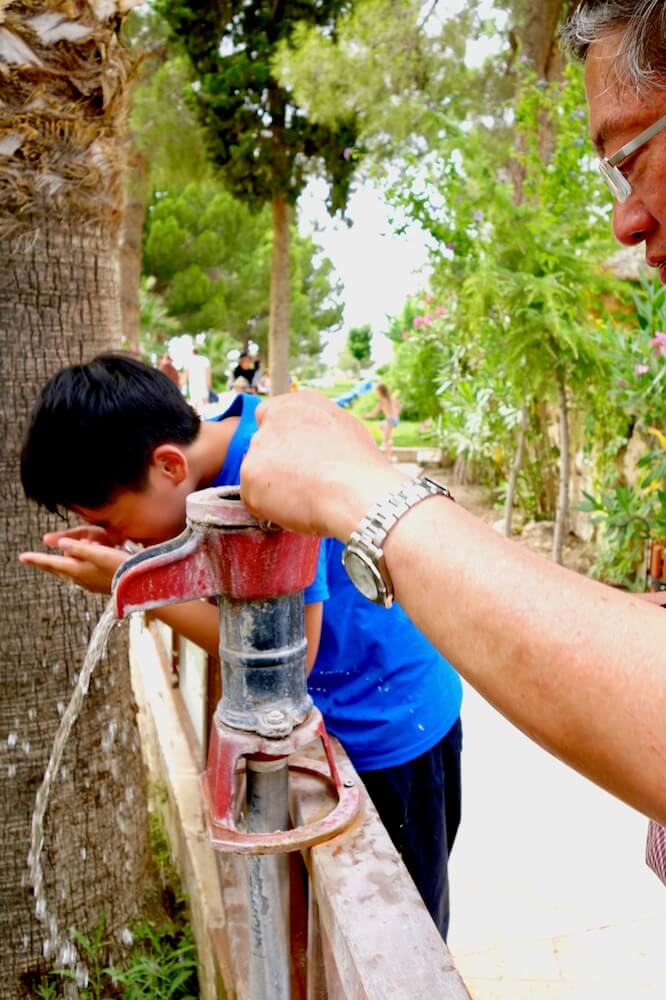 If you wish, you can even have a taste of the mineral-rich waters!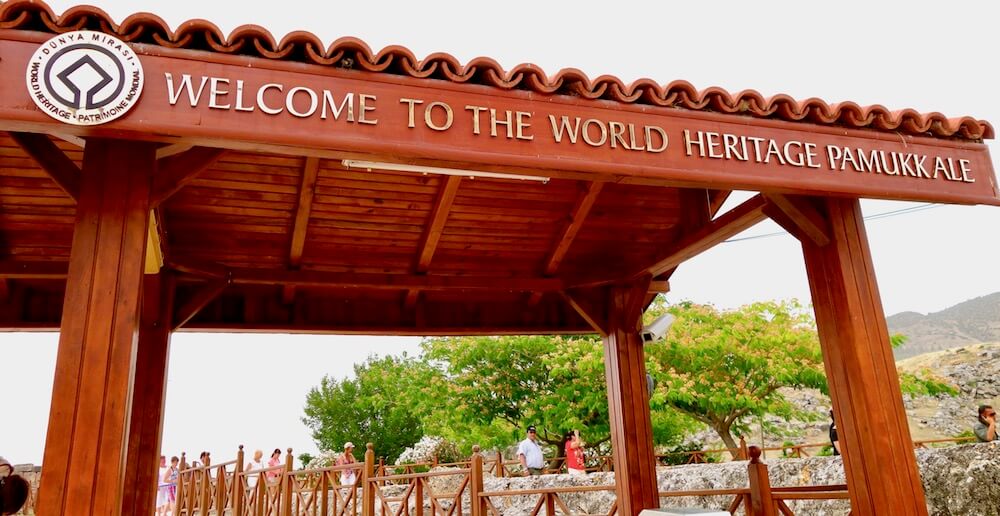 Pamukkale is open to visitors from 8am to 7pm daily. The entrance fee of TL80 (~SGD16), including both Pamukkale and Hierapolis. Access to Cleopatra's pool requires an additional TL50 (~SGD10). If you're going to be in Turkey for an extended period of time, you can consider getting the 'All Turkish Museum Pass' for TL375 (~SGD76) which will cover more than 300 archaeological sites and museums throughout the country.
Read: A 10-Day Turkey Itinerary for Your First Trip to the Country
To get to Pamukkale, you can choose to base yourself in the town of Selcuk, which boasts easy access to the ancient city of Ephesus and its gorgeous ruins. It'd require a 3-hour drive or train ride from Selcuk to Pamukkale; alternatively, you can take an overnight bus from Cappadocia to Denizli. This bus departs Cappadocia around 8pm, having you in Denizli at around 6am the next day.
Read: Discovering the Ancient City of Ephesus, Turkey; Things to Do in Cappadocia, Turkey
Add a comment