← Back to portfolio
Taking an Overnight Bus from Yangon to Bagan, Myanmar
Travelling by overnight bus probably isn't the transportation of choice for many. Such journeys are reputed to be squeezy, uncomfortable and bumpy – making it pretty much a sleepless night. However, the opposite couldn't be more true in Myanmar!
Indeed, an overnight bus is a popular way to get from Yangon to Bagan. Besides the bus, you can also take a 16-hour overnight train ride; however, the train's sleeper seats sell out really quickly so if you're intending on taking this option, do book your seats in advance! Otherwise, the overnight bus normally departs Yangon at 8pm, having you in Bagan at 6am after a smooth 6am ride.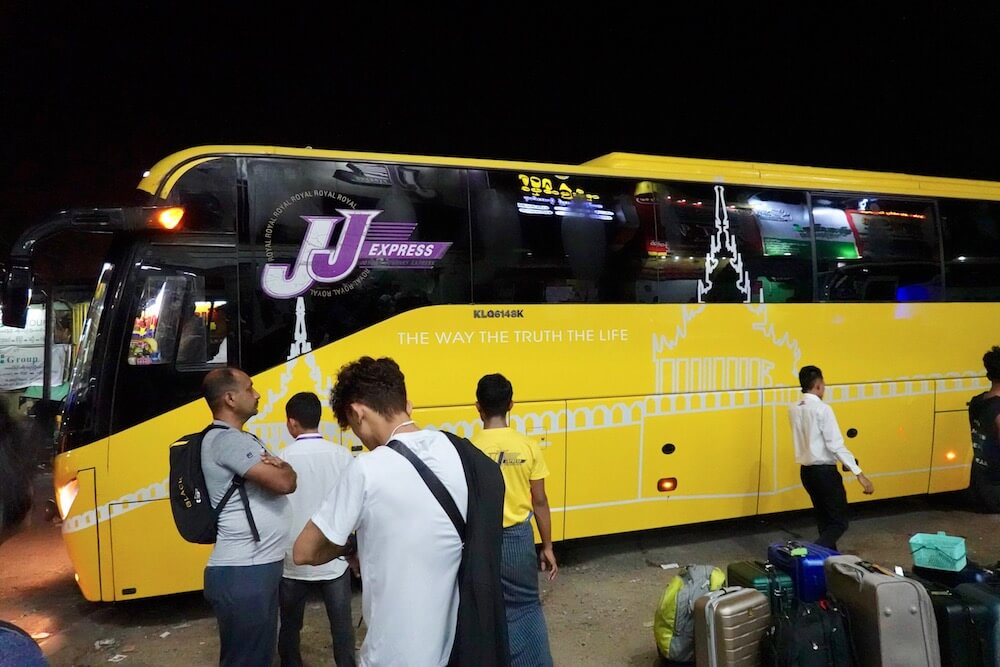 There are a couple of bus companies available but we went with JJ Express, which has garnered numerous positive reviews from travellers. We booked our tickets directly through their website, which cost around MMK27, 550 (~SGD28) per person. You'll be able to select your seats during the booking process.
The bus departed from Aung Mingalar Bus Station, which is located about 1.5 hours (with buffer time for traffic) from Yangon central. There have been many horror stories about Yangon's peak hour traffic, so it's hence best to leave early! As a rough gauge, we left our hostel around 5.30pm and only reached the bus station around 7.30pm.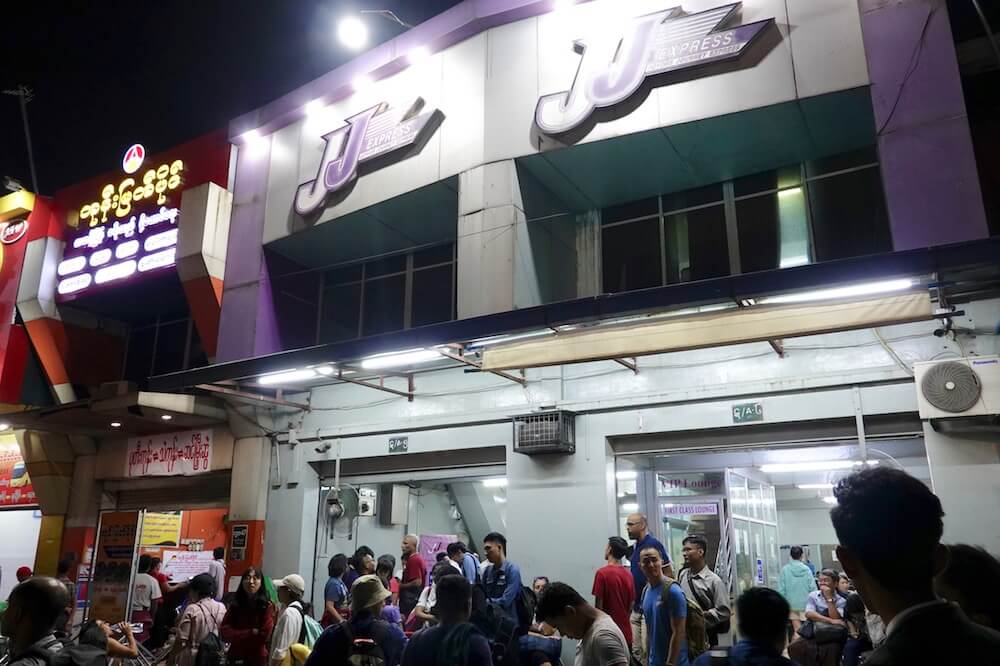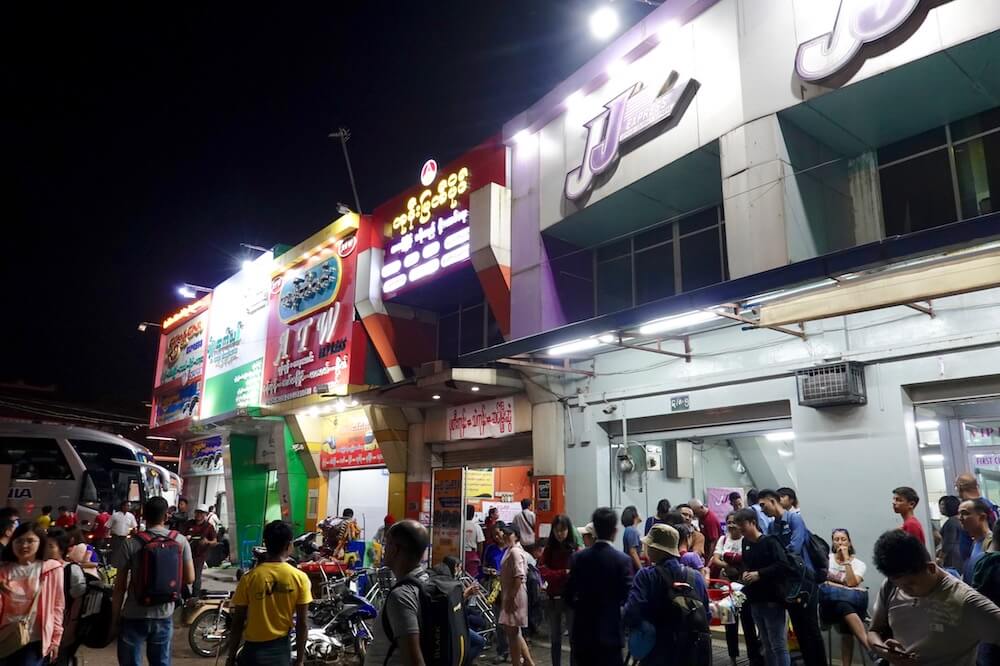 Upon arrival at the bus station, you have to check in at the counter with your passport and ticket. You'll be given a sticker with the bus number that you're supposed to board. The check-in process was smooth and efficient but, to be frank, the situation outside the bus station was not the most orderly. It was a little disorganised, with various buses pulling into the station. Some had the same number on our tag, so we weren't sure which to board.
However, there were many helpful attendants around so all we had to do was ask to clarify the situation. Simply look at it as part of the experience! While waiting, you can choose to buy a snack for the road from one of the street food vendors or convenience stores surrounding the bus station.
When our bus came, the staff ushered us onto the bus after showing us where our bags will be kept.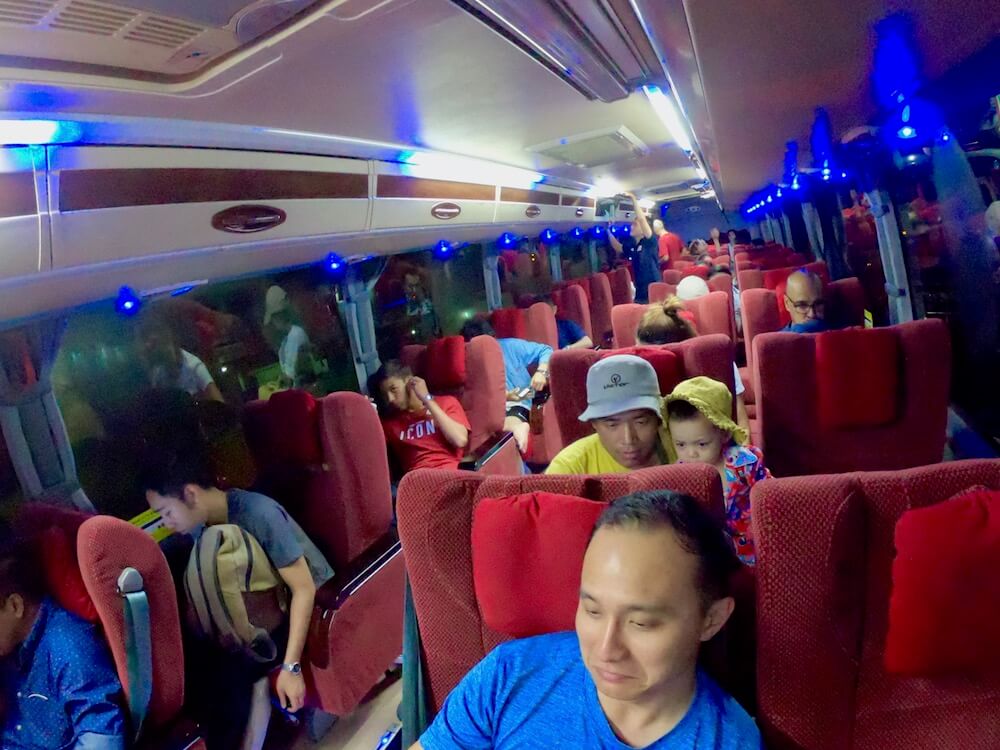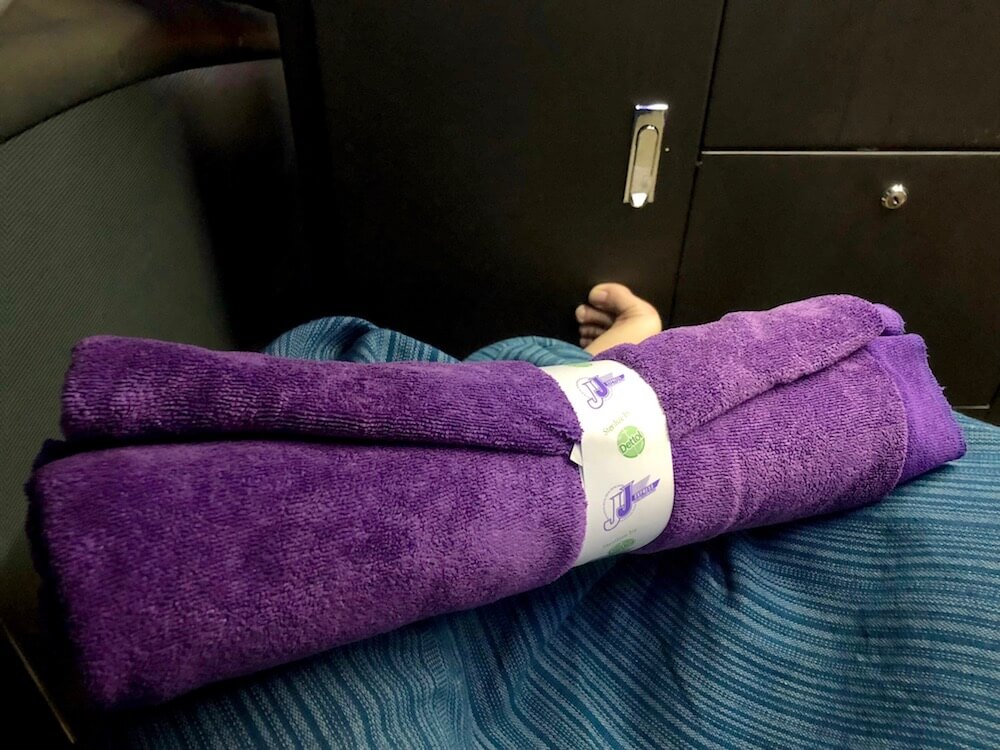 Once inside the bus, we were very pleasantly surprised by how big the seats were! The seats were in a 2+1 configuration, giving each passenger ample space to stretch out. Each seat was also plush and reclinable with a footrest. Every seat had an individual blanket and bottle of water on it as well!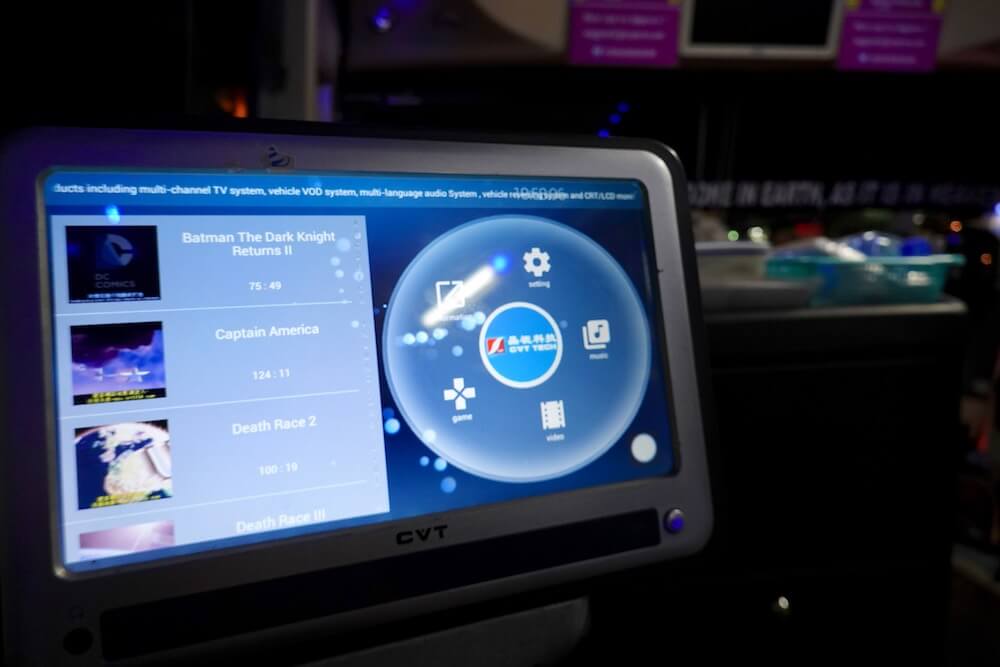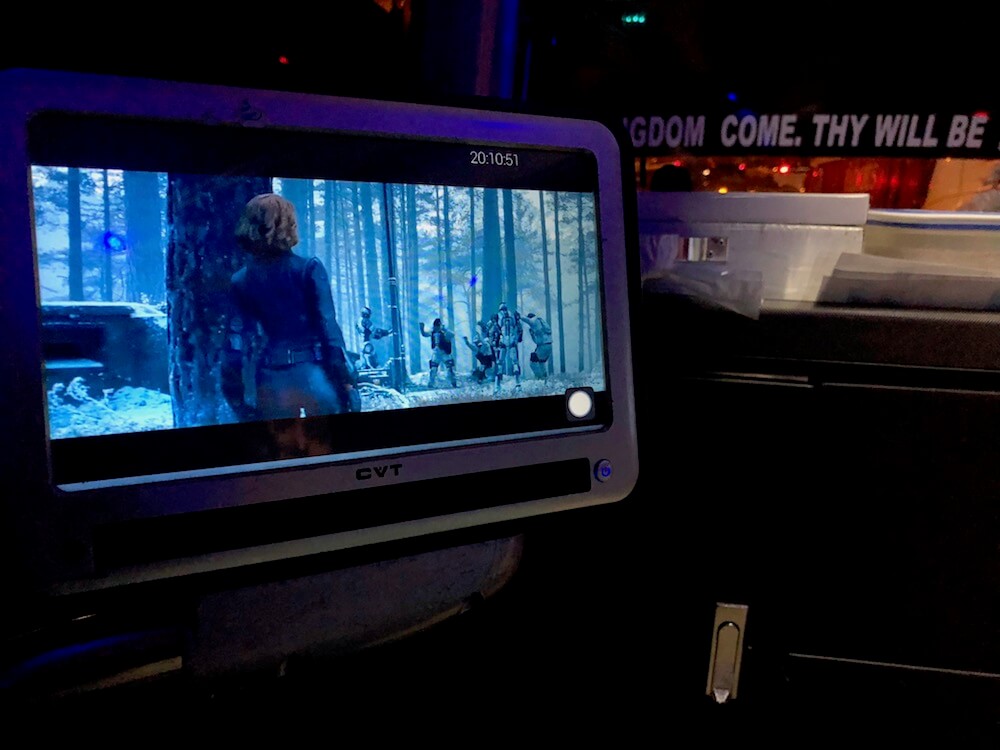 What was even better were the individual television monitors that came attached to each seat. It felt as if we were on an aeroplane! A quick check gleefully revealed that there were many blockbusters available, such as Avengers and other Hollywood blockbuster films.
Do note that the air conditioning tends to be a little strong at times, so it's best to bring a jacket and an extra pair of socks on board with you.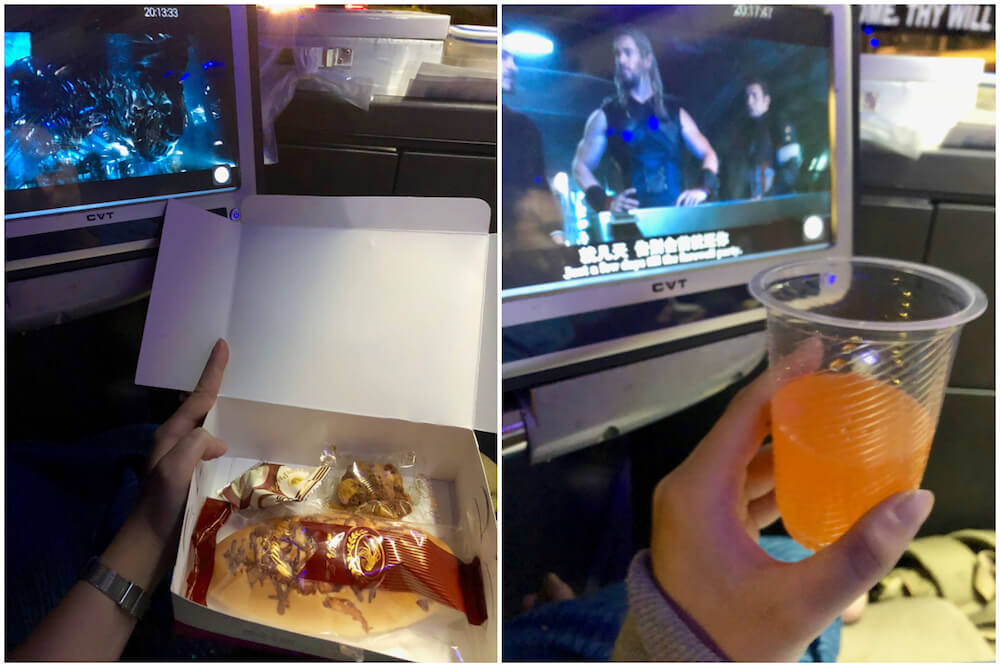 As we set off, each passenger was given a box of snacks and a drink.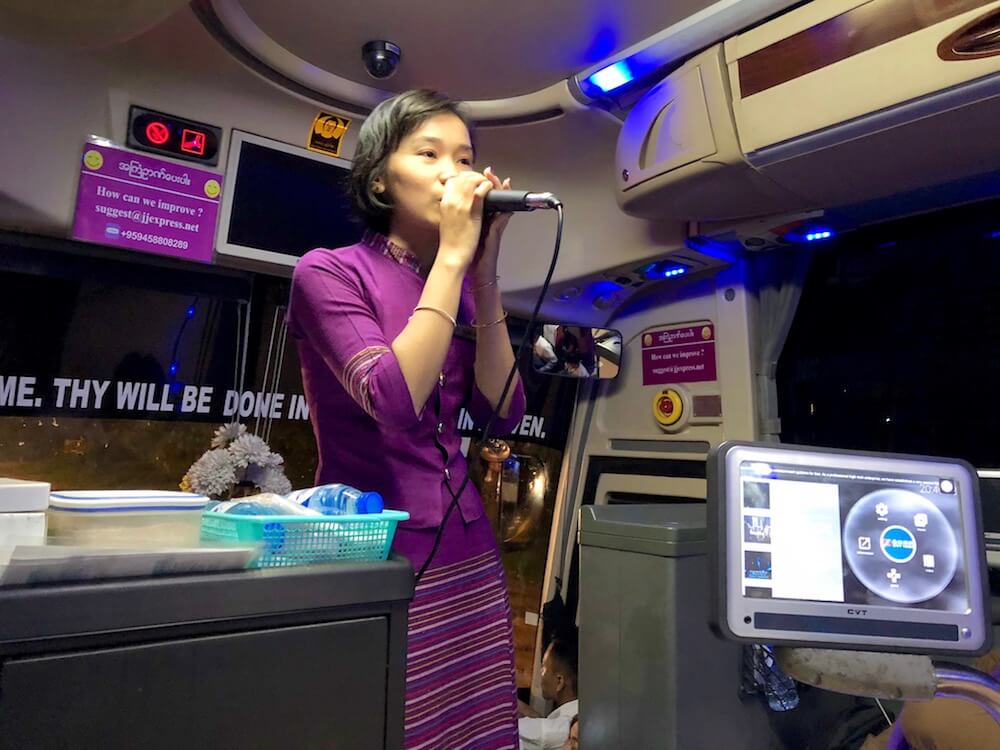 The bus attendant then took some time to tell us about the journey and brief us about some safety procedures. Yes, we even had a bus attendant!
The bus will have two rest stops approximately around 10am and 2pm, pulling into Nyuang-U bus station in Bagan about 6am. There'll be plenty of tuk-tuks and taxis available to take you where you want to go – either to your hotel to get some shut-eye or, for those raring to go, to a spot where you can catch the sunrise.
Overall, we found the overnight bus from Yangon to Bagan to be surprisingly comfortable. I'd take – and recommend – this route in a heartbeat!
Read: How to Spend 2 Days in Bagan
Add a comment