← Back to portfolio
Temple-Hopping in Bagan, Myanmar
With over 2, 000 temples on its grounds, the sprawling Bagan Archaeological Zone is nearly impossible to explore in its entirety. Sometimes, it's best to weave through the dusty roads that connect one temple to the other without a set itinerary, and simply pop in and out of whichever temple that catches your eye.
Read: How to Spend 2 Days in Bagan, Myanmar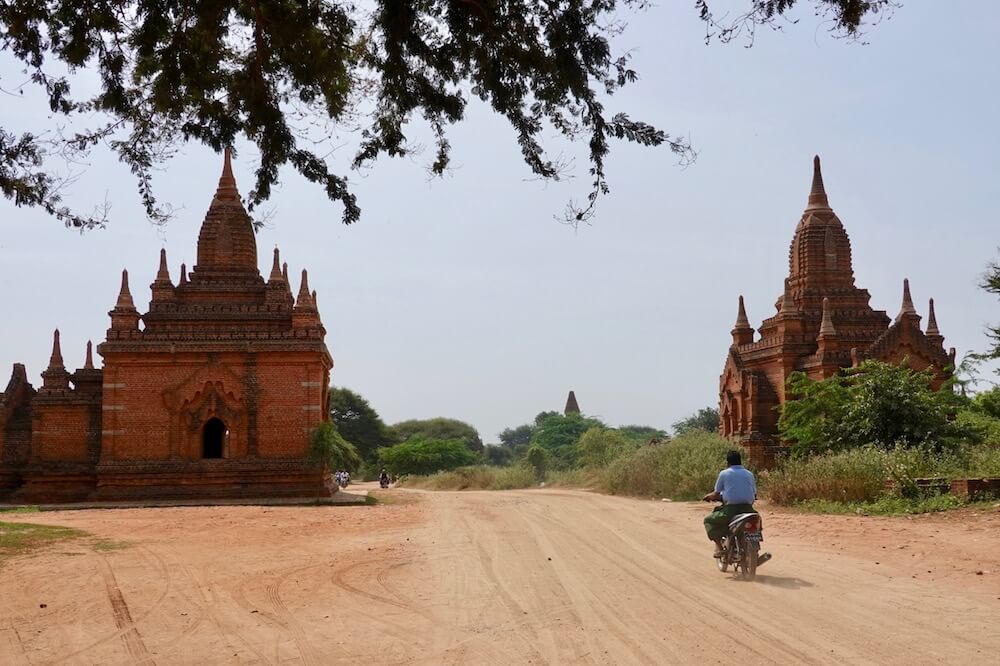 The temples come in all shapes and sizes, each more intricately decorated than the last. If you don't know where to start, here are some must-see temples during your time in Bagan:
Shwesandaw Pagoda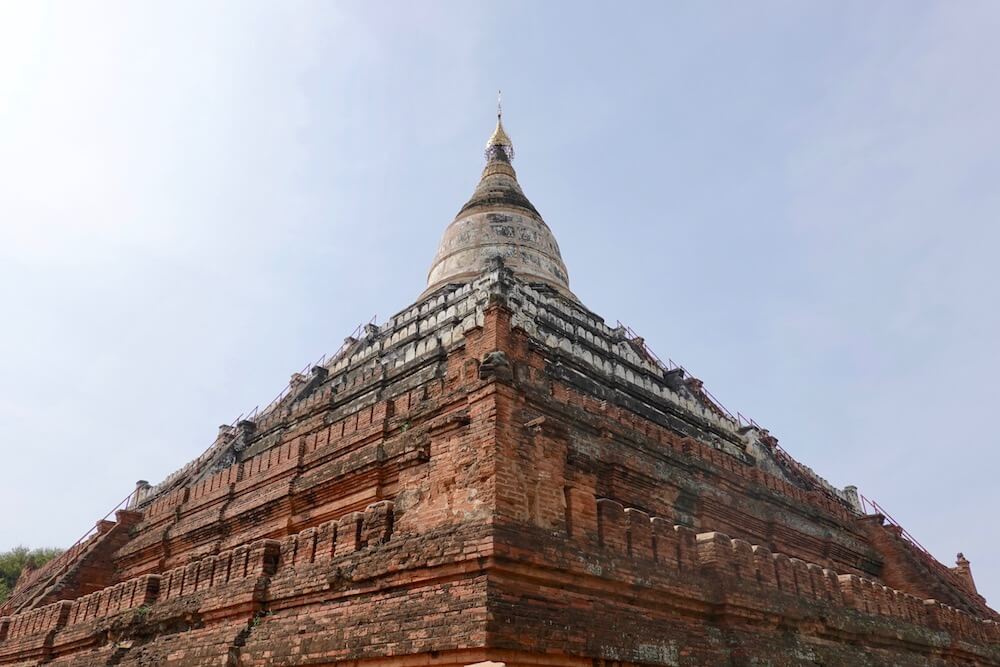 Towering almost 100 metres above ground, the Shwesandaw Pagoda was one of the first pagodas by King Anawrahta, the founder of the Bagan Kingdom, in 1057. The temple comprises 5 stacked terraces, which are topped with a bell-shaped stupa.
The pagoda is said to contain a sacred hair of the Buddha, which was a gift to the King.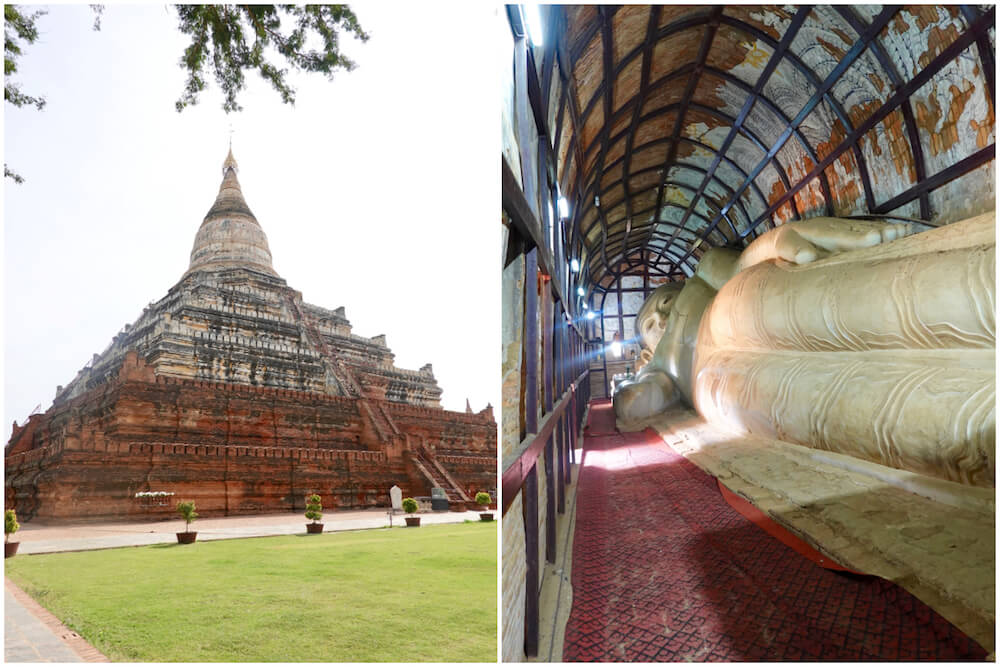 Whilst you're there, venture into one of the temples right next to Shwesandaw to take a look at a giant reclining Buddha statue.
Shwezigon Pagoda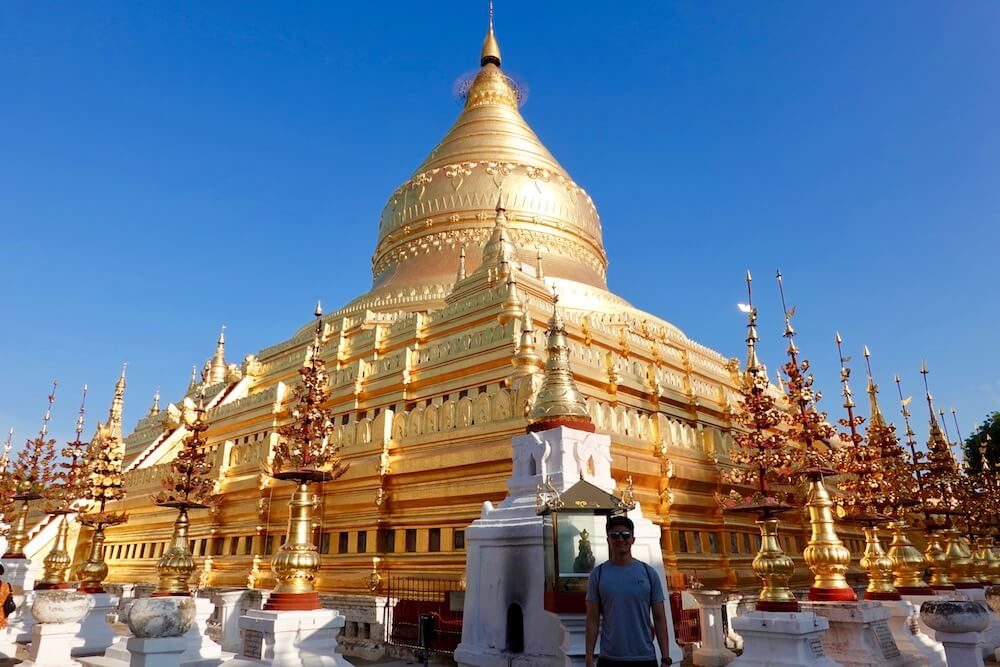 Similar to the famous Shwedagon temple in Yangon, Shwezigon Pagoda is known for its glossy gold exterior that glints in the sun. When translated, 'Shwe' means golden and 'zigo' means victory; the temple hence hosted many kings who came to seek advice about their proposed plans.
Built in the 11th century by King Anawrahta, the temple played host to many kings who came to seek advice about their proposed plans, or to give thanks in the times that they achieved success. Indeed, when translated, 'shwe' means golden and 'zigo' means victory!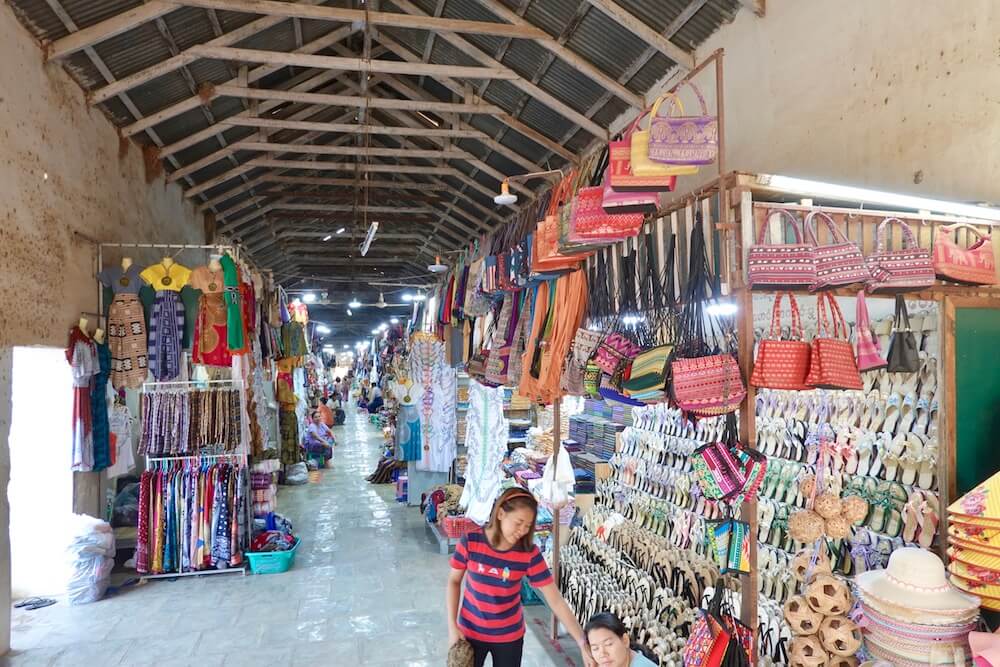 The walkway leading up to the temple is lined with shops, where you can purchase pieces of clothing, footwear or various souvenirs.
Sulamani Temple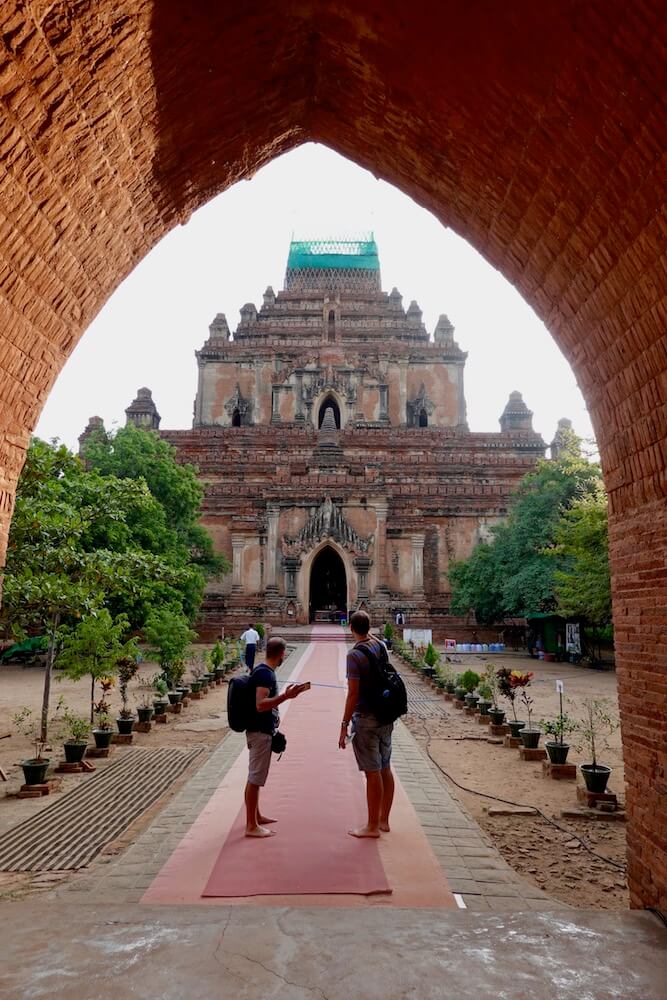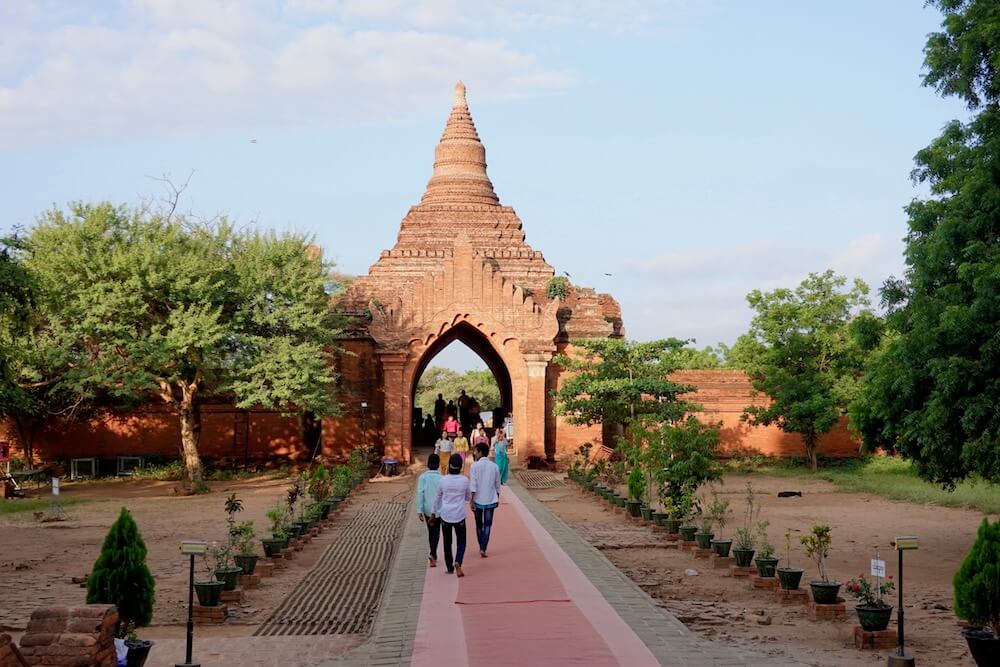 Stepping through the gateway to Sulamani temple feels like stepping through a portal to another world. Built in the late 13th century, 'Sulamani' loosely translates to mean 'crowning jewel'. Initially, besides being a temple, Sulamani also contained buildings like a library and lecture hall.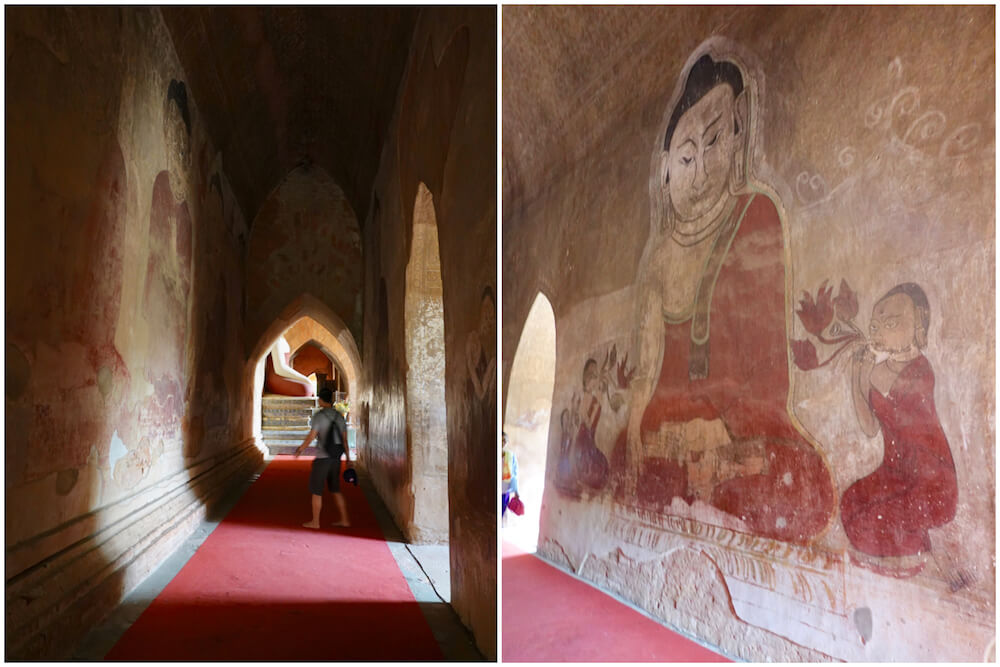 Wander along the corridors of the 1st storey, where vaulted openings create beautiful windows of light that illuminate elaborate frescoes on the wall. 
Htilominlo Temple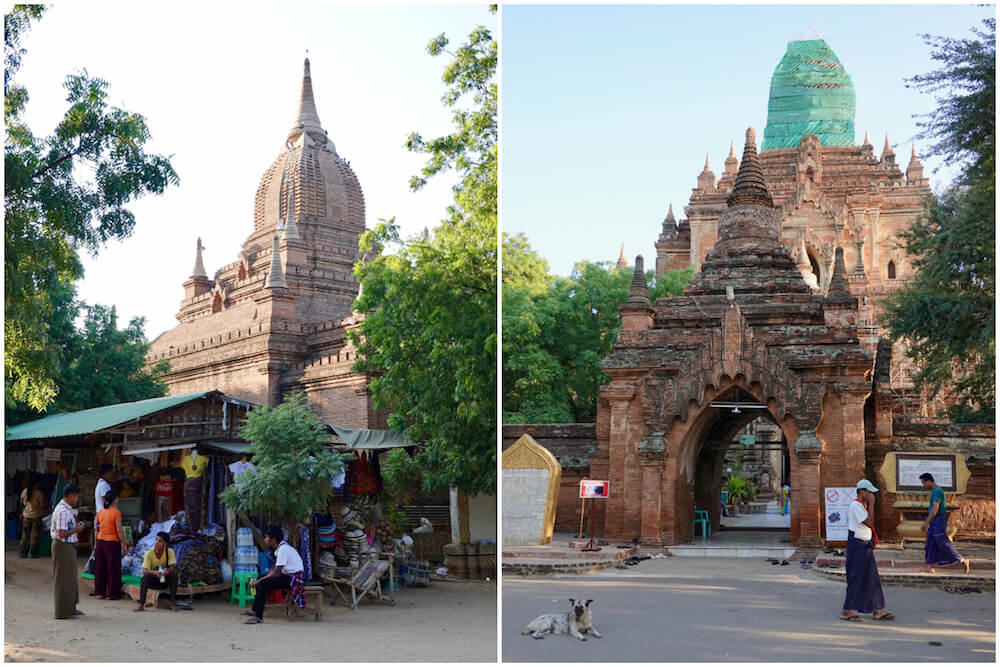 Built in 1218, the Htilominlo temple was where King Htilominlo was chosen to be the crown prince. This happened during a traditional ceremony, where King Sithu II's (his father) umbrella fell to point in King Htilominlo's direction. This is reflected in both the names of the King and the temple – where 'hti' means umbrella, 'min' means king and 'lo' means desire.
The temple is about 45 metres high, with its wall and temple structure made almost entirely from red bricks.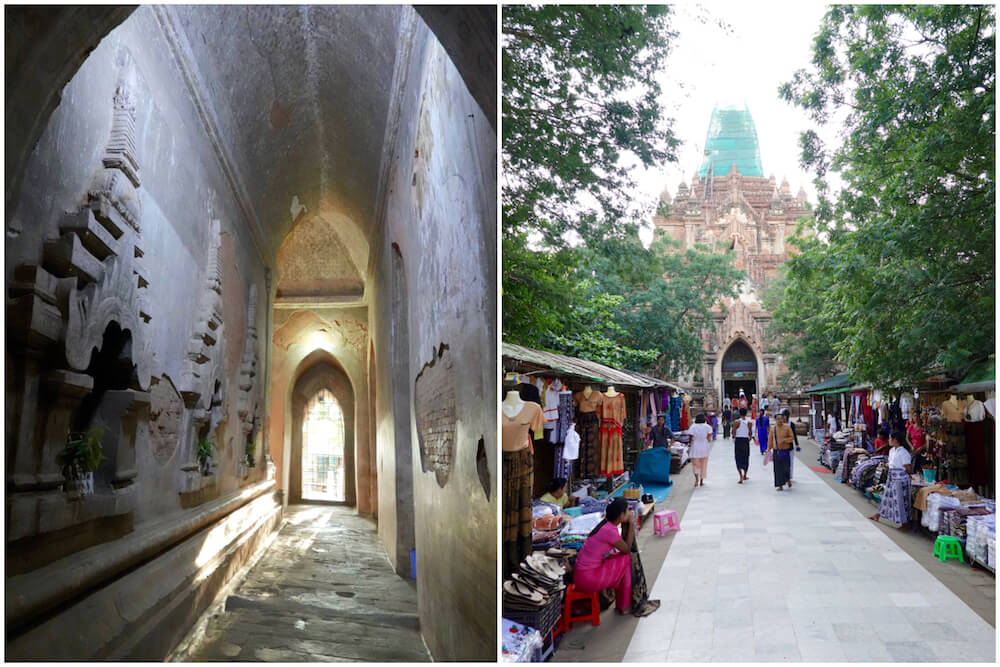 Inside the temple, there are 4 large golden buddhas that face the directions of North, South, East and West; with the walls decorated with frescoes that detail the life of Buddha.
Outside, market stalls peddling clothing, souvenirs, artwork and more line the courtyard surrounding the temple.
Thatbyinnyu Temple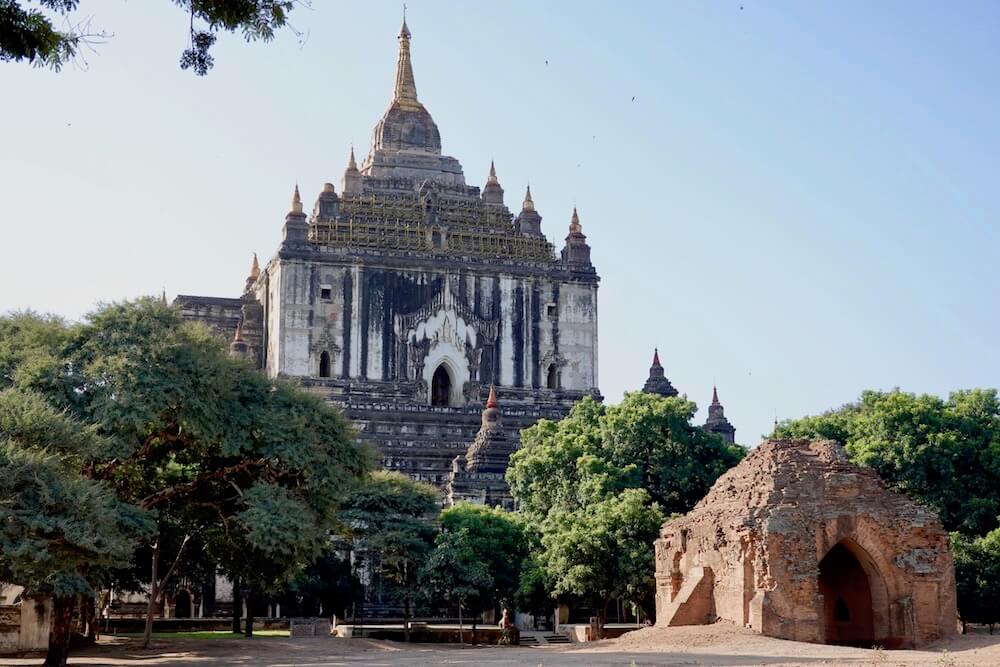 Built in 1150, the Thatbyinnyu temple is the tallest in Bagan. The temple's 3 receding terraces are topped with a tall spire, with its walls decorated with more than 500 illustrations depicting Buddha's life story.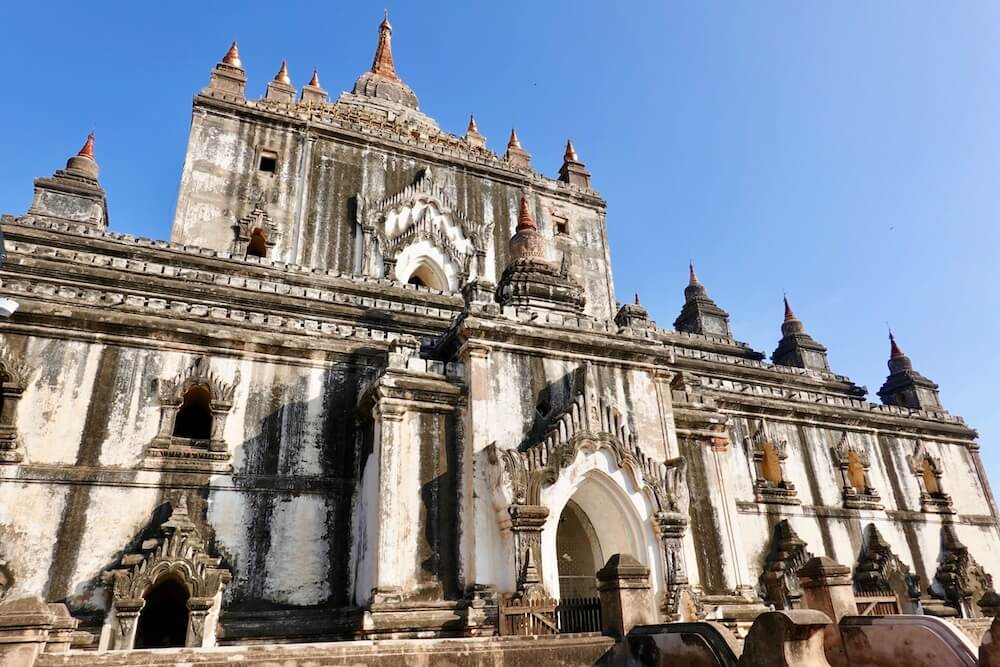 Thatbyinnyu is also one of the first 2-storey pagodas to be built in Bagan!
Ananda Temple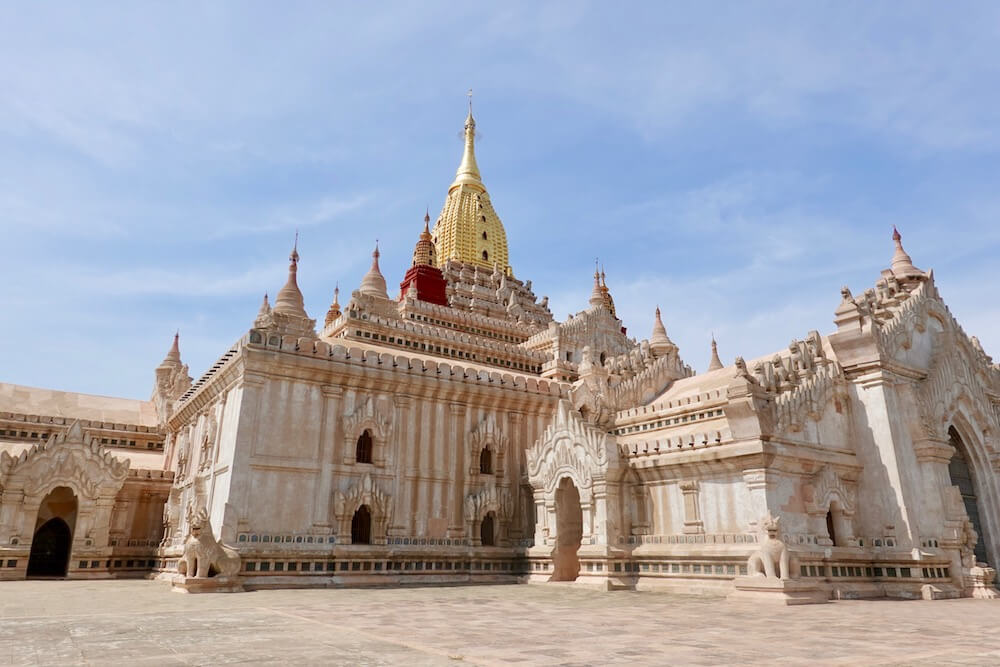 Built in 1105, Ananda is one of Bagan's most stunning temples. As the legend goes, 8 monks from India visited Bagan in the 11th century, bringing with them a tale about a beautiful temple that was located in the Himalayan snow. Upon hearing this story, King Kyansittha was so inspired that he ordered a 'snow' temple to be built in Bagan – which is Ananda temple today.
As the story goes, King Kyansittha was so taken by the beauty of Ananda Temple that he had the architects that built the temple killed upon its completion – to ensure that no other 'perfect' structure could be replicated. Imagine that!
In 1975 and 2016, two terrible earthquakes caused Ananda Temple to suffer considerable damage. However, it has since been fully restored.
The temple is home to 4 gilded Buddha statues that face the four cardinal directions, which represents the attainment of the state of Nirvana. The temple comprises 2 different hallways – an interior corridor reserved for the royal family, and an exterior passageway for monks.
Dhammayangyi Temple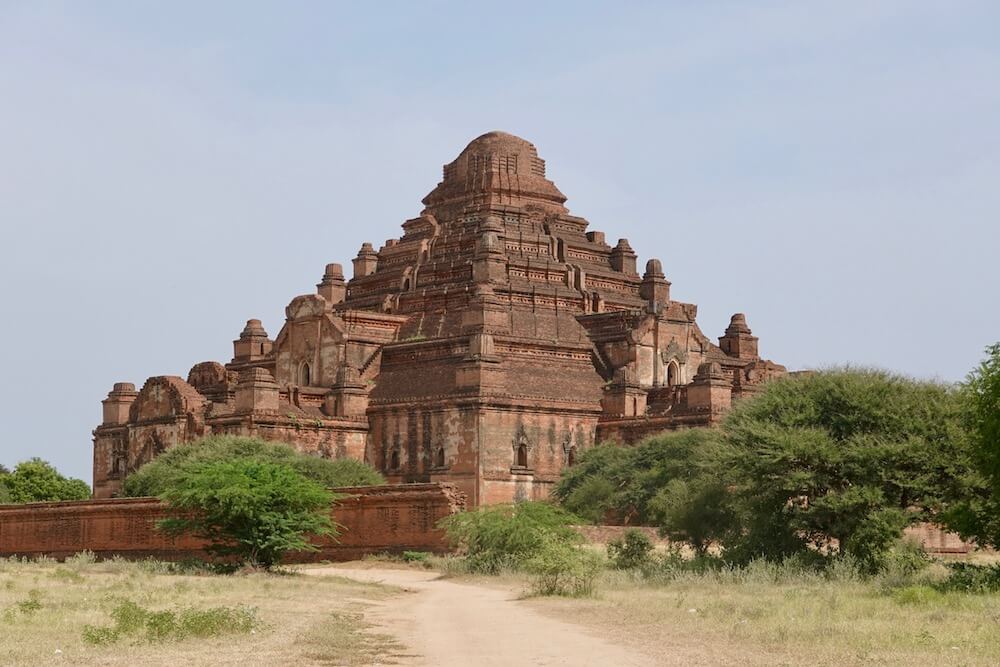 The giant Dhammayangyi Temple was built by King Narathu in the 12th century. King Narathu was known to have a fearsome nature, claiming the throne of Bagan after killing his own father. As a result, many locals regard the temple to be haunted by the evildoings of King Narathu who, besides murdering his father, also killed his brother and wife.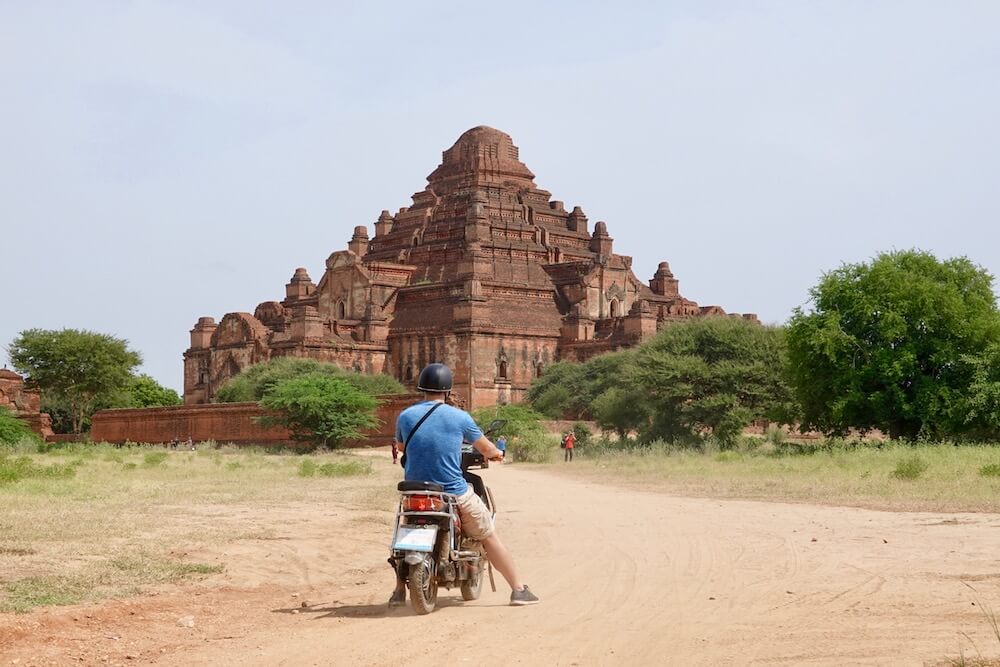 The massive pyramid-like structure of Dhammayangyi Temple was intentionally built by King Narathu in a bid to avert any bad karma wrought by his wrongdoings. 
King Narathu's ruthlessness was reflected in the way the temple was constructed as well, where the builders were instructed to lay their bricks so close together that even a needle couldn't penetrate in between. If a needle was able to perforate the space between bricks, the builder in charge of that section would then be killed without any hesitation.
Shwegyugyi Temple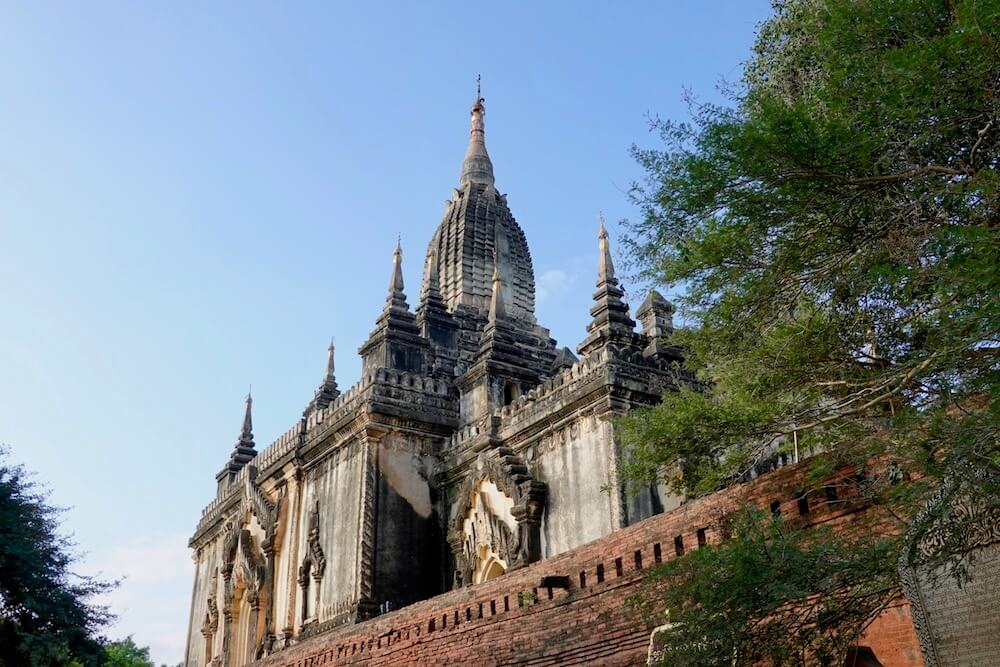 Built in the early 12th century, the Shwegugyi Temple is elevated on a large 4-metre high platform. The temple has 3 receding terraces, with each corner having a corner spire or stupa. Its interior is bright and airy, due to the presence of 11 open-arched windows and spacious corridors.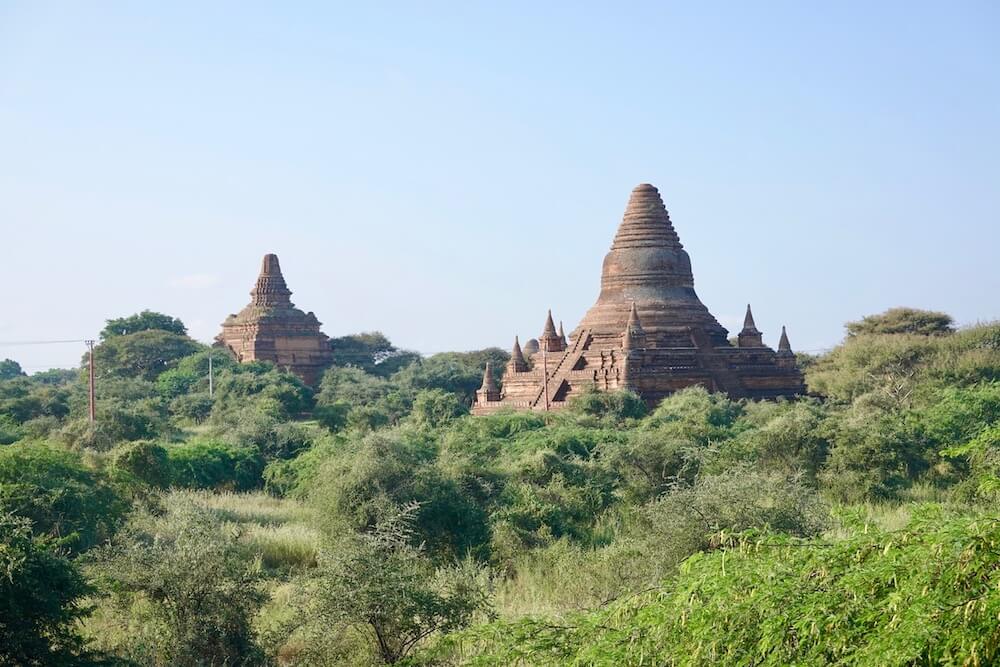 Due to its elevation atop the platform, visitors are able to feast their eyes on splendid views from outside the temple.
Mahabodhi Temple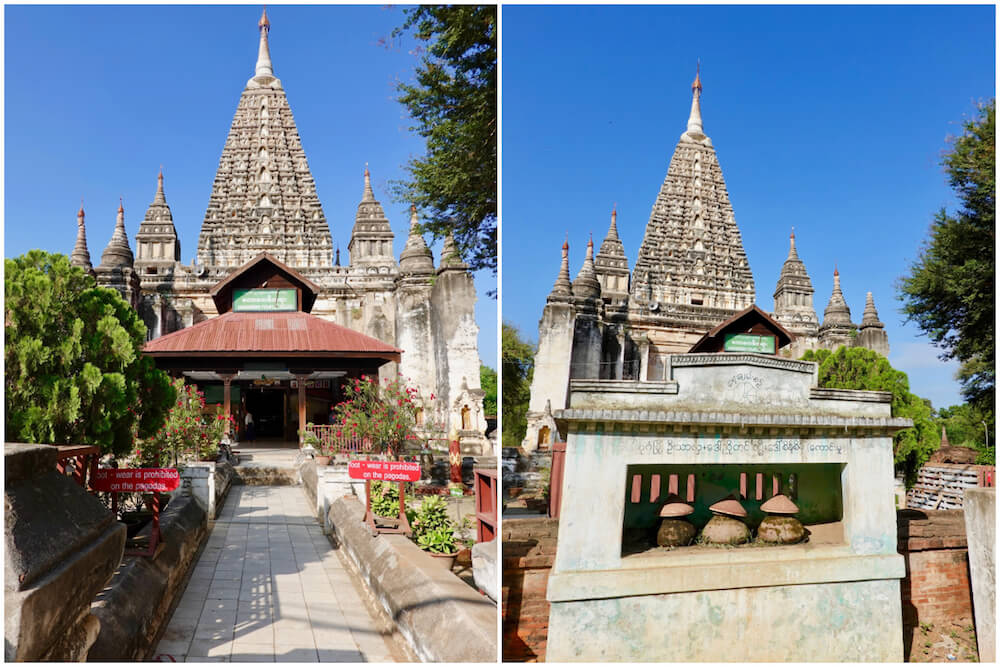 Built in the 13th century, the Mahabodhi Temple was modelled after India's famous temple of the same name. Numerous ornaments – such as over 450 images of Buddha – adorn the temple's exterior, making it one of Bagan's most unique structures. 
Bupaya Pagoda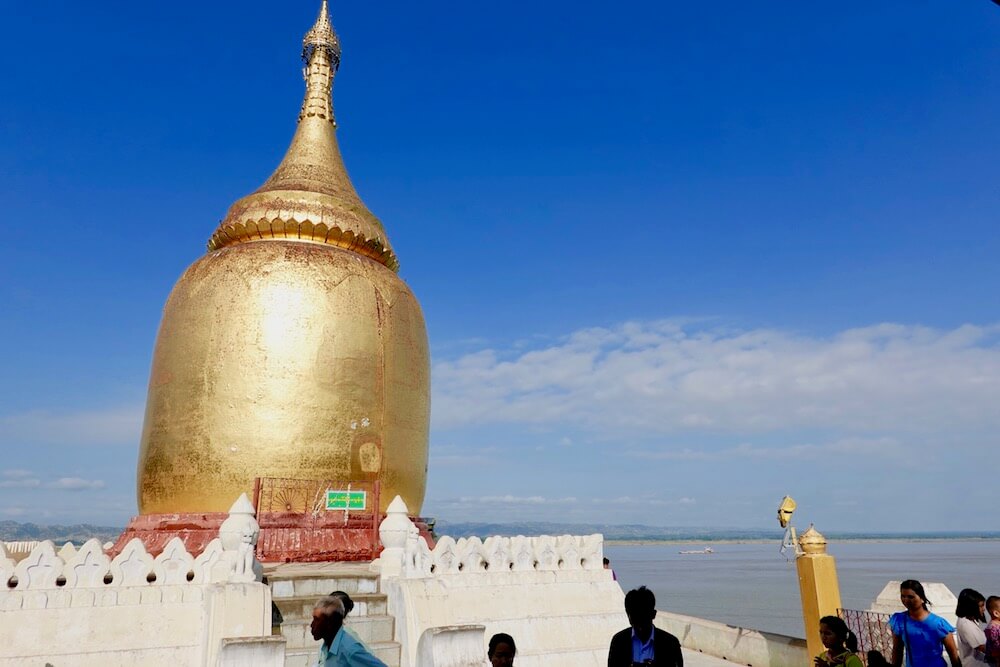 Bupaya Pagoda is found on the banks of the Irrawaddy River, and is uniquely Bagan's only river-side temple. The temple dates back to the year 300 and boasts a distinctive golden stupa. There's a fascinating story behind the shape of this gilded stupa: according to local legend, Pyusawhti was able to free the kingdom of Burma of an infestation that plagued the Irrawaddy river. This infestation was caused by the Bu, a type of gourd plant.
In return, Pyusawhti was given the hand of the princess, making him King. When this happened, Pyusawhti then built Bupaya Pagoda at the very spot where he managed to get rid of the Bu plant. 'Bu' means gourd and 'Phaya' means pagoda, resulting in the gilded stupa taking the shape of Bu plant's fruit.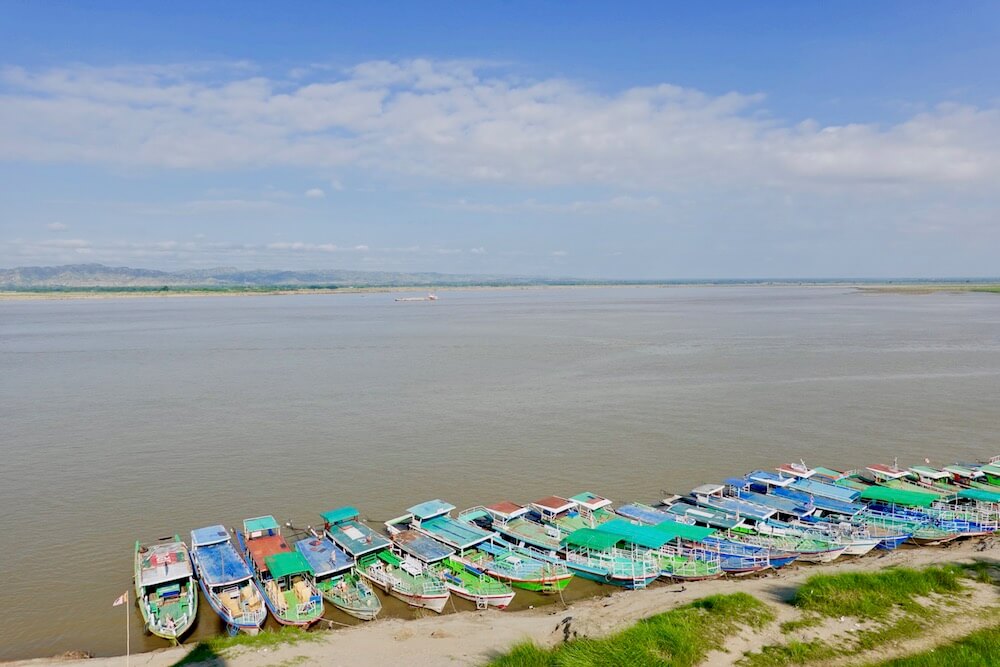 As Bupaya is located on the banks of the river, the atmosphere at the pagoda is tranquil and relaxed. Visitors can also enjoy sweeping views of the river from the pagoda itself.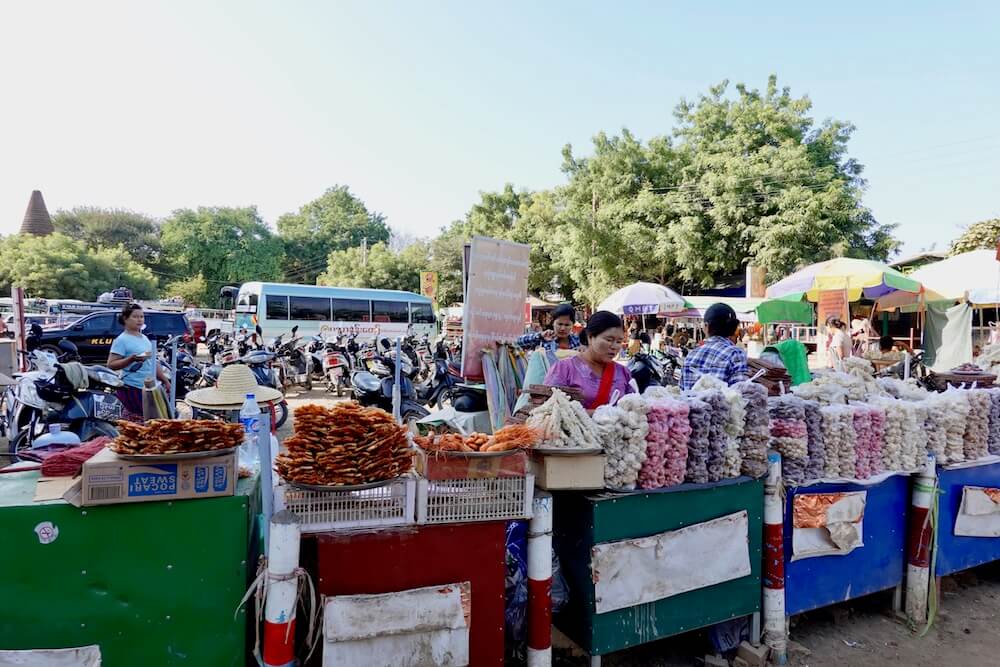 The area outside the pagoda is filled with shops selling various foods, such as barbequed prawns or freshly grilled rice crackers – the tantalising aromas of which fill the air.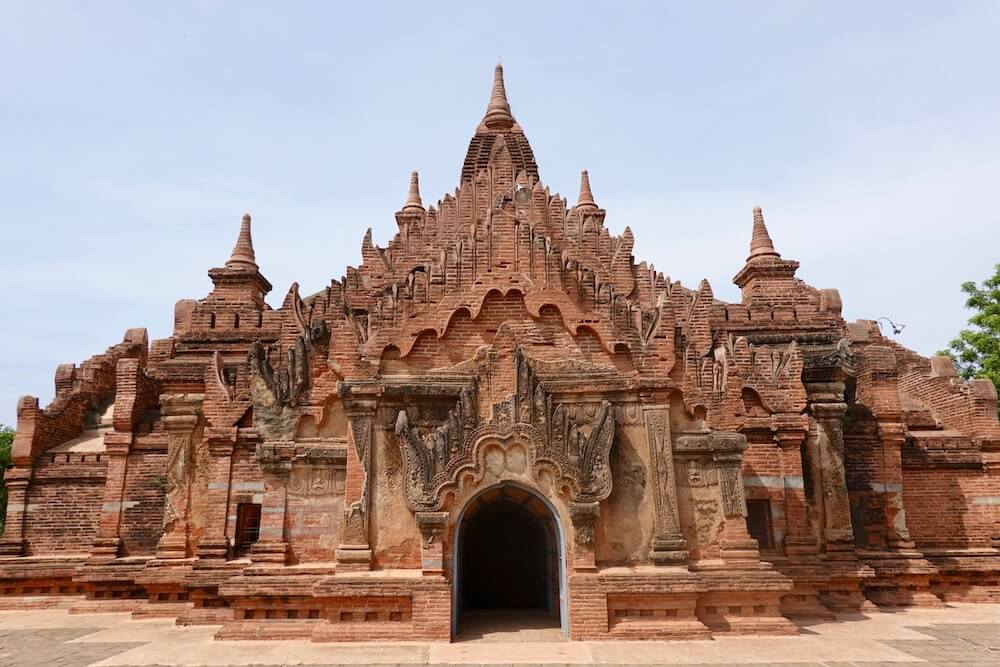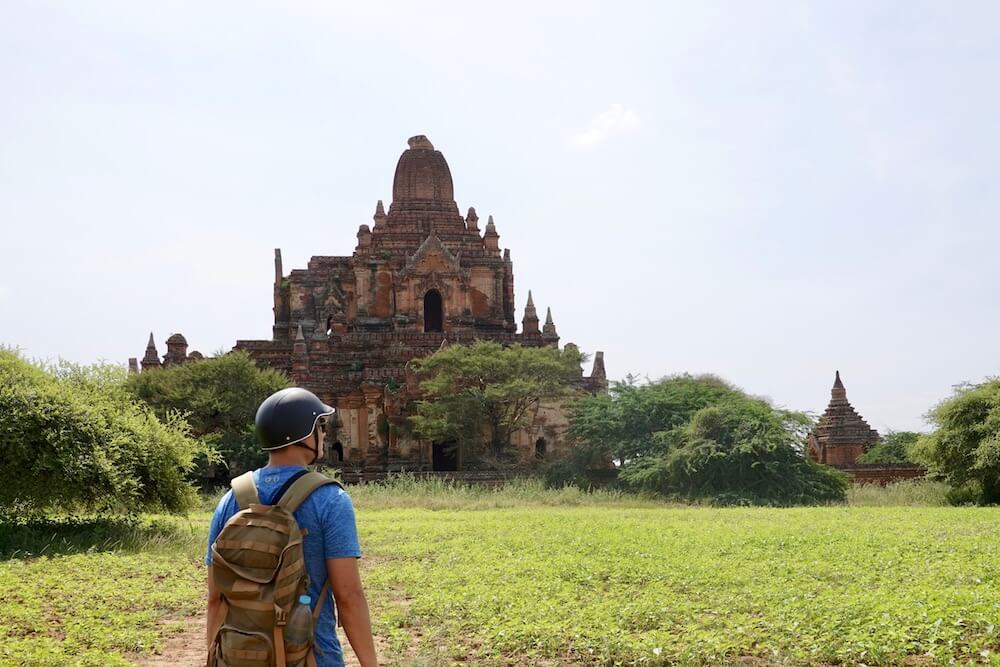 Indeed, there are so many temples to see in the archaeological zone that it might take you days just to complete them all. However, my advice to you is to take it slow – don't aim to check all the temples off a checklist; instead, pick a few that you'd like to see, cover those and spend the rest of your time wandering aimlessly around the complex.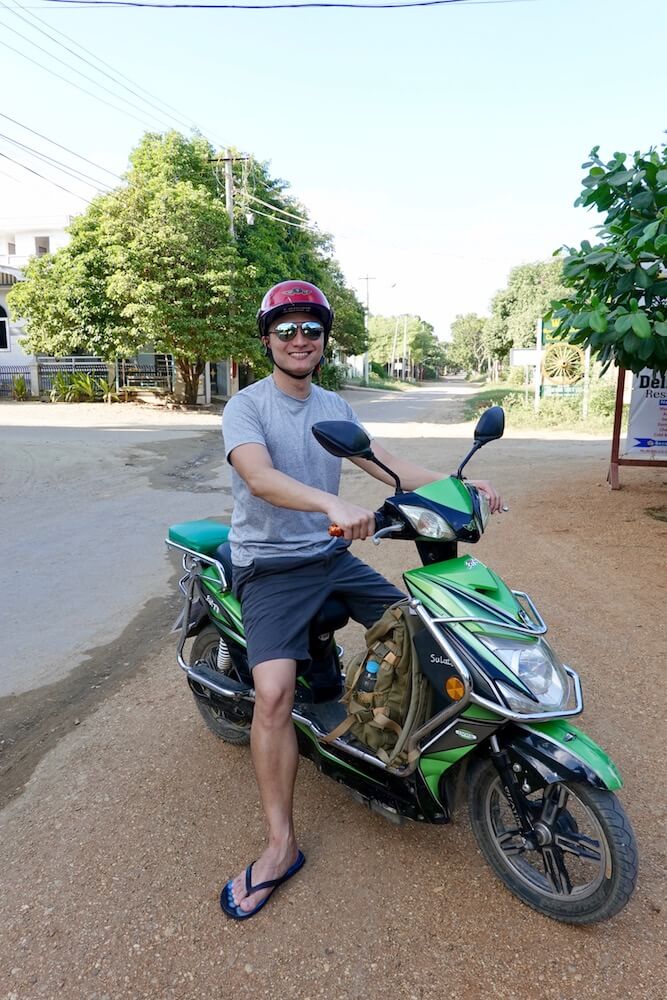 The best way to get around the archaeological zone – or around Bagan, in general – is via an e-bike, which is an electric scooter of sorts. You'll easily be able to rent one for either a half- or full-day from your hotel or any rental shops along the road.
They only go up to 40 kilometres an hour and are easy to drive. Your e-bike rental will also come with helmets – do ask for one if not automatically offered one.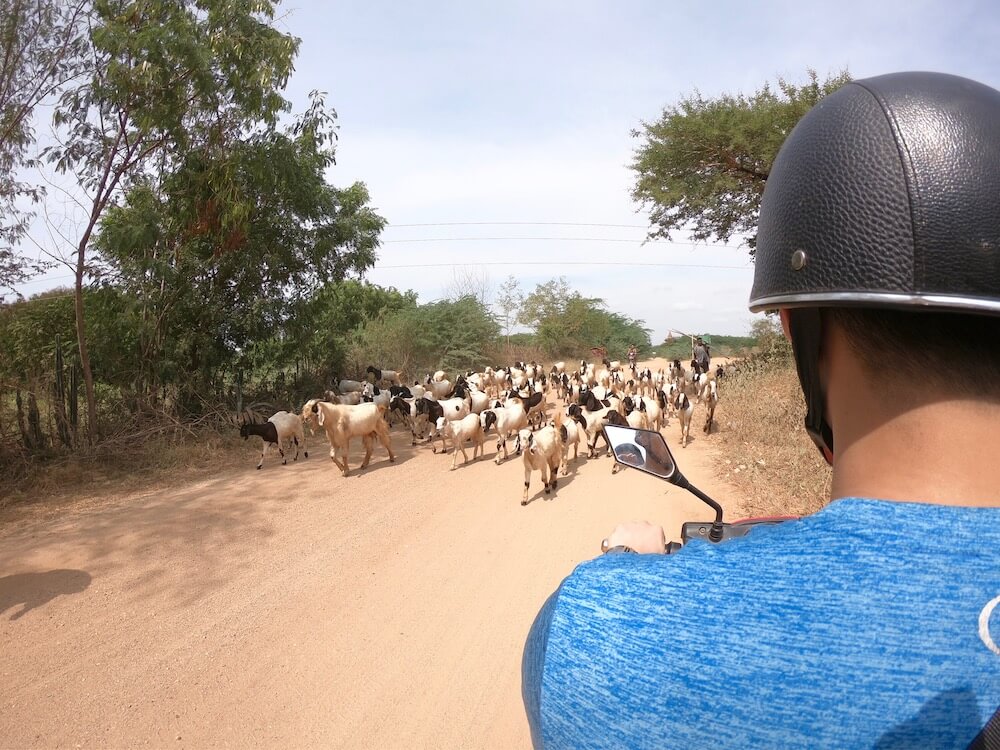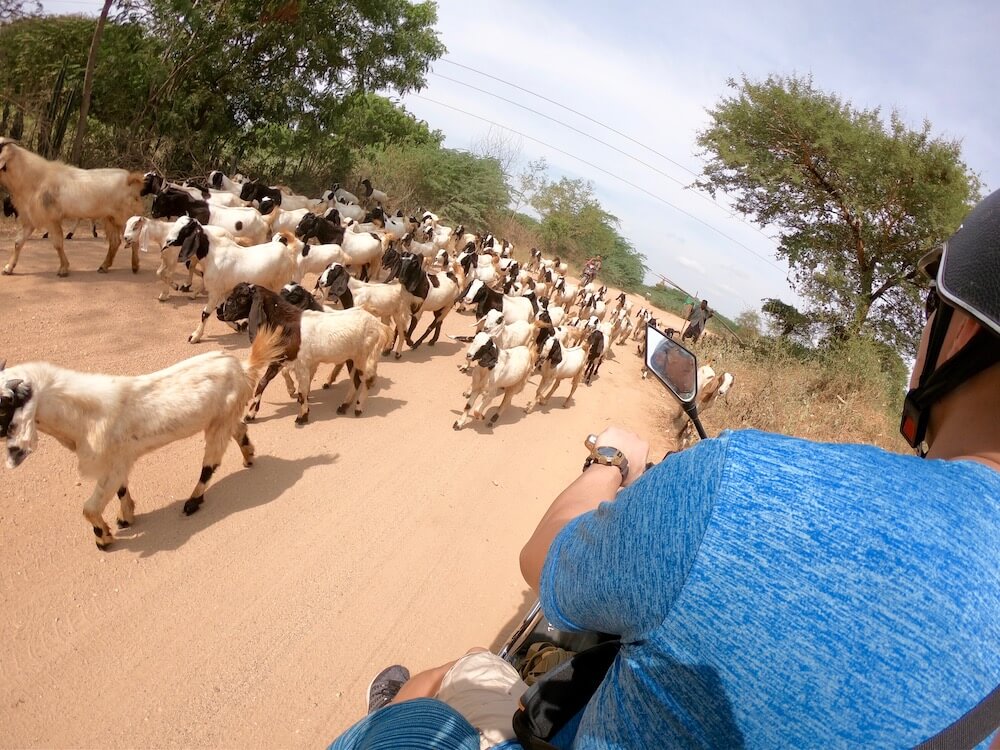 Sometimes, you might even need to stop by the side of the road to allow a giant herd of goats to pass by!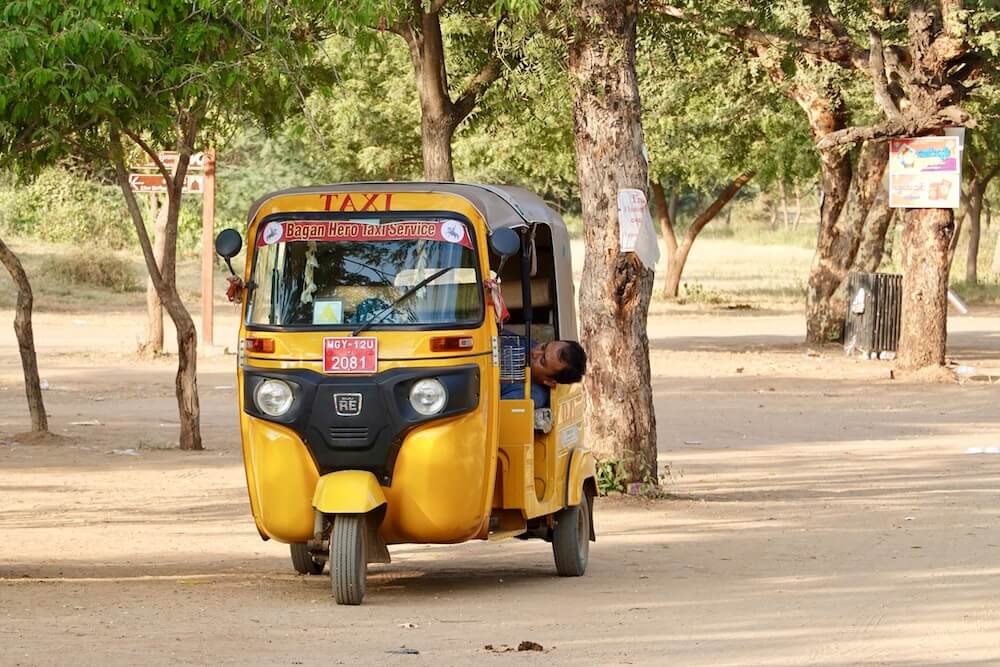 Alternatively, if you don't wish to ride the e-bike, you can hire a tuk-tuk to bring you around for the day. The tuk-tuk driver will wait for you at the various sites whilst you explore, and might even give you some nuggets of information about the area.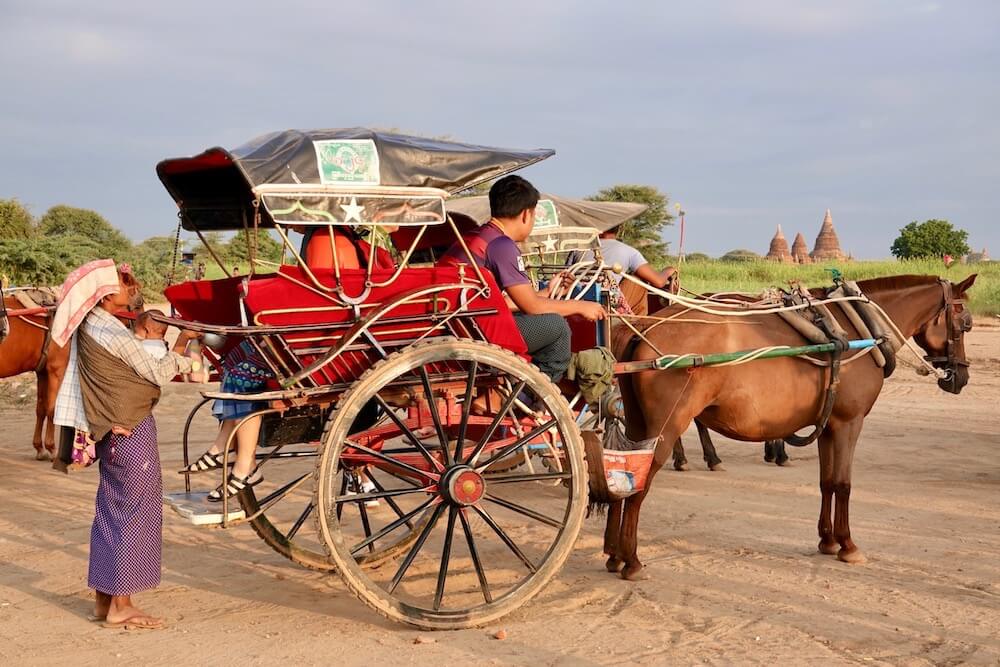 If you wish, you can also have a ride in a carriage pulled by horses.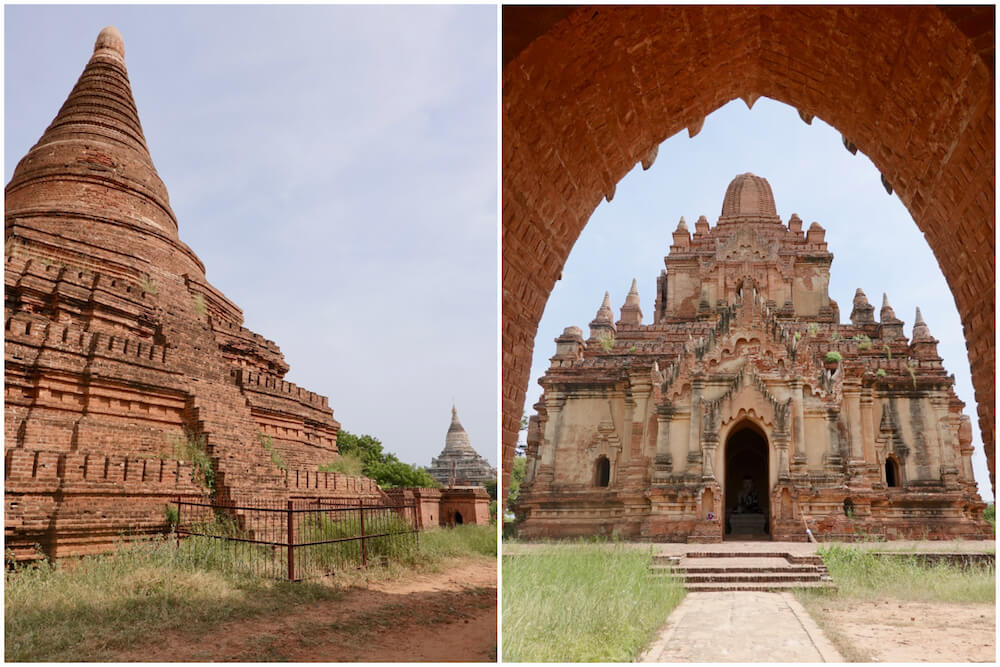 Some tips for visiting the temples in Bagan:
Always dress respectfully – males should have their knees and shoulders covered, and females should have their entire legs and shoulders covered as well. It's good to wear sandals that can be easily slipped on and off, as most temples require you to remove your footwear before entering.
The sun can also get rather brutal as it approaches mid-day; my advice to you is to start early, before returning to your hotel for a swim, lunch or nap, and heading out again in the late afternoon.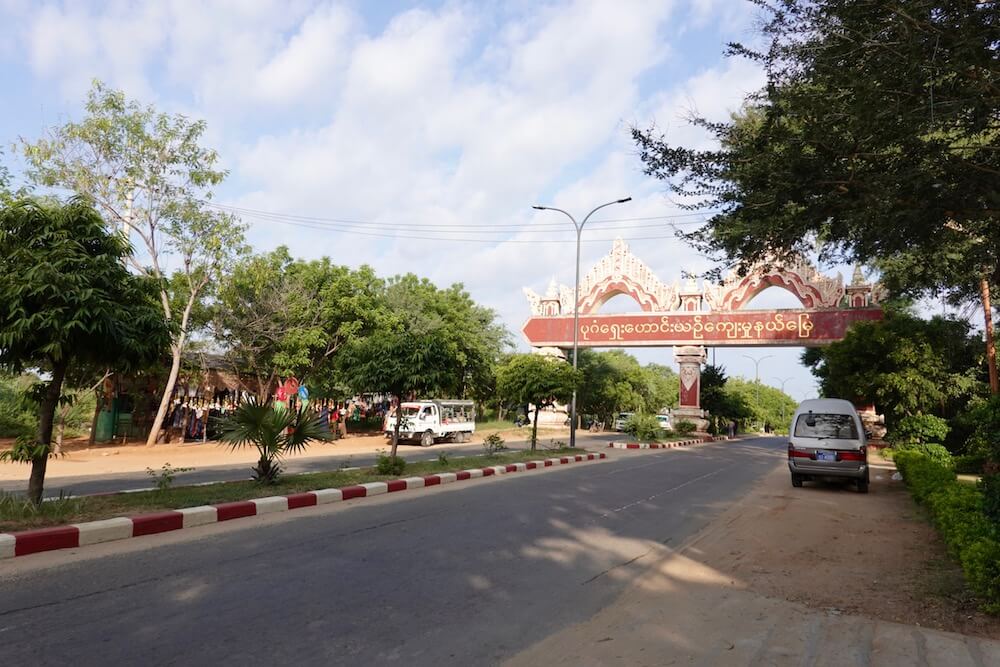 Also, there is a fee of MMK25, 000 (~SGD25) for entering the Archaeological Zone, which will be valid for the duration of your stay. This fee will be paid at a checkpoint before entering the zone. Do keep this on you at all times, for there might be random spot-checks conducted at any point of time!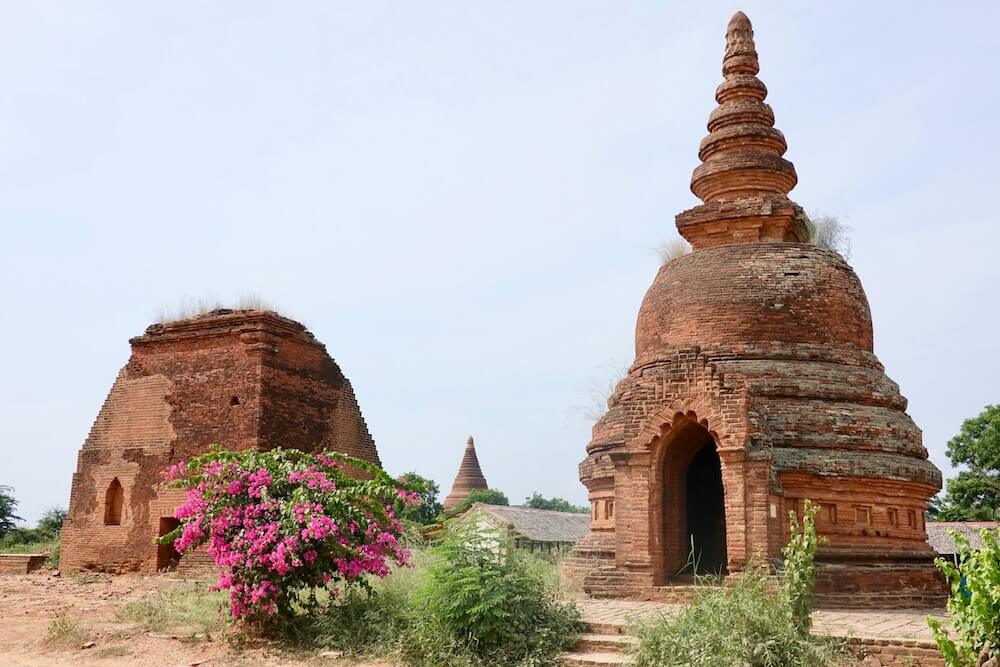 And if you're wondering what's the difference between a Temple, Pagoda and Stupa, here's a summary of what sets them apart:
Temples have an open interior that can be entered by the public, whilst stupas are solid structures that can't be entered. Pagodas are an extension of stupas, comprising tiered towers topped with a spire.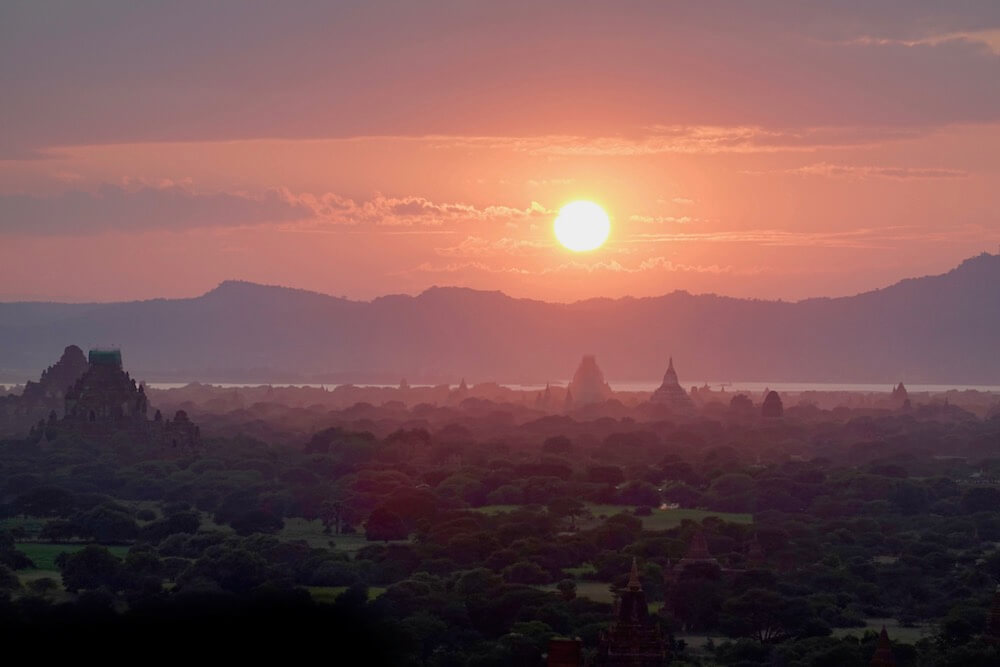 In the past, many travellers flocked to Bagan in search of that perfect sunrise or sunset shot. These were taken from the top of temples, which allowed visitors to climb its terraces. However, as of December 2017, the Burmese government has prohibited all climbing of temples. This is to help preserve the temples and to ensure the safety of tourists.

Now, there are only a few designated sunrise or sunset spots in Bagan, such as a small hill near the Sulamani Temple or the Bagan Viewing Tower. Inevitably, there are still some tourists who flout the law and climb the temples illegally – however, I advise you to respect the preservation of the temples and not follow suit!
Read: Where to Watch the Sunrise or Sunset in Bagan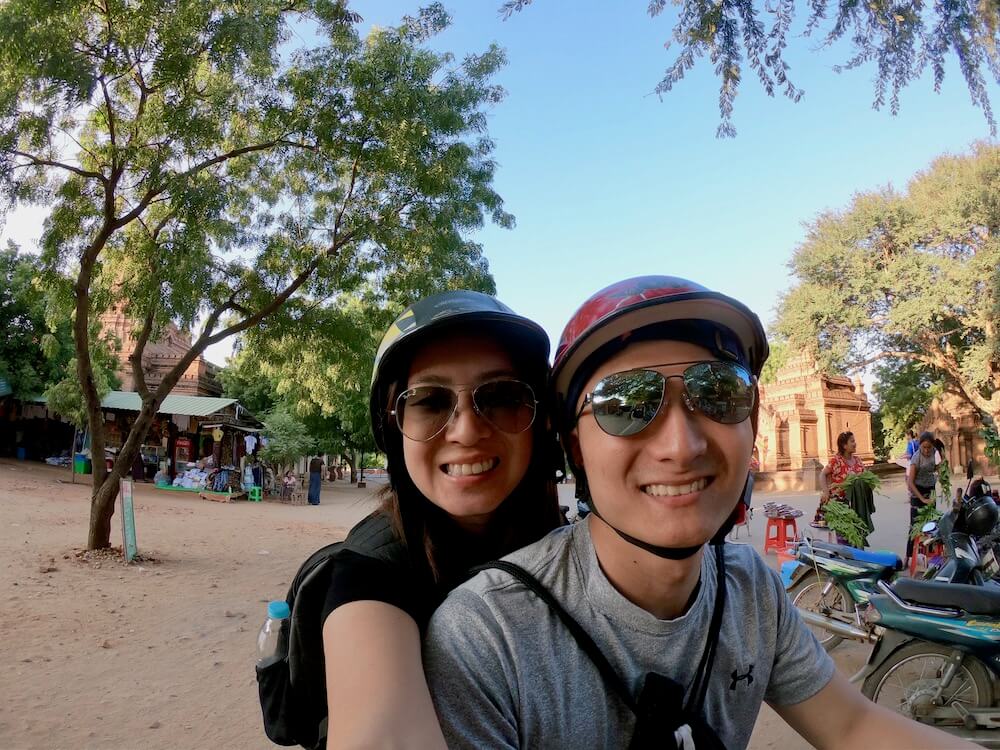 Despite this, temple-hopping in Bagan still remains a glorious affair that's suitable for all ages. Just remember to arm yourself with a big bottle of water and an intrepid sense of adventure – and you'll be all good to go!

Read: Taking an Overnight Bus from Yangon to Bagan
Add a comment