Things to Do in Zurich, Switzerland
Most flights from Singapore to Switzerland land in Zurich, making this city the perfect place to kick-start your adventure. Besides being Switzerland's largest city, Zurich is a great base for exploring the surrounding area – be spoilt for choice with visits to Bern, the Rhine Falls, Lucerne and more.
Read: A Half-day Trip to Bern, Switzerland; Visiting the Rhine Falls Near Zurich, Switzerland; Things to Do in Lucerne, Switzerland 
Zurich itself looks pretty much like a postcard, with the tranquil Limmat River cutting through the city. There's no lack of sightseeing to do in Zurich – here are my top picks:
1. Wander around the Old Town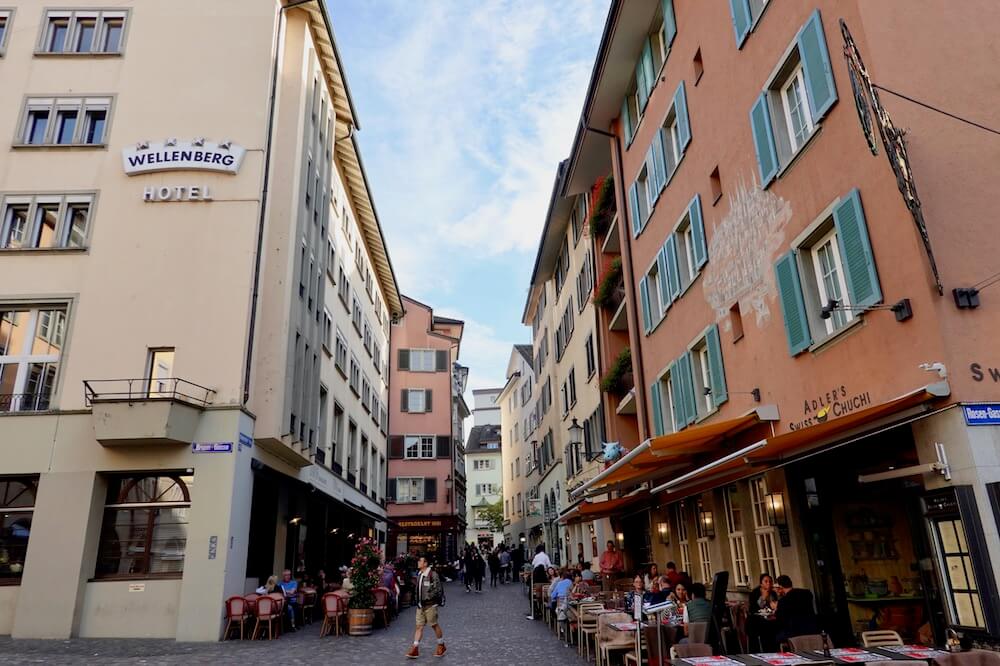 Zurich's heartbeat can be felt most along the alleys of its Old Town, consisting of a dazzling labyrinth of little alleys, hole-in-the-wall shops and bustling restaurants.
Get lost in the maze of winding cobblestone streets, revel in the history of the buildings and pop into a bar or restaurant for a meal. Don't forget to look up as well – you never know what surprises you might find!
2. Explore IM VIADUKT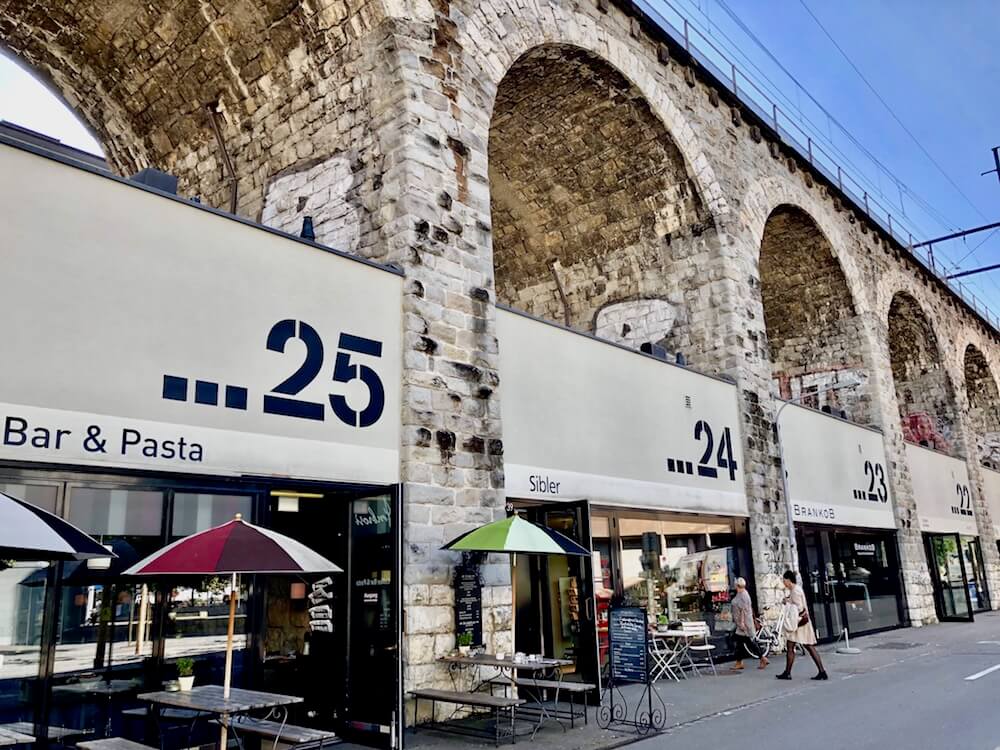 Nestled under a 19th-century rail viaduct, IM VIADUKT comprises a 500-metre stretch of shops, restaurants and bars. You probably won't recognise any of the shops here but that's the whole point – the concept revolves around trendy boutique labels and artisan offerings.
This attraction seems to be a little under the radar, with little to no crowds during my visit – which is great for those looking for some quiet time.
3. Take an insta-worthy photo at Gerold Cuchi Restaurant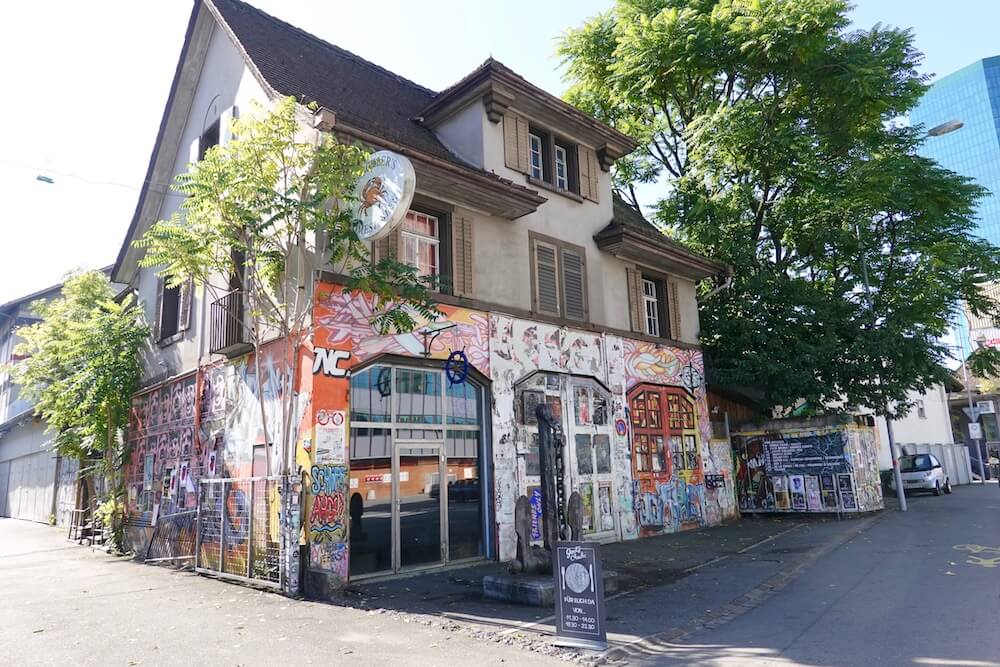 Serving up homemade pasta and delectable burgers, Gerold Cuchi Restaurant is a popular haunt among Swiss locals. The menu changes every day so you'll never know what's in store! Should you wish, you can also choose to stay on after dinner at the Hive NightClub, which is located within the same premises.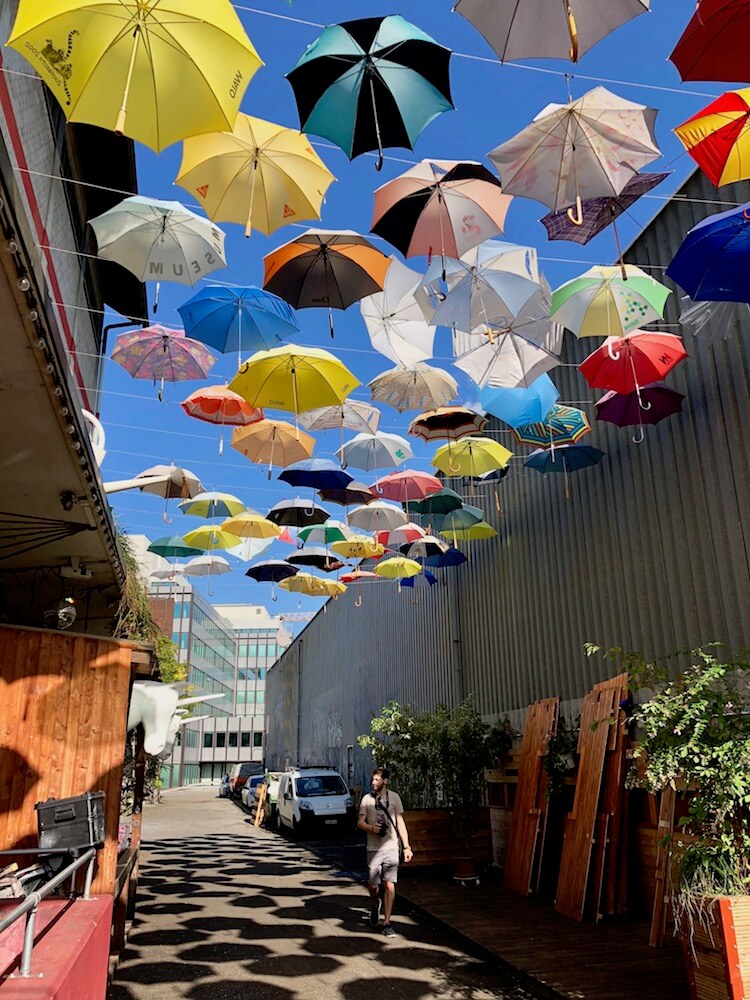 The highlight of Gerold Cuchi Restaurant, however, is this row of hanging umbrellas located just behind the building. Strike a pose and snap away!
4. Drop by the Freitag Flagship Store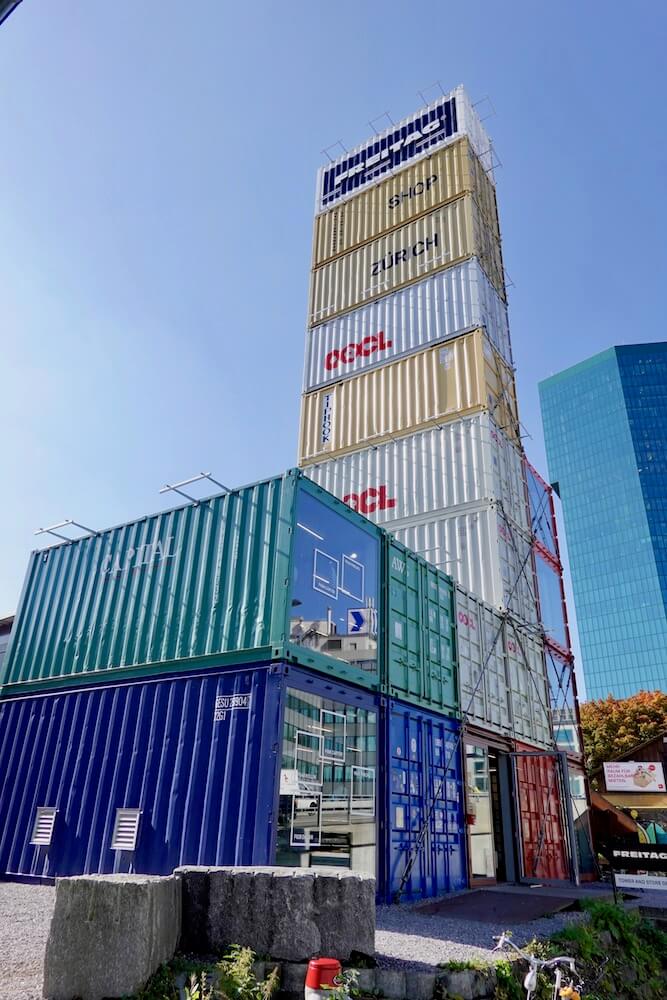 Reputed for selling one-of-a-kind bags and accessories made from recycled truck tarp and fully compostable textiles, Freitag's flagship store in Zurich looks as unique as its products. Boasting a tall tower of shipping containers, the structure is a whopping 26 metres tall. Take your time to browse through the product showrooms, before making your way up to the observation deck at the top of the tower for a fantastic view of the city.
5. Explore Frau Gerolds Garden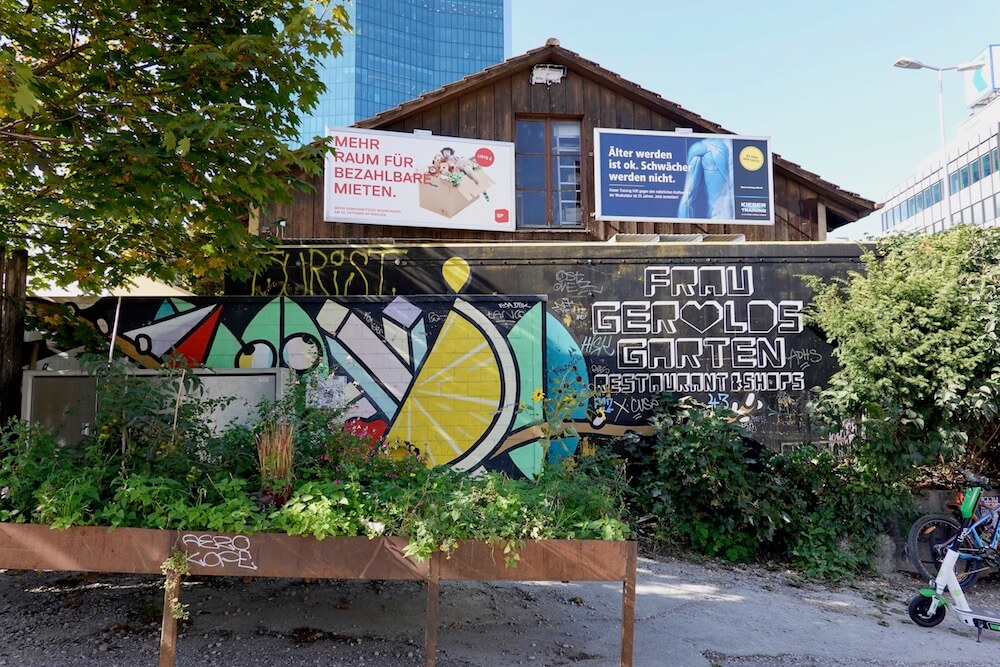 Visiting Frau Gerolds Garten is truly an experience in itself. This experience changes with the seasons – from April to September, the complex hosts a sprawling al fresco restaurant for customers to enjoy the best of summer; from October to March, this is transformed into a wooden pavilion that's adapted to keep customers warm in the winter cold.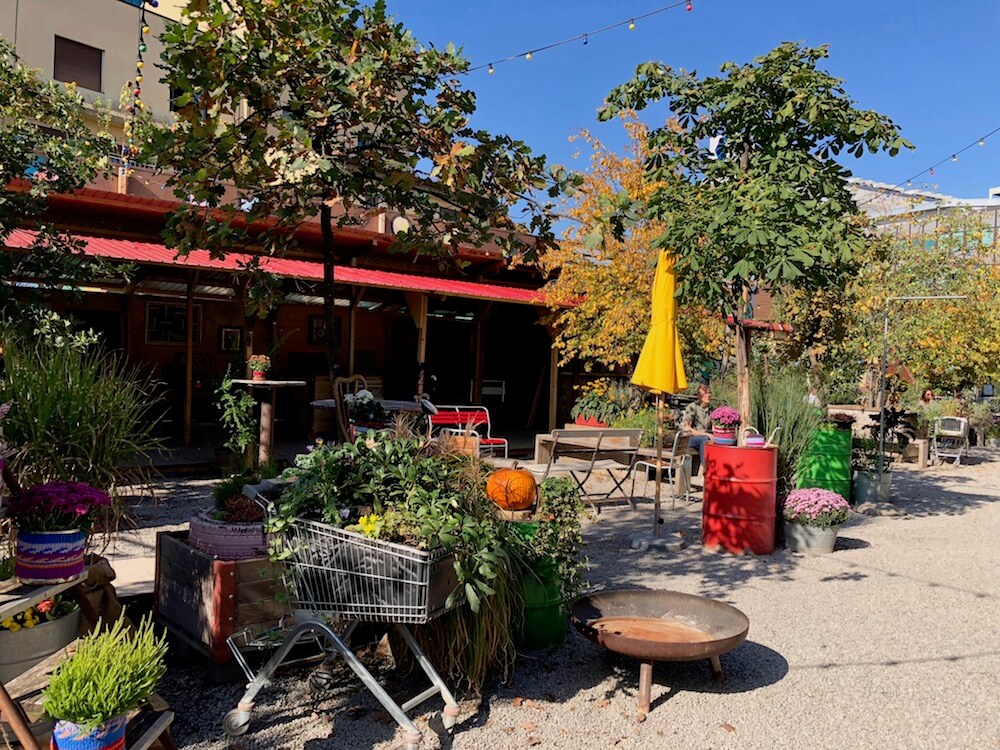 Besides food and drink, you'll also find a plethora of shops and art studios, on top of various pop-up exhibitions. 
6. Enjoy a panoramic view from Lindenhof Hill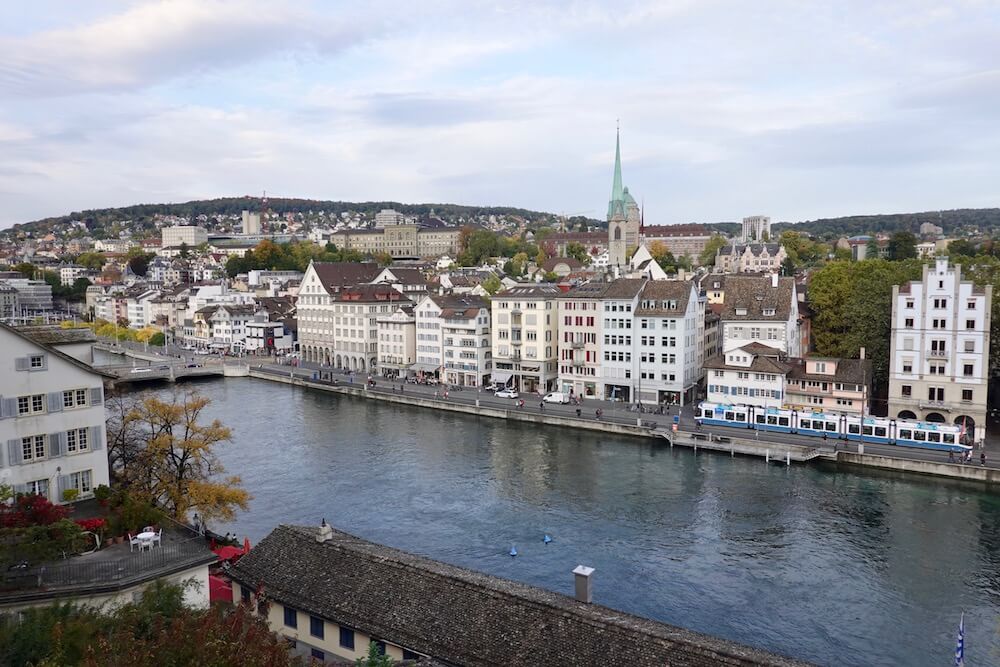 Located a short walk from the city's main train station and old town, Lindenhof Hill boasts what is arguably one of the best views of Zurich. Home to a Roman Fort in the 4th century and a grand palace in the 9th century, Lindenhof Hill now exists as a peaceful oasis shrouded by greenery in the middle of the city.
Fun fact: Lindenhof Hill is a moraine hill, which refers to it being created out of the remains of a glacier!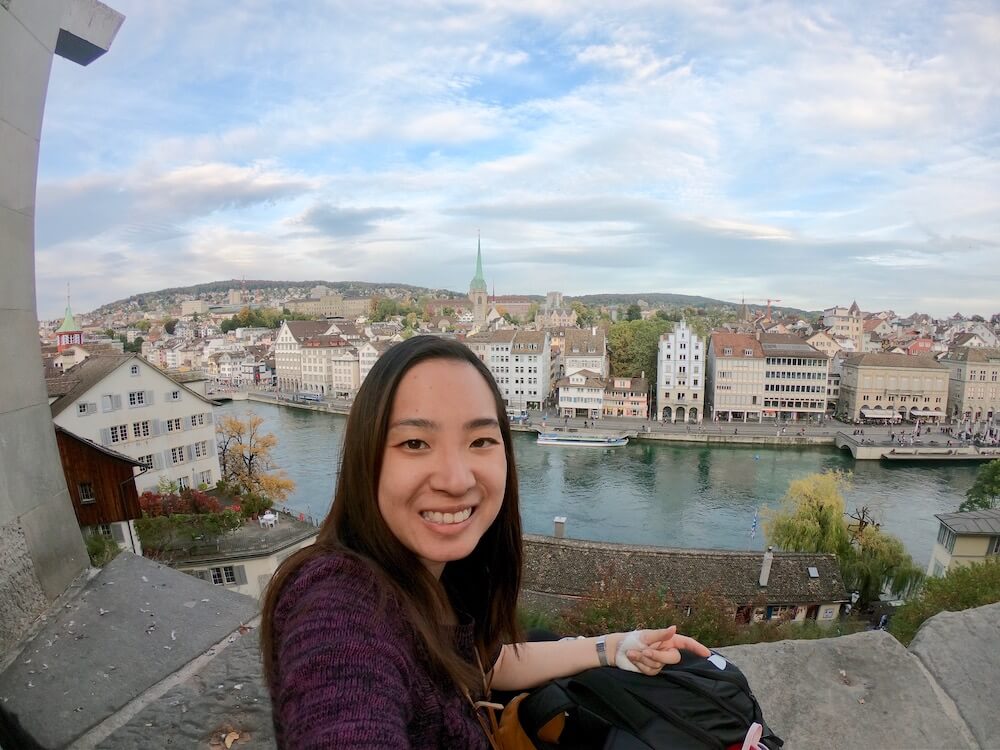 Bring a book, pack a snack and simply enjoy the view. This is also a great sunset spot!
7. Visit the Grossmunster Church
This is one landmark that you simply can't miss while in Zurich. As legend has it, the Grossmunster Church was built on top of the graves of two patron saints. Being one of the oldest and largest churches in Switzerland, the Grossmunster is especially recognised by its austere twin towers.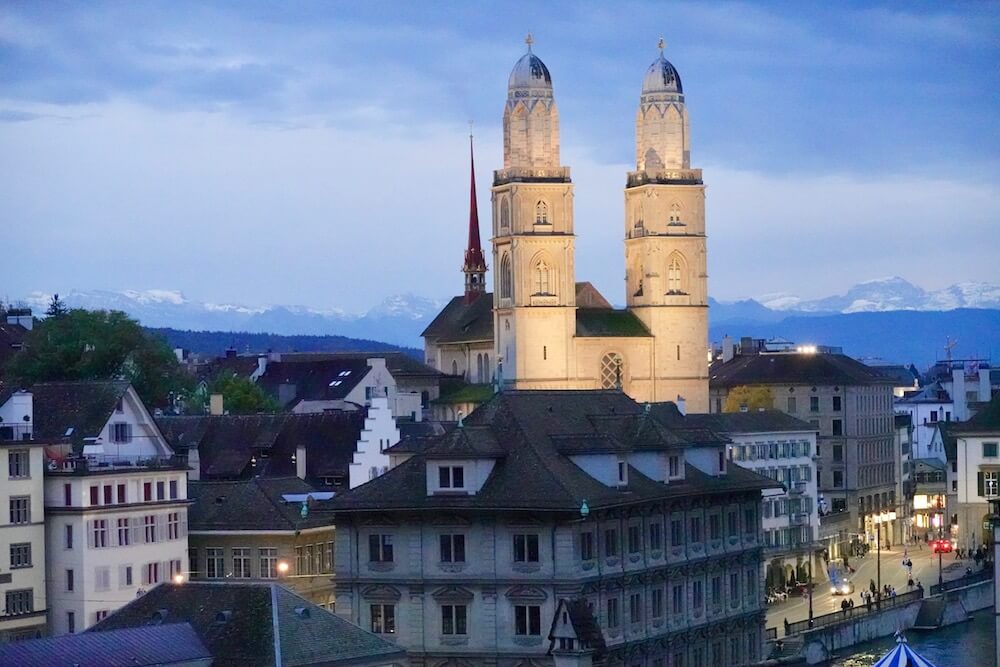 It even looks beautiful after dark!
8. Check out the Thermengasse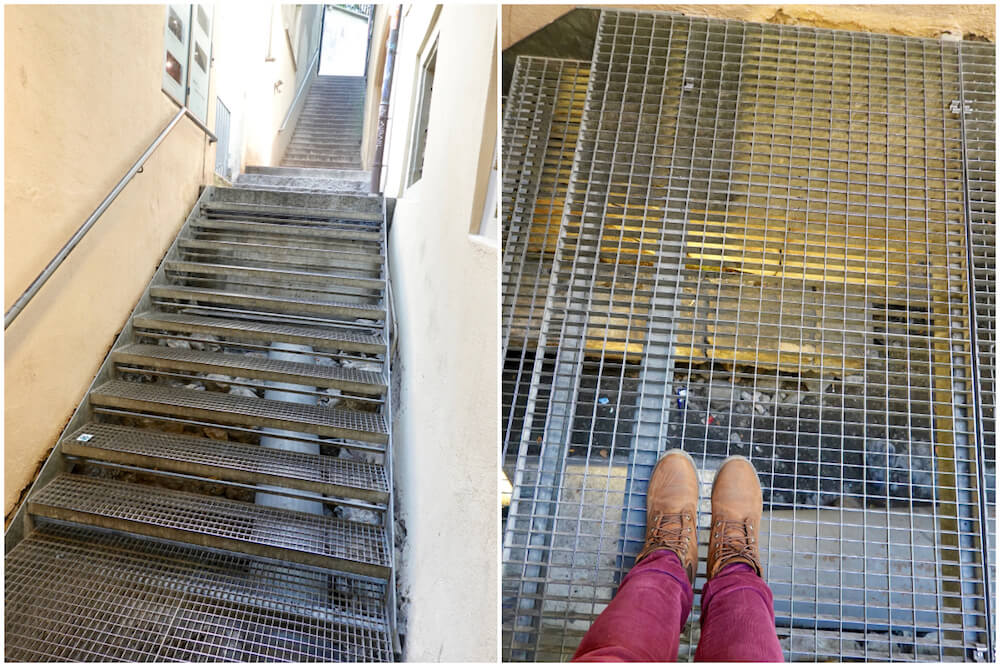 What looked like just a normal staircase turned out to be very much the opposite! In 1983, some renovation works uncovered the remains of ancient Roman Baths. These baths were then excavated and put on display below a metal mesh.
Indeed, where else can you walk over a 2000-year-old Roman bathhouse right in the heart of a city?
9. Stroll along the Limmat River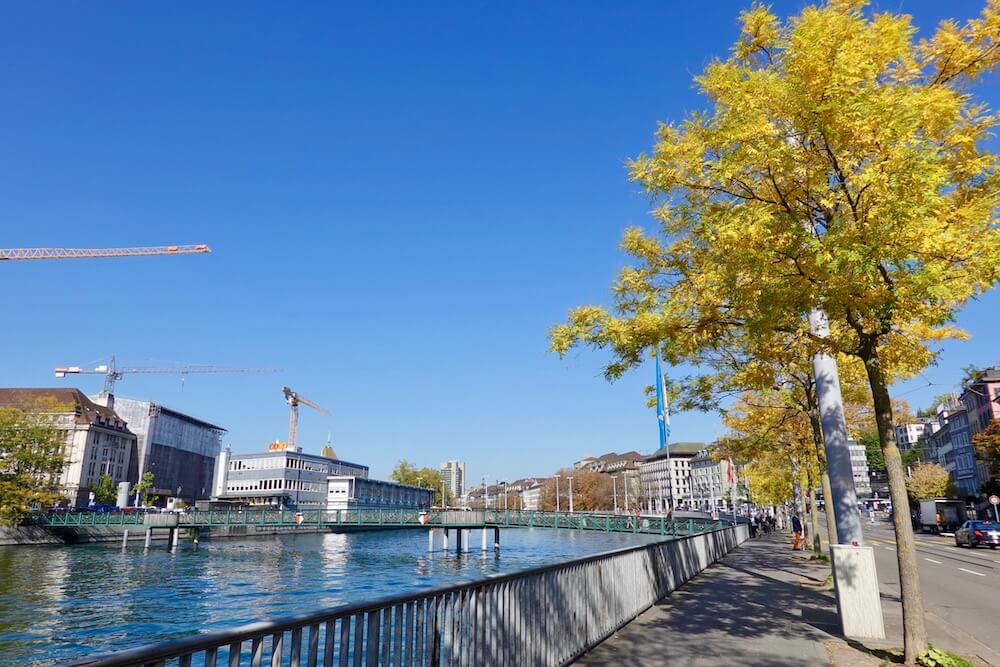 Unwind after a long day of sightseeing at the Limmat River. Take a deep breath of fresh air, check out the various art murals or follow the river all the way to IM VIADUKT (point 2).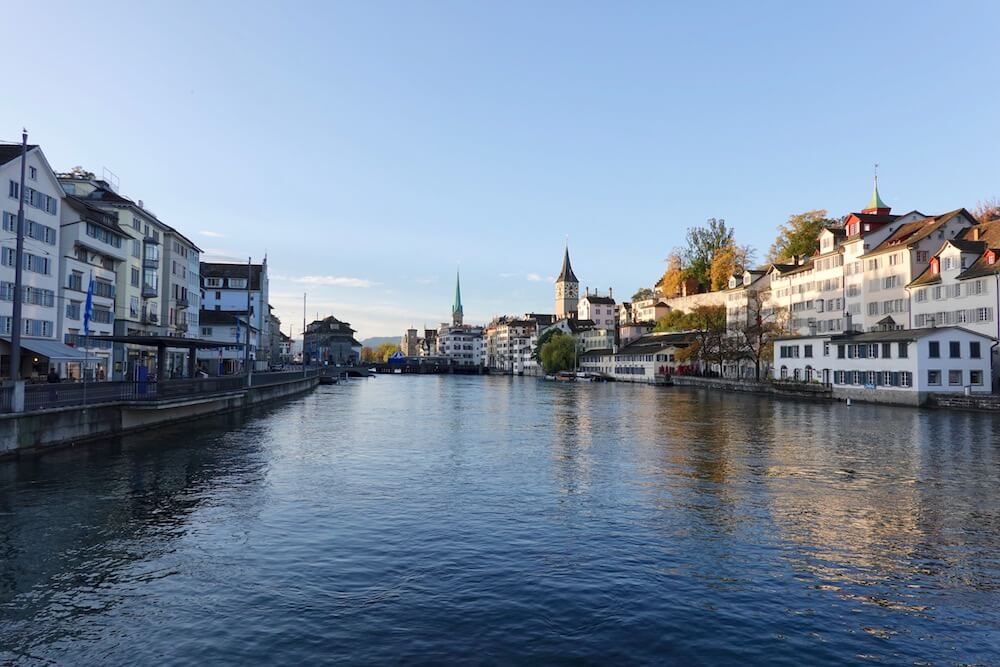 Not to mention, the views are splendid too!
10. Have a meal at the medieval Zeughauskeller Restaurant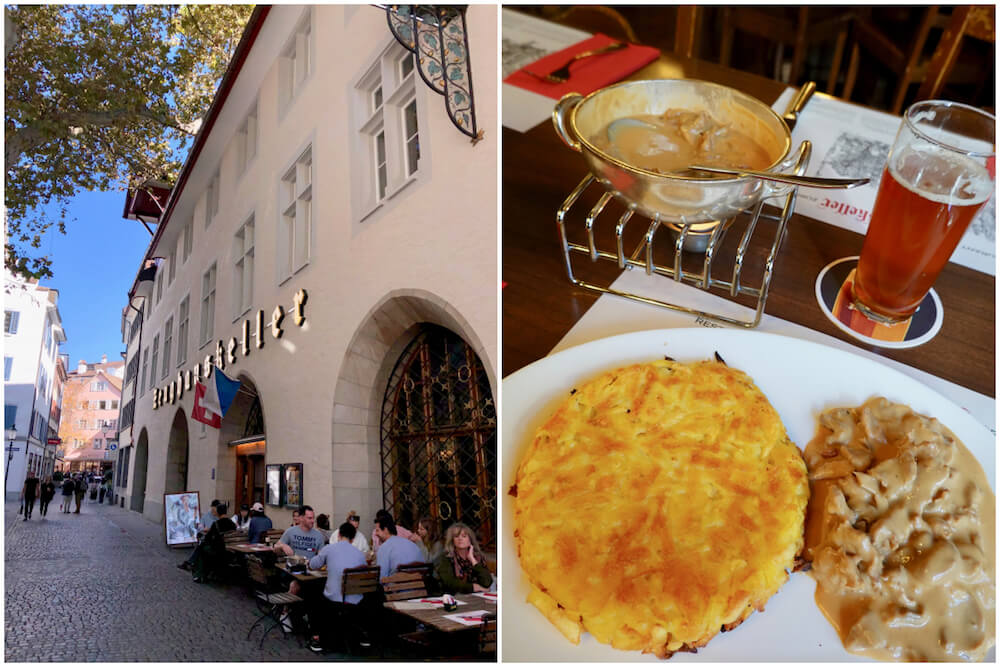 Located in a medieval arsenal, Zeughauskeller offers a true feast for the senses. Dig into hearty Swiss fare and wash it down with an ice-cold beer. One dish to try would be the Zurcher Geschnetzeltes, a Zurich offering comprising veal stewed in white wine and cream alongside a streaming Rosti (potato fritter).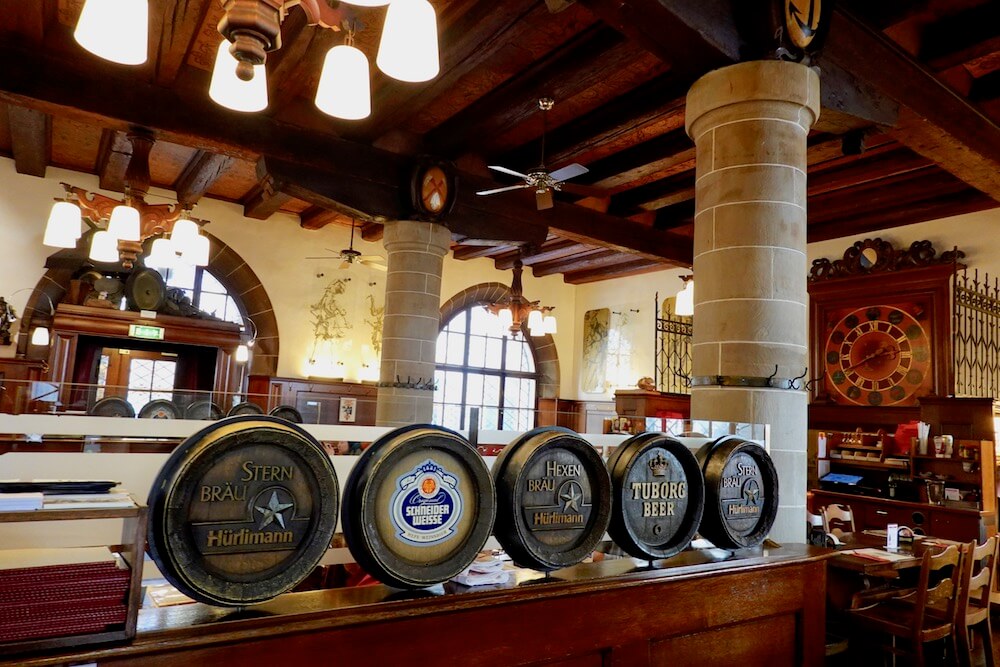 The interior pays homage to its origins by displaying a variety of weapons on the wall. If you wish, you can also choose to share a big table with a few locals and be regaled by their tales.
11. Shop 'till you drop along Bahnhofstrasse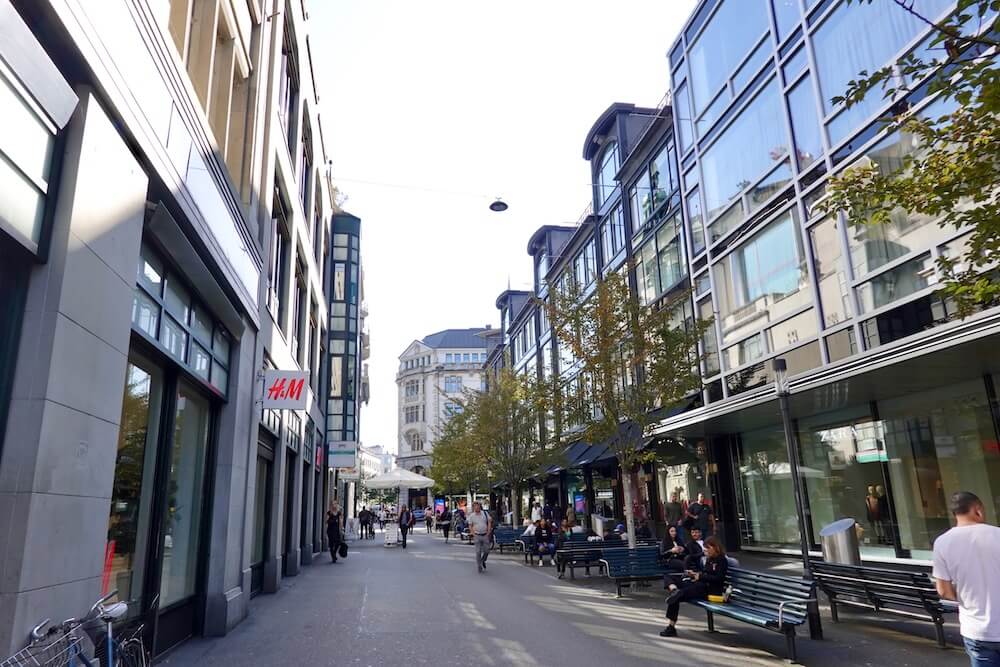 A far cry from the nostalgic buildings of Zurich's old town, the Bahnhofstrasse epitomises "shiny and new", offering a stretch of modern shops, department stores and boutiques.
The 1.4-kilometre stretch connects Zurich's main station to Lake Zurich.
12. Go on a free walking tour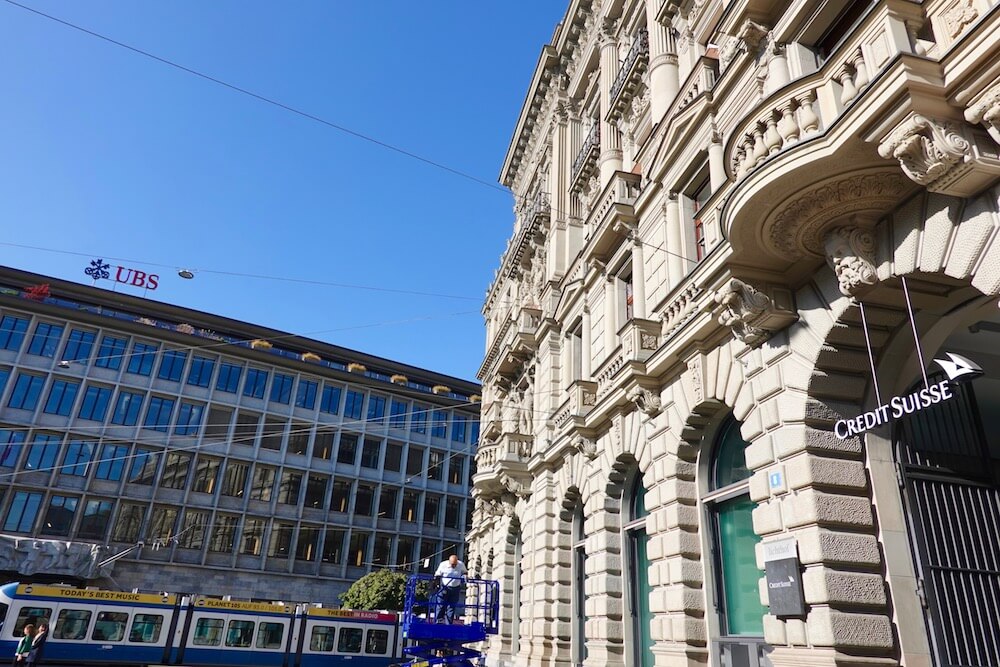 A free walking tour is the quintessential activity you should do in any European city. These tours are normally run by guides who operate on a pay-as-you-desire metric; in other words, the tours have no fixed price and at the end of the tour, participants pay the guide however much they think the tour was worth.
A free walking tour is a great and fuss-free way to visit the city's main sights, as well as to learn the history behind certain monuments and buildings. The intersection above, for example, is a 'golden intersection' of sorts, housing two of Switzerland's largest banks. These two banks actually account for more than half of Switzerland's monetary deposits!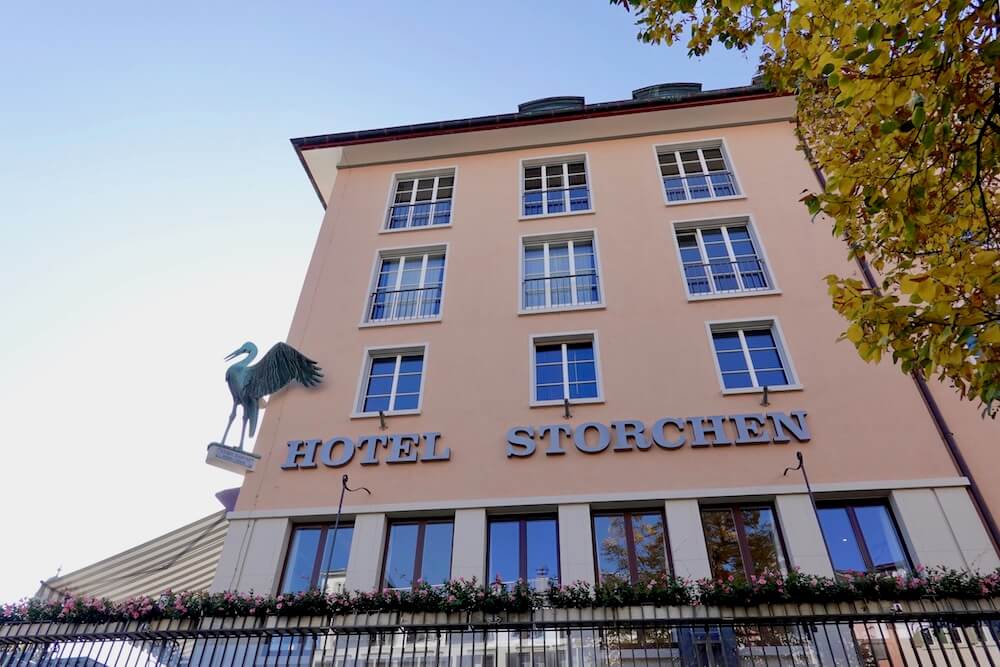 My tour also went past the Hotel Storchen, which was built in 1357 – making it one of Switzerland's oldest hotels.
Start your Swiss adventure in Zurich – there's always something to busy yourself with in this dynamic city!