Top Things to Do at Lauterbrunnen, Switzerland
The first thing to do upon reaching Lauterbrunnen? Close your eyes, breathe in the smell of magic and revel in the hushed silence that seems to hang over the valley. Breathtakingly tucked away in a lush valley surrounded by mountain peaks, Lauterbrunnen seems to have fallen straight out of the pages of a storybook.
Known as the 'Valley of 72 Waterfalls", the quiet town of Lauterbrunnen is home to less than 3, 000 residents. Located in the Jungfrau region, Lauterbrunnen can be reached via a short train ride away from Interlaken (20 minutes) or a longer journey from Lucerne (approximately 2.5 hours).
Read: Things to Do in Interlaken, Switzerland; Things to Do in Lucerne, Switzerland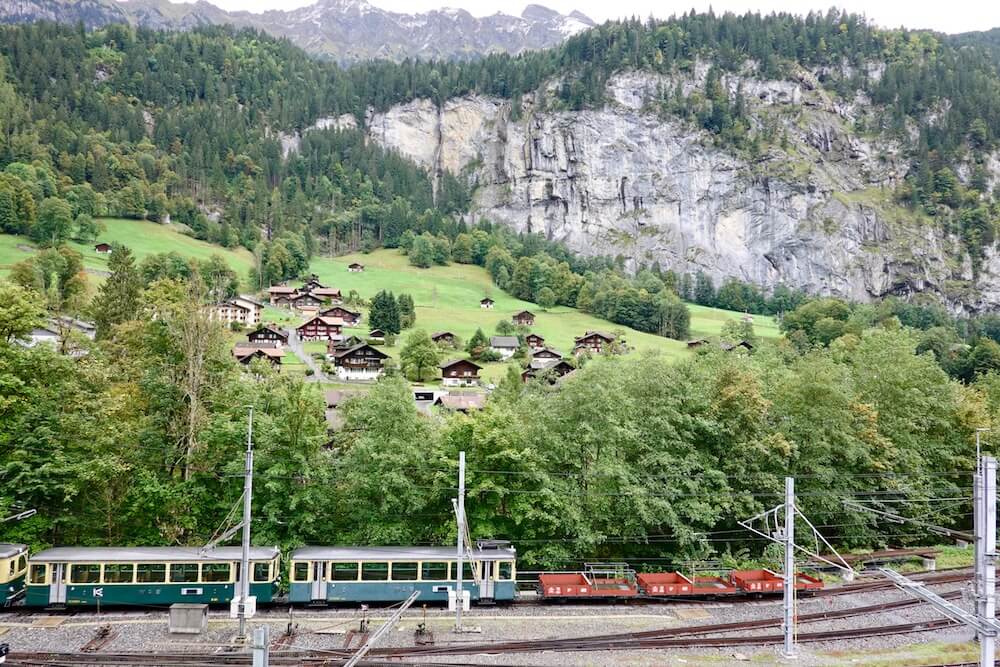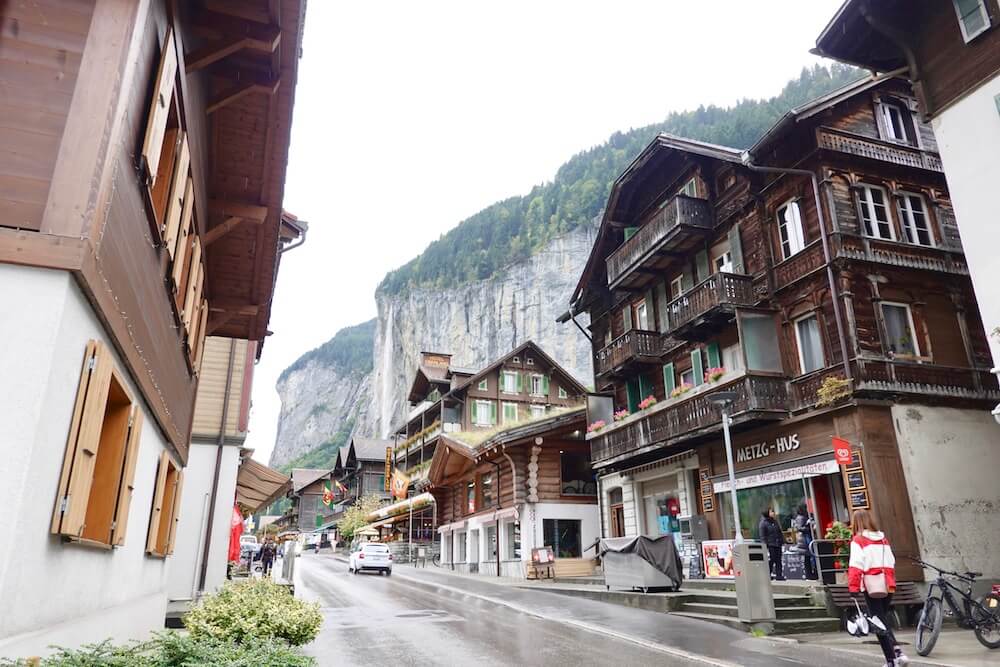 This greets you once you step out of the train station. Imagine that!
Tip: Due to Lauterbrunnen's location in the valley, it doesn't get much sun until approximately 2 to 3 hours after sunrise. It's hence best to start exploring from the late morning onwards.
Here are 4 things to do in the mystical town of Lauterbrunnen:
1. Walk behind Staubbach Falls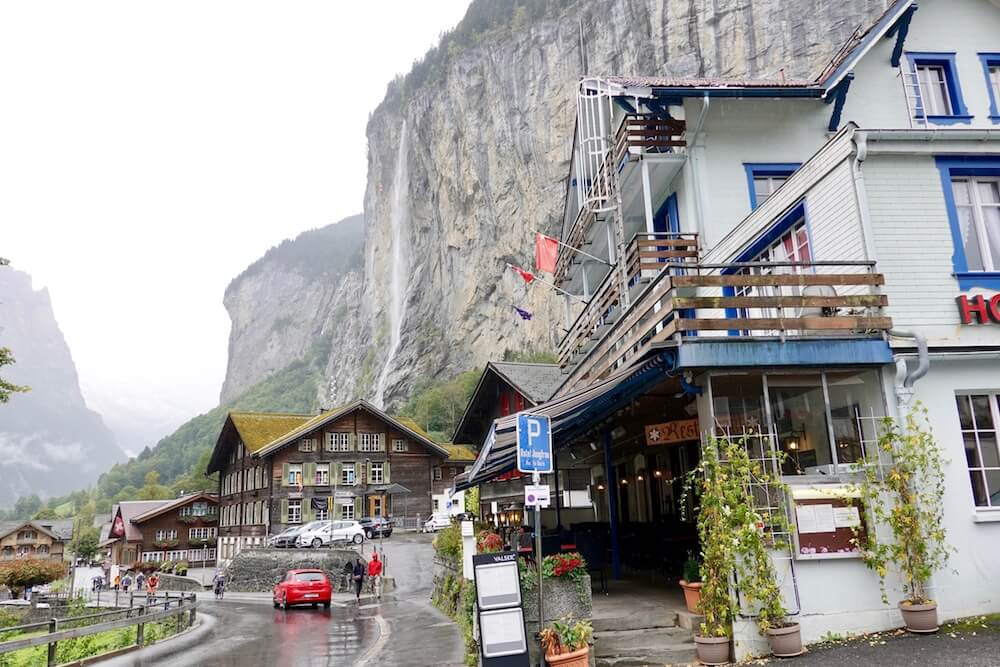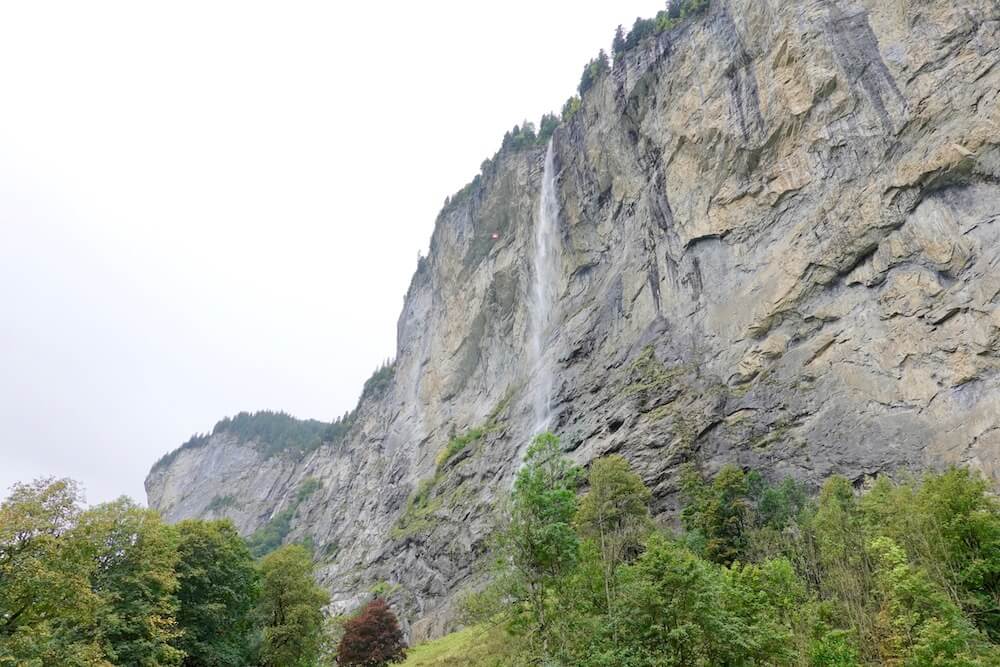 It's easy to find Staubbach Falls; in fact, it's visible from the main street! The most iconic of waterfalls in Lauterbrunnen, Staubbach Falls comprises a flow of glacial water falling from a height of 297 metres.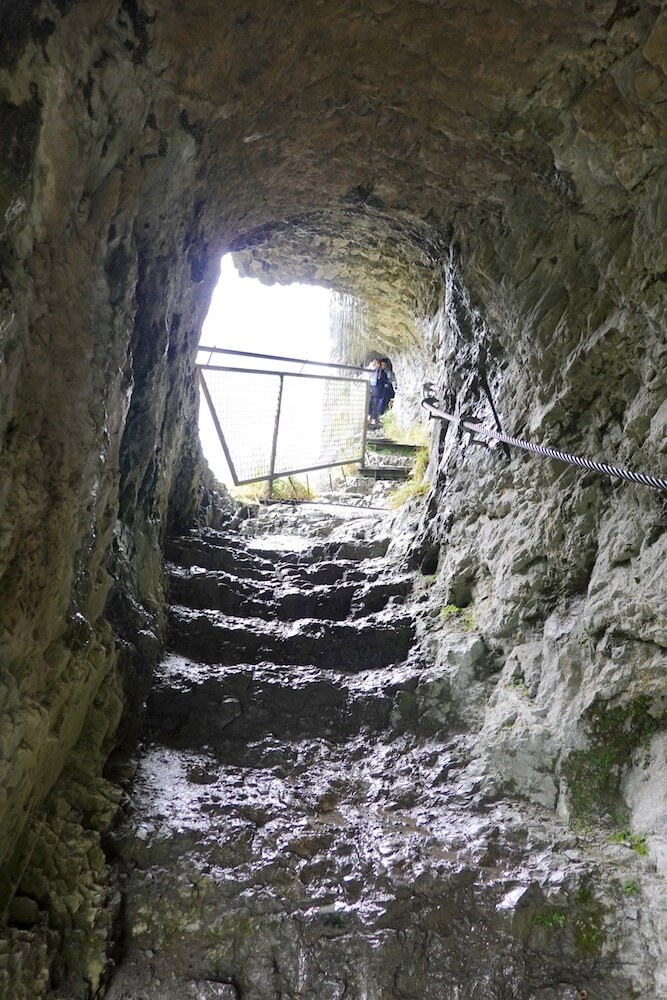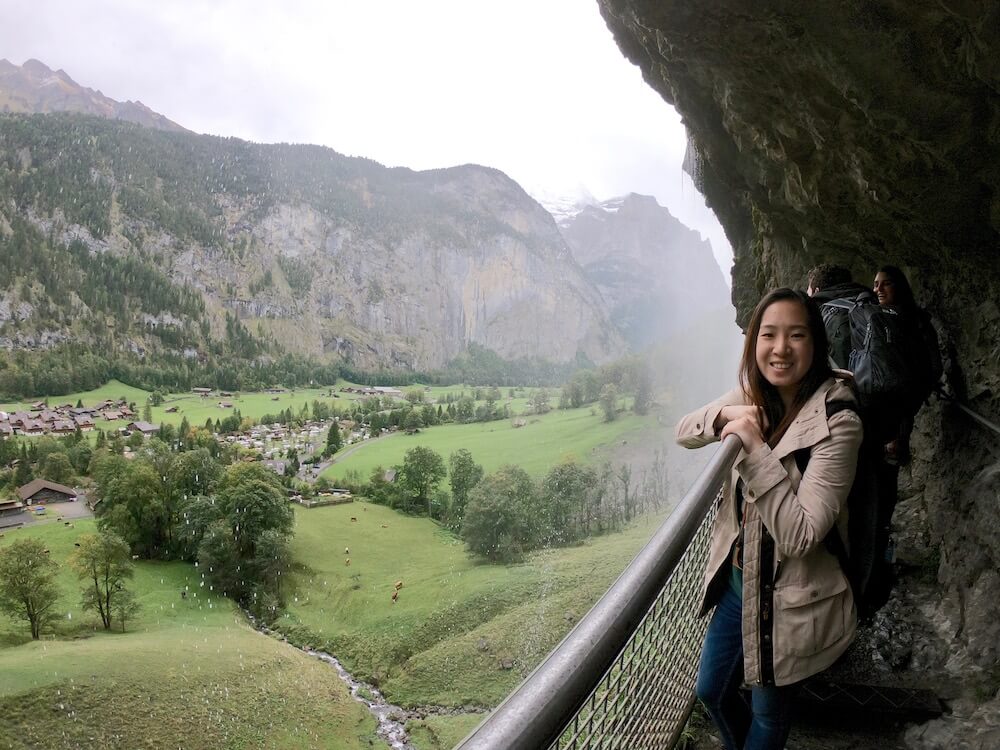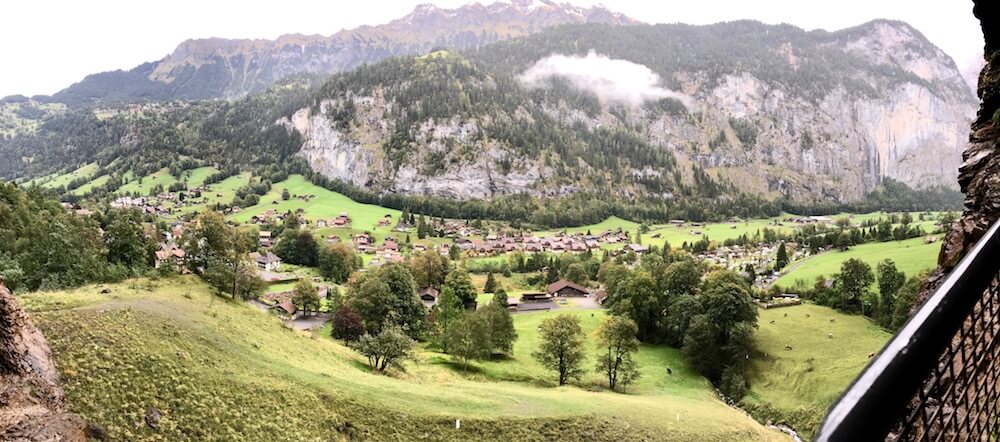 What's interesting about this waterfall is that besides admiring it from afar, you can actually walk behind it as well. Make your way up a flight of steps into a man-made grotto, where you can enjoy a panoramic view of the valley.

Tip: The steps leading up to the man-made grotto can be rather wet and slippery; it's hence recommended to wear boots with good traction to avoid slipping.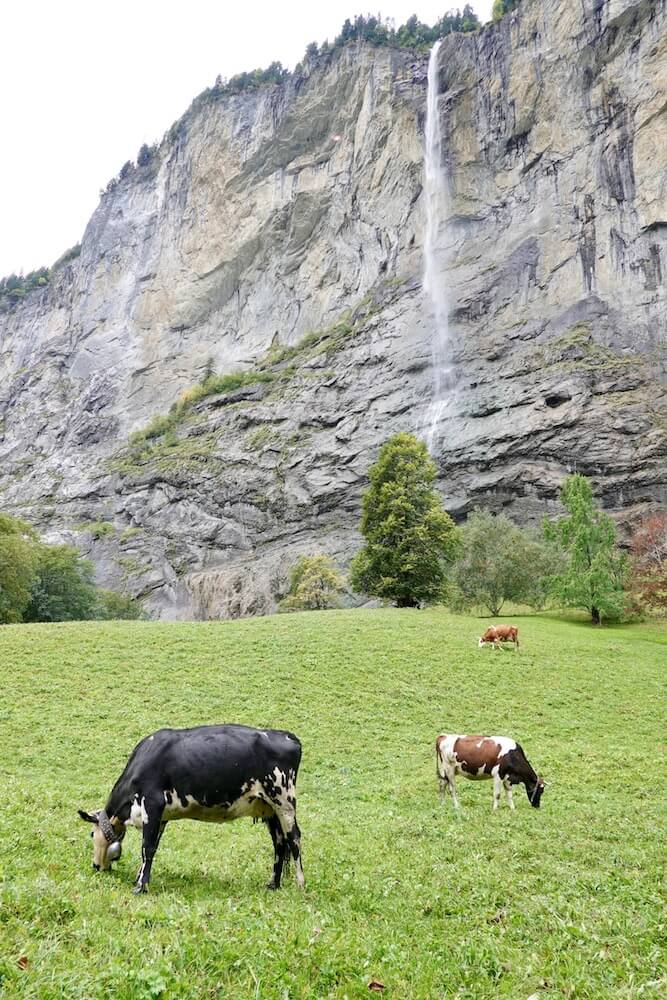 Fun fact: did you know that all cows in Switzerland have a bell around their necks? The chiming of the bells juxtaposes nicely with the sound of the rushing water, making for quite the idyllic scene.
2. Take a leisurely hike through the Valley
Lauterbrunnen Valley is mostly flat, making it perfect for a leisurely hike. Embark on the Nordic Walking Trail, a beautiful 2-hour route that will bring you through a valley landscape dotted with rolling meadows and stunning mountain views.
The route will take you 2 hours one-way. When you reach the end, you can choose to go back the way you came or take a cable car to Murren or Mount Schilthorn. More on that later!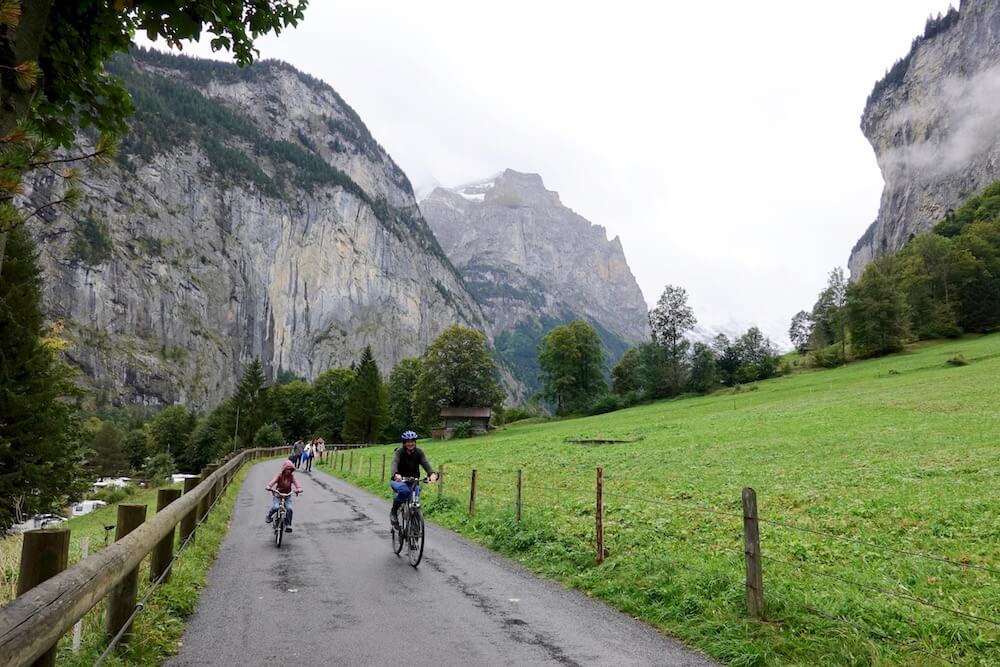 Alternatively, you can also choose to rent a bicycle from Lauterbrunnen's main street and cycle the stretch.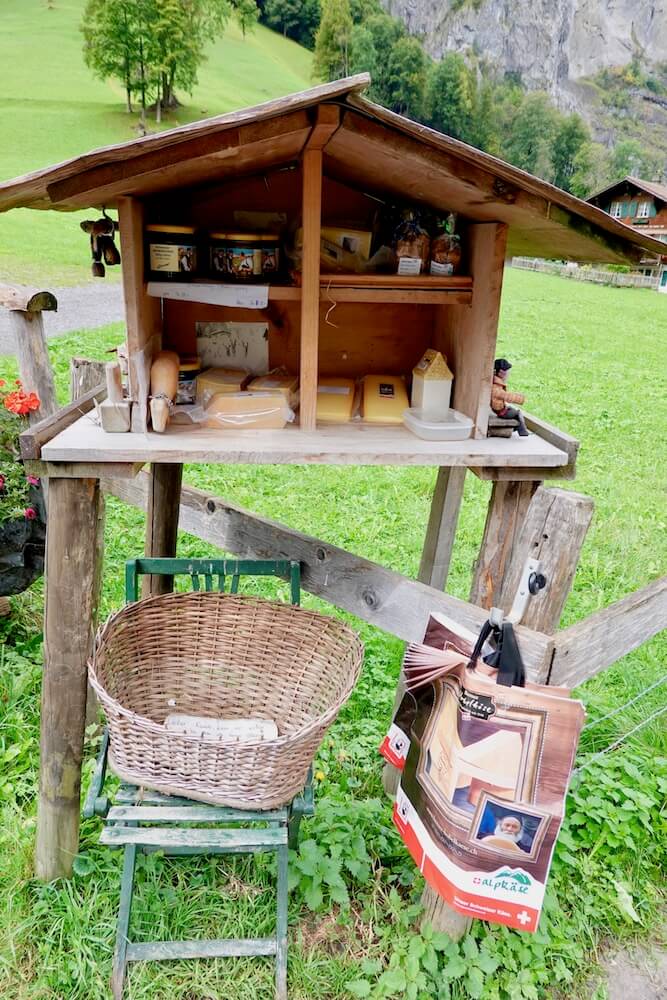 Should you get peckish along the way, you might come across a few "self-service" kiosks where you can help yourself to bread, cheese or jam. This operates on a trust and integrity system; all you have to do is to leave money in a basket provided in exchange for the food.
Tip: Do note that there aren't any restrooms along the trail – they can only be found at the start and the end of the route, as well as at Staubbach Falls.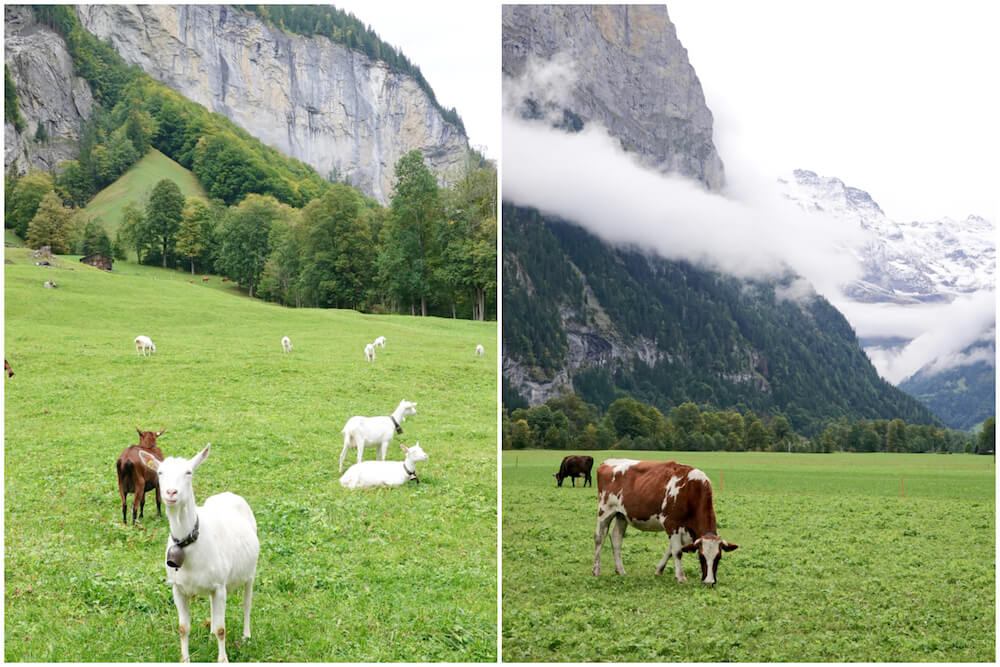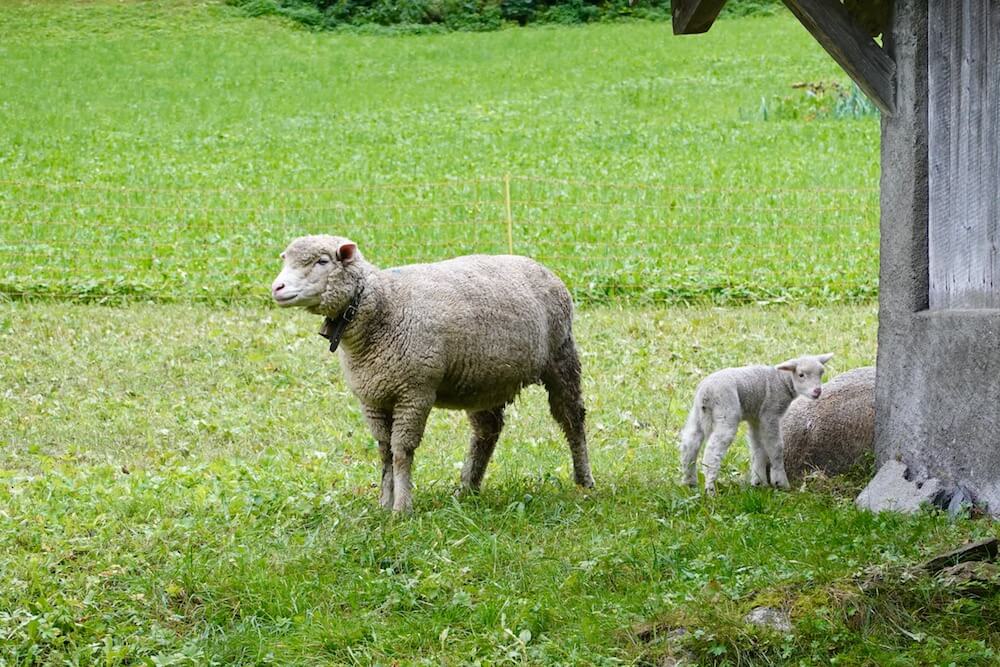 You'll also meet plenty of animal friends along the way.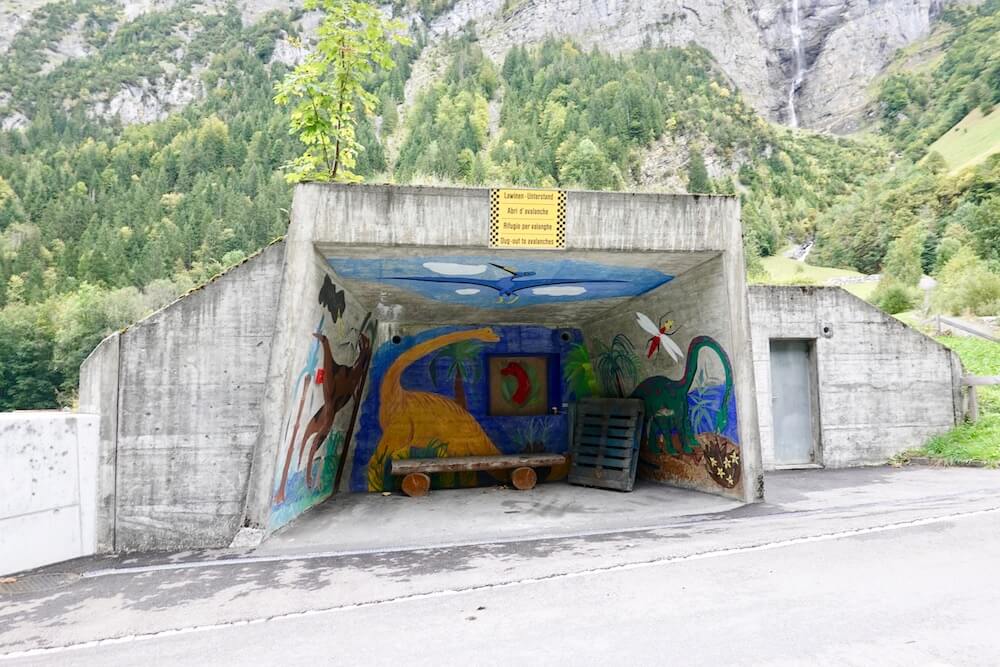 An interesting discovery along the way were these avalanche shelters, built by the government for the locals should a disaster ever strike. It was heartwarming to see how these shelters have been lovingly decorated with colourful murals, which also act as a rest stop for those on a walk through the valley!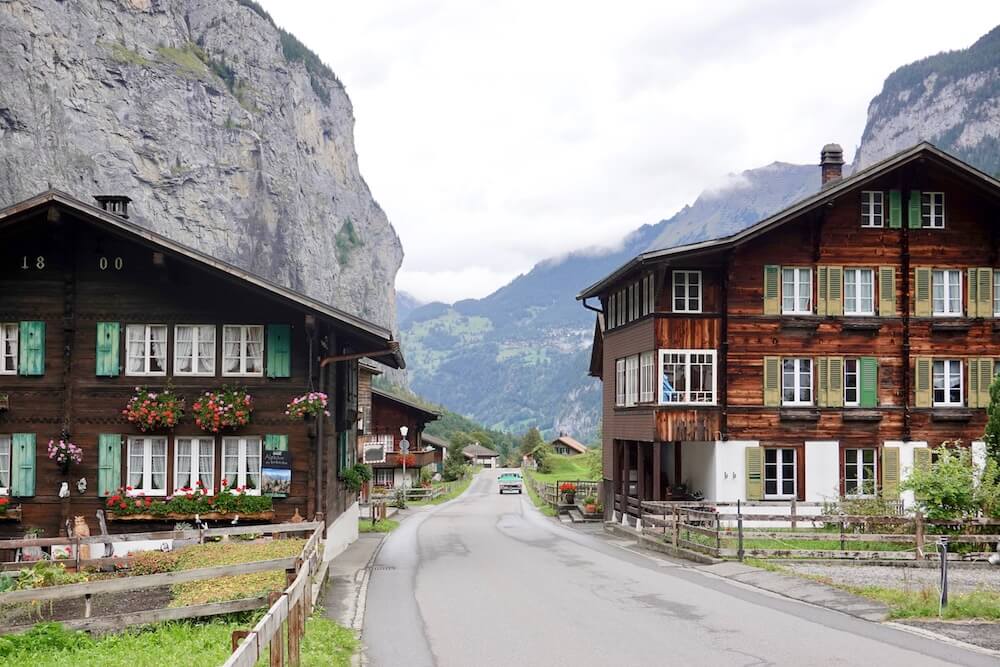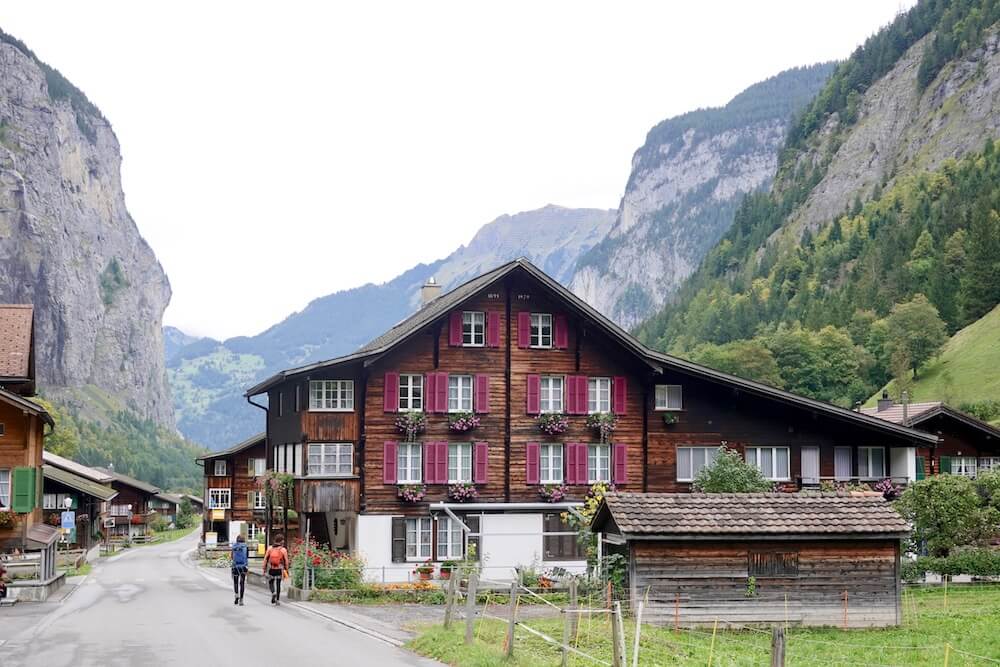 Besides the scenery, feast your eyes on the adorable Swiss houses. These are done up in the 'Swiss chalet style', with rustic charm oozing from their wooden exteriors, sloping roofs and colourful windowpanes.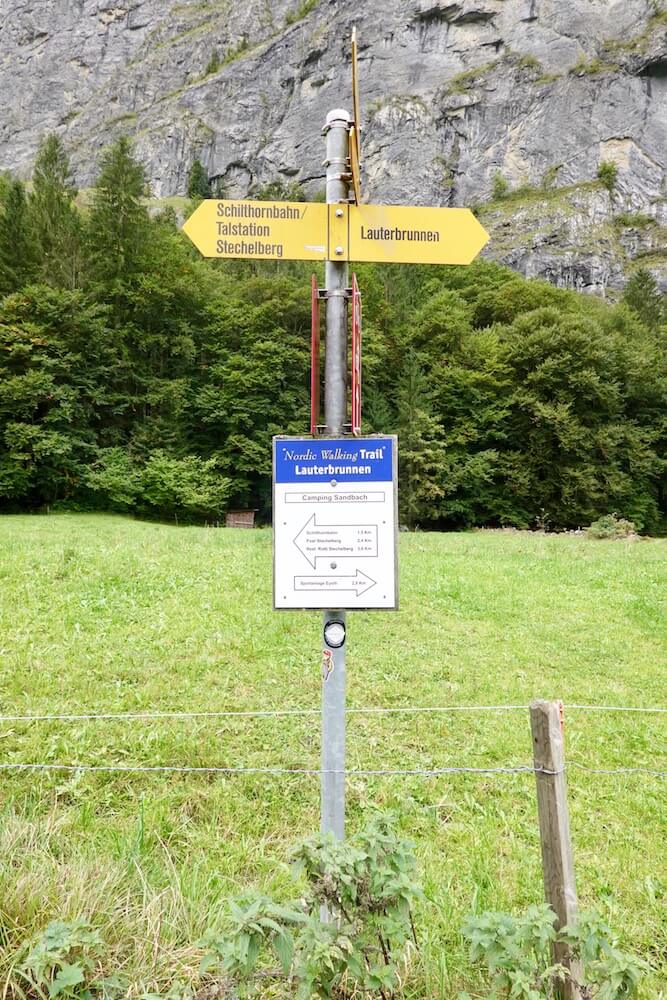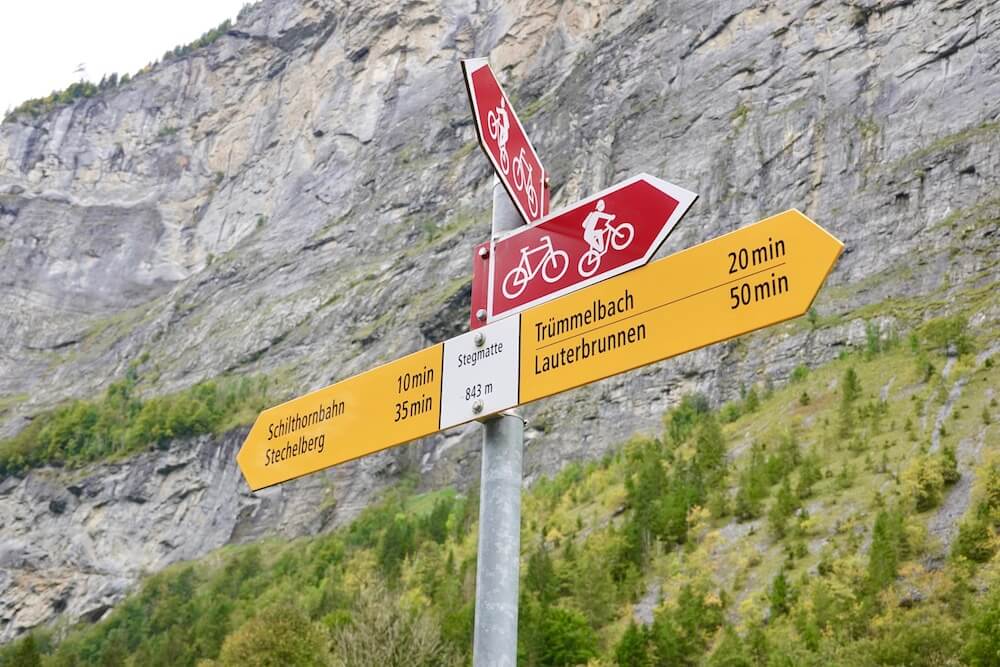 In case you're worried about losing your way, simply follow these yellow signs towards the direction of Stechelberg – the endpoint of the Nordic Walking Trail. The signs will also give you a rough gauge of how long it'd take to reach your destination.
3. Visit Trummelbach Falls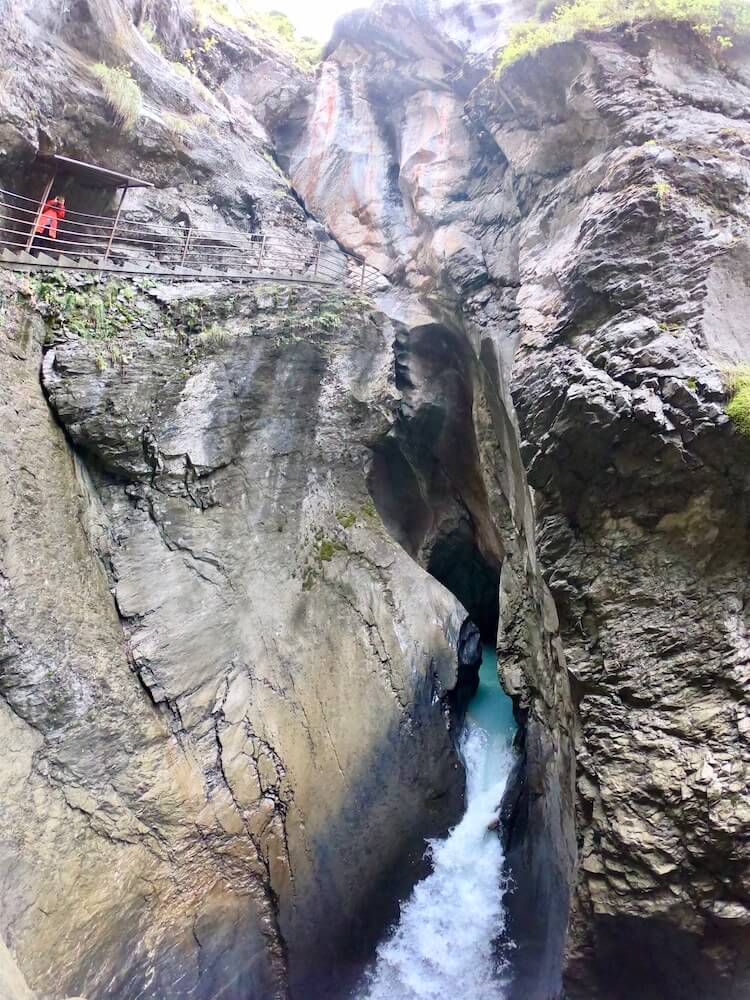 If you're embarking on the Nordic Walking Trail, I recommend taking a 1-hour detour to visit Trummelbach Falls! Comprising a series of 10 waterfalls, Trummelbach Falls is uniquely hidden almost entirely within the mountain.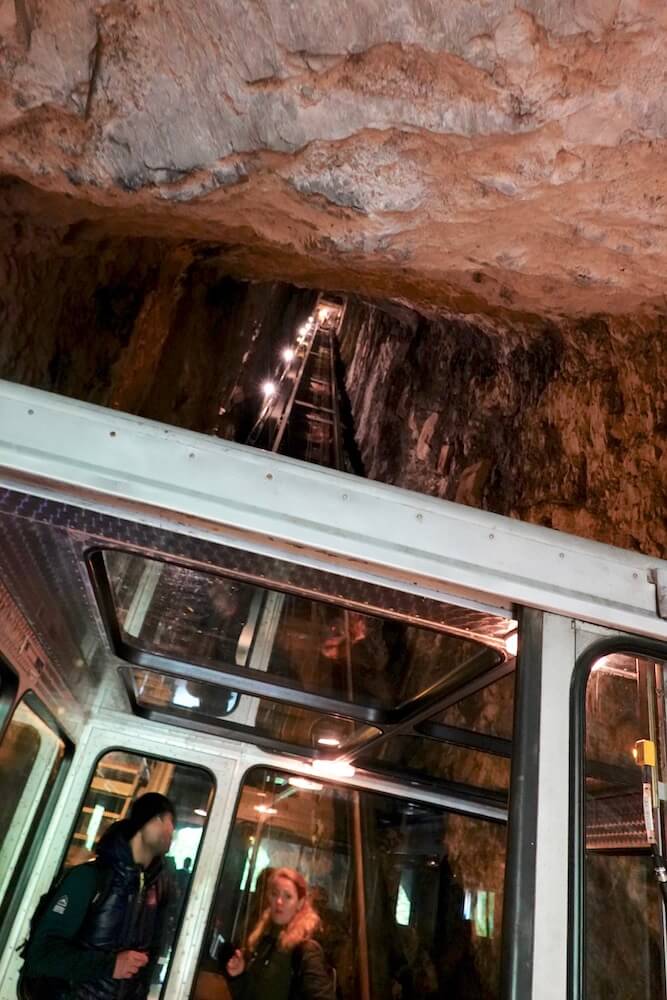 An elevator will take you up to a platform where you can access the falls. You'll climb a few flights of stairs and go through tunnels – the whole experience feels much like an intrepid cave adventure.
Fun fact: Trummelbach Falls carry about 20, 000 litres of water per second!
Tip: If you don't wish to go on the Nordic Walking Trail, you can reach Trummelbach Falls via a short bus ride from Lauterbrunnen. 
Admission to Trummelbach Falls is about CHF10 (~SGD15).
4. Take a cable car to Murren or Mount Schilthorn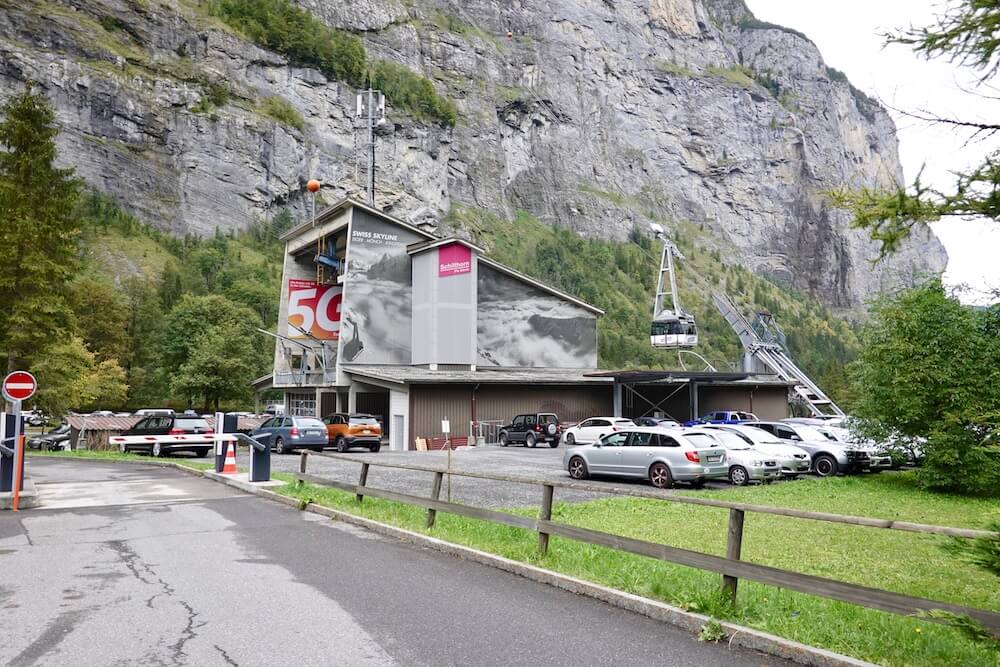 This cable car station is located at the end of the Nordic Walking Trail and can bring you to either Murren or Mount Schilthorn. Alternatively, you can also easily catch a bus back to Lauterbrunnen.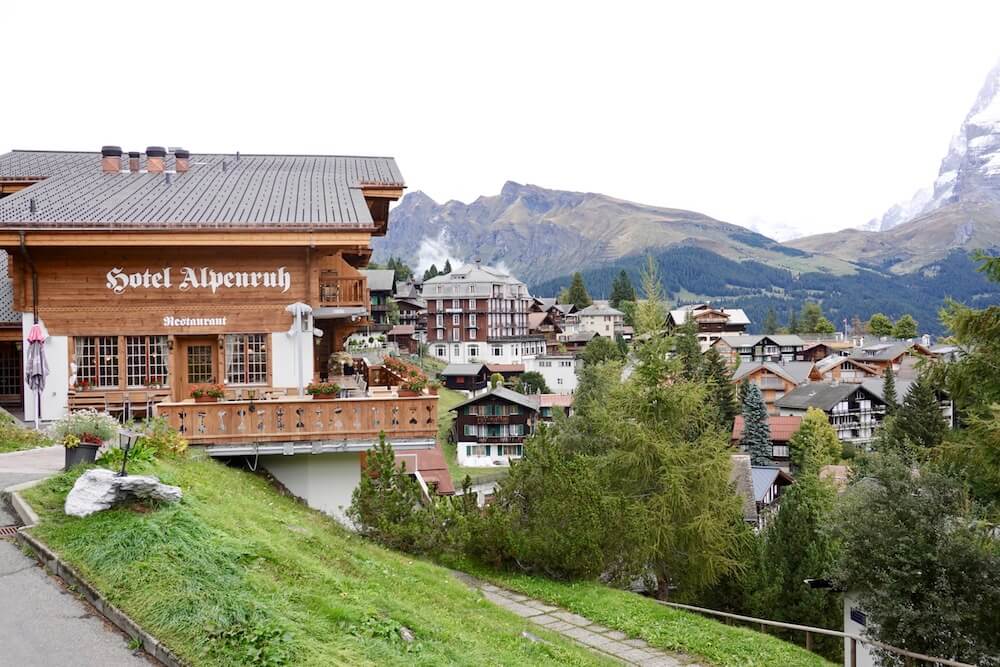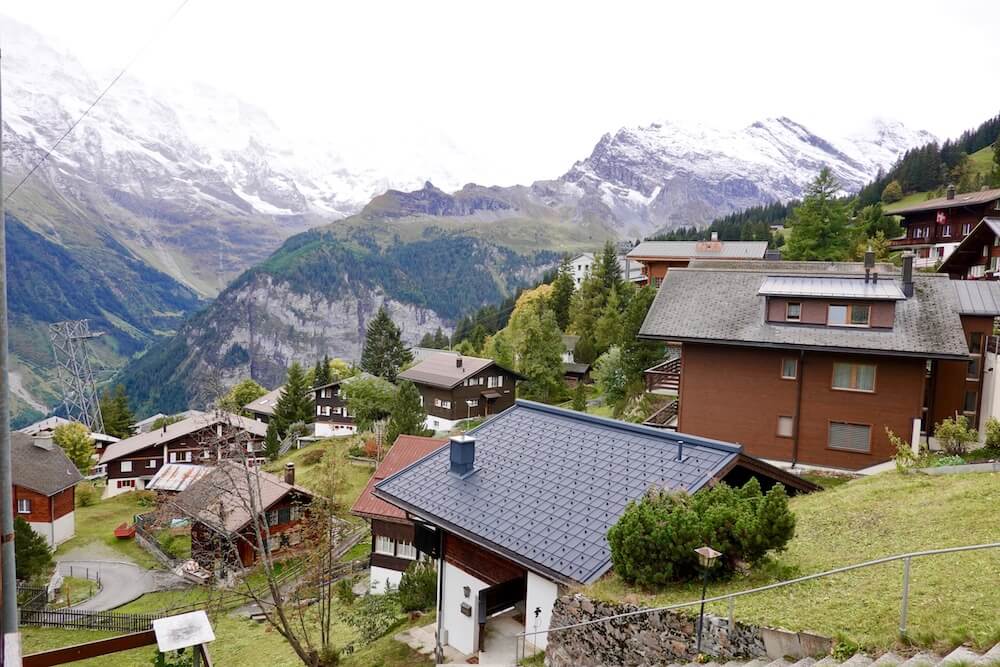 Comprising a car-free village high up in the mountains, Murren is nestled on the side of an 800-metre high cliff. Its location makes it perfect for base-jumping; however, if you're looking for something with less of an adrenaline rush, there are plenty of scenic hiking trails in the area. You can also choose to take it slow and enjoy the peace (without any cars!) of being surrounded by the Swiss Alps.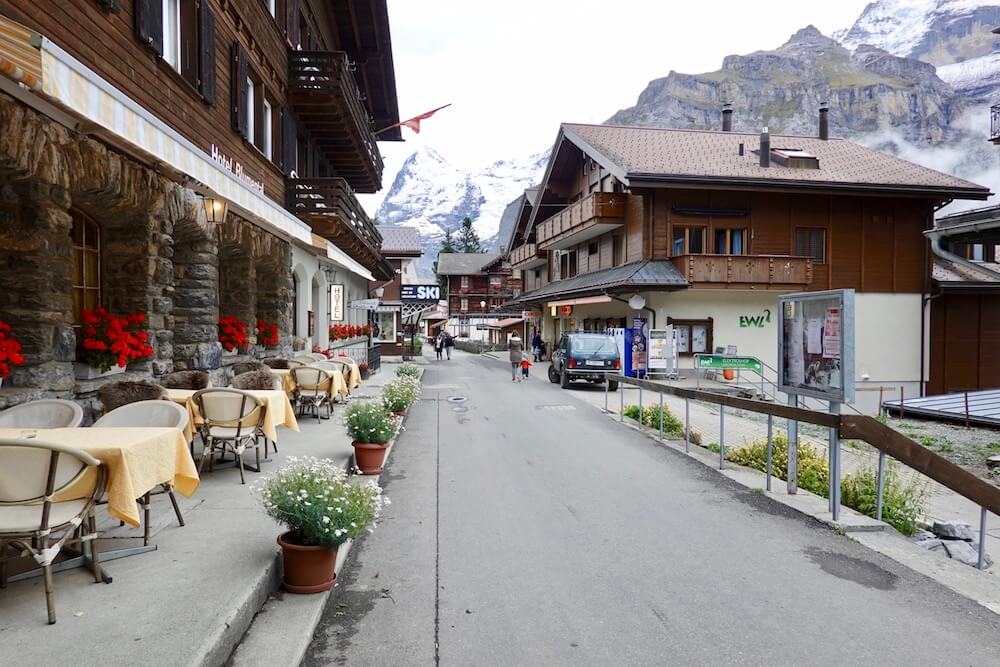 There are a few restaurants and guesthouses – not many, as you would expect in a small town. But that's exactly the charm of Murren, where this little slice of Swiss life seems to belong to you and you alone.
You can also choose to continue your journey to Mount Schilthorn, famous for being a filming location for the James Bond movie 'On Her Majesty's Secret Service'. Thrillseekers can also choose to take on the Thrill Walk – a glass walkway built into the side of the cliff – or make their way across a suspension net.
BONUS: Where to stay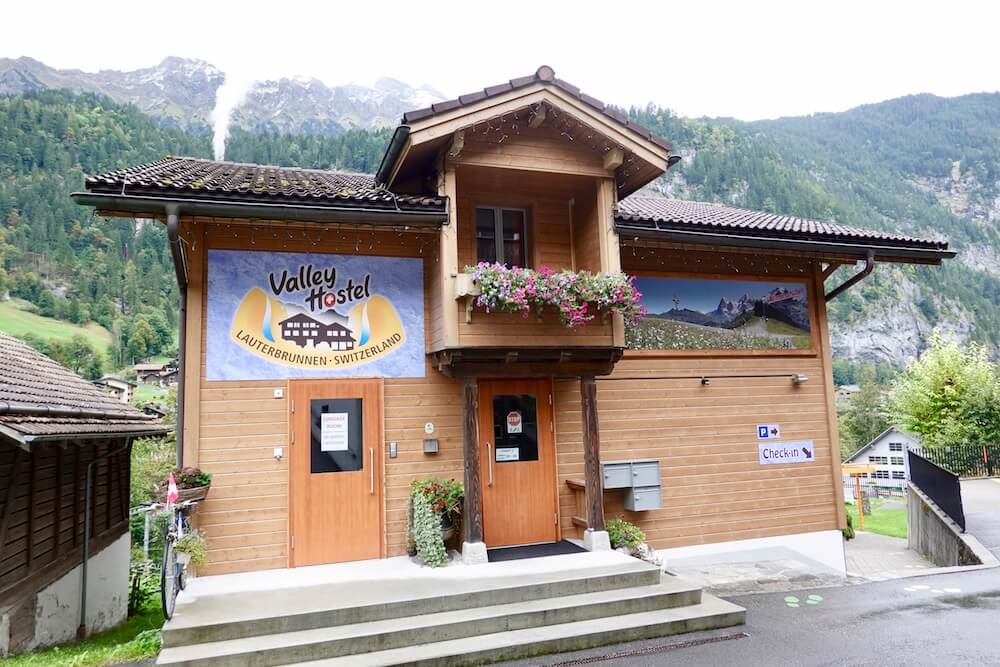 There are a few hotels in Lauterbrunnen; unfortunately, as with all of Switzerland, these can be rather pricey. I highly recommend staying at Valley Hostel, which is located just up the road from the main train station.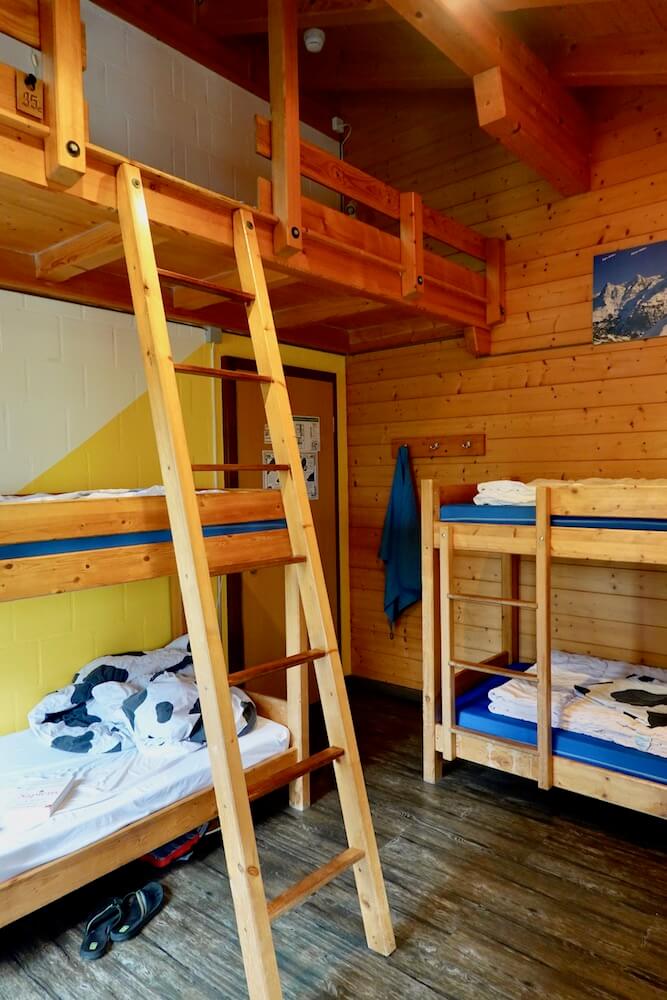 I stayed in a 6-bed female dorm and was lucky enough to snag the loft alcove, which gave me my own little cosy corner for the next few nights. The hostel comes equipped with a large kitchen and dining area, and is just down the road from a supermarket.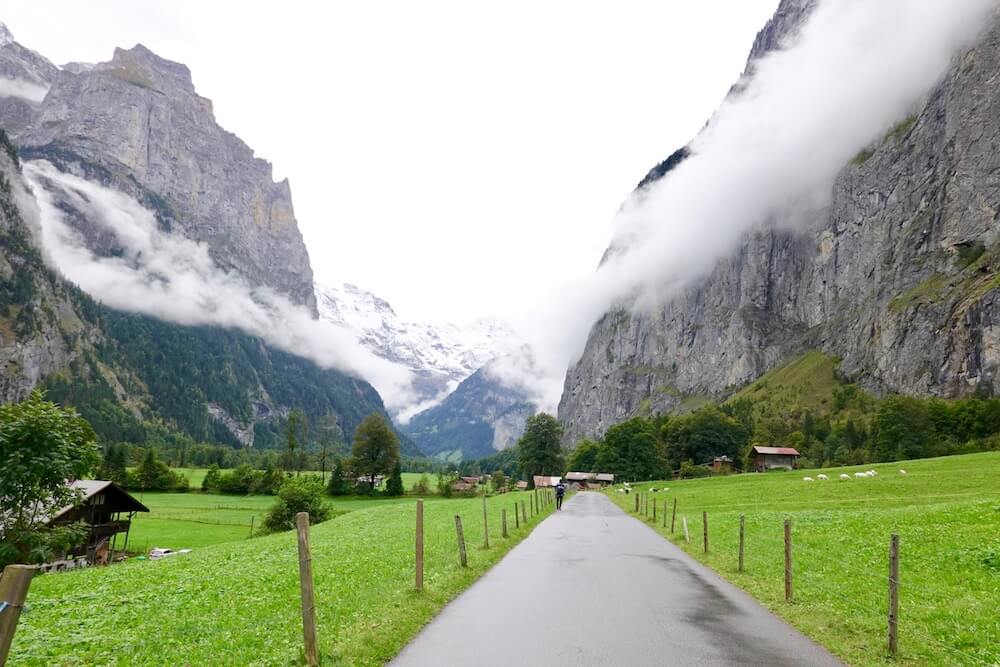 I spent 3 nights in the valley and it was easily the best decision of my trip. Most travellers visit Switzerland in search of serenity and nature – and Lauterbrunnen has got the tranquil countryside vibes down pat.
Rather than staying in a bustling city like Interlaken, why not spend a couple of nights in Lauterbrunnen and use it as a base to explore the surrounding region? From here, you can easily visit Jungfraujoch, Grindelwald, Kandersteg, Interlaken and more!
Read: Journey to Jungfraujoch: Start with the Mannlichen Royal Walk; Go On an Adventure at Grindelwald-First, Switzerland; A Day Trip to Lake Oeschinensee in Kandersteg, Switzerland