← Back to portfolio
Trekking with Elephants at the MandaLao Elephant Conservation, Laos
I've always had a curious fascination with elephants. I'm constantly enamoured by how these gentle giants amble through the jungle or bush, their ears lazily flapping in the wind.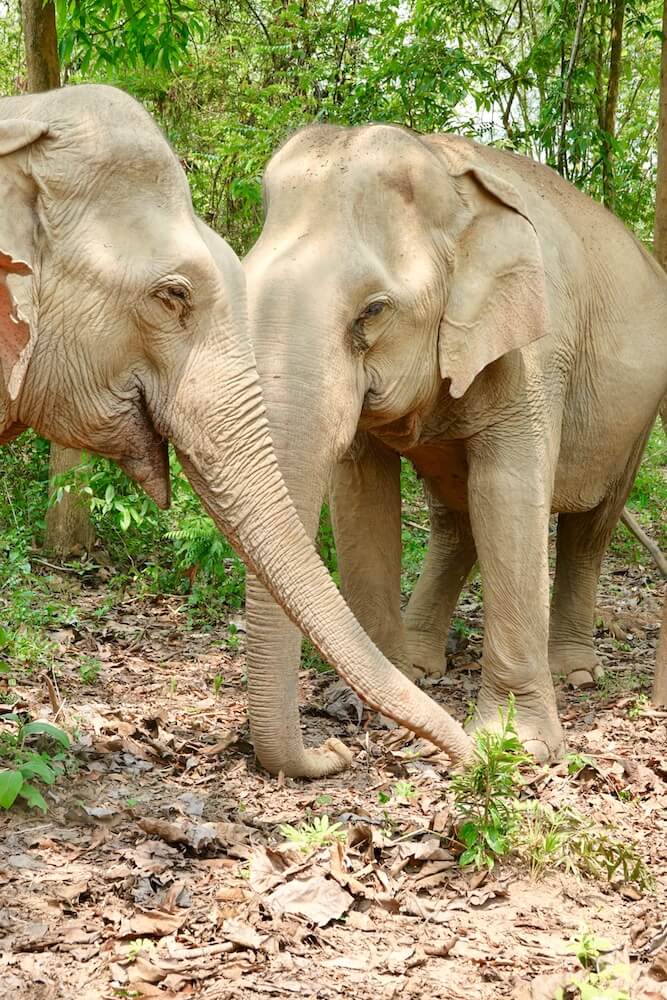 Yet, as serene as this picture sounds – the reality is not quite so for these creatures. Often subjected to harsh abuse in a bid to 'break' them into submission, those that aren't drafted into camps are poached for their precious ivory tusks. Such is the fate of the mighty elephants, now reduced to timid creatures destined to live out a life of torment – a far cry from reigning supreme in the jungles they once used to inhabit.
However, if you wish to interact with these creatures in a safe environment that's safe for both human and animal, there are a couple of sustainable elephant camps – such as the Mandalao Elephant Conservation located near Luang Prabang in Laos.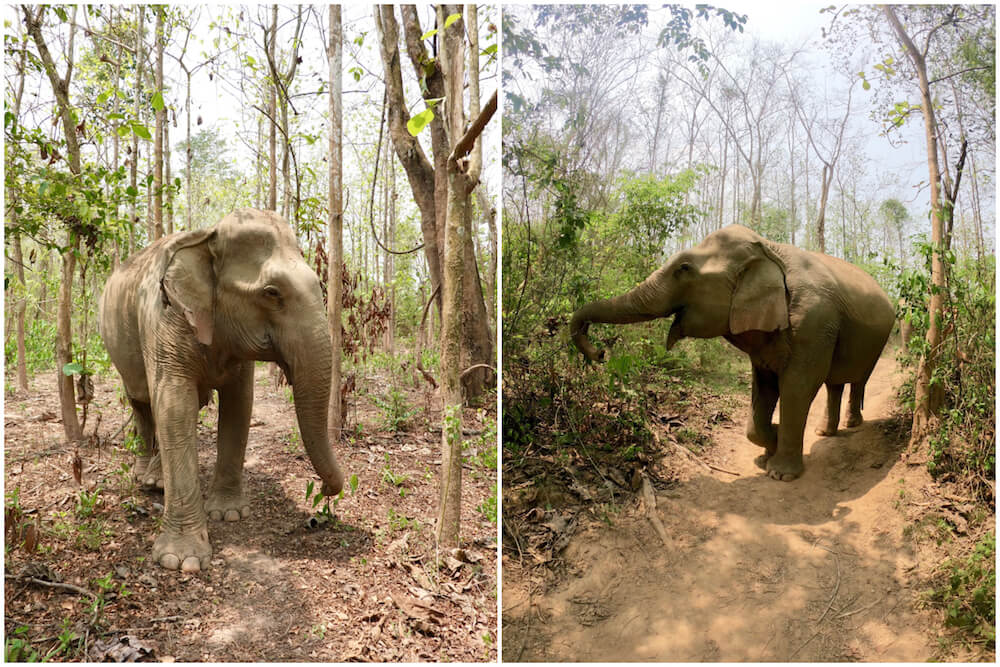 Laos is known as the land of a million elephants – as the story goes, many years ago, the locals watched an incessant stream of elephants crossing the Mekong River in Laos. It's said that there were enough elephants to continually cross the river over the span of 3 days! Indeed, there used to be many elephants in Laos; now, sadly, there are approximately less than 1, 000 left in the country. Half of these are in the wild, threatened by poaching and a decreasing forest area; the other half is unfortunately entrenched in the logging industry.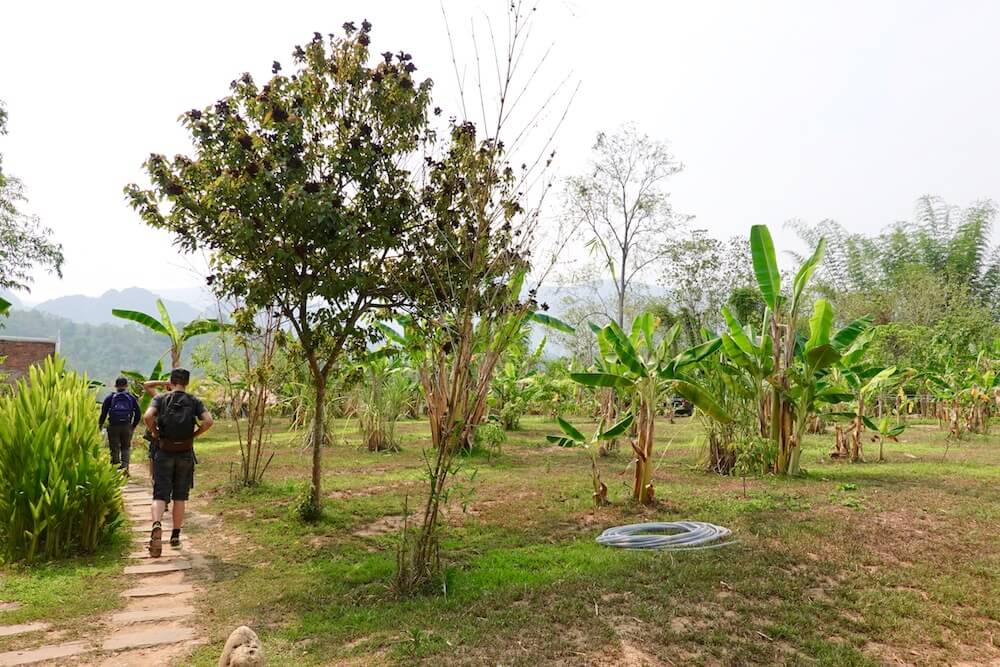 'NO RIDING' – this is part of Mandalao's philosophy, which aims to help save and rehabilitate these elephants to give them the life they deserve. Established in 2016, Mandalao gives the elephants around 15 hectares worth of jungle to roam freely.
They roam as they please in the day; however, they are still chained up at night. This is due to the domestication of the elephants; if they were allowed to roam free at night, they might end up wandering into private property. They're hence chained at night purely for their protection! Plans are ongoing to construct a night enclosure of sorts so that the elephants can be free at night as well – and this is something that the owners of Mandalao hope to achieve in the near future.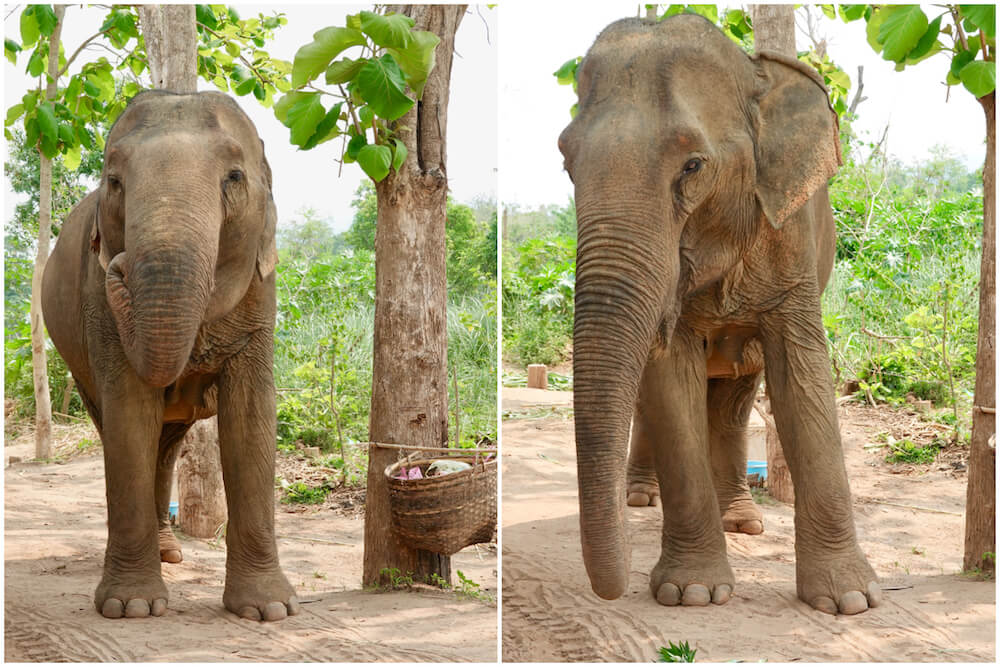 Located just 30 minutes from Luang Prabang in Laos, Mandalao allows travellers to interact with the elephants in an authentic, safe and eco-conscious manner. Their elephants range from 3 to over 60 years of age, all of whom have spent the majority of their lives at logging camps or tourist attractions.
Read: Things to Do in Luang Prabang, Laos
In 2016, Mandalao celebrated the arrival of Kit, a baby elephant that was born to one of their elephants. Their programs involving Kit stopped in 2019 when he was 3 years old, so as to allow baby Kit to seamlessly integrate into his jungle environment without any outside interference. If this isn't an indication of Mandalao's dedication towards caring for the elephants, I don't know what is!
There are a few programs available at Mandalao. You can embark on a half-day 'Therapeutic Trek', where you'll trek through the jungle with 2 adult elephants. The full-day 'Inside the Heart of Elephants' program continues after the 'Therapeutic Trek', bringing you deeper into the jungle and to a hidden waterfall. The 'New Beginnings' program is especially heartwarming, where you'll get to trek with a recently reunited mother and daughter elephant duo who were separated for 9 years. Finally, the 'Communicating with Elephants' program will give you a hands-on experience in creating nutritious snacks for the elephants, before feeding your creations to them on a trek through the jungle.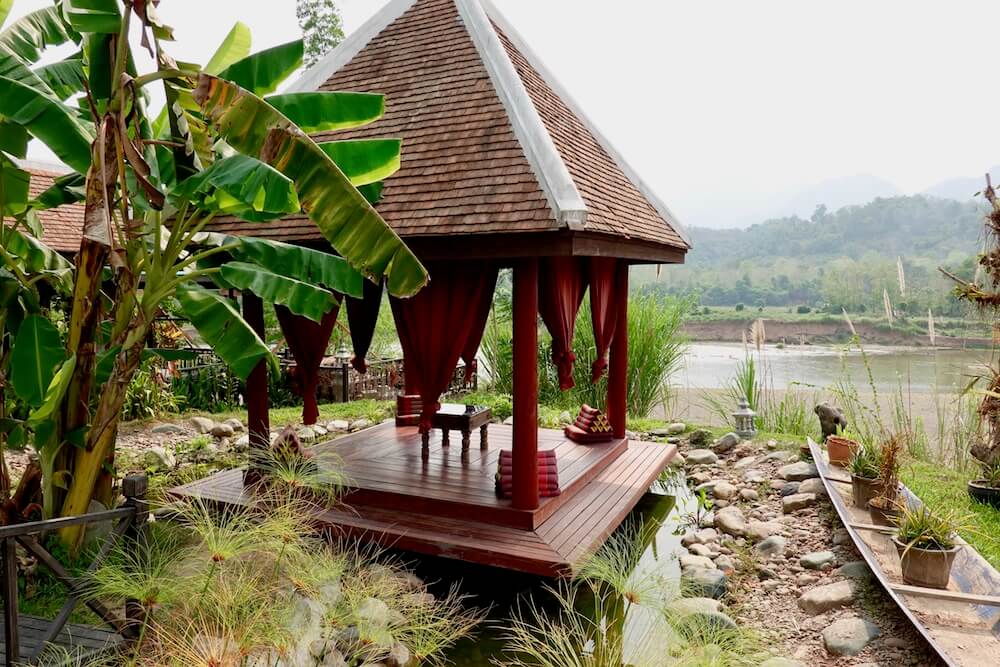 Every program is inclusive of lunch and return transport from Luang Prabang. Tours are kept small to ensure exclusivity and to prevent the elephants from being overwhelmed, with each tour capped at 4 to 8 people. The programs are also structured to be primarily observational, with as little disturbance for the elephants as possible. This also shows how much Mandalao prioritises the wellbeing of their elephants!
I booked the half-day 'Therapeutic Trek' program – and this was easily one of the highlights of my trip to Laos. After a safety briefing and an introduction about the elephants, we were given sunscreen, mosquito repellent, bottles of water and knee-high boots for our trek through the jungle. We were told that we won't be doing anything out of the ordinary; we'd simply be joining the elephants as they go about their daily routine.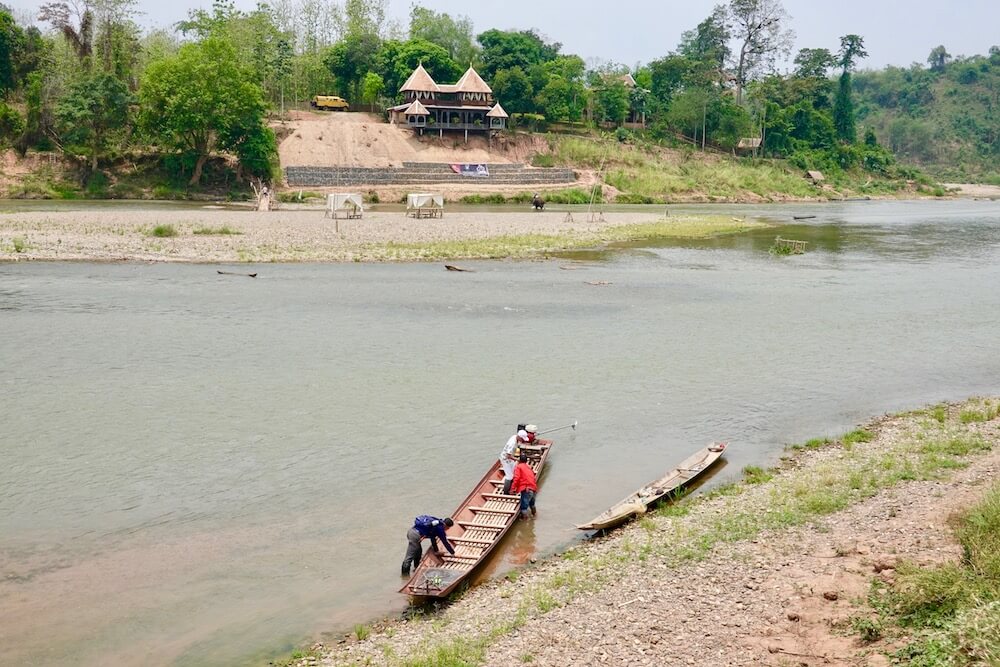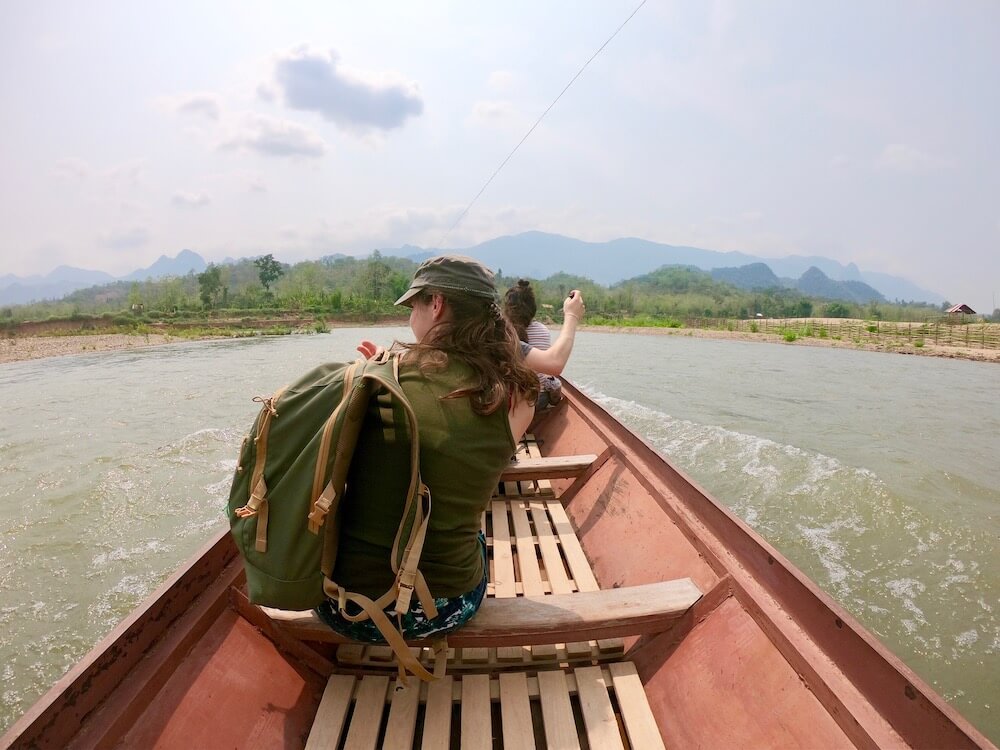 A quick boat ride across the river then brought us to the stars of the show – the two adorable elephants that would be our companions for the morning!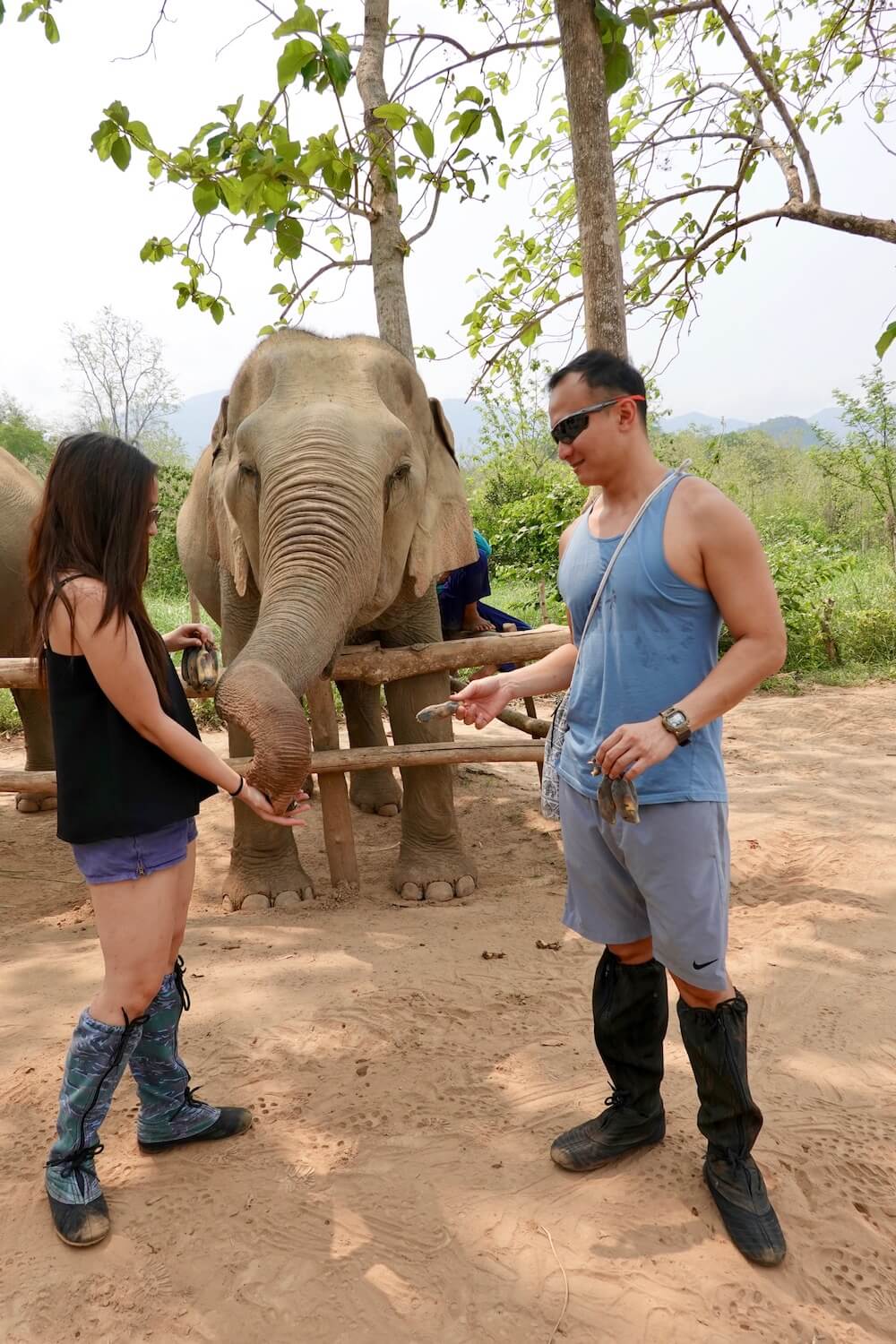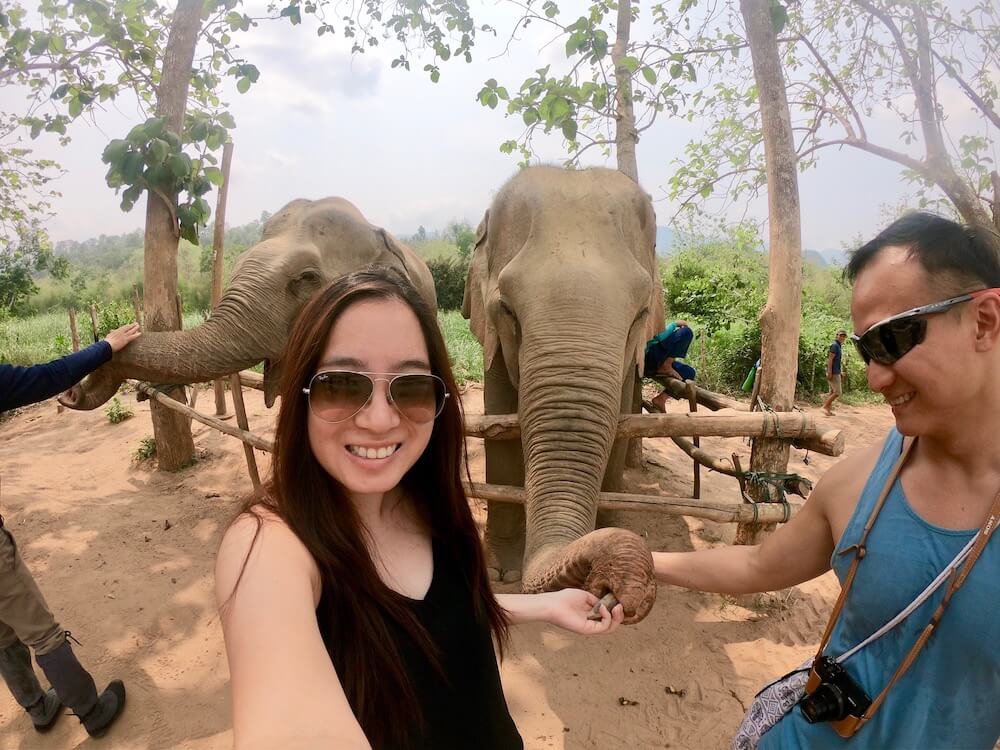 We started off by getting to know the elephants better. We were given bananas to feed them and were allowed to stroke their trunks. The elephants warmed up in no time!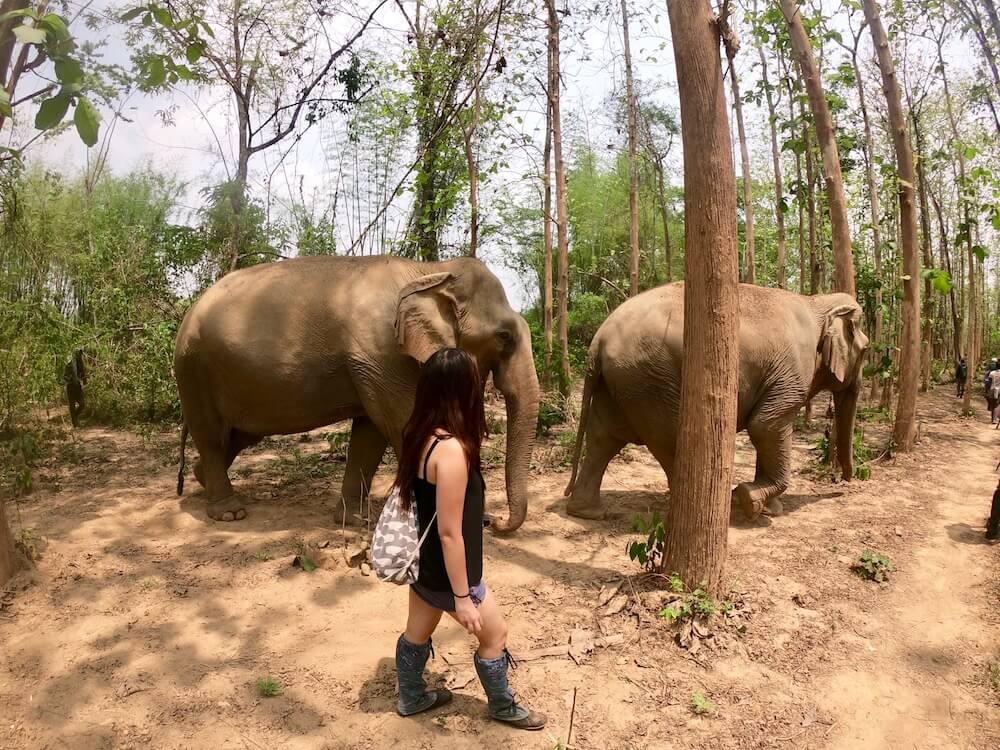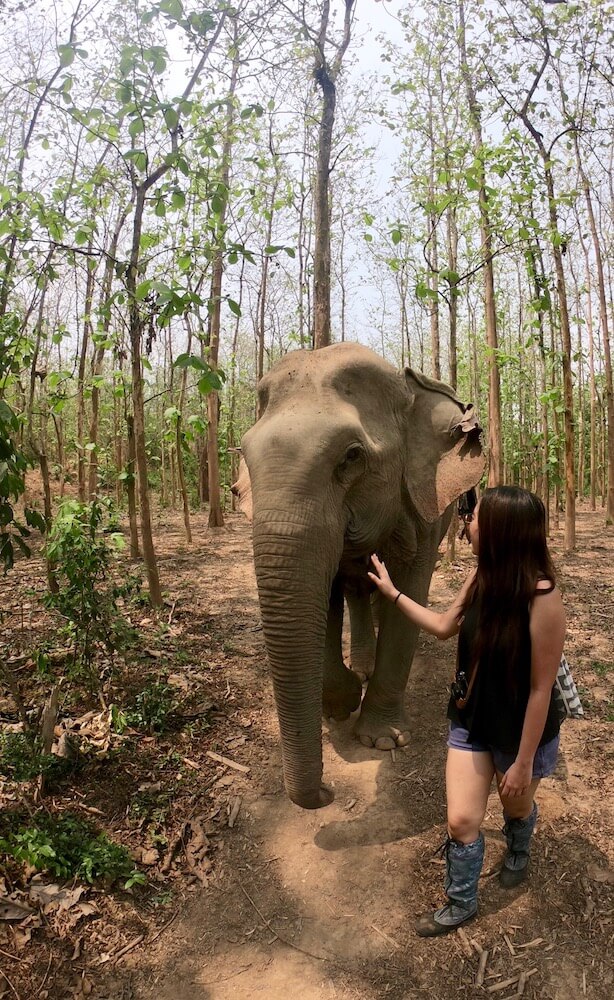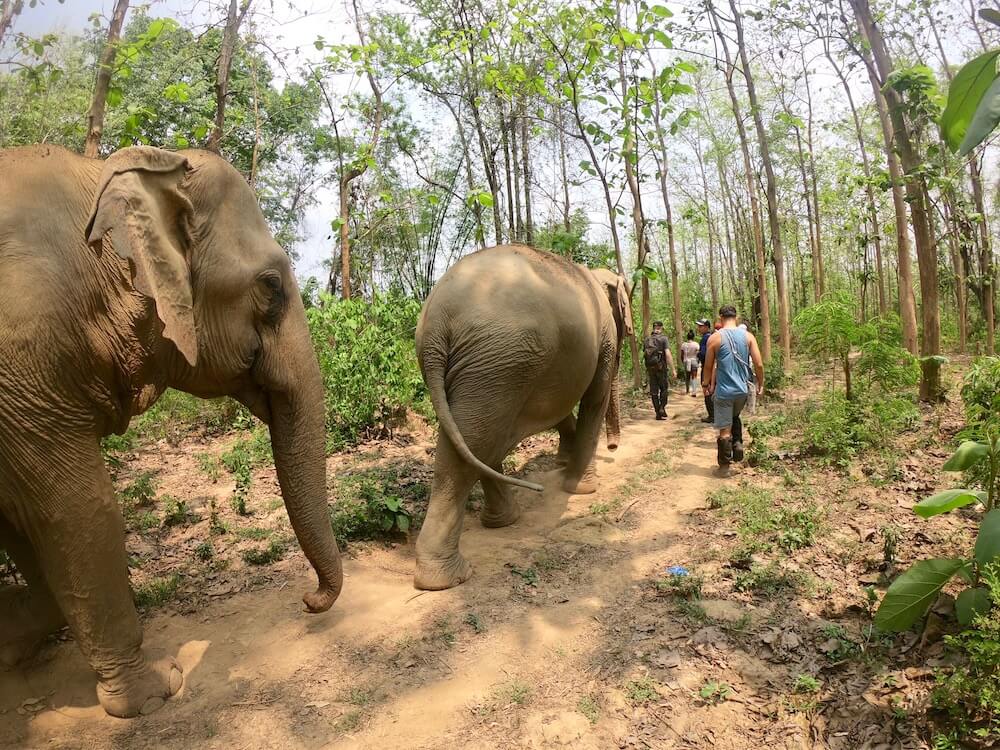 Once the elephants were happy and fed, we set off into the jungle. Now, this was an experience that I'd never forget – we actually got to trek alongside these gentle giants! Our guides gave us tidbits of information along the way, such as how the Asian variety of elephant is much smaller than the African variety.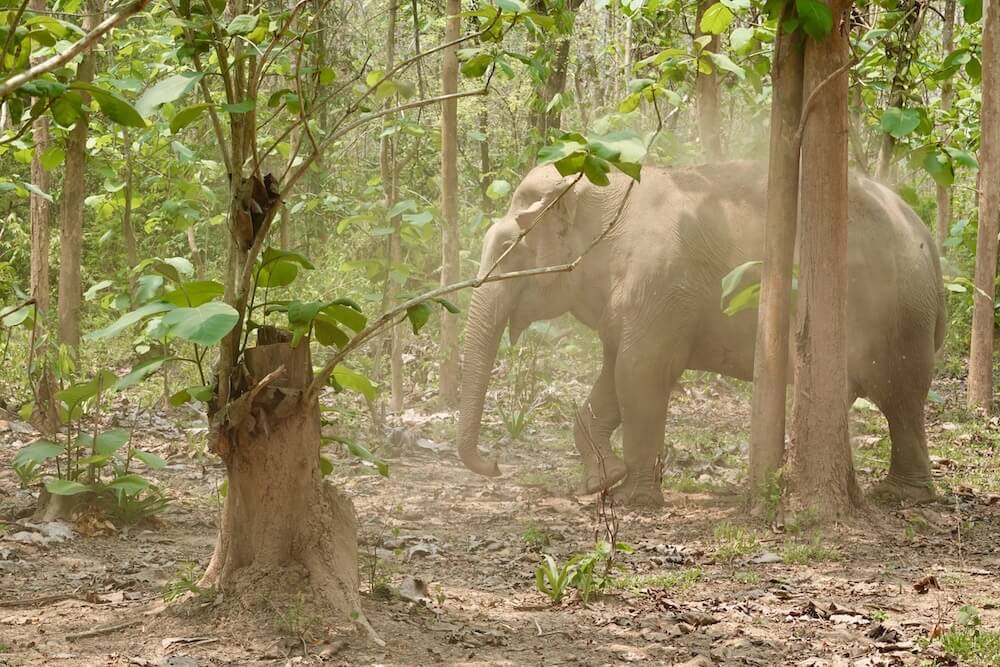 The elephants were gently guided by their mahouts – but they were allowed to walk at their own pace and stop whenever they wanted.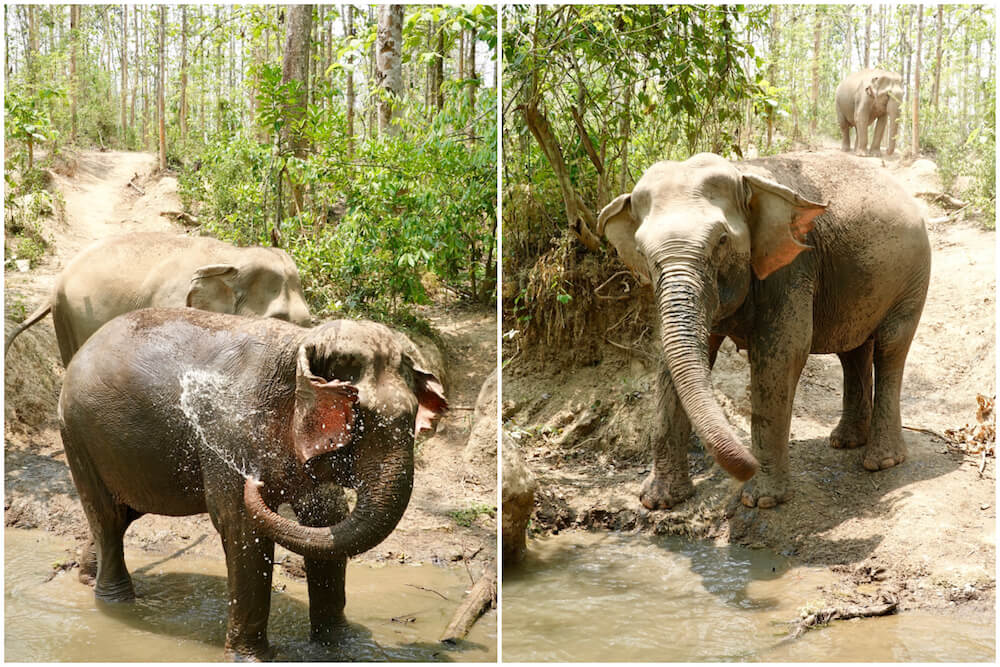 At one point, they even stopped at a river to splash some water on themselves!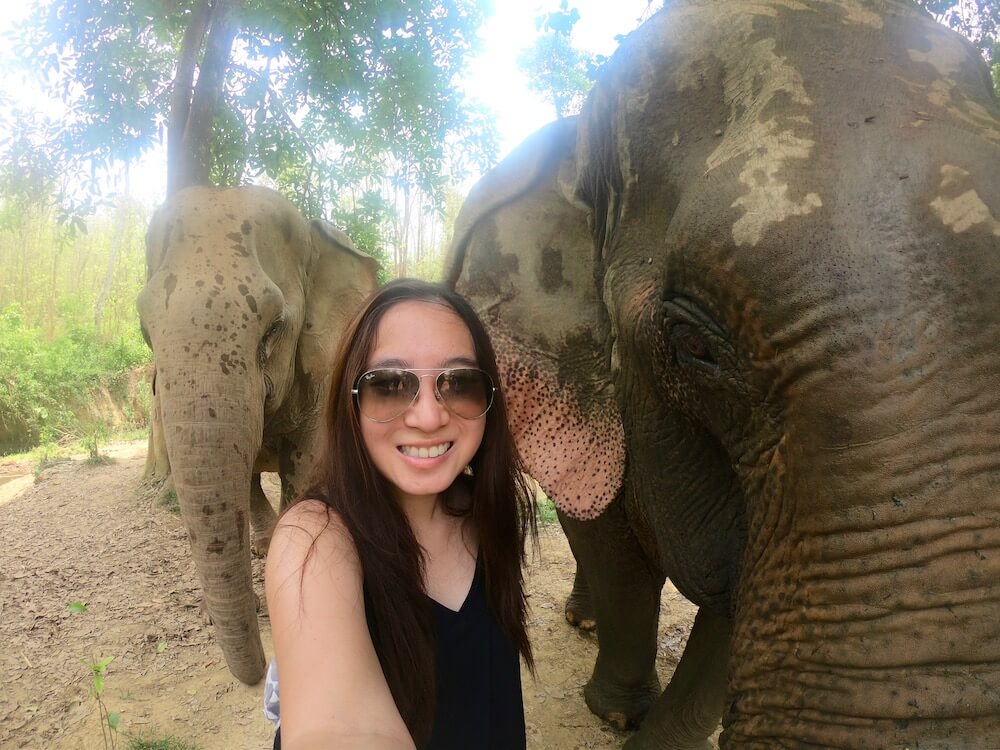 We spent about 1.5 to 2 hours just walking through the jungle and enjoying the companionship of these gentle giants.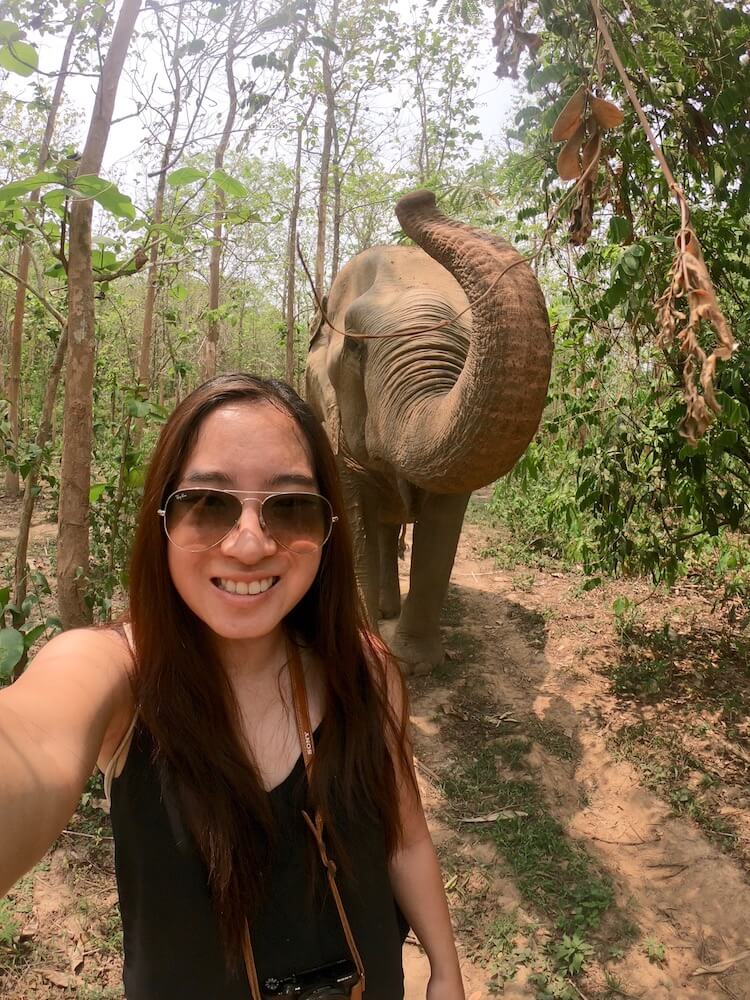 One of them even lifted her trunk to pose for a photo!
At the end of the trek, we bid goodbye to the elephants and thanked them for their time before heading back across the river in the boat. The river separates the elephants from the hustle and bustle of human life; and as I looked back, I caught the last glimpse of the two elephants slowly sauntering into the jungle. What an experience!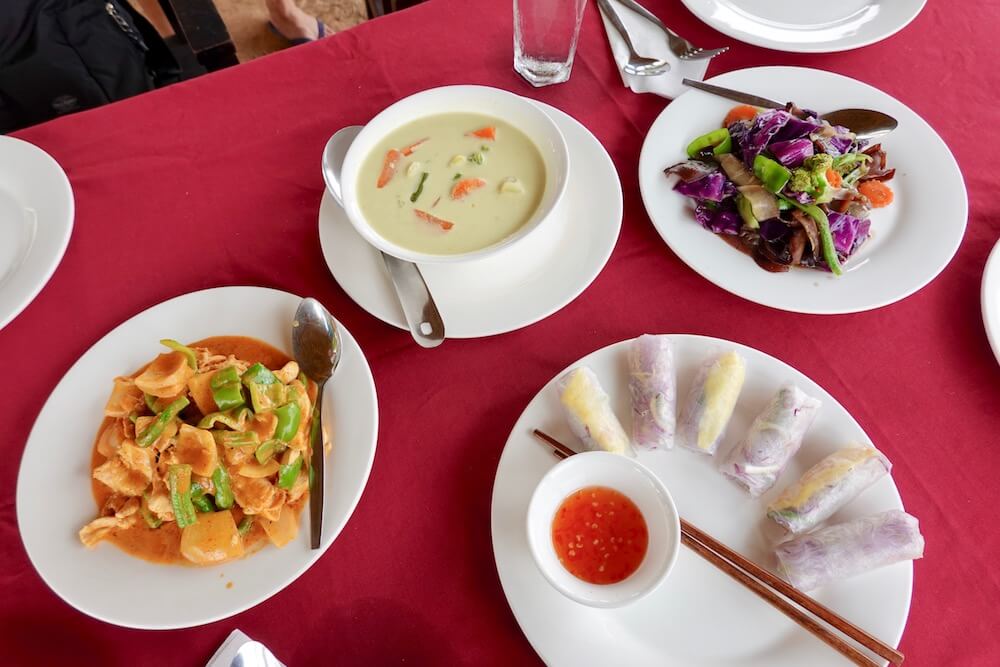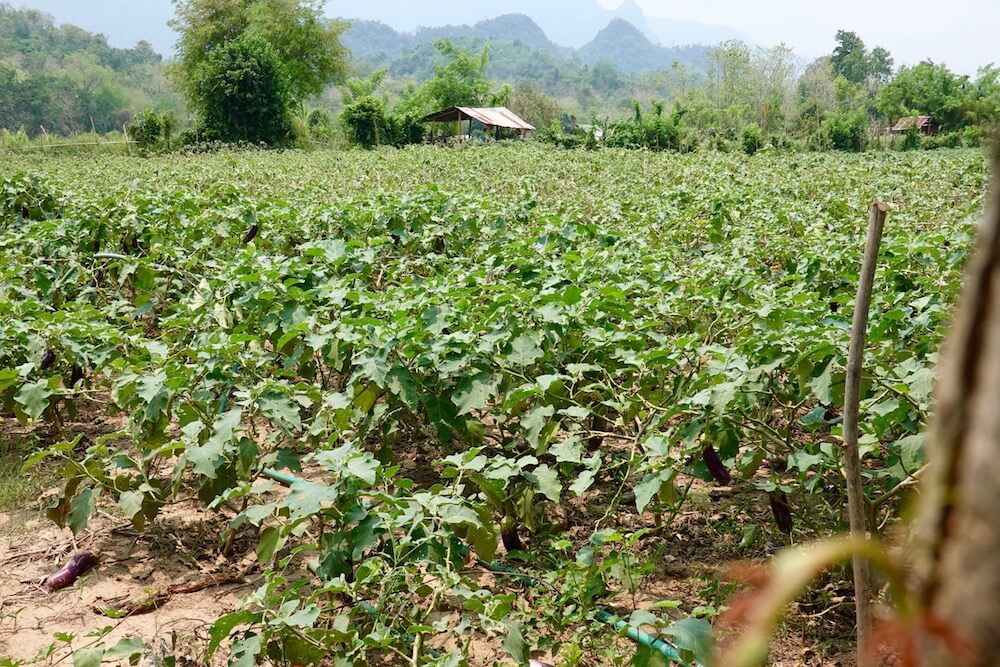 A delicious local lunch was served back at the Mandalao property. It's amazing how Mandalao strives to do the best for their elephants – with support from the World Animal Protection organisation and the local residents, who help to grow crops for the elephants.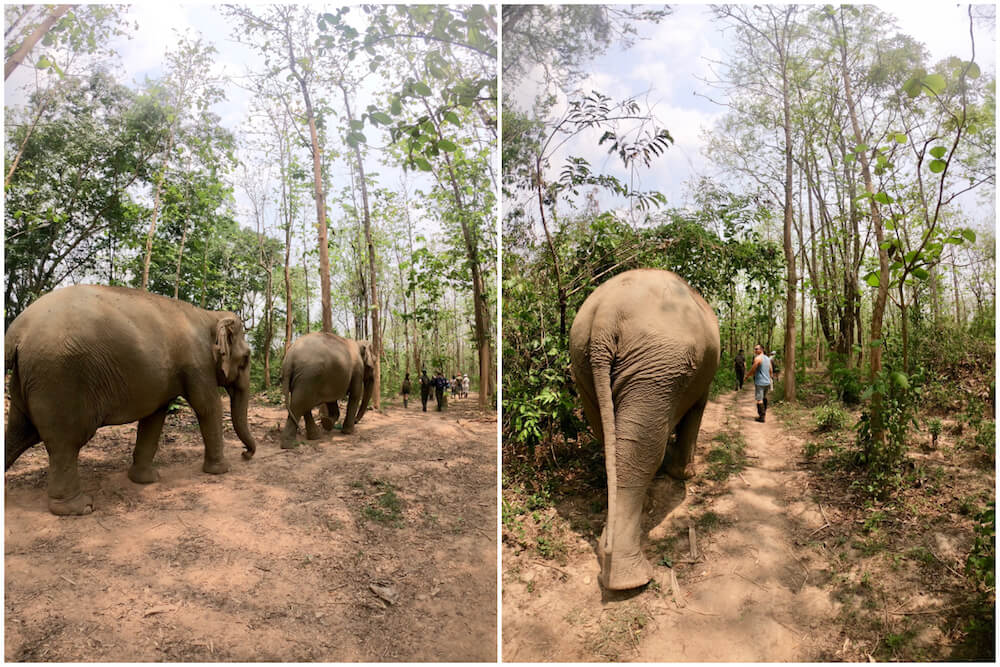 You won't find any elephant rides or circus tricks here – instead, the elephants have been given the space to roam free, play and swim in the river. I left Mandalao with warmth in my heart and a little skip in my step – if you love elephants too, there's really no better place to visit!

Add a comment