← Back to portfolio
Things to Do in Luang Prabang, Laos
Why are you the one with the watch, yet I am the one with all the time?

These words were famously uttered by a wise old man in Laos, which very aptly sets the tone for any trip to Luang Prabang. The Laos PDR is officially known as the Lao People's Democratic Public – colloquially, however, ask any local and they'd say with a chuckle that it actually stands for 'Laos - Please Don't Rush'!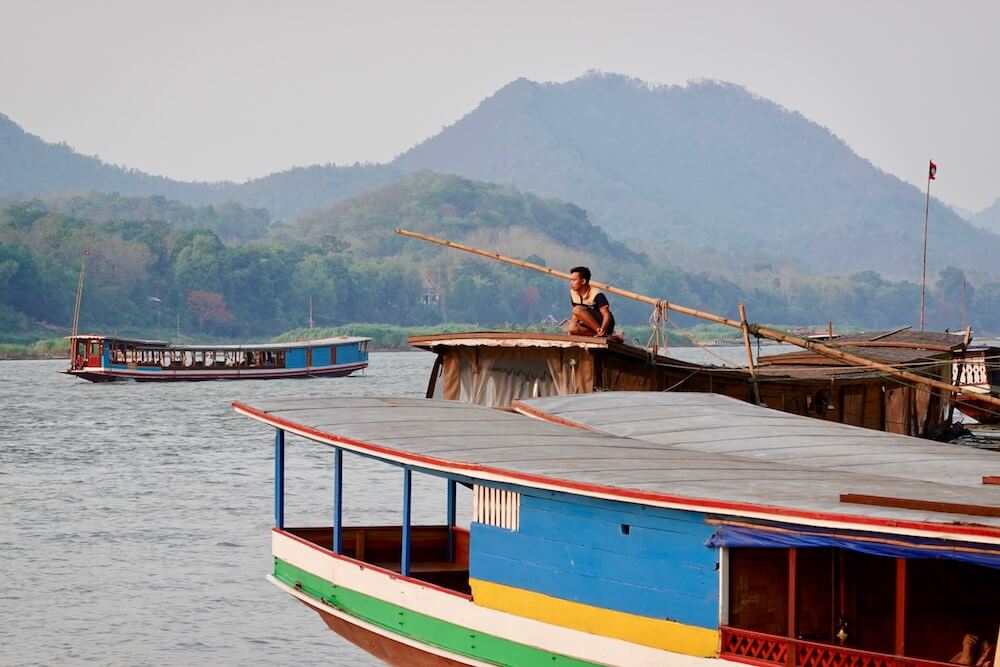 Indeed, time seems to slow to a crawl here in Laos and especially in Luang Prabang, a sleepy little city along the shores of the Mekong River. Built at the confluence of the Mekong and Nam Khan rivers, Luang Prabang was also accorded UNESCO World Heritage status back in 1995.
For those accustomed to the hustle and bustle of city life, Luang Prabang presents the perfect antidote for travellers looking to take a deep breath, wind down and simply enjoy their holiday to the fullest – sans the crowds. However, that's not to say that there isn't anything to do in the Luang Prabang; on the contrary, there's plenty to fill your days!
Here are 13 things to do in the city:
1. Make your way across a bamboo bridge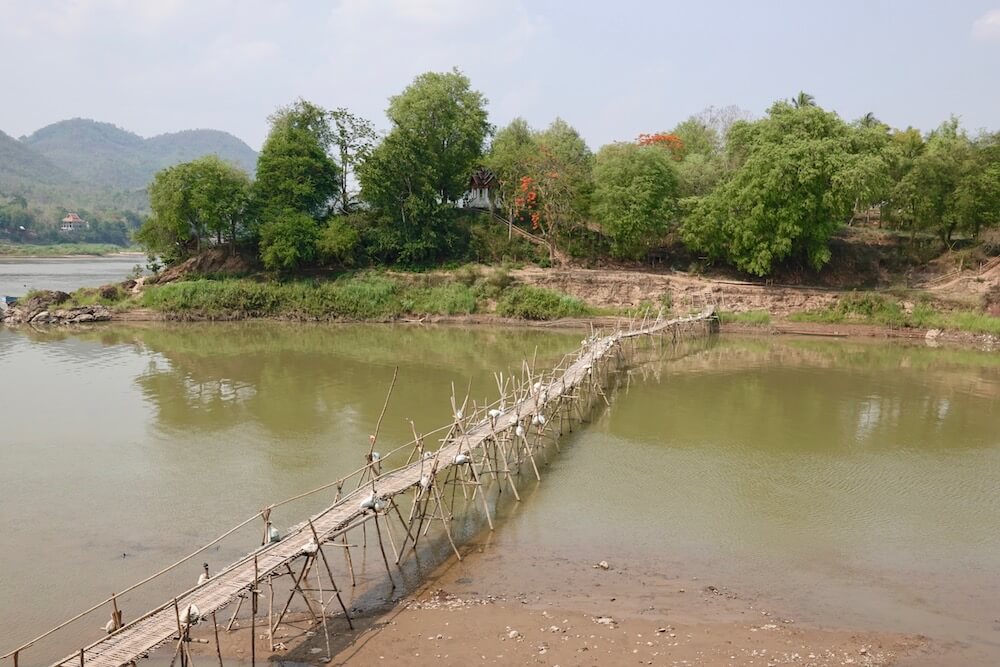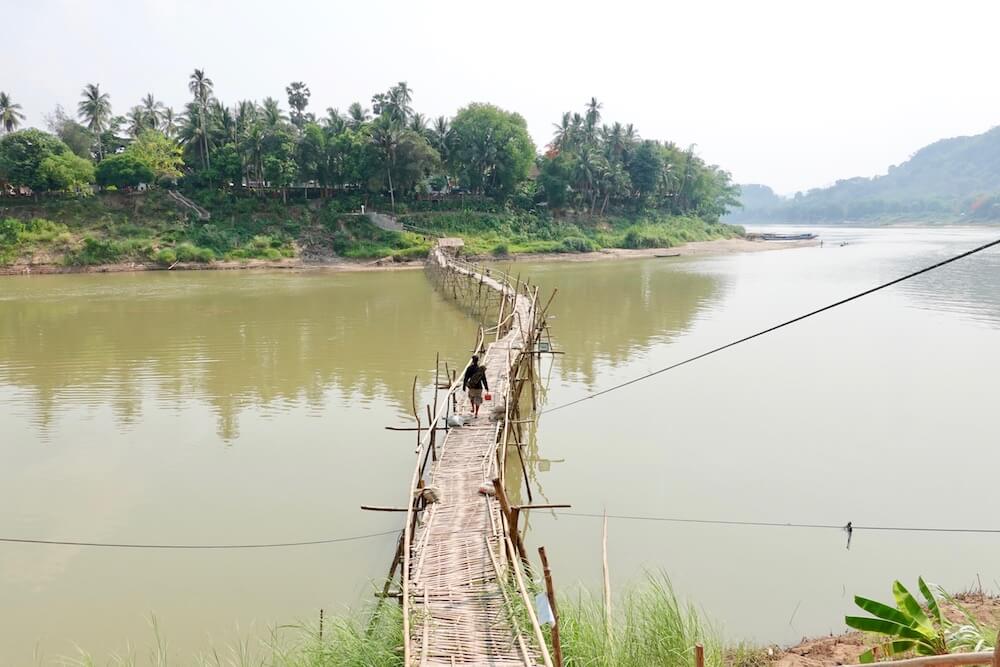 Every year, the monsoon season causes the Nam Khan River to flood. When this happens, the waters wash away the bamboo bridge constructed across the river; when the flood subsides, the bridge is painstakingly rebuilt within a week by a local Laotian family. Imagine that!
Crossing the bridge is quite an experience in itself; a few open-air restaurants lie in wait on the other side, where you're able to recline on cushions and indulge in a meal with a view.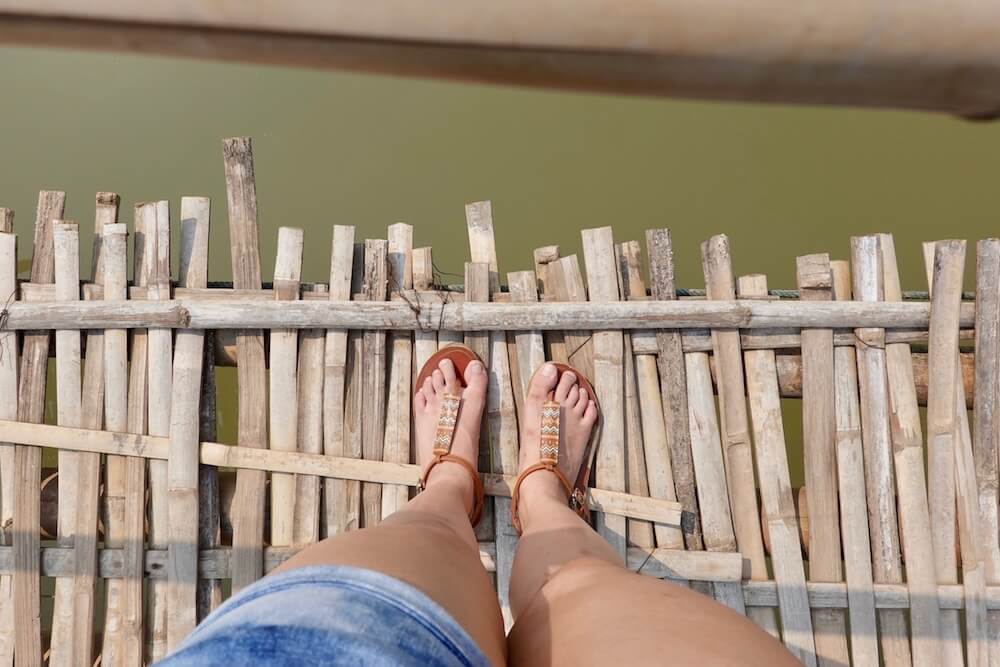 No ropes or metal are used to construct the bridge, which is held together purely by rope. You'll even be able to see right through to the river at some parts! This might seem a little intimidating but be rest assured that the bridge feels sturdy and very safe.
There are two of these bamboo bridges in Luang Prabang – one is at the mouth of the Nam Khan River, the other about 600 metres upstream across Sakkaline Road. An entrance fee is required to cross both bridges, which costs LAK10, 000 (~SGD1.50) and LAK7, 000 (~SGD1) respectively. This money helps the local family rebuild the bridges at the beginning of the dry season every year.
2. Wake up early to witness the alms giving ceremony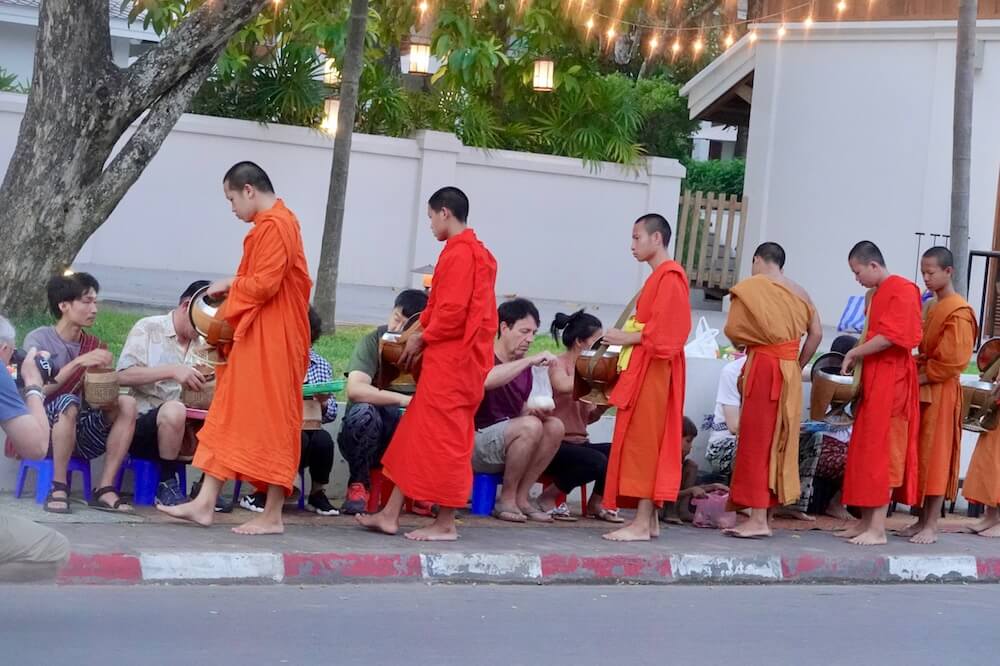 The alms giving ceremony ("Tak Bat") is a time-honoured tradition that has been practised in Laos for many years. Before the sun rises, many locals wake up to prepare food offerings – these can be nuts, fruits and, most commonly, sticky rice. Just before dawn breaks, these locals head out and line up in a single row.
The mood is meditative as a collective hush falls over the streets; before long, a line of monks clothed in orange robes start to stream out of the temples. They walk in a single file – the monks line up according to age, with the oldest monk leading the procession – and collect their offerings from locals. These offerings comprise the monks' only meal for the day – this ceremony is a sacred one for the locals' and it's prudent for tourists to show the utmost respect should they wish to observe it from the sidelines.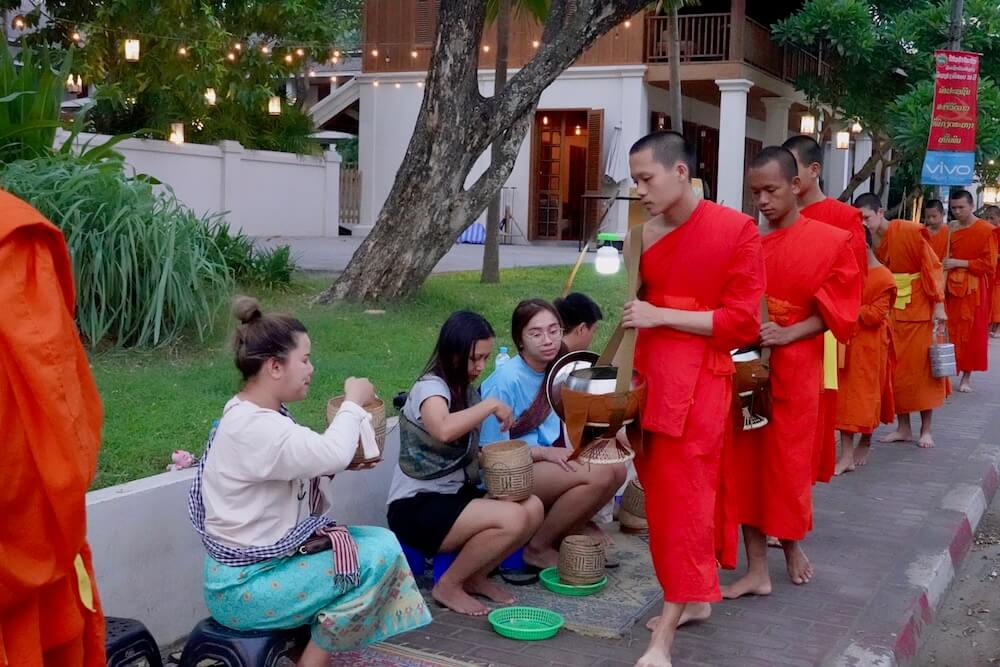 This procession begins along the main street of Luang Prabang before dispersing into the side streets. As most locals rise early to prepare the offerings, the whole country has imposed a nation-wide midnight curfew. This is enforced strictly in Laos, with most places closing at 11pm. If you're looking for something to do after that time, your only option would be the local bowling alley that stays open till the wee hours of the night.
3. Lose track of time at Utopia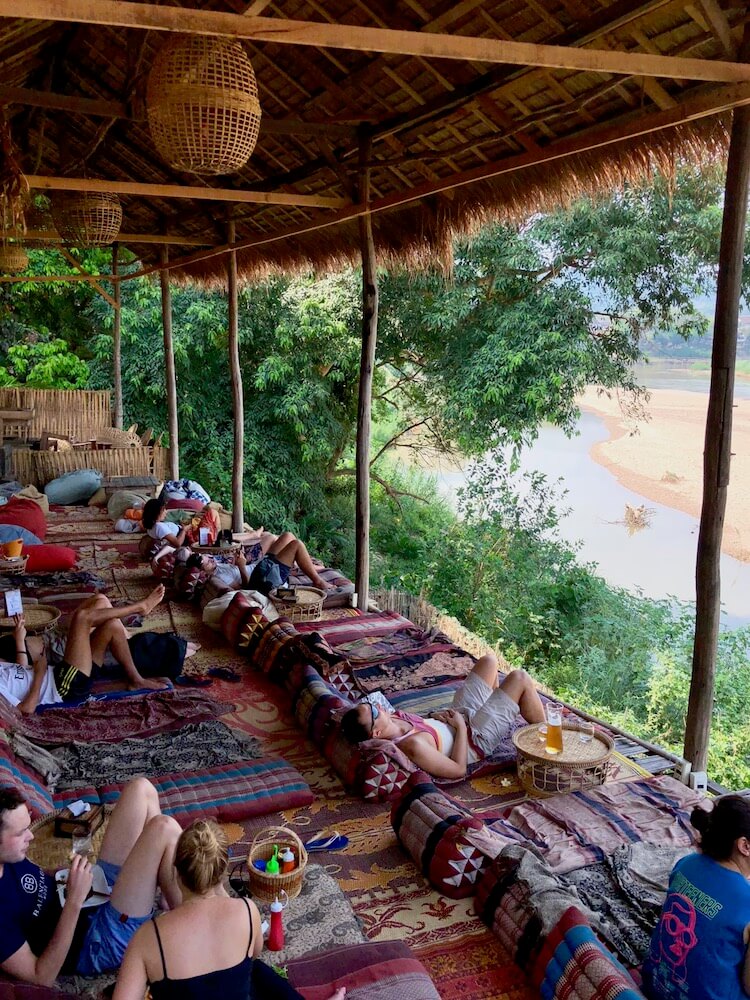 A garden of zen by day, an exhilarating night-spot by dark – Utopia has something for everyone. Join a yoga class in the morning, before reading a book and relaxing by the river in the afternoon. In fact, you might find it so comfortable that you'd drift off to sleep in no time!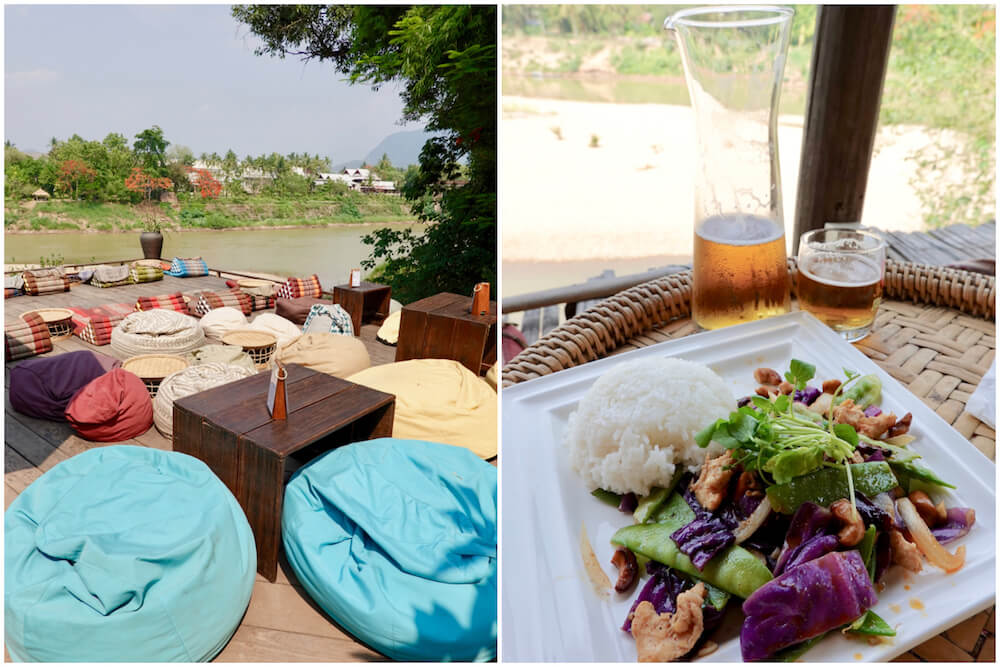 Spread out on a reclining mat or sink into a beanbag; and dig into some local cuisine topped off with a cold glass of Laos beer. You can even choose to have a game of beach volleyball!
Once night falls, Utopia transforms into a pulsating night-spot with live music and various events.
Address: Ban Aphay, Kingkitsarath Road, Luang Prabang 0600 Laos
Opening hours: 8am to 12am, daily
4. Spend an afternoon at a book café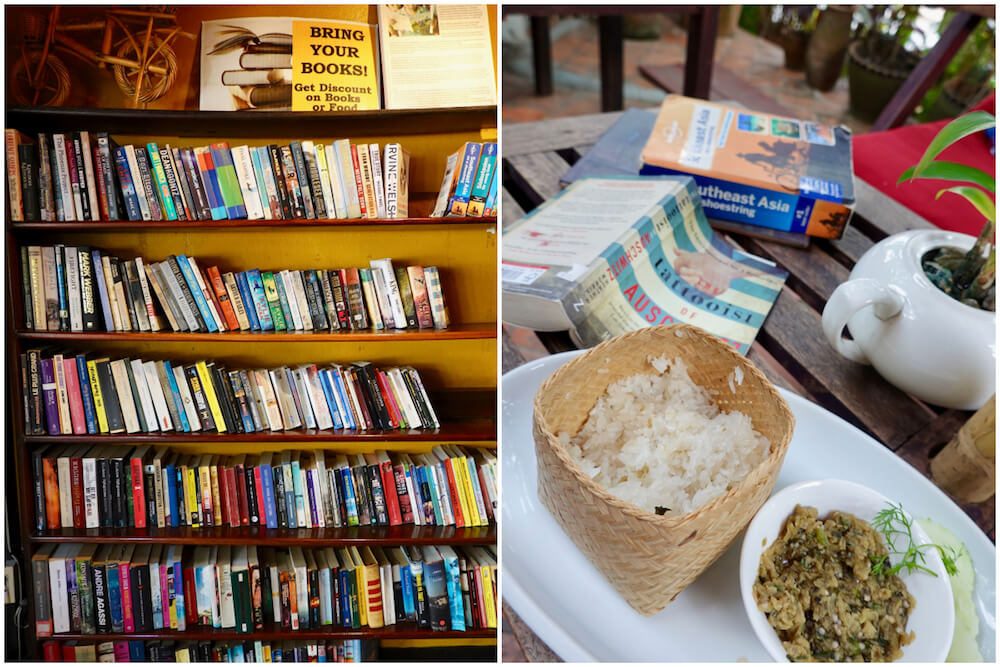 Get lost in a whole other world at L'Etranger Books and Tea café, a book café that encourages visitors to read whilst they sip on a cup of tea. A wide selection of books is available, with the café even encouraging visitors to exchange their old books for a new one!
After dark, the 2nd floor transforms into an indoor cinema, with different movies being screened every night.
Address: 3 Kingkitsarat Road, Ban Aphay, Luang Prabang
Opening hours: 7am to 10pm, Mondays to Saturdays; 10am to 10pm, Sunday
5. Indulge in a sunset cruise along the Mekong River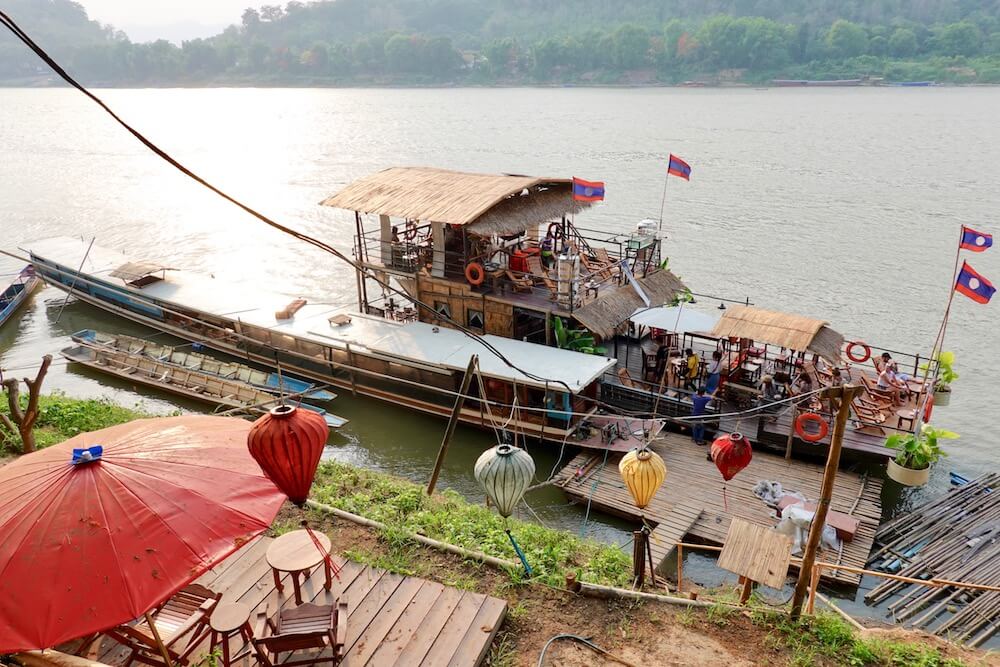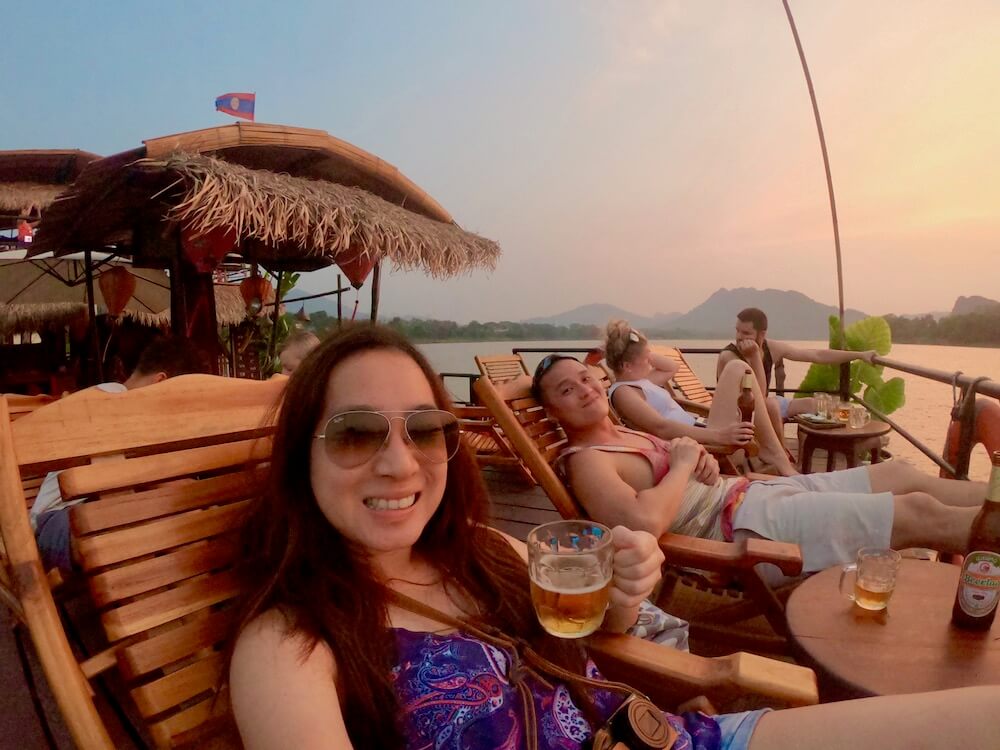 This was easily one of my favourite things to do in Luang Prabang. The Mekong River is Asia's 7th-longest river, with part of it cutting through Laos. There are many companies offering sunset cruises down the Mekong, which include an hour-long journey, a welcome drink (ours was a Mojito cocktail!) and an unobstructed view of the glorious sunset. The boats usually have a bar and a kitchen should you wish to have something to snack on during the journey.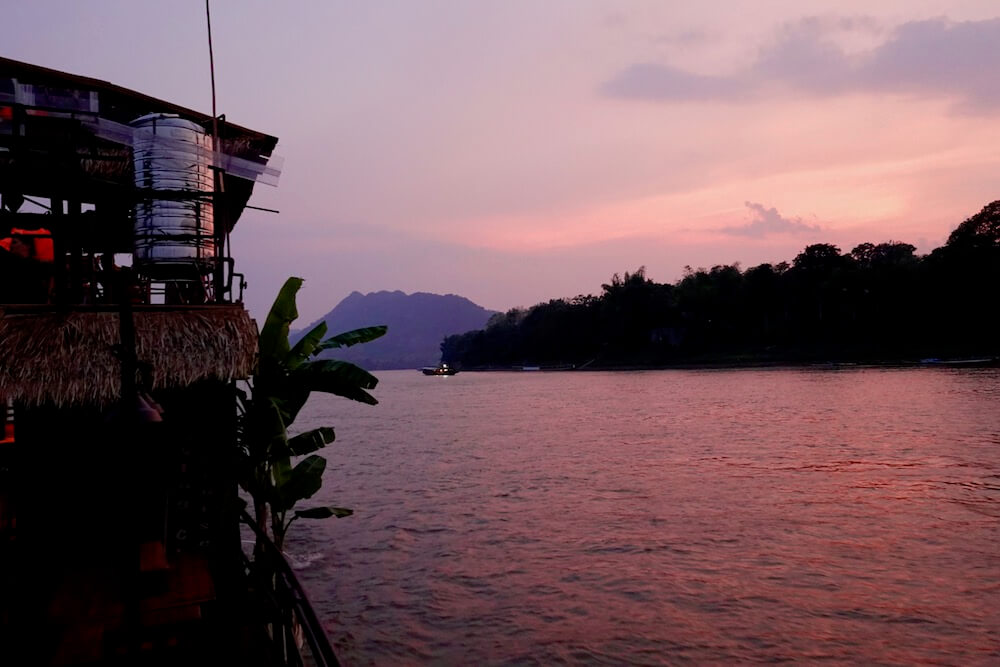 Glide over the calm waters as you enjoy the breeze on your face – and slowly take in the splendour in front of you. There are various options available, from one-hour sunset cruises to longer cruises to places like the Pak Ou Caves.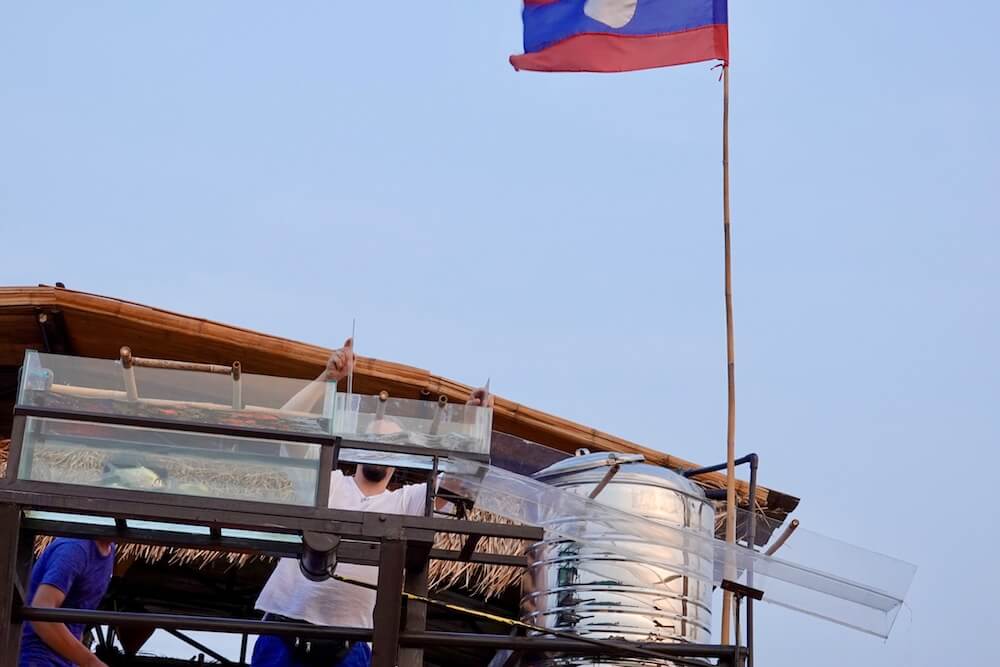 One interesting thing that our cruise company did was to release 3 fishes back into the water. They rescued these fishes from restaurants – hence saving them from a fate of being eaten – and transported them out in a water tank, before releasing them back into the river.
We had our sunset cruise with Sa Sa Sunset Cruise, which departs daily at 4.45pm and returns at 6.45pm. The cruise cost approximately LAK95, 000 (~SGD15) per person.
6. Enjoy a panoramic view from Mt. Phousi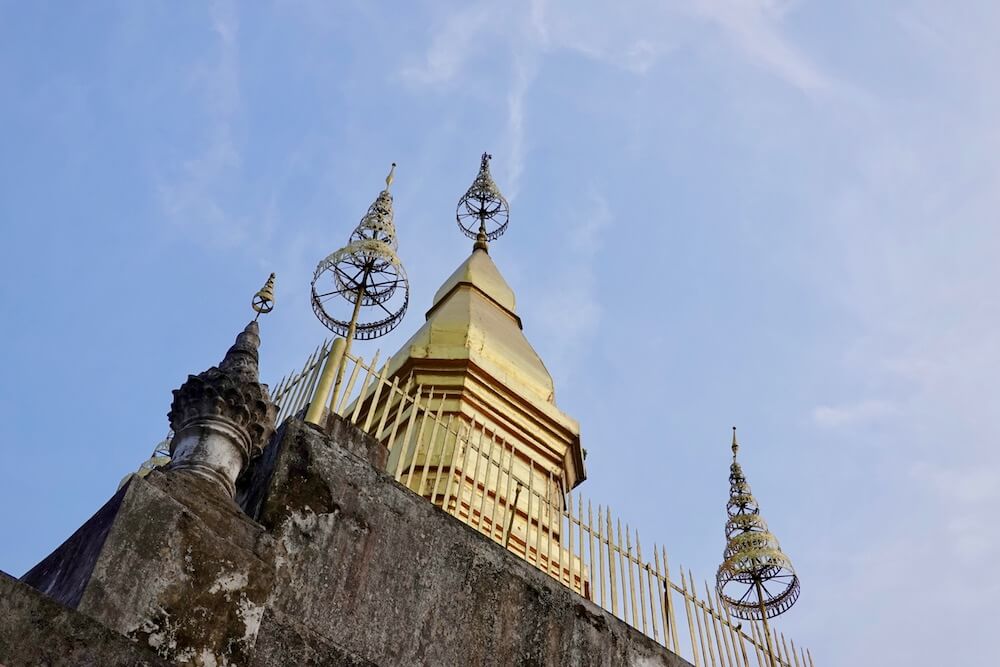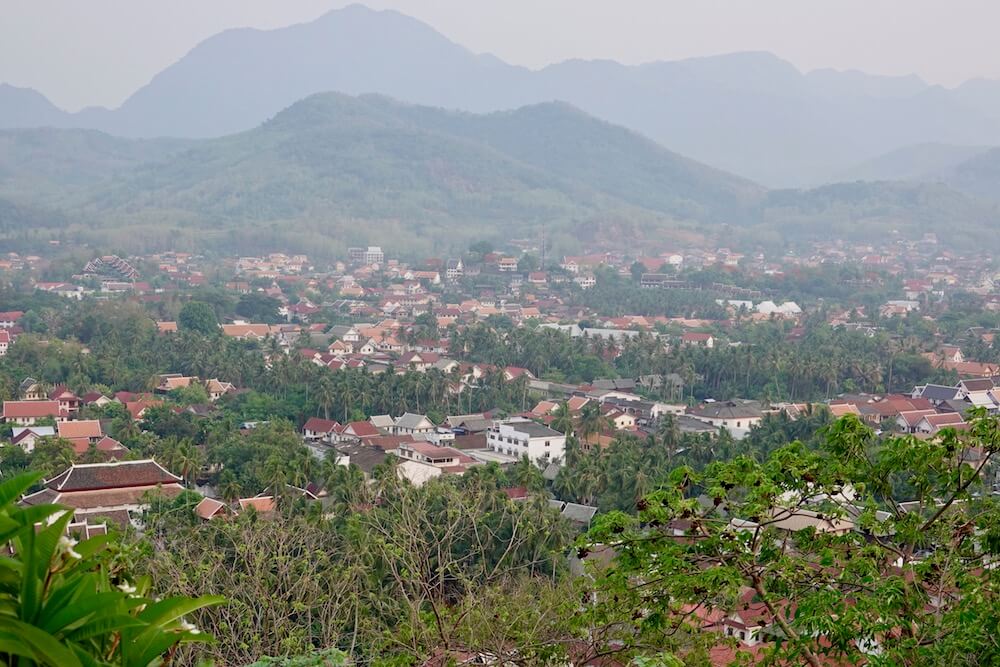 Standing 100 metres above Luang Prabang, Mt. Phousi is known as the 'sacred mountain' and can be accessed via a flight of more than 350 steps. Don't let this deter you, however, persevere to the top and you'll be rewarded with panoramic views of Luang Prabang and the surrounding mountains. The summit is also home to a temple and a giant golden stupa.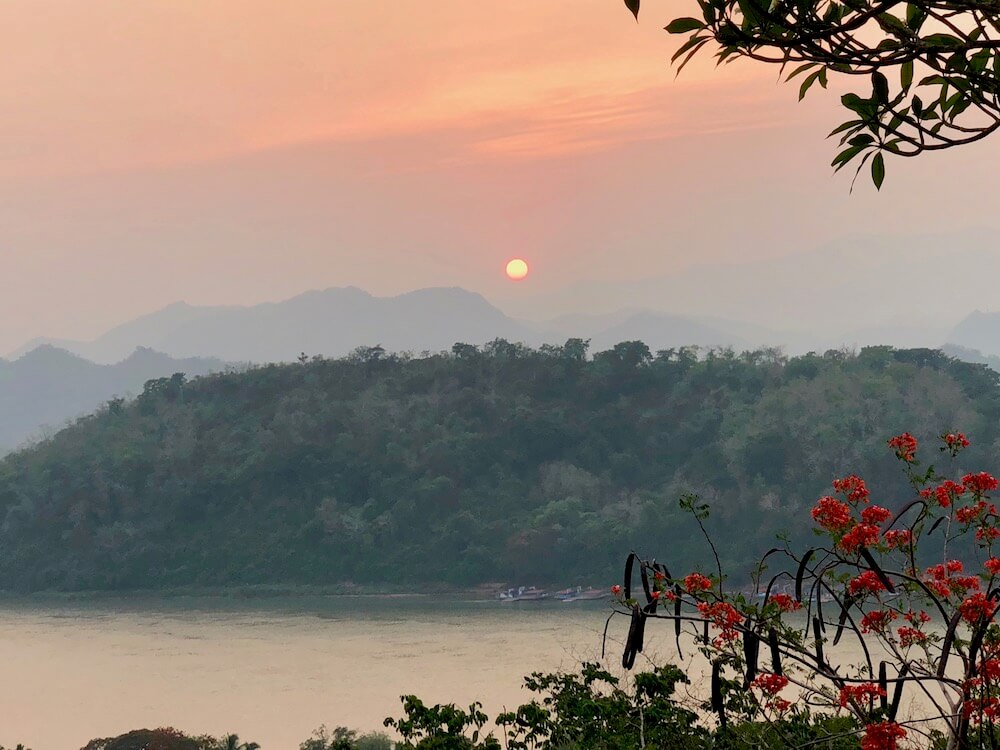 Mt. Phousi is also a popular sunset spot, do climb to the top early to snag a viewing spot. A small entrance fee of LAK20, 000 (~SGD3) is also required to visit the mountain.
7. Explore the streets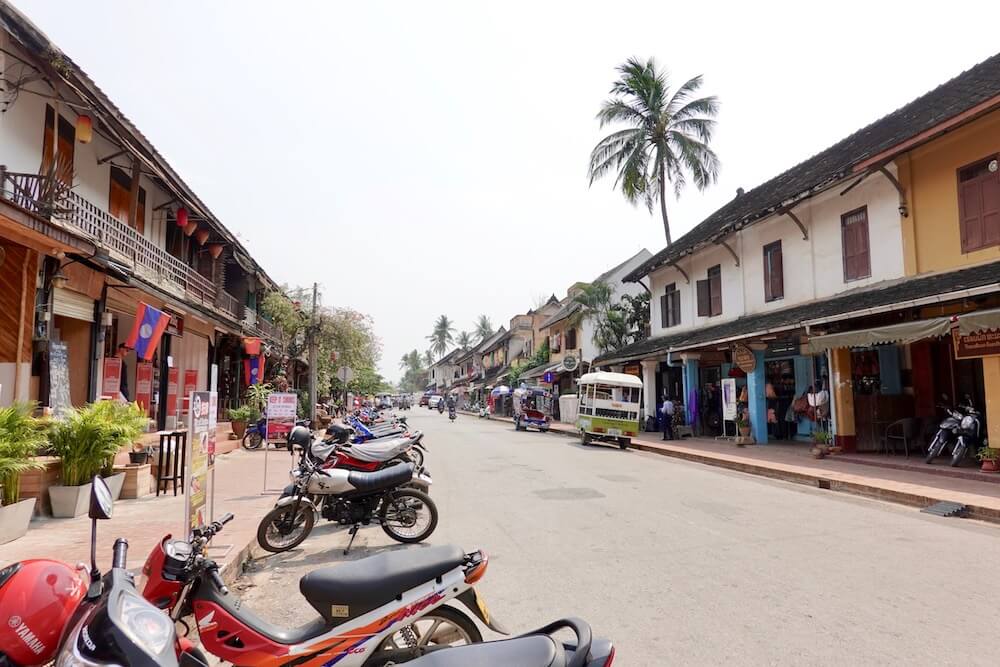 Due to its UNESCO World Heritage status, the streets of Laos are blissfully devoid of huge buses or trucks. Pollution levels are at a minimum, with wide streets that are clean and spacious.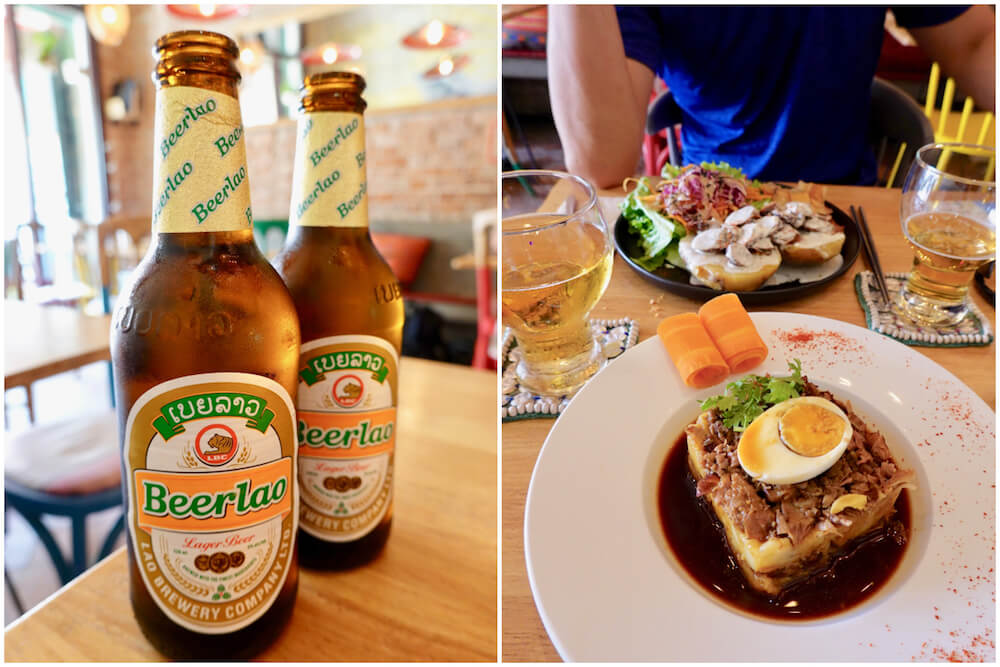 The streets are lined with an eclectic range of restaurants, cafés, bars and shops. Laos can get very hot around mid-day; get some respite from the heat by popping into one of the cafés for a cold Laos beer or a bowl of stew.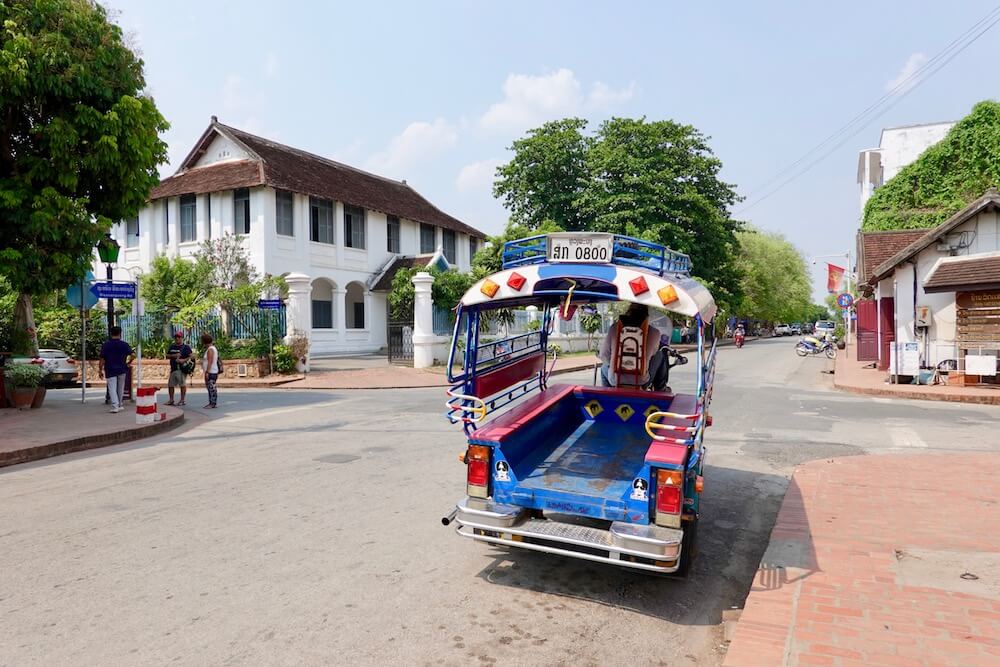 It's easy to get around; almost everything is within walking distance, with an abundance of tuk-tuks available as well.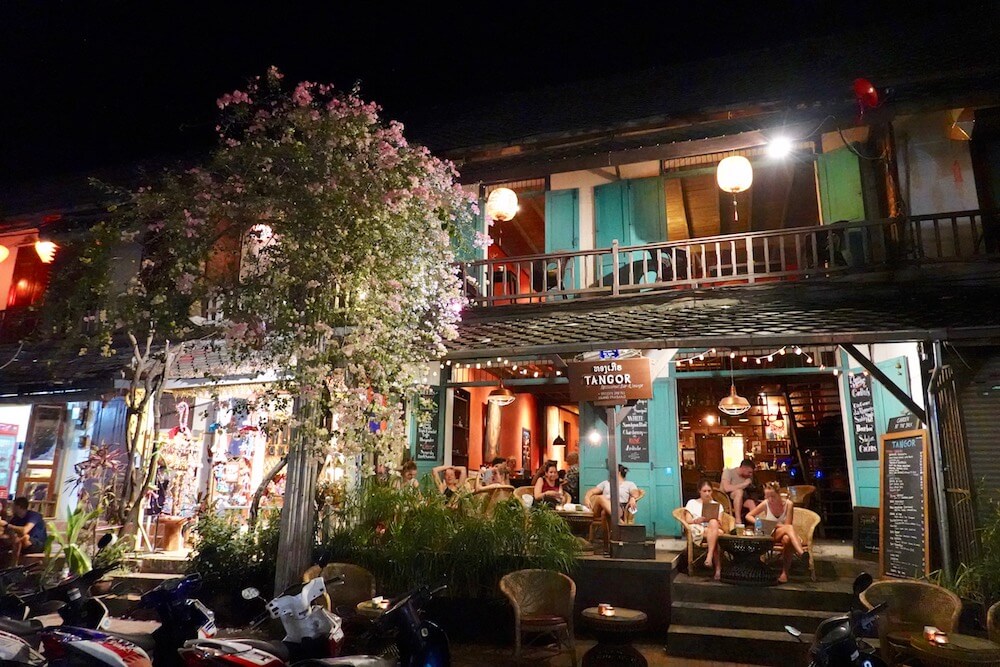 When night falls, the streets become illuminated with hanging lamps, with restaurants and bars starting to bustle with activity.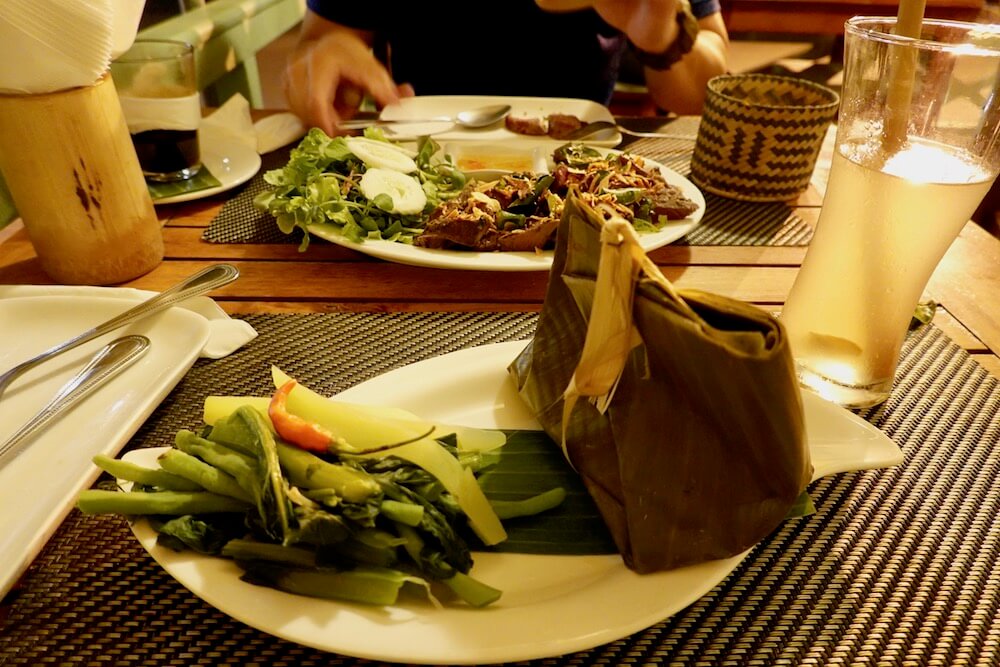 If you're looking to try a variety of Laotian cuisine, head to the Tamarind Restaurant and Cooking Restaurant which offers various sharing platters. Dig into a plate of Laap (a traditional meat salad), a bowl of sticky rice, herbed fish steamed in banana leaf, aromatic stews and more.
Address: Ban Wat Sene, Old Town, Luang Prabang 0600 Laos
Opening hours: 11am to 10pm, daily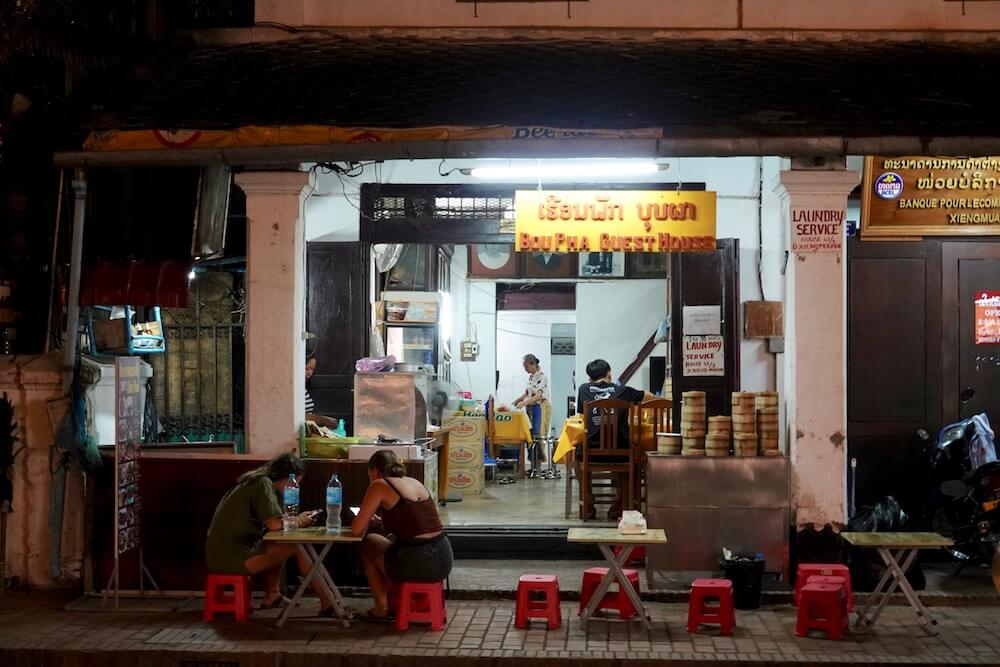 If you're looking for something a little more fuss-free, there are plenty of sit-by-the-roadside stalls to choose from as well.
8. Have a barbeque by the river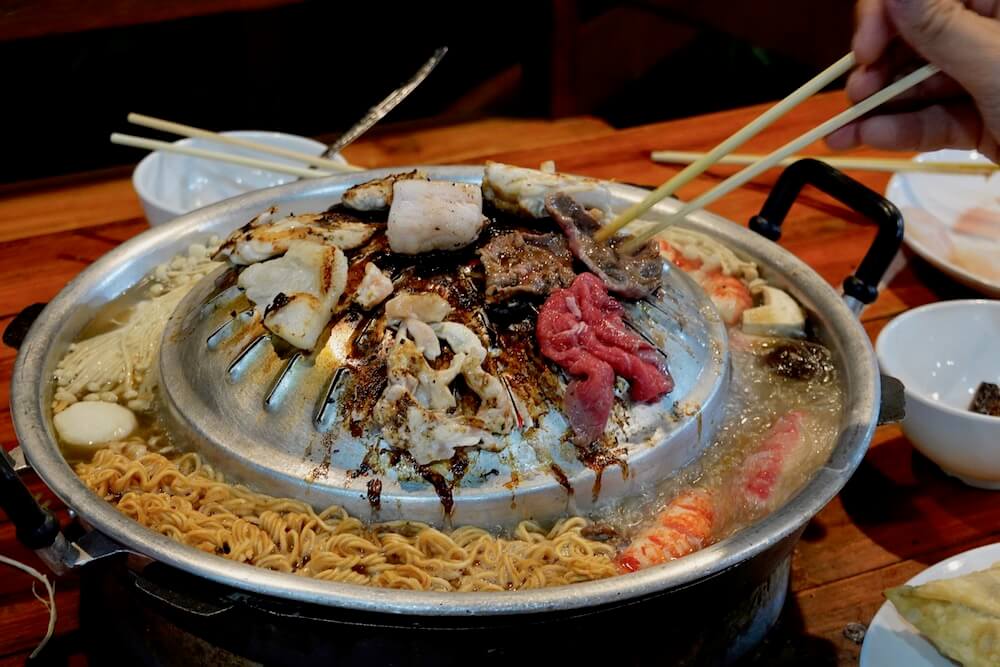 Similar to Thailand's Mookata, the Laos barbeque combines both the barbeque and steamboat experience in one sitting. Choose from an array of meats and grill them on a metal plate, with the juices running down into your soup. You can also add a variety of ingredients into the soup for enhanced flavour. Don't forget to give the local speciality of water buffalo a try as well.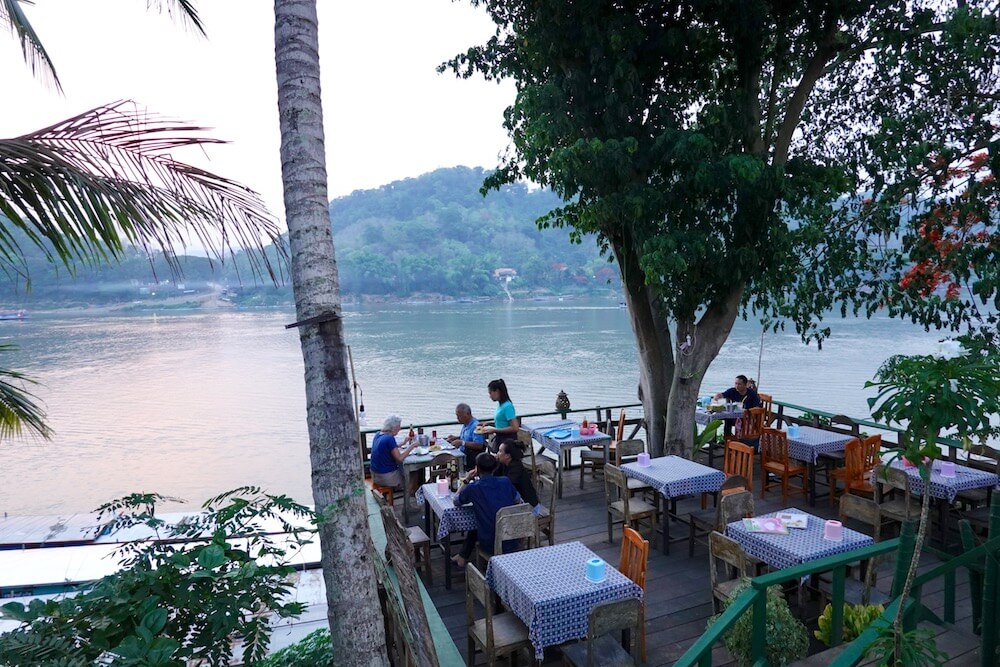 Take your pick from numerous barbeque restaurants lining the river; these aren't hard to find, simply follow the tantalising aromas wafting through the air!
9. Check out the local food street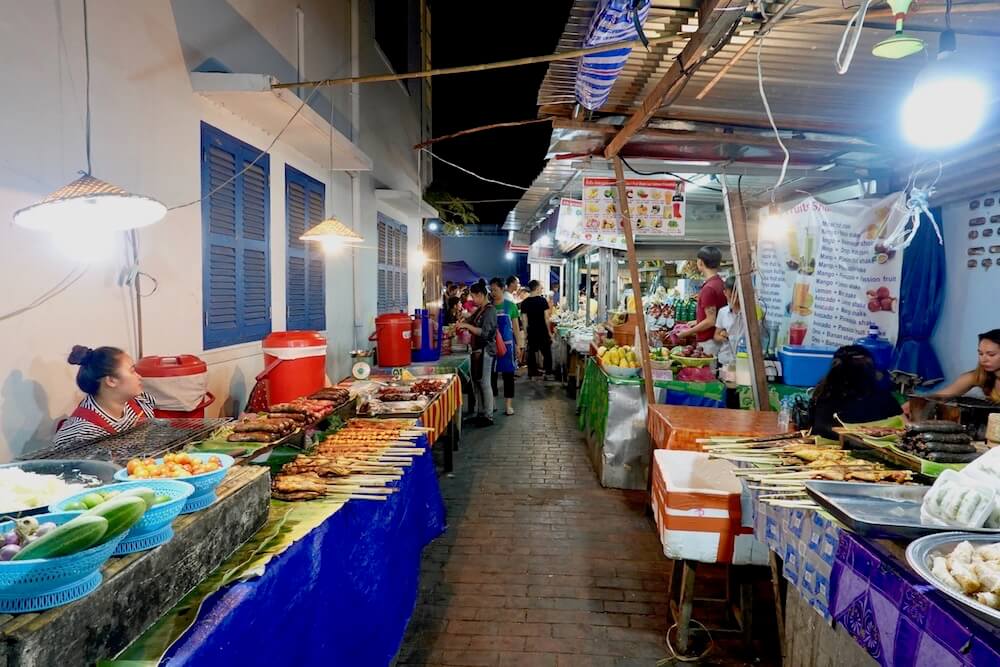 Affectionately known as the 'Buffet Street', this local food street comprises a narrow alley that's filled with multiple food stores. Most stalls here offer food in the buffet style, where you pay per bowl and fill it with whatever you want. An all-you-can-eat bowl usually costs around LAK10-20, 000 (~SGD1.50-3).
The stalls also offer a large array of vegetarian foods.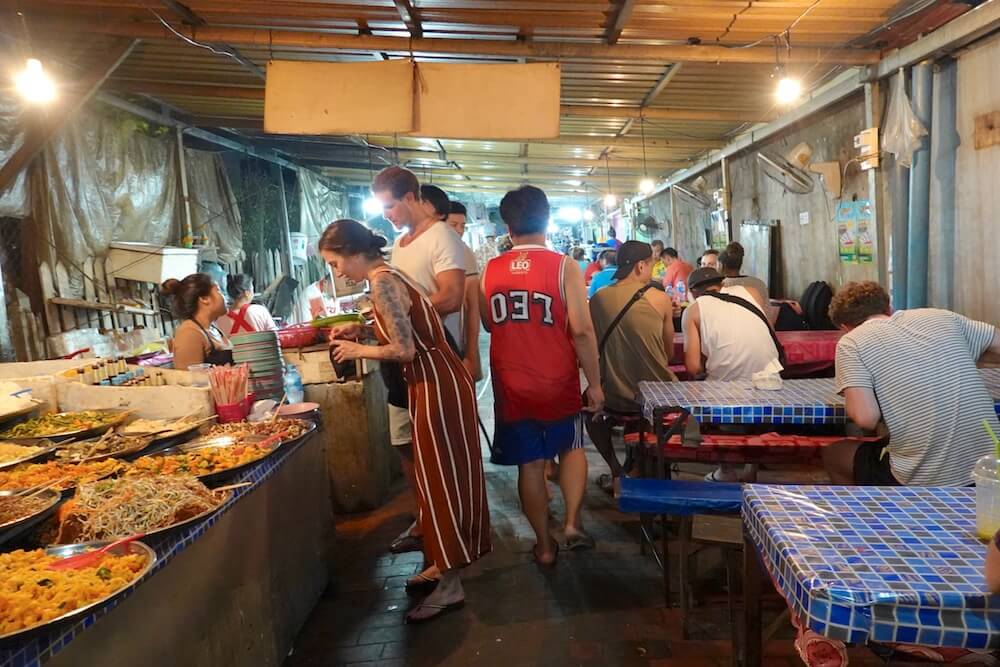 Seating here is in a communal fashion, with visitors encouraged to share tables. This makes it easy for travellers to mingle and make new friends!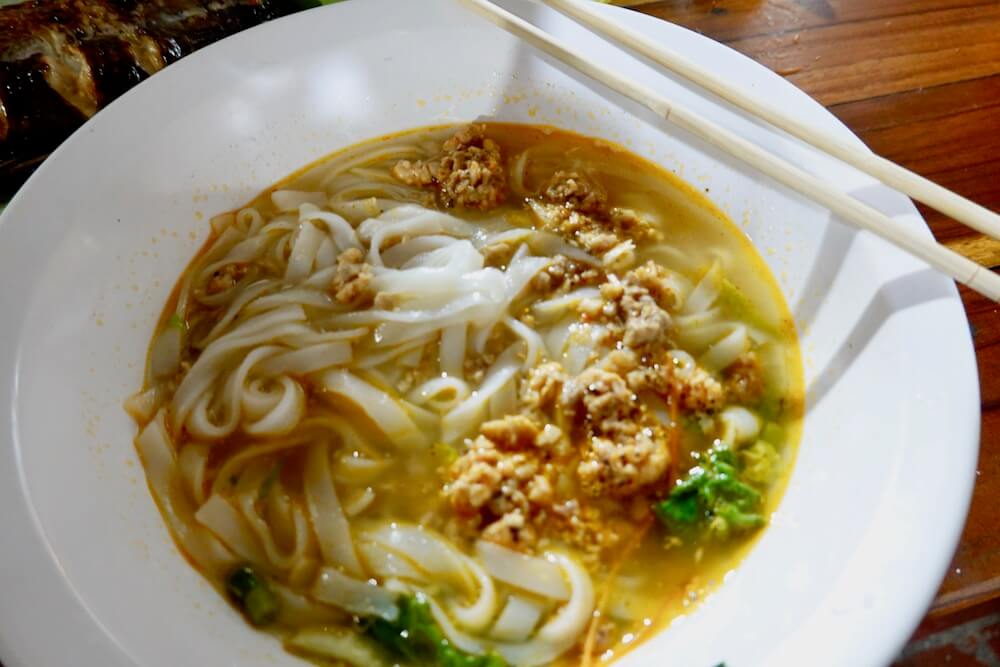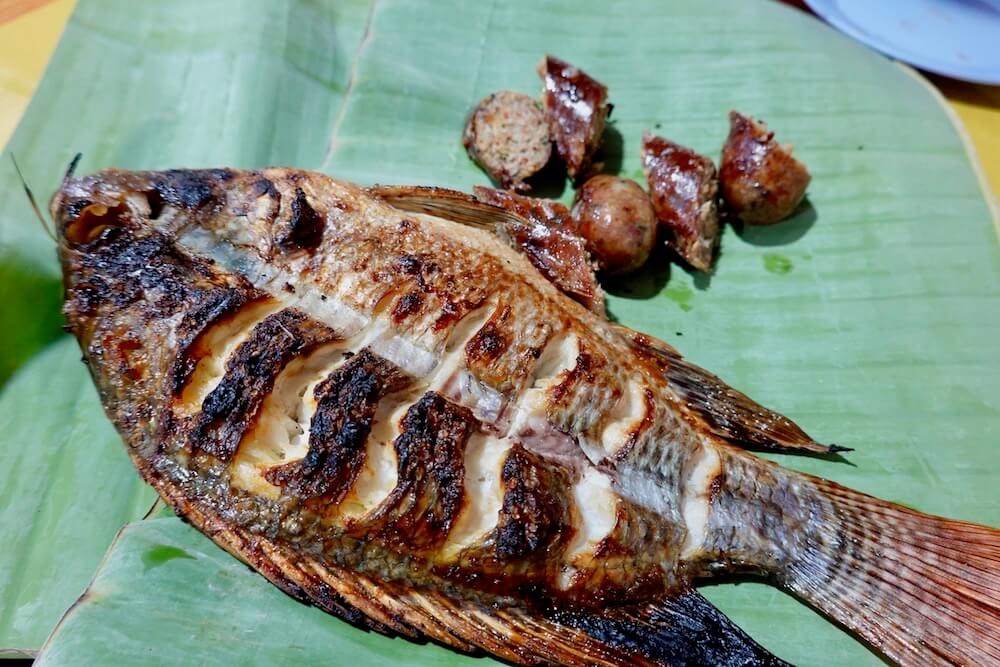 If you don't wish to have a buffet-style meal, ala carte dishes are also available. Popular choices are the grilled fish rubbed with lemongrass or Khao Soi, consisting of flat rice noodles in a delicious broth.
The food street is located right next to Indigo House Hotel, which is located along the main street of Luang Prabang. It's usually open from 5pm to 11pm every night.
10. Trawl the night market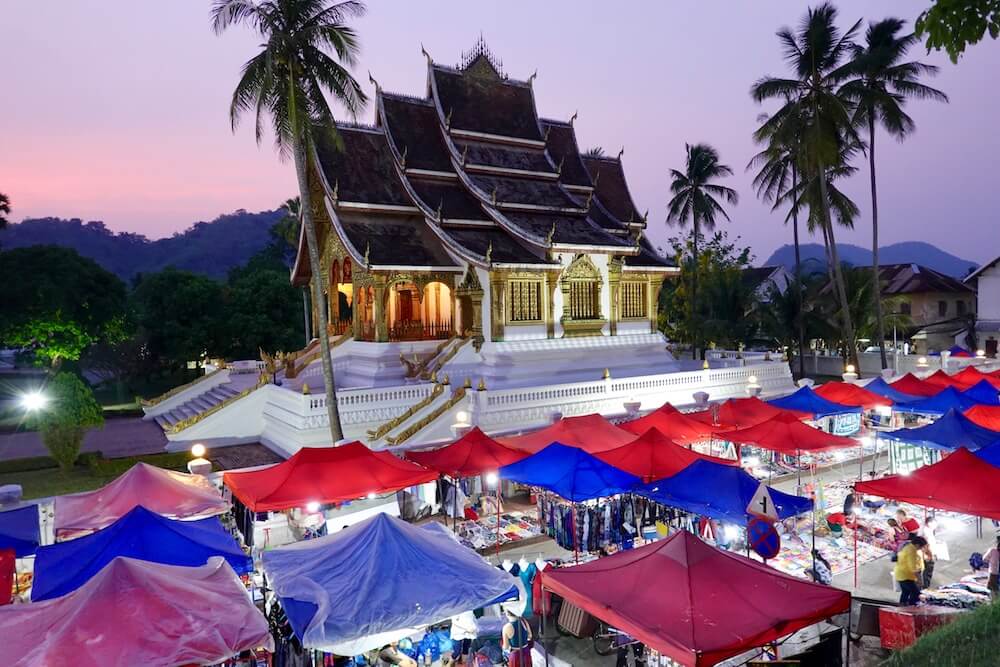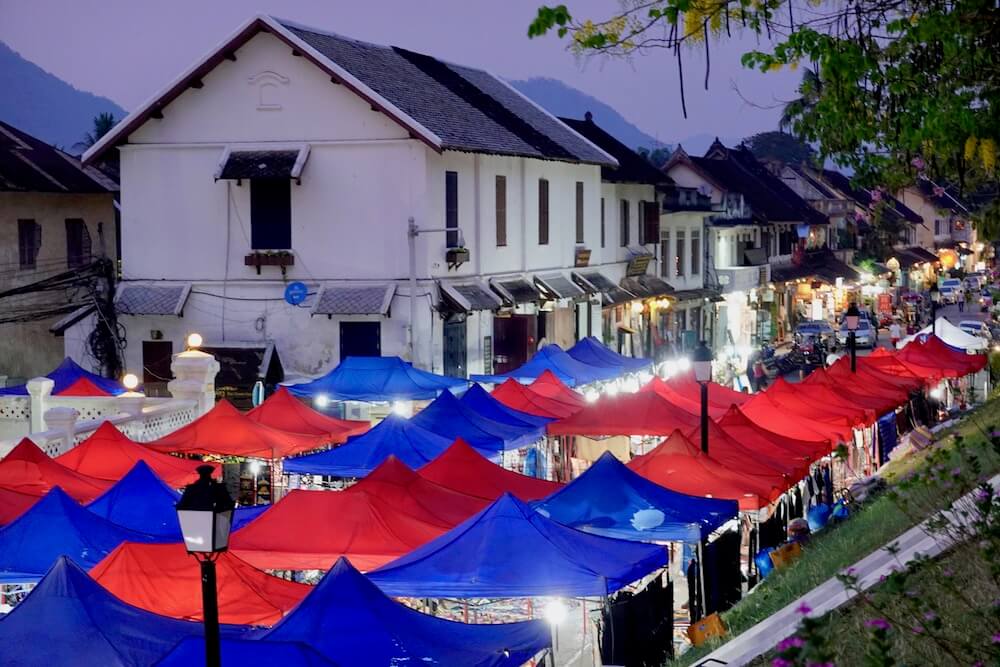 When dusk falls, the night market takes centre stage along the main street of Luang Prabang. An array of colourful tents are set up around 5pm each night, containing stalls peddling local handicrafts, jewellery, souvenirs and more.
Can you imagine that this is set up and taken down every single day? Kudos to the locals' dedication! What I liked about this night market was that the stallholders weren't the least bit pushy, allowing visitors to browse their merchandise in peace.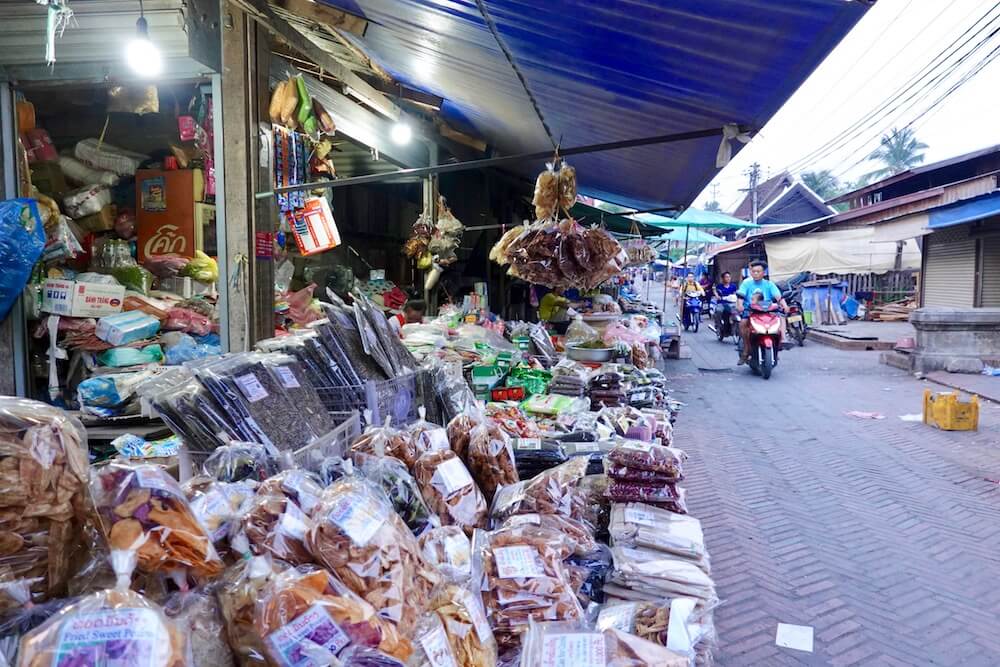 If you wish, you can also check out the morning market where locals buy their groceries.
11. Make a splash at Kuang Si Falls
Kuang Si Falls is perhaps Luang Prabang's main claim to fame. Surrounded by lush foliage, the Kuang Si Falls is a turquoise paradise of cascading waterfalls, limestone pools and natural grottoes.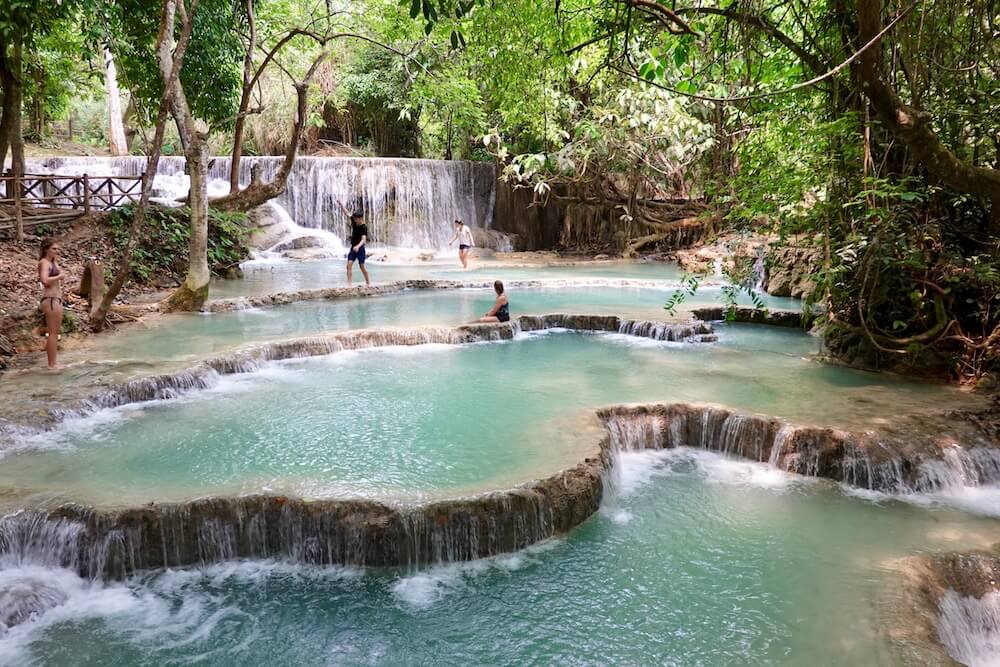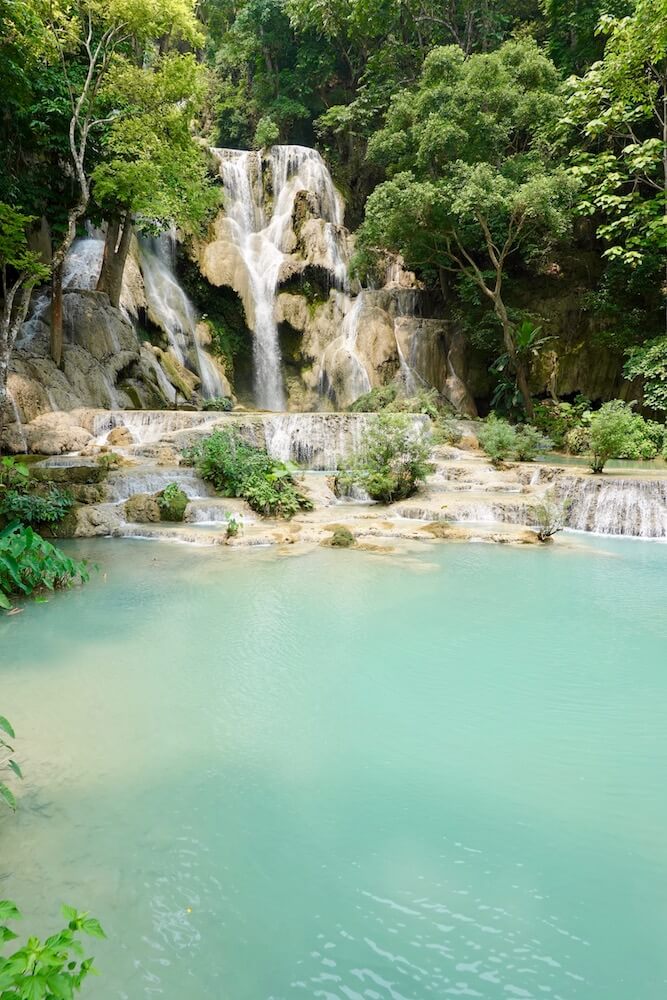 Take a swim in the pools, hike up a short trail for a panoramic view or have a picnic by the falls. Kuang Si Falls is about 45 minutes away from Luang Prabang via tuk-tuk or minivan, making it an easy half- or full-day trip. 
Read: Visiting Kuang Si Falls in Luang Prabang, Laos
12. Walk with giants at Mandalao Elephant Conservation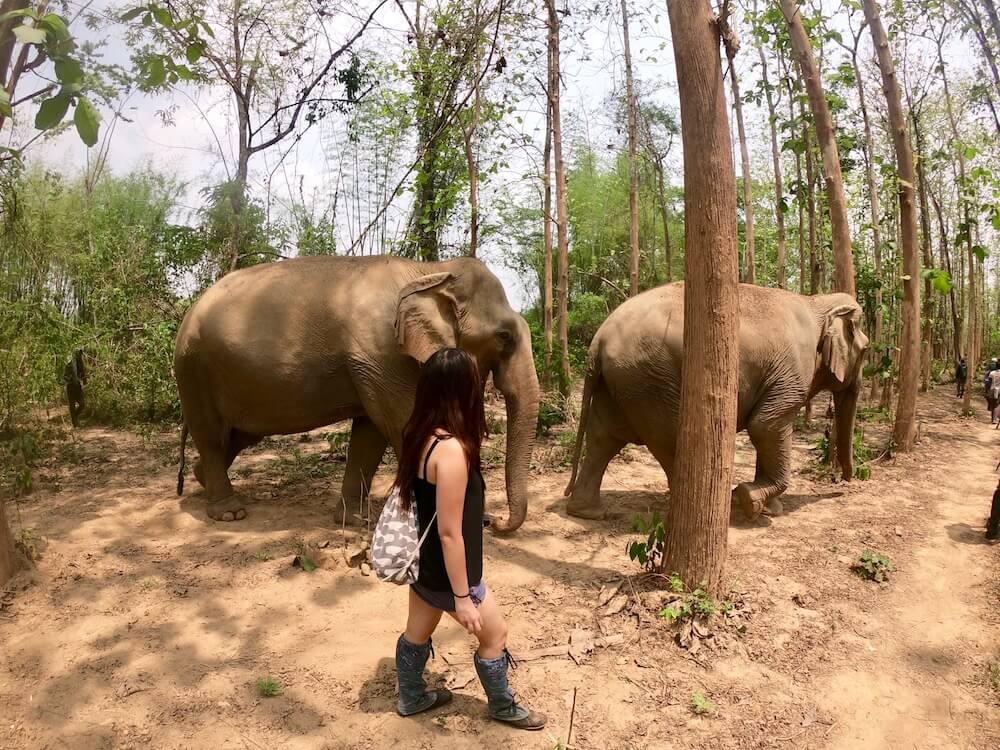 As countless horror stories about elephants being subjected to a lifetime of abuse at elephant camps surface, many travellers are on the lookout for sustainable camps where they can interact with these creatures in an environment that puts the animal's welfare first.
One such establishment is the Mandalao Elephant Conservation, whose mission is to rescue elephants who have spent their lives caged up or beaten – and provide them with a safe space where they can be rehabilitated and live the lives they deserve.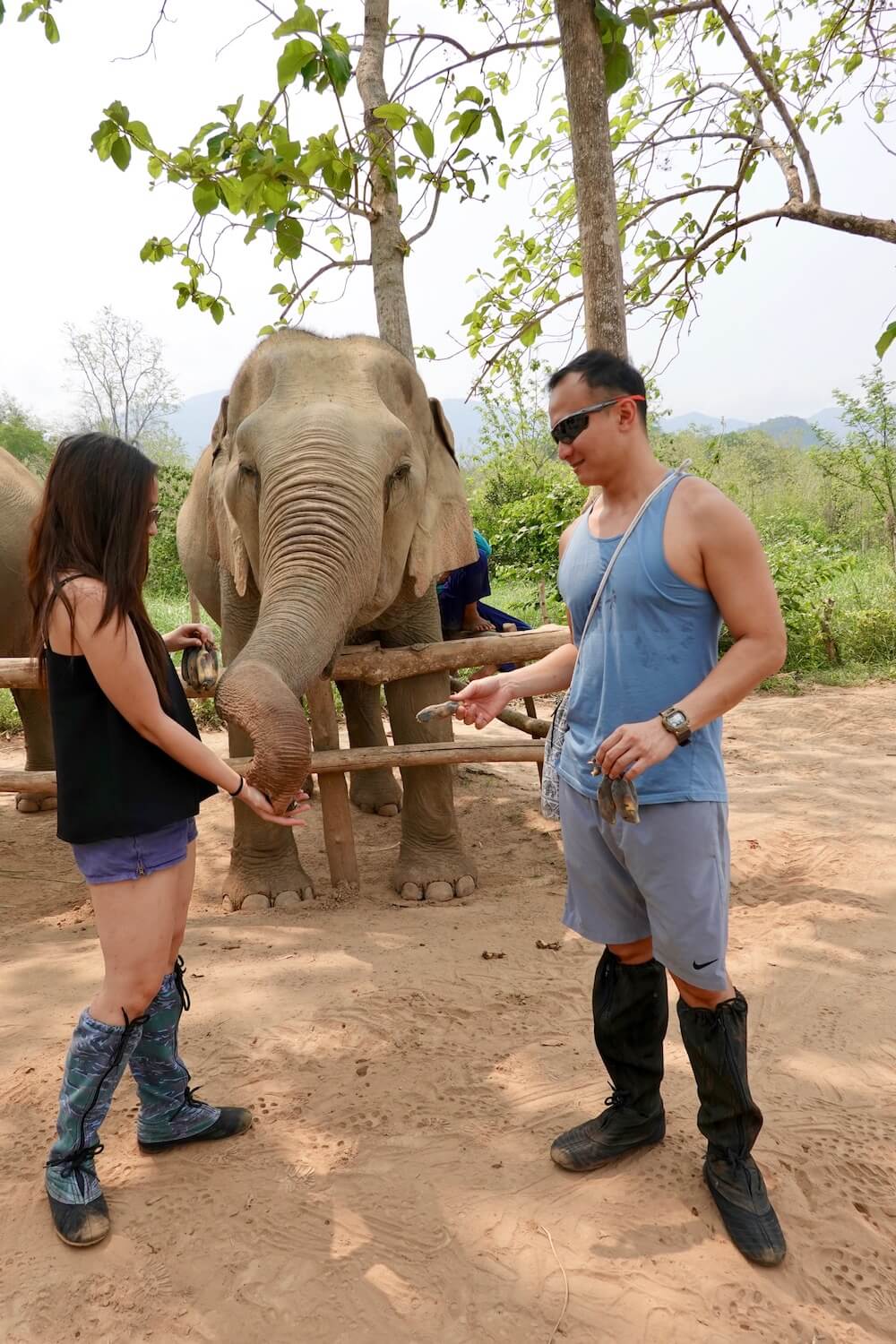 Located just 30 minutes away from Luang Prabang, Mandalao gives visitors the opportunity to join the elephants in their daily routines. You won't find any rides or circus tricks here; you can, however, feed the elephants their breakfasts or go on a trek with them through the jungle!
Half-day and full-day programs are available, with each program capped at 4 to 8 people to prevent the elephants from being overwhelmed. Each program includes a feeding session, a trek through the jungle, lunch and return transport from Luang Prabang.
Read: Trekking with Elephants at the MandaLao Elephant Conservation, Laos
13. Go kayaking down the Nam Khan River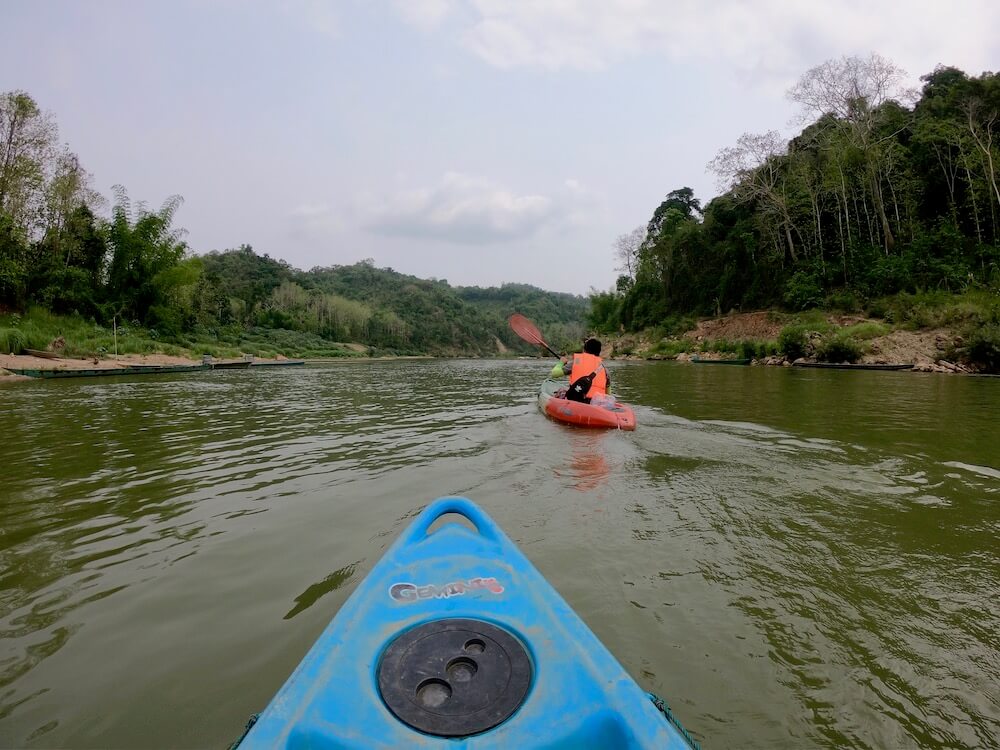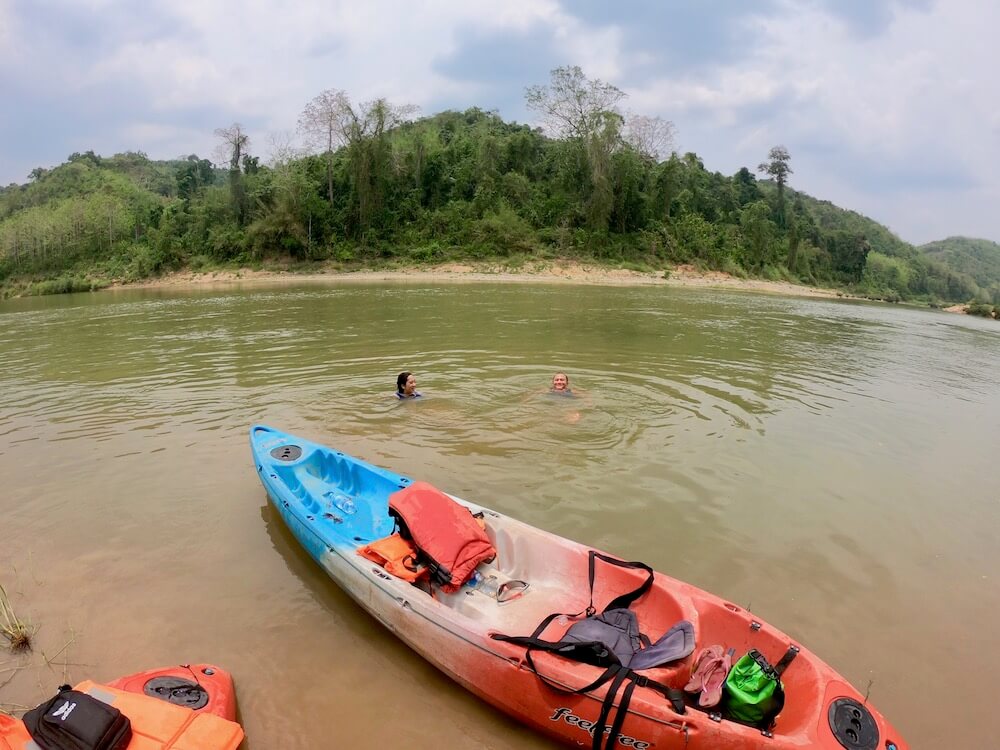 Another fun activity on the outskirts of Luang Prabang would be to go kayaking along the Nam Khan River. We had our own personal tour guide for our 4-hour experience, who gave us tidbits of information about the country and surrounding land along the way.
The weather in Laos can get rather sweltering as it approaches mid-day, something that we quickly combated by jumping off our kayaks into the water for a swim!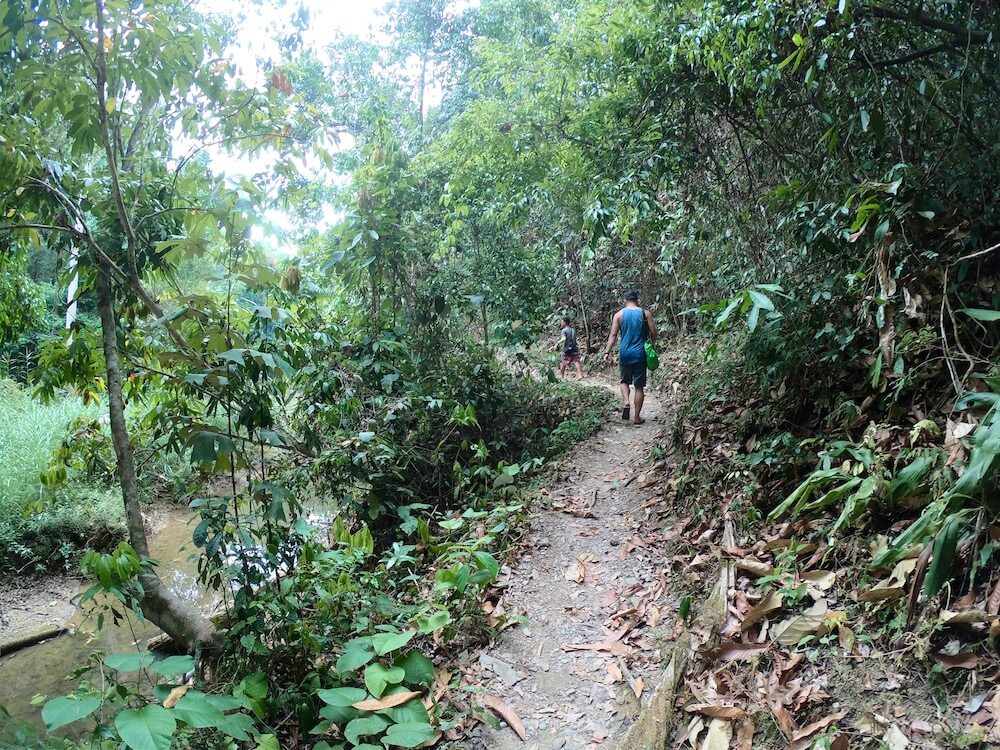 Halfway through our kayaking trip, our guide even brought us on a little trek to a hidden swimming hole. We booked this experience through our hotel concierge, which included return transport to and from our hotel.
If you're in need of a well-deserved break from your usual hectic routine, a trip to Luang Prabang may very well be the remedy. Are you ready to live life in the slow lane – even if just for a few days?

Add a comment