← Back to portfolio
Visiting Kuang Si Falls in Luang Prabang, Laos
Mention Luang Prabang in Northern Laos and the Kuang Si Falls probably spring to mind. In fact, the Kuang Si Falls may very well be Luang Prabang's most famous attraction by far – take a saunter around town and you're bound to be approached by numerous tuk-tuk drivers asking if you want to go to the waterfall.
Read: Things to Do in Luang Prabang, Laos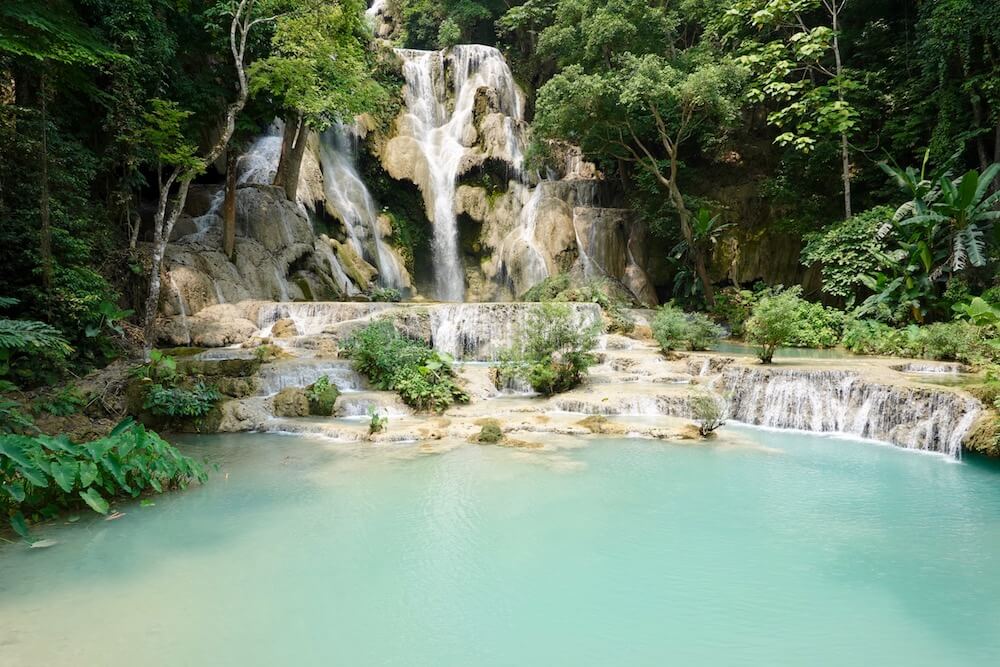 And why wouldn't you? Boasting a milky blue colour that almost looks fake, the Kuang Si Falls is a three-tiered waterfall that cascades into limestone pools and natural grottoes. The falls are surrounded by a lush jungle, creating an impossibly idyllic scene.
As local legend goes, the Kuang Si Waterfall was created when a wise old man dug a hole in the ground, which allowed the waters to reach the surface. Soon after, a golden deer came along and made a home under a rock protruding out from the falls. The waterfall would hit this very rock and create a noise that could even be heard as far away as China! The Kuang Si Waterfalls were hence named after this, with 'Kuang' meaning 'deer' and 'Si' meaning dig.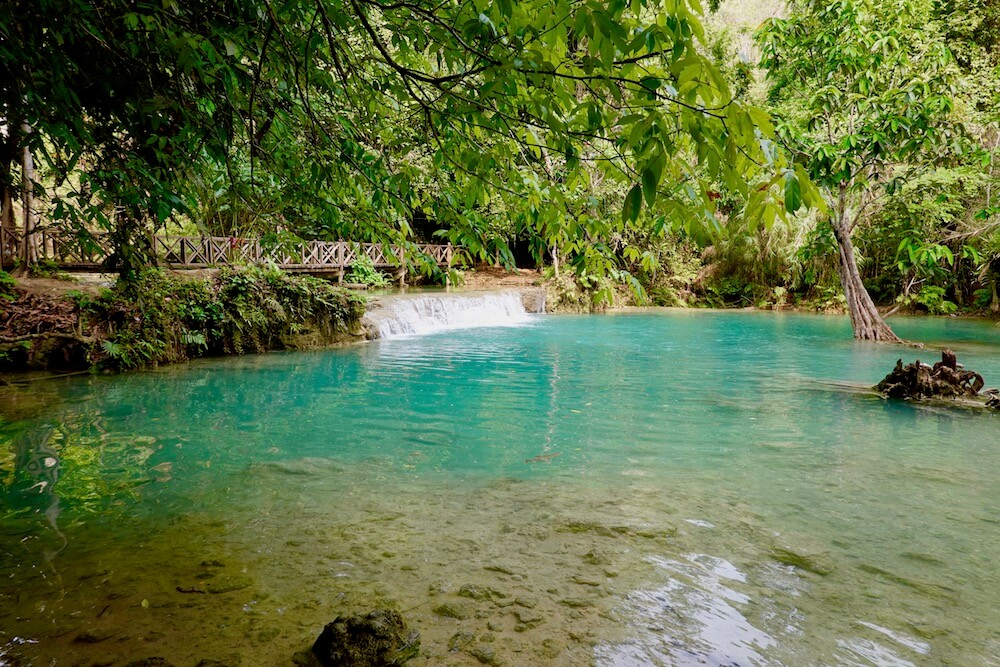 The waterfalls are made out of a couple of pools. When you reach the falls, you'd first come upon a shallow one (as pictured above) – don't stop here, however, and continue further up.
The best time to visit the falls is between December to April, after the monsoon season has ended. During other times – such as Laos' monsoon season from July to October – heavy downpours turn the falls into fierce rapids that are a murky brown colour. During those months, swimming is impossible and the falls look nothing like the way they should look!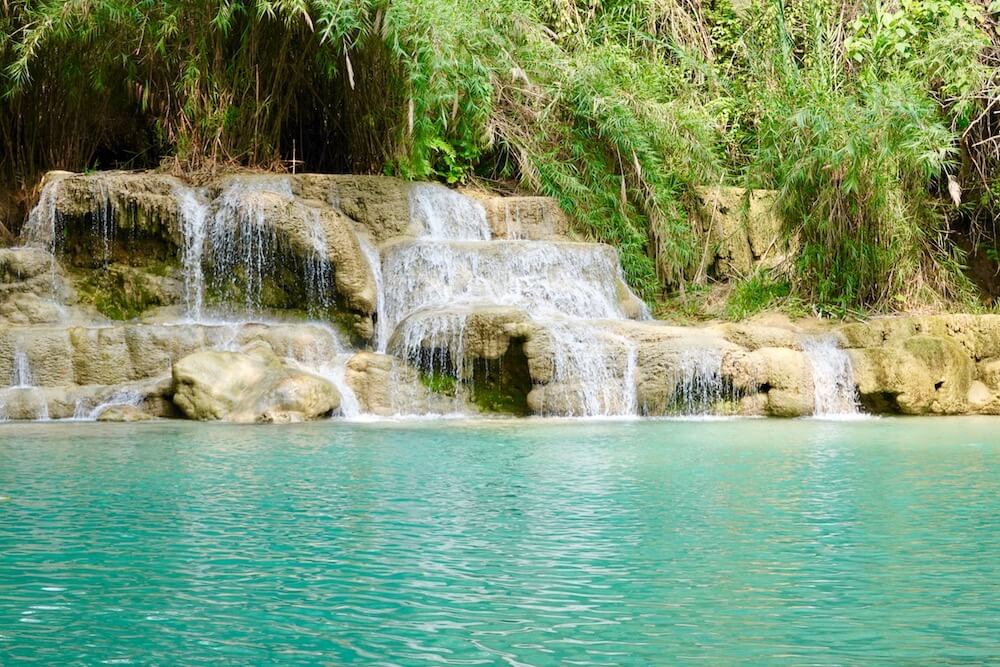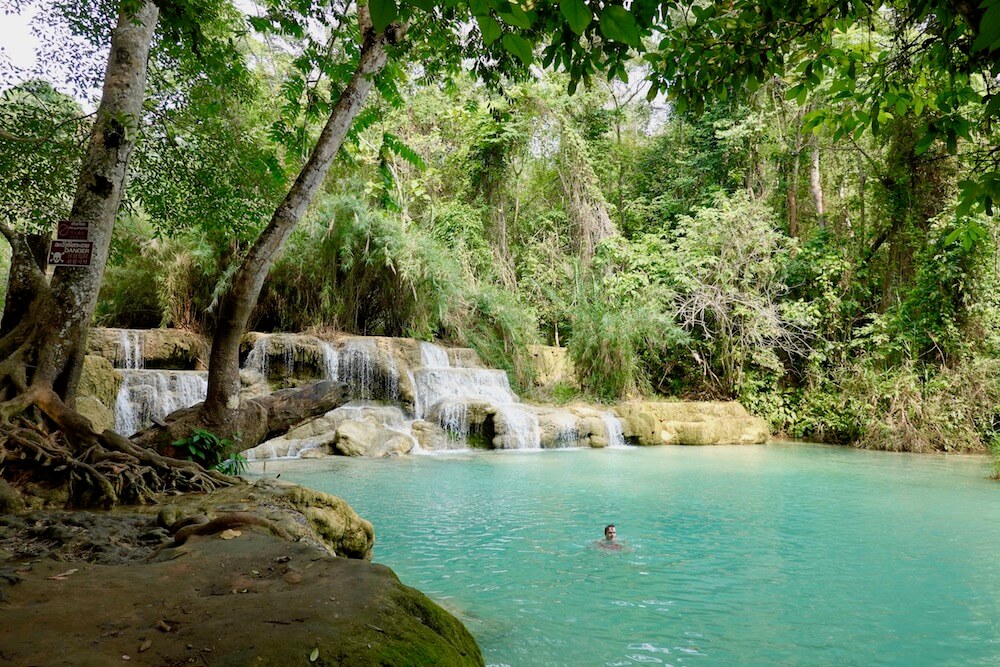 Stop at the second pool, where you can jump in for a swim or have a picnic on a bench. There are changing rooms nearby where you can easily change in and out of your swimwear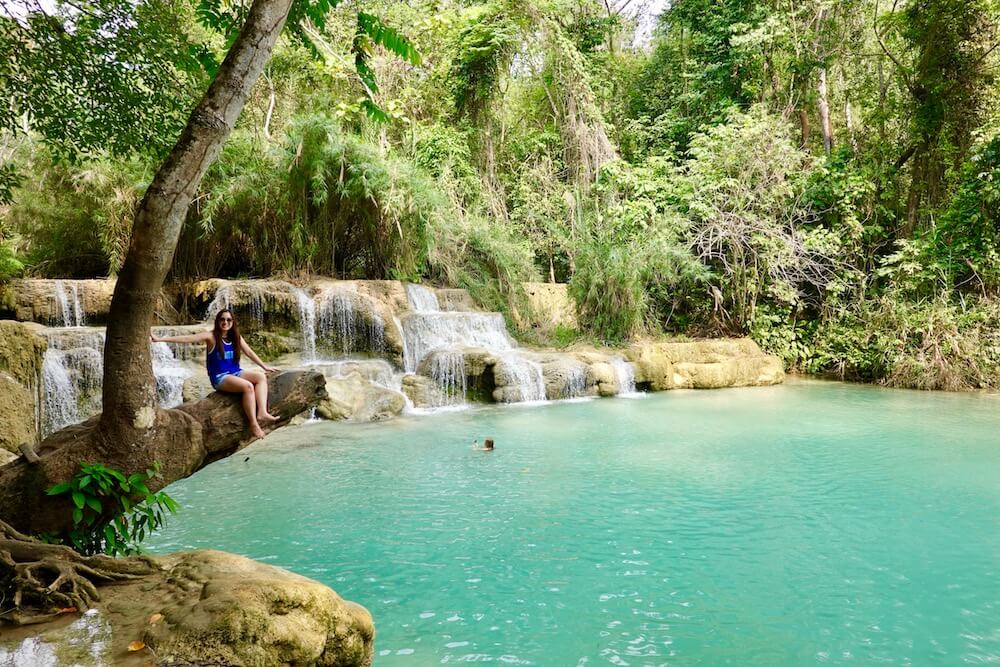 A giant tree branch hangs over the water and is often used as a springboard for people to jump into the pool. Do so at your own risk, however, and do exercise caution!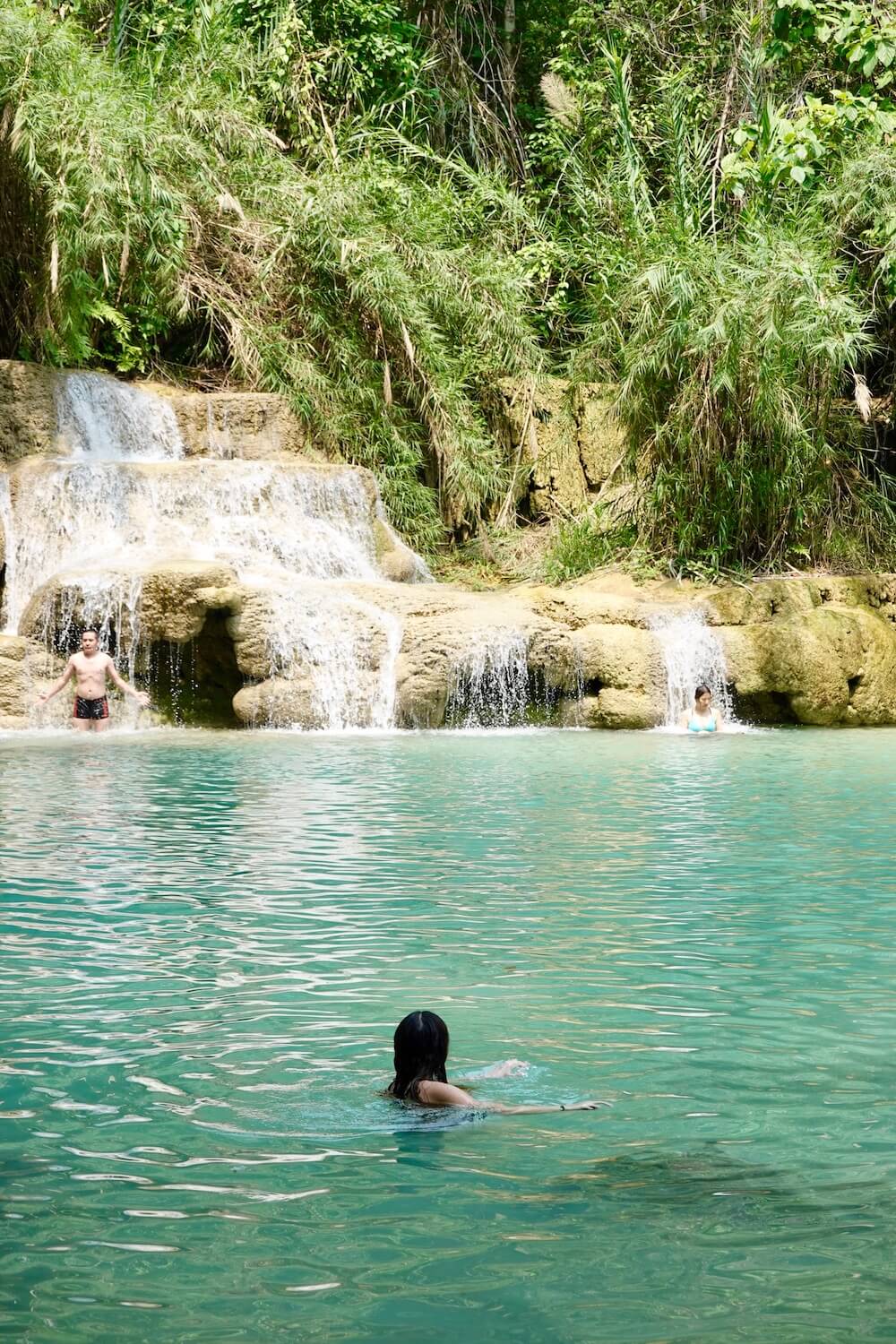 Visit early in the morning and you'd pretty much have the pool all to yourself. Enjoy a languid swim in the waters – however, what nobody tells you about are the huge numbers of fish in the pool! These fish will start nibbling on your feet once you stop moving – for those that will be bothered by this, it does admittedly spoil the experience a little. Otherwise, you can look at it like getting a free fish spa!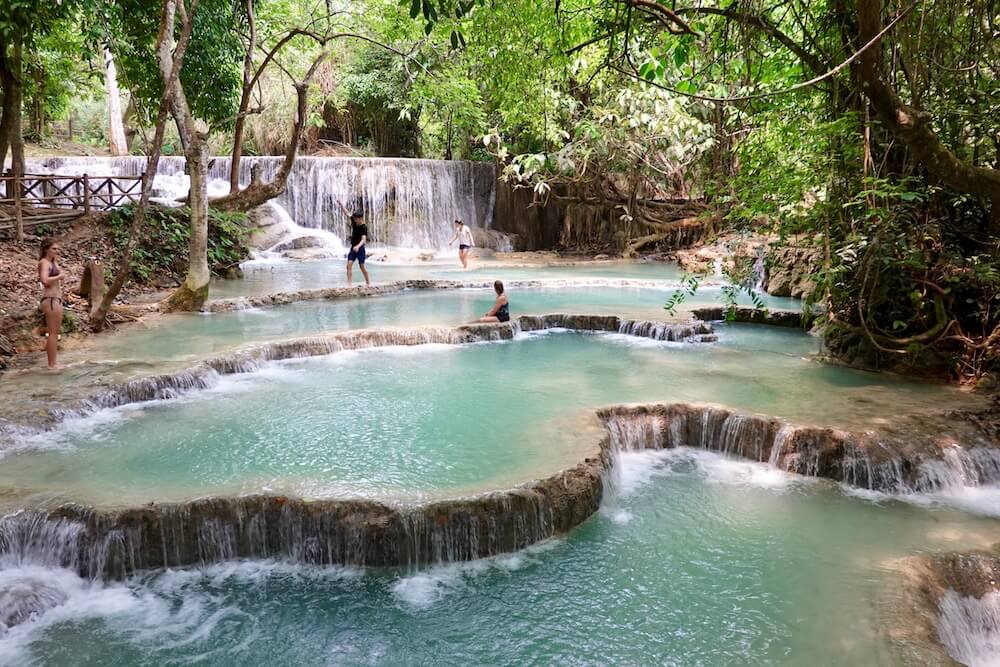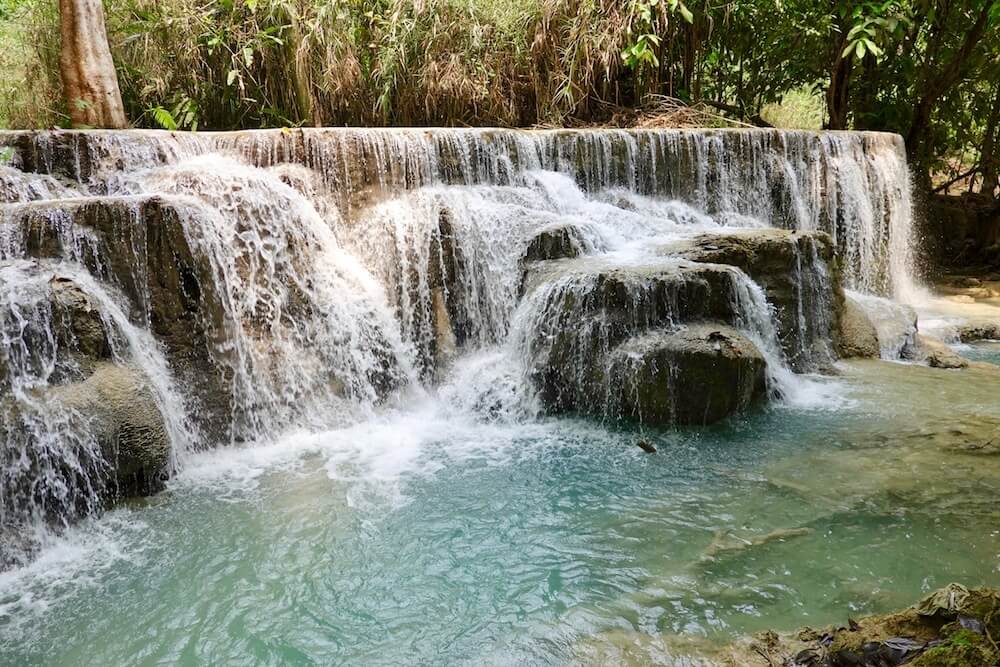 Once you're done with the second pool, head further up to find a couple of beautifully tiered pools that cascade over multiple 1-foot drops.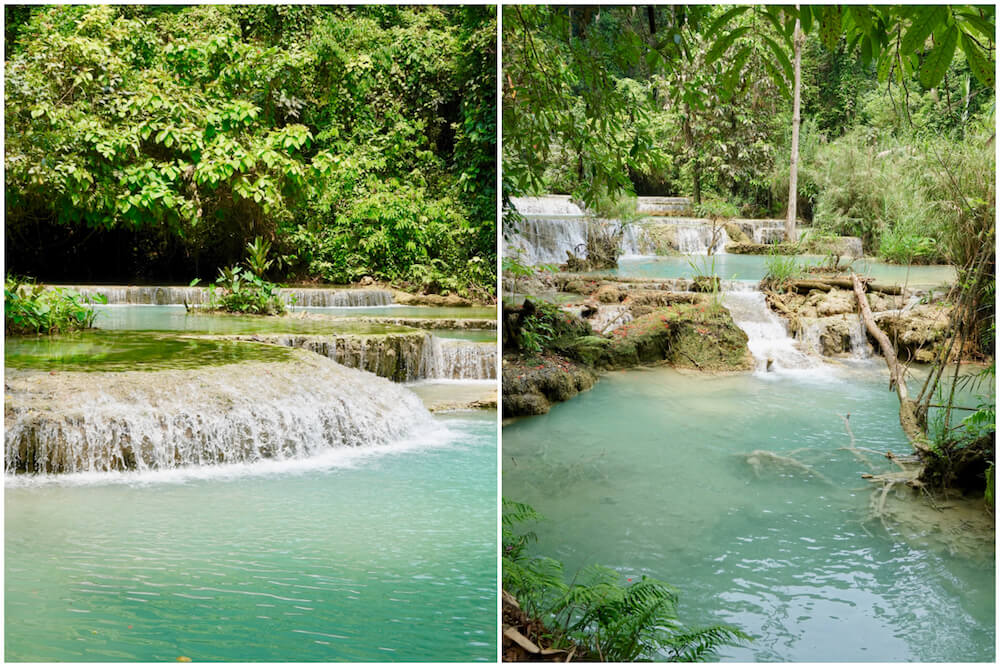 Don't the falls look so wonderfully dreamy? If you wish, you can also embark on a 15-minute hike to the top of the falls, where you'd find a few more natural pools and a rope swing. Do note that this trail can get rather muddy and slippery at times!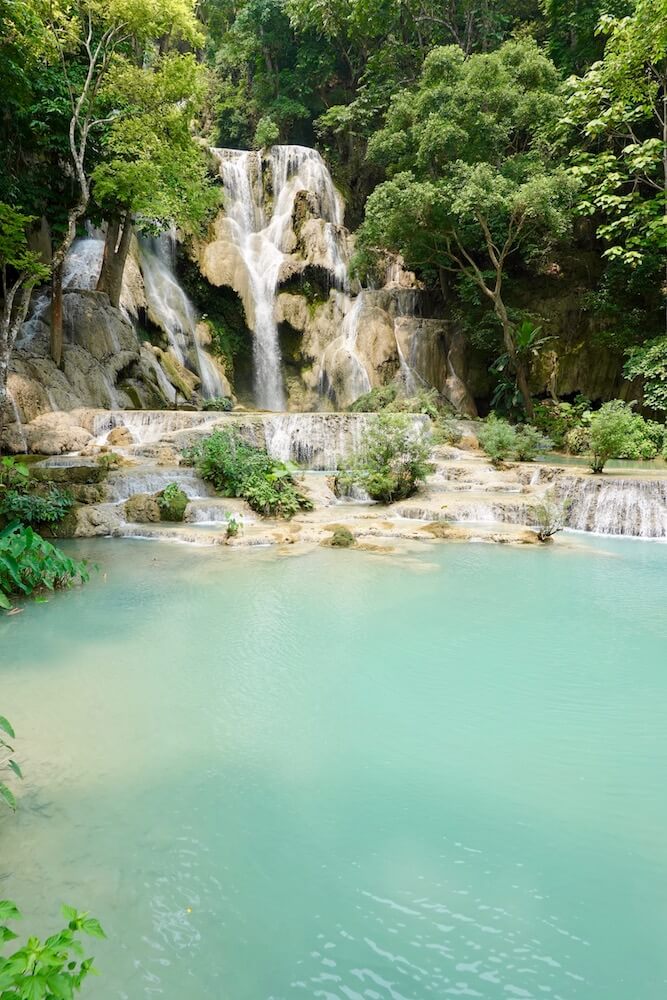 The giant Kuang Si Waterfall, however, takes centre stage. With a drop of approximately 50 metres, the water rushes down several levels of limestone to form an utterly mesmerising sight. This waterfall can only be viewed from a wooden bridge, allowing everyone to have an obstructed view of the falls.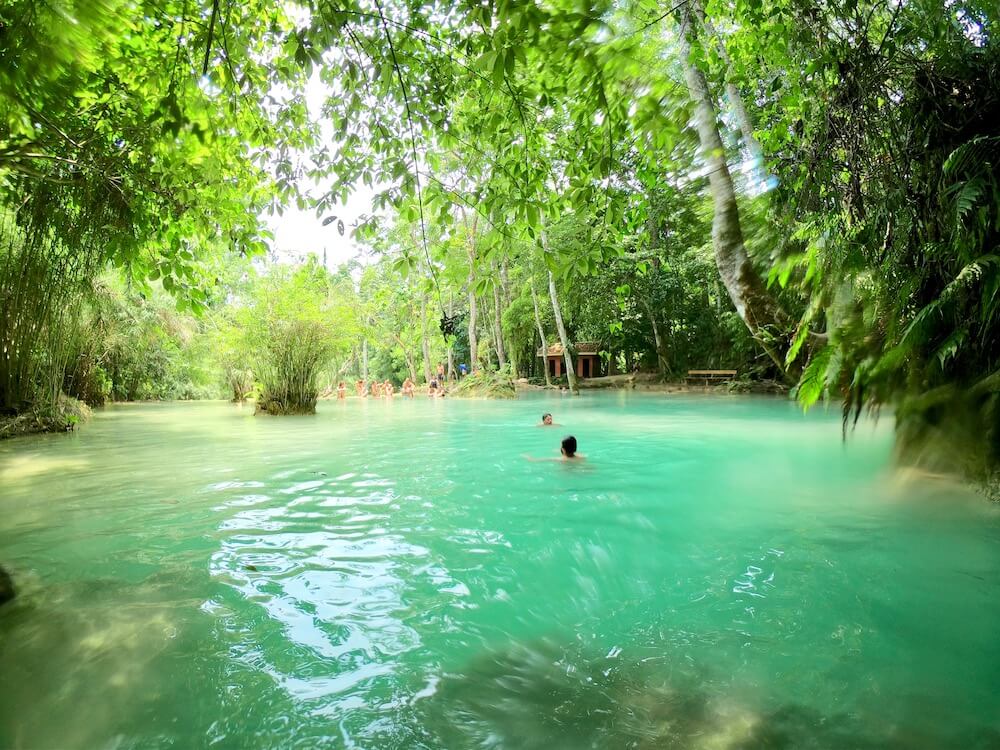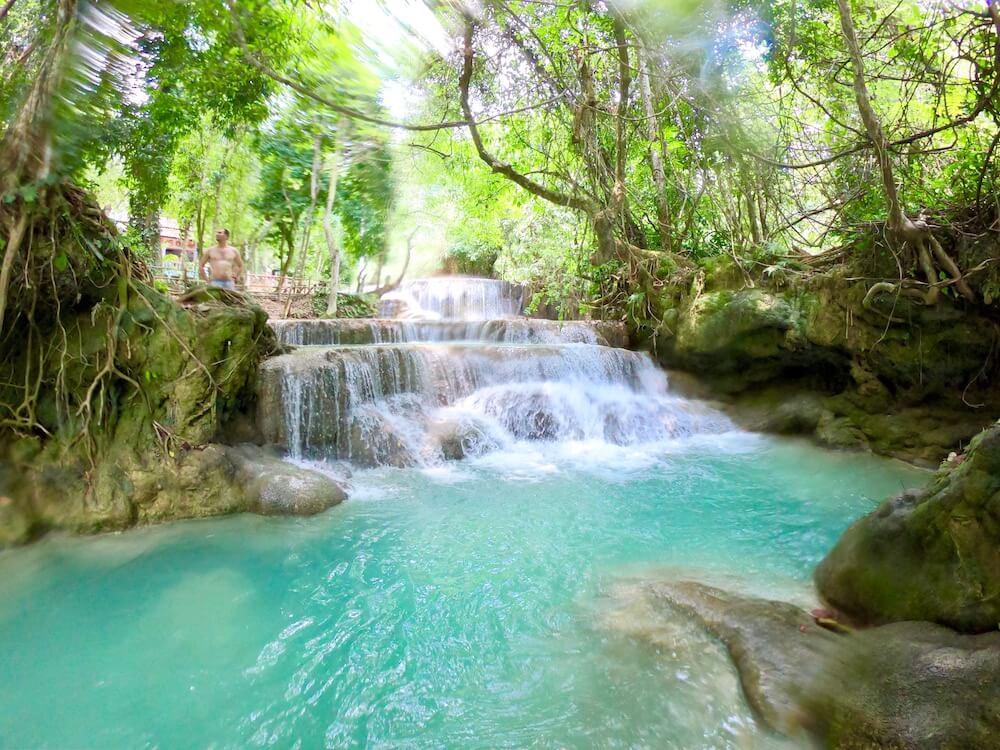 If you're wondering about the colour of the pools, it's due to the amount of calcium carbonate that limestone contains. The waterfalls flow over multiple limestone rocks, collecting limestone particles along the way. These particles are high in calcium carbonate which reflects light, resulting in a milky blue or turquoise colour.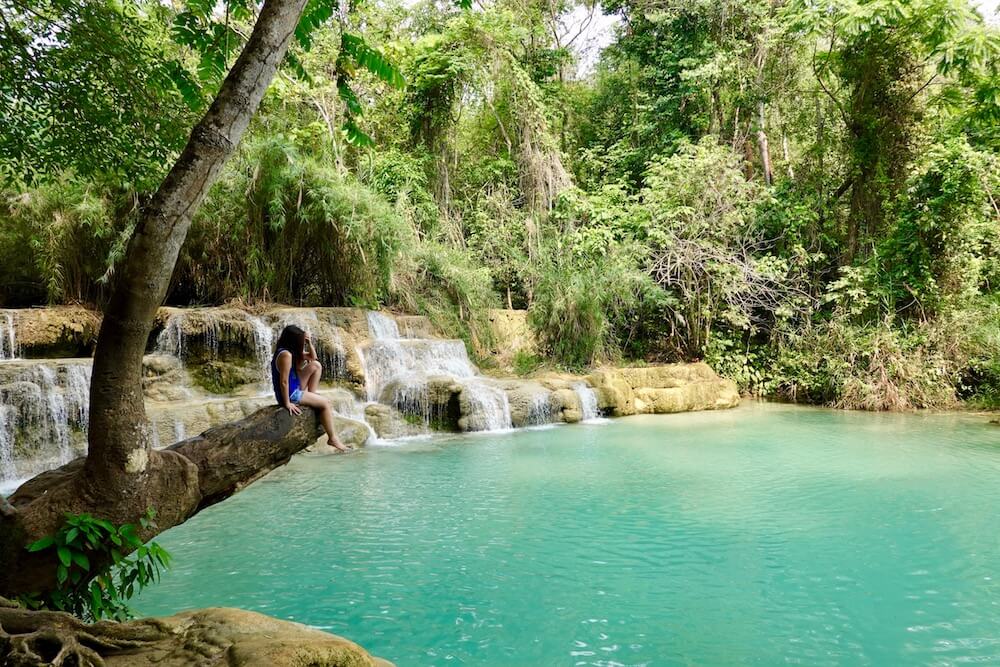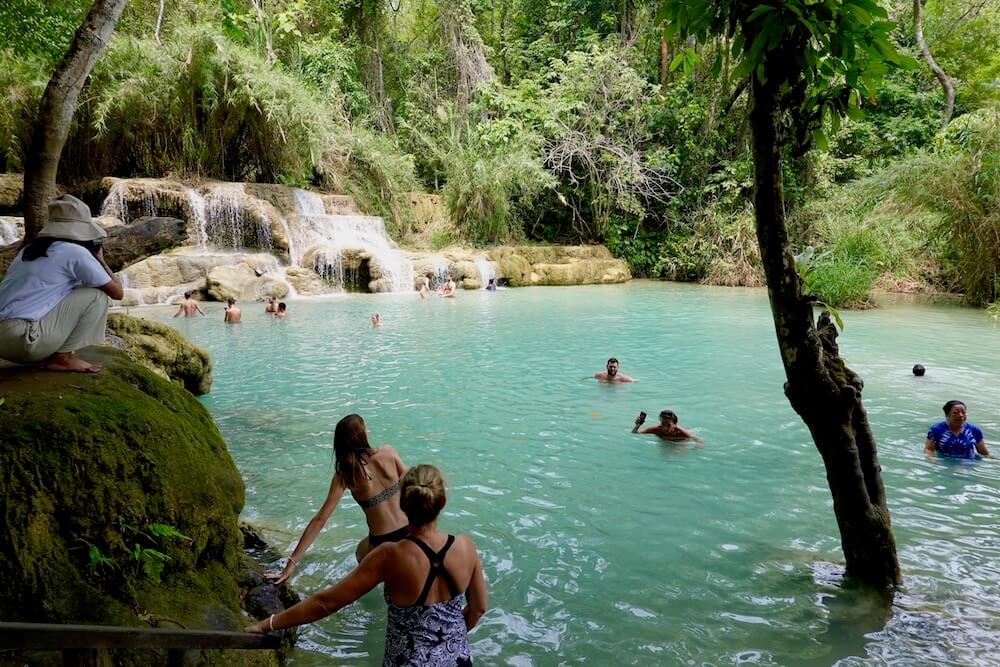 One thing's for sure – when visiting the Kuang Si Falls, the early bird does indeed catch the worm. Compare the top picture taken at around 9am, and the bottom picture around 11am. There was hardly anyone in the pool when I first arrived; only to be greeted by a pool full of people on my way out. Do come early for a tranquil experience sans the crowds!
The pools also become exponentially more crowded on the weekends so if you're able, visiting early on a weekday morning may be your best bet.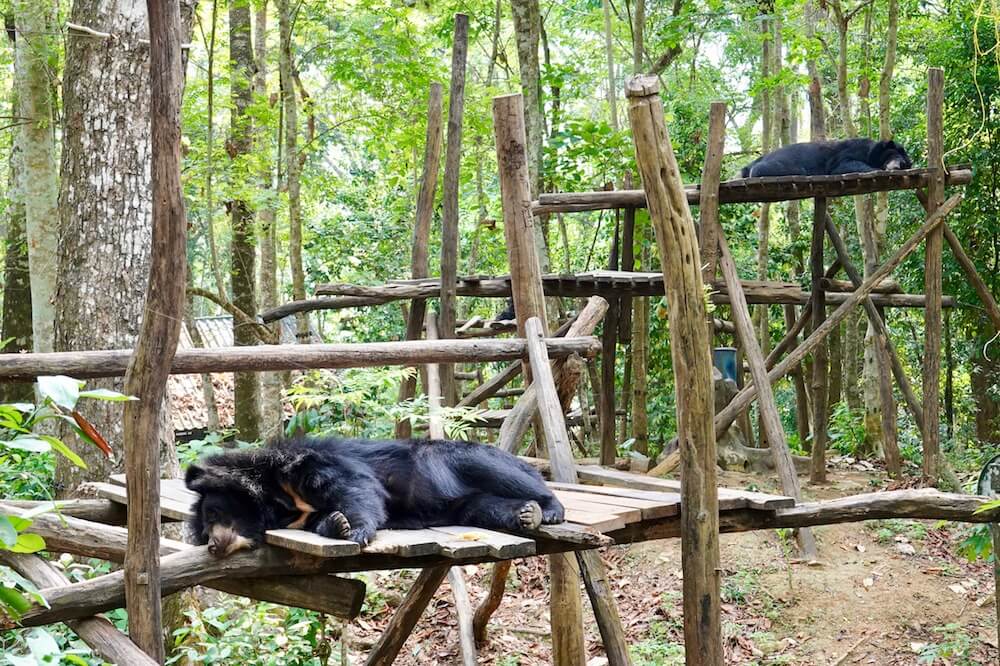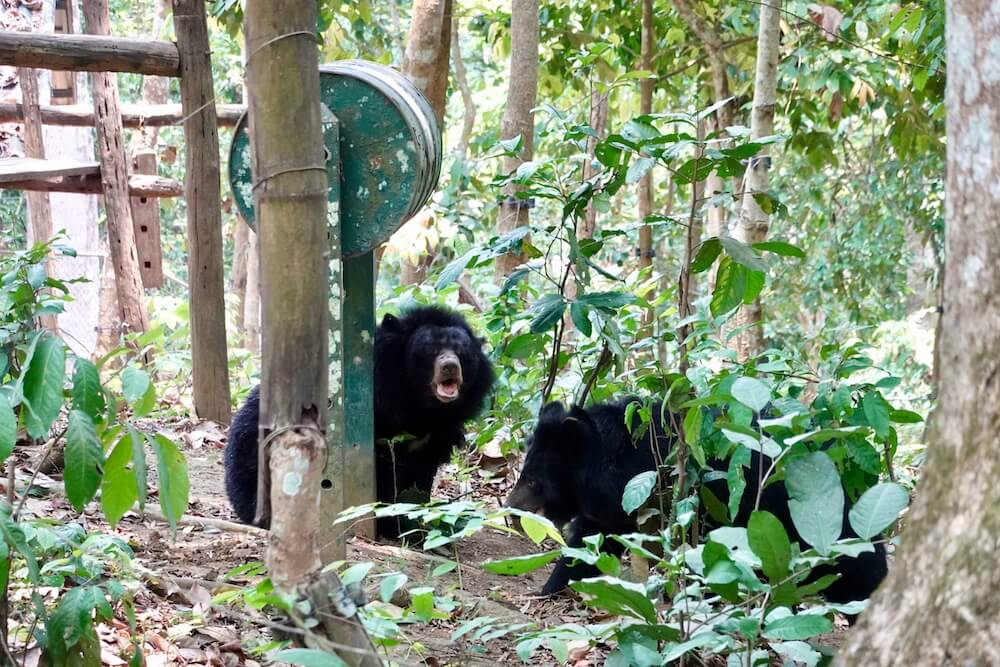 On your way to the falls, you'd pass by the Tat Kuang Si Bear Rescue Centre. At first glance, the centre looks like a zoo – however, it's anything but. The centre is operated by the 'Free the Bears' organisation and houses around 23 Asiatic Black Bears. The bears are allowed to roam free in giant enclosures containing pools and hammocks!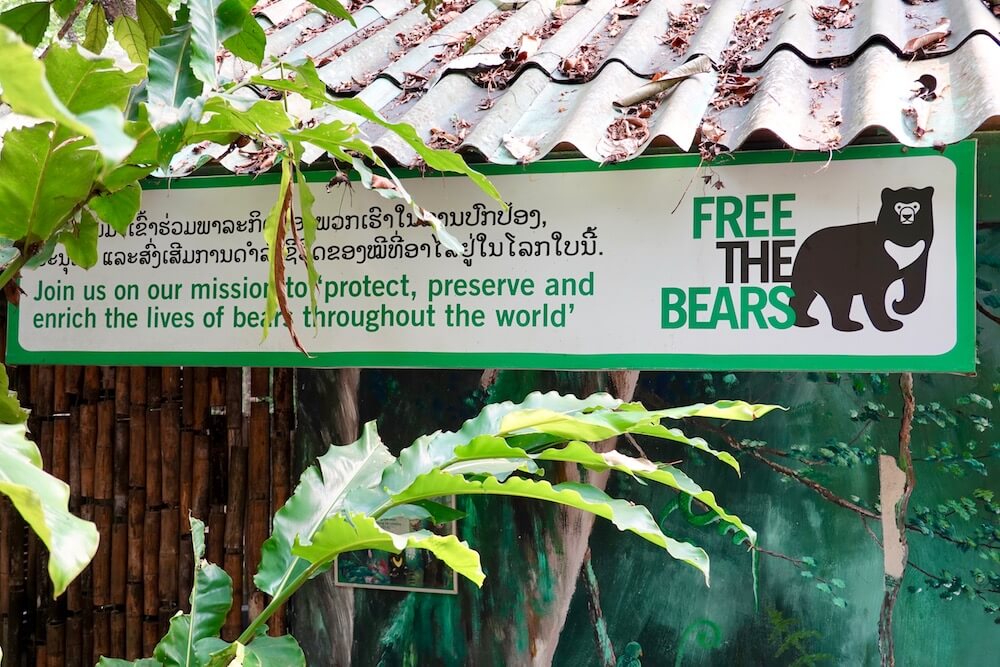 Each of these bears has a sad history; some of them have lived in cages their whole lives or were sent to bear farms. Indeed, bile extraction poses the biggest threat to wild bears in Laos – bear farms harvest the bile for use in Chinese medicine. Luckily for these 23 bears, they were able to escape their tragic fate and were rescued by the centre!
There is an entrance fee LAK20, 000 (~SGD3) to enter the Kuang Si Falls, which includes the bear rescue centre. However, the centre takes no part of this entrance fee – if you'd like to contribute to their worthy cause, you can either make a donation or buy a souvenir from their gift shop.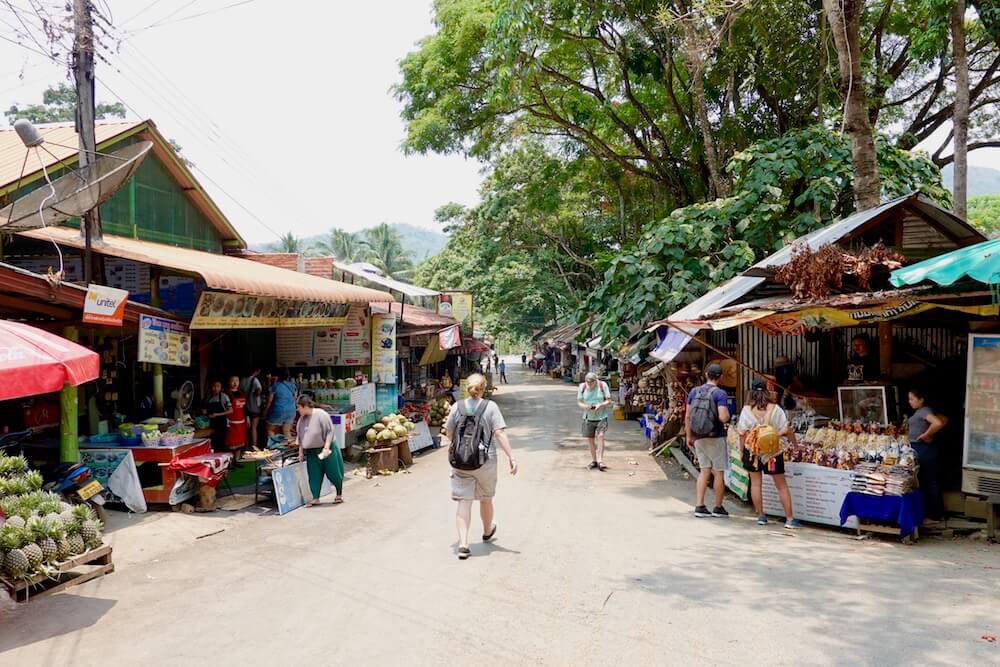 There is a bustling local market located at the entrance and exit of the waterfalls – you won't miss it! You can buy some swimwear here if you've forgotten to bring yours along, or dig into an aromatic barbeque lunch after your swim. The market is also home to a few bars and souvenir shops.
Getting to Kuang Si Falls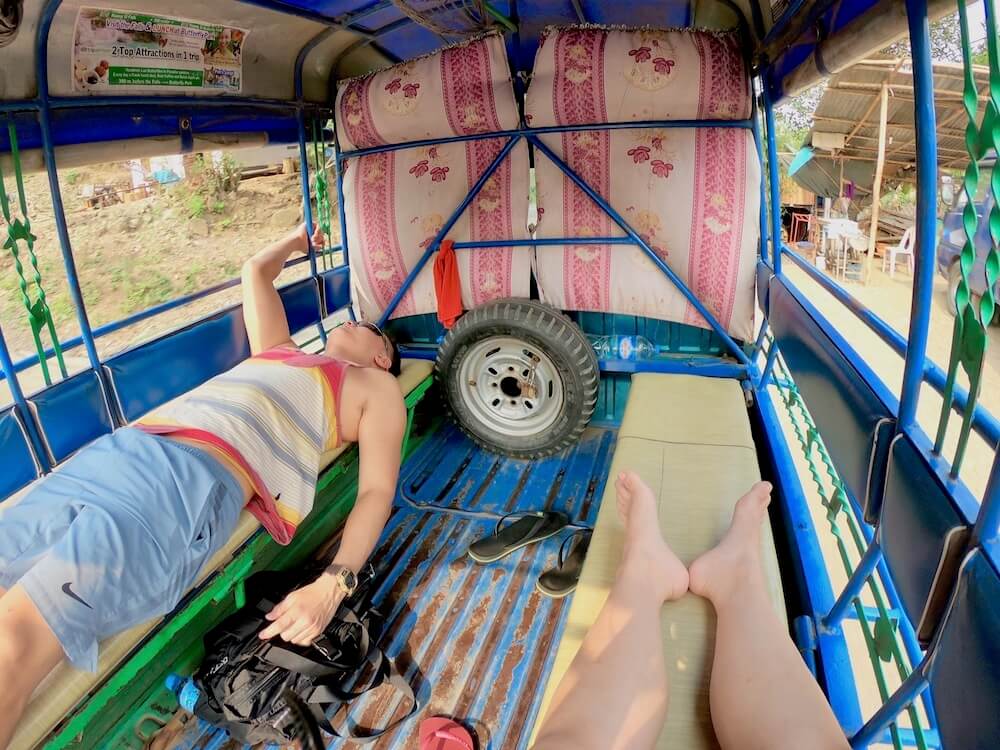 Located 29 kilometres south of Luang Prabang in Laos, it'd take approximately 45 minutes to reach Kuang Si Waterfall from the town centre. There are a few ways to reach Luang Prabang – hop into a shared tuk-tuk that can sit around 5 to 6 people for LAK50, 000 (~SGD8) or book a seat in a scheduled air-conditioned minivan for approximately LAK60, 000 (~SGD9) per pax.

If you're booking your own private tuk-tuk, you'll be able to easily come to an arrangement with the driver where he'll wait for you at the falls. Your transport to and from Laos will hence be settled without you having to worry about finding a return option.
Add a comment