A Day Trip to the Magnificent Peles Castle in Sinaia, Romania
Located between Bucharest and Brasov, Sinaia is a delightful mountain escape that looks like a scene out of a fairytale. Located at the foot of the Carpathian mountains in the Prahova Valley, Sinaia is a charming little city that's home to a few stunning gems.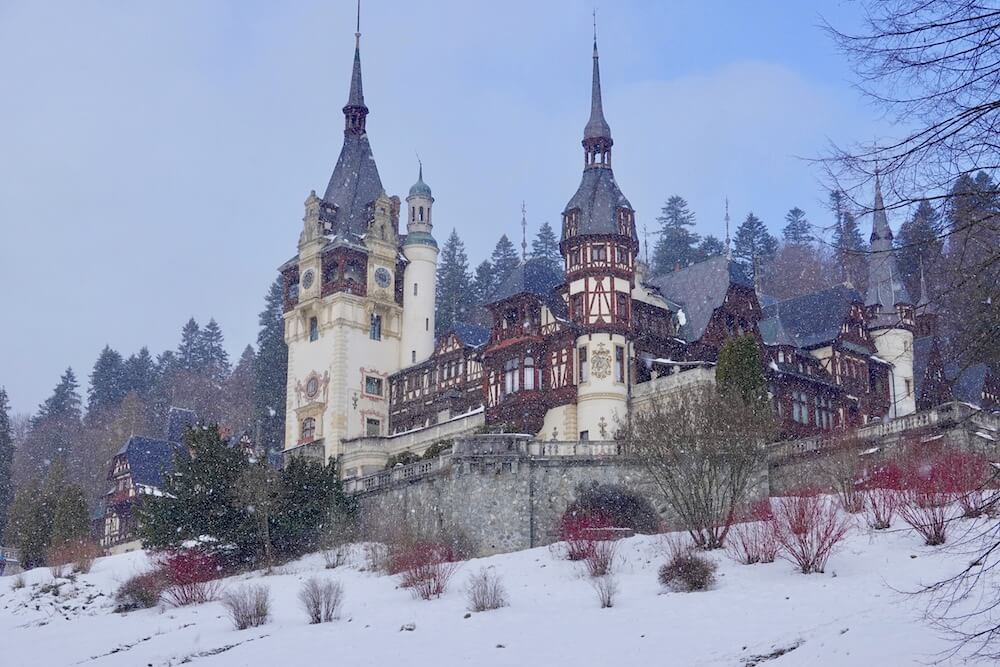 The highlight of Sinaia is Peles Castle, a glorious Neo-renaissance building built by King Carol I, Romania's first King, in 1877. King Carol fell in love with the mountainous landscapes of Sinaia and decided to build a summer residence there, an establishment which is now known as Peles Castle. The basis of the King's decision is evident once you set eyes on the castle which reigns supreme atop a hill in front of a sprawling lawn, nestled among mountains and surrounded by a dense forest. 
Fans of Netflix's 'A Christmas Prince' trilogy will also recognise Peles Palace from the films!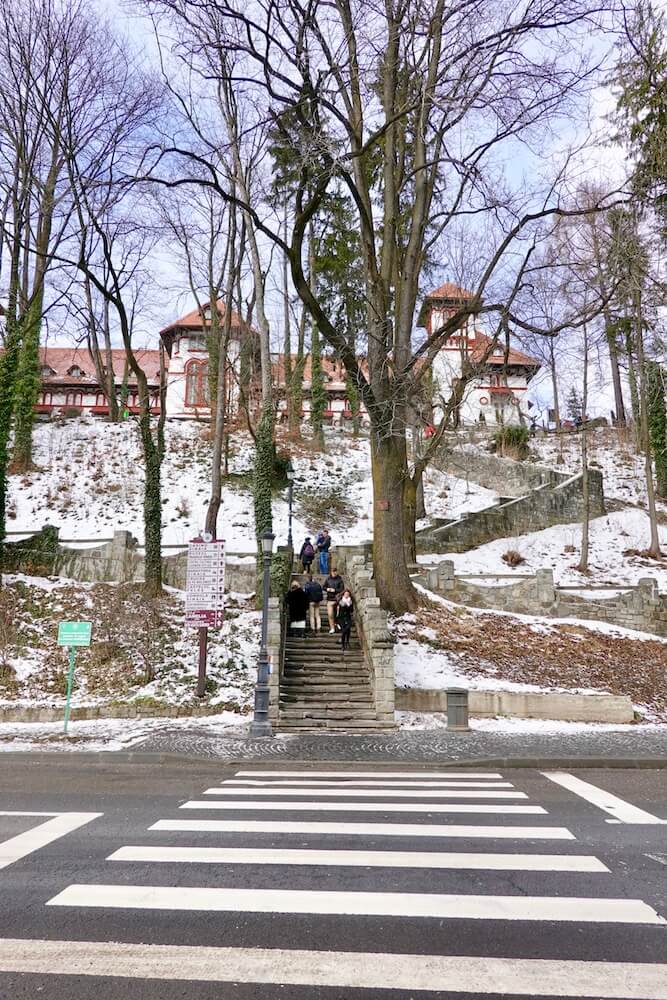 Even getting to the castle is a dreamy experience in itself. From the train station, you'll cross the road and make your way up a stone staircase.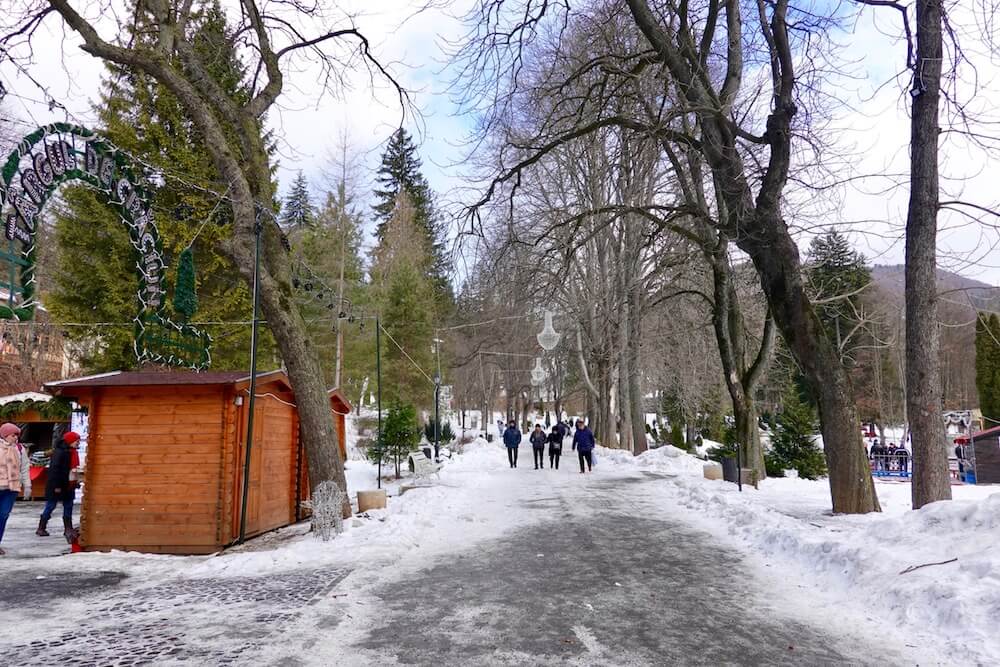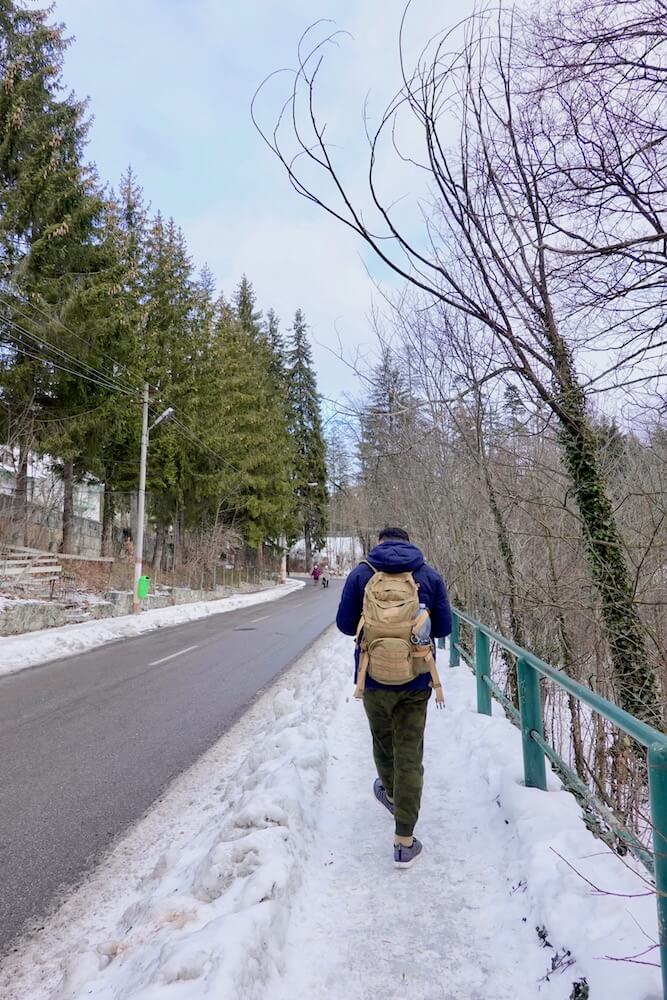 You'll make your way up a paved road that winds its way up the mountain.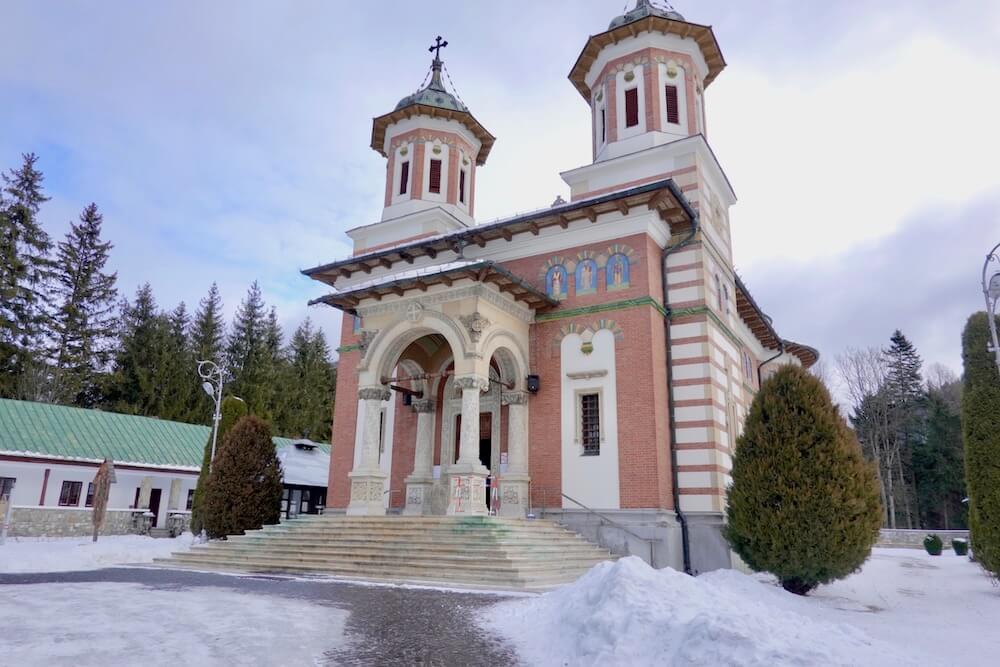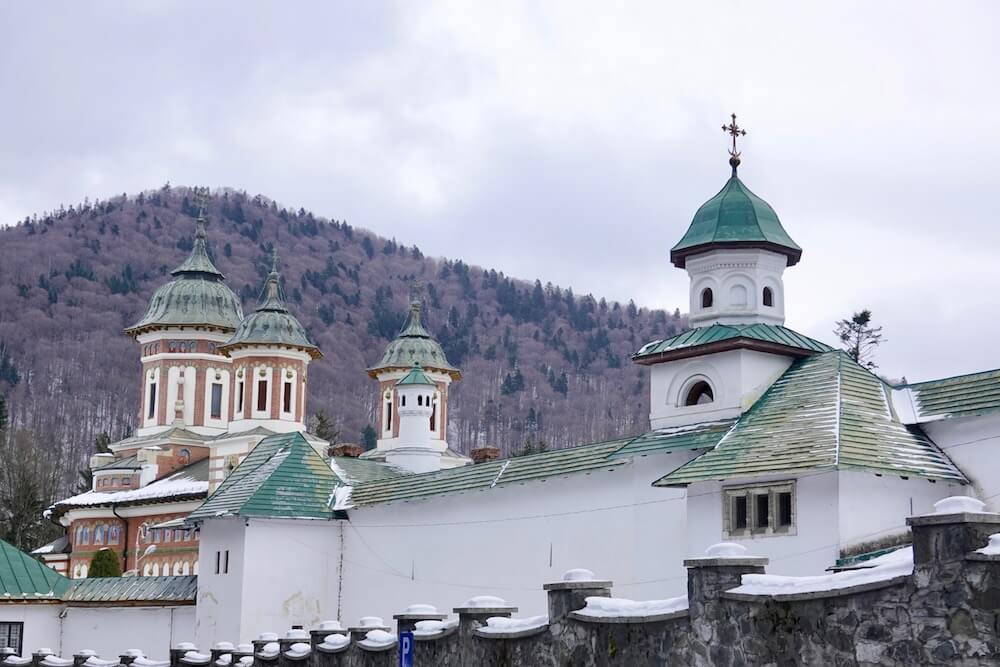 Along the way, you'll pass by the Sinaia Monastery, which is inhabited by Christian Orthodox monks. Completed in 1846, the monastery was founded by Prince Mihail Cantacuzino and named after Saint Catherine's Monastery located on Mt. Sinai in Egypt. Visitors are permitted in the two courtyards of the monastery; in the centre of each courtyard is a small Byzantine church. The monastery is also home to the first Bible translated into Romanian!
The monastery grounds are open to visitors from 10am to 4pm daily except for Sundays. A RON5 (~SGD1.6) entrance fee is required to enter.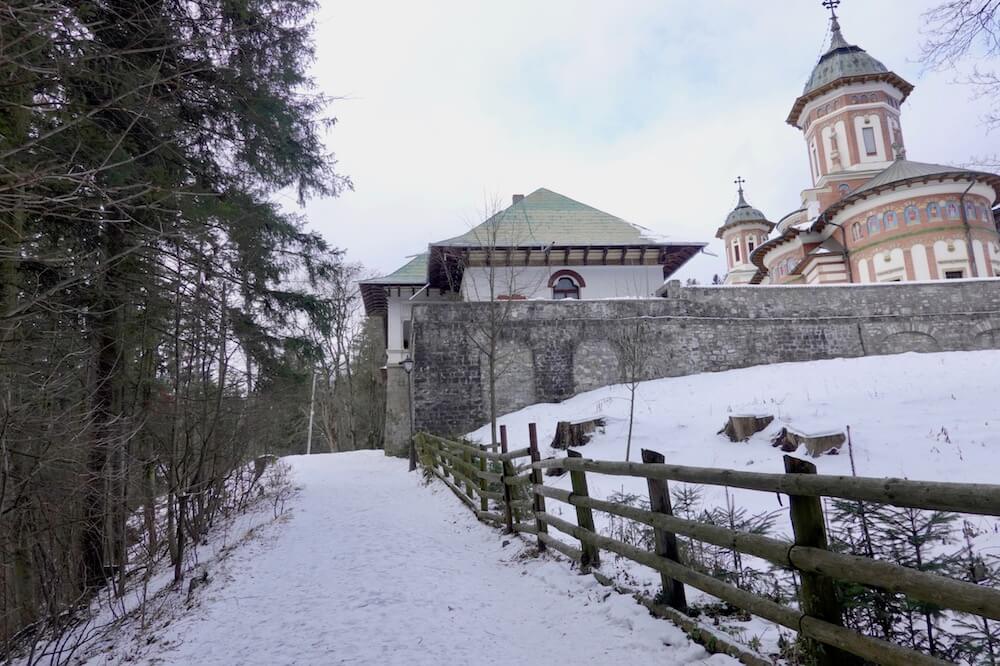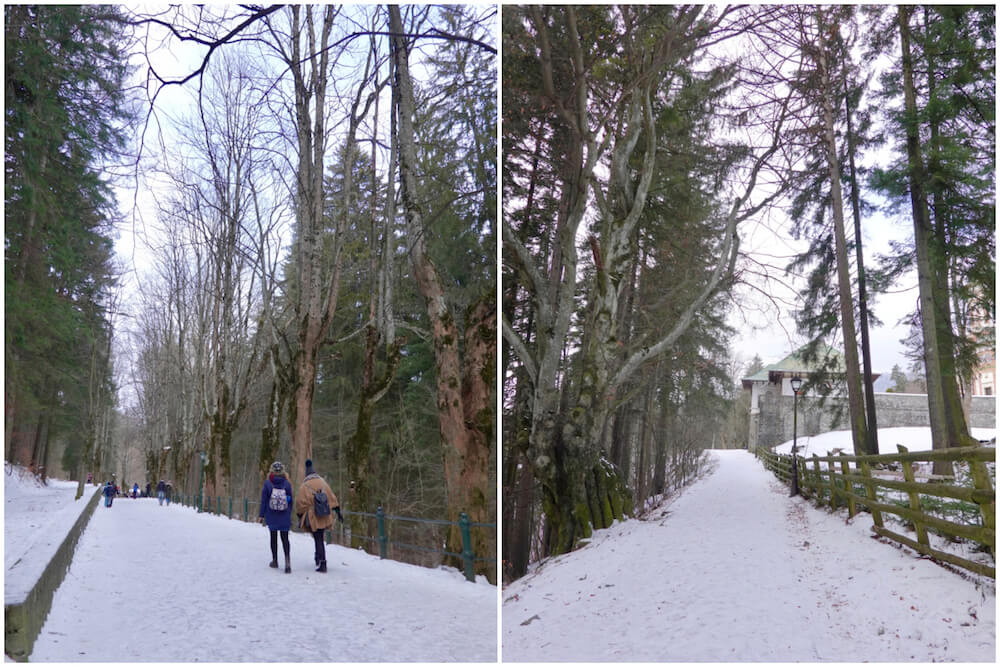 A mystical forest path lies behind the monastery; follow this to reach Peles Castle. I visited on a beautiful winter's day and truly enjoyed the feeling of my boots crunching through freshly fallen snow and breathing in the fresh mountain air. Surrounded by towering trees, it felt as if I had fallen headfirst through a rabbit hole – smack into the middle of a winter wonderland.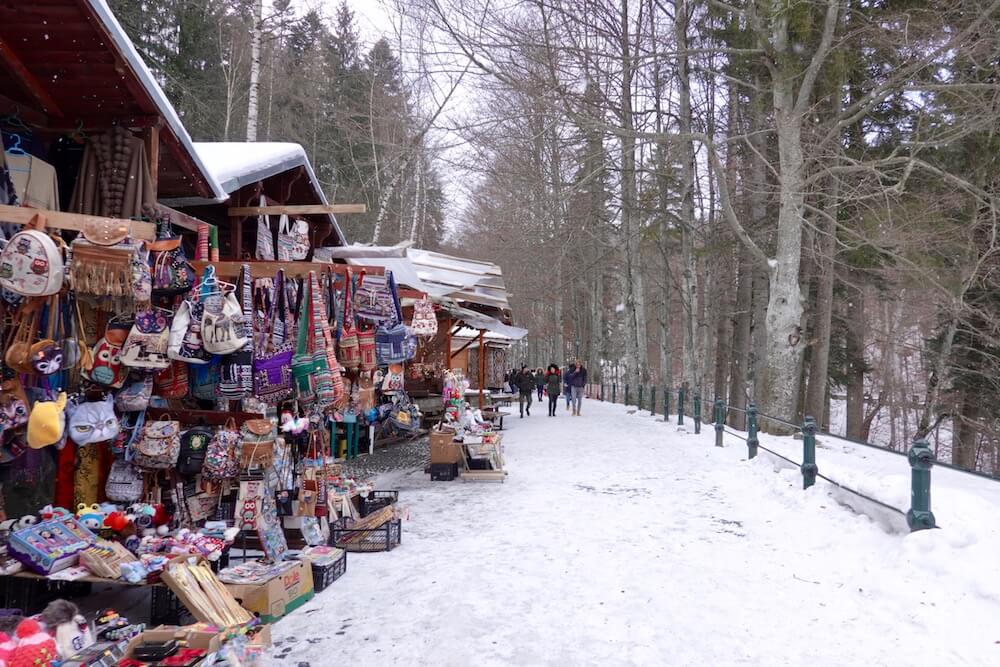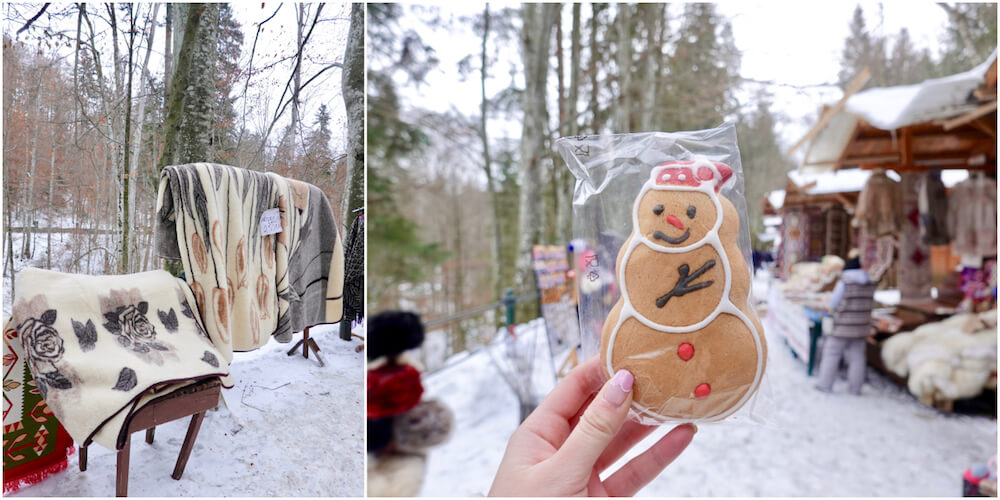 The second half of the forest path is lined with shops, where you can grab a handwoven bag, thick furs or even a delicious gingerbread cookie.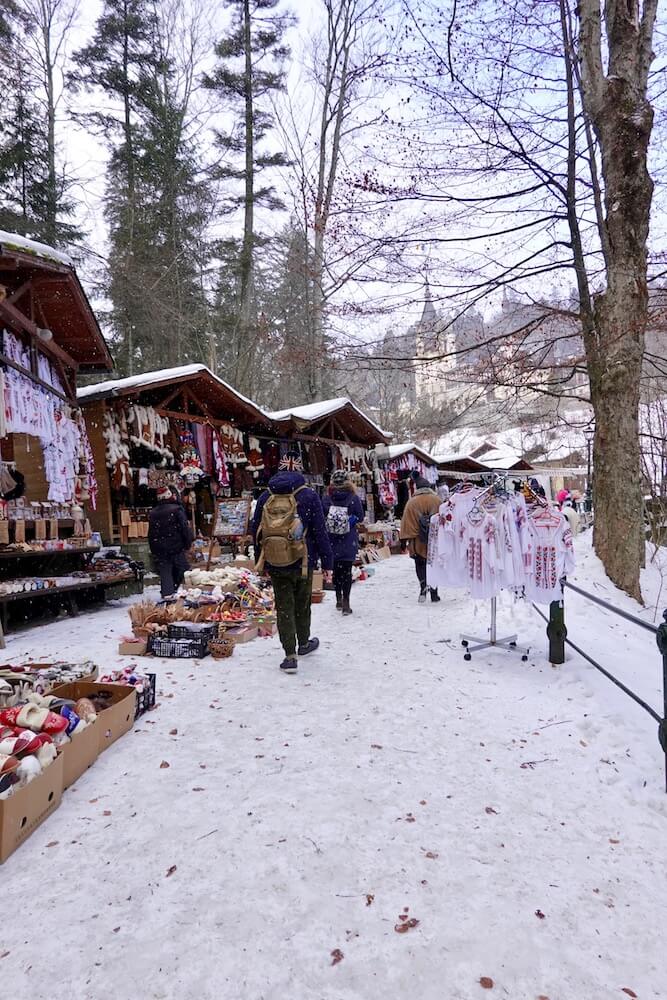 At the end of the forest path, you'll start to catch a glimpse of the stunning Peles Castle!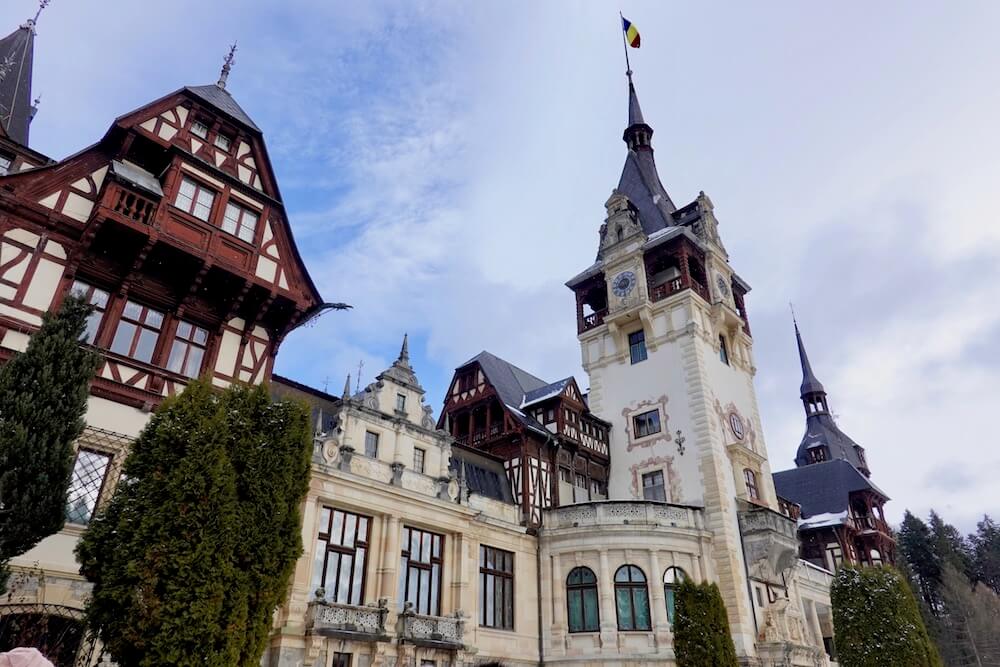 Peles Castle is a grand chalet-like structure that somewhat resembles an intricate gingerbread house. However, unlike a simple gingerbread house, the castle contains a staggering 160 rooms. These rooms are split into two floors, both of which are open to visitors. However, entrance to each floor is charged separately; you can choose to tour only the ground floor for RON20 (~SGD6), or both the ground and upper floors for RON50 (~SGD16). 
Do note that entry into Peles Castle is only permitted as part of a guided tour. The tour of the ground floor will take approximately 45 minutes and the tour of the upper floor will take an additional half-hour.
What's even more bizarre is the camera license that you have to purchase if you wish to photograph the interior of the castle. This costs RON32 (~SGD10) and you'll have to paste a sticker on your shirt as proof of purchase. The enforcement of this camera license is taken very seriously by the guards, who patrol each room and check for these stickers. 
In the summer, the castle is open from Tuesdays to Sundays and in the winter, from Wednesdays to Sundays. The first tour starts at 9.15am, with the last tour at 4.15pm daily – except for Wednesdays, where the first tour starts at 11am.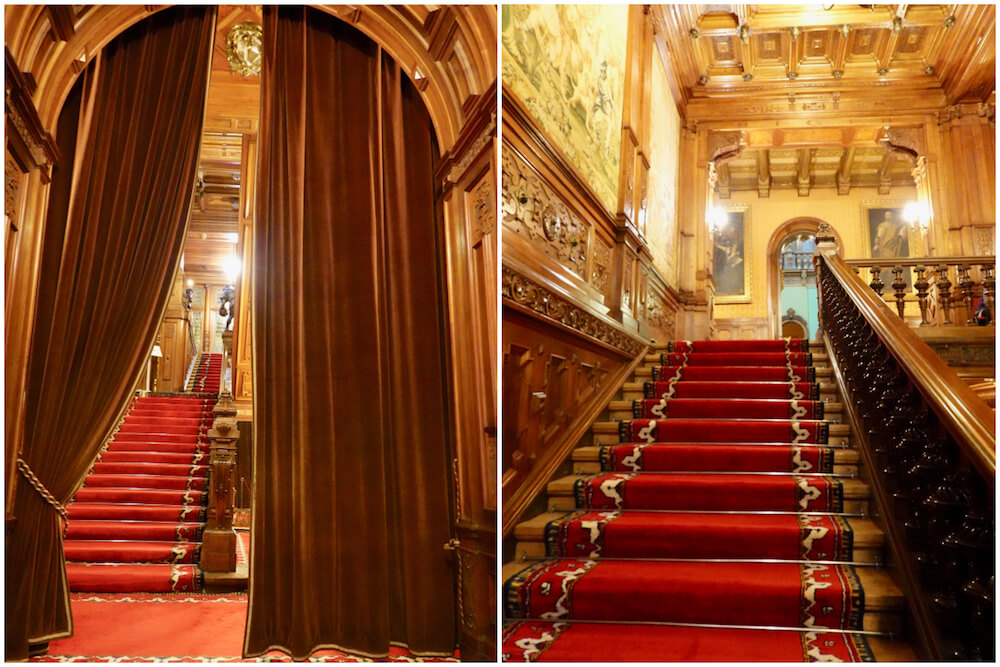 So, what lies behind these inviting curtains or up these swanky carpeted stairs?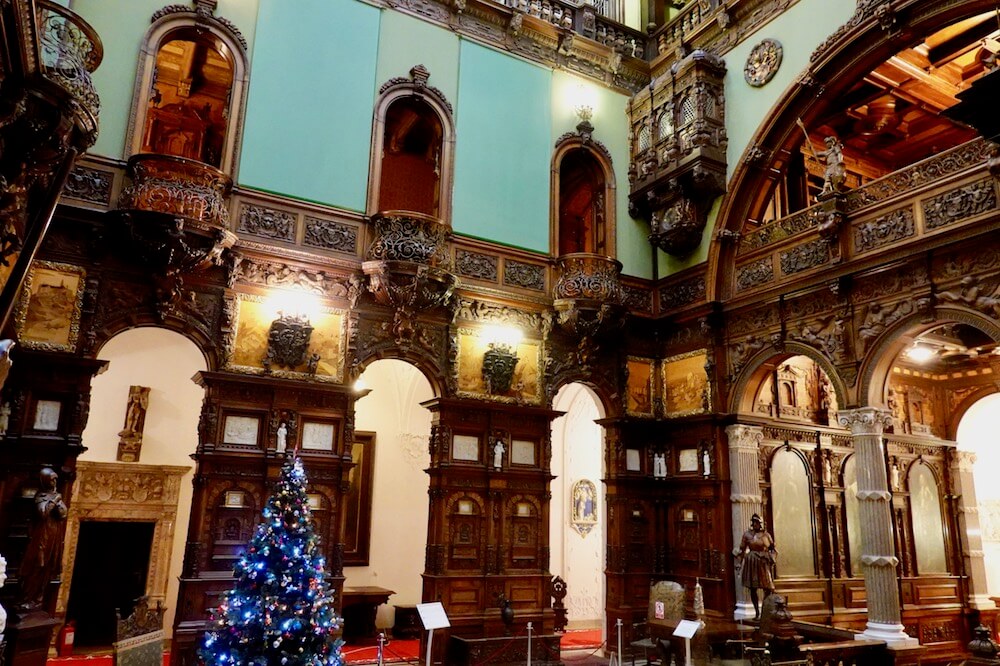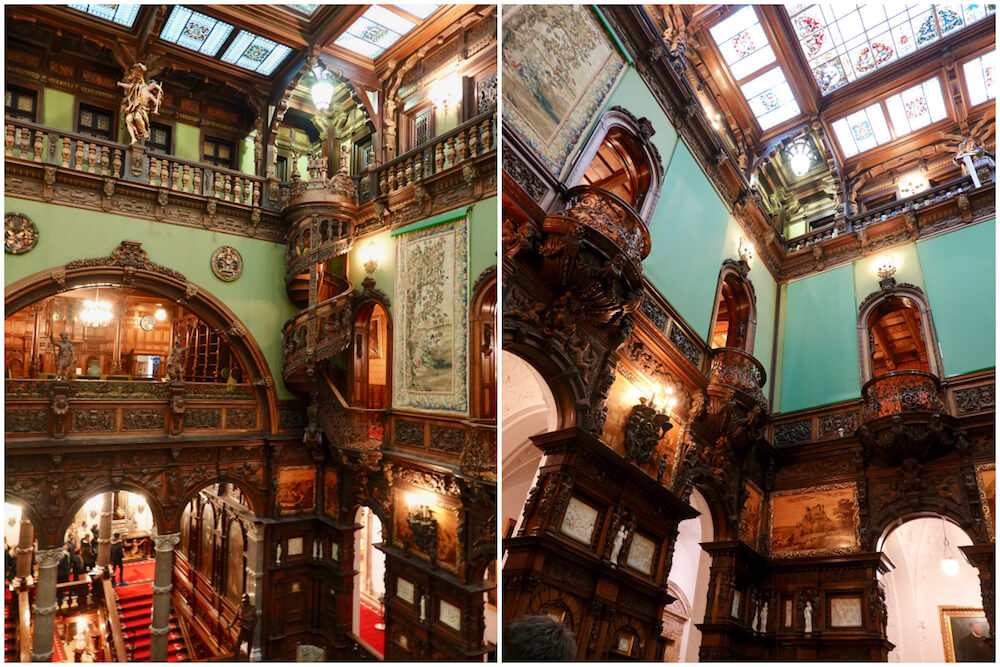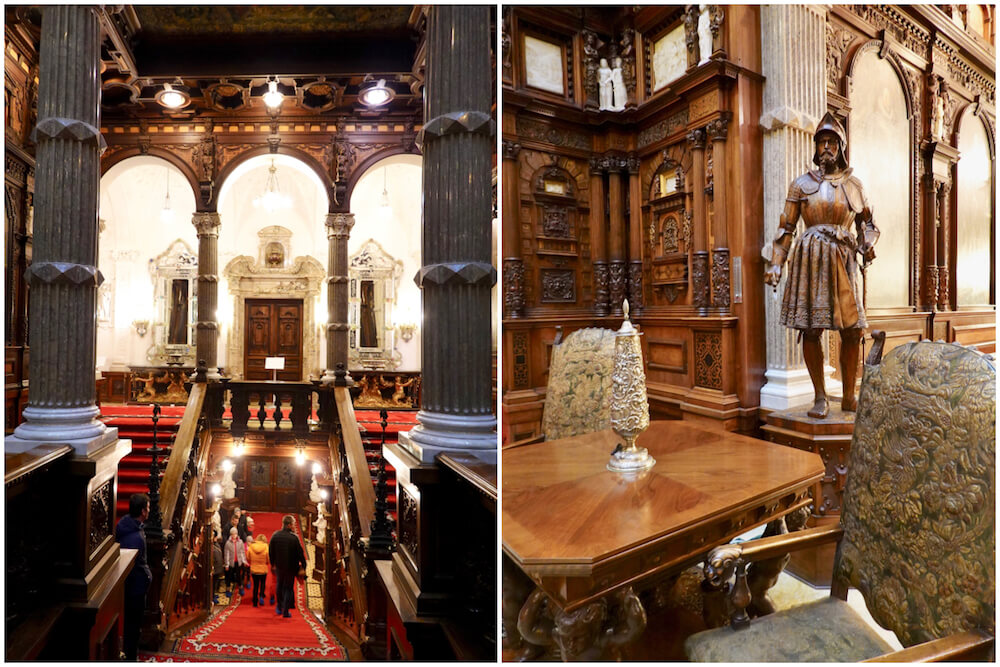 With lack of a better description, the interior of Peles Castle is simply stunning. Trust me, the camera license is worth every dollar! Every one of the 160 rooms are decorated in a different theme or style, drawing on luxurious Turkish, Florentine, Venetian, Gothic, German, French, Moorish and even Oriental influences. 
You'll feel like a kid again discovering something new beyond each door. You really never know what you'd find! It's a complete architectural masterpiece; take your time discovering this lavish fantasyland of ornate balconies, secret passageways, rustic wooden spiral staircases, sprawling foyers, opulent tapestries, Murano crystal chandeliers and more.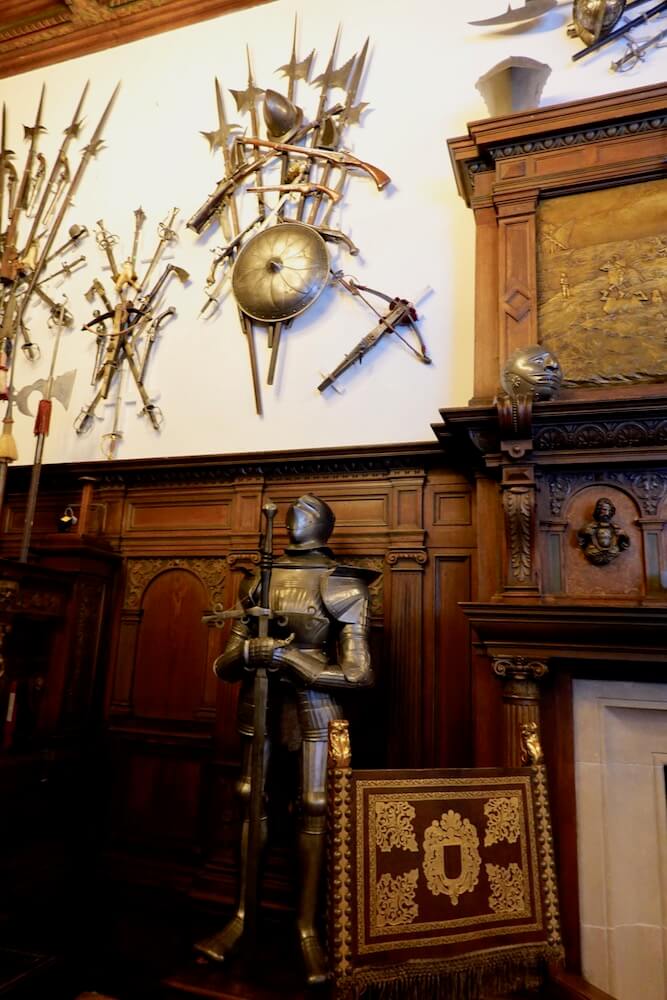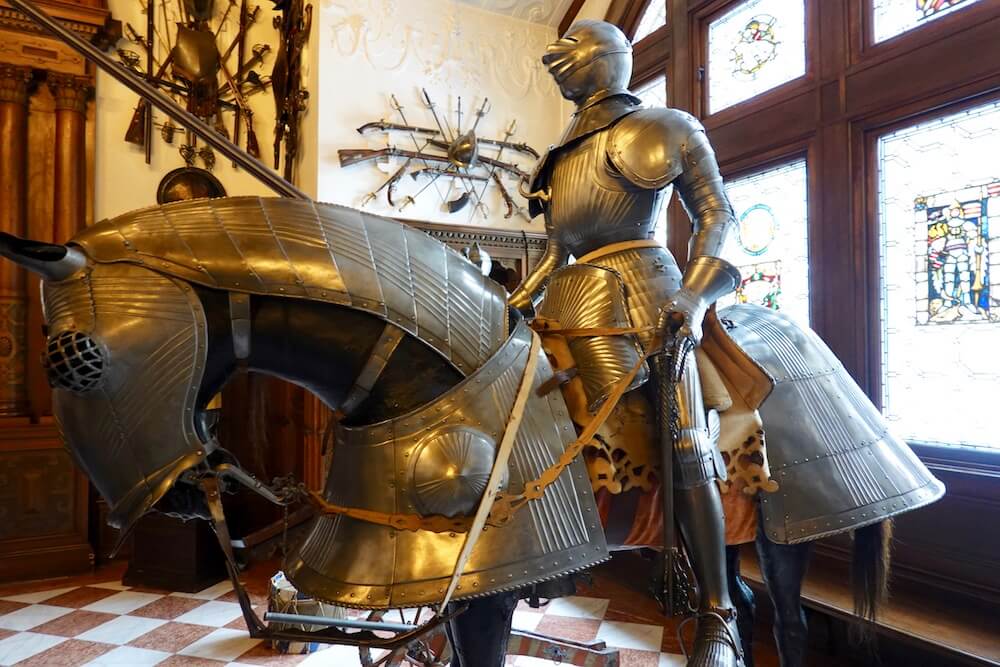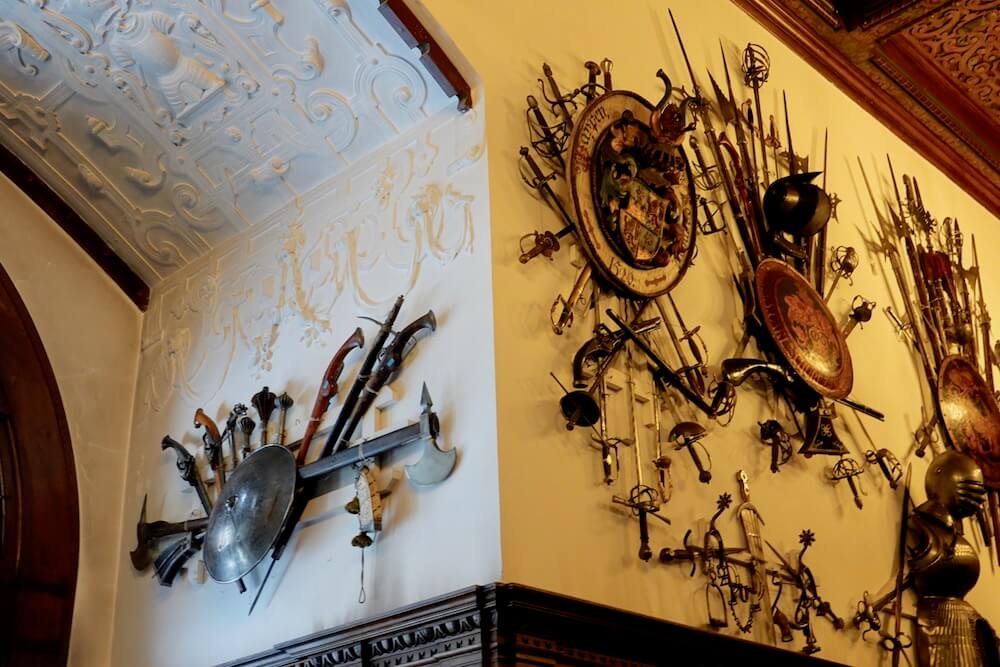 The castle was first inaugurated in 1883 and is the first castle in the world to be completely lit by electricity. Just look at this room filled with armour that's home to thousands of weapons from the 14th to 17th centuries!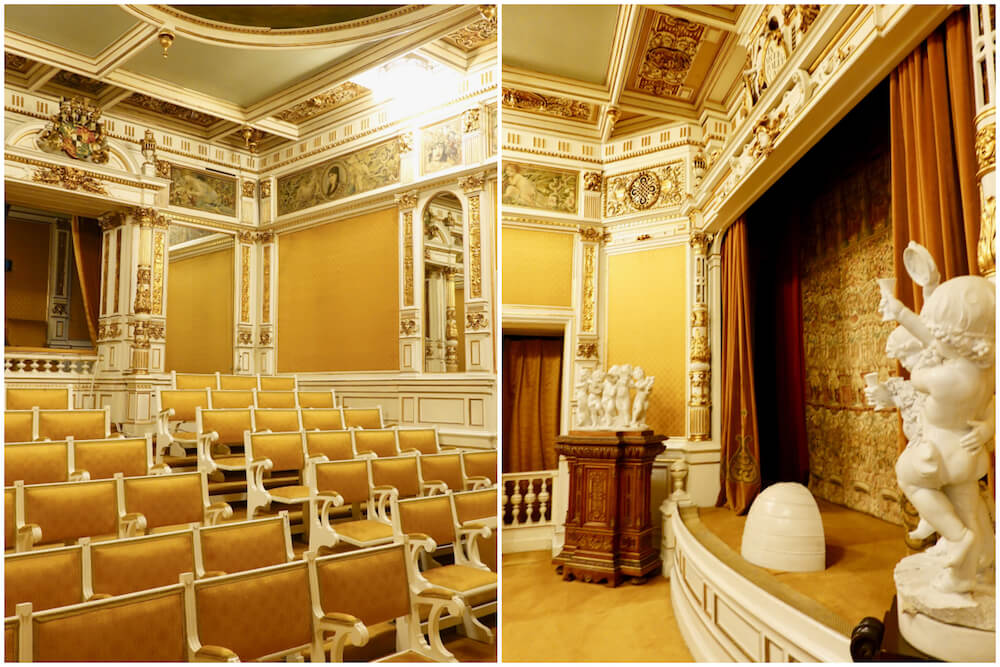 There's also a theatre room that can take a capacity of 60 people.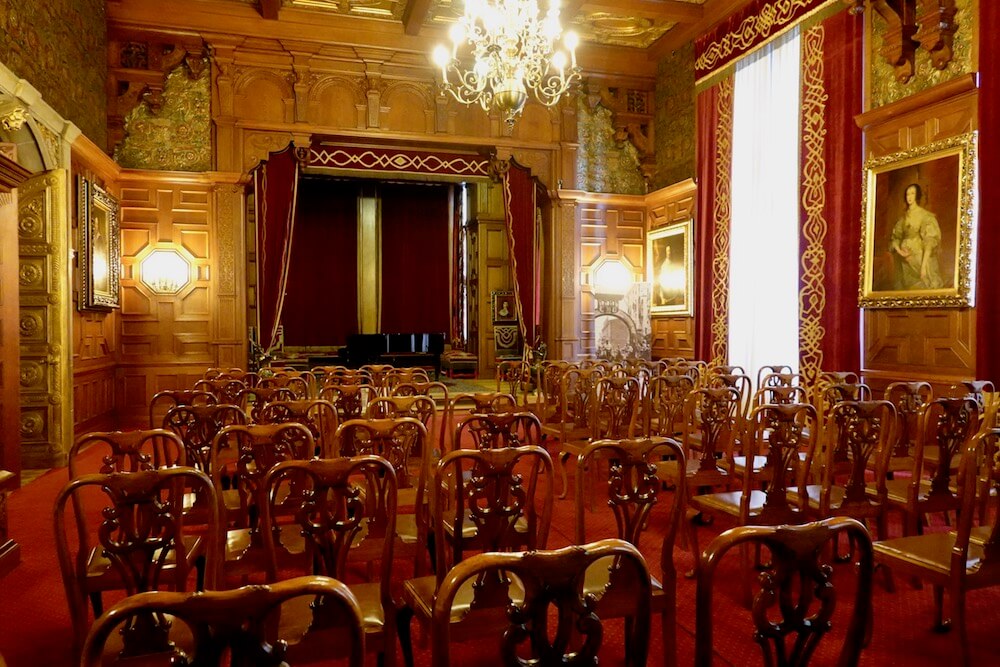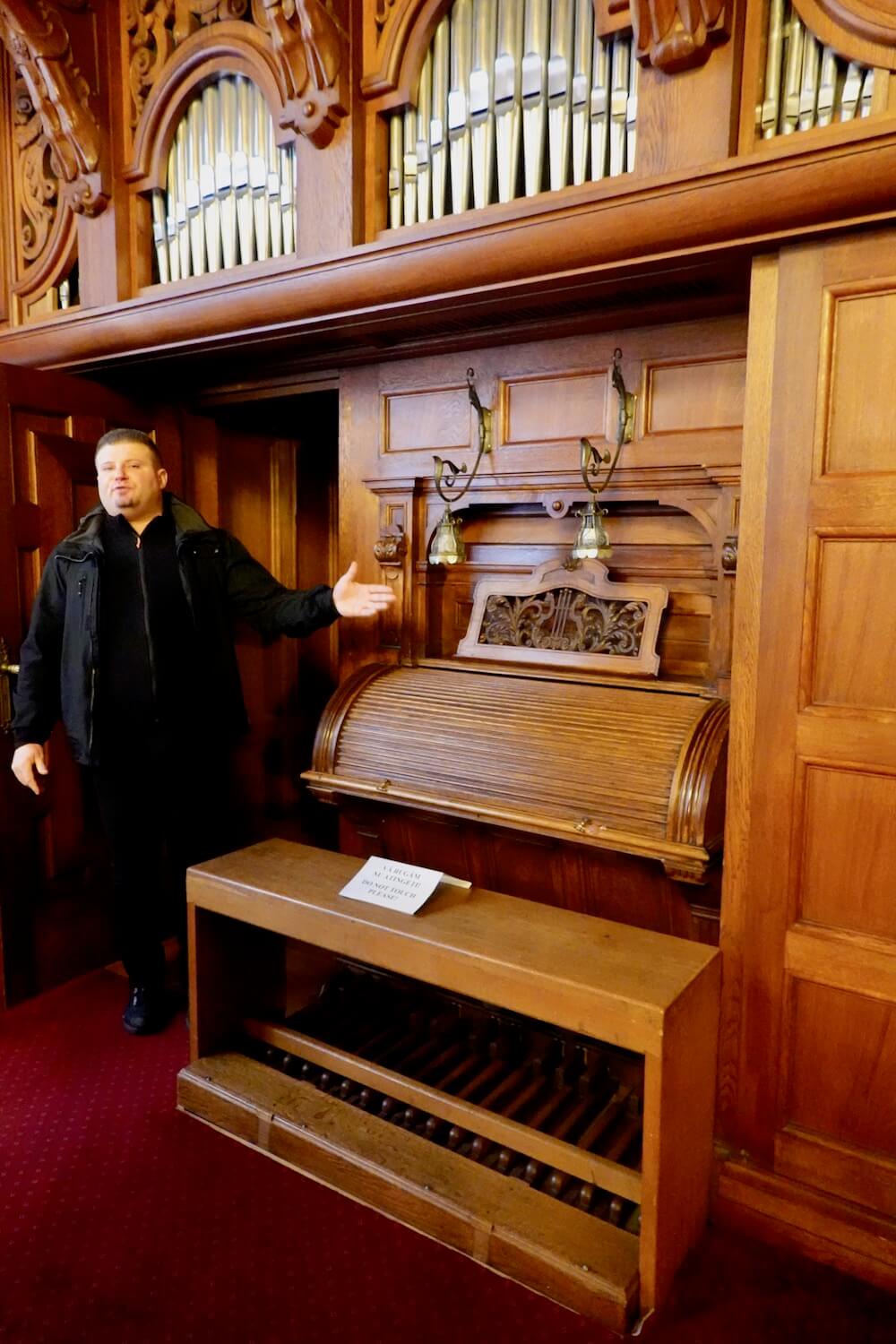 The concert hall boasts an 1800-pipe organ which still works today!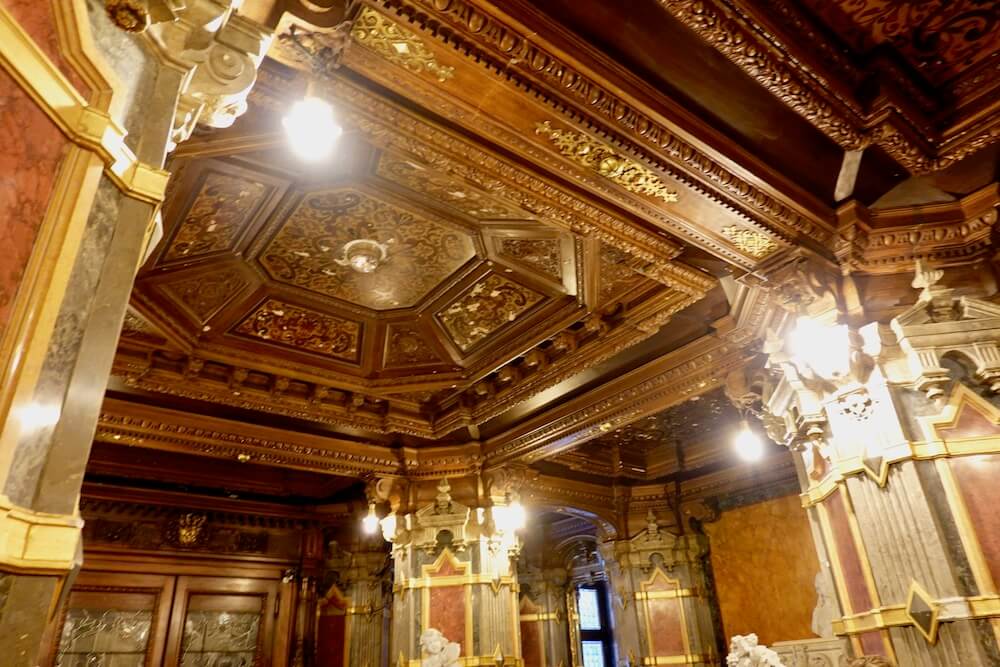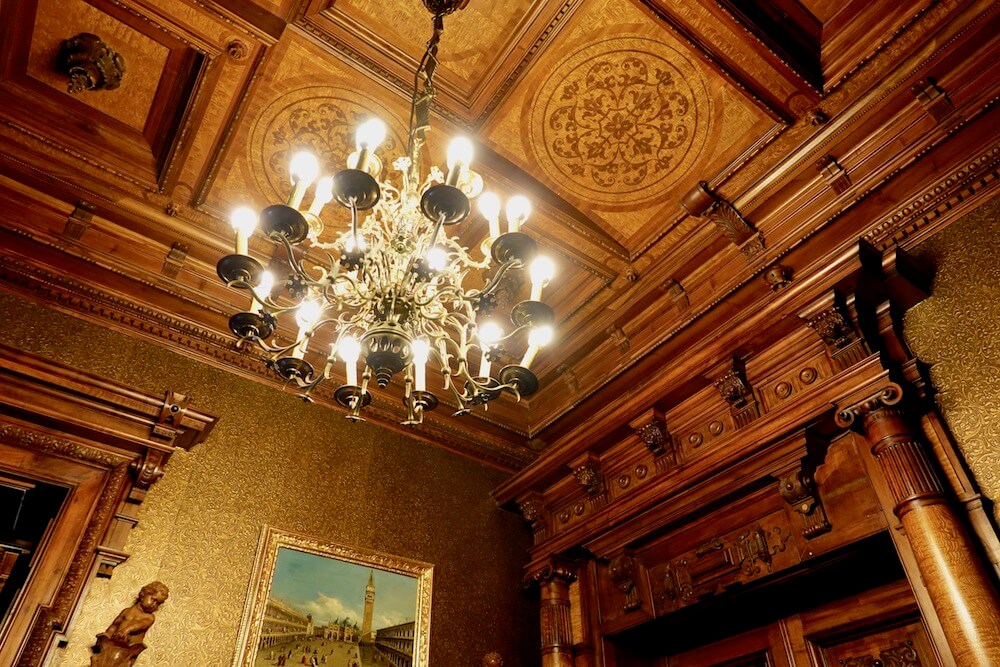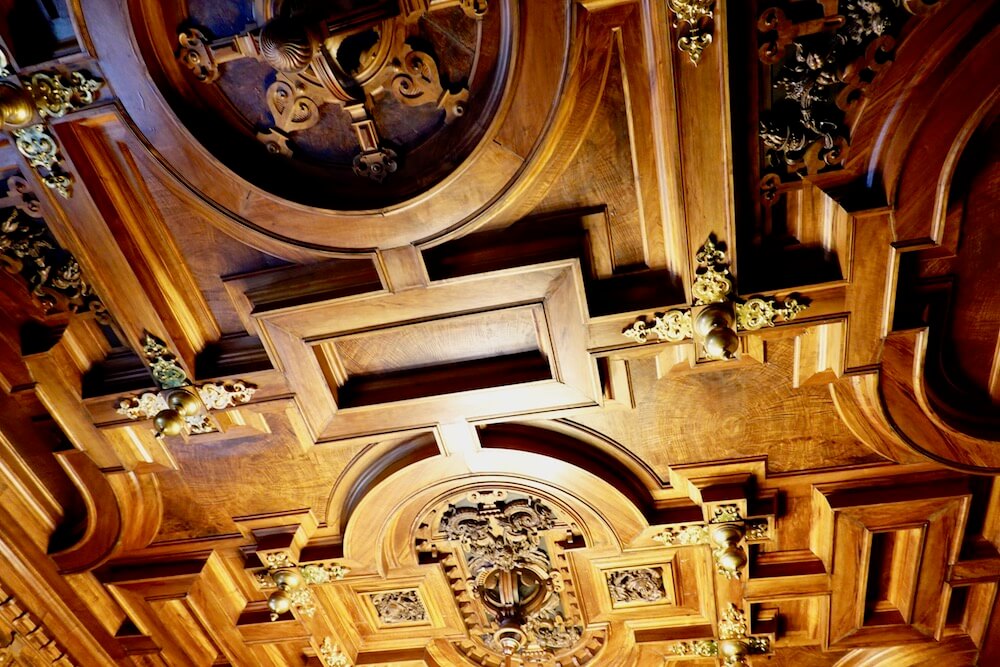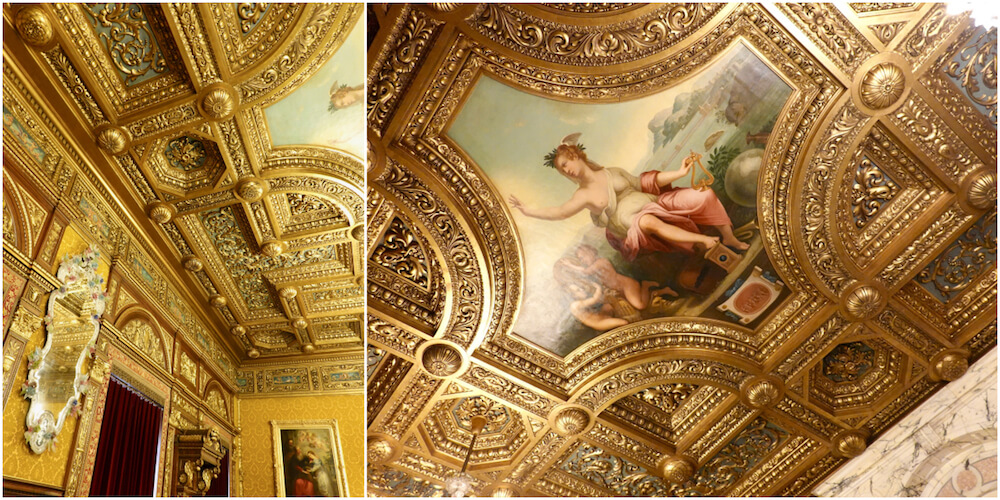 The ceilings themselves are worth a mention – look up and be amazed by all the minute details.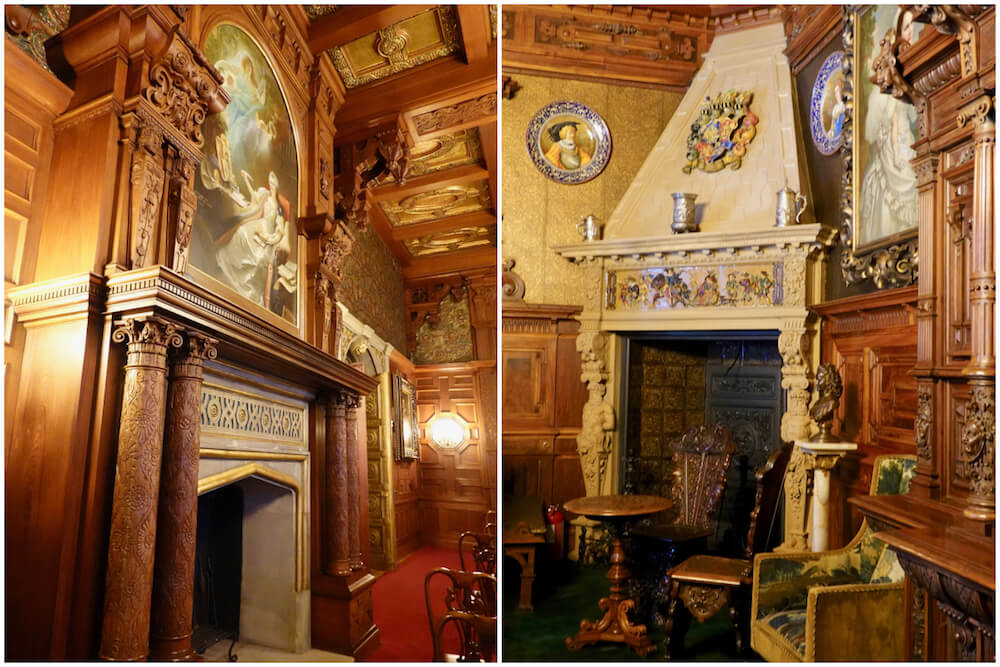 Even the fireplaces are something to look at!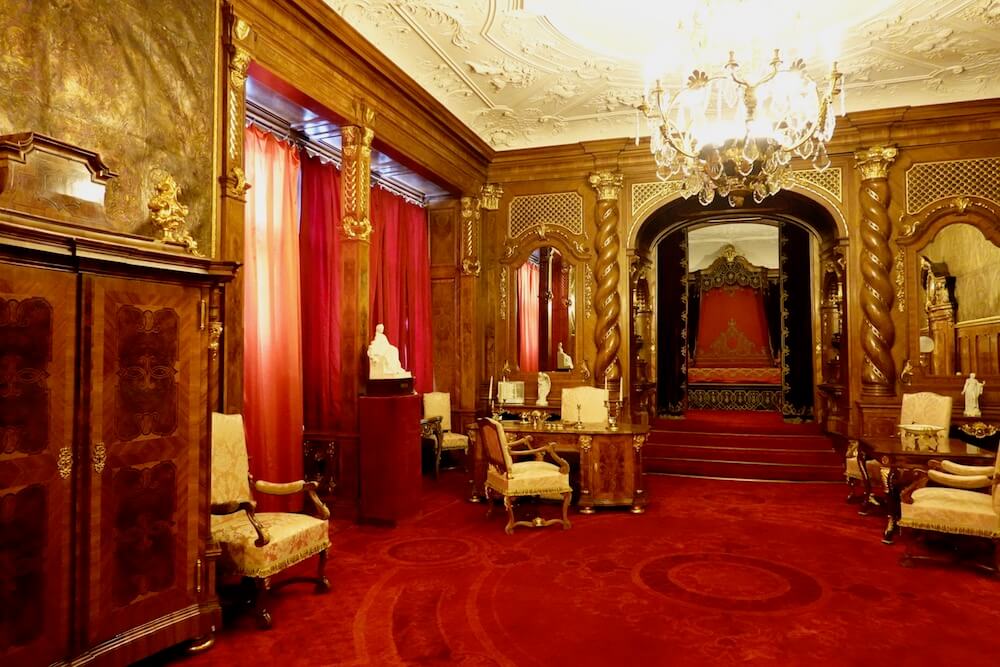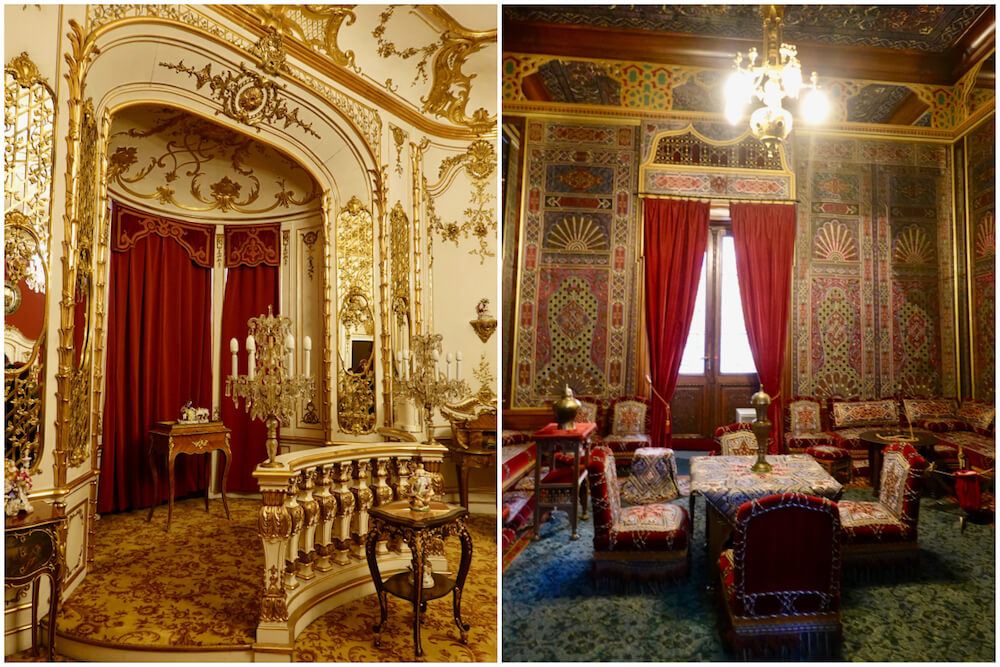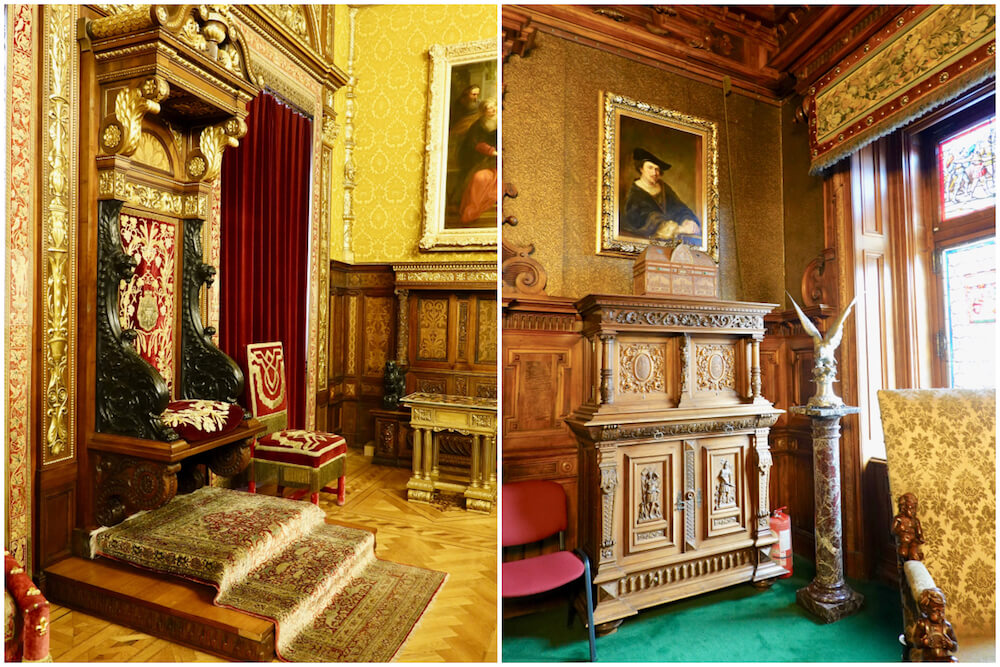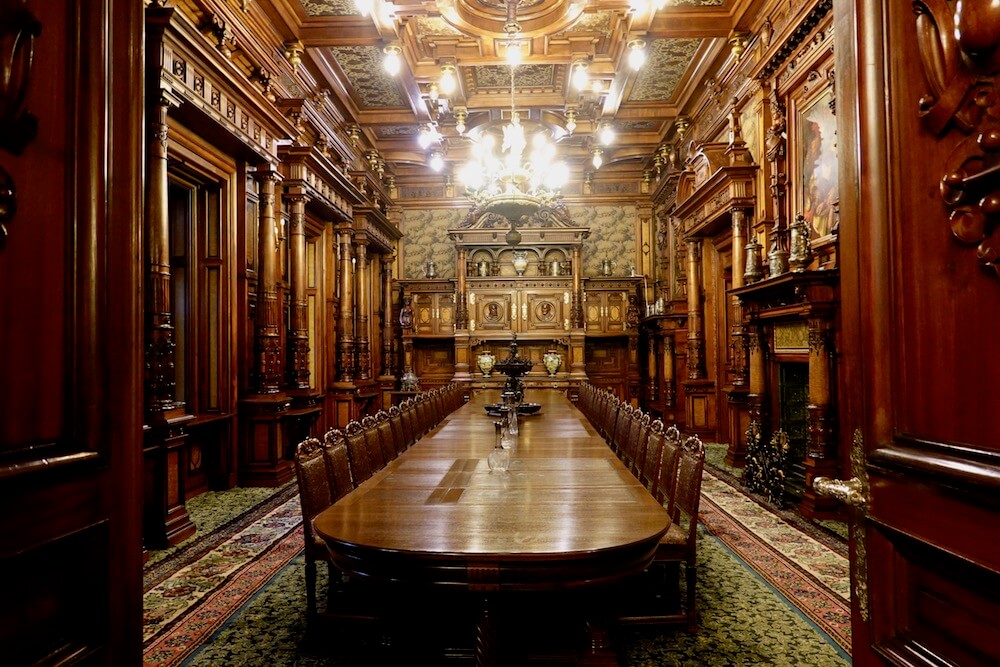 It seems as if everywhere you look, everything simply screams royalty and extravagance.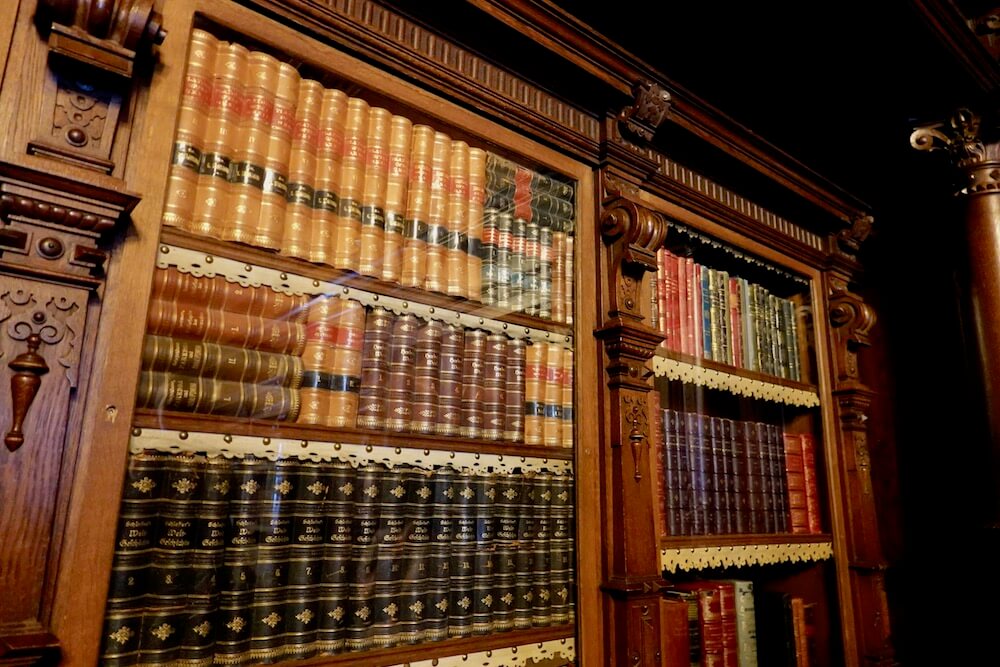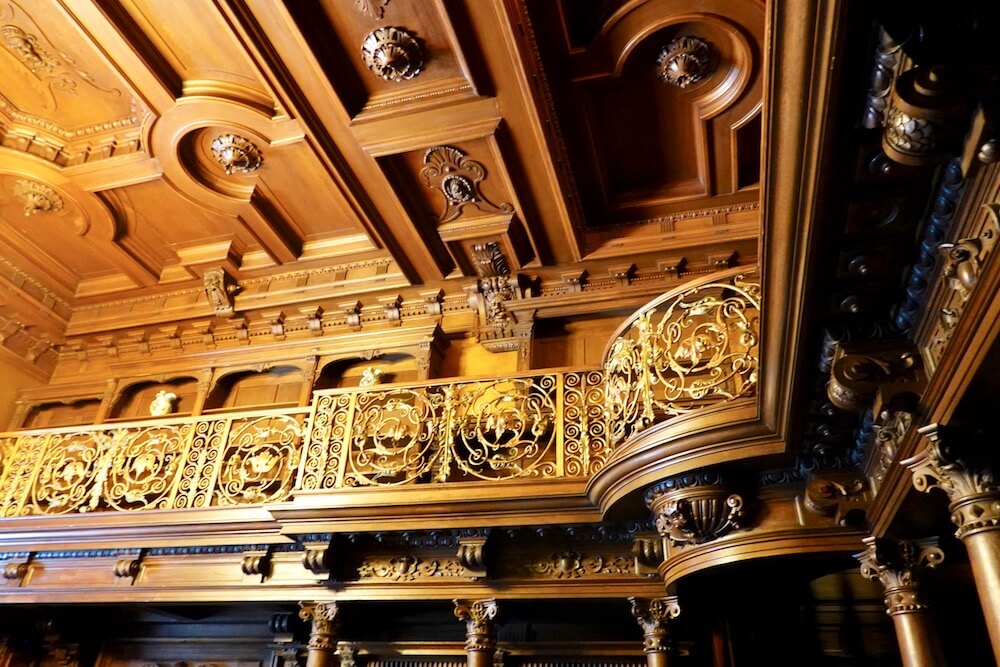 My favourite room is this wood-panelled library containing numerous rare leather-bound books. Behind one of these bookshelves also lies a secret passageway, which allowed the King to seek some refuge during the day.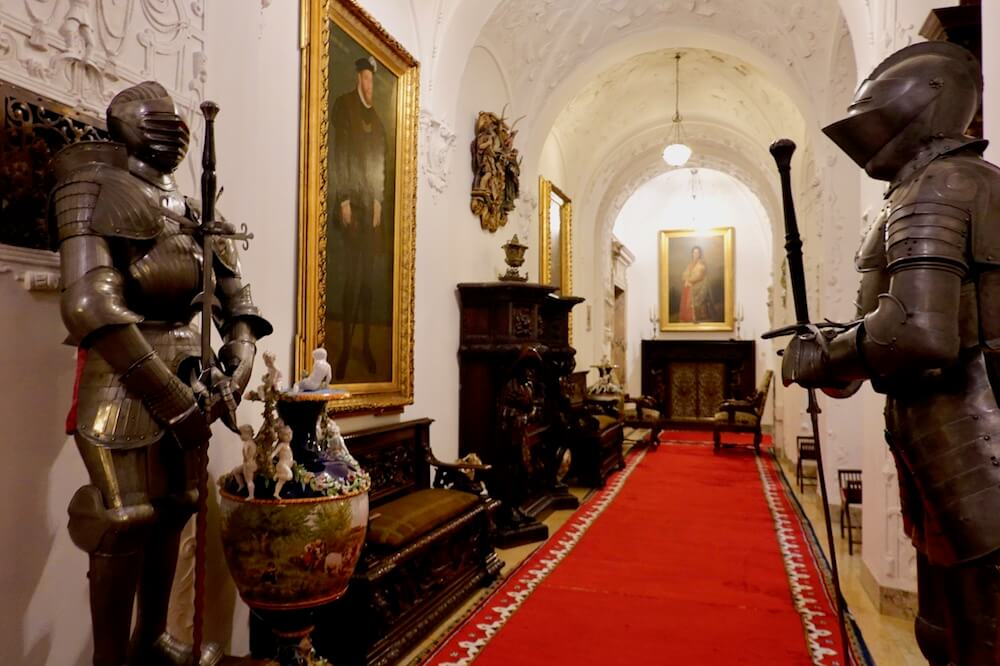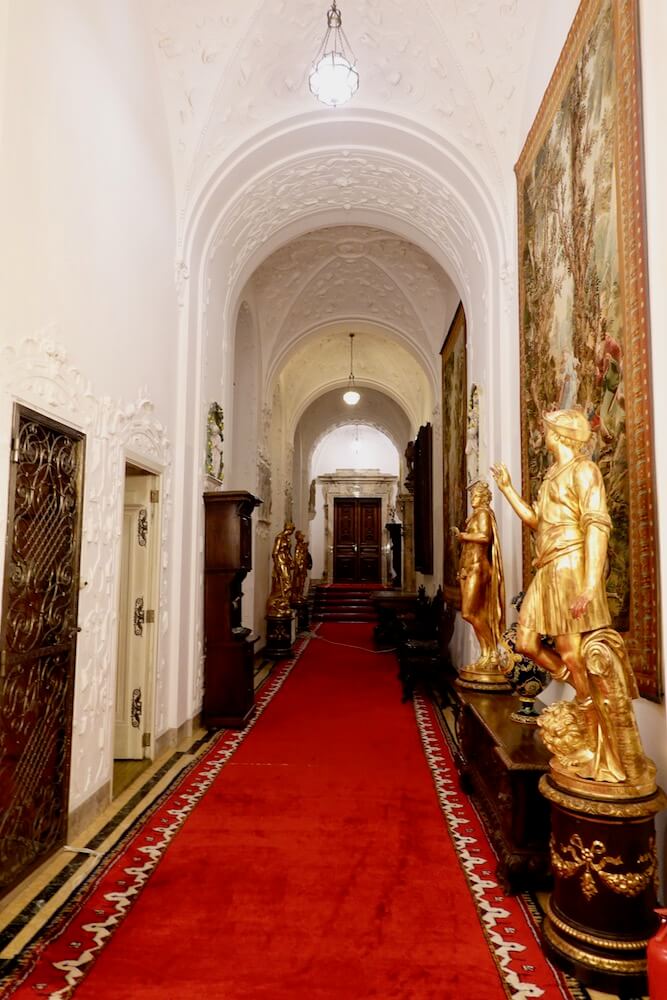 The corridors are lined with a plushy red carpet, adorned with suits of armour that stand sentinel, gold-plated sculptures and multiple gold-framed paintings.
Peles Castle is truly one grandiose maze that I'll gladly get lost in any day.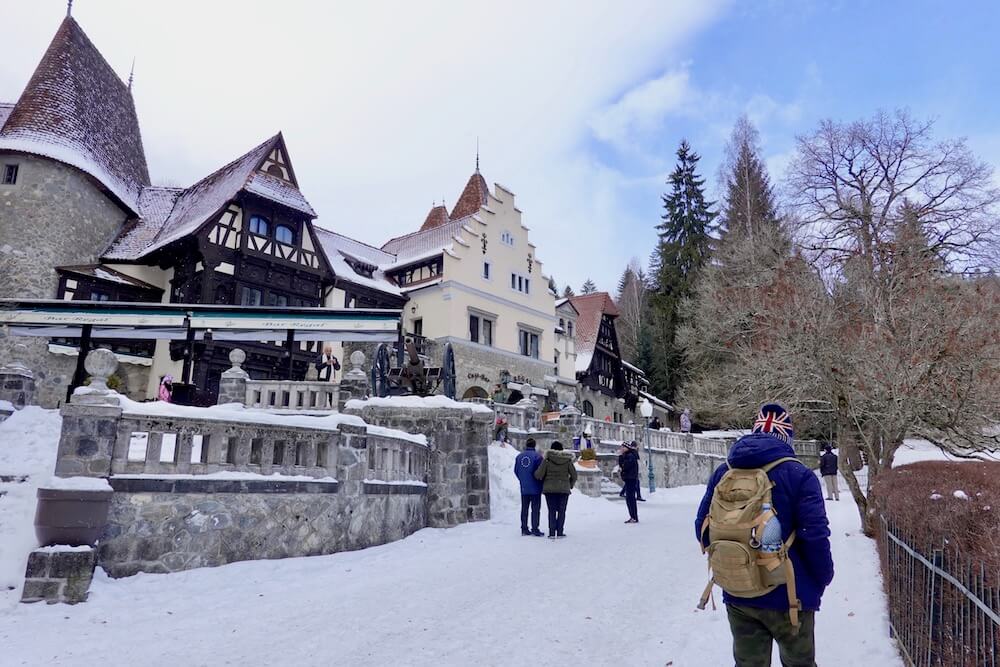 After exploring Peles Castle, make your way down the road to Pelisor Castle, which was built by King Carol I for his nephew Ferdinand and his wife Marie, the future King and Queen of Romania. Despite being less grand than Peles Castle, Pelisor Castle is definitely worth a visit. The entrance fee to Pelisor Castle costs RON20 (~SGD6).
Getting to Sinaia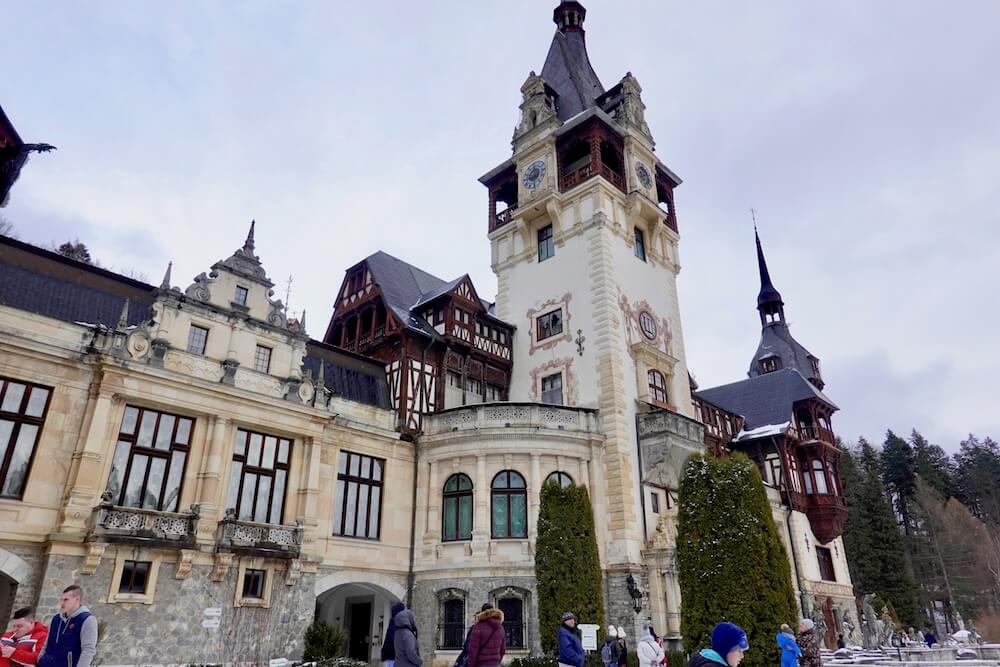 Sinaia makes for a good pit-stop if you're making your way from Bucharest to Brasov. From Bucharest, it takes about 1.5 hours via train to Sinaia; from Sinaia, it's another 1 hour by train to Brasov. Due to its proximity, Sinaia is also a great day-trip option from either Bucharest to Brasov.
Read: Things to Do at Bucharest, Romania
If you're visiting Sinaia on the way to Brasov or Bucharest, you can store your luggage at either Hotel Caraiman or Hotel Rina for a fee of RON10 (~SGD3) per piece. Both hotels are located near Sinaia's train station.