Things to Do in Bucharest, Romania
The capital city of Romania has been called many names. Be it the "little Paris of the East' or the 'new Berlin', one thing's for sure – Bucharest is a city of contrasts, best showcased through its diverse juxtaposition between its past and present. 
A city marred by a violent communist history, Bucharest is a valiant tangle of medieval streets, churches with thousand-year histories, a budding hipster scene, bold graffiti murals – against a stark backdrop of cold concrete communist-era housing buildings and ornate Parisian-style buildings now in various states of ruin.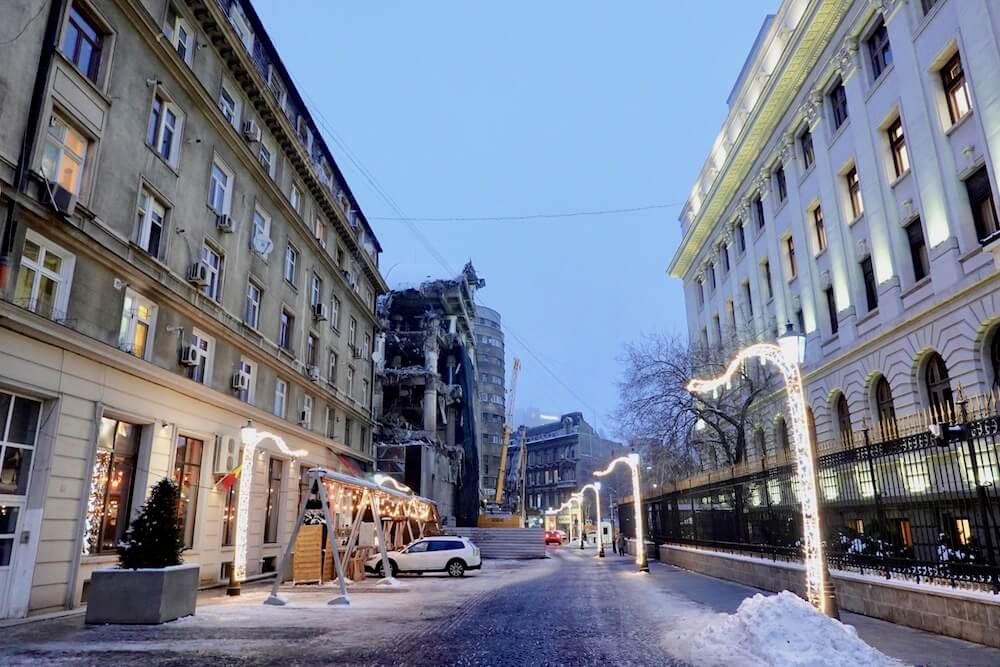 Being Europe's 6th biggest city after London, Berlin, Madrid, Rome and Paris, Bucharest became the first city in the world to be lit by oil lamps in 1856.
However, Bucharest was brutally massacred under the ruthless hands of Nicolae Ceaușescu, a communist dictator that ruled Romania between 1965 and 1989. He single-handedly demolished over 5 square kilometres of the city's old centre as well as various historic churches, monasteries and 16th-century districts. This was all done to make way for a massive building that's now the Palace of Parliament (more on this later!) and a sprawling avenue lined with Soviet-style architecture. Before Ceausescu and his wife were executed, the city was overrun and destroyed by a savage bout of unrest known as the 1989 Romanian Revolution.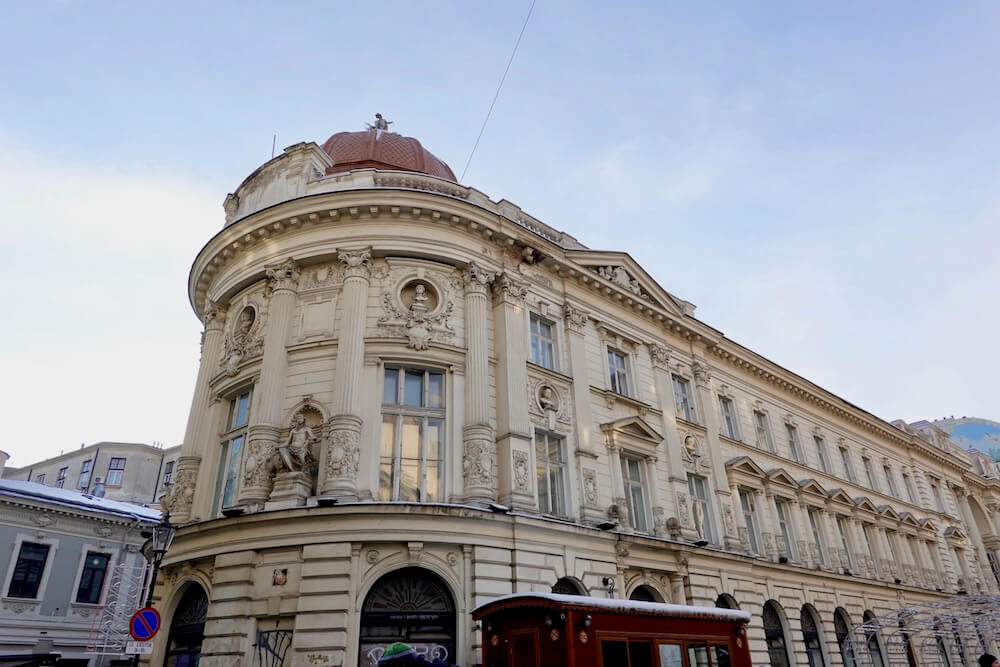 However, despite its battle scars, the city is well on its way to recovery.
There are many reasons to visit Bucharest that will satisfy the curious traveller – firstly, it's incredibly pocket-friendly. Romania joined the EU in 2007 but is not part of the Eurozone; the Romanian Lei (RON) is hence used here instead of the common Euro. SGD1 will get you about RON3 in return. 
Bucharest also enjoys high levels of safety; ask any local and they'd gush about the lack of terrorism and low levels of violent or petty crime. The unique grittiness of the capital truly shines through its thriving creative scene – intricate graffiti murals, hip underground bars and a slew of boutique cafés all pay testament to the city's steady revival.
Intrigued? Here are 18 things to do in Bucharest:
1. Marvel at the Romanian Athenaeum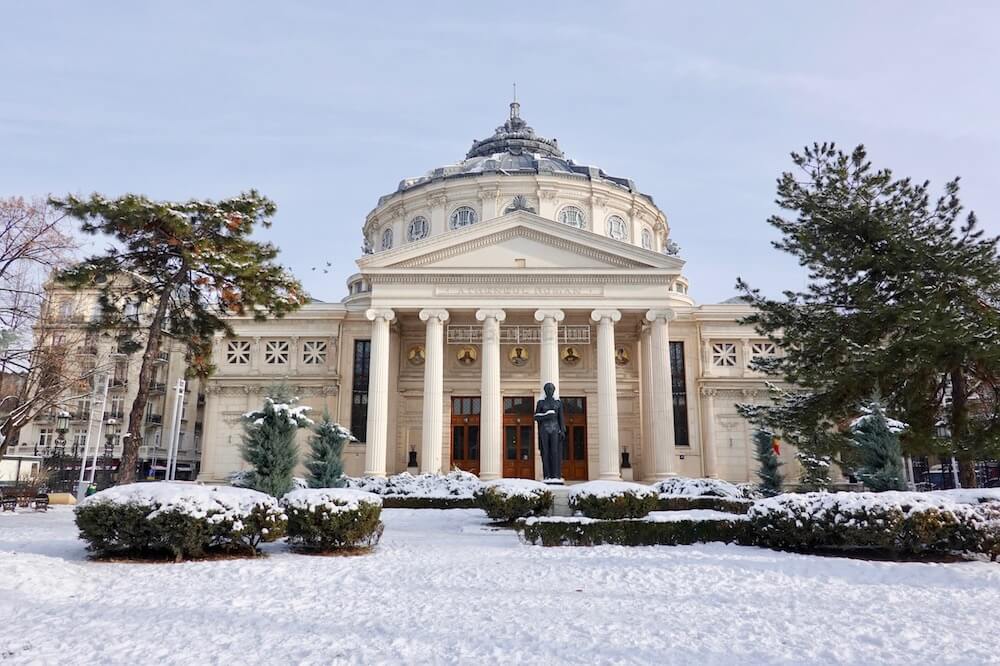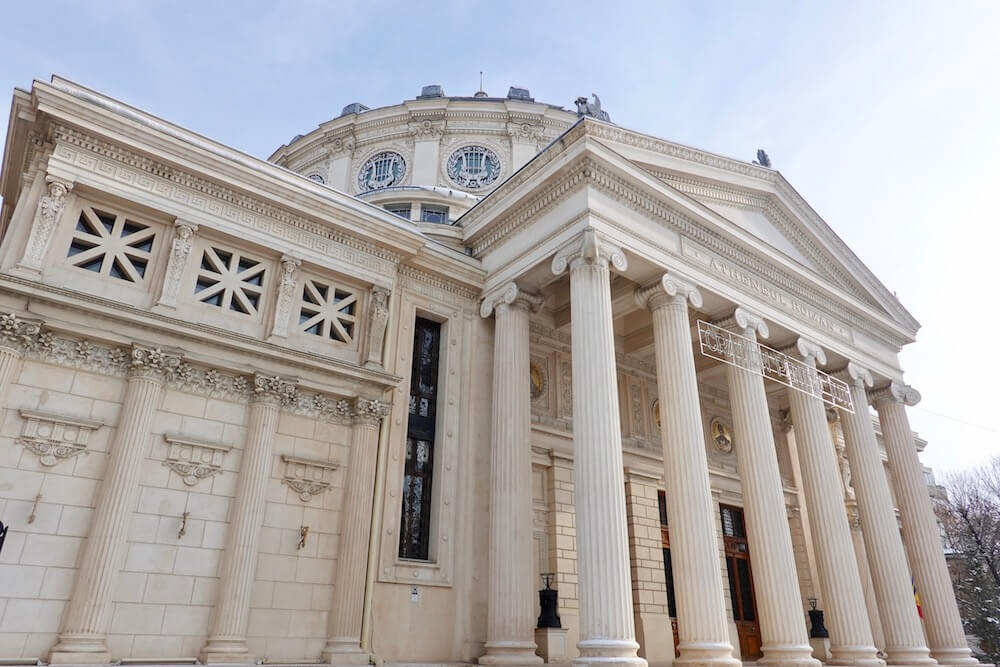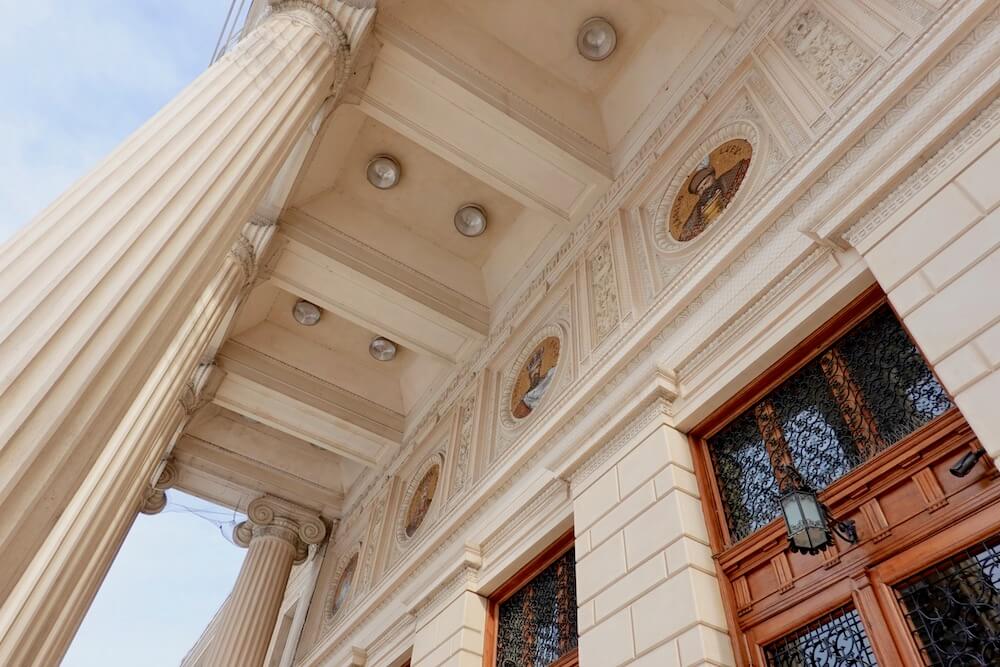 Built in 1888, the Romanian Athenaeum building sits in the middle of a large garden. The top of the building is adorned by a grand dome, with its exterior embellished with various portraits and neoclassical carvings.

The interior is visually stunning, boasting a grand stage surrounded by plush seats, gilded structures and elaborate frescoes detailing monumental events in Romanian history. Home to the George Enescu Philharmonic Orchestra, the concert hall has a capacity of more than 650 pax.
Concerts are held regularly here; simply enquire at the ticket office for more information. Come May every year, the building plays host to the month-long George Enescu Festival, which comprises a prestigious classical music festival that attracts music enthusiasts from all around the world.
2. While away the afternoon at this beautiful bookshop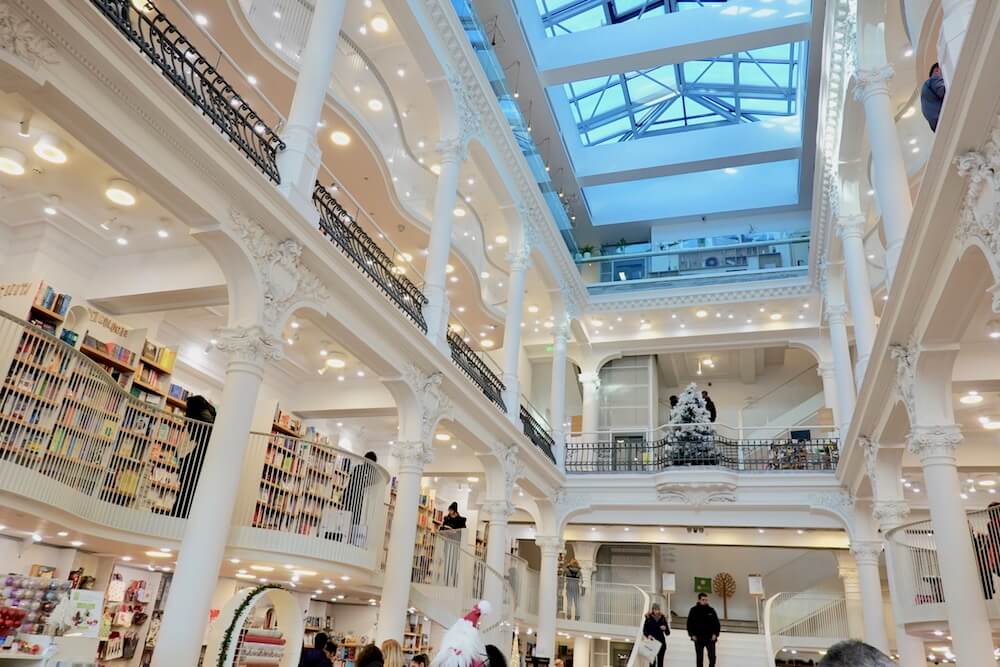 Located in the heart of the Old Town, Carturesti Carusel might just be one of the most beautiful bookshops around. And with the bookshop located inside a restored 19th-century building, it's not difficult to see why!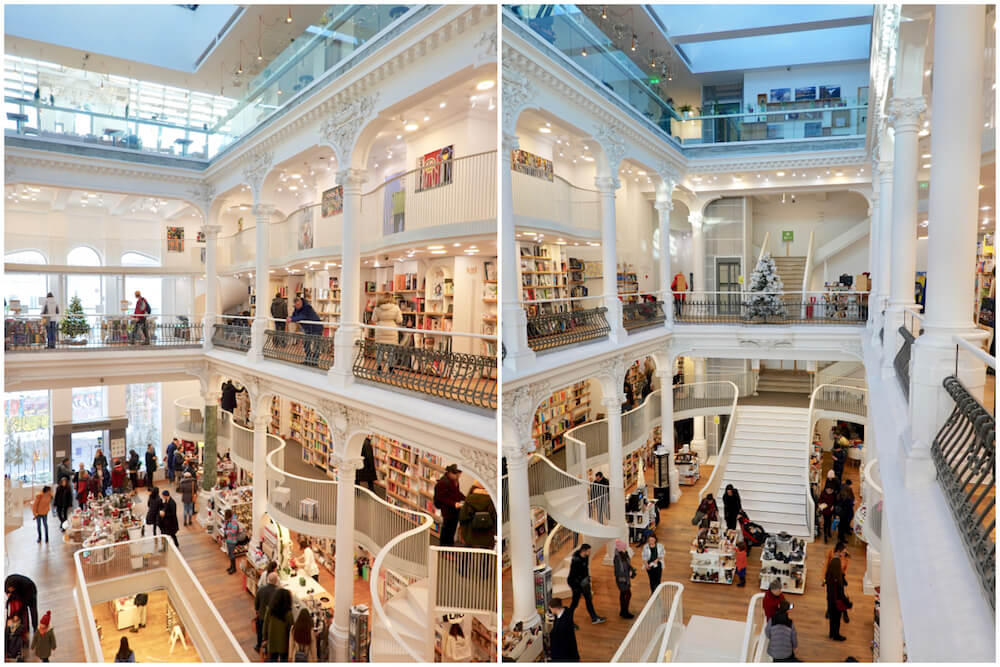 A high ceiling let in plenty of natural light that illuminates the gallery, which sells a wide array of books, stationery and other novelty items. The basement houses a diverse vinyl collection, with a café on the top floor offering coffees and pastries. Don't be surprised if you lose track of time whilst in the bookshop; each floor holds a treasure trove of surprises that will delight everyone of all ages.
3. Explore the Old Town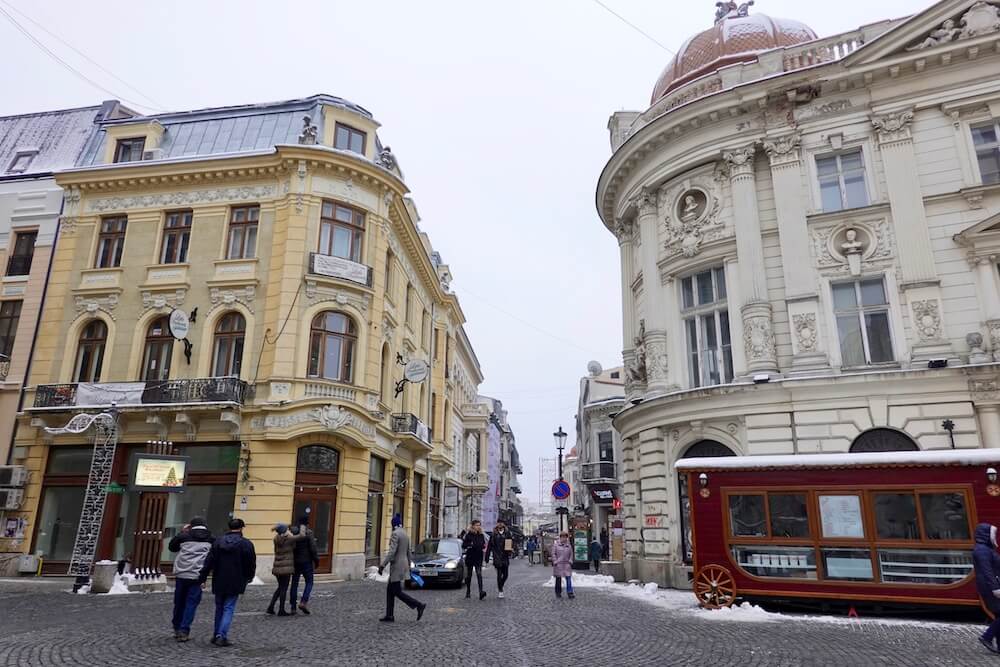 Bucharest's Old Town ("Lipscani") is where you'll find a hodgepodge maze of cobbled streets, bohemian cafés, boutique shops, pubs, bars, restored buildings and the like. Previously the economic and political centre of Bucharest, Lipscani is said to be most representative of Bucharest's ongoing transformation.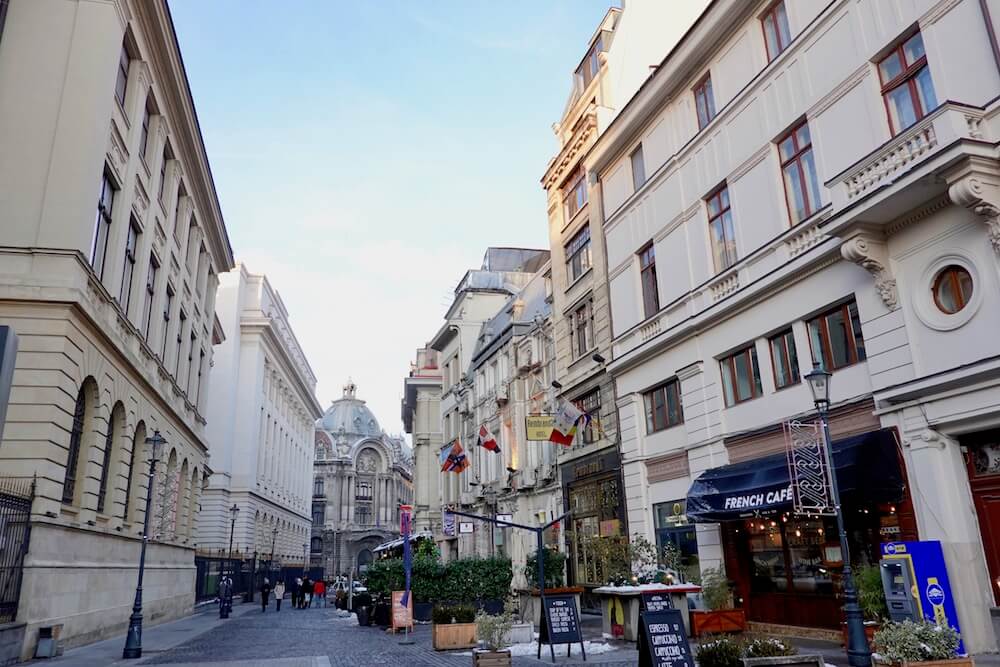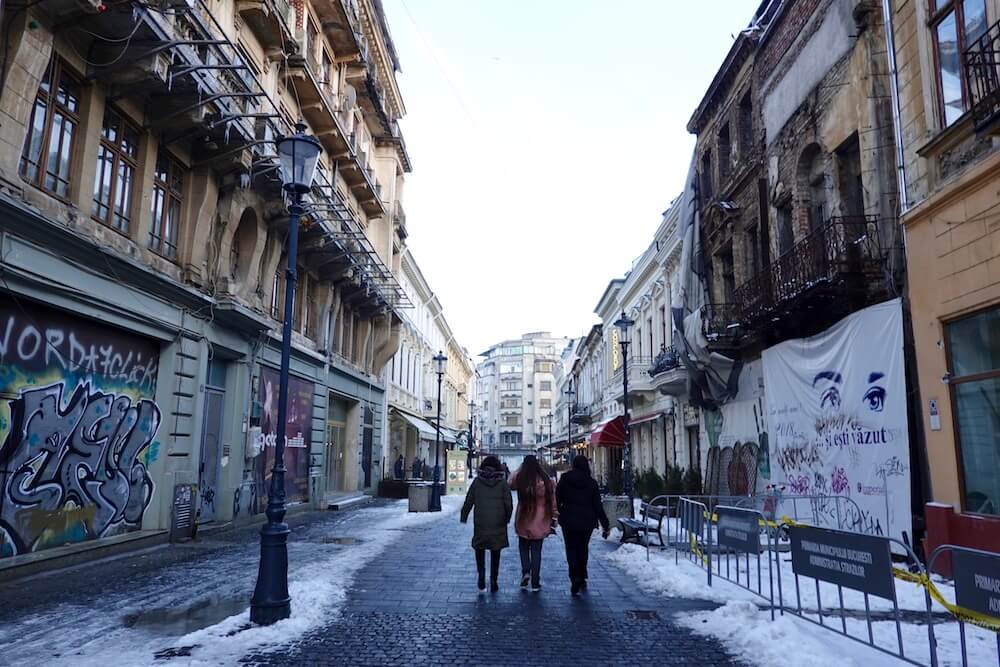 Locals will know the place as 'Centrul Vechi' and often use the Old Town as a place of congregation. It's now a tourist hotspot and the city's main nightlife district. The Pura Vida Sky Bar, for example, is a popular rooftop bar with enchanting views of the Old Town.
4. Have a Coffee at Pasajul Macca-Vilacrosse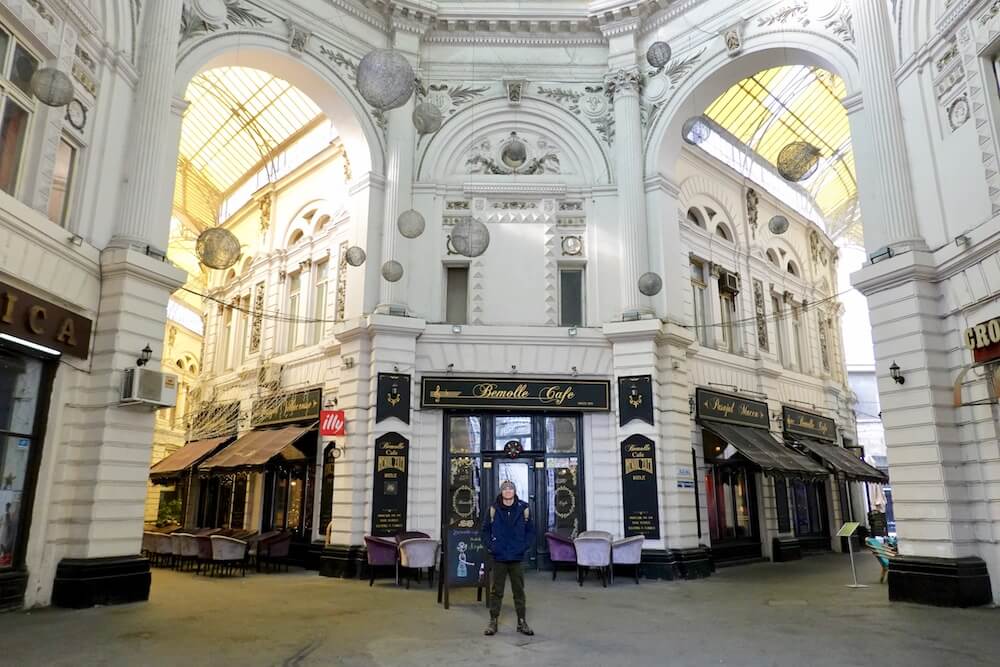 Located between Lipscani and Victory Avenue, Pasajul Macca-Vilacrosse is a hidden gem in the centre of the city. There's an interesting story behind the passage's horseshoe shape – the builders initially planned to buy and demolish a hotel that stood between the two passageways. However, the owner of the hotel refused to sell the property, leaving the builders no choice but to build the passage around the hotel in a 'U' shape.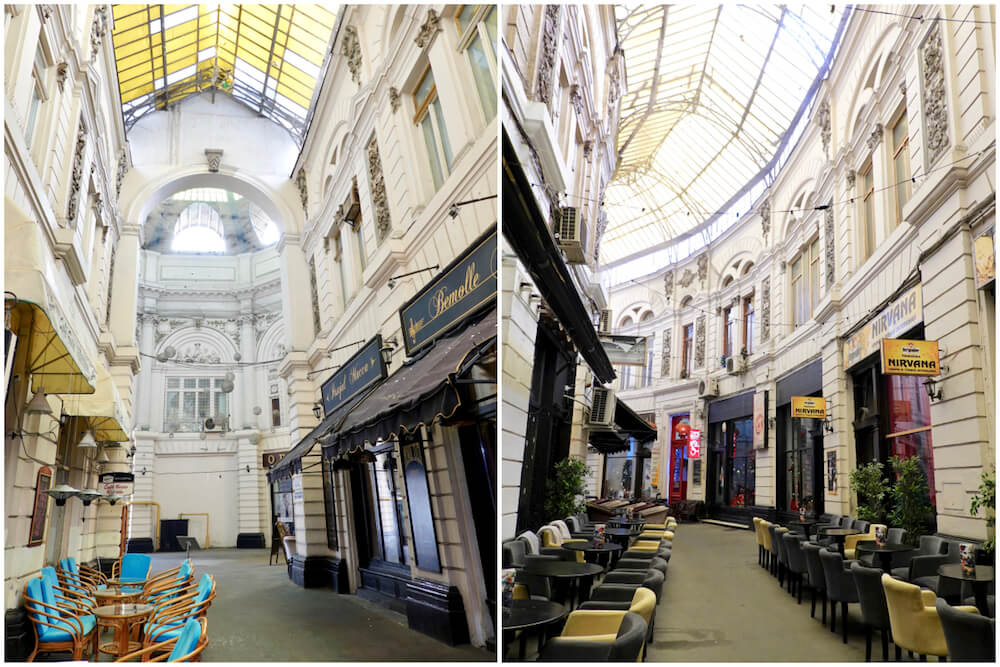 The passage has a roof made out of yellow glass, which gives the space a bright and homely feel. During the communist era, the passage was home to the city's main jewellery stores and used to be known as the 'Jewellery Passage'. Now, the passage boasts a line of restaurants and bars that are popular with both locals and tourists alike.
Fun fact: Pasajul Macca-Vilacrosse was home to Romania's very first stock exchange market. The passage is also known for being the place in Bucharest where hookah, something reminiscent of shisha where flavoured tobacco is smoked through a tobacco pipe, could be smoked after Communist rule ended. 
5. Trawl the Antiquities Market at Bazar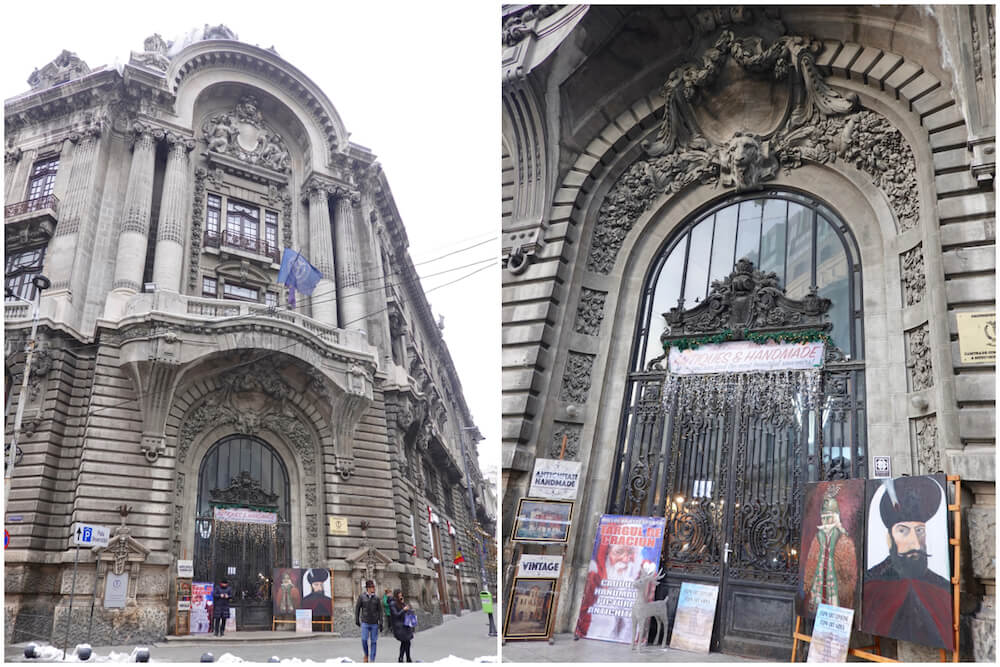 Located at Strada Doamnei II, this grey Gothic building is home to an Antiquities Market selling both antique and handmade items.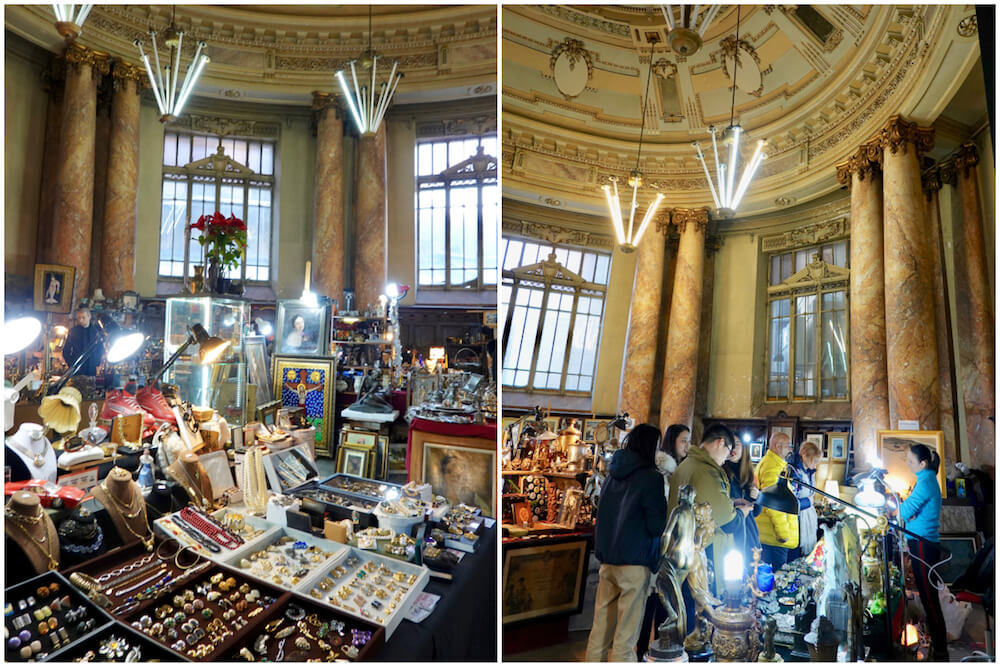 Take your time to trawl through numerous stalls selling all kinds of objects; you'll find large elaborate paintings, tarnished army medals, vintage vinyl, replica Rolex watches, a wide array of jewellery, antique cameras and more! It's the ideal place to purchase some souvenirs for friends and family back home.
6. Discover the English Passage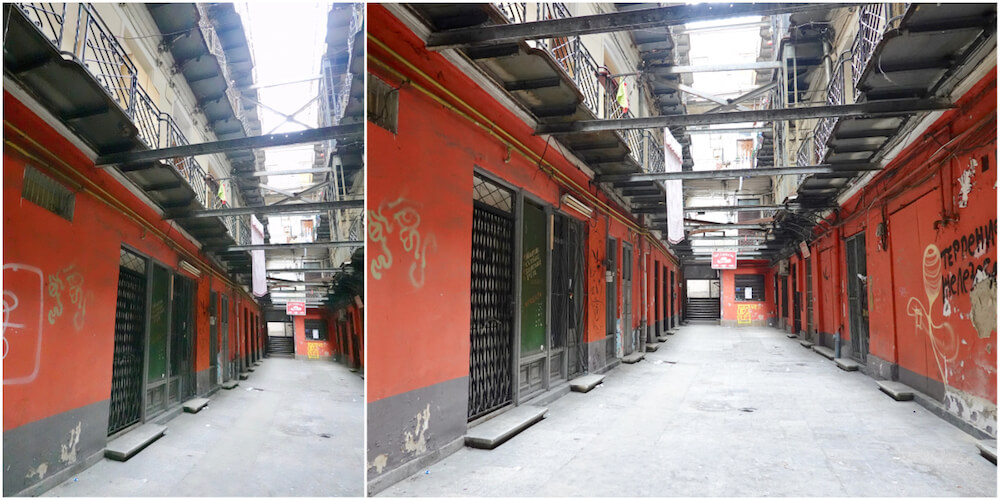 Connecting the downtown streets of Calea Victoriei and Strada Academiei, Pasajul Englez – also known as the 'English Passage' – is a grungy warehouse-like building with a colourful past. The building got its namesake from having served as the 'English' Hotel for a few years and was eventually transformed into a large luxury brothel.
The building is tall, comprising three floors covered with a glass roof on a series of metal frames. It has now been converted into apartments that are occupied by residents till this very day. During your visit, do stop by the hat shop – 'Palaraii La Mesterul Nicu' – on the first floor owned by Nico, a man who has been making hats for more than 50 years.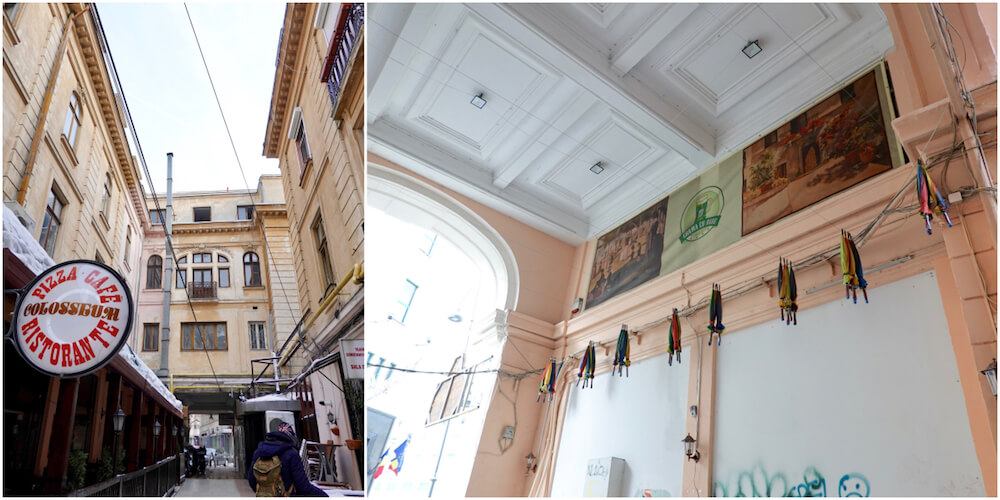 The English Passage is also near Pasajul Victoria, an alley made famous by Instagram for its canopy of colourful umbrellas. The umbrellas were unfortunately closed when I visited in December; perhaps you'd be luckier during your visit!
7. Scout out a bargain at Strada Hanul cu Tei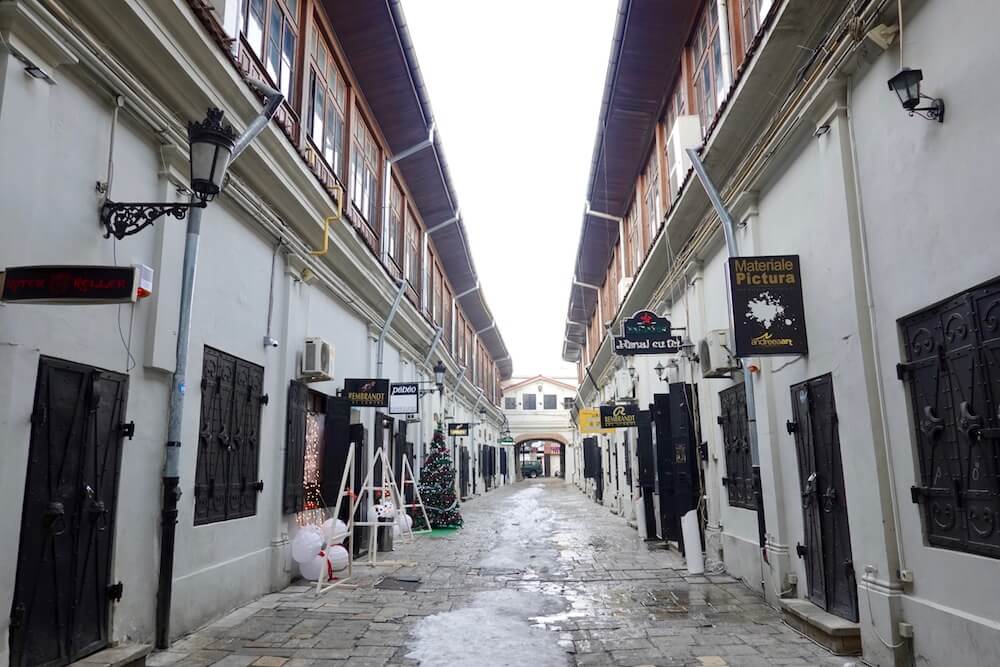 Once part of a historic inn, Strada Hanul Cu Tei is a darling little courtyard hidden away in central Bucharest. The exterior of the buildings do not look like much but delve inside and discover a labyrinth of antique shops, art galleries, secondhand book shops, vintage art studios, restaurants, bars and more.
8. Try traditional Romanian fare at Caru cu Bere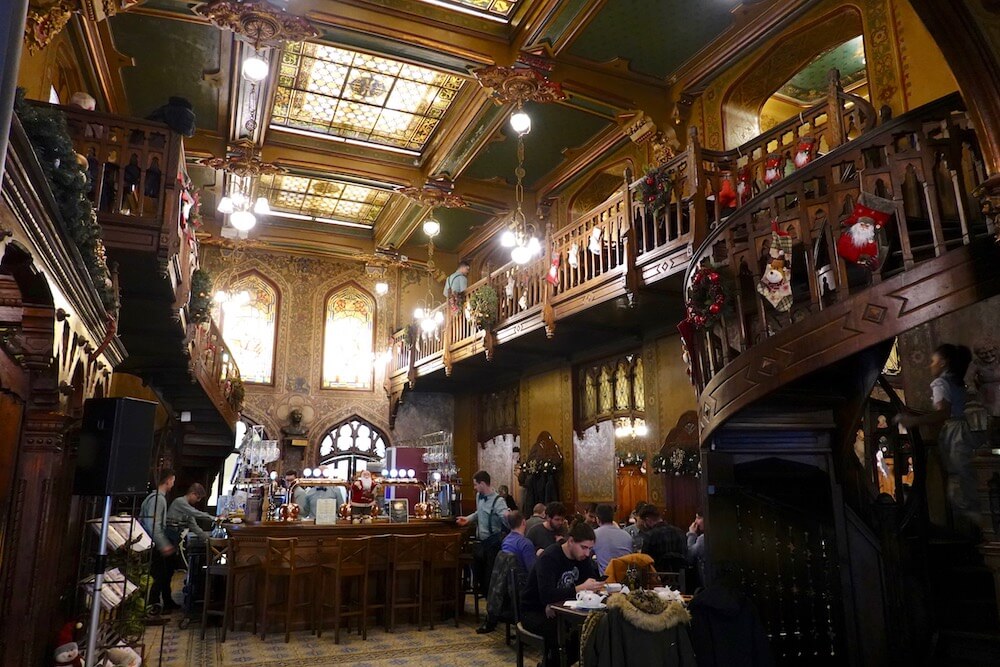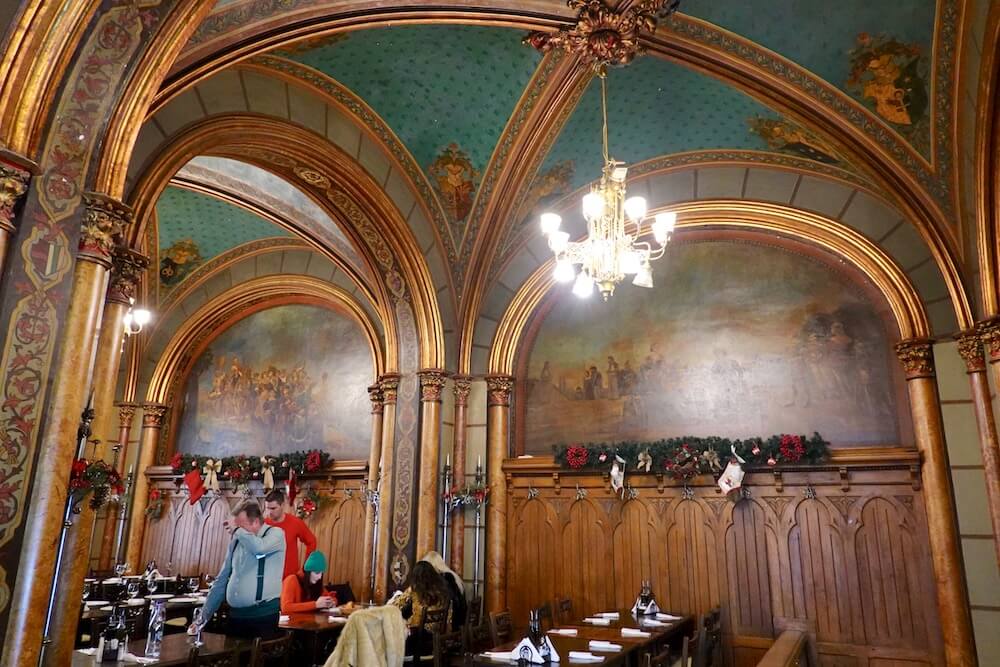 Head to Caru cu Bere for a traditional feast within a gorgeous tavern. Famous for being one of Bucharest's best beer halls, the restaurant boasts costumed waiters and live music. The authenticity might be diluted by how the restaurant is said to be a tourist trap, but the decor and experience completely make up for it.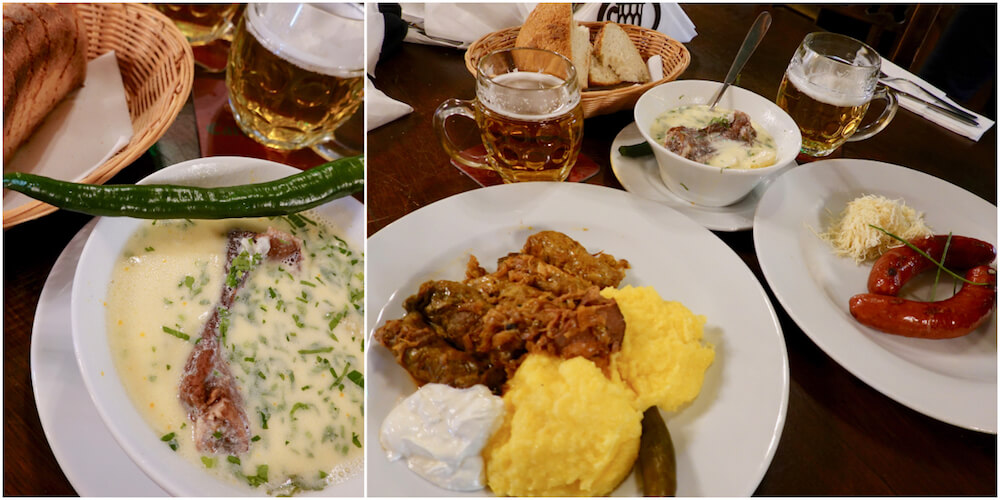 Start your meal with a hearty bowl of Ciorba de Burta, a creamy and sour traditional Romanian soup that uses beef tripe as the main ingredient. The soup is served with a spicy green pepper.
For your main course, dig into Sarmale, Romania's national dish which consists of cabbage rolls stuffed with meat. The dish usually comes with a side of polenta and a generous dollop of sour cream. And of course, a mug of chilled beer is also a must!
Caru cu Bere
Address: Strada Stavropoleos 5, București 030081, Romania
Opening hours: 11am to 11pm, daily
9. Try a shot of Tuica at Hanul Manuc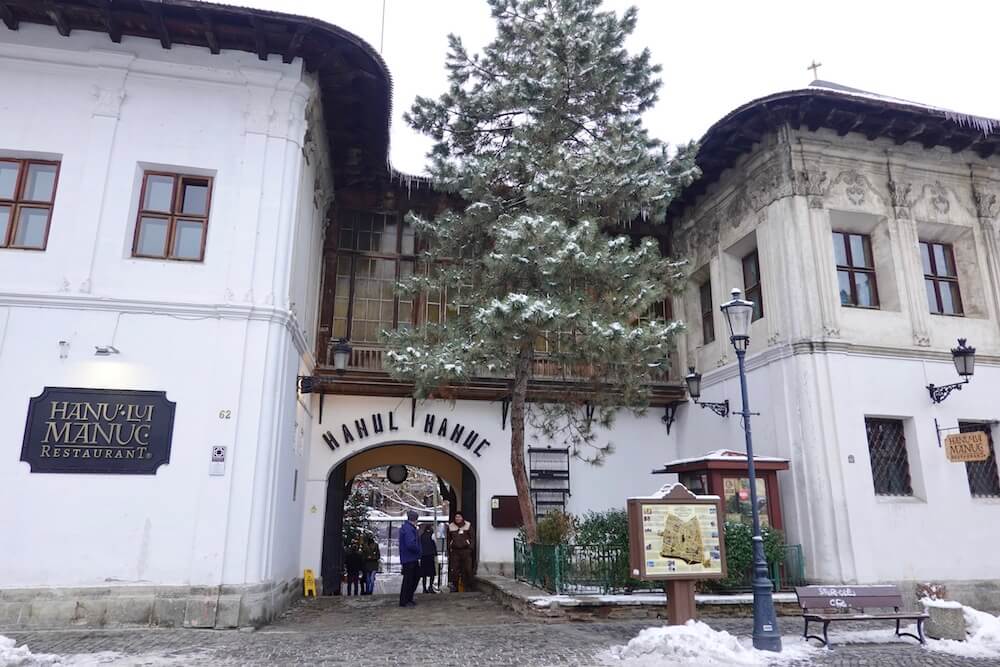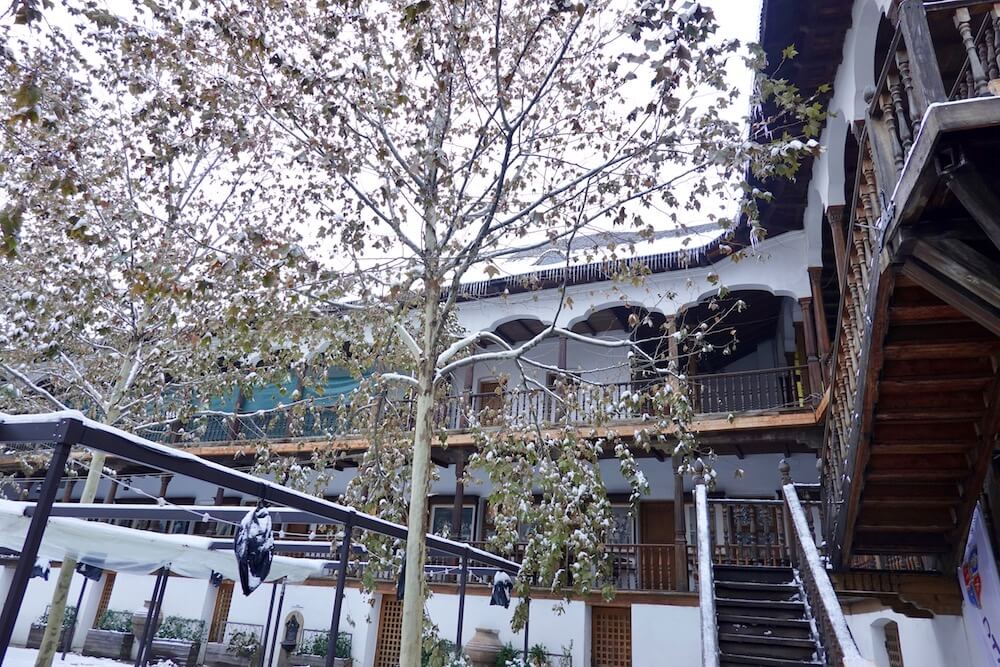 One of the oldest buildings in the city, Hanul Manuc is a beautifully restored establishment with an intriguing history. It's one of Europe's last remaining caravanserais, where travellers with caravans could rest with their horses after a long day's journey.
Consisting of a large courtyard surrounded by two floors of wooden-panelled galleries, Hanul Manuc has now been converted into a traditional restaurant. Hanul Manuc serves up a good range of traditional Romanian Balkan cuisine, on top of nightly music and dance performances.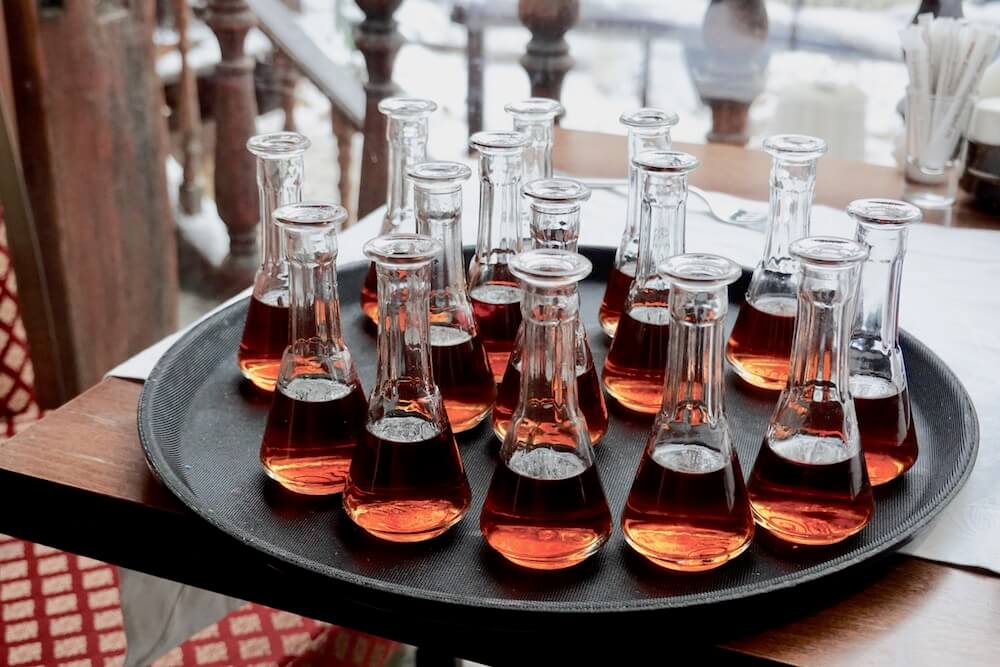 While you're there, try a shot of Tuica, a Romanian brandy made from fermented and distilled plums. Tuica is usually consumed as an aperitif to enhance appetite before a meal. It's also the staple drink for Romanian gatherings and festivals.
Hanul Manuc
Address: Str. Franceză, nr. 62-64 62-64, Bucharest 030106 Romania
Opening hours: 10am to 12pm, Sundays to Thursdays; 10am to 2am, Fridays and Saturdays
10. Catch a glimpse of Biserica Sfantul Ioan Piata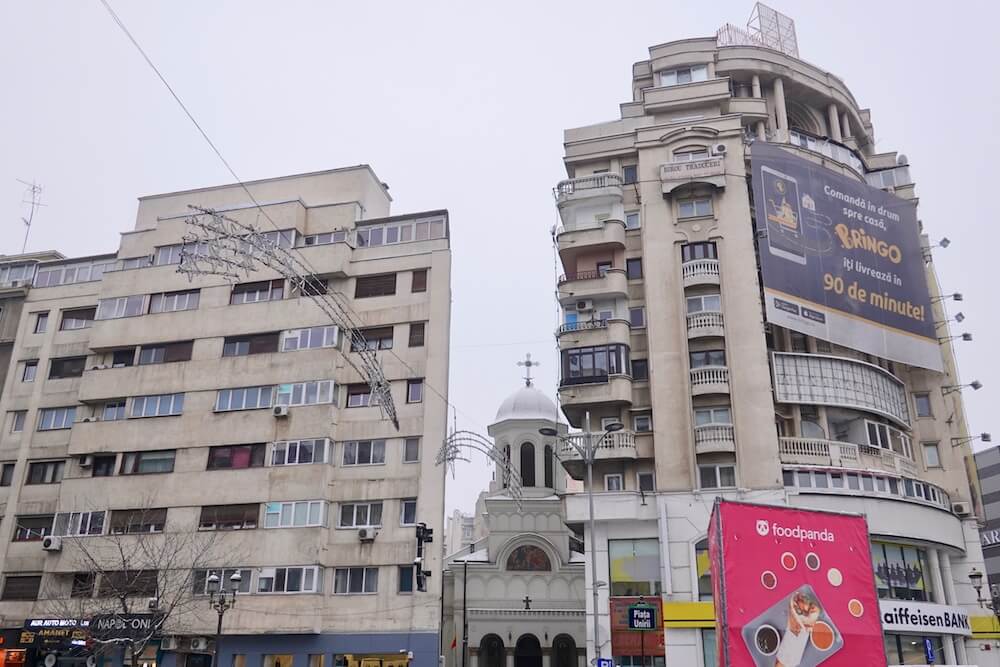 Biserica Sfantul Ioan Piata is a church that's nothing out of the ordinary – except it being squeezed between two tall buildings. What a sight!
11. Check out the Central University Library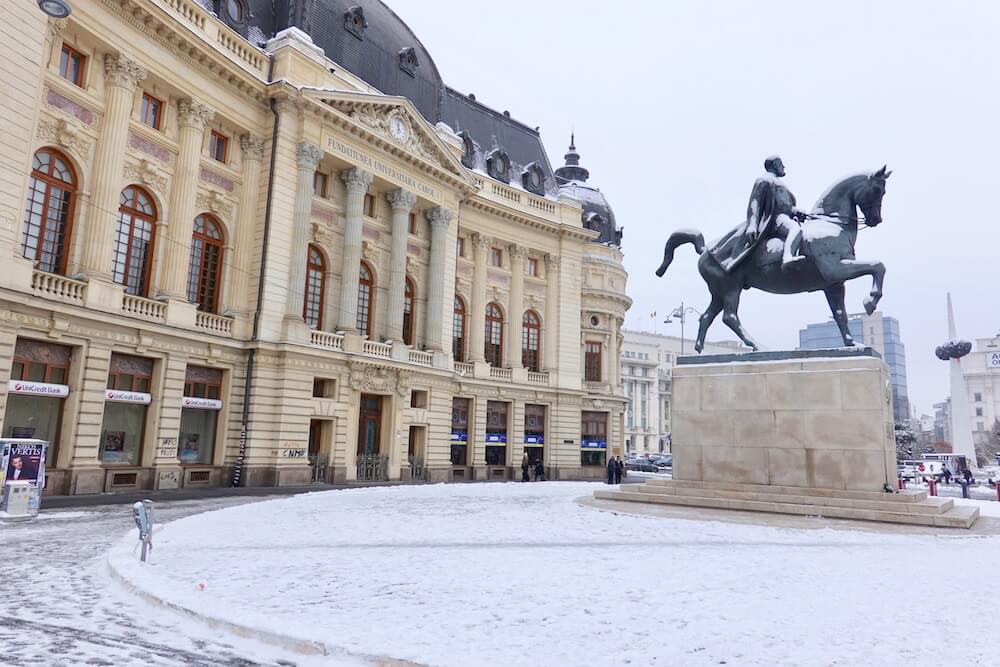 Located opposite the National Museum of Art, the Central University Library is an imposing building decked out in shades of yellow. During the 1989 Romanian Revolution, the building fell victim to a raging fire. During this tragedy, over 500, 000 precious books and almost 4, 000 manuscripts were destroyed. The building was then repaired and refurbished, finally opening to the public in 2001.
Today, the library is home to over 2 million volumes of books.
12. Visit the Stavropoleos Church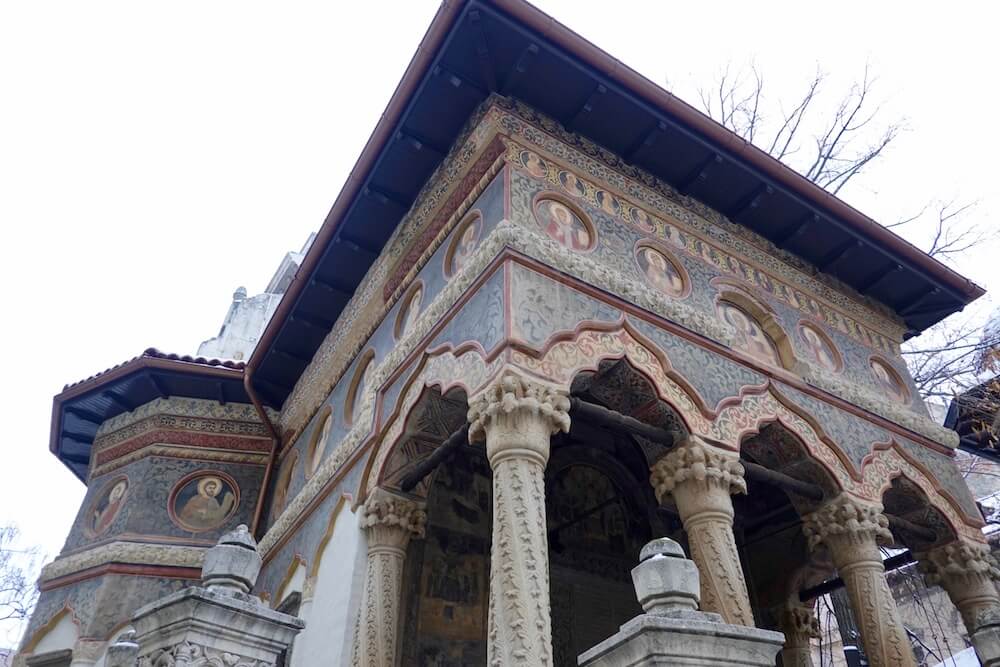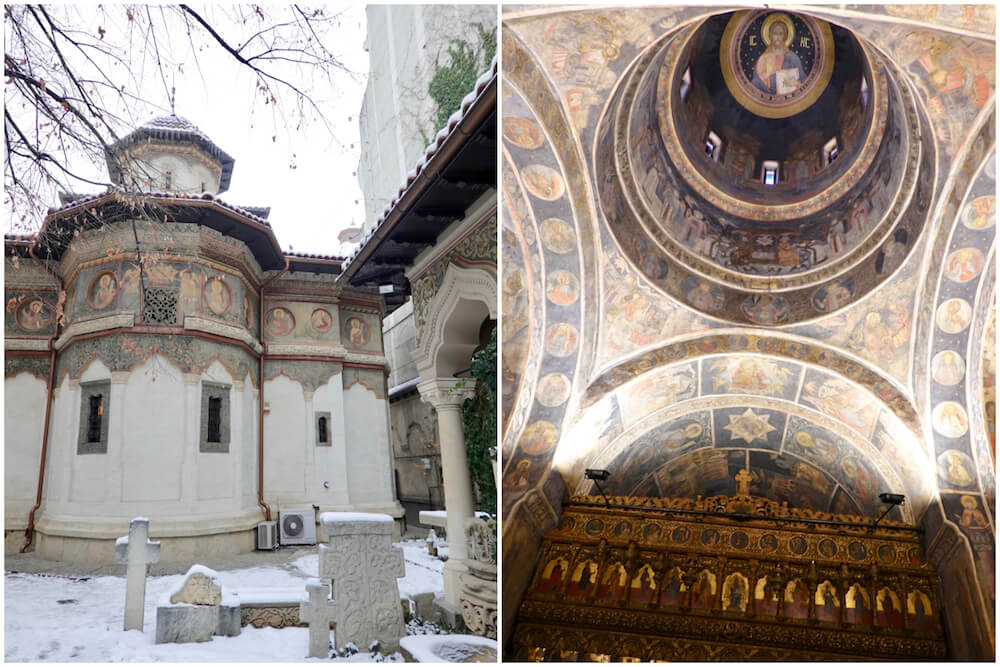 Dating back to the 1720s, the Stavropoleos Church is a blend of Ottoman, Byzantine, Baroque and Renaissance influences. The church's facade boasts gorgeous frescos and painted medallions of saints, serving as an Eastern Orthodox monastery for nuns in Bucharest.
The building is also home to the largest collection of Byzantine music books in Romania.
13. Make a pitstop at Revolution Square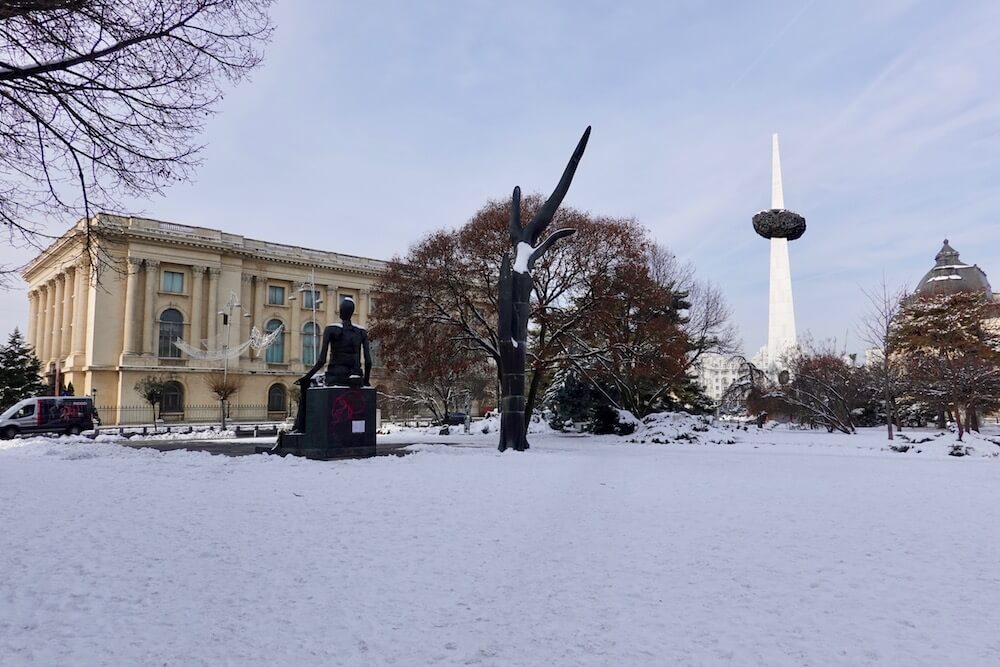 Revolution Square is so named for its involvement in the Romanian Revolution, where an outburst of violent unrest usurped the ruthless rule of Nicolae Ceaușescu, a dictator that subjected Bucharest to communist rule between 1965 and 1989.
This very square was the place that sparked off this revolution against Ceaușescu. In 1989, over 100, 000 people gathered in the square jeered Ceausescu during a live telecast. Ceaușescu's look of shock was captured on television before the telecast was cut, kickstarting the Romanian Revolution.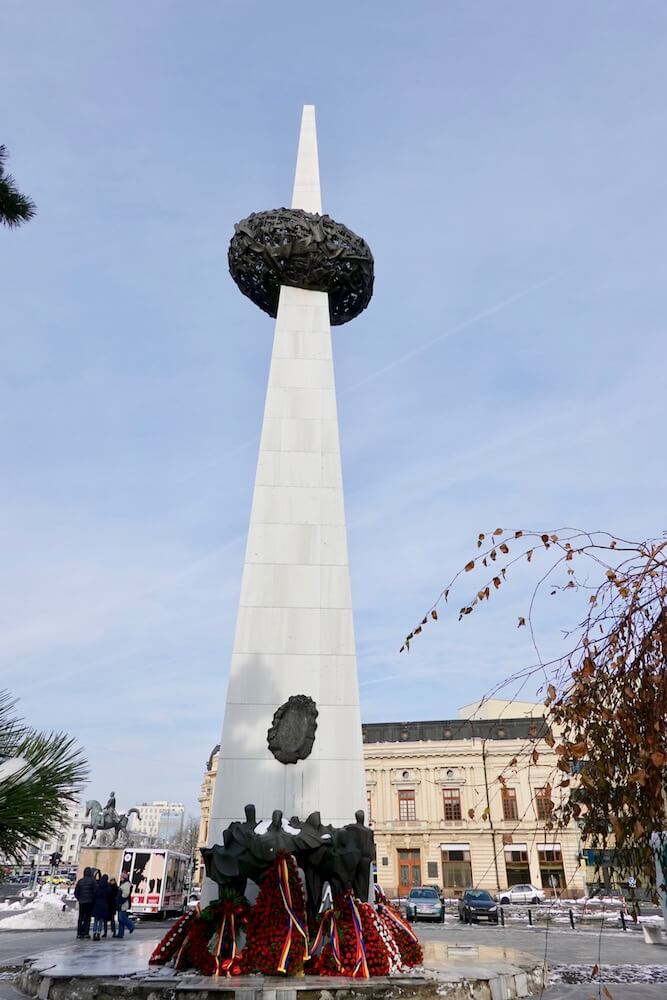 The square is also home to the Memorial of Rebirth, which was constructed to honour the victims of the 1989 Romanian Revolution. The obelisk is surrounded by statues representing the shadows of the people who fought for democracy and freedom; the nest-like structure that it pierces through represents the sacrifices of these people. In 2012, a local flung some paint at the base of the nest-like structure. This left a red smudge of paint that dripped down the obelisk, which is something that aptly suits the mood.
In addition, the square also holds the Wall of Remembrance, a brass plate detailing the names of the victims that fell victim to the revolution. 
14. Hunt down graffiti murals at Strada Pictor Arthur Verona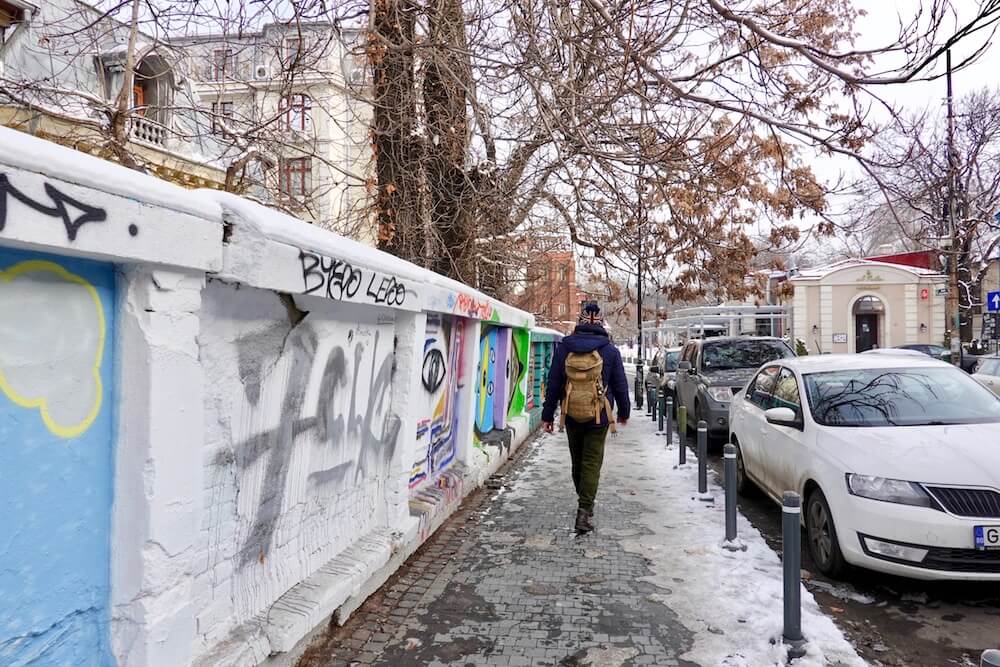 As part of Bucharest's urban revival, certain streets in the city were transformed into an eclectic explosion of graffiti art. One of the best places to check out these murals is Strada Pictor Arthur Verona, a long stretch of road near Piata Romana.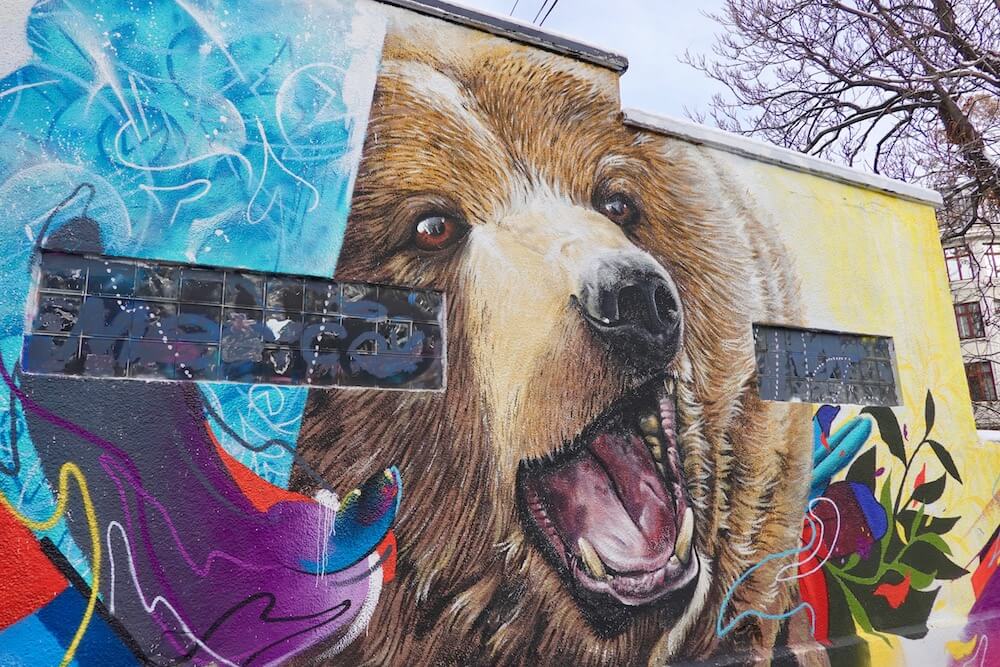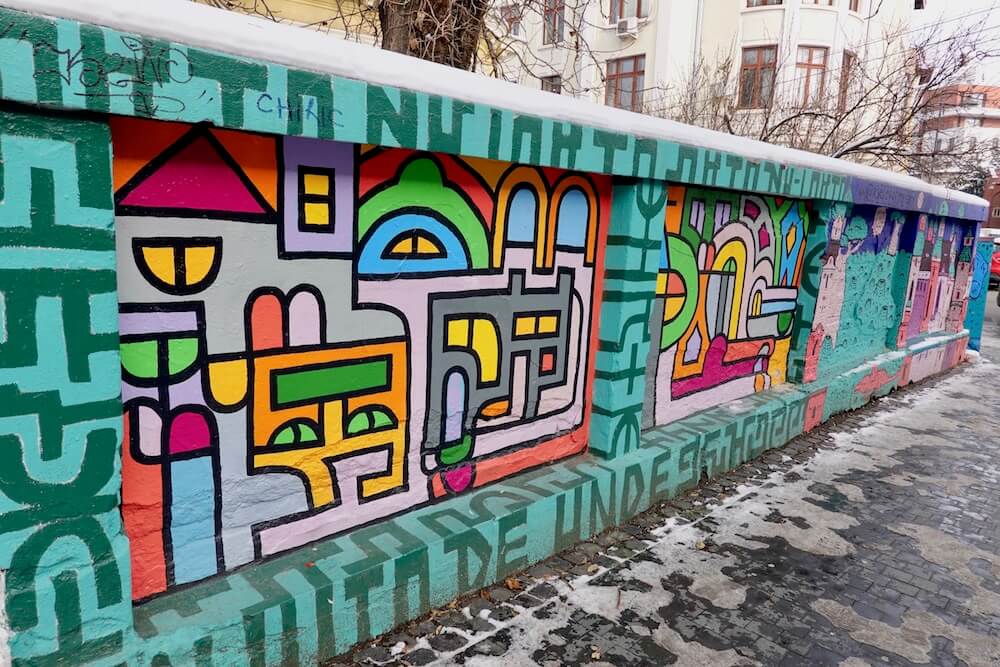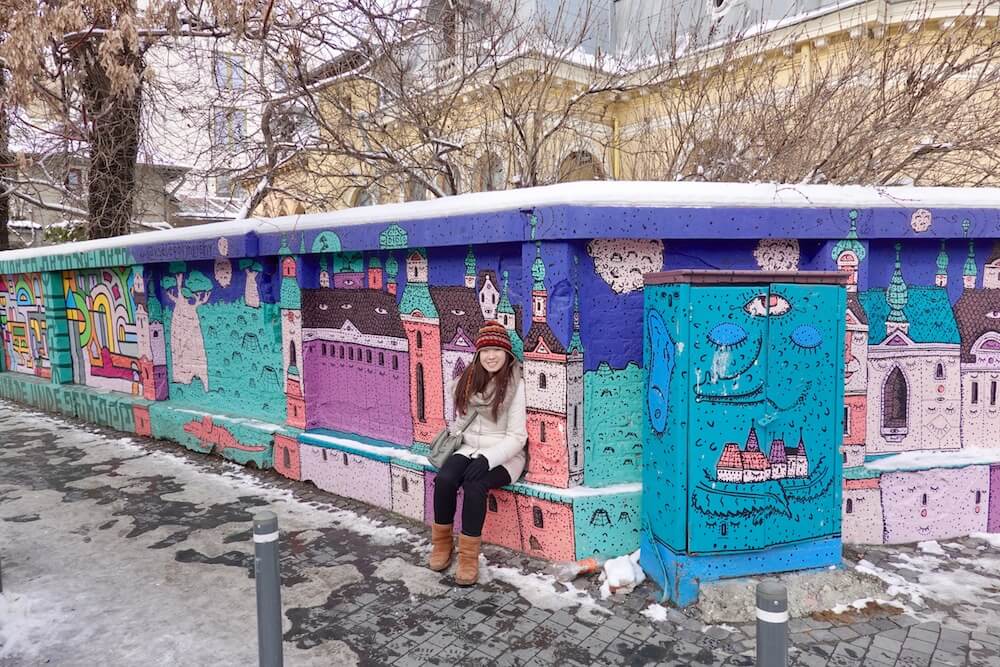 Every year in June, the 'Street Delivery Festival' occupies the whole street, boasting a line-up of live graffiti drawing, workshops, food trucks, performances and more. As such, the murals along this street change from year to year!
15. Relax at the Cismigiu Gardens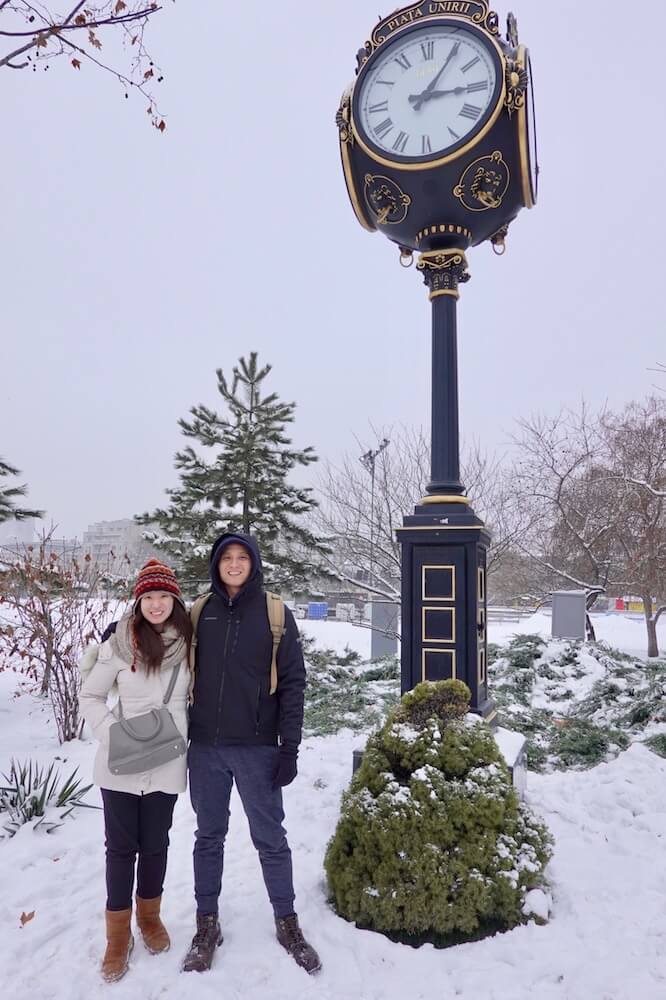 Offering respite in the middle of the hustle and bustle, the Cismigiu Gardens is Bucharest's oldest recreation space. In the summer, locals flock to the park to navigate the lake via rowboat. In winter, the lake freezes over and transforms into a giant ice skating rink. The park is also dotted with a few vintage clocks – see how many you can spot during your visit!
The park is also home to Rondul Roman, a memorial garden containing busts of 12 of Romania's most popular authors. The garden also contains tributes to French soldiers and Americans who died in Romania during World War I and World War II respectively.
16. Make a stop at the Palace of Parliament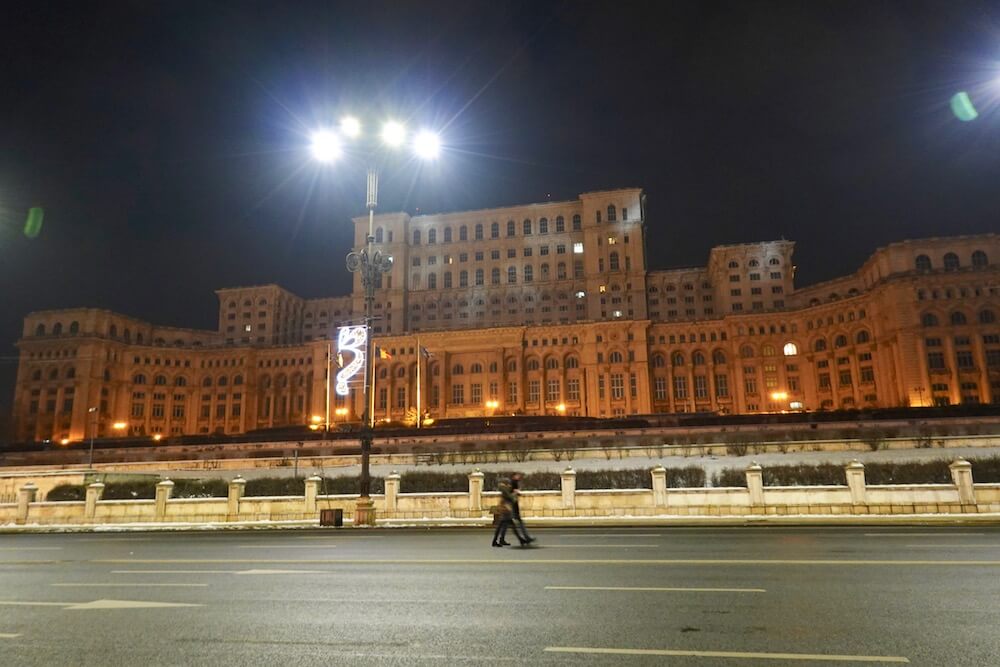 You might remember the Palace of Parliament being the building that most of Bucharest's Old Town was demolished for. Indeed, the communist dictator, Nicolae Ceaușescu, built the Palace of Parliament in a bid to establish a place of authority that would reign over the whole of Bucharest. The massive building structure is now the world's heaviest building – weighing at a total of 4, 098, 500, 000 kg! – and is the second-largest administrative building in the world after the Pentagon.
The building is home to over 1, 000 rooms, with every square inch constructed in strict accordance with Romanian standards. It took 10 years to build, with approximately 20, 000 builders working around the clock, every day of the week, to complete the mammoth task. It's even said that the heating and lighting costs of the building are comparable to that of a medium-sized city!
However, due to its oppressive history, many locals refer to the Palace of Parliament as the most beautiful, yet most ugly, building in Bucharest.
17. Take a stroll along Victory Avenue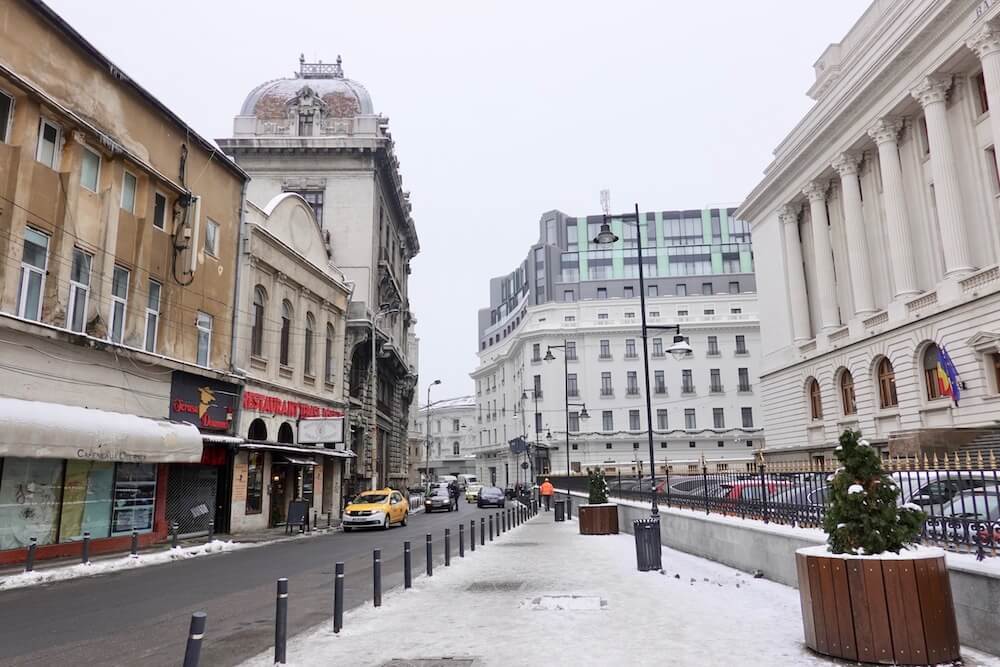 Beginning at Revolution Square and leading up to the Dambovita River, Calea Victoriei houses most of Bucharest's landmarks. It comprises a lavish shopping street lined by grand buildings containing retail shops, restaurants, cafés, art galleries and theatres.
Back in the past, much of Bucharest was covered with wooden planks, with Calea Victoriei being one of the few paved streets in the city. This helped wealthier citizens to avoid the mud on the ground.
18. Travel back in time at Bucharest's train station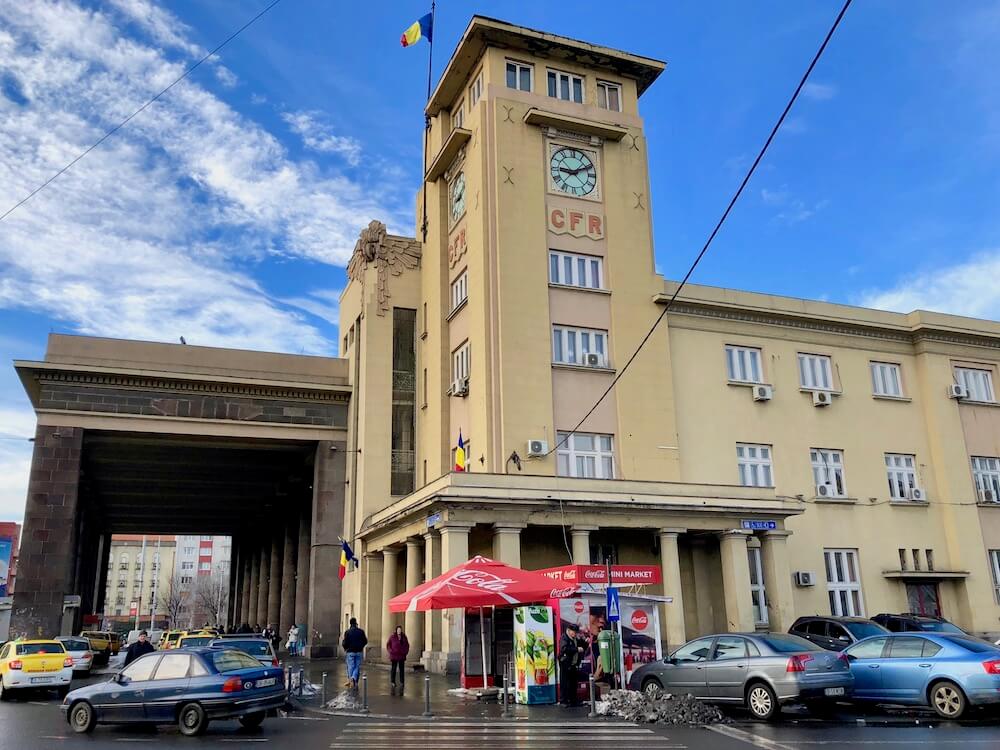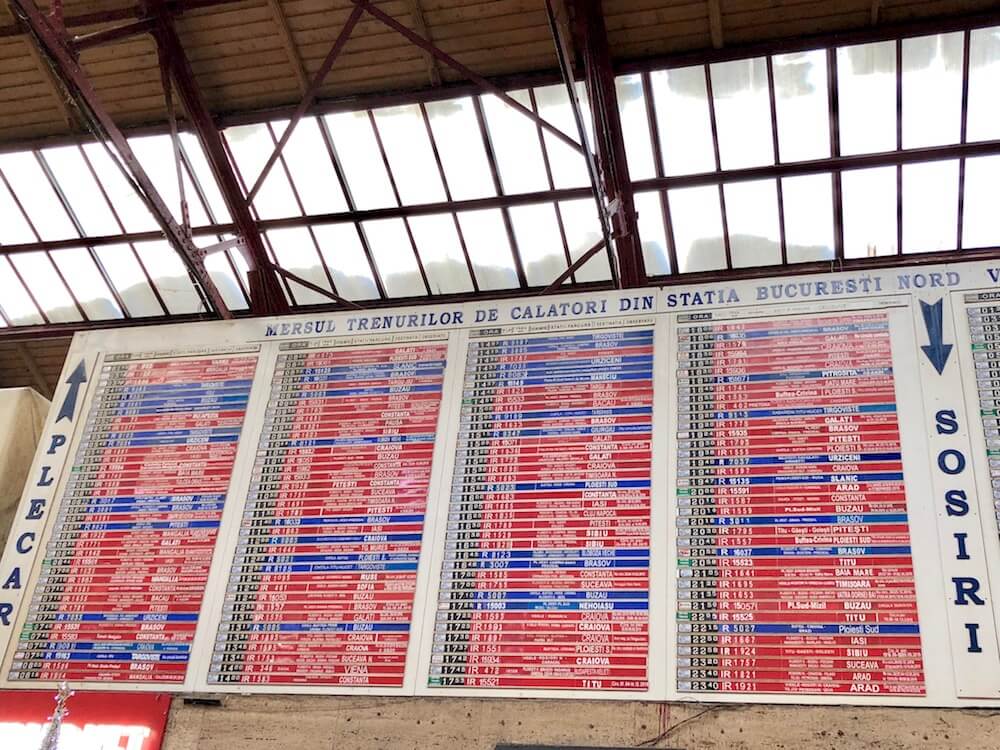 Bucharest's train station is delightfully nostalgic. When was the last time you've seen such a display?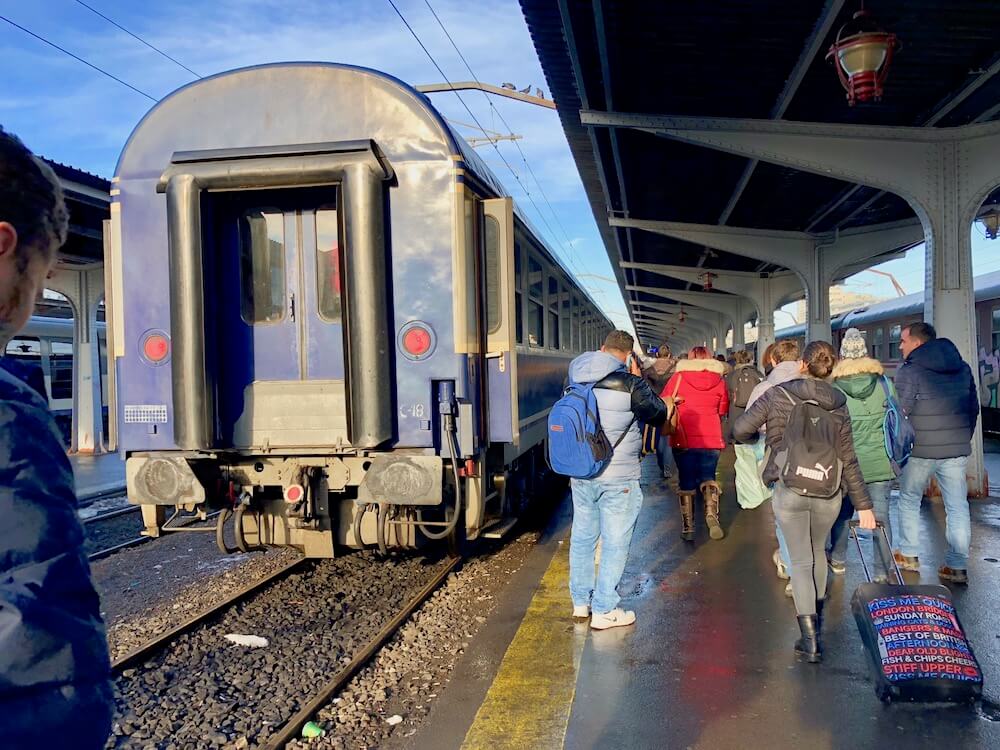 Most travellers flying into Romania land in Bucharest, which is well worth exploring for 2 to 3 days. From Bucharest, a 2.5-hour train ride will bring you to Brasov, which is at the heart of Transylvania. 
Read: Things to Do in Brasov, Romania
Use Brasov as a base to explore Dracula's Castle in Bran or Poiana Brasov, a heaven for skiers in winter and hikers in summer. 
Read: Visit Dracula's Castle in Transylvania, Romania; Go Skiing or Snowboarding at Poiana Brasov in Transylvania, Romania
Stop at Sinaia on the way – 1.5 hours by train from Bucharest, followed by another 1-hour train ride to Brasov – and marvel at the stunning Peles Castle.
Read: A Day Trip to the Magnificent Peles Castle in Sinaia, Romania
It's true that Bucharest can be grungy and gritty but don't be too quick to judge a book by its cover; there's just so much to explore.
After all, where else can you see two modern and historic buildings melded into one? If that's not a testament to the city's diversity, I don't know what is!