All Aboard the Glacier Express, a Panoramic Train Ride in Switzerland
Taking a ride on the Glacier Express has always been a dream of mine. I've been enamoured by the thought of being able to stare out the large panoramic windows for hours on end, with this very desire stoked by countless pictures online that show how drop-dead gorgeous the scenery looks.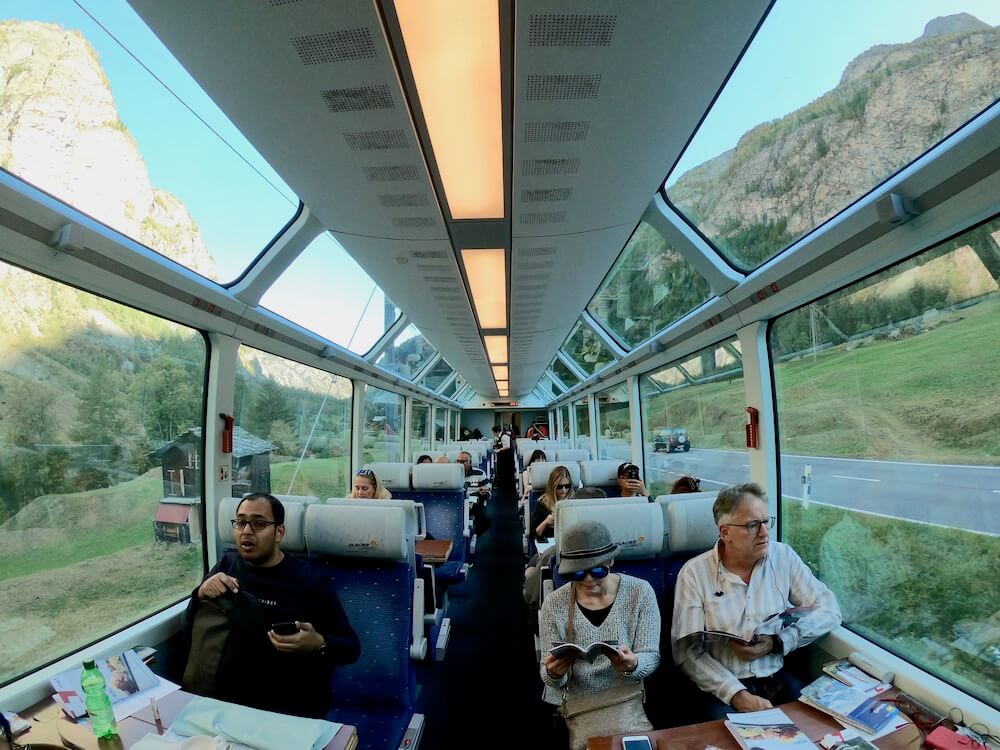 The full route of the Glacier Express stretches from Zermatt to St Moritz, a journey that will take close to 8 hours. Train aficionados would say that this duration is nothing – "it'd fly by faster than you know it!" – but to the common traveller, this may seem like quite a bit of time.
However, there's plenty to do to pass the time. You can choose to gaze at the endless scenery, use complimentary earphones to learn information about the areas the train pass through or even indulge in a full three-course meal. After all, such train journeys are meant for pure relaxation. It's perfectly fine if you have nothing to do – after all, you did just sign up to ride on the slowest express train in the world! And trust me, it's truly an experience like no other.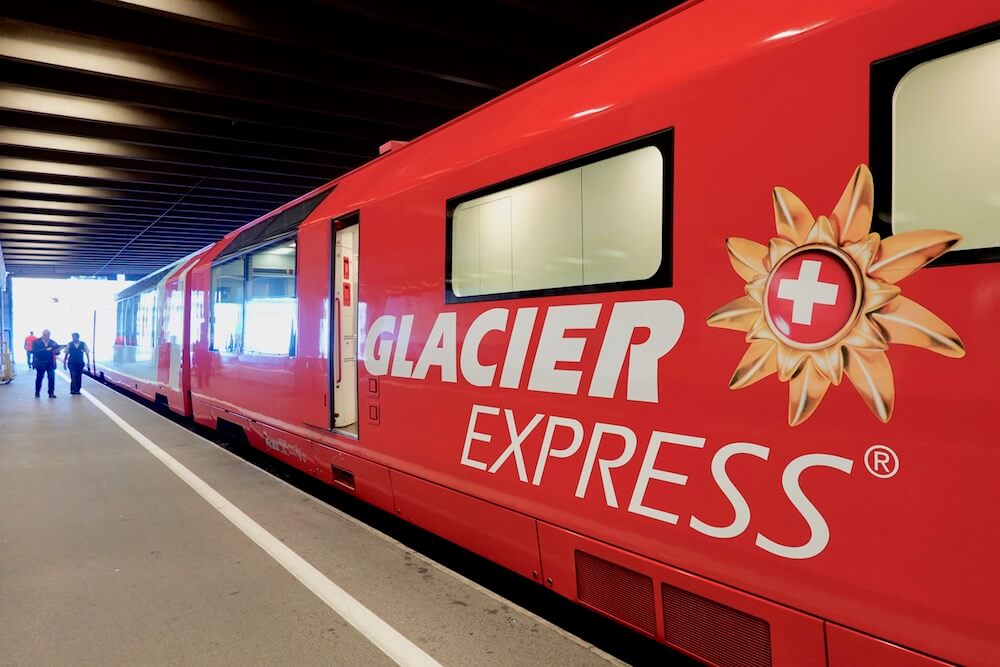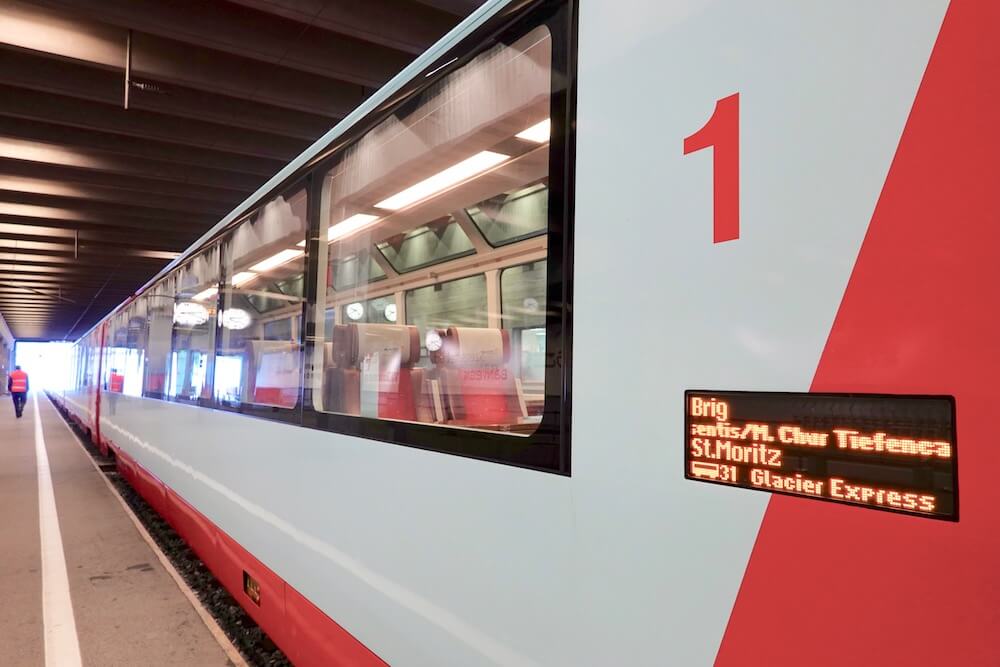 I chose to board the train in Zermatt and booked myself in for the whole route to St Moritz. If you don't wish to sit out the whole stretch, you can also book certain parts of the route, depending on which you prefer.
Read: Things to Do in Zermatt, Switzerland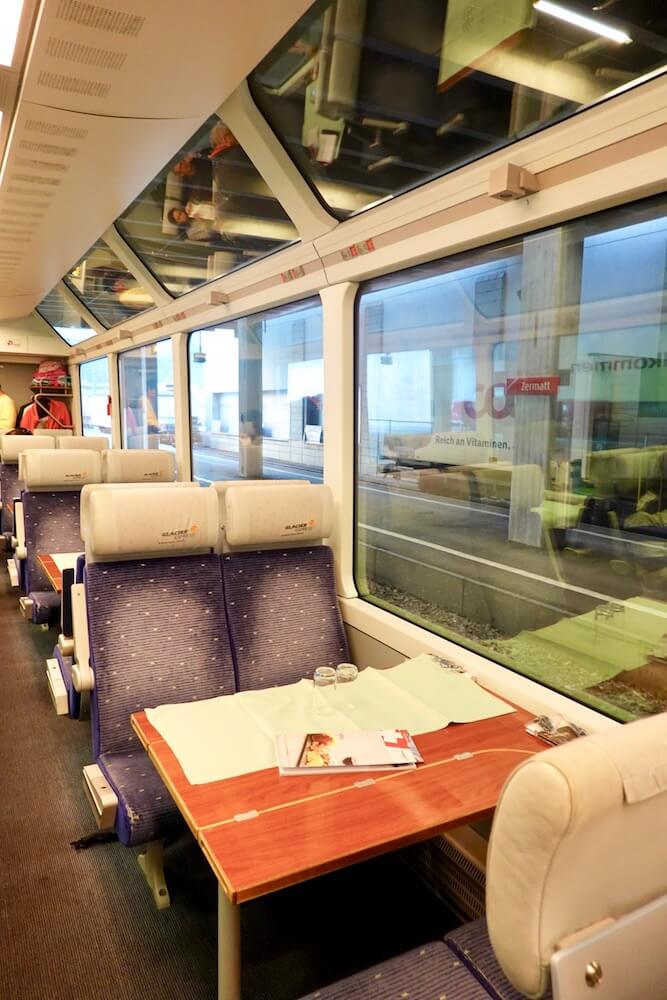 There are a few seat classes to choose from – 2nd Class, First Class and Excellence Class. In 2nd Class, you'll sit in a configuration of four, with two seats facing the other. It's spacious and comfortable, with the table in between being large enough to have meals on. The only catch is that not every passenger in 2nd Class will be able to have a window seat – these sell out fast, so do book your seats early if you wish to snag a seat with a good view!
Travellers in 1st Class can choose from single or double seat configurations, and enjoy more legroom. For travellers in 1st and 2nd Class, meals cost an additional fee.
The Excellence Class is a new offering, where all travellers are seated in single seats by the window. A 5-course meal and drinks are also included in your ticket, and you'll also enjoy exclusive access to the Glacier bar. The best part? You'll be waited on by a personal concierge, giving you a 5-star luxury experience.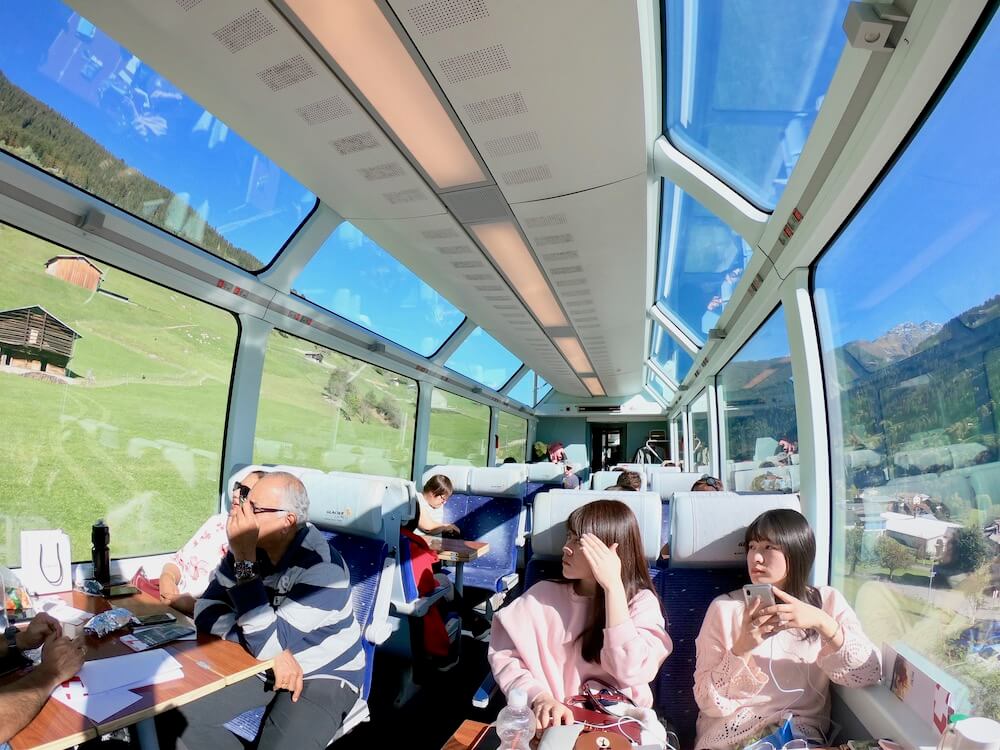 You'll travel across 291 bridges and through 91 tunnels – with boundless scenic views in between. A highlight of the journey would be the part where the train passes over the Landwasser viaduct.
Read: Getting a Bird's-eye View of the Landwasser Viaduct in Filisur, Switzerland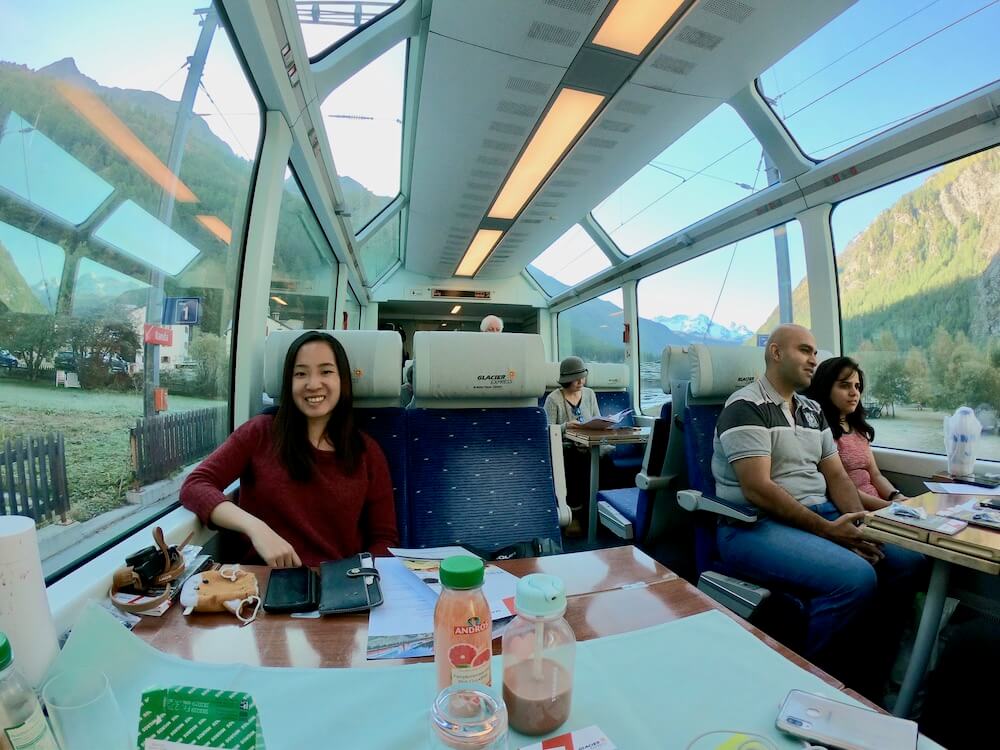 I was lucky to have an empty seat next to me, which allowed me to stretch out during the journey. Take the chance to get to know your seat companions; after all, you will be travelling with them throughout the ~8-hour journey. This also came in handy for a solo traveller like me, for most people would be more than willing to help you snap some photos!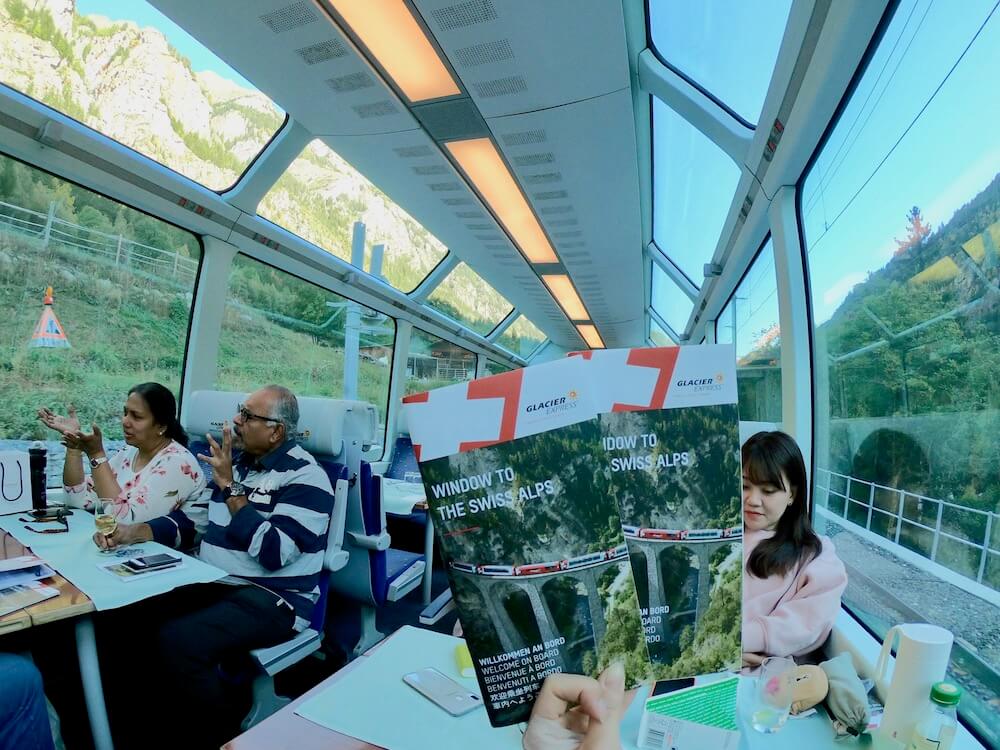 Offering a 'Window to the Alps', the Glacier Express journey will take you through the cantons of Valais, Uri and Graubunden. In this case, the journey is truly an experience in itself.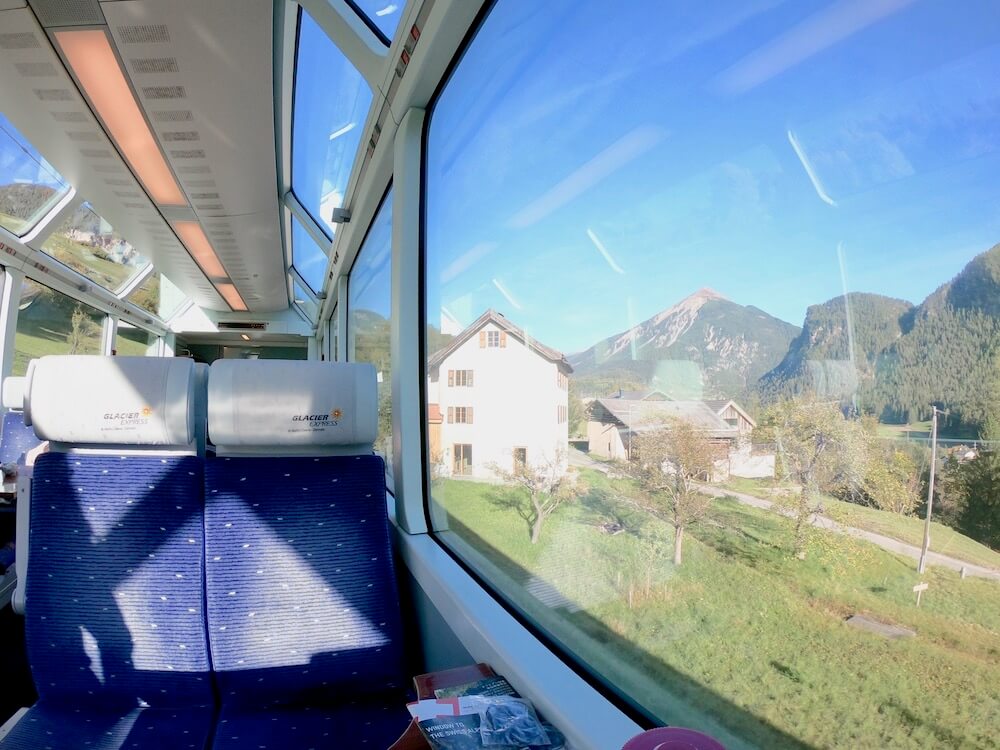 Feel free to move around during the journey; if you didn't manage to grab a window seat, you can take advantage of the empty seats to take a few pictures. There will be people hopping on and off intermittently at each stop, so don't hog the seat for too long!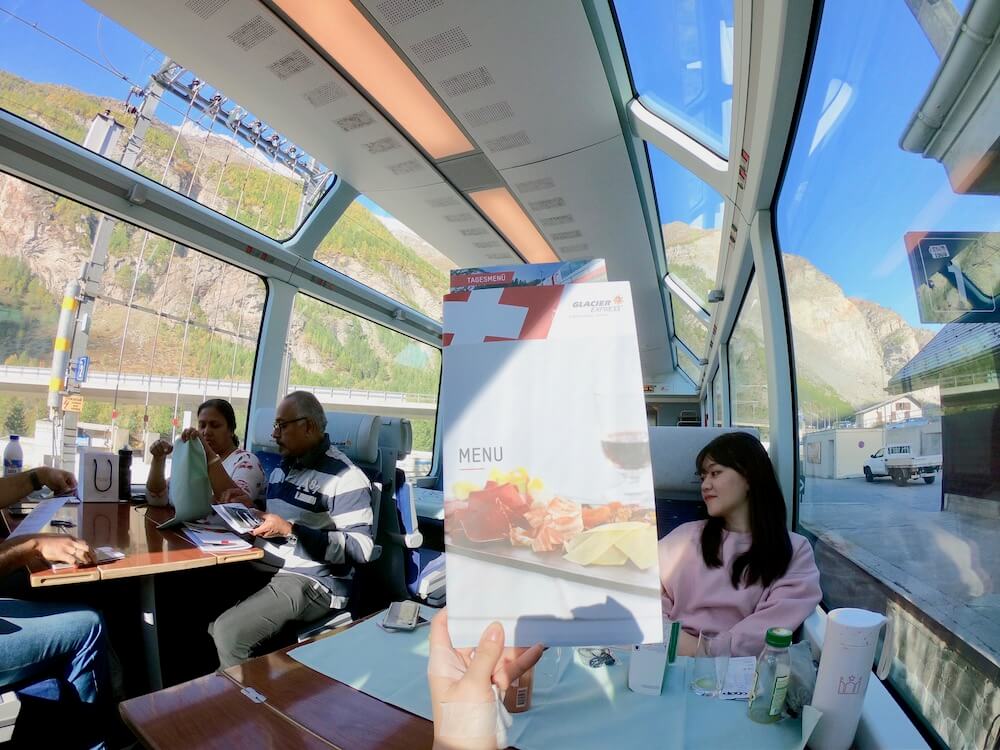 You can choose to pre-book a meal online; or, if you have a change of heart on the train journey, book your meal directly with the waiter onboard.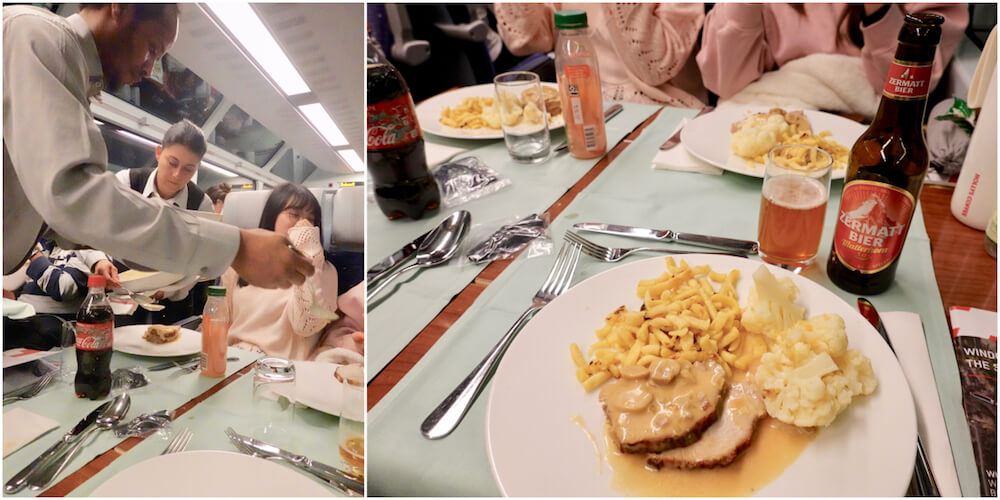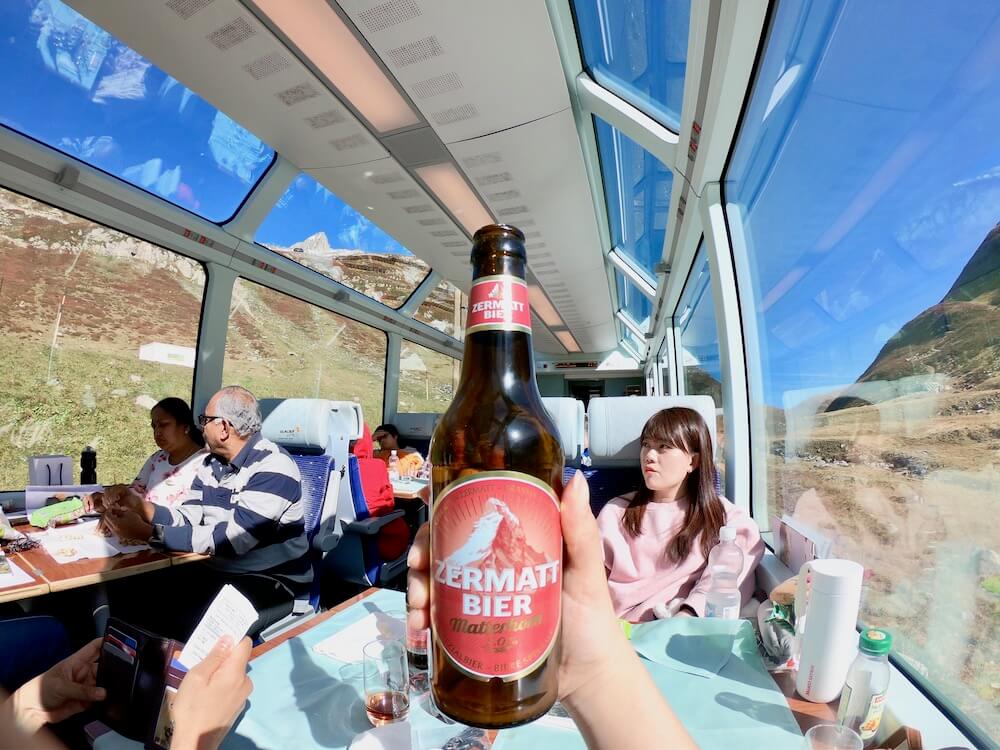 I decided to treat myself to a two-course meal, which cost me around CHF36 (~SGD52). I also added on a beer, which cost around CHF5 (~SGD7). The waiters will come around to serve each traveller individually at their seat.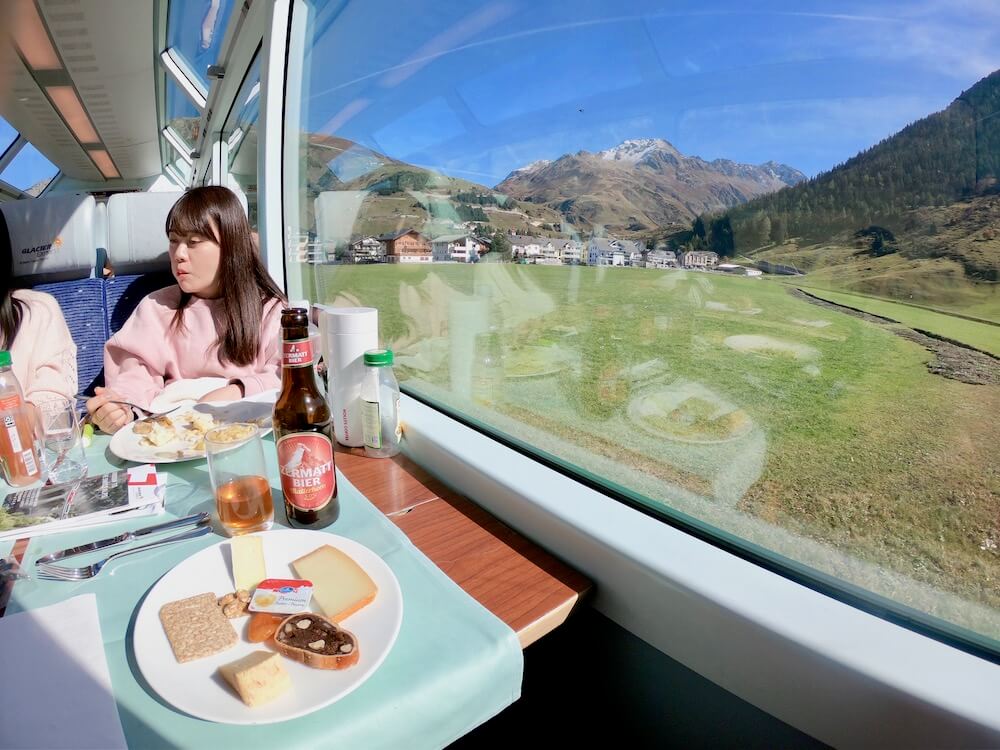 Take your time to savour your meal; this is luxury at its best. And indeed, before I knew it, the train was rolling into its final stop of St Moritz. I was pleasantly surprised at how fast the 8 hours seemed to fly by. I truly enjoyed every minute of it.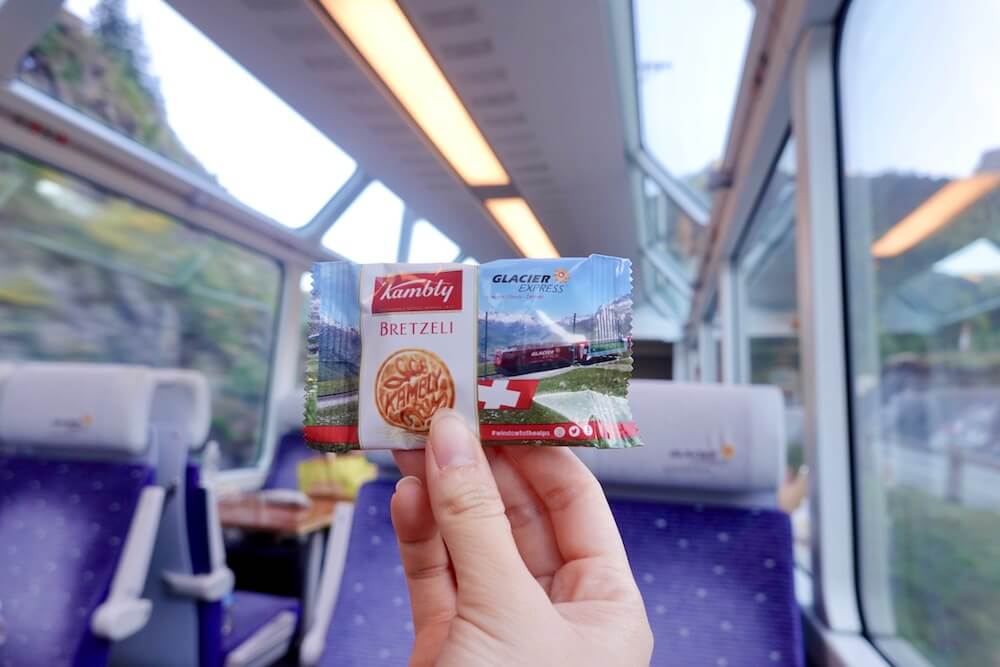 Before we disembarked, the conductor handed out these little Swiss biscuits to each of the remaining travellers. What a nice touch to end the journey!
Timings
There are only 2 departures from Zermatt to St Moritz:
8.52am Zermatt - 4.38pm St Moritz
9.52am Zermatt - 5.38pm St Moritz
You can check the timetable and make seat reservations on the Glacier Express website.
Pricing
A 2nd-, 1st- and Excellence Class ticket costs CHF152 (~SGD217), CHF268 (~SGD383) and CHF688 (~SGD983) for the stretch between Zermatt and St Moritz. Do note that you have to book the entire Zermatt-St Moritz journey for Excellence Class; for 1st and 2nd Class, however, you have the option to book certain stretches instead of the whole route.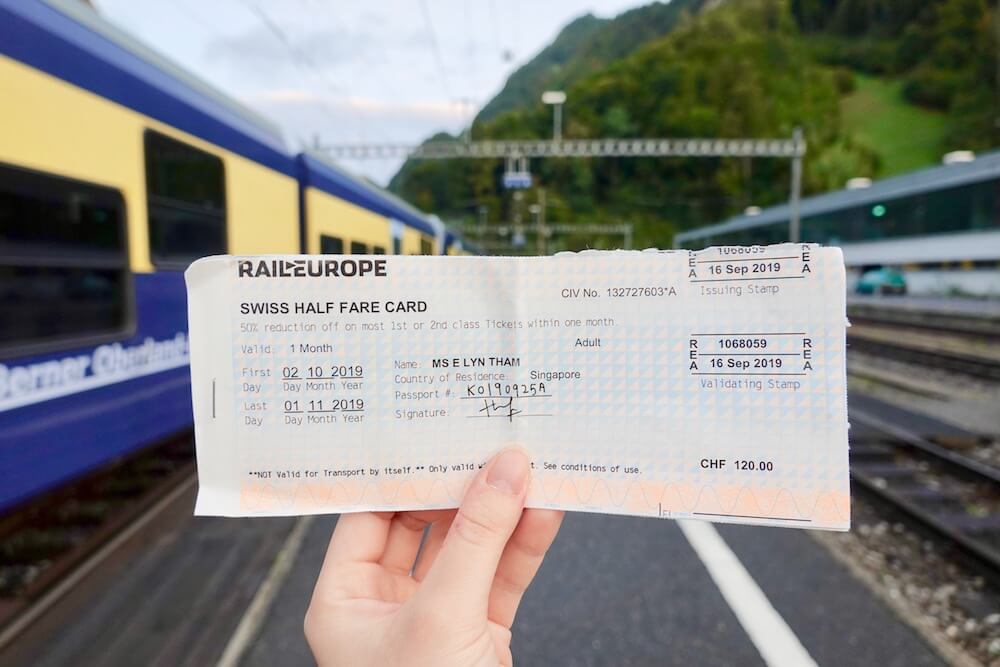 This does seem very pricey; however, there are a few tricks to get discounted tickets! It might be worth investing in the Swiss Travel Pass, for example, which wholly includes the entire Glacier Express Route. You read that right – you can ride the Glacier Express (almost) for free with the Swiss Travel Pass! All you have to do is fork out CHF43 (~SGD61) for a mandatory seat reservation fee. In a nutshell, the Swiss Travel Pass will give you unlimited train travel, free or discounted mountain excursions and more across a certain consecutive period.
However, the Swiss Travel Pass can be rather pricey – it can cost between CHF232-369 (~SGD331-527), CHF281-447 (~SGD401-638), CHF418-663 (~SGD597-947), CHF513-810 (~SGD733-1157) for a 3-day, 4-day, 8-day or 15-day duration respectively, depending on whether you pick a 1st or 2nd class seat category. Keeping in mind the steep transport prices in Switzerland, this might work out well for you despite the initial investment. The only thing is that you'll be restrained by the specific durations, which can only be used in consecutive blocks.
Read: Swiss Travel Pass VS. Half-Fare Card – Which Should You Get?
I chose to get the Half-Fare Card, which will get me 50% off all train rides, as well as discounted mountain excursions. The Half-Fare Card is valid for 30 days and costs a less daunting CHF120 (~SGD171). 

Another trick to take advantage of would be the Super-Saver tickets – these are released in limited amounts for each train journey and shave a significant amount off the original fare. These are marked with a black % earmark on the SBB website. 
You can also choose to get a Saver Day Pass for the stretch between Zermatt and St Moritz – I chanced upon this option by accident and it saved me a ton of money! For example, I only paid CHF49 (~SGD70) for the Zermatt to St Moritz route. Add that to the seat reservation fee of CHF43 (~SGD61) and my Glacier Express ticket only cost me CHF92 (~SGD131) for a 2nd Class seat. Contrast that with CHF152 (~SGD217) for a usual 2nd Class ticket!
I was naturally a little sceptical of this and emailed the SBB office to ensure that my ticket would be valid and to my surprise, it was! Nifty little travel savings hack, unlocked.
Read: Top Travel Tips for Travelling in Switzerland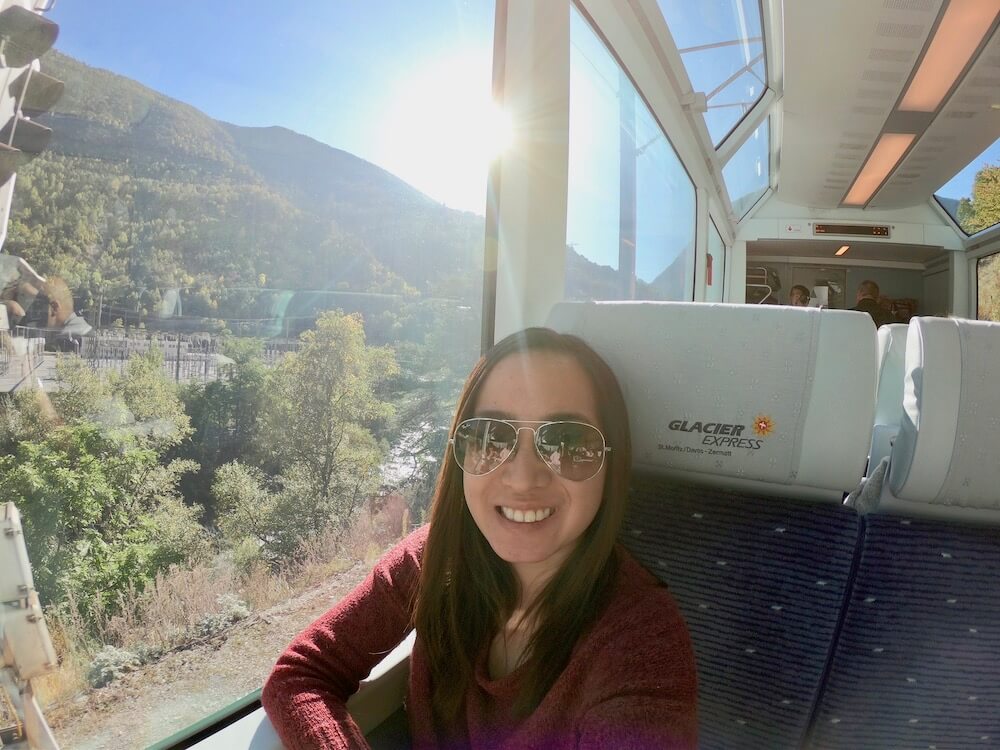 Known as the panoramic train journey to take in Switzerland, the Glacier Express is definitely one for the history books. If you can't get enough, there are other panoramic train rides available as well, such as the Bernina Express from St Moritz to Italy's Tirano; Luzern-Interlaken Express from Lucerne to Interlaken; GoldenPass Panoramic Line from Interlaken to Montreux; and many more!