← Back to portfolio
Things to Do in Yangon, Myanmar
Everywhere you look in Yangon, you'd be greeted by an assault of colours and sounds. The chaos can be alarming at first but, look closer and you'd discover a world where tradition and modernity collides.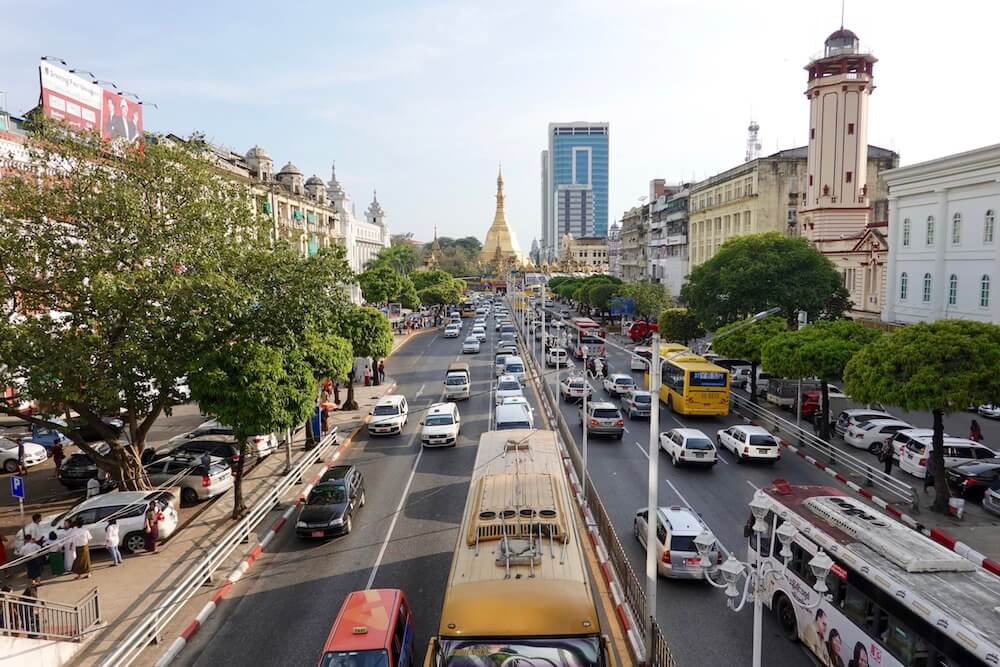 This culminates in an enchanting blend of crumbling buildings juxtaposed against pristine colonial architecture, which towers over a maze of street vendors peddling bowl after bowl of Mohinga (a dish comprising noodles in a curry-based soup) – all entrapped within a hazy heat that makes Yangon the frenetic city that it is today.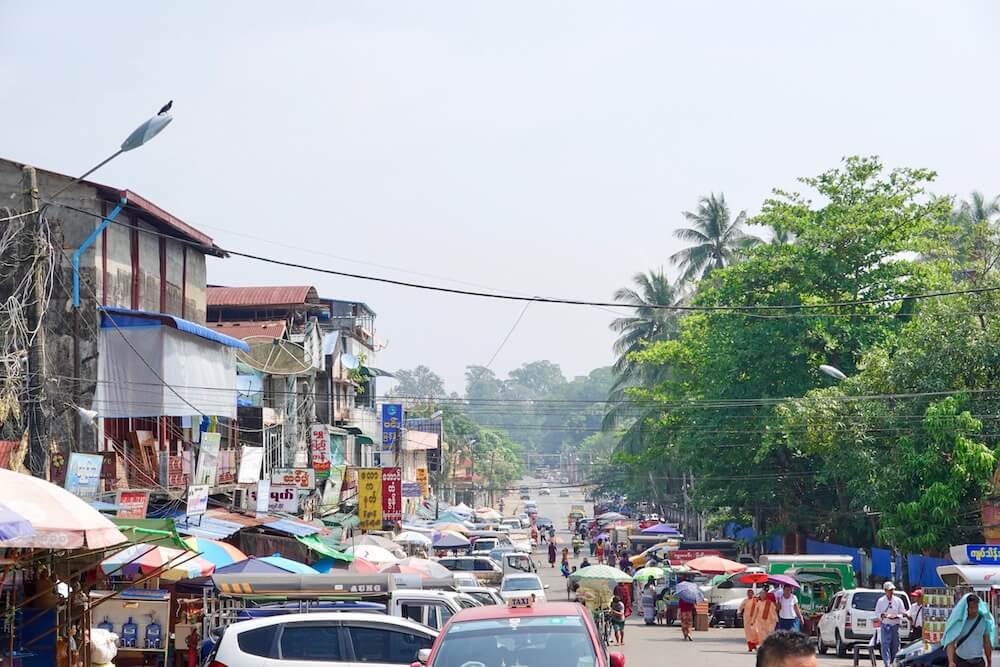 Bordering Thailand, Laos, China, India and Bangladesh, Yangon is Myanmar's largest city. Yet, not everything about Yangon is hustle and bustle; you'd find pockets of calm in multiple parks and sprawling green spaces, with the city generally quietening down after 10pm.
In fact, one of the first things you'd notice is the conspicuous lack of motorcycles on the roads – indeed, the use of motorcycles was banned in Yangon back in 2003! If anything, this makes the process of crossing roads a little easier, and a lot less nerve-wracking.
Here are 10 things to do in the city:
1. Visit the Shwedagon and Sule Pagodas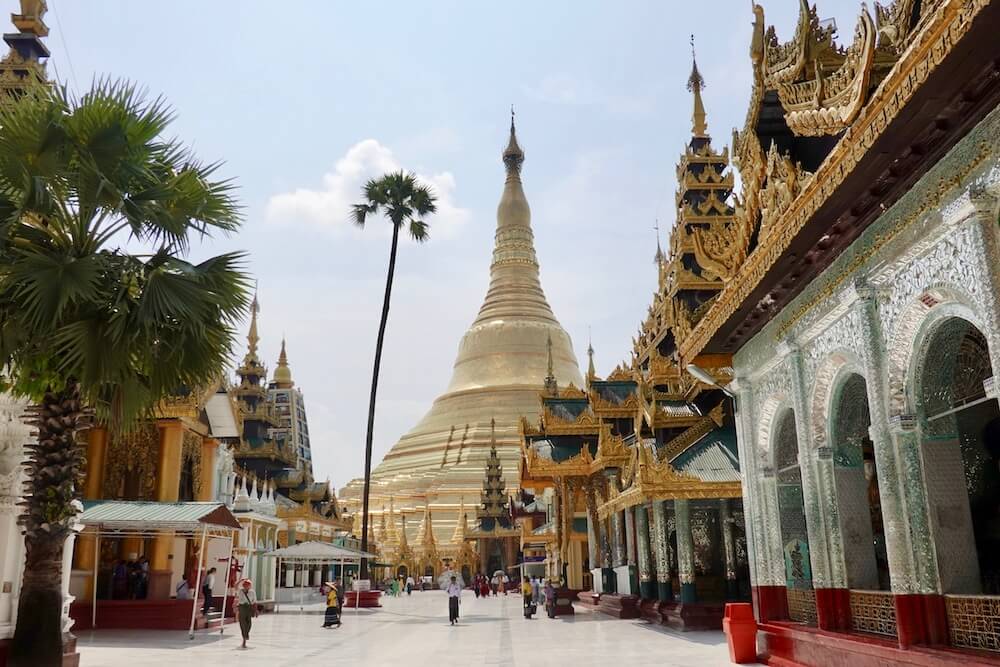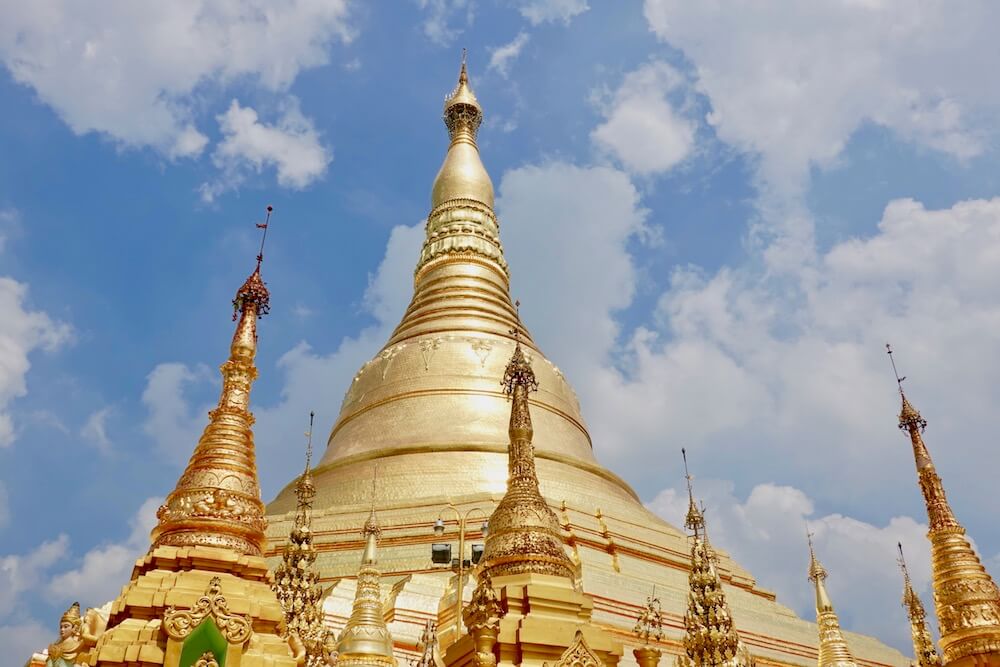 The Shwedagon Pagoda is arguably Yangon's most famous attraction. Feast your eyes on the 105-metre high stupa, which shimmers brightly in the sun. The stupa is entirely covered in gold and adorned with various precious stones such as diamonds.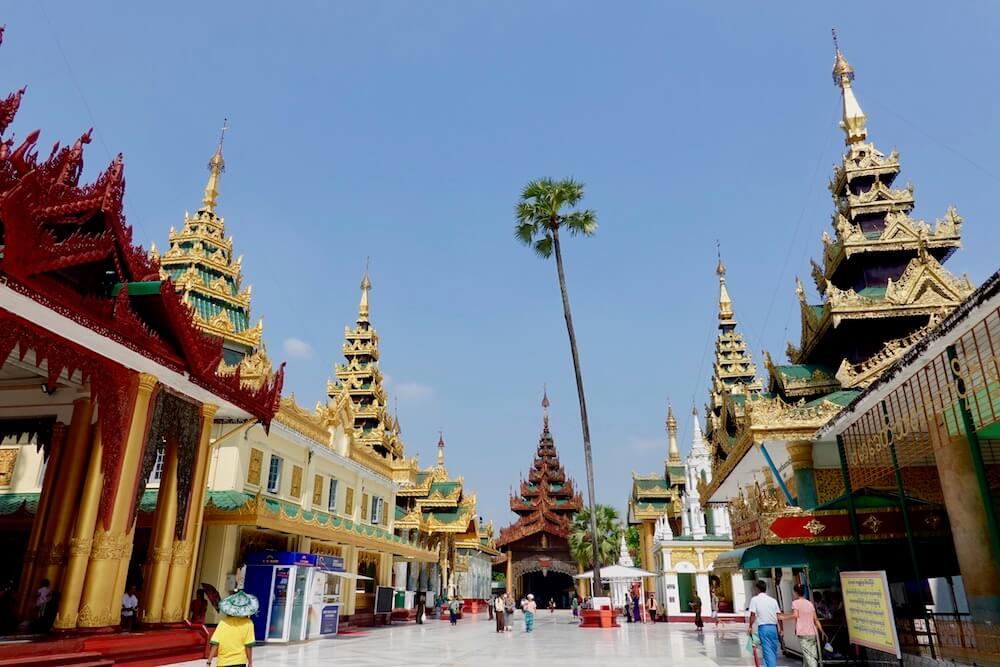 With a history of more than 2, 500 years, the pagoda is considered to be one of the most sacred sites for the Buddhist community in Myanmar – as it's reputed to contain various relics such as strands of Buddha's hair. Locals often come to pay their respects at this pagoda, performing a series of rituals according to the day that they were born.
Do dress appropriately; both men and women should have their shoulders and knees covered at all times. Do note that you'd also have to take off your shoes before entering – it's hence advisable to avoid visiting at mid-day as the ground might be too hot to tread on.
A good time to visit is approximately an hour before sunset, where you'll also be able to see the illumination of the pagoda once night falls.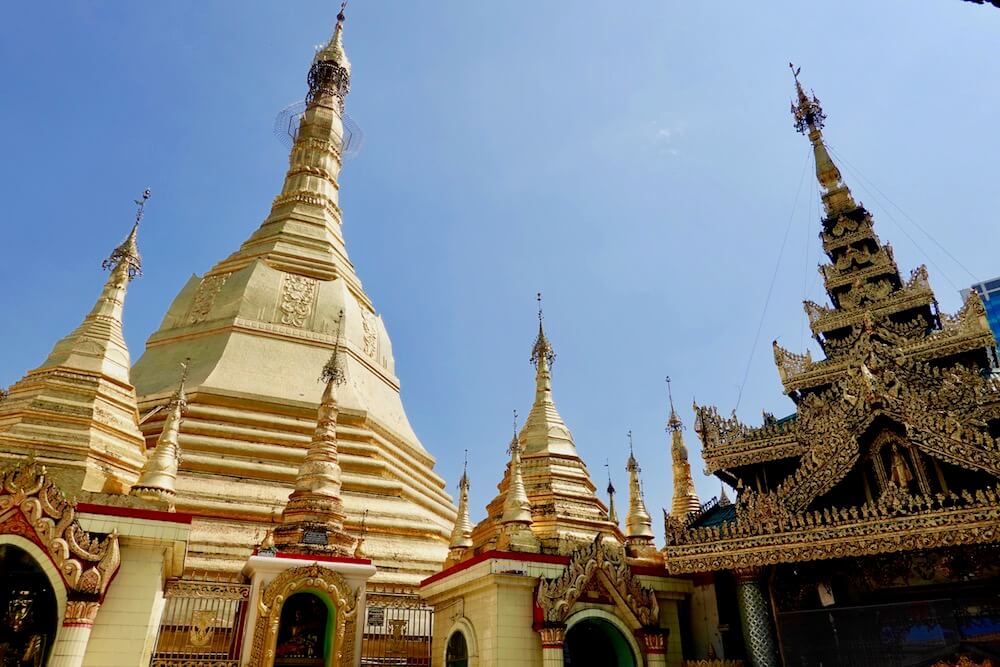 Sule Pagoda, on the other hand, is smaller but no less glorious. The Pagoda contains a 46-metre high stupa, which has an octagon shape.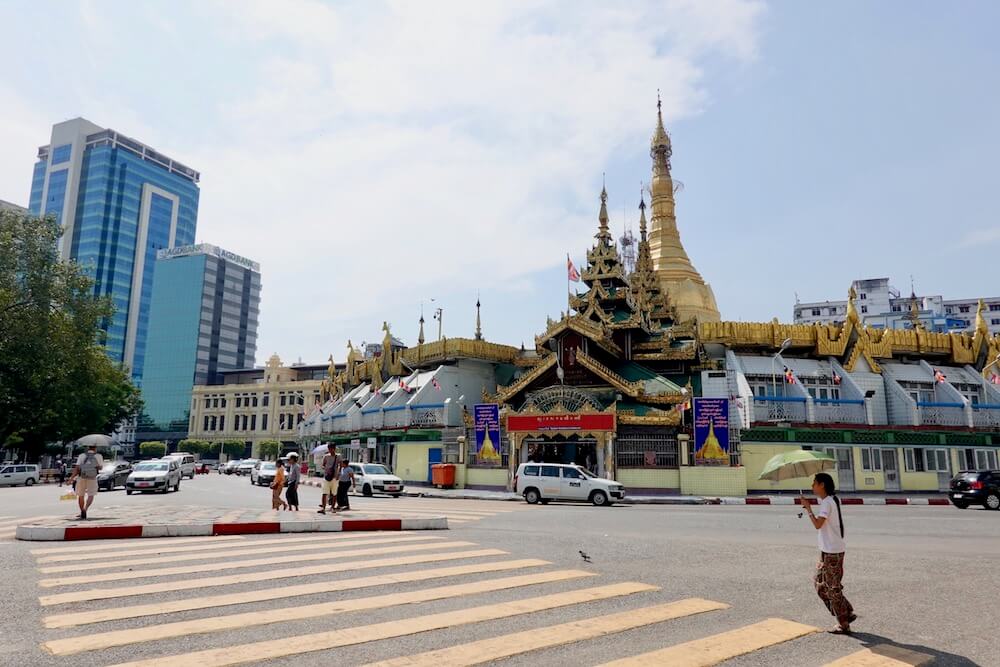 What's unique about Sule Pagoda is its location – located right smack in the middle of downtown, the Sule Pagoda functions as a roundabout of sorts.
2. Trawl the Bogyoke Aung San Market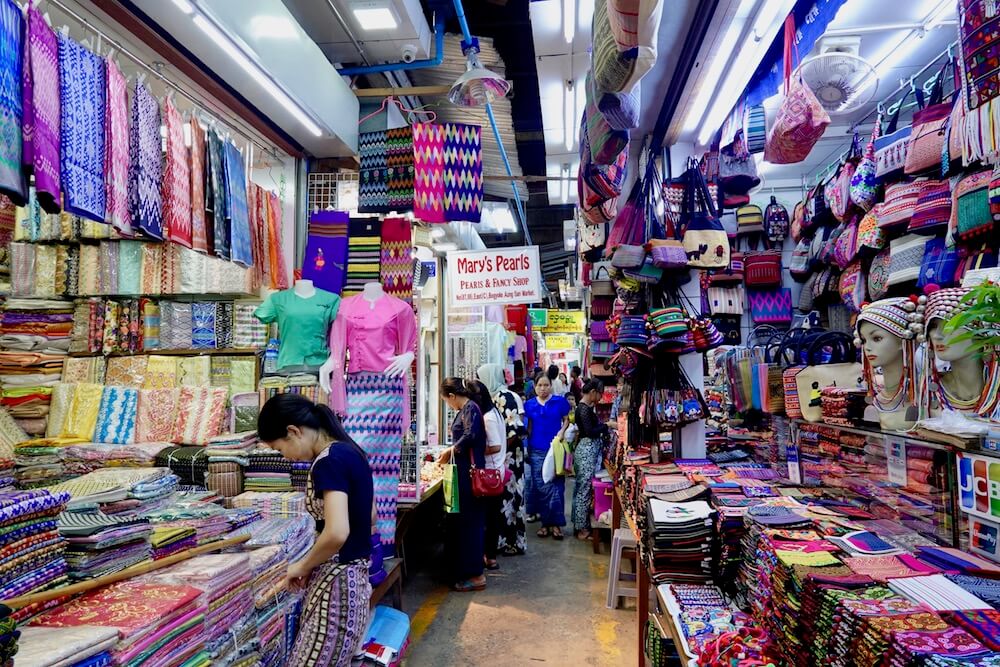 Built in 1926, the Bogyoke Aung San Market is home to an eclectic range of shops selling handicrafts, paintings, textiles as well as a wide array of longyis, which is a traditional skirt worn by both men and women.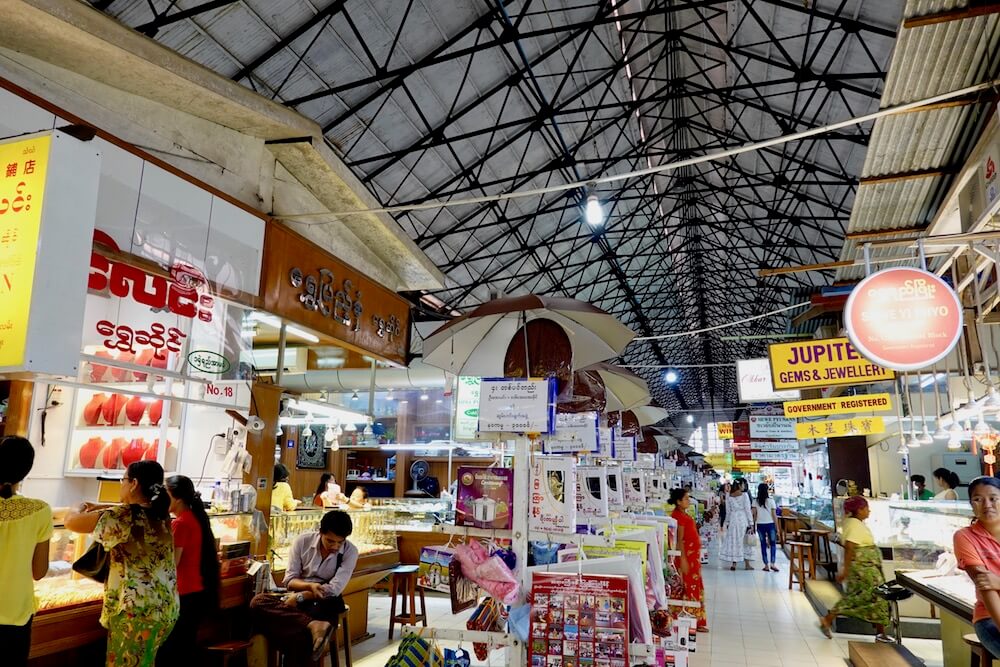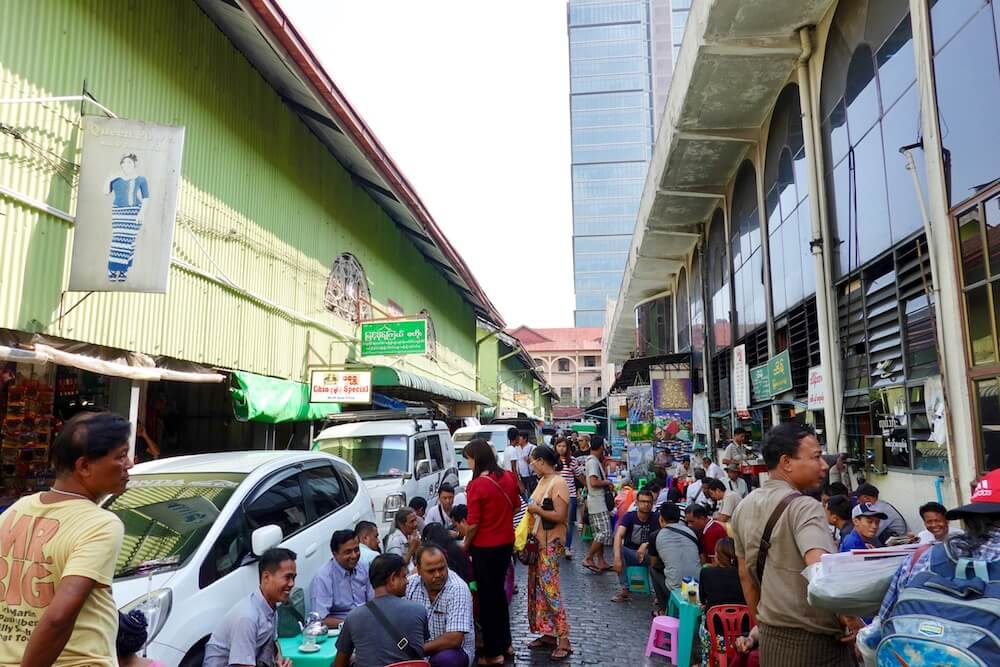 The market is separated into separate indoor and outdoor sections.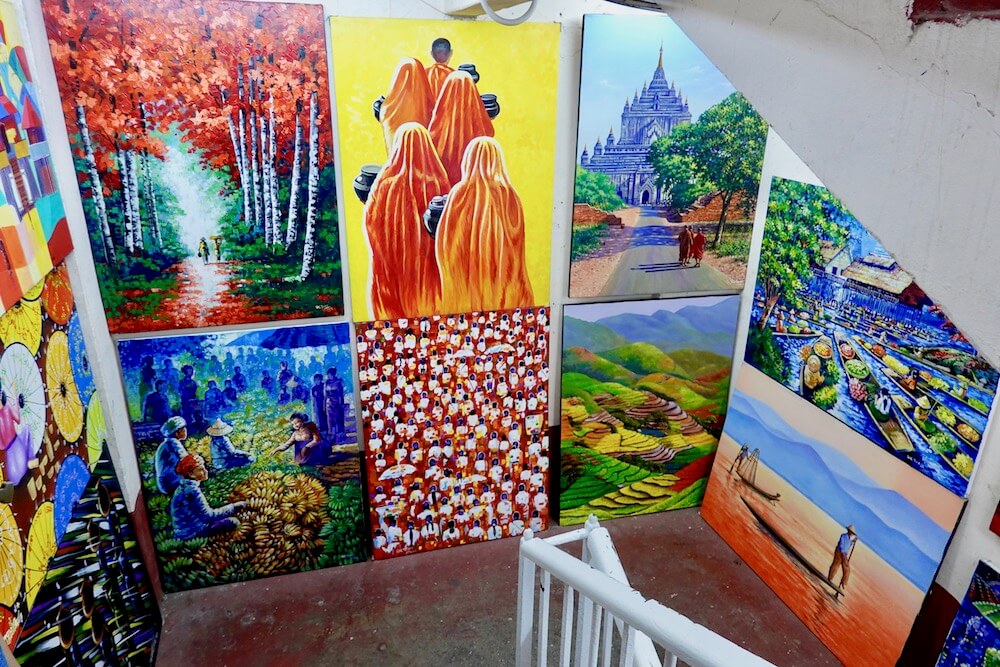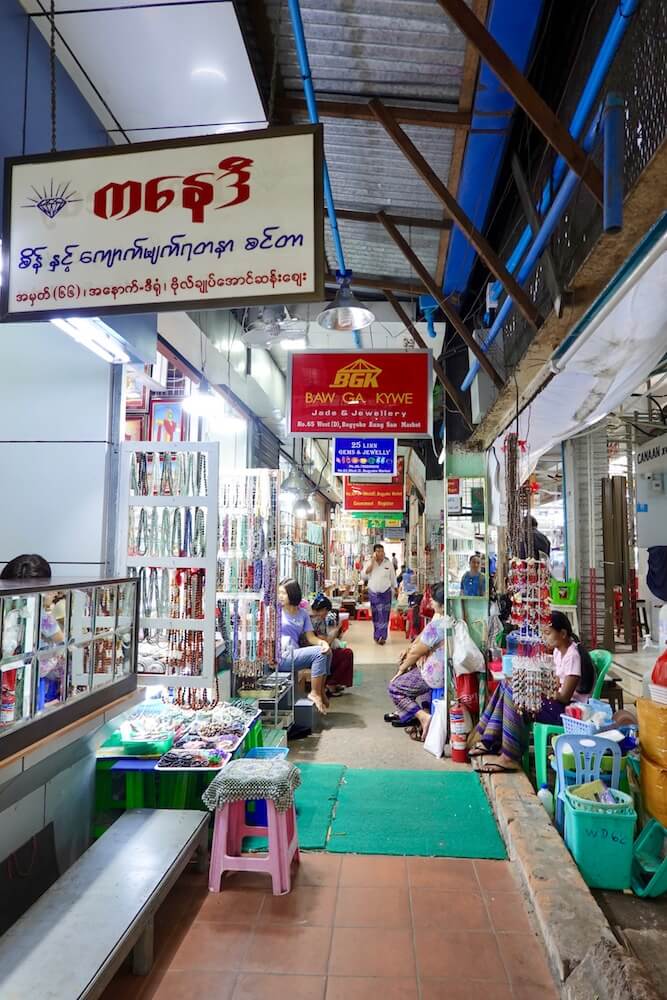 There are over 2, 000 shops here so you never know what you might find. However, do note that the prices at this market do tend to be a little on the higher side. You can try your luck at haggling but nothing is guaranteed!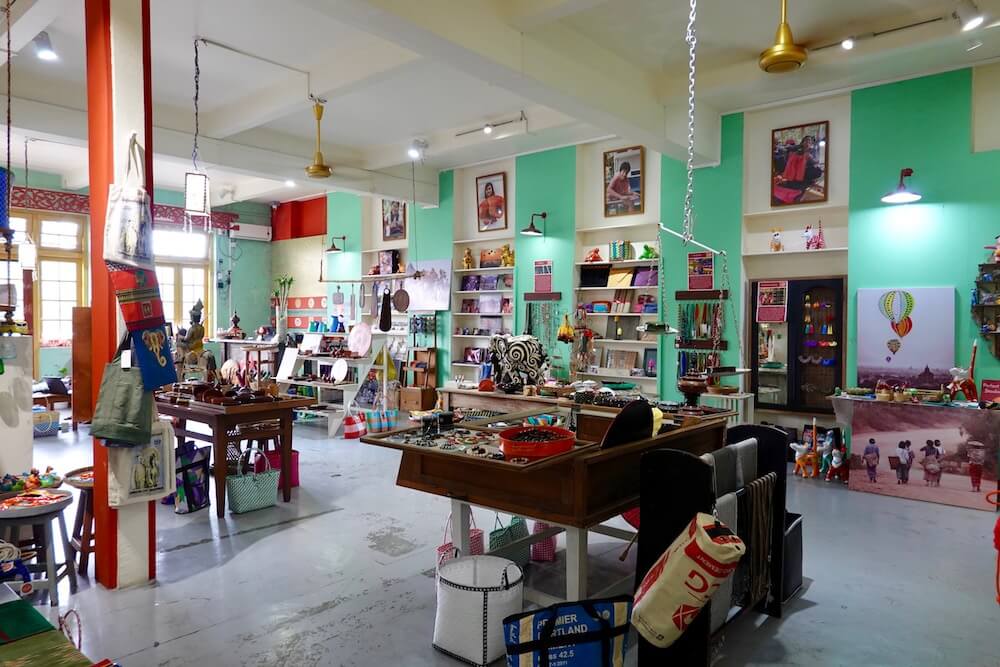 Alternatively, you can snag a souvenir or two at Pomelo, a not-for-profit social enterprise run by volunteers. Be spoilt for choice by their wide range of locally-made trinkets, such as candle holders, soap, handicrafts and jewellery. You'll also find plenty of coffee beans, tea leaves and honey.
In addition, every purchase contributes to driving social and economic change for some of Myanmar's marginalised communities – so the proceeds from your shopping will be going towards a good cause!
Address: 89 Thein Pyu Road, Yangon (Rangoon) Myanmar
Opening hours: 9.30am to 9.30pm, daily
3. Ride on the Circular Train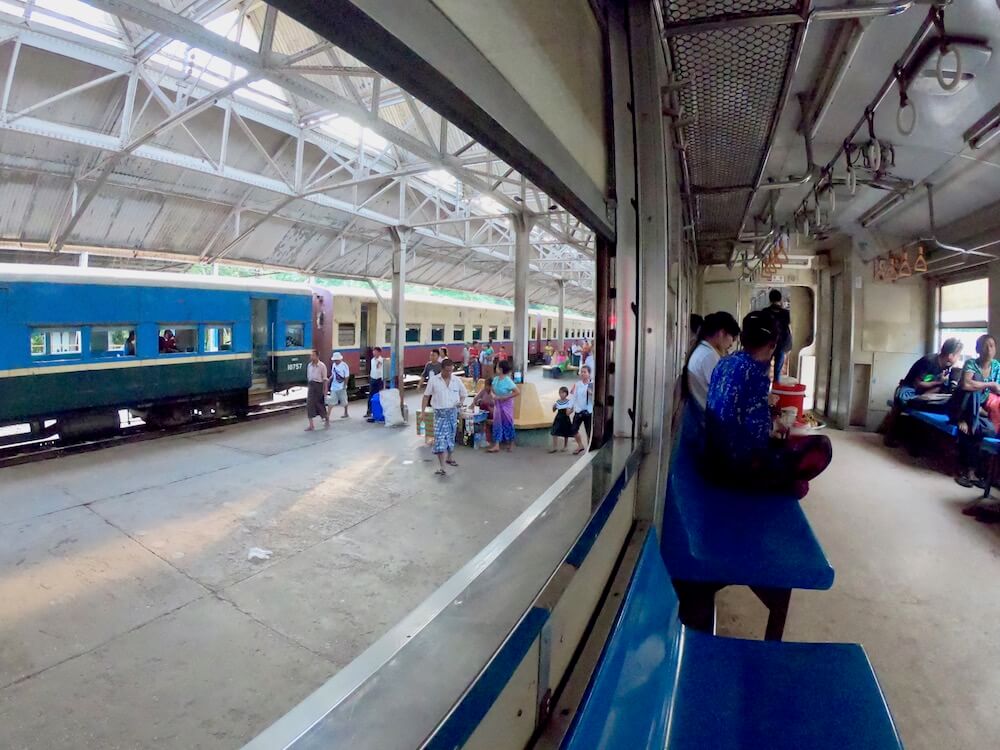 Immerse yourself in the whirlwind intricacies of local life onboard the Yangon Circular Train, comprising a 50-kilometre trip that takes 3 hours to complete. Built in 1954 by the British, the Circular Train journey offers one the opportunity to watch the locals go about their daily lives. The train will also bring you to the outskirts of Yangon, where you can see sprawling rice paddies and local villages.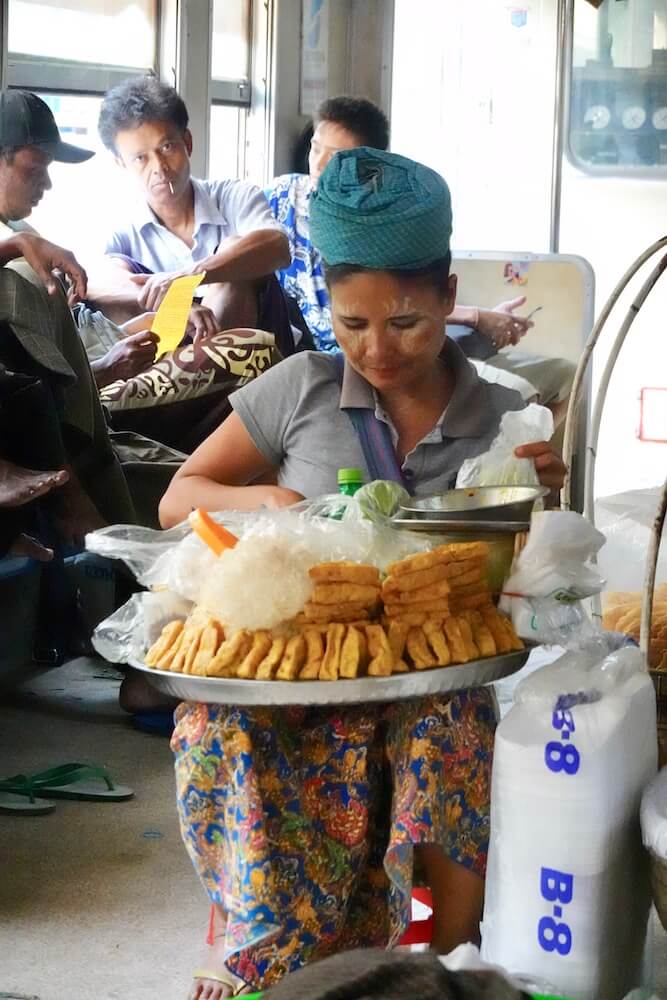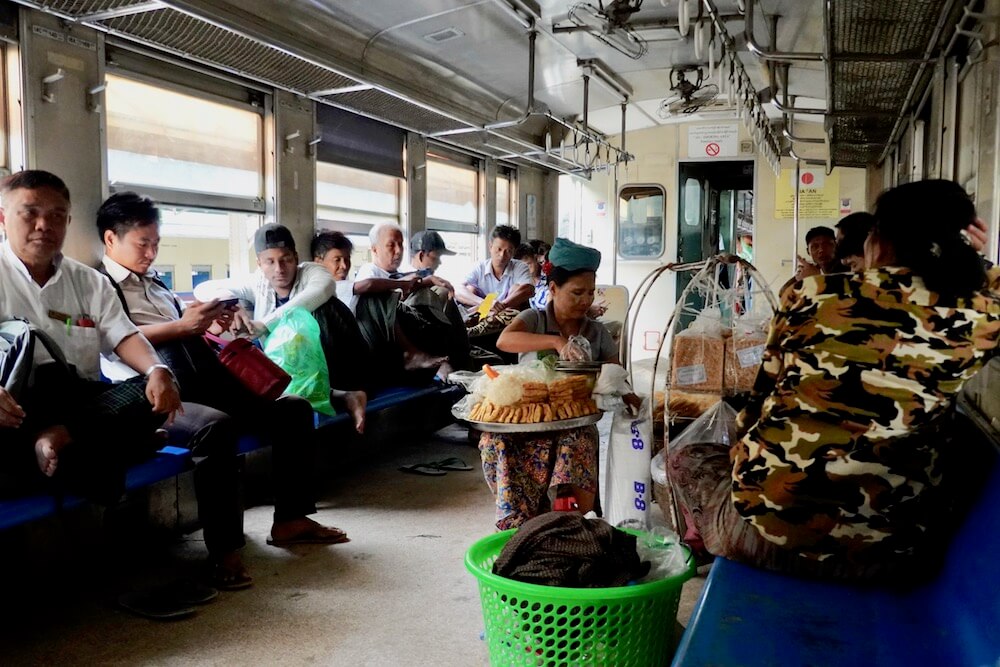 Don't be surprised to see a few food sellers walking up and down the train carriages whilst carrying trays laden with all sorts of foods. If you wish to buy something, simply wave them over and they'd set up shop in front of you to prepare your snack!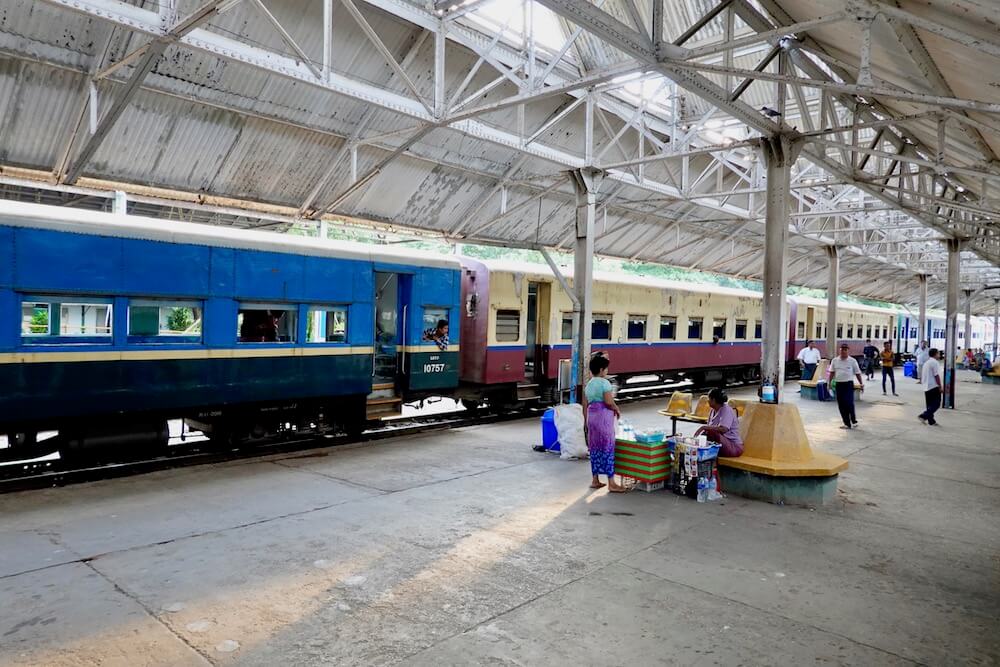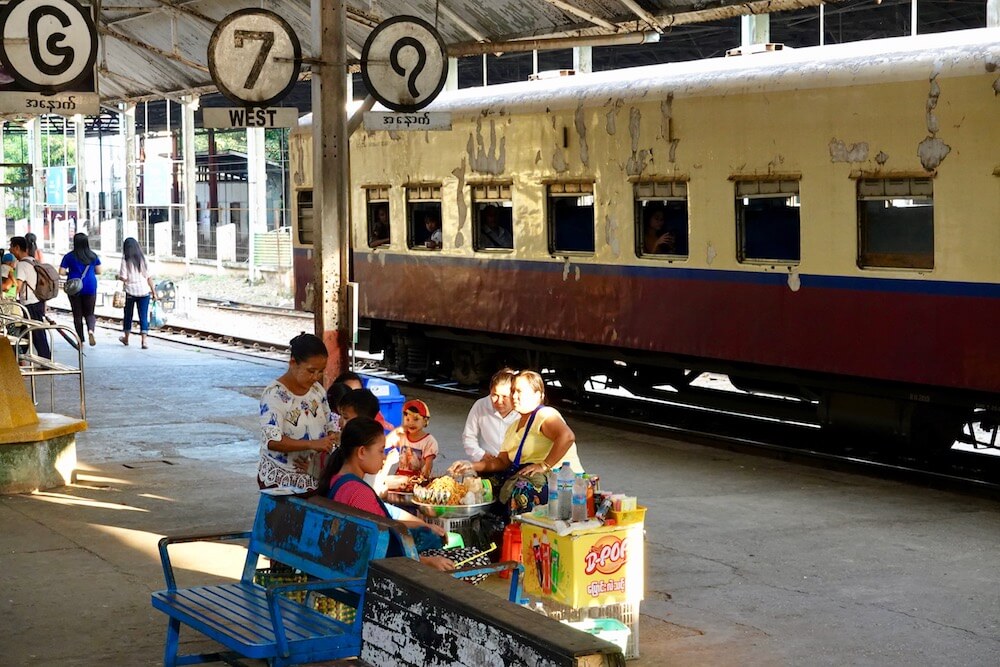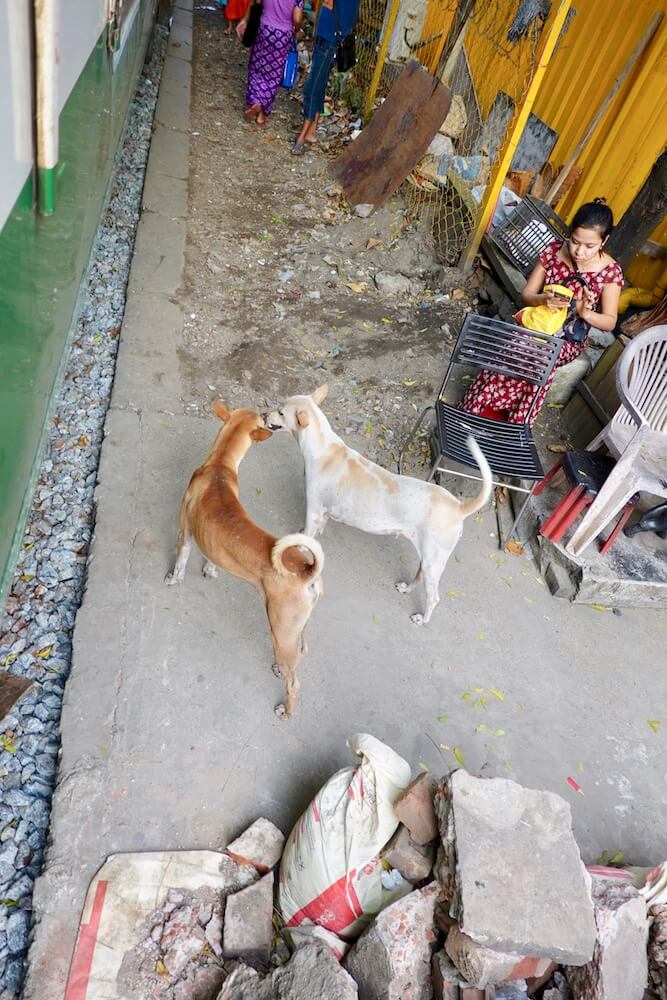 The train will stop at a total of 39 stations. There's plenty to see at each platform; watch as the locals stroll about in their colourful longyis or gather for a meal, or even catch a glimpse of a couple of stray dogs running gleefully alongside the train.
A particular highlight is Danyingon station, where the platform is home to a huge vegetable market.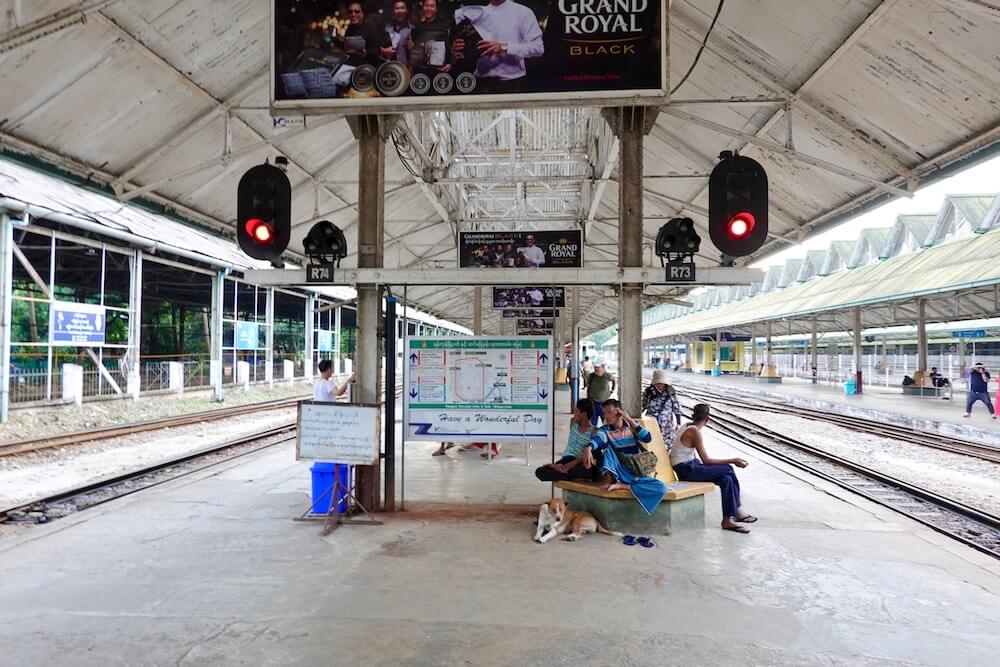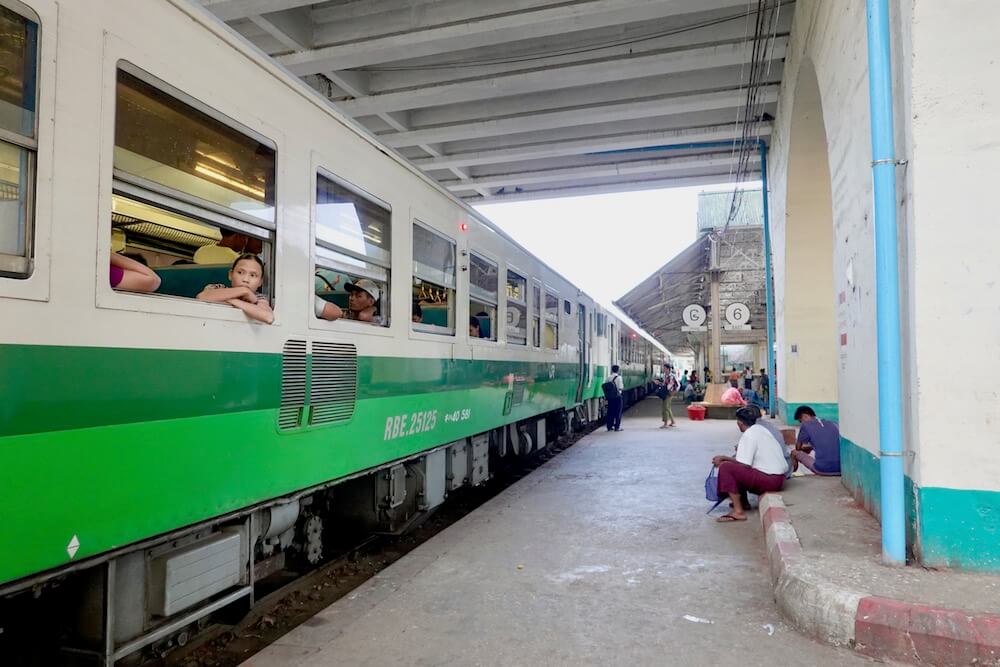 Tickets can be bought for approximately MMK300 (~SGD0.30). If you don't wish to do the entire 3-hour journey, you can also buy a ticket for just part of the journey. The train departs from the Yangon Central Railroad Station, which can be reached on foot from the Sule Pagoda.
4. Explore the YGN Walls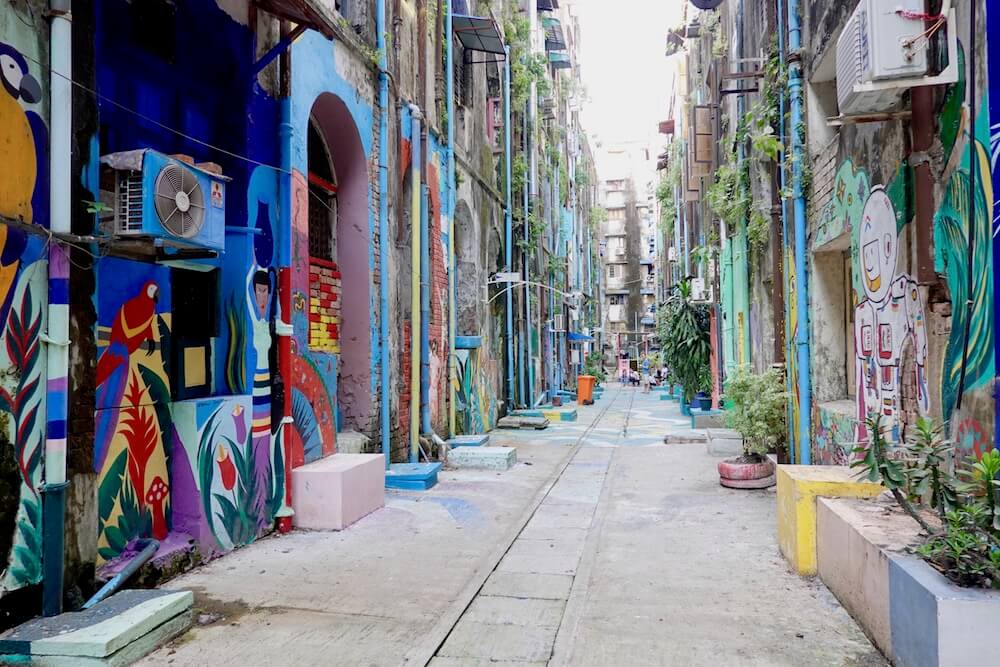 In a project led by French artist Delphine de Lorme, the YGN Walls is an ongoing art project that aims to breathe life into the once dilapidated service alleys that wind through Yangon.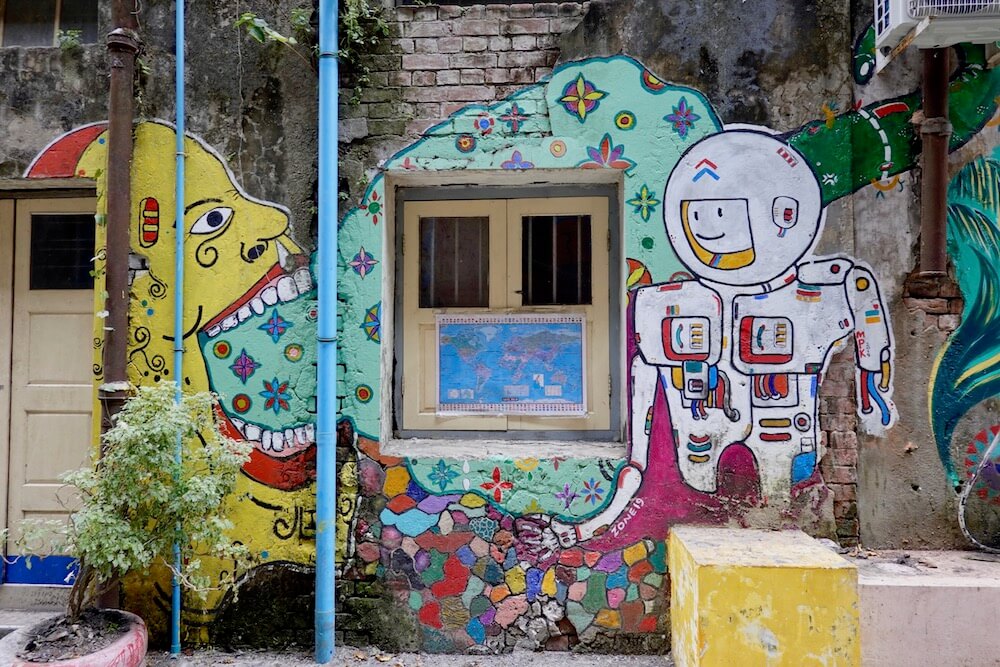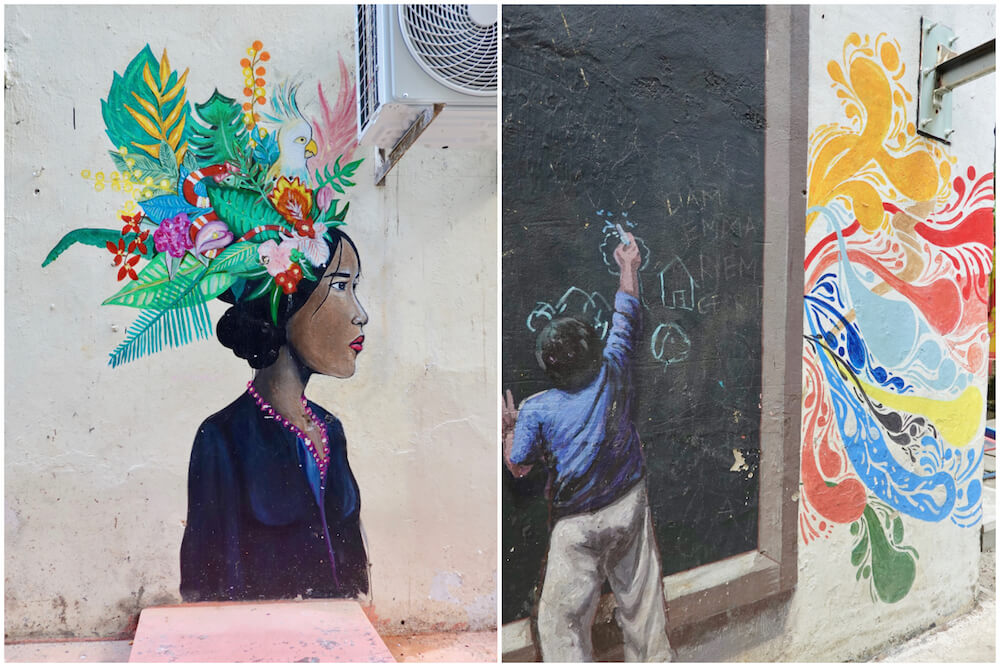 Found at the 35th alley near Bogyoke and the 41st upper block of Yangon, the YGN Walls add a vibrant pop of colour to the neighbourhood. It also transformed this space – that was once used as drop-off points for rubbish or supplies – into a safe place for the younger generation to congregate and play.
Take a stroll down the alley and see what you can find!
Read: Hunt Down Street Art at the YGN Walls in Yangon, Myanmar
5. Take a walk through Chinatown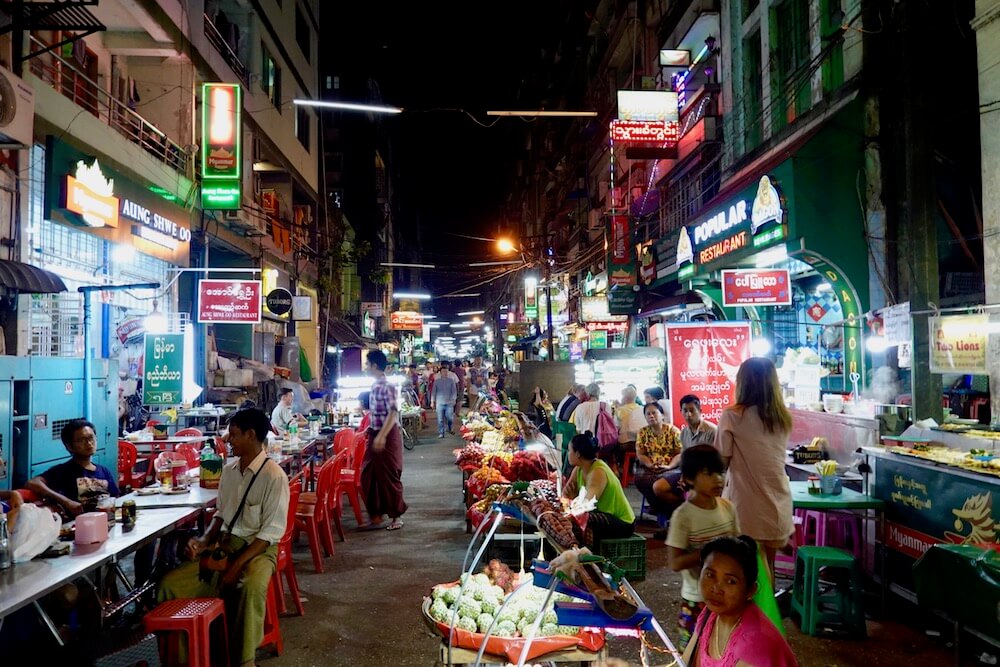 Once night falls, Chinatown is the place to see and be seen. Be assaulted by a barrage of tantalising smells once you enter the area, which is lined with multiple barbecue and street food options. This is also a popular drinking spot for the locals!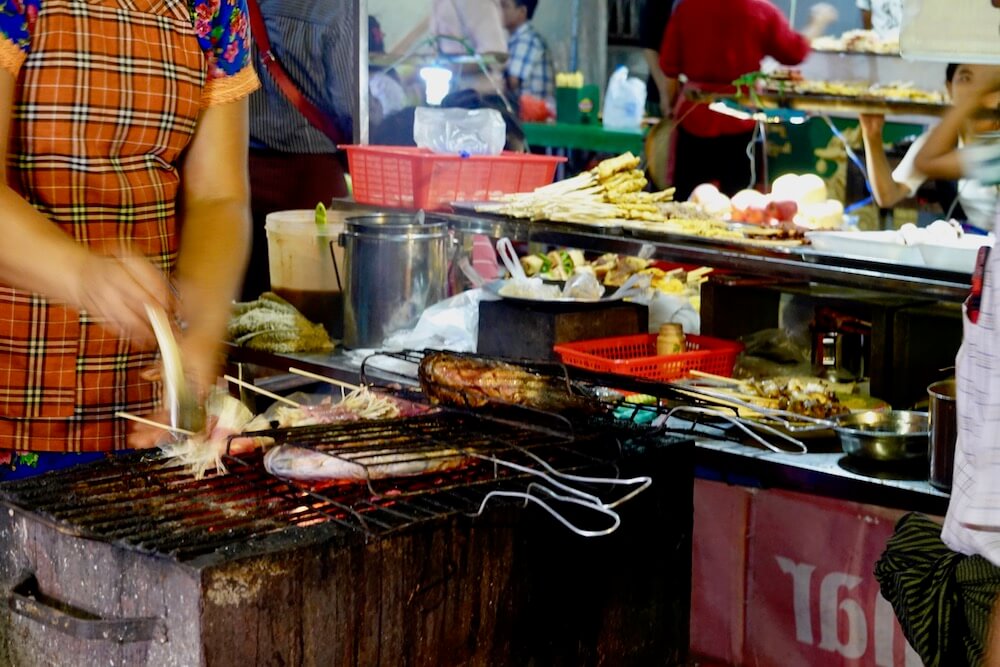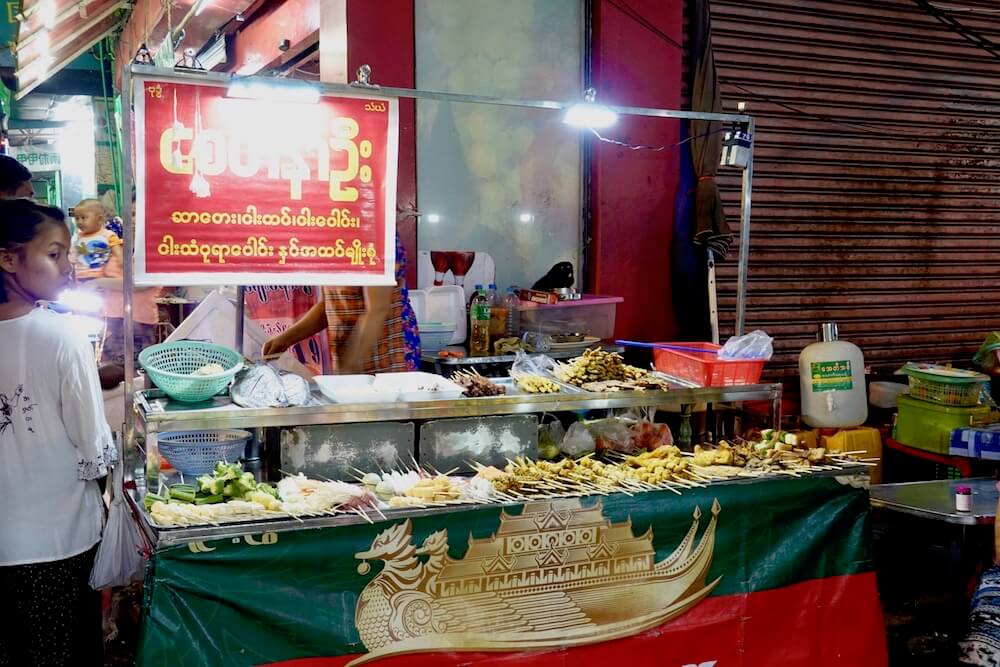 Chinatown stretches from 18th to 24th street, with 19th Street being known as 'Barbecue Street' due to its multiple outdoor barbecue food establishments.
6. Have a cocktail at the Strand Hotel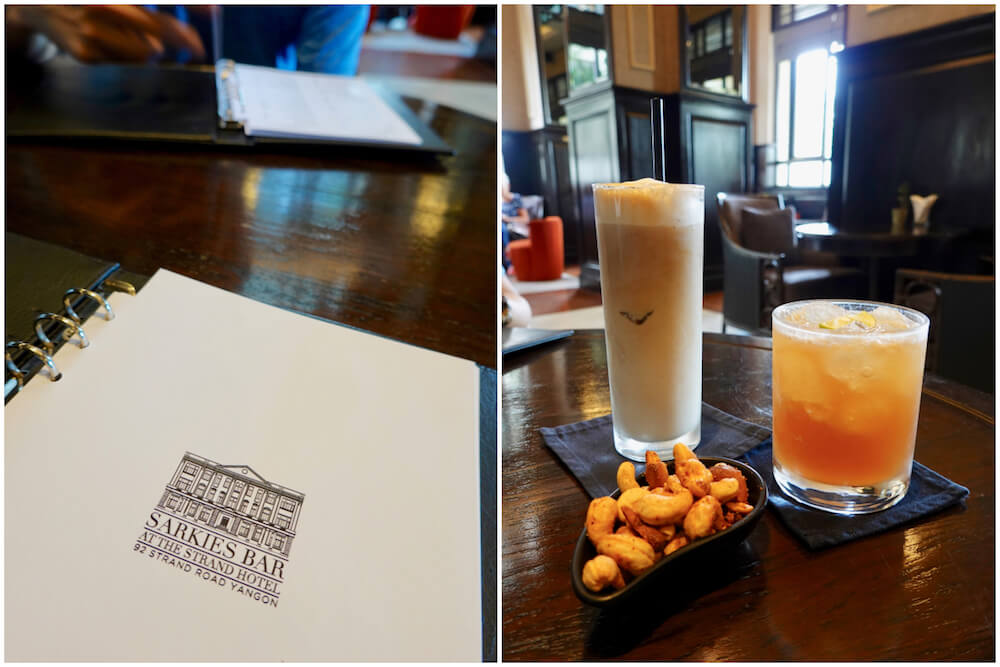 The Strand Hotel may very well be Yangon's most opulent hotel. Built in 1901, this colonial building is famous for its cocktails or traditional English afternoon tea. Head to the Sarkies Bar – named after the Sarkies Brothers who founded the hotel – to try a little of both.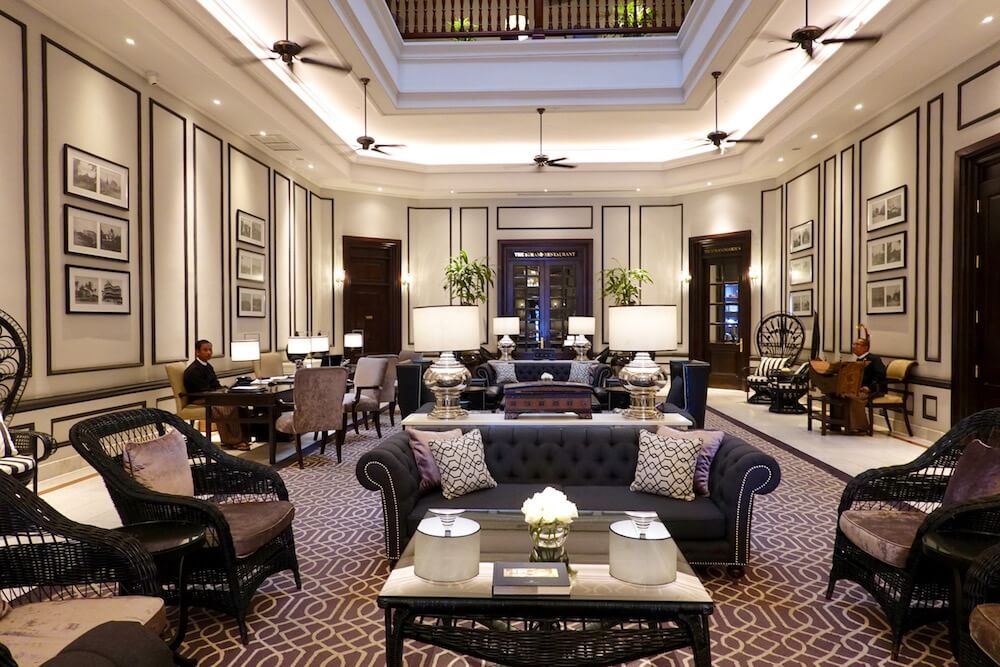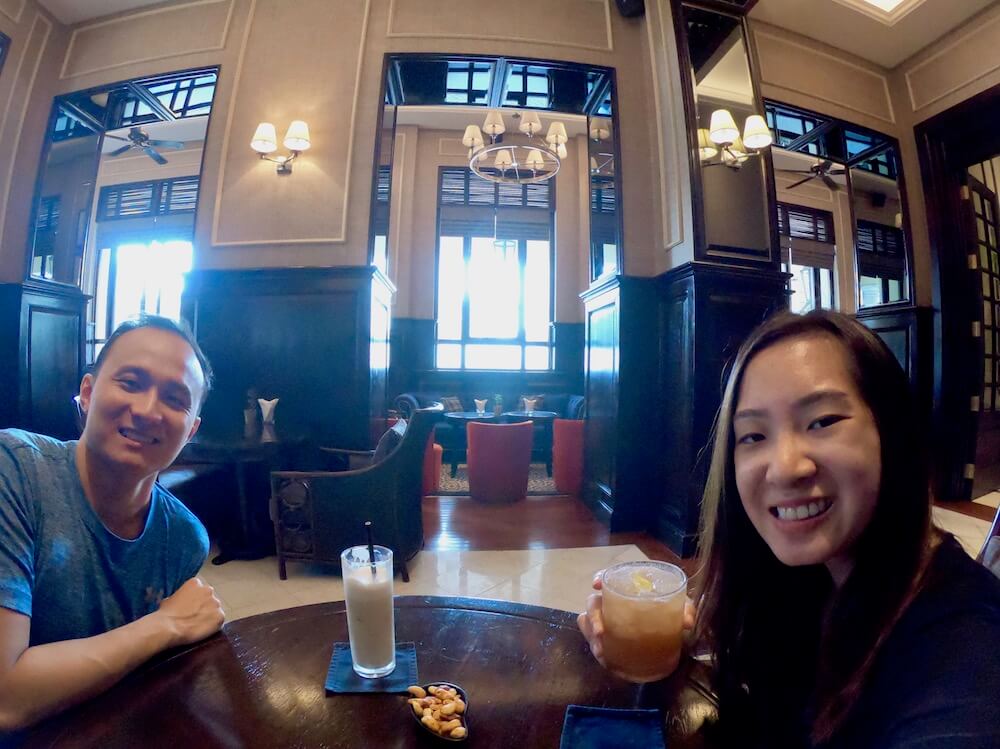 The hotel lobby and bar are airy and spacious, with distinct elements of colonial architecture.
Address: 92 Strand Road The Strand Yangon, Yangon (Rangoon) 11181 Myanmar
Opening hours: 10.30am to 11.30pm, daily
7. Check out the colonial architecture at Pansodan Street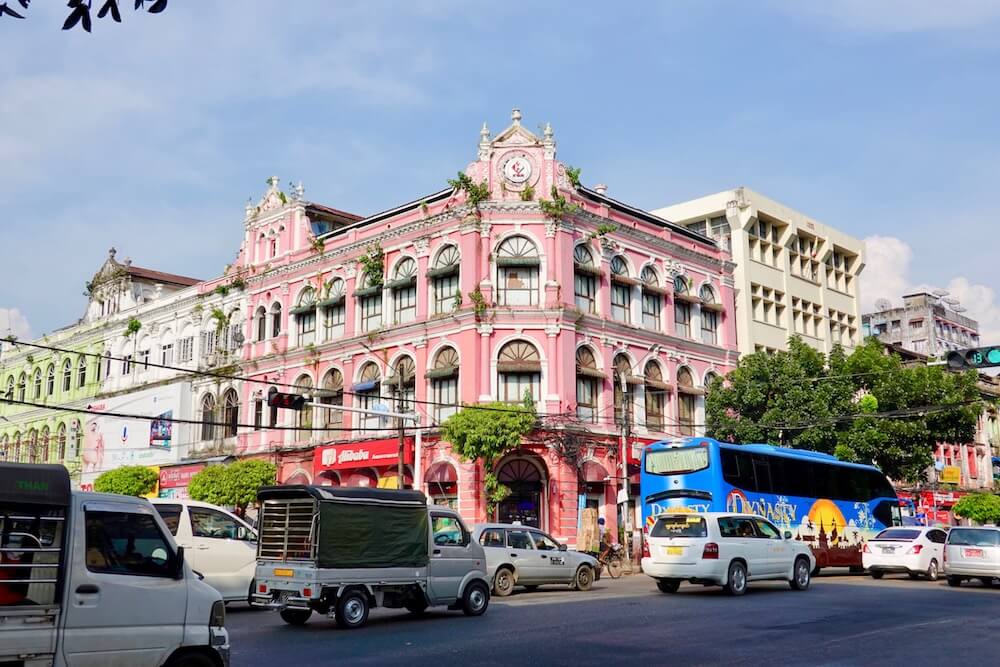 Yangon was previously colonised by the British – something which is evident from the numerous colonial buildings that dot the city.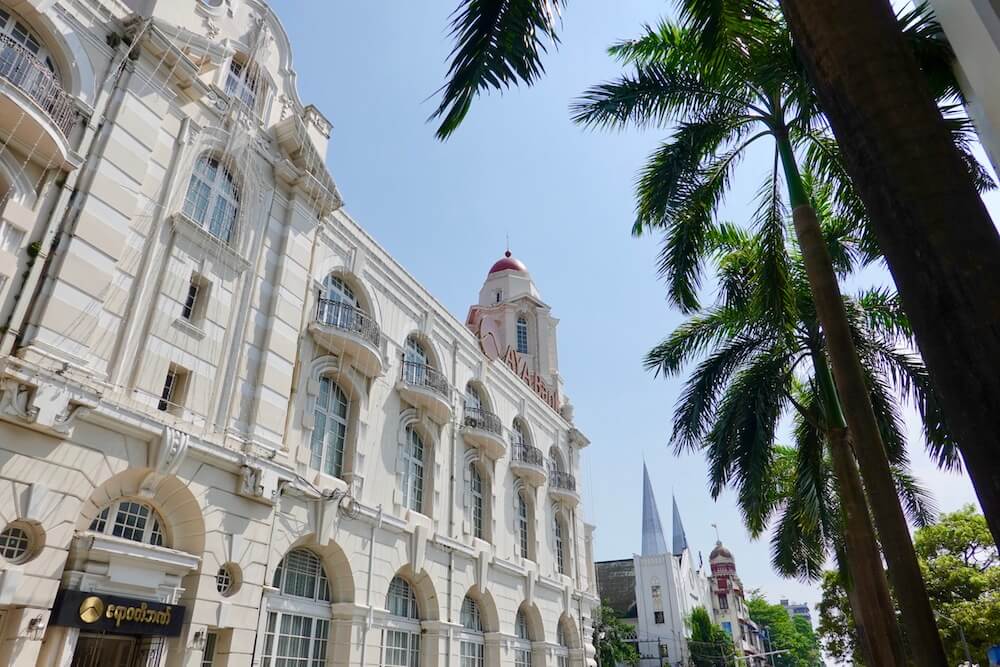 Most of them have been preserved by the government and can now be found along Pansodan Street.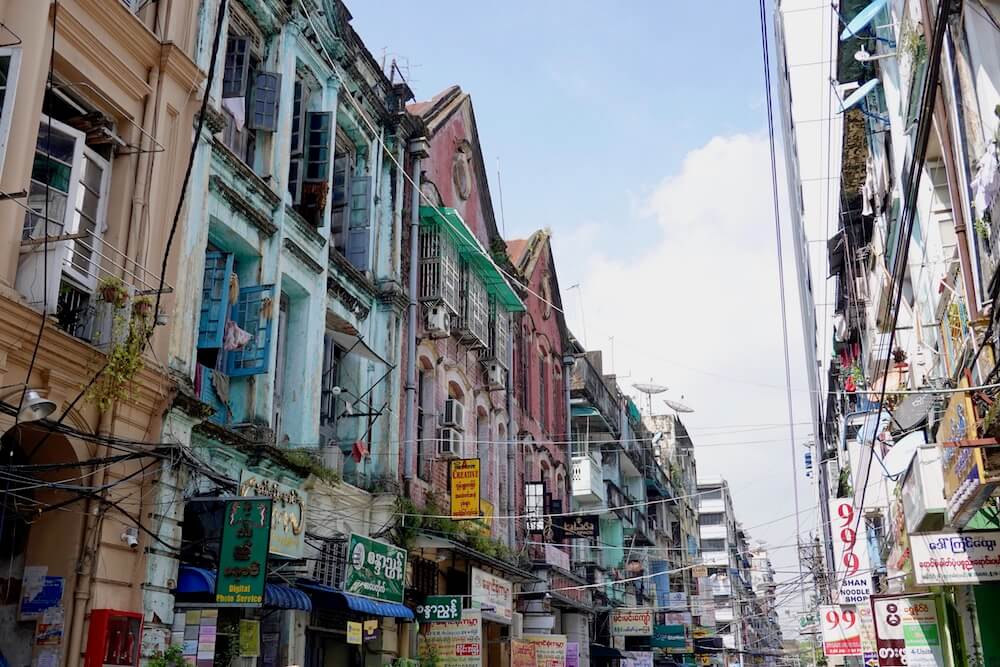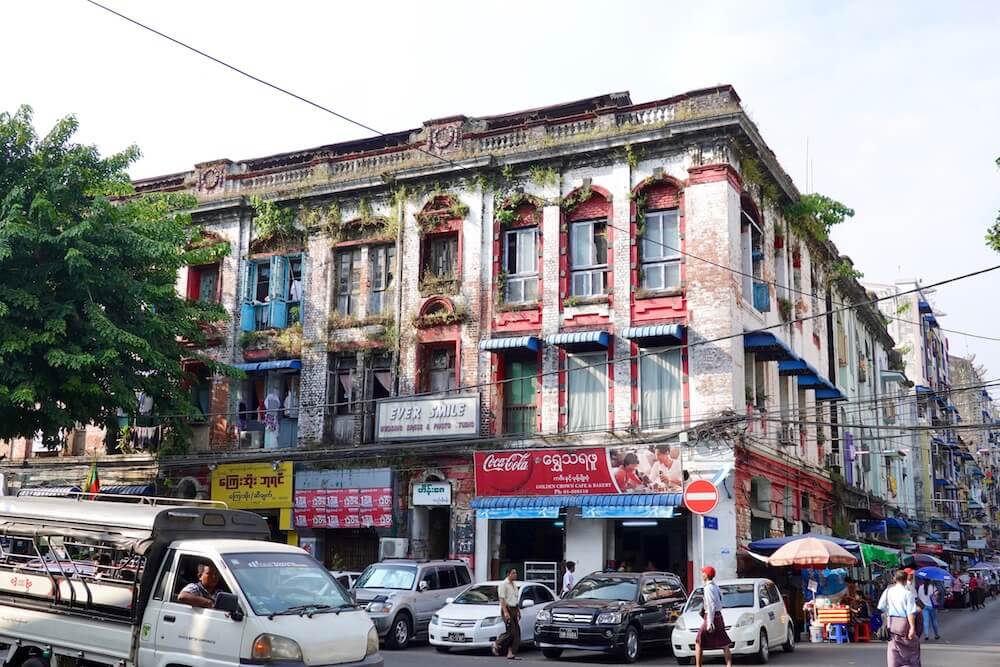 These buildings are a stark contrast with the rest of the city, showing how Yangon manages to seamlessly blend the old and new – in a mix that somehow seems to work.
8. Watch the sunset from Yangon Yangon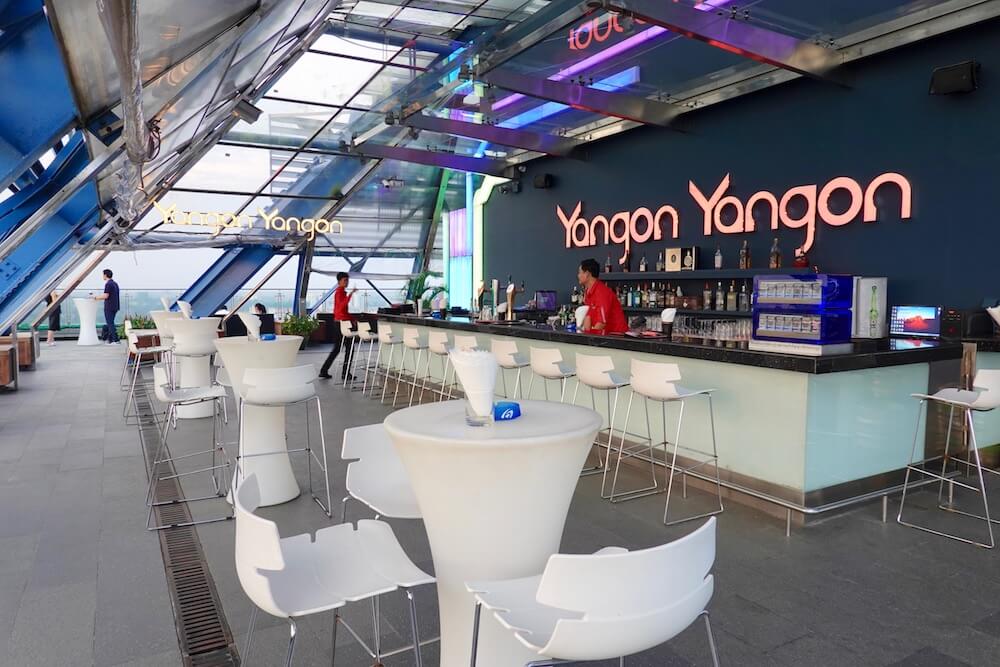 Located at the top of Sakura Tower, Yangon Yangon is a rooftop bar offering fantastic views of the surrounding area.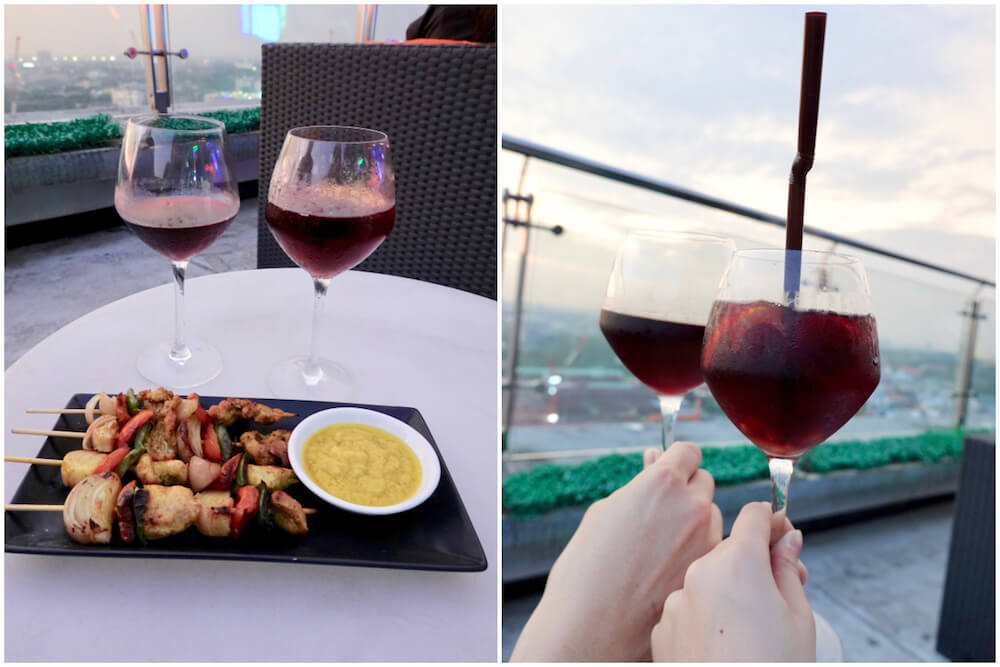 The entry fee of MMK5,000 (~SGD6) gets you a free drink; take your pick from a range of wines, sangrias, cocktails and other non-alcoholic drinks. A variety of bar snacks is also available should you want something to munch on whilst waiting for the sun to set.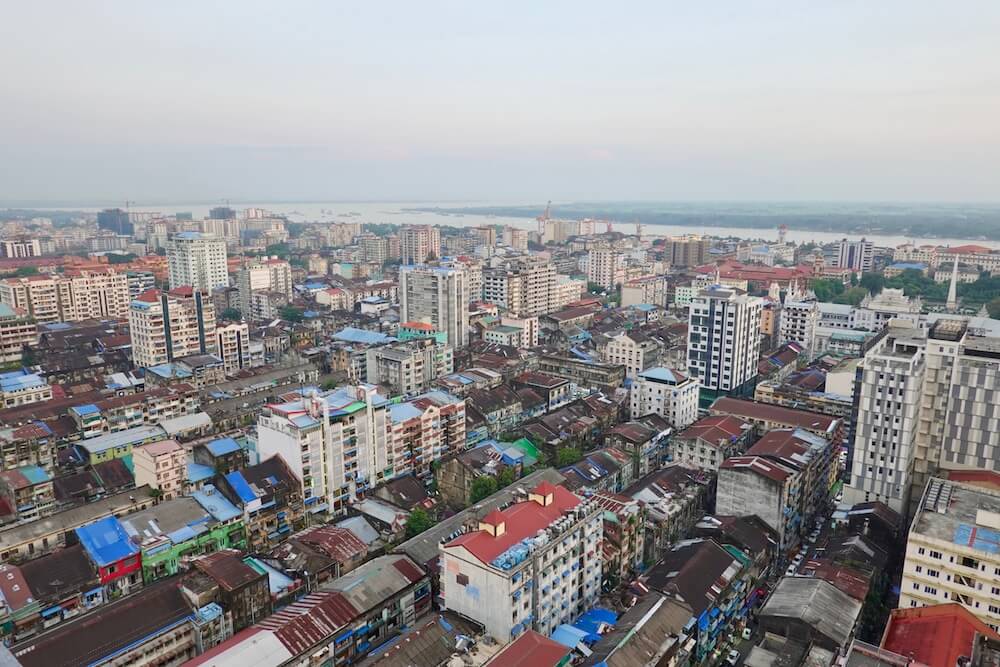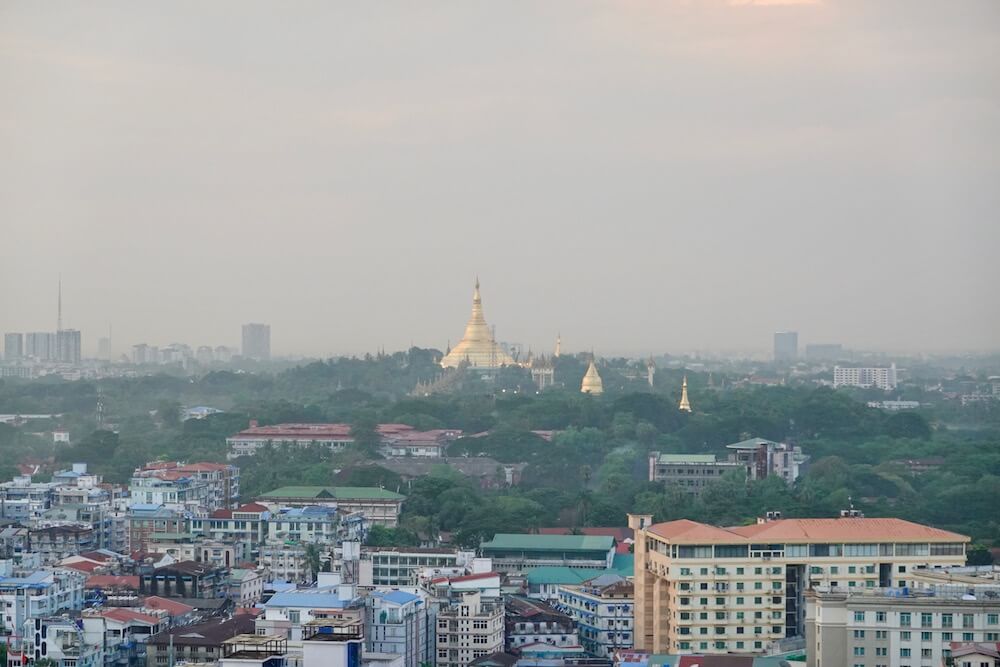 Enjoy a great – albeit partly obstructed – view of the surroundings, where you can even spot Shwedagon Pagoda from afar!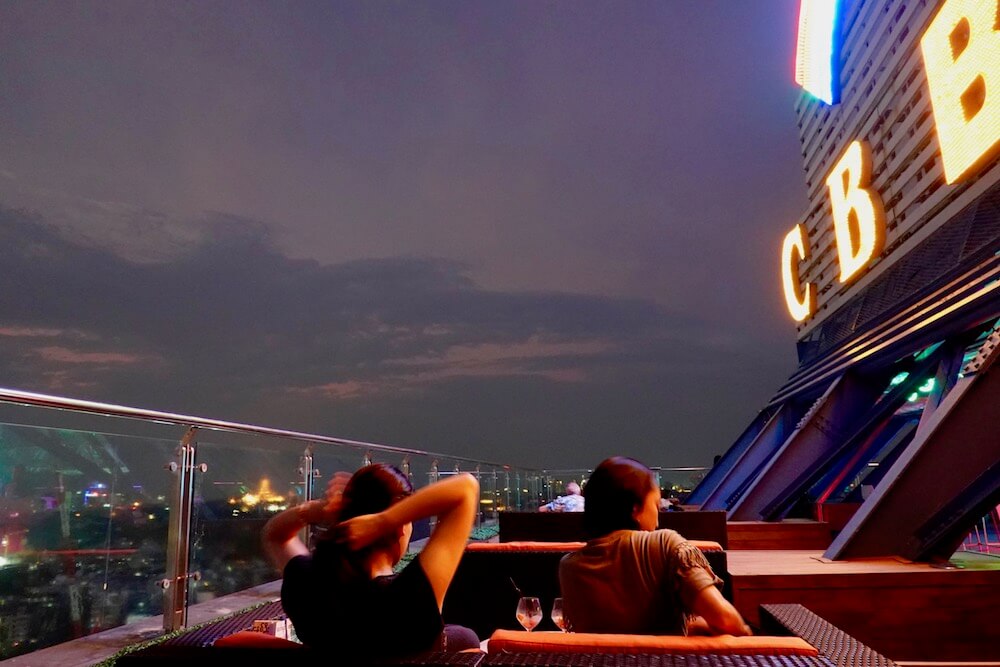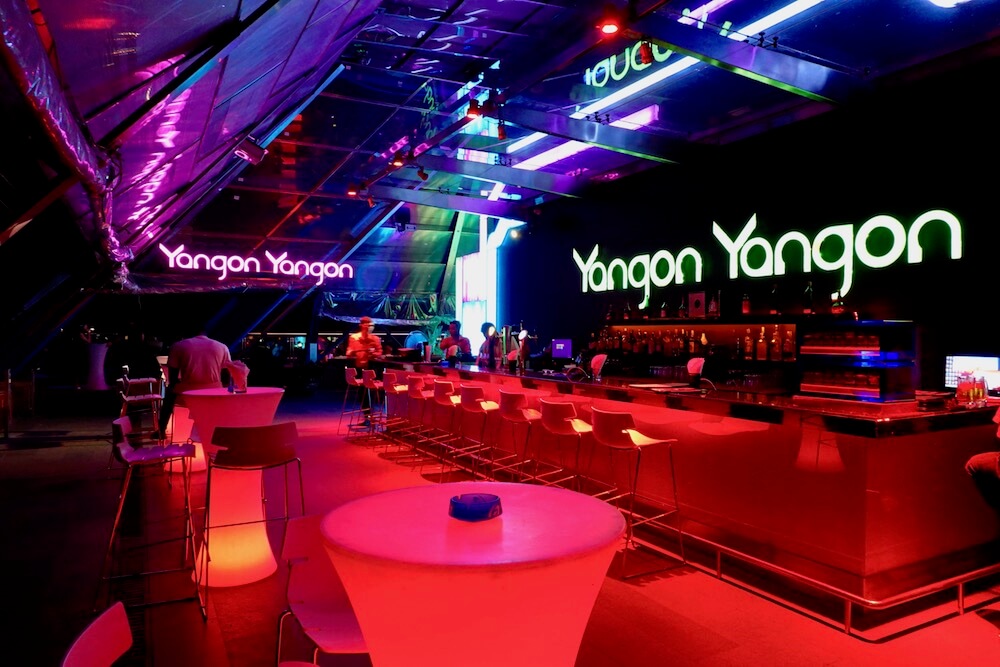 Watch as the bar lights up once night falls. It's best to time your visit from 5 to 7pm, which coincides with Happy Hour and the sunset.
Address: 339 Bo Gyoke Aung San Road, Yangon (Rangoon) 11182 Myanmar
Opening hours: 5pm till late, daily
9. Stroll through the Kantawgyi National Gardens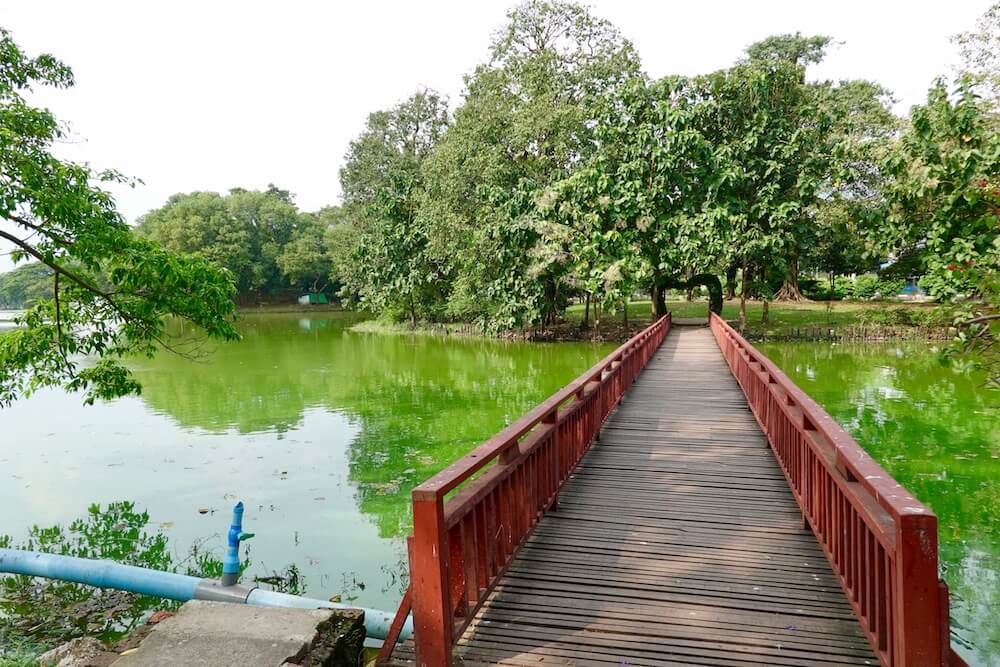 Head to Kandawgyi National Gardens for some respite from the hustle and bustle of Yangon's downtown. Take a stroll along the boardwalk, skip stones in the lake and, if you're lucky, you might even chance upon a music performance.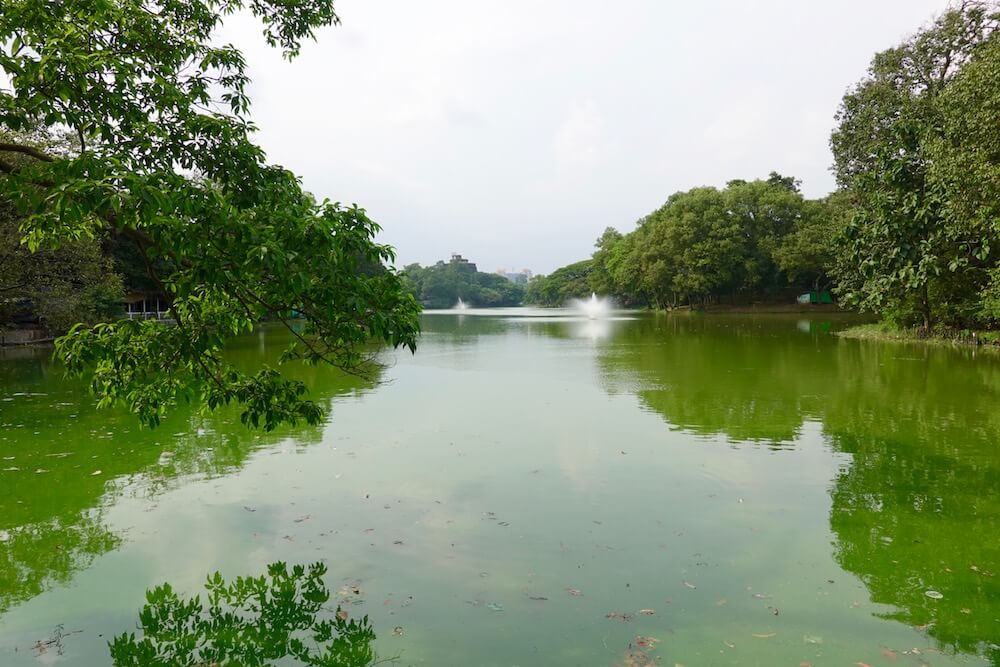 If you wish, you can buy chunks of bread from vendors to feed the catfish in the lake. Alternatively, you can have a meal at the lavish Karaweik Palace, a floating 'gold palace'.
10. Try the local cuisine

And of course, how can you visit a new destination without sampling some of the local cuisines?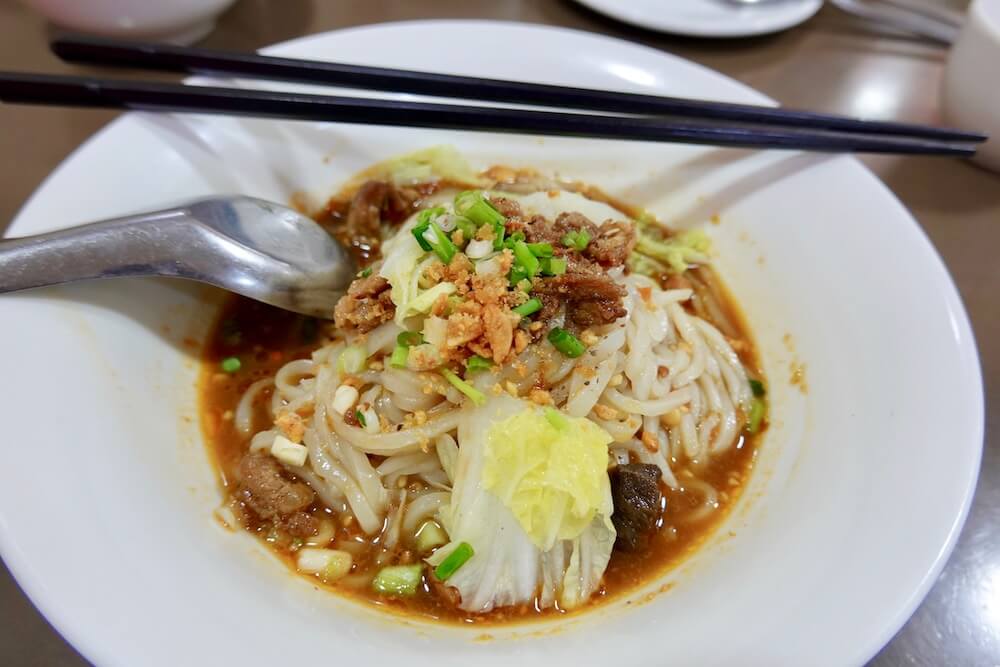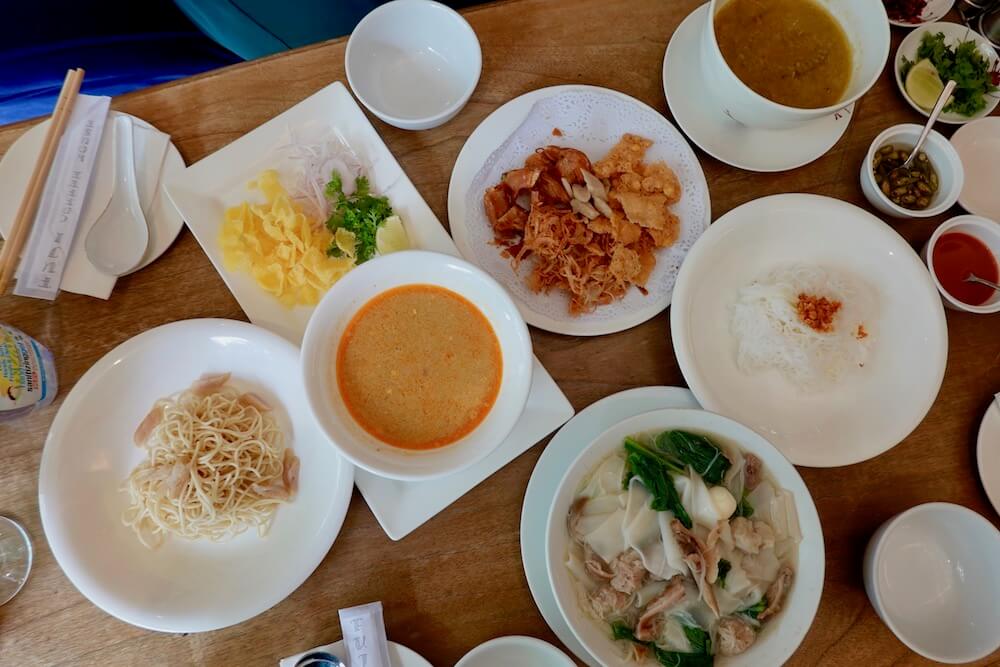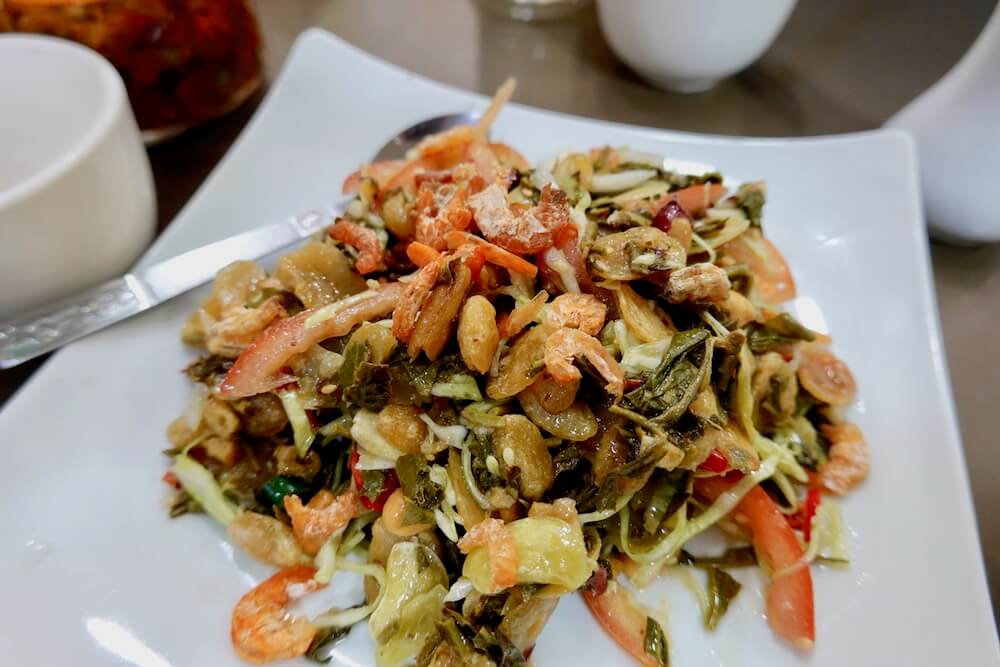 Try dishes like Mohinga, Kway-Oh, Shan Noodles, various Burmese curries and a crunchy Tea Leaf Salad.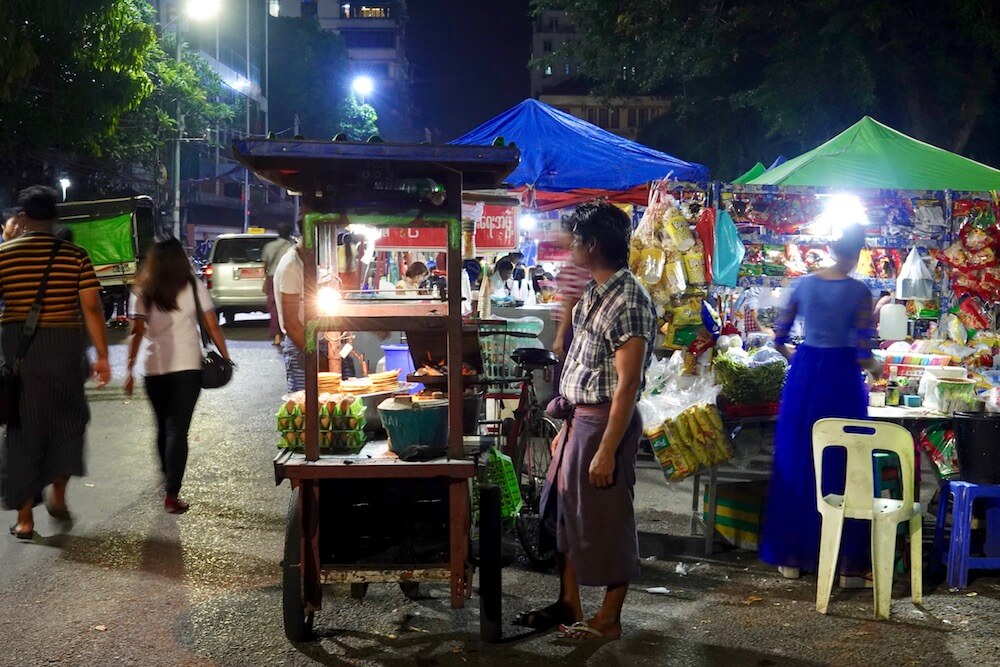 If you're more adventurous, you'd find plenty of street food at the night market along Strand Road.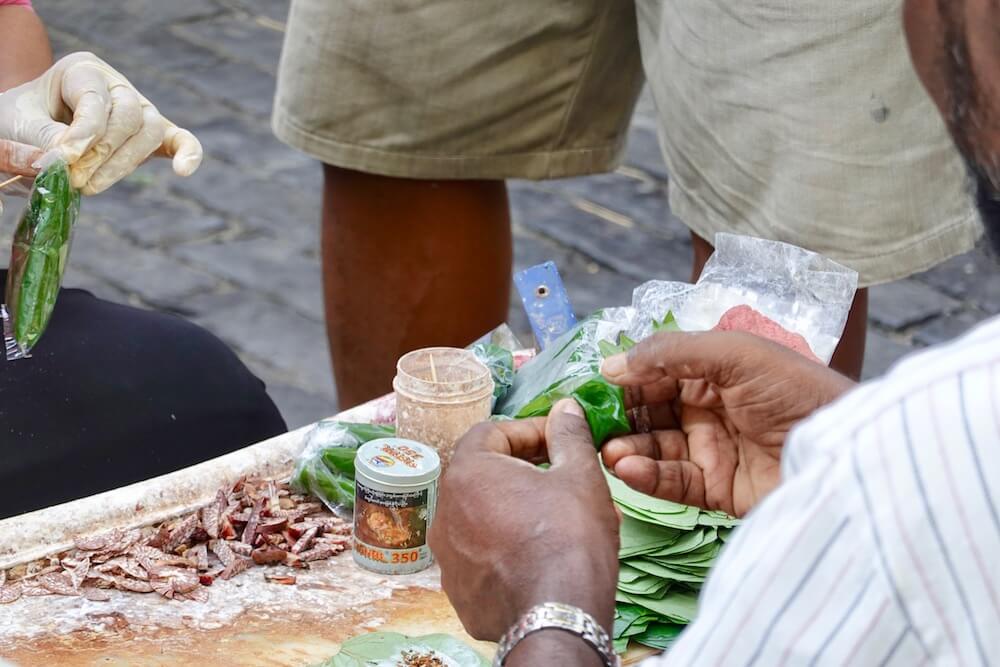 Another thing you'd notice is that the Burmese seem to always be chewing something as they go about their daily activities. This is a chewing gum of sorts, comprising a mixture of betel leaves, dried tobacco leaves, areca nut and slaked lime paste.
The lime paste is spread on the betel leaf, which is then sprinkled with a generous dose of tobacco and powdered areca nut. The leaf is folded into a square and sold in a bundle of 4 to 6 leaf packets.
This is highly popular among the Burmese locals due to the mild euphoric effect of the areca nut. Similar to nicotine, consuming the areca nut creates a somewhat immediate relaxation effect for the user. However, long-term use of this can severely damage the user's teeth and also cause various mouth disorders. It's also said to have a carcinogenic effect!
Chewing on this betel nut mix causes users to spit out amounts of bright-red sputum – a mixture of saliva and mucus – along the pavement. This is something that you'd commonly see as you walk along the streets of Yangon!
BONUS: Where to Stay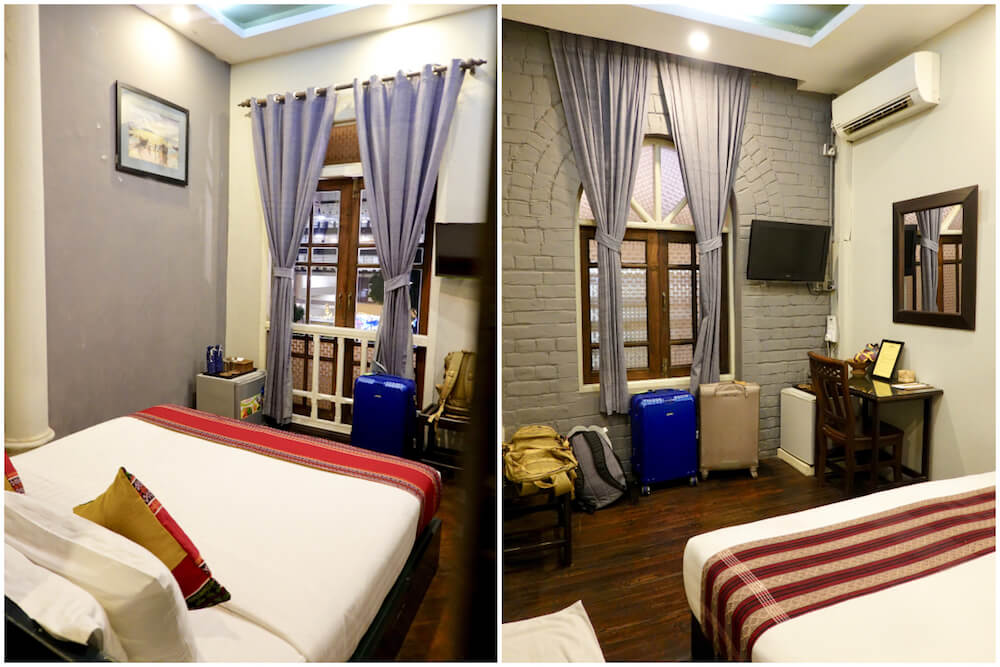 We stayed at Hotel @ Yangon Heritage, which is located right smack in the middle of downtown. The rooms are beautifully decorated; however, you might want to keep your windows closed to drown out the noise from passing cars.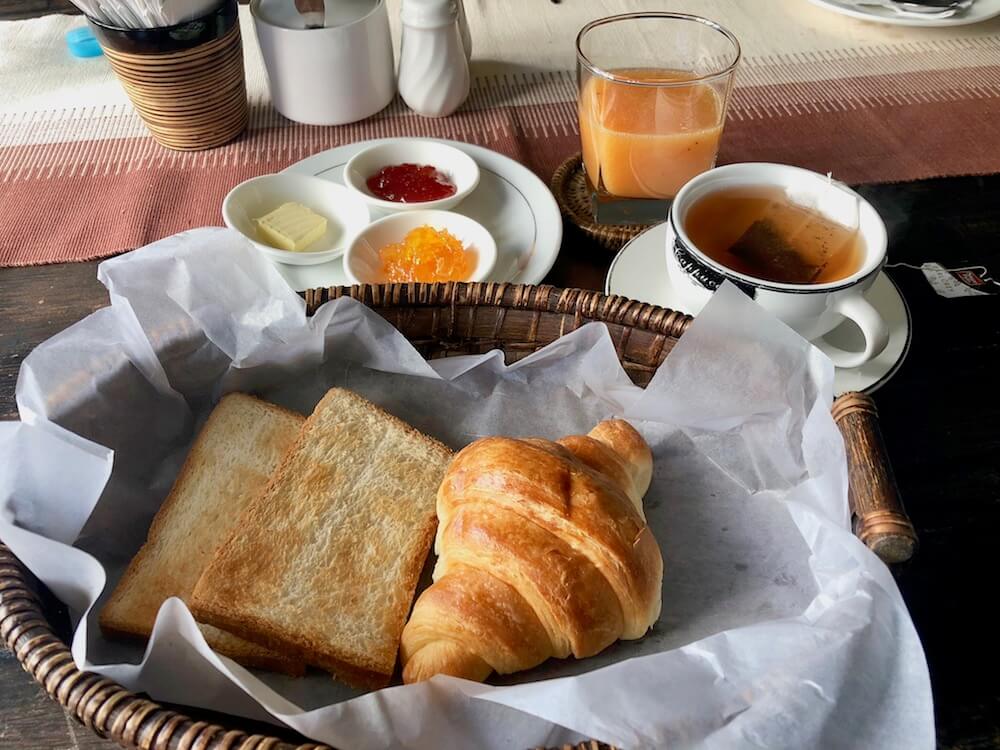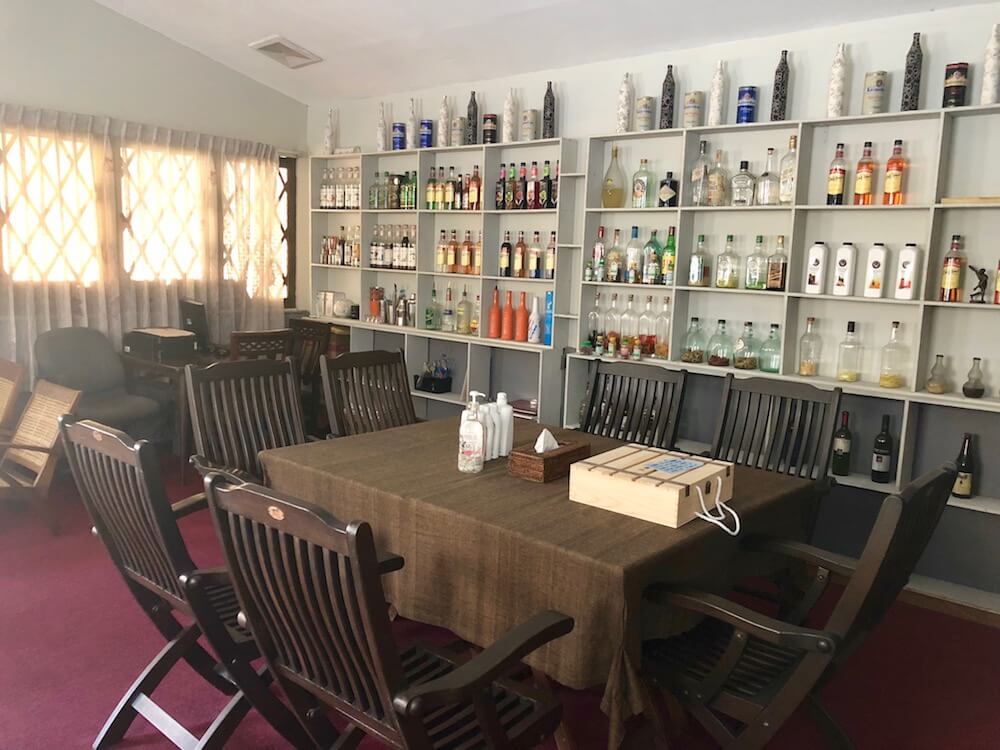 Breakfast is served at the restaurant on the top floor – do note that there's no elevator! – where you'll have a choice of fried rice, traditional congee, pastries or eggs. Each breakfast set comes with a cup of fresh juice, seasonal fruits as well as tea or coffee.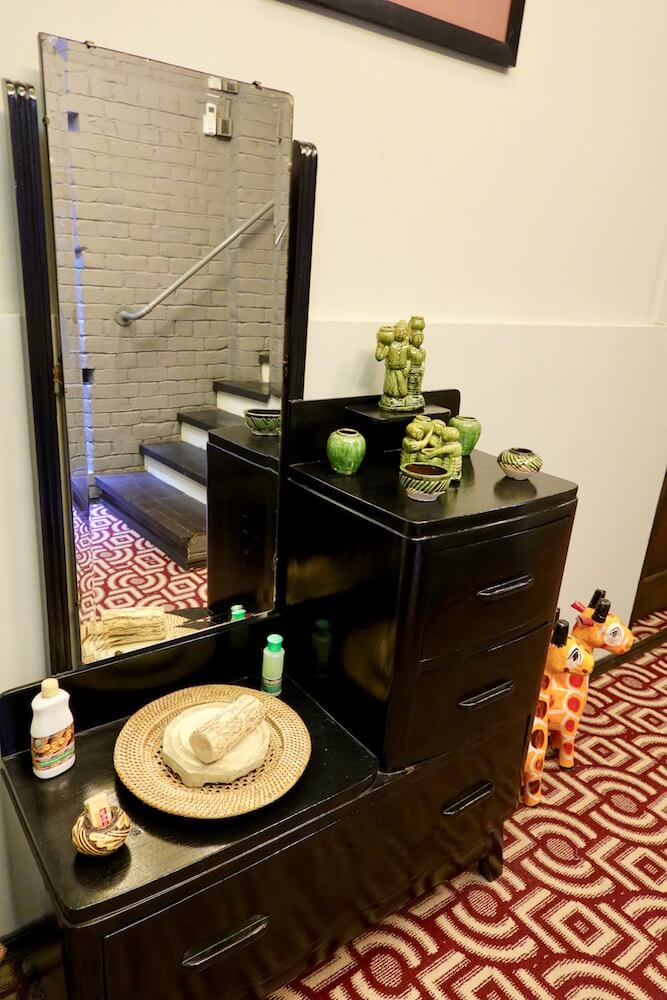 If you wish, you can also try applying some Thanaka. This is a natural sunscreen that's highly popular among locals, and is provided free of charge by the hotel.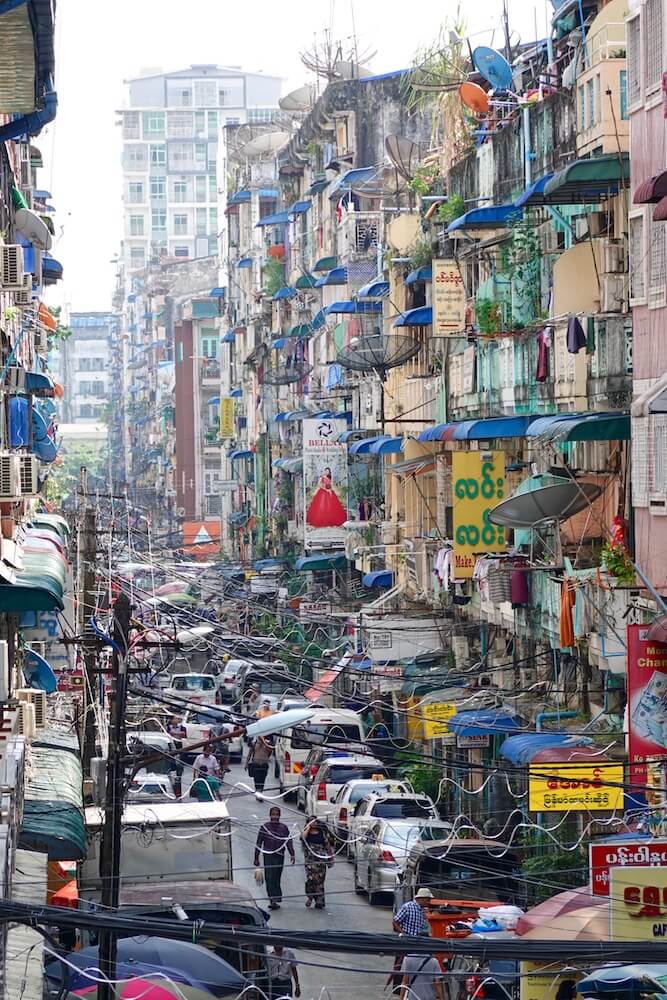 There's plenty to do in Yangon to occupy you for 2 to 3 days; after which, you can choose to take an overnight bus to Bagan.
Read: Taking an Overnight Bus from Yangon to Bagan, Myanmar
If you have time to spare, you can even spend a couple of days in Yangon; take the bus to Bagan and spend another few days there; before embarking on a slow cruise along the Irrawaddy River to Mandalay.
Read: How to Spend 2 Days in Bagan, Myanmar; Temple-Hopping in Bagan, Myanmar