Places to Visit on Your First Trip to Switzerland
Ask anyone and they'll probably say Switzerland is a once-in-a-lifetime destination, one that belongs high on many bucket lists. Home to dreamy landscapes, mouth-watering food and impeccable hospitality, Switzerland welcomes travellers with open arms.
The country is rather compact, allowing travellers to cover quite a bit of ground over a week or two. However, the trick to exploring Switzerland is to take it slow – take that afternoon to savour a steaming pot of cheese fondue, spend hours on trains gazing at gorgeous scenery or indulge in languid hikes that bring you to the top of the world. If you're planning your first trip to Switzerland, here are some places to include in your itinerary:
Zurich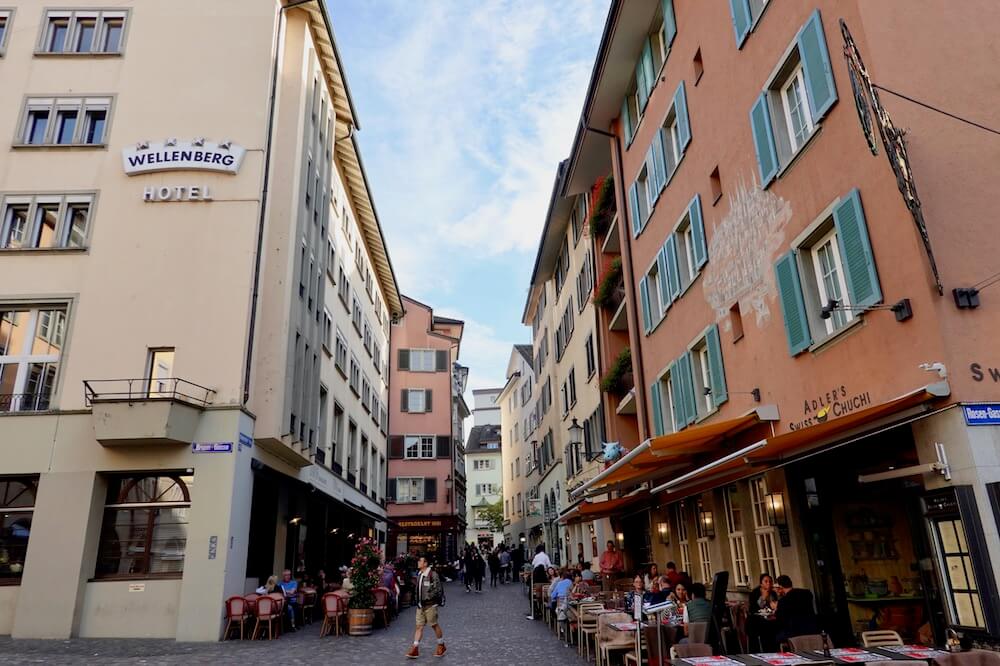 If you're flying into Switzerland from outside Europe, chances are that you'll land in Zurich. A dynamic cosmopolitan hub, Zurich is a bustling city that's full of surprises. Explore the labyrinth of shops and restaurants in the Old Town, enjoy the golden hour at Lindenhof Hill or walk over the remains of ancient Roman baths – there's no lack of things to do.
Read: Things to Do in Zurich, Switzerland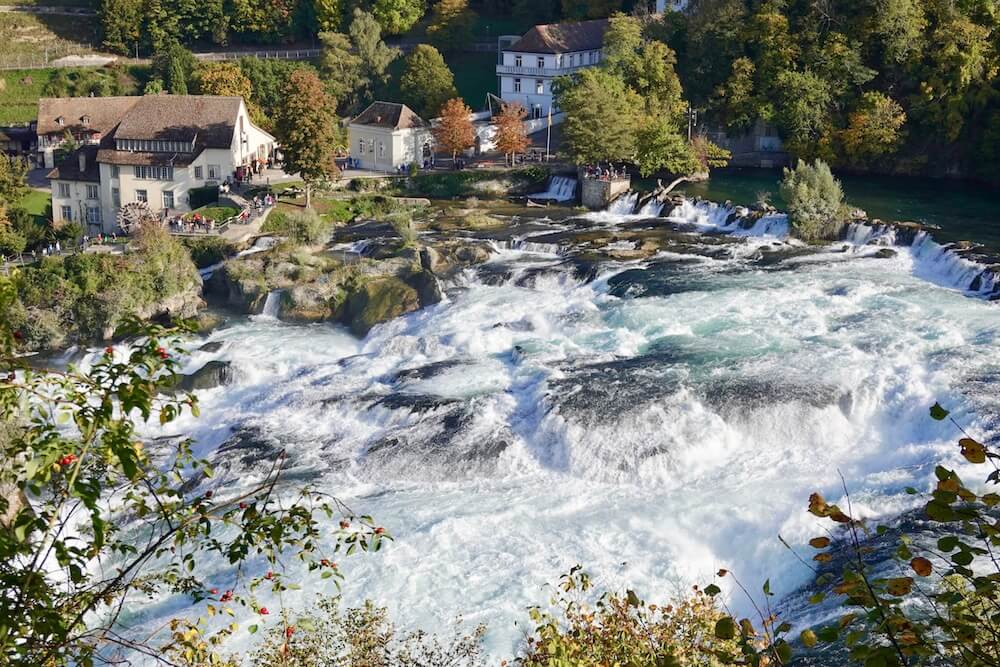 Said to be Europe's largest and most powerful falls, Rhine Falls is an easy day trip from Zurich. The falls are approximately 15, 000 years old, sprawling over a large area and various viewing spots. Explore Schloss Laufen, a medieval castle perched on the edge of the falls, or take a boat to get up close and personal with the thundering water.
How to get there: ~1-hour train from Zurich
Read: Visiting the Rhine Falls Near Zurich, Switzerland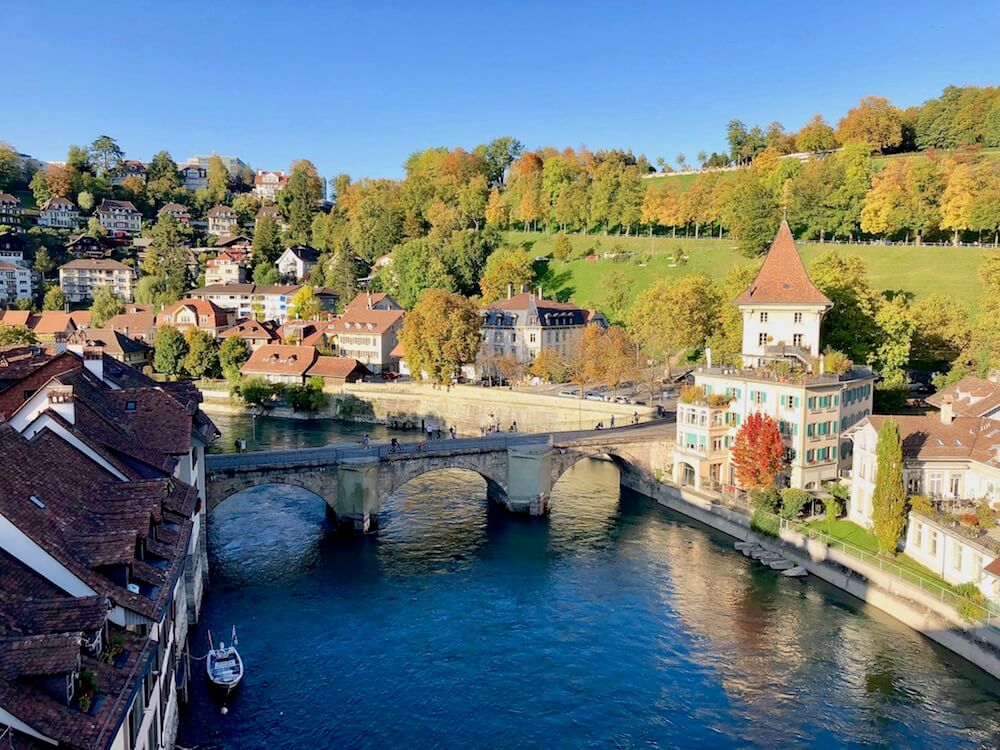 Known as the de-facto capital of Switzerland, Bern is a delightful maze of historic architecture and unique fountains. Try your luck at hunting down the fountain depicting an ogre devouring a child or simply soak in a panoramic view from Rosengarten. Watch the locals go about their daily lives from an al fresco restaurant, where you can indulge in a fragrant pot of mussels and a glass of ice-cold beer.
How to get there: ~1-hour train from Zurich
Read: A Half-Day Trip to Bern, Switzerland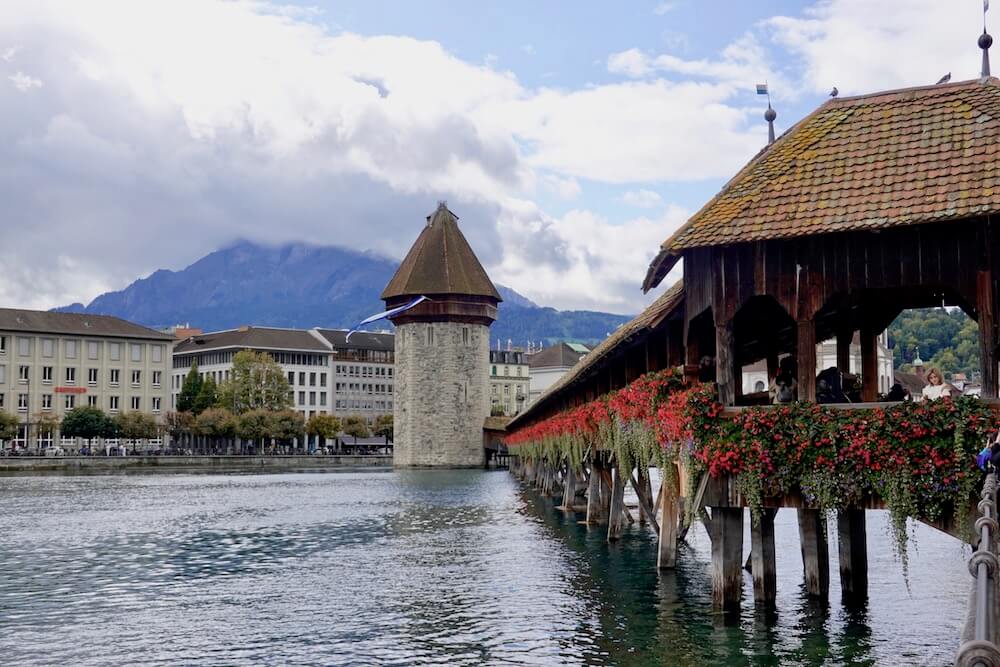 With the Reuss River and dramatic mountain landscapes as its backdrop, Lucerne is a city that's breathtakingly picturesque. Start your exploration at the Chapel Bridge, a wooden structure that doubles up as the city's icon. Weave your way into the Old Town, trawl various morning markets, visit the Lion Monument or wander along the city walls. End your day by taking a boat ride on Lake Lucerne, before retiring to a unique prison-turned-hotel for the night.
How to get there: ~1 hour and 15 minutes train from Zurich
Read: Things to Do in Lucerne, Switzerland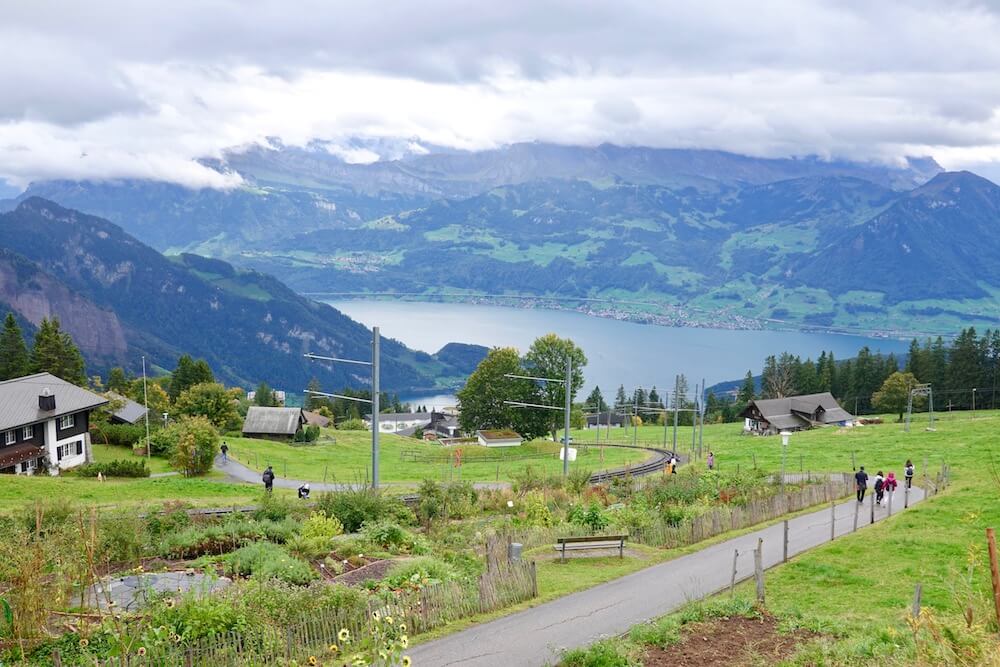 Colloquially known as the 'Queen of the Mountains', Mount Rigi boasts sweeping views of the Swiss Alps and beginner-friendly hiking routes. If you wish, you can take a cable car up to the summit (Rigi Kulm) before hiking down to the popular Kanzeli viewpoint. From Kanzeli, take a short trek to Rigi Kaltbad, where you can take a train to Vitznau and a ferry from Vitznau back to Lucerne.
How to get there from Lucerne:
~1-hour boat ride to Vitznau, followed by a ~30-minute cog railway to Rigi Kulm
~30-minute train to Arth Goldnau, followed by a ~45-minute cog railway to Rigi Kulm
~40-minute boat ride to Weggis, followed by a ~10-minute cable car to Rigi Kaltbad and a ~12-minute cog railway to Rigi Kulm
Read: Exploring Mount Rigi, Switzerland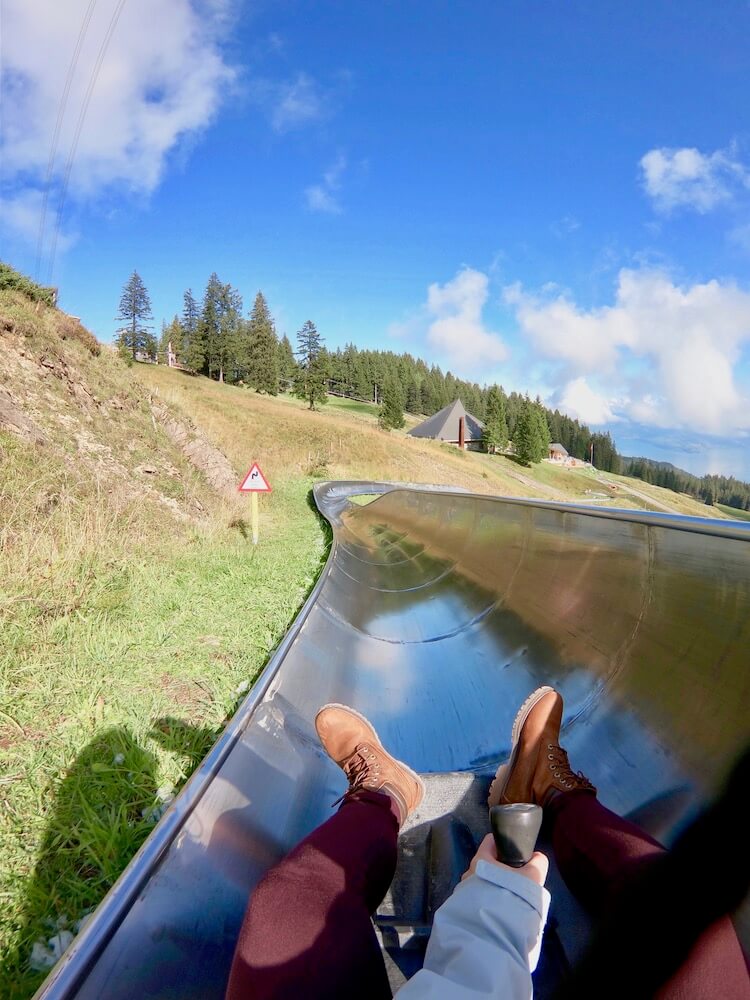 The journey from Lucerne to Mount Pilatus is an experience in itself – embark on the Circular Golden Round Trip that will take you through multiple modes of transportation. Head up to the summit to enjoy the commanding views, before taking on the scenic Tomlishorn Hike. Stop by Frakmuntegg on your way down the mountain – Frakmuntegg is only about a 5-minute gondola ride from the summit – to try your hand at the exhilarating mountain toboggan.
How to get there from Lucerne:
~50-minute boat ride to Alpnachstad, followed by a ~30-minute cogwheel train ride from Alpnachstad to Pilatus Kulm
~15-minute bus (bus no. 1) to 'Kriens, Zentrum Pilatus' bus-stop, followed by a ~10-minute walk to the gondola station and ~30-minute gondola to Pilatus Kulm
Read: Top Things to Do at Mount Pilatus, Switzerland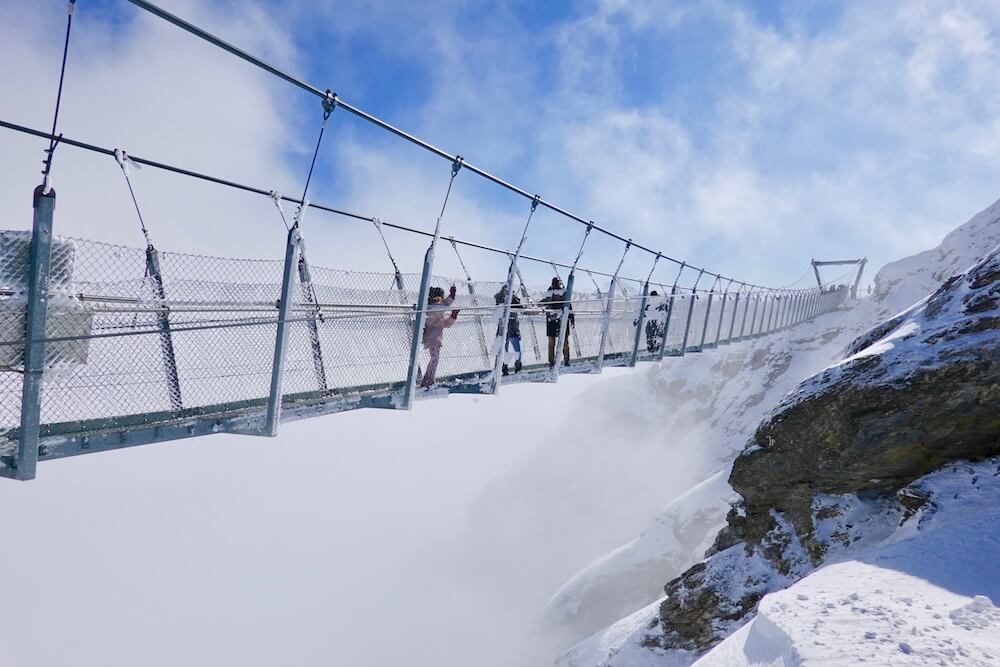 With snowfall all year round, Mount Titlis offers plenty of activities for those looking to revel in a winter wonderland. Venture across the Cliff Walk, a suspension bridge dangling precariously in the air, explore a glacier cave or whiz through the air in the Ice Flyer. Otherwise, pose for pictures against giant mounds of snow that are higher than the average person, or knock yourself out making snow angels or engaging in a snowball fight.
How to get there from Lucerne: ~45-minute train to Engelberg, followed by a 10-minute walk to Titlis Valley Station, a ~30-minute cable car to Stand Station and a 5-minute Titlis Rotair revolving cable car to Titlis Kulm
Read: Experience Winter All-Year-Round at Mount Titlis, Switzerland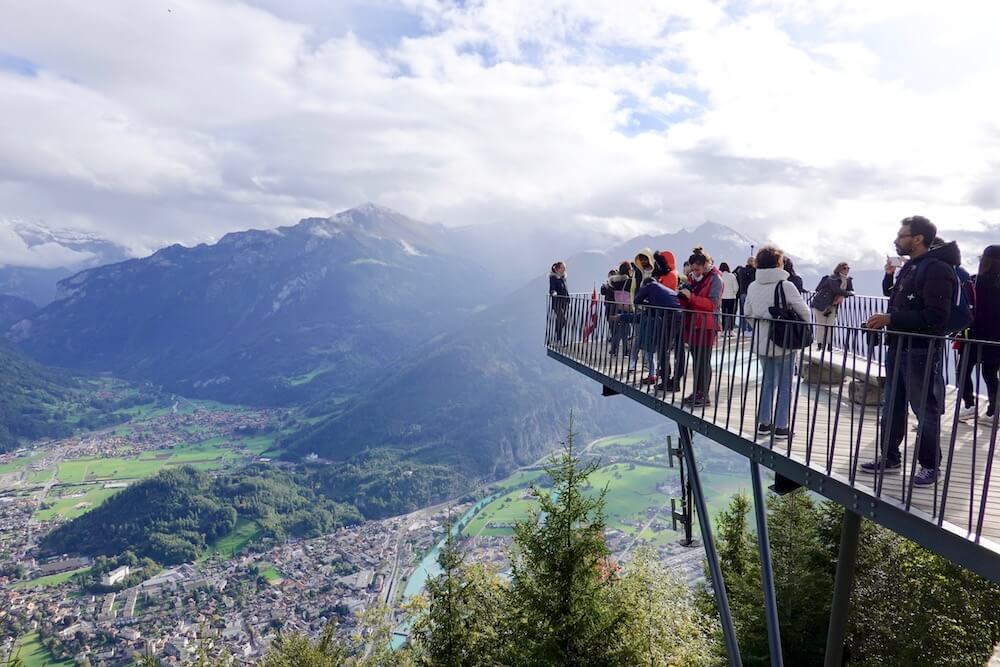 Often used as a base to explore the surrounding region, Interlaken also has a few gems of its own to offer travellers. Gaze down at the world below from a suspended platform at Harder Kulm, shop until you drop at Bahnhofstrasse or uncover the secrets of the Old Town. If, however, you prefer to stay in the countryside rather than a city, you can choose to base yourself in Lauterbrunnen instead of Interlaken.
How to get there: ~2-hour train from Lucerne or ~2.5-hour train from Zurich
Read: Things to Do in Interlaken, Switzerland
There's a touch of old-world magic everywhere you look in Lauterbrunnen; a hushed silence that lingers over the valley and a nostalgic charm that seeps into the atmosphere. Nestled in a valley surrounded by staggering mountain peaks, Lauterbrunnen seems like a scene that has fallen straight out of a picture storybook. Explore the mystical town, take a leisurely hike through the 'Valley of 72 Waterfalls', or simply base yourself here to explore the surrounding Jungfrau region.
How to get there: ~20-minute train from Interlaken
Read: Top Things to Do at Lauterbrunnen, Switzerland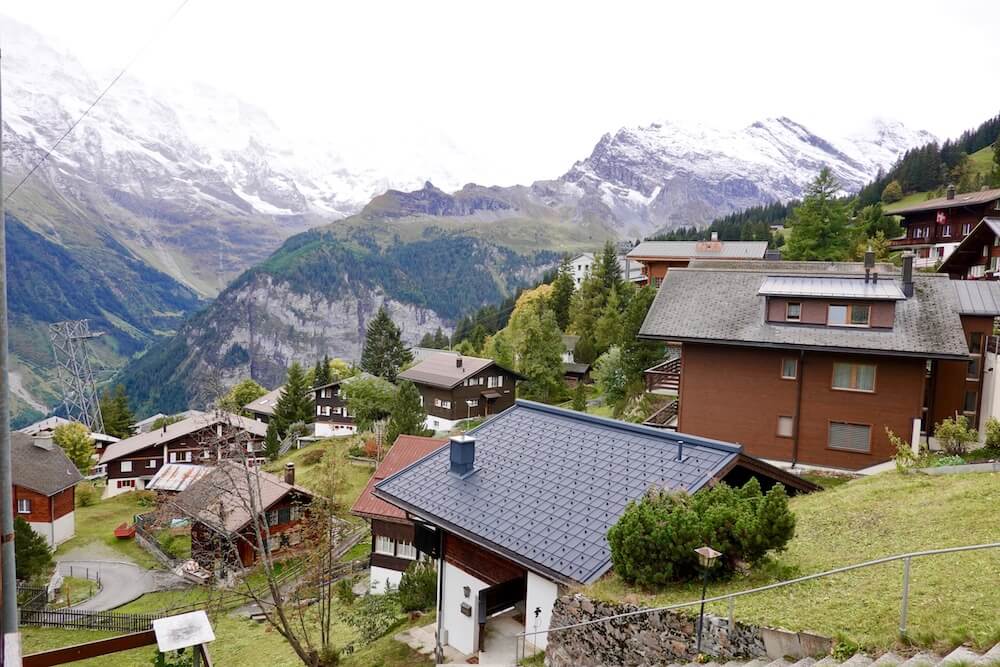 A car-free village high up in the mountains, Murren is located on the side of an 800-metre high cliff. Adrenaline junkies head here to get their fill of base-jumping; otherwise, travellers can embark on various scenic hikes or simply revel in being surrounded by the Swiss Alps. From Murren, you can also take a cable car up to Mount Schilthorn, which is famous for being a filming location for the James Bond Movie, 'My Majesty's Secret Service'.
How to get there from Lauterbrunnen:
~5-minute cable car to Grutschalp, followed by a ~15-minute train to Murren
~15-minute bus to Stechelberg, followed by a ~10-minute by cable car from Stechelberg, with a change in Gimmelwald
Jungfraujoch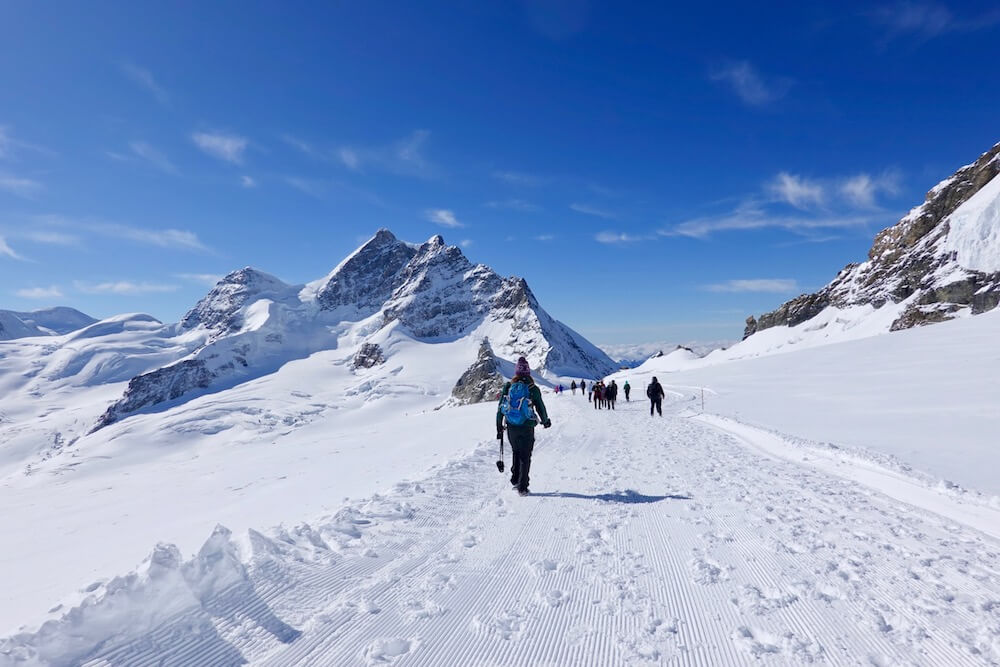 Lauded as the 'Top of Europe', Jungfraujoch stands at a staggering 3, 454 metres above sea level. Albeit a little touristy, Jungfraujoch offers a whirlwind of activities and adventure – hike across a glacier, venture into an ice palace or visit the Lindt Swiss Chocolate Heaven. Due to the altitude, many travellers do experience a bout of mountain sickness; it's best to hydrate regularly and eat a proper meal before embarking on the journey up to Jungfraujoch.
How to get there from Interlaken:
~20-minute train to Lauterbrunnen, followed by a ~45-minute train to Kleine Scheidegg and a ~35minute train to Jungfraujoch
~4minute train to Grindelwald, followed by a ~30-minute train to Kleine Scheidegg and a ~35minute train to Jungfraujoch
Read: Journey to Jungfraujoch, Switzerland: Things to Do at the Top of Europe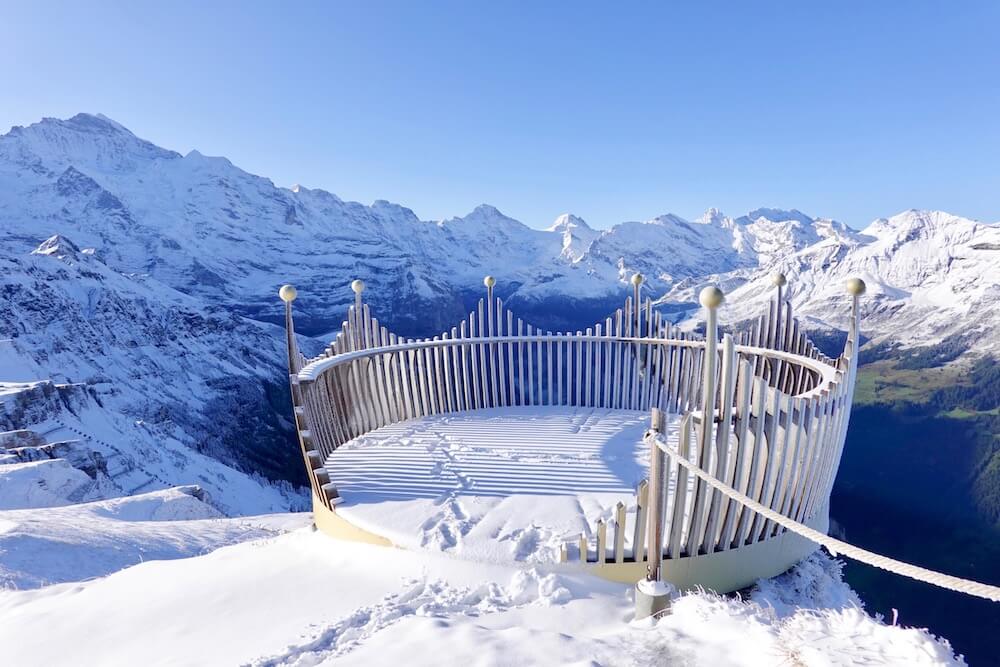 If you wish to spice up your adventure, you can choose to get to Jungfraujoch via Mannlichen. Mannlichen is home to the Royal Walk, a cute uphill hike that will bring you to an actual crown structure at the top.
The cable car from Wengen to Mannlichen is unique as well, allowing travellers to ride on an open-air balcony all the way to the top.
How to get there from Lauterbrunnen: ~12-minute train to Wengen, followed by a ~10-minute cable car to Mannlichen
Read: Journey to Jungfraujoch, Switzerland: Start with the Mannlichen Royal Walk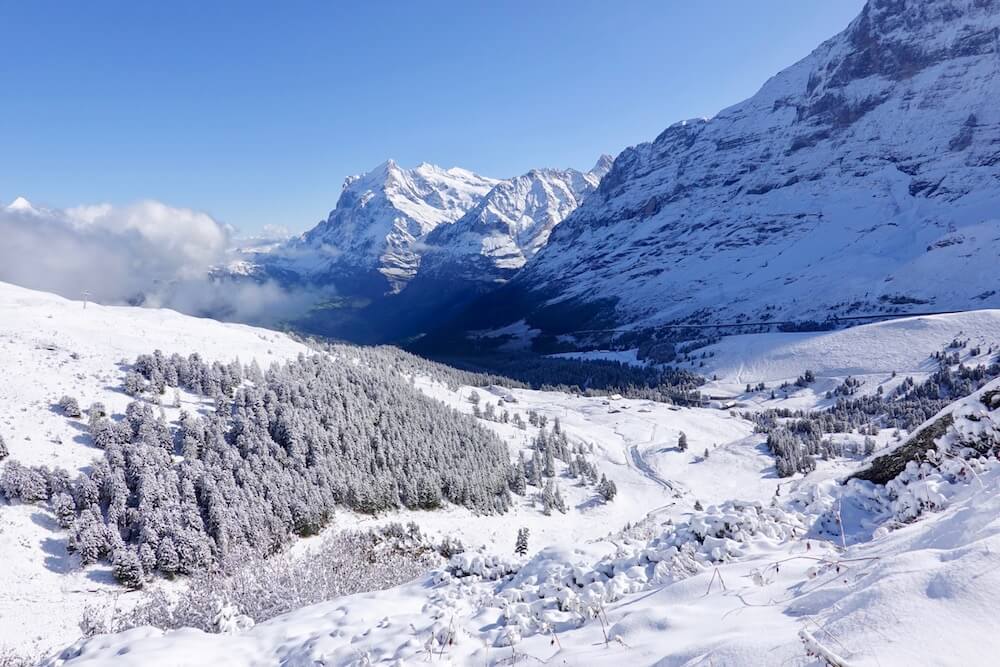 From Mannlichen, you can set forth on a spectacular ~1.5-hour hike through glistening snowy panoramas to Kleine Scheidegg, where you can take a train to Jungfraujoch.
Read: Journey to Jungfraujoch, Switzerland: Hike from Mannlichen to Kleine Scheidegg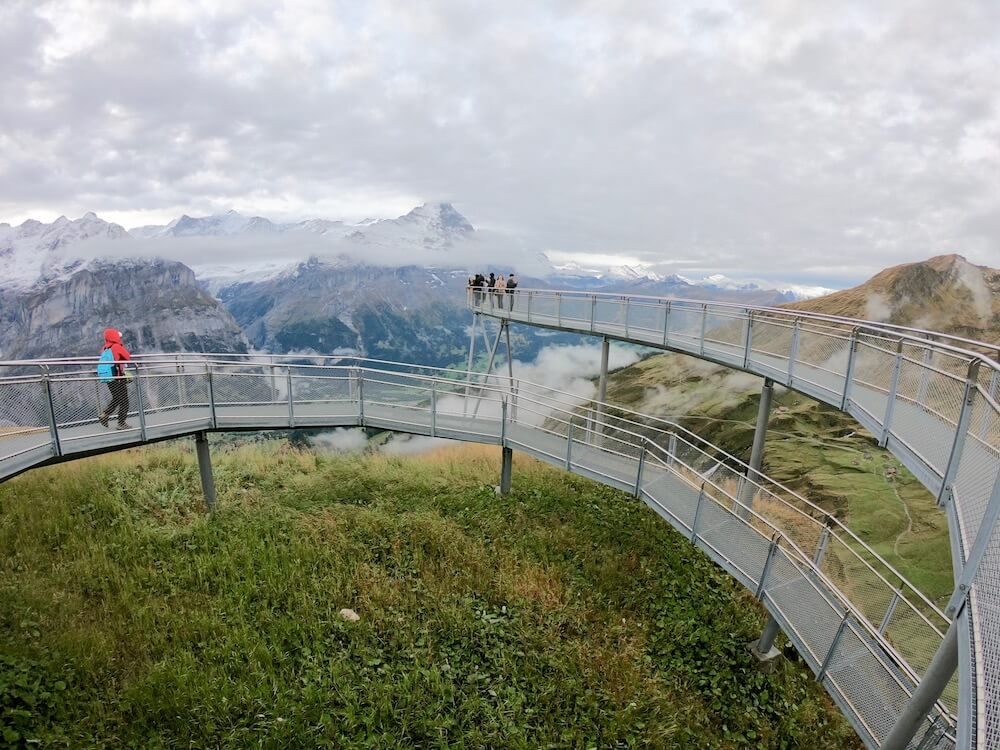 The highlight of Grindelwald is a mountain called First, affectionately known as the 'Top of Adventure' – and rightly so! Adventure seekers can get their fill by first taking a cable car all the way up to the summit, then coming down the mountain via various activities. Fly down a zipline, be suspended in a lying-down position on the glider, trundle down the slopes in a mountain cart and whiz back to the base on a trottibike. At the summit, don't forget to walk across the First Cliff Walk – if you dare! – or take a lovely hike to Lake Bachalpsee.
How to get there: ~40-minute train from Lauterbrunnen
Read: Go On an Adventure at Grindelwald-First, Switzerland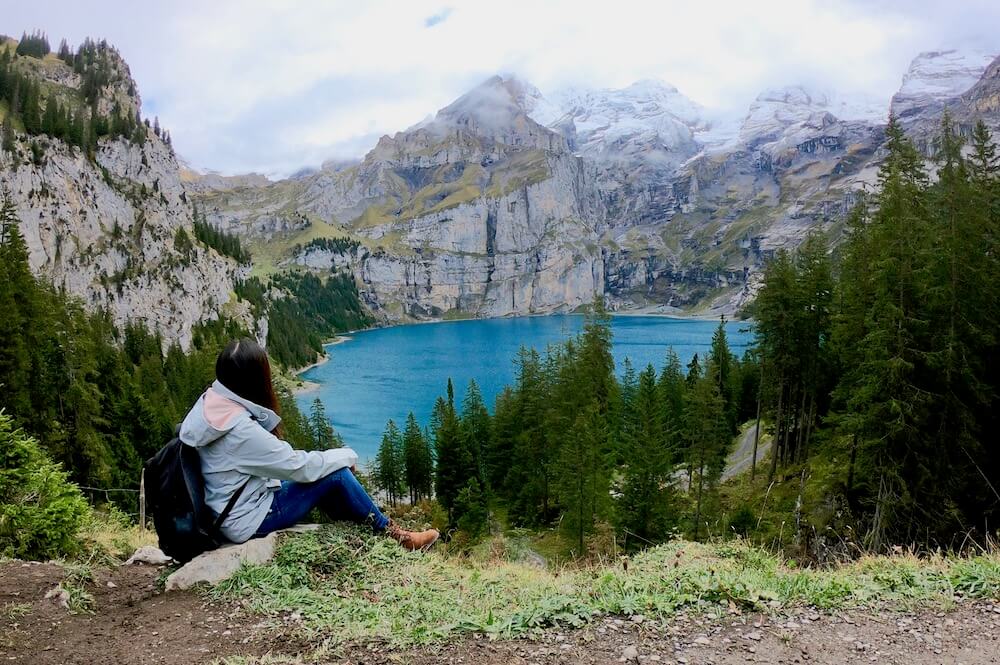 A short cable car ride from Kandersteg will bring you to Lake Oeschinensee, a sparkling lake that's an unbelievable shade of turquoise. Take your pick from various hikes that will bring you to and around the lake, rent a boat for a slow paddle or simply pack a picnic and enjoy the view. Don't forget to take a whirl on the mountain toboggan before taking the cable car back to Kandersteg!
How to get there: ~1-hour train from Interlaken
Read: A Day Trip to Lake Oeschinensee in Kandersteg, Switzerland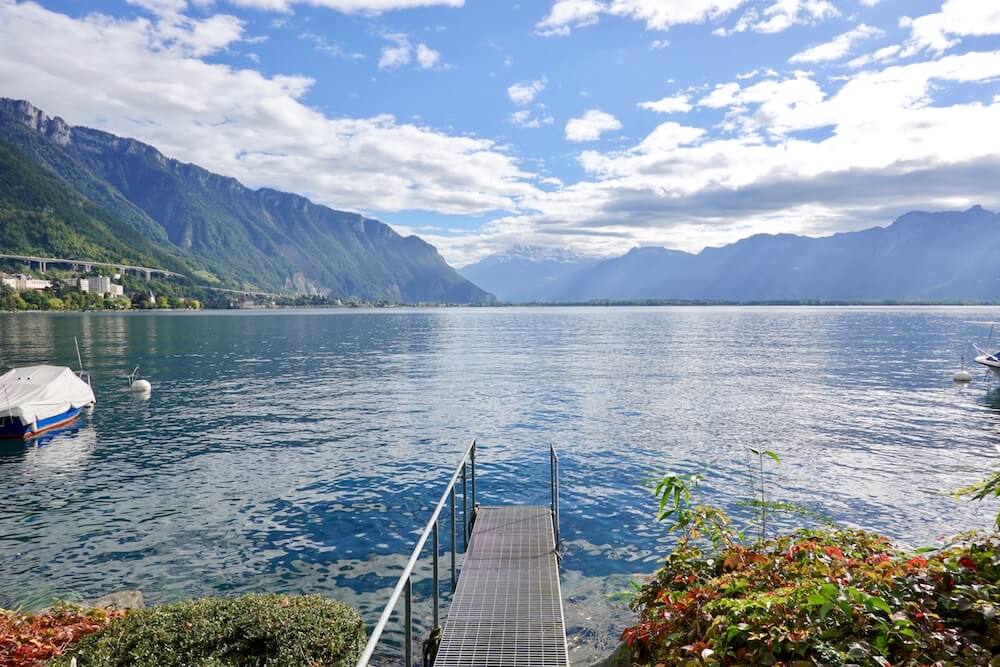 Take some time to relax at Montreux, where time seems to slow to a leisurely crawl. Take a stroll around Lake Geneva, dangle your legs over the rocks, snap a photo with the statue of Freddie Mercury from Queen or visit Chateau du Chillon, a medieval castle said to be the inspiration for Prince Eric's castle in the Disney animation film, 'The Little Mermaid'.
How to get there: ~3-hour train from Interlaken, with a portion of the journey on the GoldenPass Panoramic train
Read: How to Spend 24 Hours in Montreux, Switzerland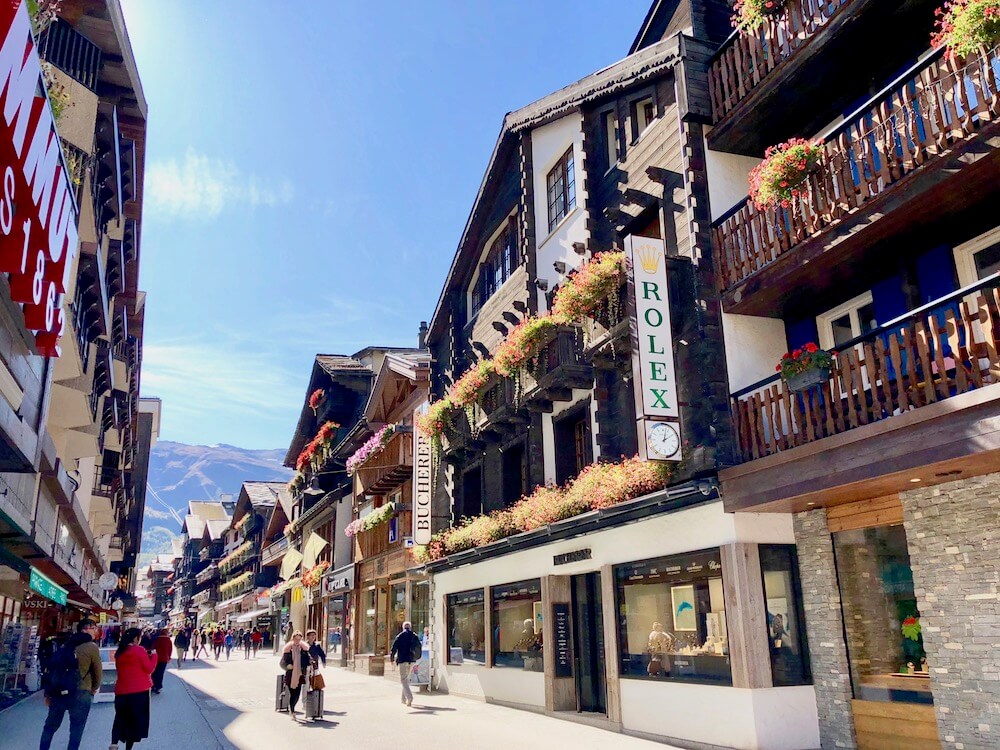 Zermatt is a quaint car-free town boasting traditional Swiss houses and rustic architecture. Zermatt also serves as the gateway to the Matterhorn, best known as the mountain depicted on the yellow Toblerone chocolate packaging!
How to get there: ~2.5-hour train from Montreux
Read: Things to Do in Zermatt, Switzerland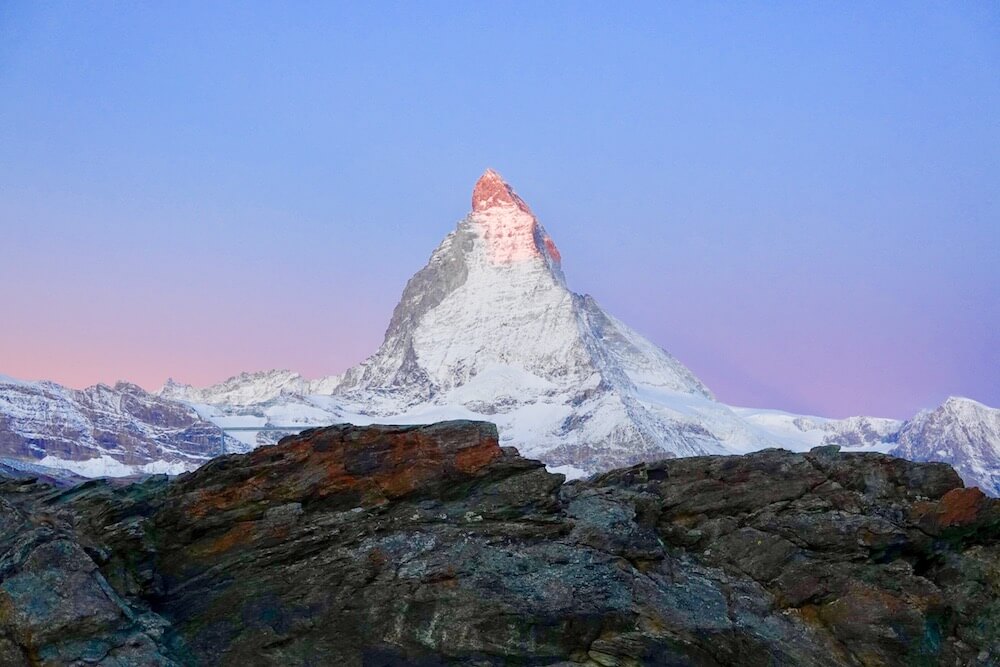 One of the things that you must do whilst in Zermatt is to take the first train up to Gornergrat for the sunrise. Alight at Rotenboden station and take a short hike down to the Riffelsee alpine lake, where you'll be treated to a glorious view (and reflection!) of the sunrise against the majestic backdrop of the Matterhorn.
How to get there: ~30-minute train from Zermatt
Read: Catching the Sunrise at Gornergrat, Switzerland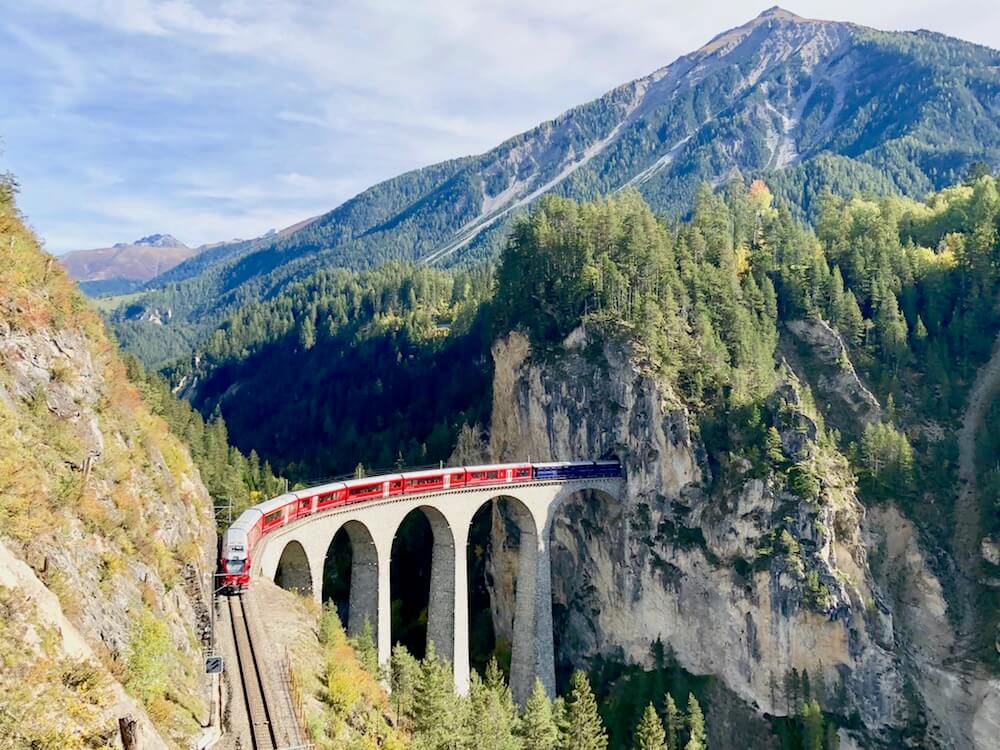 The Landwasser Viaduct is arguably one of Switzerland's most iconic architectural structures. Built in 1902, the Landwasser Viaduct spans a length of 136 metres and a height of 65 metres, stretching across 6 arches that rest atop 5 towering pillars. Enjoy an aerial view of this spectacular sight at Filisur, where the train passes over the viaduct on the hour.
Read: Getting a Bird's-eye View of the Landwasser Viaduct in Filisur, Switzerland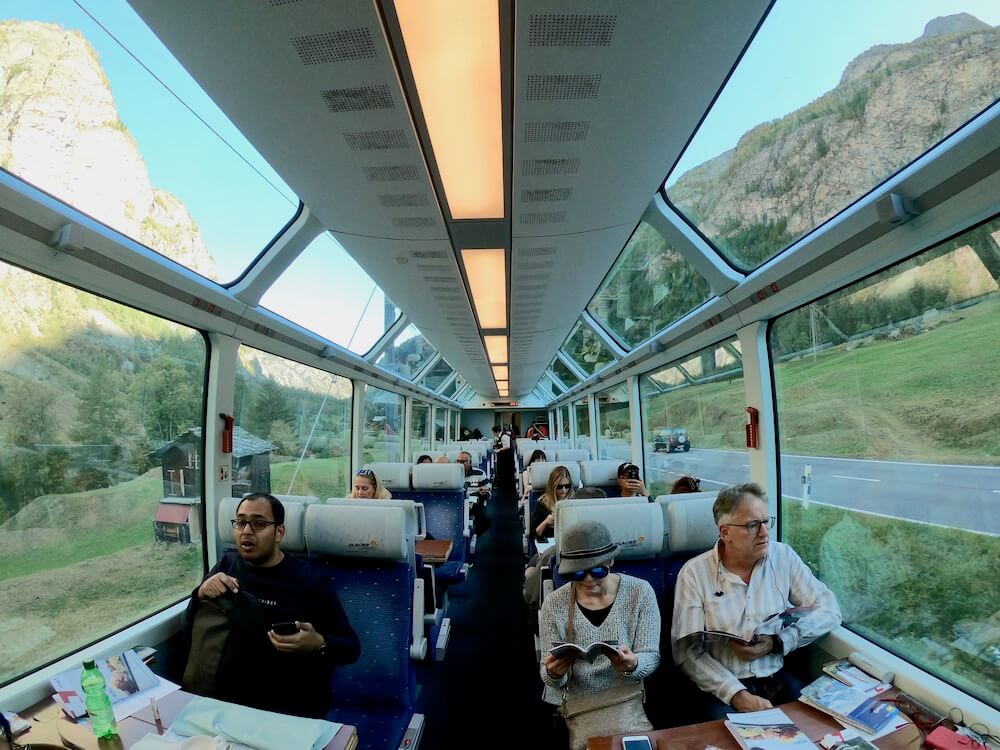 Travel from Zermatt to St Moritz onboard the Glacier Express, a premium panoramic train that passes across 291 bridges and through 91 tunnels over the span of nearly 8 hours. The Glacier Express also passes over the Landwasser Viaduct!
How to get there: ~8-hour train via the Glacier Express from Zermatt to St Moritz, followed by a ~1-hour train to Filisur
Read: All Aboard the Glacier Express, a Panoramic Train Ride in Switzerland
For easier reference, here's my 14-day itinerary that brought me to all of the places mentioned above:
Day 0: Flight from Singapore to Zurich
Day 1: Train from Zurich to Lucerne (spent 3 nights in Lucerne)
Day 2: Half-day trip to Mount Rigi
Day 3: Day trip to Mount Pilatus + Mount Titlis
Day 4: Train from Lucerne to Lauterbrunnen (spent 3 nights in Lauterbrunnen)
Day 5: Day trip to Kandersteg
Day 6: Day trip to Grindelwald
Day 7: Day trip to Mannlichen + Jungfraujoch; train to Interlaken (spent 1 night in Interlaken)
Day 8: Train from Interlaken to Montreux (spent 1 night in Montreux)
Day 9: Train from Montreux to Zermatt (spent 2 nights in Zermatt)
Day 10: Day trip to Gornergrat
Day 11: Glacier Express from Zermatt to St Moritz (spent 1 night in St Moritz)
Day 12: Train from St Moritz to Filisur; train from Filisur to Zurich (spent 2 nights in Zurich)
Day 13: Day trip to Rhine Falls
Day 14: Half-day trip to Bern; flight back to Singapore from Zurich
In addition, I used a Half-Fare Card for my trip, which saved me an approximate total of SGD985.
Read: Swiss Travel Pass VS. Half-Fare Card – Which Should You Get?
Finally, bookmark these travel tips for a smooth and fuss-free trip around Switzerland. Bon voyage!